This Pan Seared Sea Bass recipe teaches you how to get that beautiful golden crust on top of fish. Paired with a light shallot butter sauce, it's an easy and elegant dinner in under 20 minutes with only one pan!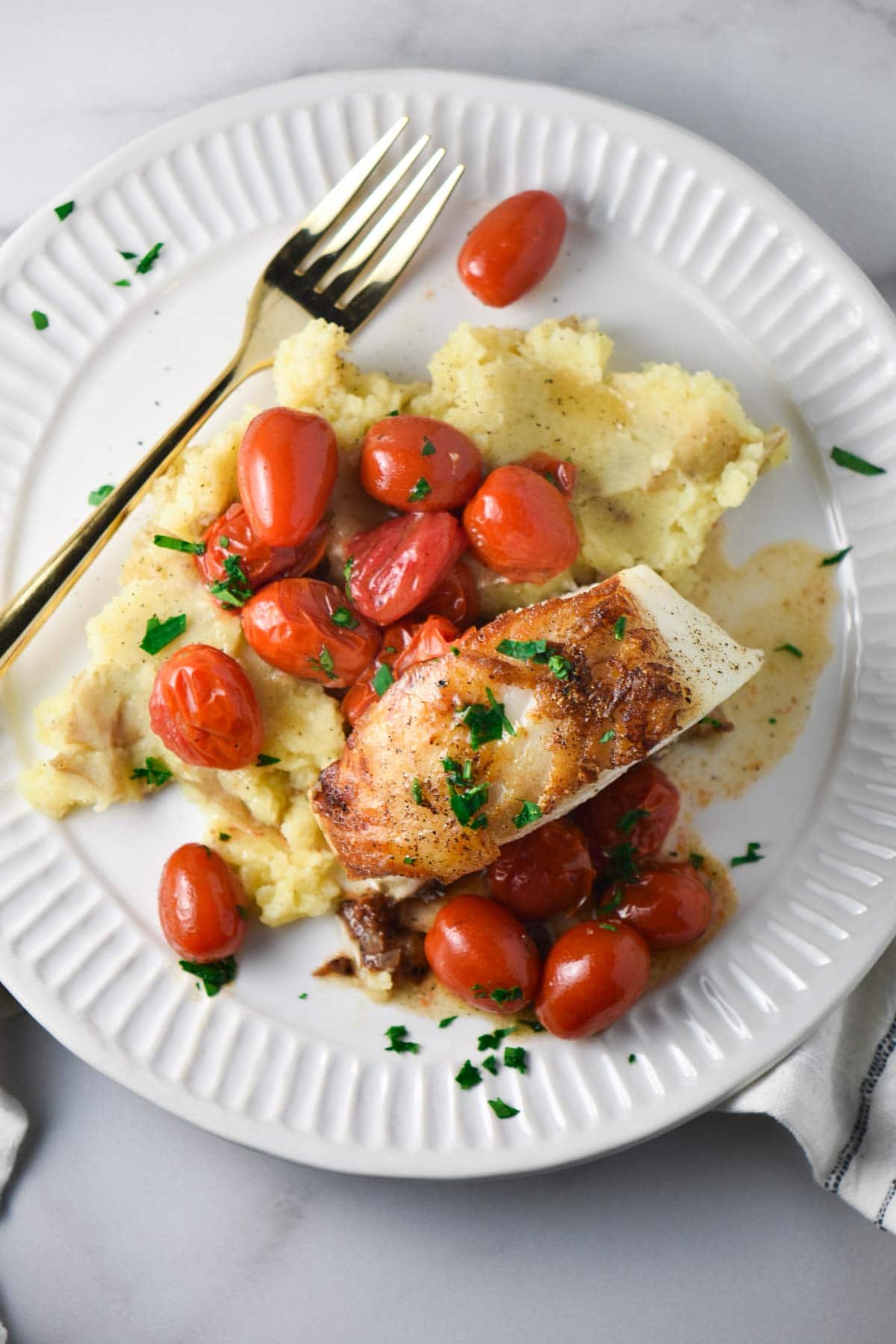 You'll love this recipe because:
It makes pan searing fish simple!
Sea bass is perfect for date nights, holidays, or a lovely dinner at home.
The basic principles can be transferred to other kinds of fish.
It's an easy gluten free, healthy dinner.
Ingredients
Just a few simple ingredients are needed for this delicious meal.
Chilean Sea Bass - This is a white fish that has a very mild, buttery flavor and pairs well with many different sauces. You'll need a fresh filet, although it can be previously frozen. It must be dry and defrosted all the way through. Although it can be expensive, I like to snatch it up when my fishmonger has it at a discount.
Butter and Olive Oil - I like to use a combination of the two for pan searing fish because it's still a lighter combination with just a hint of richness from the butter, yet olive oil has a higher burn point than butter. This will allow you to cook the butter at a higher heat without it burning.
Shallot - The shallot has a mild onion flavor that doesn't overpower the fish, it just adds to it.
Broth or White Wine - For this recipe I like to use vegetable broth or white wine like a Burgundy chardonnay.
Cherry Tomatoes - You can always omit this and just do a simply seared sea bass, but adding the roasted tomatoes makes a beautiful and light tomato butter sauce that's wonderful over potatoes or mashed cauliflower.
How to Pan Sear Sea Bass
Have all your ingredients prepped and ready to go, because pan searing fish can move quickly. If you have a very thick sea bass filet (over 1 inch), preheat oven to 425 degrees F. In an oven safe pan (I used MadeIn) melt 1 tablespoon of butter with 1 tablespoon olive oil over medium high heat. Meanwhile, pat the sea bass dry with a paper towel and sprinkle with kosher salt and pepper on both sides.
Once the oil is hot enough and the butter is bubbling (not burning!), place the sea bass flesh side down and skin side up. DO NOT MOVE IT. Leave it there to sear over medium high heat at least 5 minutes. If you touch it and move it all around the pan, it won't get that nice golden brown crust. After that time you can begin to check it to see if it's nicely browned. A fish that's ready to be turned is easy to move. One that sticks is not ready to be flipped.
Once golden brown, flip the fish and cook skin side down another 4-5 minutes. Pour in the broth or wine carefully as it will sizzle and "deglaze" the pan. Add in shallots and tomatoes stirring around the sea bass without moving the filets. Spoon some of the sauce over the fish as it cooks.
For a very thick sea bass, transfer to the oven and bake for an additional 4-7 minutes until cooked through.
Recipe Tips
It's important to start with dry, defrosted fish. Take it out of the fridge at least 10-15 minutes before you plan to cook it. Season right before cooking, not too far in advance.
DON'T TOUCH IT. Resist the urge to poke and prod the sea bass. I know it's hard. Sing a song (MC Hammer "U Can't Touch This" recommended). Do a dance.
If the filet is less than 1- 1 ½ inch thick, you can get away with just pan-searing. For a thick filet (like mine were almost 3 inches!) they will need to bake a bit in the oven - which is why you need an oven-safe pan.
Using a good pan is essential. I love MadeIn's Carbon Steel Frying Pan which is oven safe and the fish doesn't stick to it if cooked properly.
Serving Suggestions
I recommend pairing this pan seared sea bass with something light to soak up the sauce. Here are a few suggestions.
Fish Recipes
For more fish recipes like this pan seared sea bass, check out these posts.
If you make this, tag me #thedizzycook or @thedizzycook on Facebook and Instagram. And if you love the recipe, please leave a review below! Follow along on my Pinterest for more great recipes.
Pan Seared Sea Bass
An elegant meal in one pan, this recipe teaches you how to sear the perfect filet of fish.
Print
Pin
Rate
Ingredients
1 ¾

pounds

Chilean Sea Bass, cut into 4 filets

kosher salt and black pepper

1

tablespoon

olive oil

1

tablespoon

butter

¼

cup

white wine or vegetable broth

1

shallot, chopped small

10

oz

fresh cherry tomatoes or mini heirloom tomatoes

1

tablespoon

parsley, chopped
Instructions
Take the sea bass filets out of the fridge 10-15 minutes before you begin and pat dry. Season with kosher salt and black pepper on both sides. Preheat oven to 425 degrees F if using filets thicker than 1 ½ inches.

In an oven safe frying pan, heat butter and olive oil over medium-high heat until butter is bubbling, but not smoking/burning. Add sea bass filets flesh side down and DON'T TOUCH THEM for 5 minutes. If it's cooking too quickly, turn down the heat to medium. If you move them around when they're not ready, they will stick to the pan.

Once a golden brown crust has formed, flip to skin side down. Deglaze the pan with wine or broth, add chopped shallots and tomatoes. Using a wooden spoon, stir them around the fish without moving the fish. Spoon some of the sauce over the sea bass as it cooks and pan sear for another 4-5 minutes.

For a very thick filet (like the ones I used), transfer the whole pan to the oven and bake for 4-7 minutes until fish has cooked through. Serve warm over mashed cauliflower or potatoes.
Notes
Use this same cooking technique with less expensive cuts of fish like cod or halibut and it will still be just as delicious. Just lower the cooking time as they tend to be less thick.
For dairy free, all olive oil can be used. If you don't like/can't tolerate tomatoes, just omit them from the dish.
Nutrition
Serving:
1
filet
|
Calories:
267
kcal
|
Carbohydrates:
4
g
|
Protein:
36
g
|
Fat:
11
g
|
Saturated Fat:
3
g
|
Polyunsaturated Fat:
2
g
|
Monounsaturated Fat:
5
g
|
Trans Fat:
1
g
|
Cholesterol:
166
mg
|
Sodium:
171
mg
|
Potassium:
684
mg
|
Fiber:
1
g
|
Sugar:
2
g
|
Vitamin A:
613
IU
|
Vitamin C:
17
mg
|
Calcium:
41
mg
|
Iron:
2
mg