This Salmon with Spinach Cream Sauce is perfectly pan-seared and surrounded by a decadent creamy garlic sauce filled with lightly sautéed spinach. It looks really fancy, but is actually easy and fast.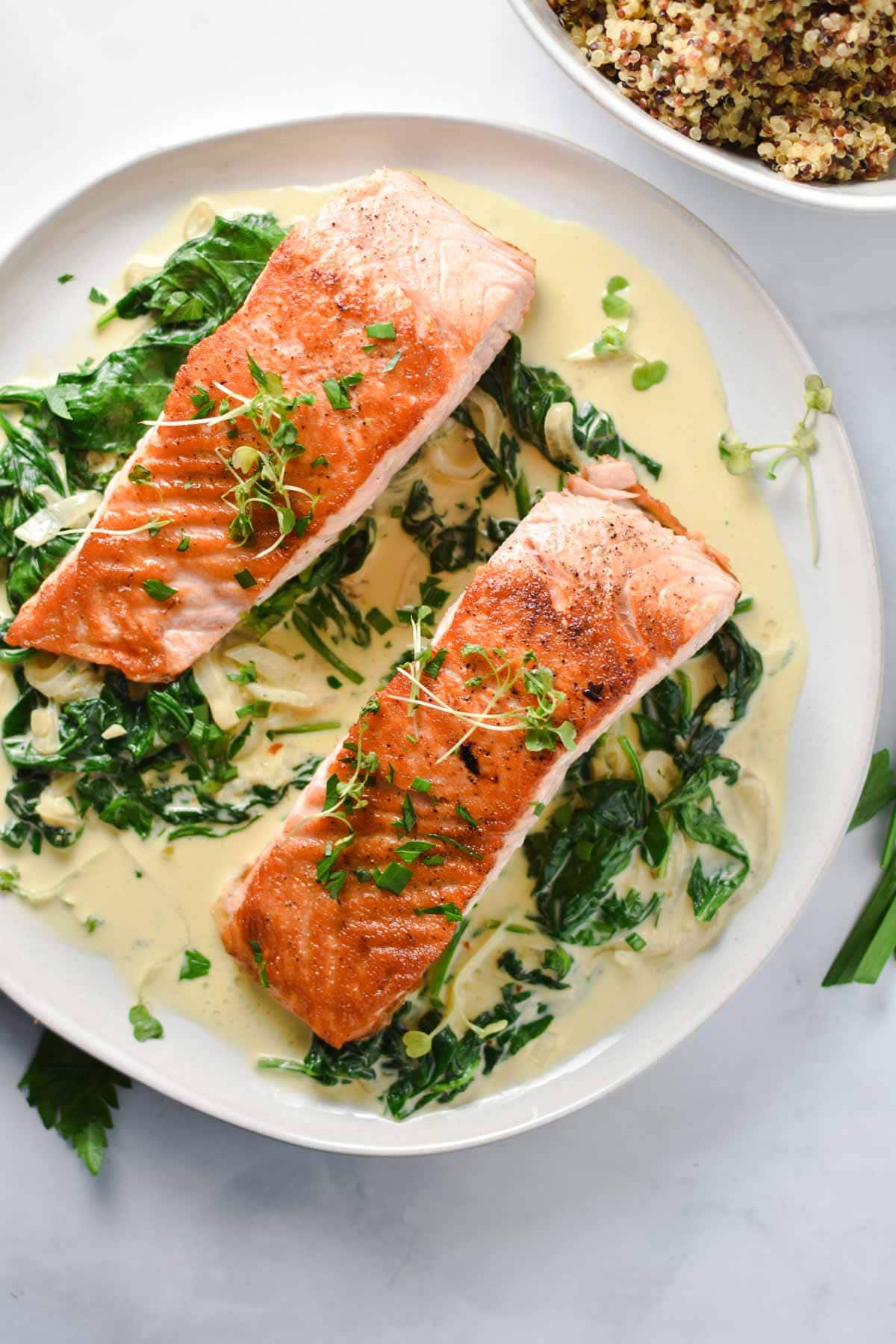 You'll love this recipe because:
Everything cooks in one pan - minimal clean up.
You get a main dish and a side dish all in one easy meal!
It takes less than 30 minutes to prepare.
Minimal ingredients create lots of flavor.
Salmon is high in Omega-3's and great to incorporate 2-3x a week for both nutrients and migraine management.
I serve this recipe by itself or with quick quinoa or brown rice - anything to soak up the sauce!
Jump to: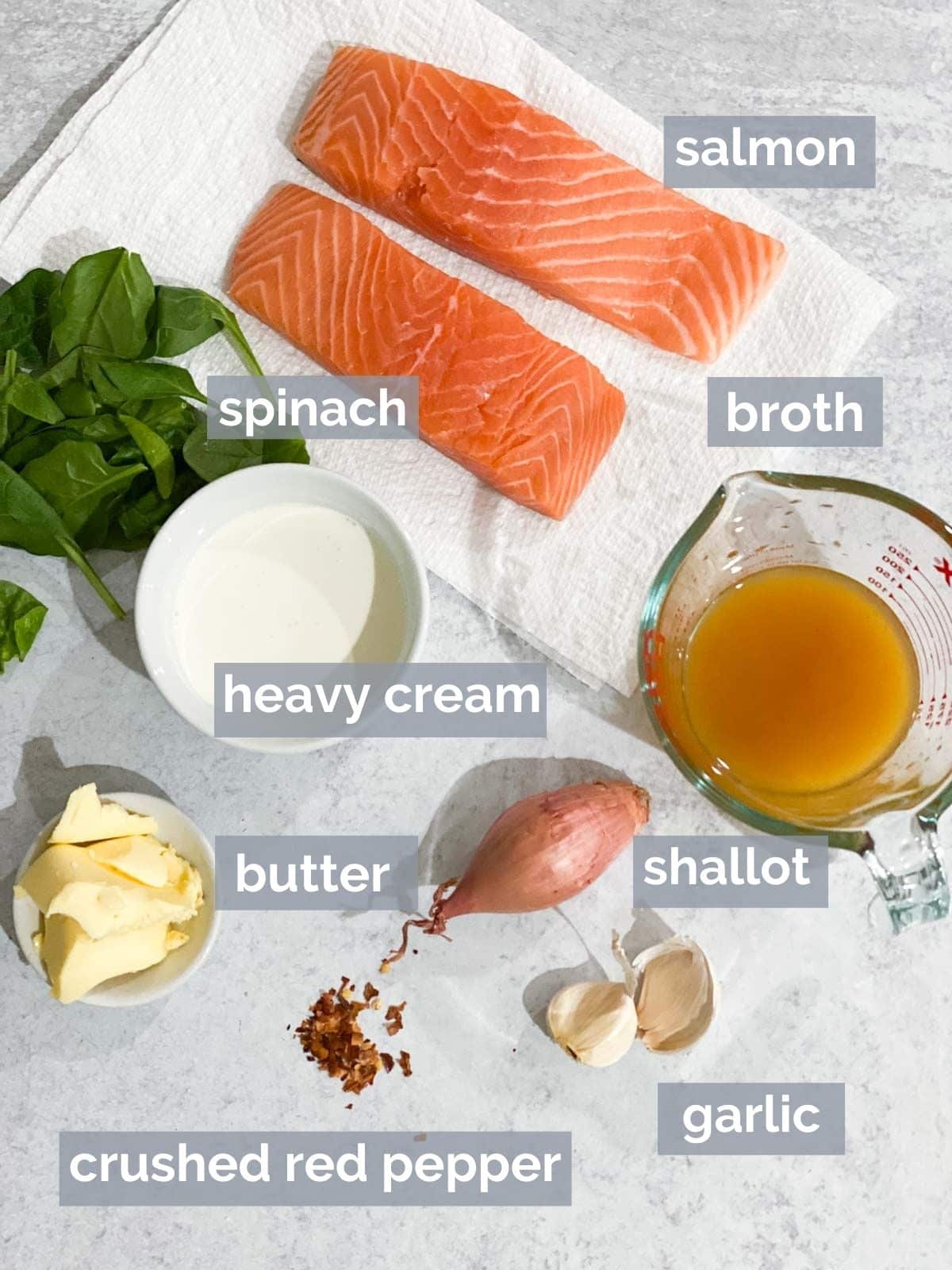 Ingredients
Here are some tips for choosing the main ingredients for this salmon with spinach cream sauce recipe.
Salmon - Any type of salmon will work for this recipe - wild caught or farm raised. Farm raised salmon tend to be higher in fat content, and I prefer the flavor (go figure) to wild salmon. The most important part is that it is fully defrosted. A center cut, even piece tends to sear the best/most evenly, so ask your fishmonger for that type of cut when they de-bone it as well.
When choosing salmon, it should be a bright pink color and not smell fishy. It should also appear moist and not dried out. Avoid pieces with brown or grey spots.
If you can find it, my favorite salmon for weeknights is Verlasso, which is sustainably farmed. I also enjoy the flavor of New Zealand King Salmon, but it is pricey. Save that one for special occasions!
Spinach - Fresh spinach leaves work best for this recipe and they melt quickly into the cream sauce. Just a few handfuls are enough.
Vegetable Broth - Using vegetable broth lends a deeper flavor to the cream sauce, but also cuts the calories. I like to use homemade (from my cookbook) or Trader Joe's Hearty Vegetable Broth.
Heavy Cream - Look for a brand with minimal ingredients and without carrageenan. Not only is it better to find a heavy cream without additives, but the texture is so much better and it also reduces well without added thickeners like flour or arrowroot. Quality cream makes the best creamy spinach sauce for salmon. Brands like O Organics from Safeway and Butterworks Farm are strictly cream based, while others like Publix Greenwise and Organic Valley or Horizon can contain gellan gum, which will also work.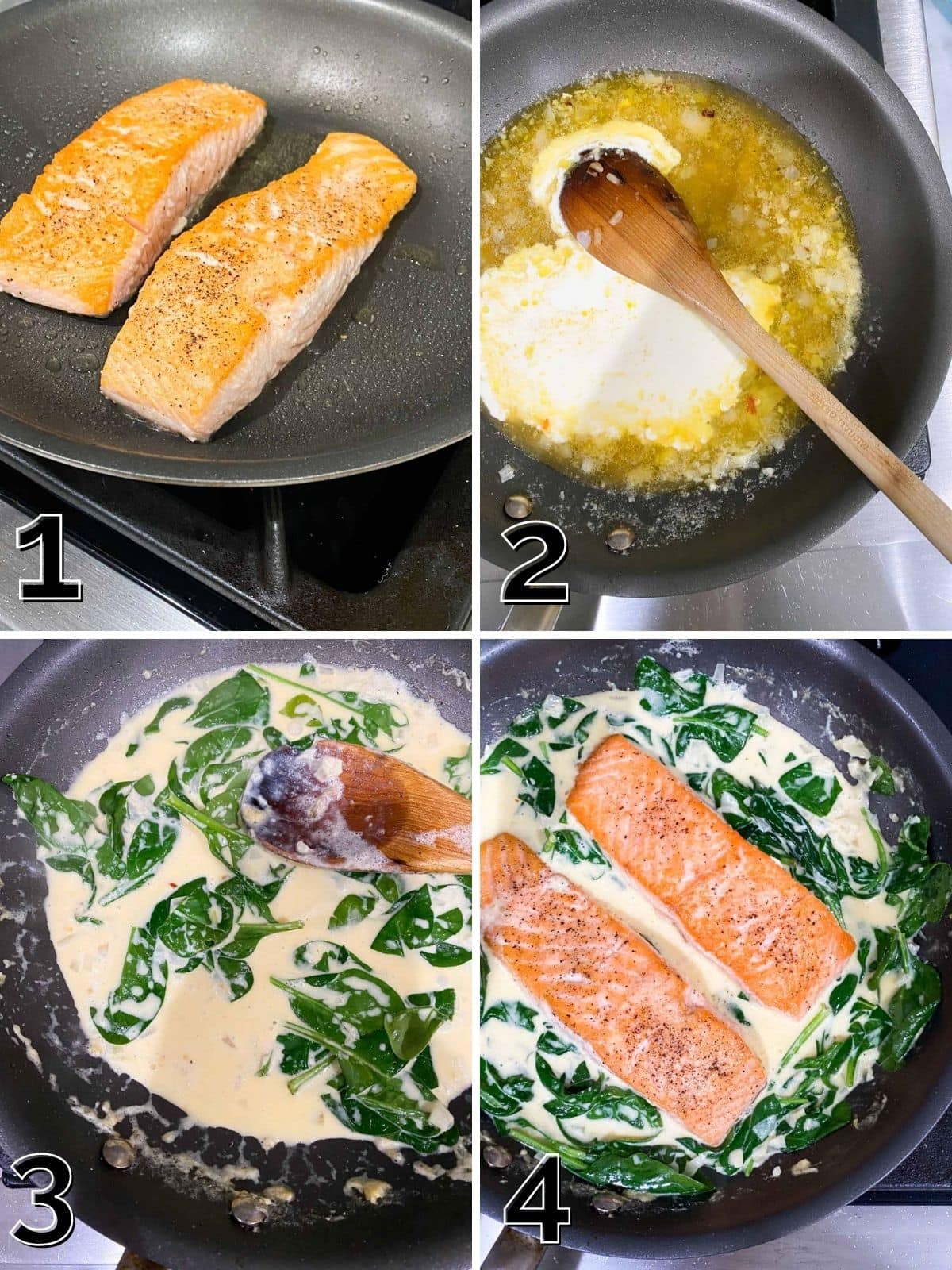 How to Make Salmon with Creamy Spinach Sauce
Pat salmon dry on both sides. Wait to season till just before searing. Add oil to a large non-stick or cast iron pan and heat over medium high heat till hot (but not smoking). Turn heat to medium, season salmon quickly with salt and pepper, and place skin side up. I personally prefer to sear salmon skin side up first because I like a nice golden brown crust on top. If you prefer yours to just be cooked through without a golden brown crust, start with skin side down.
Cook for about 3 minutes and DON'T TOUCH IT. Moving the salmon around while cooking makes it stick to the pan. As it cooks and gets a nice sear, it will release properly. Flip and cook another 3 minutes or until desired doneness is reached (these times cook it about medium to medium well).
Remove salmon from the pan, wipe out any excess oil and add the butter. Add shallot and garlic, sautéing stirring often for 2 minutes - don't let garlic burn or get overly brown.
Pour in broth and heavy cream and bring to boil, then reduce to a steady simmer over medium heat for about 4-5 minutes or until sauce has thickened. If your sauce is too thin, it either needs to be simmered longer, or you can whisk in 1 teaspoon of flour.
Add in spinach and stir till just wilted - don't overcook! Then nestle the salmon filets back into the sauce.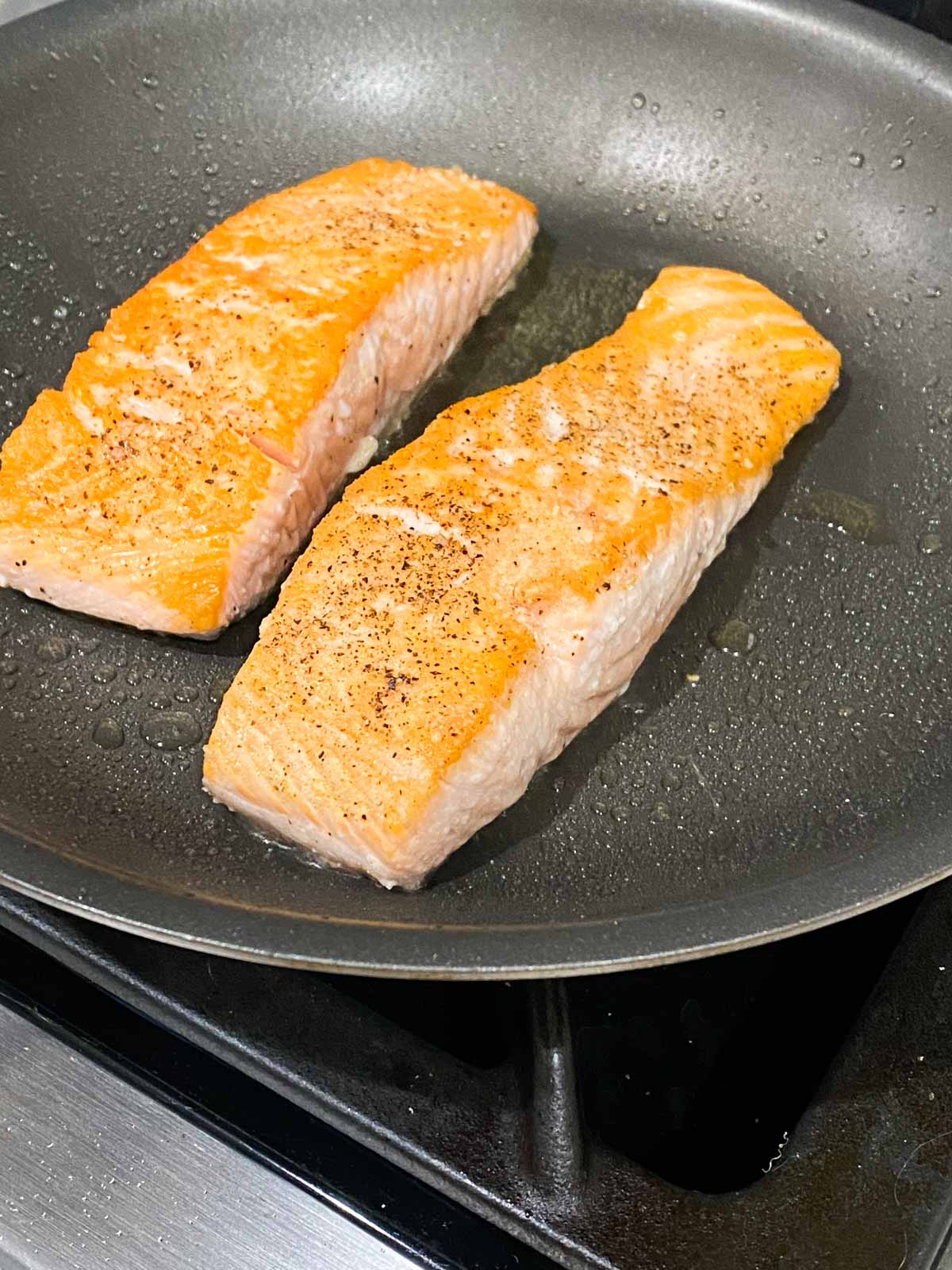 Tips for Perfect Pan-Seared Salmon
Getting a fish crispy on the outside may be intimidating at first, but it's fairly easy to do. My best tips are:
Start with a good pan, either nonstick or one like MadeIn. I switch off between GreenPan and MadeIn (both linked).
Pat your salmon dry before you begin
Heat oil over medium high heat before placing the salmon in the pan.
Add salmon, skin side down, and don't touch it for 3 minutes. The salmon will start to release when ready.
The key here, even after flipping, is to not touch the salmon. Don't move it around. Don't poke it. Just let it get nice and crispy.
I love using one pan for this recipe!! Just wipe up any excess oil and start on the spinach in the same pan while your salmon rests. The creamy spinach sauce cooks quickly.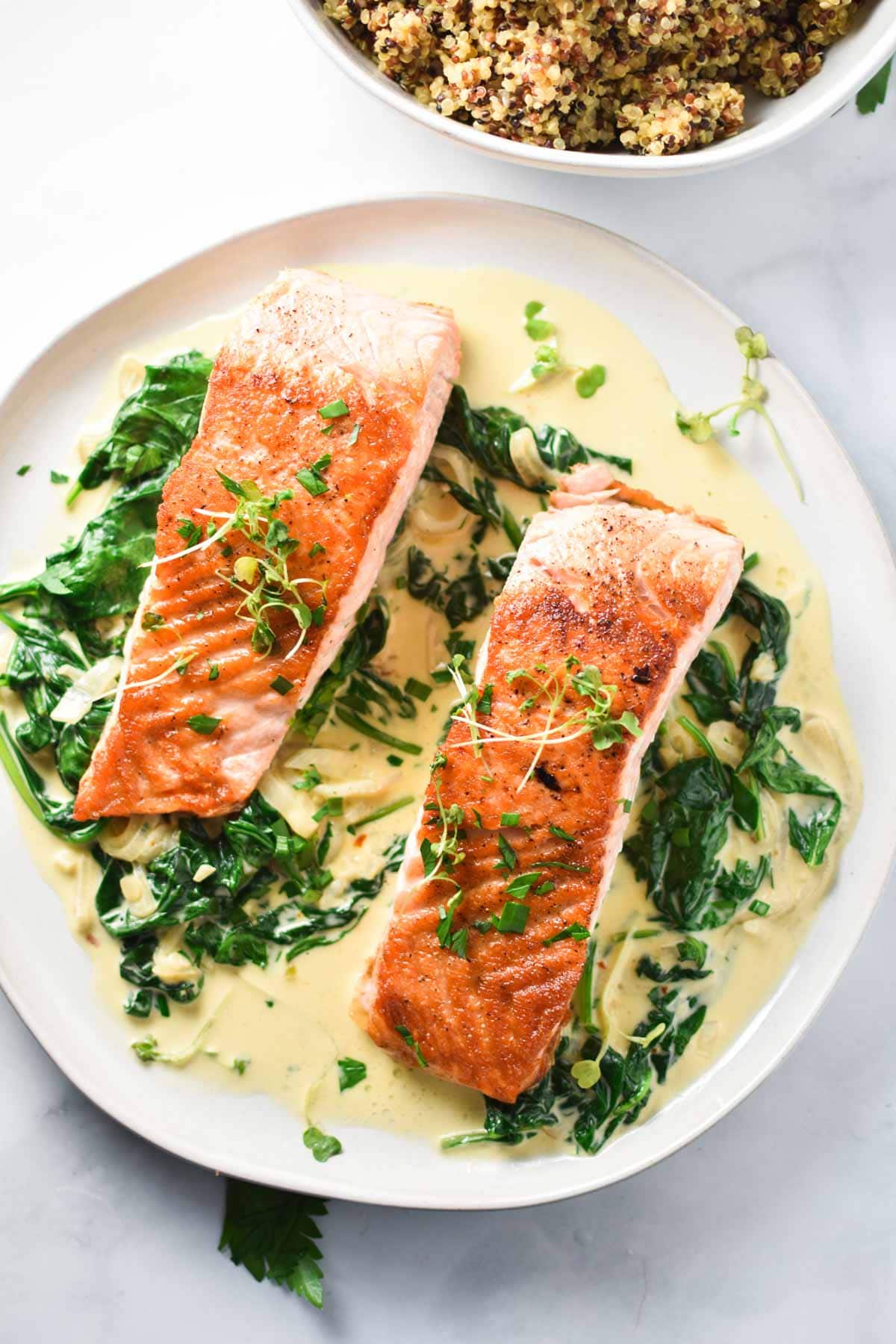 Recipe Edits
For dairy free - Use coconut cream and all olive oil or ghee for those with dairy sensitivities. I've used both heavy cream and coconut cream and the recipe is delicious with both! I prefer the coconut cream from Trader Joe's, which has no additives.
If you use coconut cream, your sauce might be a little more thin. Adding 2 teaspoons of flour or arrowroot powder to the shallot garlic mix before you add the coconut cream can help to thicken it.
This recipe is naturally gluten free.
Side Dishes for Salmon
This spinach cream sauce is really versatile and I've actually made it with chicken or other types of fish. See this recipe for Creamy Rosemary Chicken which is really similar.
Here are some side dishes that I love with this recipe:
Since you're getting the spinach already, half of the side dish work is done! You just need something to soak up the delicious sauce.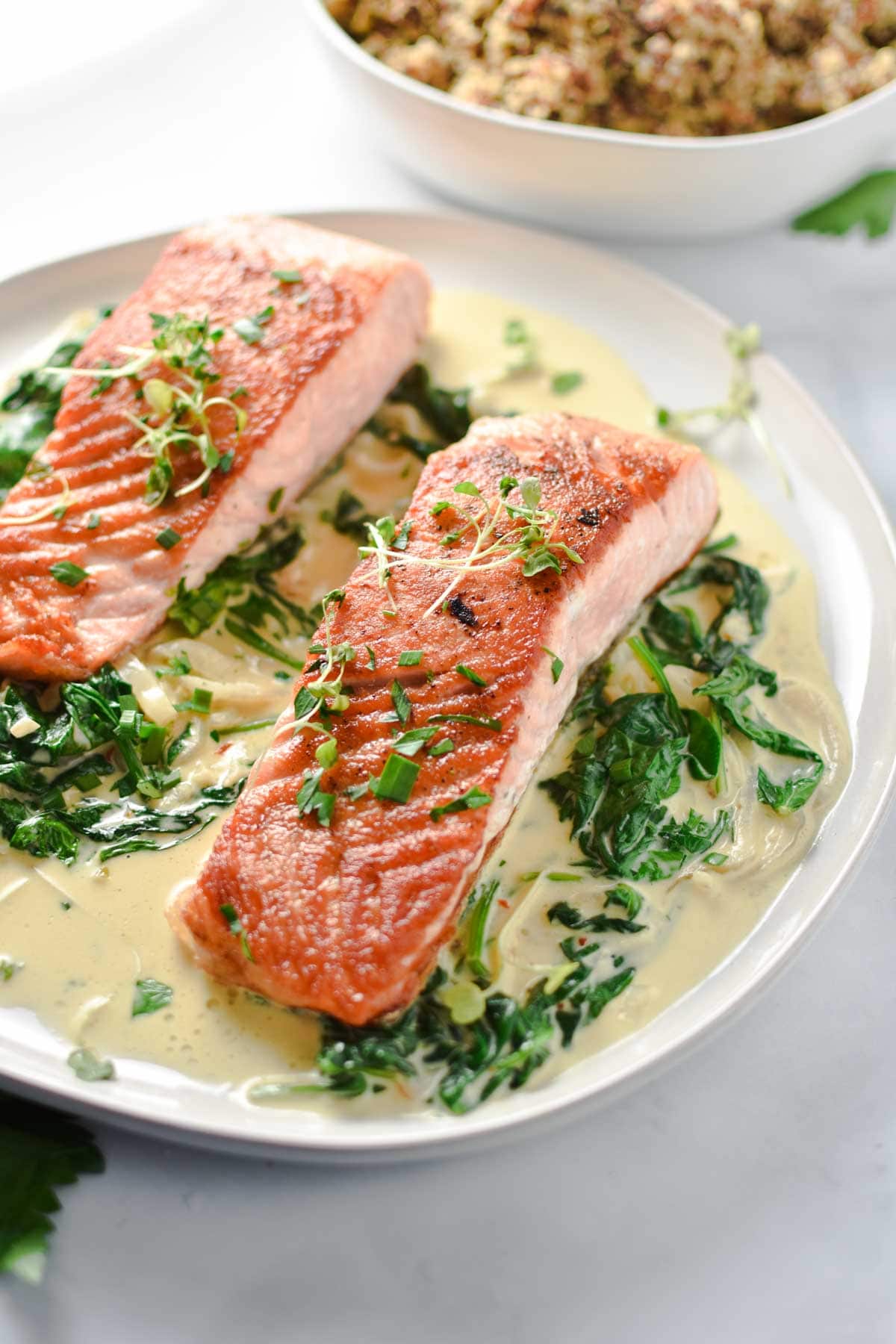 More Salmon Recipes
For more recipes like this delicious salmon with spinach cream sauce, check out these posts. I also highly recommend this Pan Seared Sea Bass if you'd like to substitute Chilean sea bass for the salmon in this recipe. I highly recommend the Cajun Salmon Pasta for a full meal!
If you make this, tag me #thedizzycook or @thedizzycook on Facebook and Instagram. And if you love the recipe, please leave a review below! Follow along on my Pinterest for more great recipes.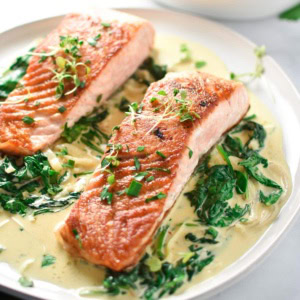 Salmon with Spinach Cream Sauce
A one pan dinner with perfectly cooked salmon in a creamy garlic spinach sauce. Decadent and delicious, this is a great 30 minute meal.
Print
Pin
Rate
Ingredients
2-3

tablespoons

olive oil

2

6 oz

salmon filets

1

tablespoon

butter

2

cloves

garlic, peeled and minced

1

small shallot, finely chopped

½

cup

heavy cream

¼

cup

vegetable broth

¼

teaspoon

red pepper flakes

9-12

oz

fresh spinach leaves

1

tablespoon

flat leaf Italian parsley, chopped

kosher salt and pepper
Instructions
Pat the salmon filets dry with a paper towel. Heat olive oil in a large skillet over medium high heat, until shimmering. Be careful that it doesn't smoke. The pan must be hot so the salmon doesn't stick to it and gets nice and crispy. Add salmon, skin side up and sear for 3 minutes, until light brown. Flip and continue to cook for another 2-3 minutes or more, skin side down, depending on the thickness of your salmon and well-cooked you want it. Times are for medium to medium well.

Remove the salmon from pan and set aside. If there is a lot of excess oil in the pan, wipe it with a paper towel. Add butter along with the garlic and shallot, cooking for 1-2 minutes, stirring often with a wood spoon. Add vegetable broth, red pepper flakes, and cream, bringing everything to a low simmer over medium heat. Stir consistently until the sauce thickens and reduces by almost half. Add spinach and stir until lightly wilted - around 2-3 minutes. Season the spinach cream sauce with salt and pepper to taste.

Nestle the salmon filets back into the spinach cream sauce and top with parsley.
Notes
Substitute coconut cream and all olive oil for dairy free, however the sauce will not thicken as well.
Whisk in 2 teaspoons of flour or cornstarch to thicken the sauce before simmering.
Use a heavy cream without carrageenan for best results.
Nutrition
Serving:
1
piece
|
Calories:
302
kcal
|
Carbohydrates:
10
g
|
Protein:
6
g
|
Fat:
28
g
|
Saturated Fat:
17
g
|
Polyunsaturated Fat:
1
g
|
Monounsaturated Fat:
8
g
|
Trans Fat:
1
g
|
Cholesterol:
97
mg
|
Sodium:
180
mg
|
Potassium:
822
mg
|
Fiber:
3
g
|
Sugar:
2
g
|
Vitamin A:
13087
IU
|
Vitamin C:
38
mg
|
Calcium:
178
mg
|
Iron:
4
mg