This Sunbutter Maca Smoothie is a superfood smoothie that tastes like healthy caramel milkshake! The sweetness of the mulberries and complimented with the caramel flavor of lucuma for the perfect breakfast. It's the perfect smoothie without bananas or yogurt.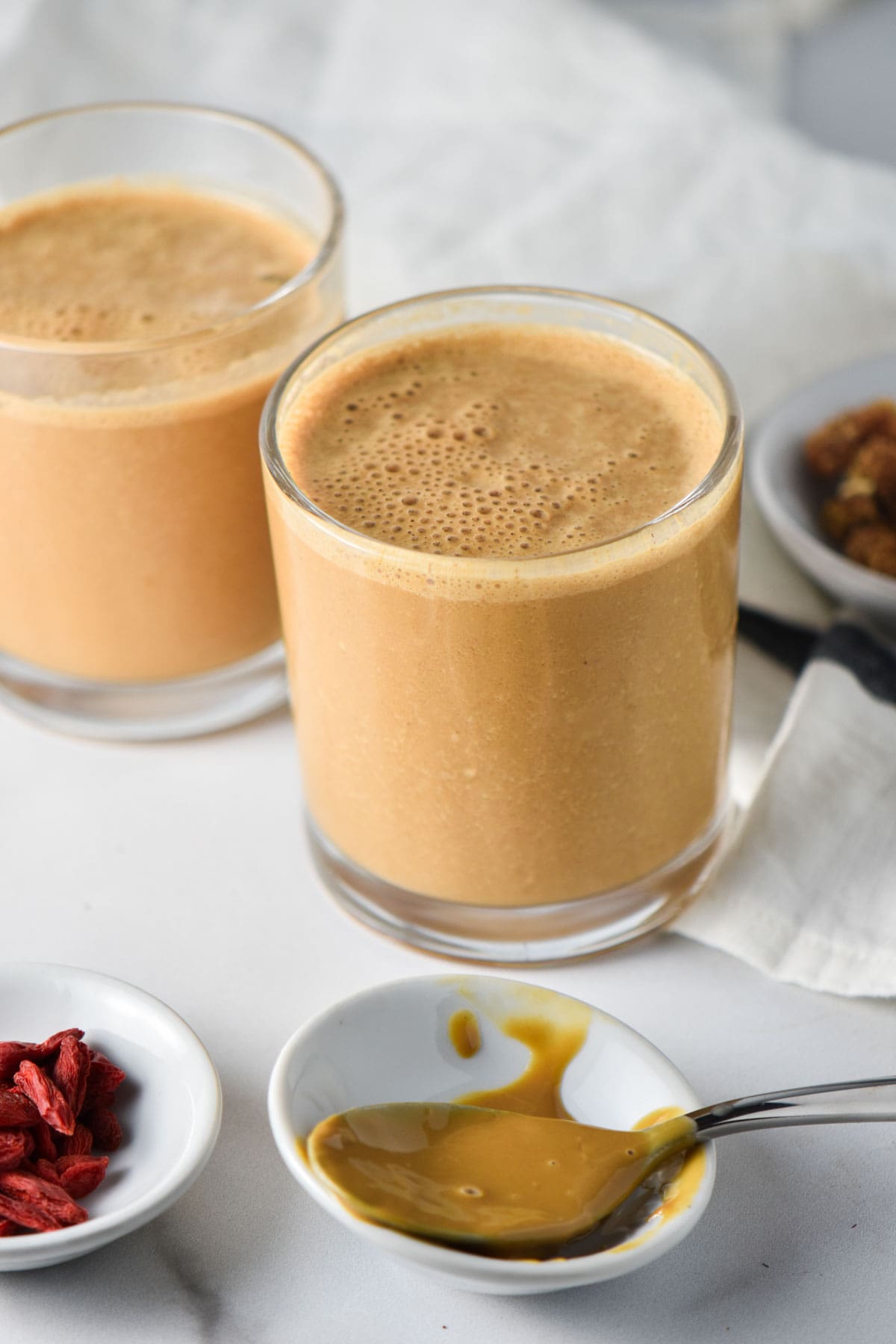 You'll love this maca smoothie recipe because:
It's simple to make. It tastes like a milkshake but it healthy for you.
This sunbutter smoothie is packed with superfoods like maca powder, mulberries and goji berries.
This is a low GI smoothie with the sweetness coming from the lucuma.
It's a nut free smoothie without bananas!
Why Add Maca to Smoothies?
Maca powder, a superfood, is a Peruvian root crop that is said to improve fertility, aid menstrual issues, clear acne, regulate hormone balance, and remedy fatigue. It also boosts mental clarity and performance, something all people with migraine need. It was something I began when we decided to try to conceive, as I struggle with infertility and egg quality.
A 2014 study showed maca root could be helpful for memory. It should be taken in small quantities so I usually add ½ teaspoon of the powder my smoothies. Occasionally people report digestive upset with maca, but are most likely using it in larger quantities.
The flavor is very earthy, so mixing it with smoothies masks the stronger taste. In this sunbutter maca smoothie it works well together.
Ingredients
I know this ingredients for this maca smoothie are a little unique - a smoothie without bananas or yogurt?! But these ingredients can also be used in other smoothie recipes to bump up the superfoods and antioxidants.
Dried Mulberries - Typically it's difficult to find fresh mulberries, but freeze-dried white mulberries are widely available in health food stores and on Amazon. I like to use Navitas. Mulberries are a good source of iron and vitamin C.
Ground Maca - Gelatinized refers to the processing of the maca root, it does not contain gelatin, and often this can be easier to digest. Typically this can be found at health food stores, Whole Foods, and on Amazon. I use the Navitas brand.
Lucuma Powder - Don't skip this! I love using lucuma powder in baking and as a smoothie sweetener. It's got a caramel-like, butterscotch flavor to it, making it a great substitute for banana in smoothies. It's also a great low glycemic index sweetener which helps prevent blood sugar spikes - important with smoothies! This Peruvian superfood is high in antioxidants and also a good source of potassium. You can order lucuma powder online or find it in health food stores.
Sunbutter - I use a roasted and salted sunbutter in this recipe, but any kind will do. If you hate sunflower seed butter, just substitute it with pumpkin seed butter to keep this nut free.
Goji Berries - Goji berries protect against cancer, can help provide anxiety and stress relief, and stabilize blood sugar. They may interact with some blood thinners and diabetes drugs so ask your doctor before using. This can also be omitted from the recipe without greatly changing the flavor. Goji is online or at health food stores.
Vanilla - Vanilla extract adds a wonderful cookie-like flavor to the recipe and makes it taste like a milkshake! Use any type you like. For alcohol free, Trader Joe's has a good one.
Milk - Any type of milk will work with this recipe. I like to use oat milk or hemp milk for extra protein.
How to Make a Maca Smoothie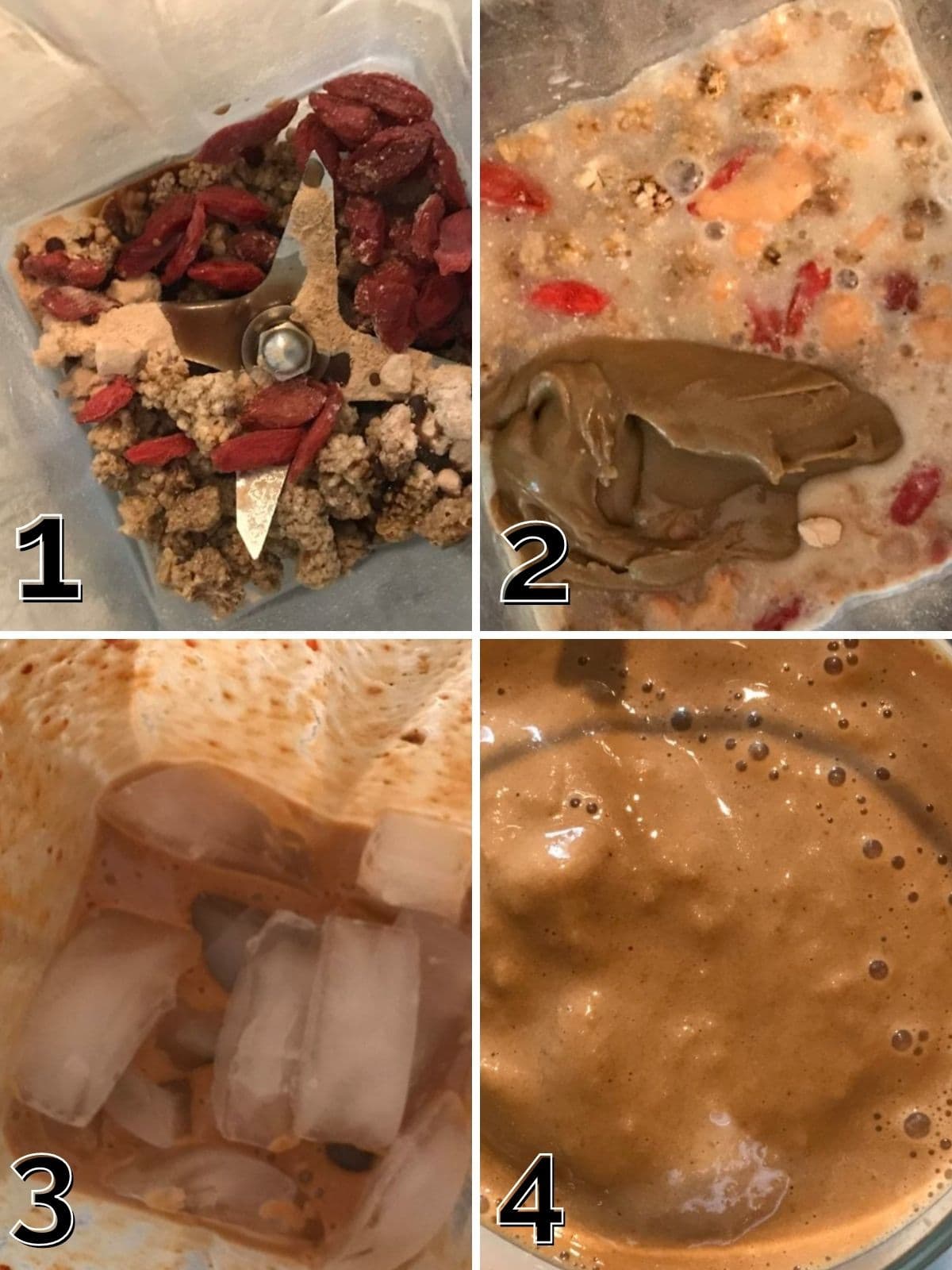 This maca smoothie recipe is simple to make if you have a good blender. I recommend a high-speed one like Vitamix, Ninja, or Nutribullet.
Add the dry ingredients to a blender. I know it seems weird to not put a bunch of fruit in there - trust me! It will be ok.
Add the milk + ¼ cup of water and blend on high speed till everything is smooth. There should be no bits of fruit left.
Add in ice, ½ cup at a time, blending on low first and turning the speed up to high gradually. Add enough ice till desired thickness is reached. The flavors are pretty powerful, so it would take a lot to water it down.
Pour into a glass and serve!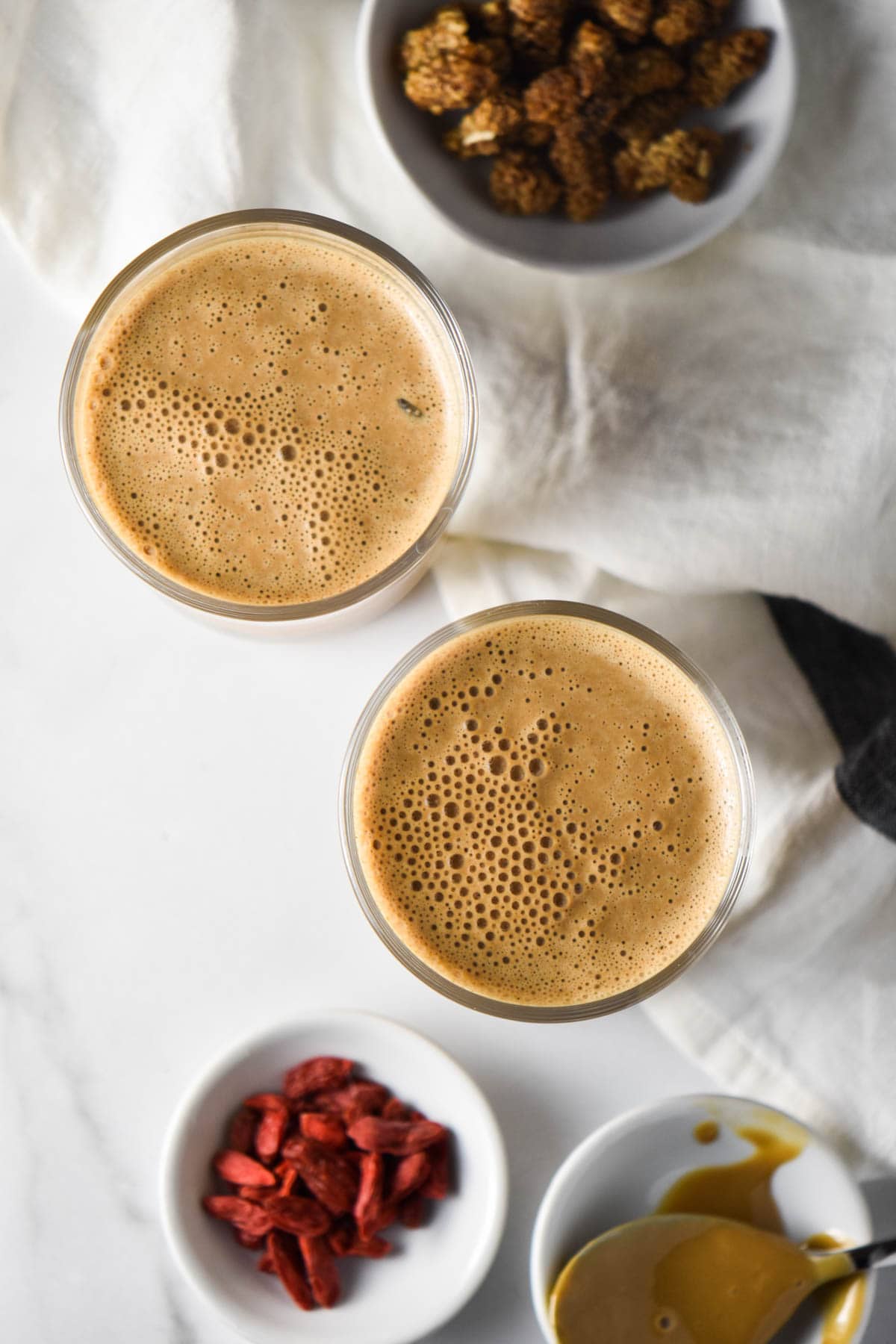 Recipe Modifications
Other optional add-ins for this maca smoothie are:
Add spinach or kale for some extra greens!
Frozen cauliflower - this would make it extra creamy and good for a healthy milkshake substitute. Start with ⅓-1/2 cup.
Hemp seeds or protein powder for extra protein.
Smoothie Recipes
For more recipes like this sunbutter maca smoothie, check out these smoothies.
If you make any of my recipes, don't forget to tag me #thedizzycook or @thedizzycook on Facebook and Instagram. And please leave a review below!
Maca Smoothie
This delicious combination of dried white mulberries and lucuma powder tastes like a caramel cookie! It's a great way to pack in superfoods for breakfast.
Print
Pin
Rate
Servings:
2
16oz servings
Ingredients
⅓

cup

dried white mulberries

2

tablespoons

dried goji berries

1

tablespoon

lucuma powder

3

tablespoons

sunflower seed butter

2

tablespoons

hemp seeds or chia seeds

¾

cup

milk (any kind)

2

teaspoons

vanilla extract

¼

cup

water

½

teaspoons

optional maca powder
Instructions
Place the dry ingredients in the blender, then add milk, vanilla, and ¼ cup of water. Blend until totally smooth, stopping to scrap down the sides if needed.

Add ½ cup ice and blend till smooth. Keep adding ½ cup ice until desired consistency is reached. Taste every time to make sure it isn't getting watered down. The smoothie itself has a strong flavor, so it should take a lot to water it down. Serve immediately.

If using maca powder, spinach, or any additional add ins, add those with the dry ingredients.
Notes
Sunflower butter can be substituted with pumpkin seed butter.
The recipe is calculated with hemp milk. Any kind of milk will work here!
Nutrition
Calories:
275
kcal
|
Carbohydrates:
21
g
|
Protein:
8
g
|
Fat:
17
g
|
Saturated Fat:
2
g
|
Polyunsaturated Fat:
4
g
|
Monounsaturated Fat:
1
g
|
Trans Fat:
1
g
|
Sodium:
58
mg
|
Potassium:
233
mg
|
Fiber:
8
g
|
Sugar:
4
g
|
Vitamin A:
209
IU
|
Vitamin C:
9
mg
|
Calcium:
226
mg
|
Iron:
3
mg
This post was originally titled "Sunbutter Smoothie" and posted Jan 3, 2018. It was updated December 3, 2021 to include new photos, recipe instructions, recipe edits and a new title. Below is an original image