This post was originally intended as gifts for mother's with migraine, but really these are the best gifts for migraine sufferers throughout the year! It was written last year (May 3rd, 2019), but has since been updated with my favorite migraine products from 2020.
What Mother's Day Means to Me
Mother's Day is a little over a week away and since I have so many good deals that are exclusive to Dizzy Cook, I thought I would share a round up of my favorite gifts for anyone with migraine or a vestibular disorder. But first, I should probably talk a little bit about my mom.
My mom loves me so much, she's going to be in the Philippines for Mother's Day. On a beach with a drink in her hand. Probably not caring at all about what the heck I am doing here! She just retired so this is her first big trip to live it up. I was her miracle baby, after years of trying…before IVF was even a thing. I remember praying and praying for a little brother, not knowing that it was highly unlikely I would ever have one.
Mother's Day with Infertility
Now that I'm faced with my own fertility struggles, I can kind of understand what a big deal it was for her to have me. My mom was a Navy nurse, who spent the last 20+ years working in nearly every department for Cancer Treatment Center – from nutrition to patient education. She has such a heart for healing and helping other people, she's the kindest woman I know. Although I didn't pick up my cooking skills from her, she's an awesome baker and she has given me a lot of tips for this blog from her years of expertise. Feeling sick? My mom has a supplement for that! She sat with me through my first appointment with my current neurologist and questioned him on everything when my brain could barely form a sentence.
Not to be left out is also my wonderful mother in law, who legitimately does not drive me nuts (how many people can say that?). She's such a wonderful supporter, and was a huge help when I was originally diagnosed with VM at the Mayo. She remembers every event in all her kid's lives and will call and check in on you if you're ever not feeling well. Did I mention she's an excellent cook? I'll be putting her to work testing some of my book recipes. The fact that she would set down her Ina cookbook for a few weeks to test some of them for me is a huge deal, guys.
I'm hoping by this time next year we'll be celebrating them both as grandmothers. I'll admit though, it's going to be a tough day for me to get through. These are the days I decide to take a break from social media, and I think that's ok too. I loved watching the dynamic between Jenna Bush and Dylan Dreyer on the Today Show just a week ago. Jenna was announcing her pregnancy, while Dylan was revealing her loss and struggle with secondary infertility. Sometimes you just have to keep going.
It's the same for anyone without a vestibular disorder or chronic migraine. We're in our own little club that people can try to understand, but they never truly will. I can be happy for my mom friends while still feeling pain. Maybe I can't really like all their baby photos or always want to be around, but that doesn't mean I don't care for them.
So I think this Mother's Day we should celebrate the awesome moms who are out there, as well as the ones who wish they were. Or the ones who are happy just being dog (or cat) moms too. Or if you're the mom to your best friends when they get too drunk at Cinco de Mayo, you count too!
I know I will certainly be treating myself to more Wine Wands.
The Wand & The Wave by Pure Wine
I have a popular post about these, but I've been using these ever since I saw them at the Migraine World Summit and they actually work. What makes these different is they're the only product that removes both sulfites and histamines from the wine without adding anything to it or changing the flavor. In fact, even if you don't have migraine, these work by restoring your wine to the original flavor even if it's been open a few days. If you are like me and have trouble drinking certain wines, especially reds, you may want to give this a try.
15% off with code thedizzycook direct or available on Amazon without the discount.
Axon Optics FL-41 Lenses
When my Vestibular Migraine first started, I had severe light sensitivity, Working in an open floor plan at my old office was pure torture. My neurologist recommended FL-41 lenses to me to help with the environment. I've been using Axon for a while now and find their lighter colored lenses perfect for working in office environments, on planes, or on the computer.
Axon Optics have been shown to reduce the amount of headache days by 24%, and 90% of people who tried them saw a reduction in migraine days.
They're really light on the face and the major perk of Axon is their variety of styles that are really fashionable. They carry both indoor and outdoor, and can add tint to lenses you already own or prescription lenses. I find migraine glasses to be an incredibly personal thing, so I love that they give you a 30 day trial period to see how they work for you. If you don't find relief, just send them back.
Get 20% off with code MOTHER20
The Dizzy Cook Apron and Cookbook Bundle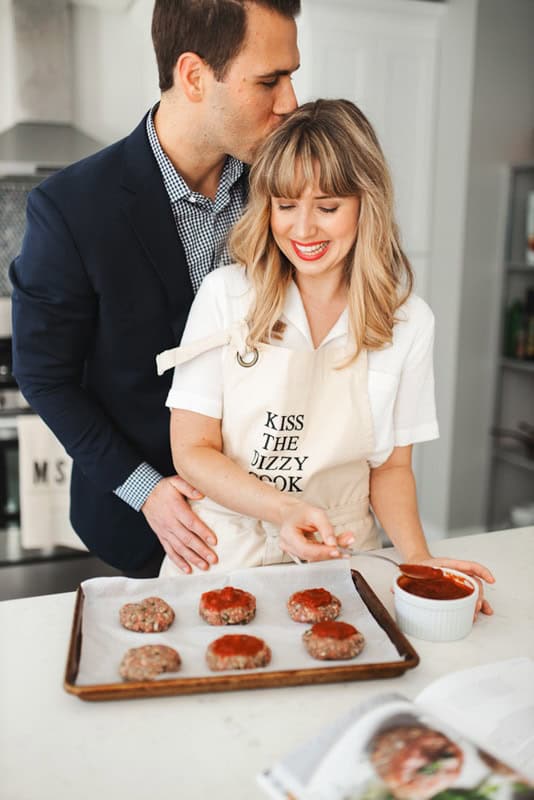 Ok, so I'm partial to this gift! If you have a mom that struggles with migraine or if she's a dizzy cook, you know she needs a little extra love. What I adore about these aprons is everyone who has purchased one seems to note that their family gives them a little extra affection when they wear them. It's a good reminder that sometimes you gotta kiss the cook (or give them a big hug).
For a limited time, I'm discounting signed copies of the paperback book with this embroidered apron.
Blisslets for Nausea Relief
Nausea relief…but make it fashion. These are the cutest new product I've come across for migraine symptom relief, and especially those that deal with vestibular-induced motion sickness. Blisslets come in all kinds of fun patterns and colors, and can blend in with your outfit seamlessly. What I also love about these motion sickness bands is you can pick the sizing! I have exceptionally small wrists (mine measure about 5 1/2 inches) and I can already tell a difference with how snug these fit.
Blisslets work by applying consistent pressure to the P6 (Nei-Kuan) pressure point which has been used for thousands of years to relieve nausea and vomiting due to pregnancy and motion sickness. Some find it also promotes relaxation by having a soothing effect, as well as a more restful sleep. This is an especially great gift for my vestibular migraine buddies who need to be out and about, but don't want to be too obvious that they're wearing sea sickness bands.
Get 15% off with code dizzycook
An Allay Lamp
The Allay Lamp was featured at this years Migraine World Summit and emits a narrow band of light that helps with light sensitivity and can reduce the severity of migraine symptoms. I'm currently still trialing, but they do give a 40 day trial period just to be sure you love it. Overall it's helped me with light sensitivity and anxiety as I find it incredibly calming, especially before bed. Get $25 with my coupon.
Magnesium Lotion and Bath Salts
Is there anything better than giving mom the gift of relaxation? I'm a fan of magnesium chloride bath salts for sore muscles and to relieve any bad attack days, but I've been using the MSM cream with melatonin on my neck and feet for a few months now. I think it's really helped relax some of the tense muscles I get in my neck from traveling and dealing with VM episodes, as well as promote a deeper sleep. I prefer Ancient Minerals because I don't find their products super itchy!
Get it direct from their website or get through Amazon. If you order over $49 you can get free shipping.
MigraineShields
Migraine Shields is the new division of BluTech, which you've seen me talk about before. What makes them a little bit different is they are glasses intended for migraine, but without the pink FL-41 tint. Their lenses come in two styles, the Everyday Lens, which is full protection that blocks 45% of blue light at 455nm which is what digital devices are. This is actually 17x more protective than other blue light lenses and is good for everyday use. This lens is a little less protective than the Episodic lens, which I'm wearing in the bottom right photo. You can see it's got a little bit of a yellow tint to it. This blocks 59% of blue light and is 20x more effective than other blue light lenses.
I love MigraineShields for everyday computer work cause I know it gives me good protection against blue light. I love that they are transparent about the exact range they block online as with other companies, this is tough to find. Since I'm clearly on my computer a ton, this is helpful. I also love that I can still see colors well since there's no pink tint, which is helping with editing photos. They're also slightly less expensive than other brands, especially with the discount below ($79) You can also get prescription lenses. Get 20% off with my discount: THEDIZZYCOOK
Theraspecs Lenses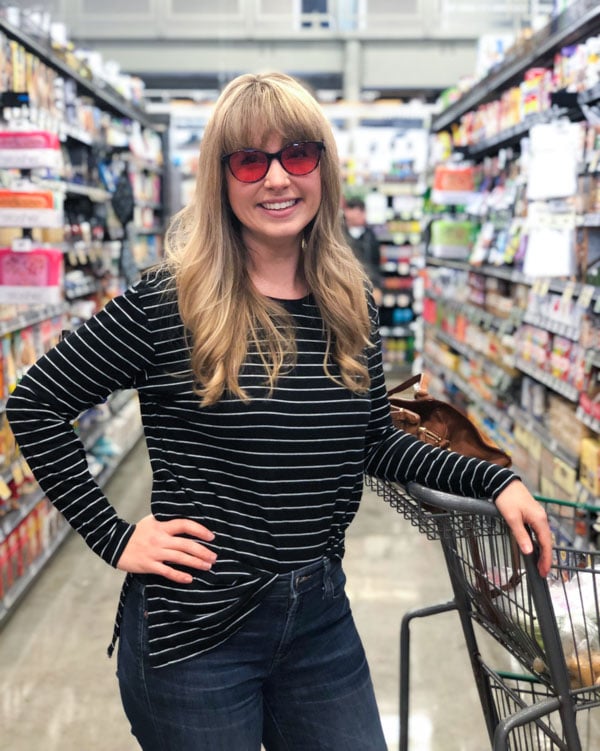 I have posted my full review of Theraspecs lenses previously, and it's no secret these have a special place in my migraine bag. I find them so much different than Axon and honestly use both in my day to day, but this is why I say to test them both and see which ones you prefer. In comparison, Theraspecs are darker with a very pink hue to them. You can see the difference in color if you compare them to the picture above.
Because I keep my home and devices so dimly lit, I find them beneficial for really bright big box stores and airports or spaces with lots of crowds and bright lights. My favorite style is a Audrey, which are the ones pictured here. They also carry both indoor and outdoor, and can add tint to lenses.
For 15% off, use code WFH15 through May or order through Amazon.
Other ideas that I don't have discounts for…
Massage
Good grief anyone with migraine could use a good massage. And not a 50 minute one, you gotta spring for the 90 minutes for mom. I find massage really helped a lot when my neck muscles would get so tense from constant VM attacks. A good therapist can also work with you on acupressure to hit trigger points. Although most studios are not open at the moment, a gift card to one would help out both the therapist and your migraine buddy.
A Good Book
I'm pretty sure all moms like books. I have yet to meet a single mom that doesn't. However, some of us really struggle with the mental energy it takes to do it with a migraine disorder. Then if you suffer from vestibular migraine, your eyes can get tired and have trouble focusing. In that case, maybe an Audible membership would be a great alternative.
A few books my moms and I have enjoyed:
The Last Mrs. Parrish
The Nightingale
Before We Were Yours
You Are A Badass (in case you want to remind your mom that she really is…)
A Dinner That She Doesn't Have to Cook
A migraine-friendly dinner (or breakfast) that everyone will enjoy is a lot easier than you might think. Here are some ideas.
Pear & Arugula Salad
Creamy Boursin Pasta or Boursin Chicken
Seared Scallops with Chive Oil
Mediterranean Baked Halibut
Cream Cheese Cookies with Cherry Frosting
Pear Clafoutis
Happy mother's day to all the great women out there – even if your children are furry.
This post contains affiliate links but all opinions are my own and all products suggested are ones I personally use often. Thanks for supporting the ways I keep Dizzy Cook running fo free.