My favorite Gifts for Migraine Sufferers is getting an update for 2021 and it's a combination of things that will either bring a little bit of joy, make life easier, or help ease dizzy or painful days.
Whether you're gifting to yourself or to someone you know who is struggling with a migraine or vestibular disorder, it's important to take into account our limitations. Doing so can prevent the dreaded candle gift that is just too overwhelming for someone with a scent sensitivity.
I cannot express the gratitude we feel when we get a migraine care package of food that actually fits our diet plan, versus a box of chocolates or roasted nuts! Here are a few of the things I own that make life with vestibular migraine a little bit easier.
Gifts for the Foodie
These gifts for people with migraine are perfect for those who love to cook or are just getting into cooking as a way to help them in their journey to healing.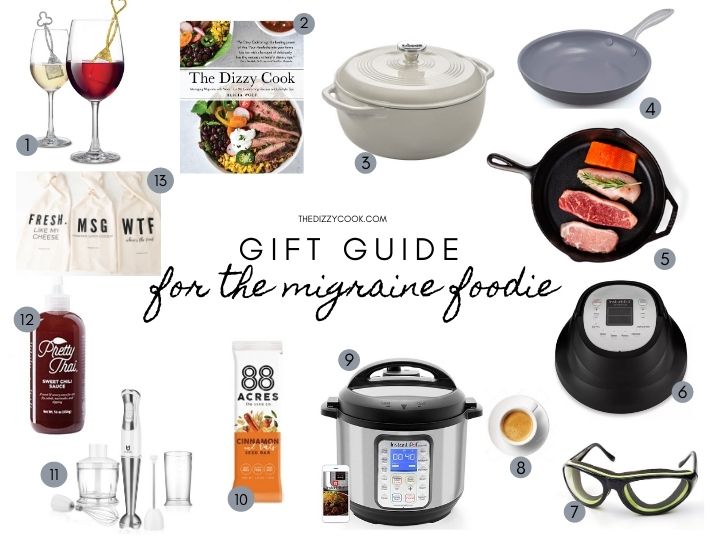 The Wand by PureWine - I have a post on how to use wine wands, but they actually work. What makes these different from the drops you might fine elsewhere is they're the only product that removes both sulfites and histamines from the wine without adding anything to it or changing the flavor. In fact, even if you don't have migraine, these work by restoring your wine to the original flavor even if it's been open a few days. If you are like me and have trouble drinking certain wines, especially reds, you may want to give this a try. 20% off with code SAVE20 direct or available on Amazon without the discount.
The Dizzy Cook Cookbook - This is my best selling cookbook and it brings you natural treatments, my story with vestibular migraine, and lots of comfort food recipes that fit a migraine diet. Endorsed by leading neurologists, like Dr. David Buchholz of Heal Your Headache and Dr. Shin Beh of Victory Over Vestibular Migraine, it's well-rounded with lots of tips to get you cooking meals the whole family will love. And even if you're vegetarian, over 70 recipes of the 90+ can be made veggie-friendly. If you order directly from me at The Dizzy Cook Shop, which supports this website vs. Amazon, I'll sign it directly to you or a friend. You can also sign up for private consultations and cooking classes there as well.
The Mediterranean Migraine Diet Cookbook - Written in partnership with my neurologist, Dr. Shin Beh, we discuss this popular diet and how it can be used to improve brain health by incorporating key food groups. This is not elimination based, but if you are following an elimination diet, the recipes have edits for them. You can get signed copies for a special gift.
A Good Dutch Oven - This is an investment piece, but there are some really reasonable brands like Lodge, which is a great way to start. If you're looking for something that you can keep for years (and pass down to other family), consider investing in a classic Le Creuset. I've had mine for 6-10 years and it's still beautiful. A dutch oven is a heavy cast iron pot that has a tight fitting lid that can move easily from the stove top to the oven, so it's ideal for pot roast, pulled pork, and other items that require braising. I even love it for soups and oven-baked rice pilaf.
Non-toxic Pans- Throw out the coated pans and switch to stainless steel, cast iron or anodized non-stick. For stainless steel, I use Made In. For cast iron I use Le Crueset and Lodge, and for anodized, I like Sur La Table!
FishFixe Subscription - A lot of us struggle to find quality seafood in the middle of the country, and that's where FishFixe is great to help! A box of frozen, fresh seafood that gets delivered to your door, it's a great way to get in your omega-3's for brain health. Use code THEDIZZYCOOK15 for a discount.
Air Fryer Lid or Air Fryer - If you already own a 6qt instant pot, this air fryer lid is a natural add on that doesn't require a ton of extra space for a full air fryer. It's good for 2 people. And I love my Cosori now that my family has grown. Air fryers are great at cooking weeknight meals quickly and easily, as well as crisping up potatoes or vegetables without extra oil. Here are some of my favorite air fryer recipes. Also if you're highly sensitive to strong smelling food, this tends to be less noticeable than a slow cooker.
Onion Glasses - Or for those on a migraine diet - shallot glasses. These nerdy specs shield your eyes from chopping anything that might make you tear up and potentially trigger an attack.
Good Decaf Coffee - A small business I love is Farm House Coffee Roasters, which makes Swiss Water Decaf that many Dizzy Cook readers including myself tolerate really well. If you miss really good coffee while eliminating caffeine, definitely look into ordering a bag from Andrew, who is a fellow vestibular migraine friend. He understands good coffee and the importance of avoiding migraine attacks to bring the perfect pairing to us! Get 15% off with the code #dizzycook.
Instant Pot - This usually goes on sale around the holidays and is one of my top suggestions for anyone cooking with a chronic illness. It easily makes homemade stocks and broths in about 30-40 minutes, versus the 4-12 hours it normally can take. It can help you whip up a healthy soup in just one cooking pan in under 20 minutes. And it can make great shredded meat like this Chicken Tinga filling or Pulled Pork in less than an hour. Although I do think the flavor is better when slow cooked, it is also great for anyone who struggles with a quick build up of tyramine.
88 Acres Seed Butters and Seed Bars - A great company that makes great quality seed butters like pumpkin seed, watermelon seed, and sunflower seed. They also have really delicious cinnamon seed bars. If you are sensitive to nuts like myself, you'll really love this alternative. I also love Gratisfied for one that considers blood sugar balance!
Immersion Blender - Instead of transferring heavy, hot soups from a pot to a blender to get them smooth, this handy tool can help you whip up homemade mayo or blend a soup right in it's cooking pot. I also find it to be less loud and noisy for those who are sound sensitive.
Pretty Thai Sweet Chili Sauce - Another favorite small business, this Texas company makes the best sweet chili sauce that all my Dizzy Cook friends rave about. Made with minimal ingredients, it's best to order directly from their site for a good price.
Fun Towels and Aprons - Yes following a migraine diet is hard, but you might as well make it fun while you're doing it. With funny towels and cheeky aprons that remind the family to kiss the dizzy cook, you're guaranteed to get more love while you make great changes in your life!
Private Consult - I don't really advertise this, but offer these online consults and cooking classes to people who want to make a specific meal or need help with meal planning ideas, or who just want to talk about vestibular migraine!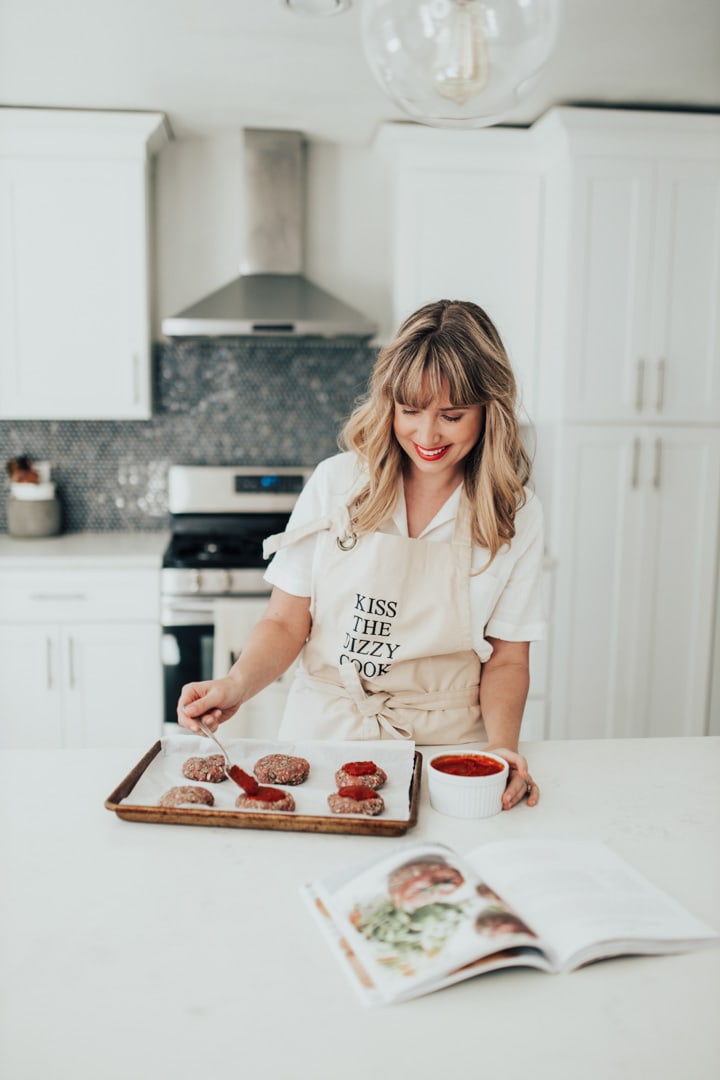 Gifts for Migraine Relief
These gifts for migraine sufferers help to relieve pain, headaches, vertigo, dizziness, anxiety and other uncomfortable symptoms or they help make life a little bit easier!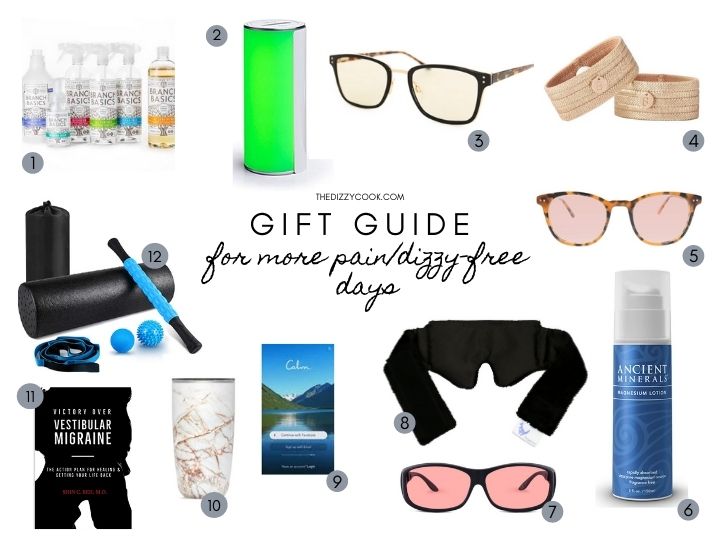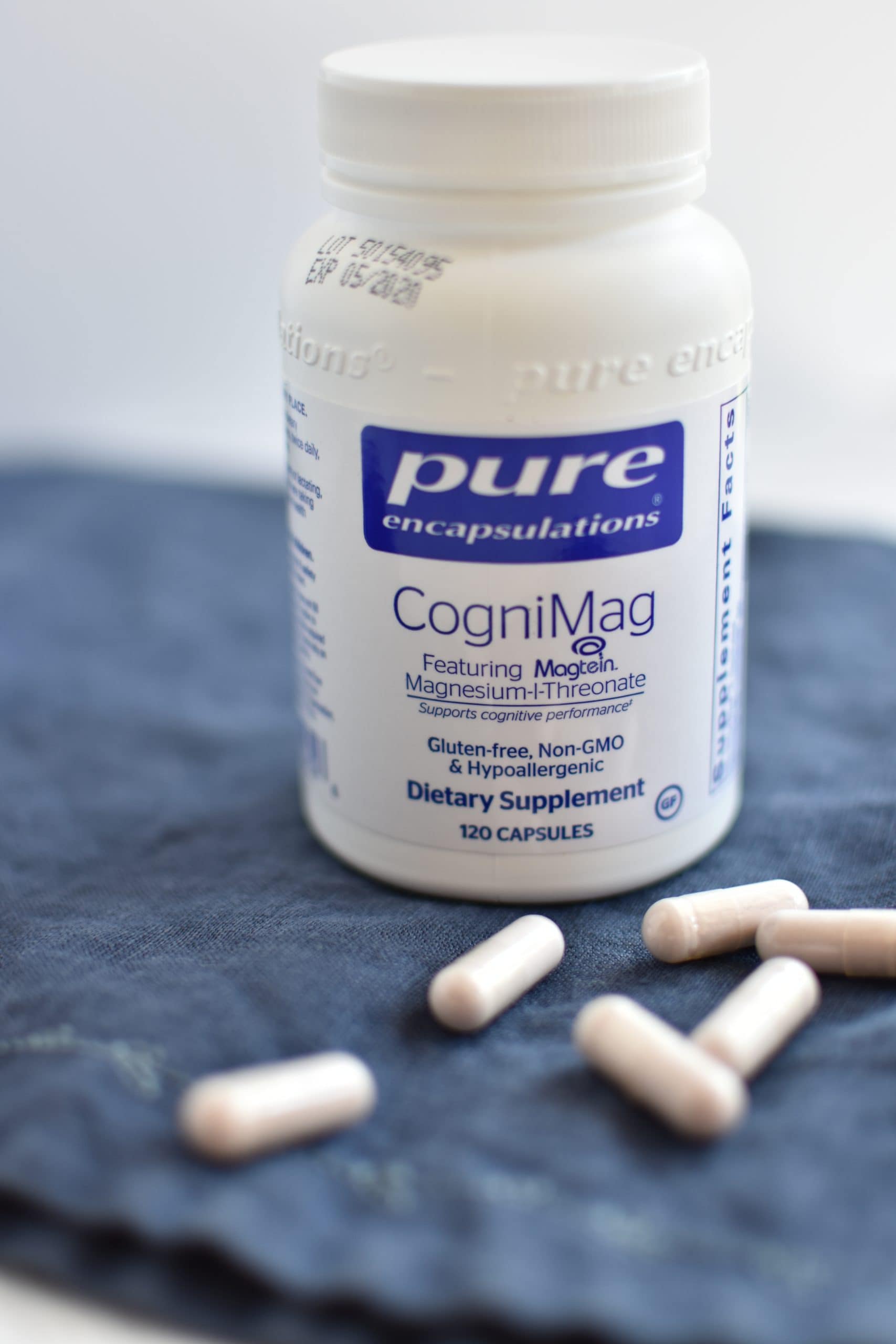 Discounted Supplements
Did you know that you can get a discount on popular supplement brands recommended throughout my posts? Sign in to the supplement store - there are occasionally extra sales on top of the regular discount. It is a lot less expensive than ordering on Amazon!
Homemade Gifts

for People with Migraine

A migraine-friendly dinner (or breakfast) that everyone will enjoy is a lot easier than you might think, and makes a great gift, even if you just drop it by a friend's house. Here are some ideas, most of which freeze very well, that I've given to many friends over the years.

This post contains affiliate links but all opinions are my own and all products suggested are ones I personally use often. Thanks for supporting the ways I keep Dizzy Cook a free resource!