This Boursin chicken stuffed with asparagus is going to be your new favorite dinner! Thin chicken breasts are topped with creamy Boursin cheese and rolled up with asparagus for a healthy and easy 30 minute meal.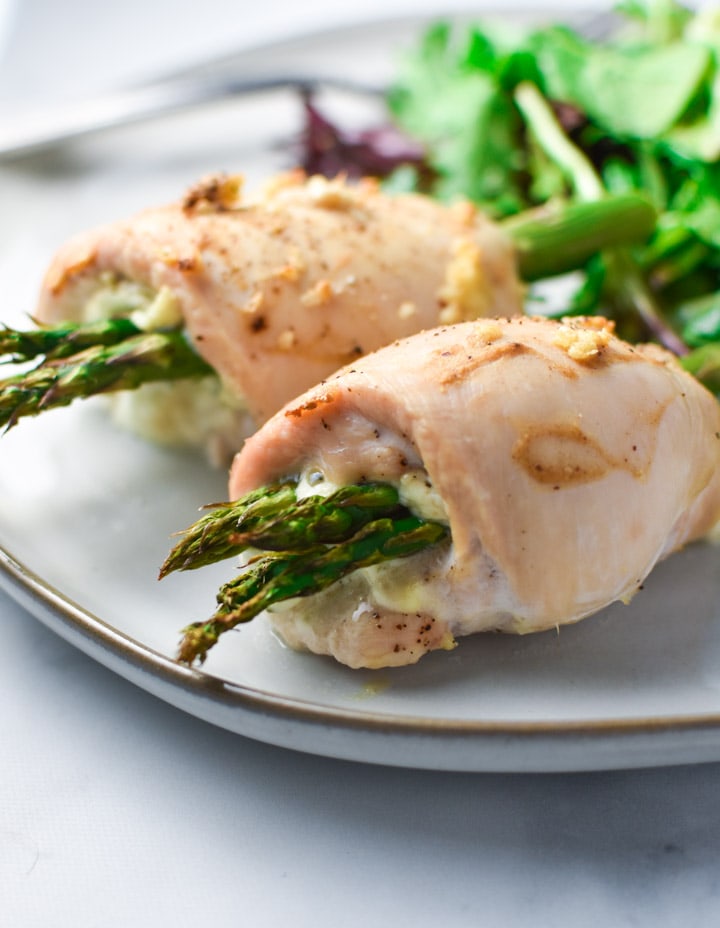 Using Boursin in Chicken
I love Boursin cheese and clearly you all do too because this creamy Boursin pasta is one of my most popular recipes. The Garlic and Fine Herbs seems to be the flavor that's most widely found, but you can also get the Shallot and Chive in a 3-pack at Sam's or Costco. Both would work well for this recipe, but I used the Garlic and Fine Herbs here. I love that it automatically gives the chicken a ton of flavor without having to marinate it all day. This is actually how this recipe came about – I needed to use up my 3-pack!
I knew I wanted to create a chicken recipe with Boursin and asparagus (cause that's what I had in my fridge during this pandemic), but wasn't quite sure which way to go with it. A creamy sauce would be the obvious, but that's done so well in my pasta recipe. I realized I don't have a lot of quick chicken recipes where you actually bake the chicken.
Normally I find baked chicken a little bland and boring, especially when it's this easy, but these flavors work so well together. And the creaminess of the Boursin cheese compliments the roasted asparagus nicely too.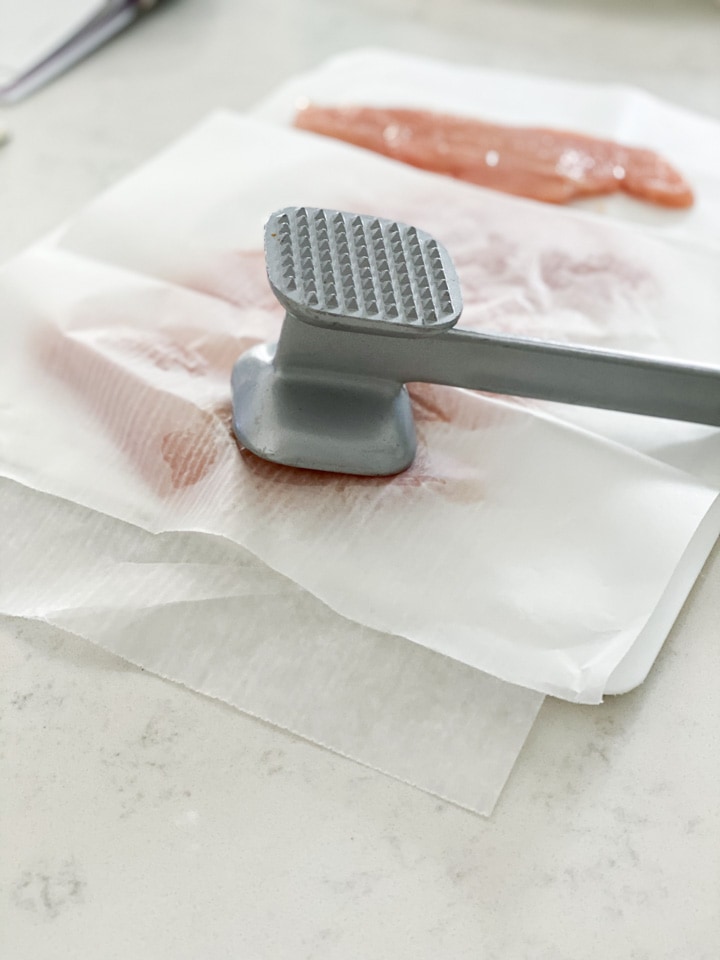 Tips for Cooking
Some of the other recipes I found that use aged cheeses with asparagus, but have you blanch the asparagus in hot water (or the microwave) before roasting. While recipe testing this Boursin chicken, I did not find this necessary. Twenty minutes was the perfect time to have the asparagus soften without getting mushy.
I think it's important to buy air-chilled boneless, skinless chicken breast if you can find it. The biggest difference with air-chilled chicken is they will roast nicely and you won't have any excess liquid that oozes from the chicken when it's cooking. This is because air-chilled chickens are cooled to safe temperatures by passing through cold chambers, rather than being dunked into chlorinated water.
Another thing to watch for is any additives or solutions added to raw chicken breasts. When I first started a migraine diet, I couldn't even believe this was an actual "thing". But some brands inject their chicken breasts with solutions filled with flavoring or MSG.
Finally, if you can buy this thin-sliced, it will make your life a little bit easier…but if not, it's really easy to just slice your chicken breasts in half. Sometimes even when I buy thin-sliced chicken breast, I still have to pound it out to get it thin enough to roll. You really want it to be between 1/4″ to 1/2″ thickness before rolling with the Boursin and asparagus.
Don't like asparagus? Spinach would work well here too.
If you can, and I know this is kind of tough right now, but thin asparagus spears will work best for this recipe. The thicker they are, the fewer you can roll up into your chicken. I try to group them together by size, so if you get a few thick guys, just put those together with fewer pieces. Or do what you want. As long as you can roll it up and have it stay – you're good!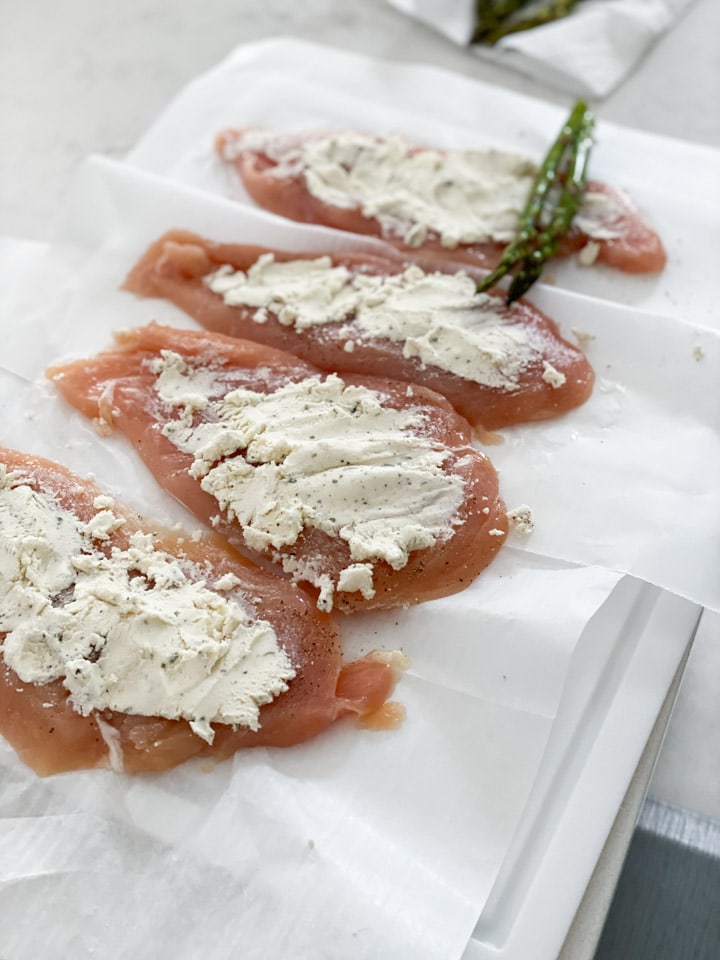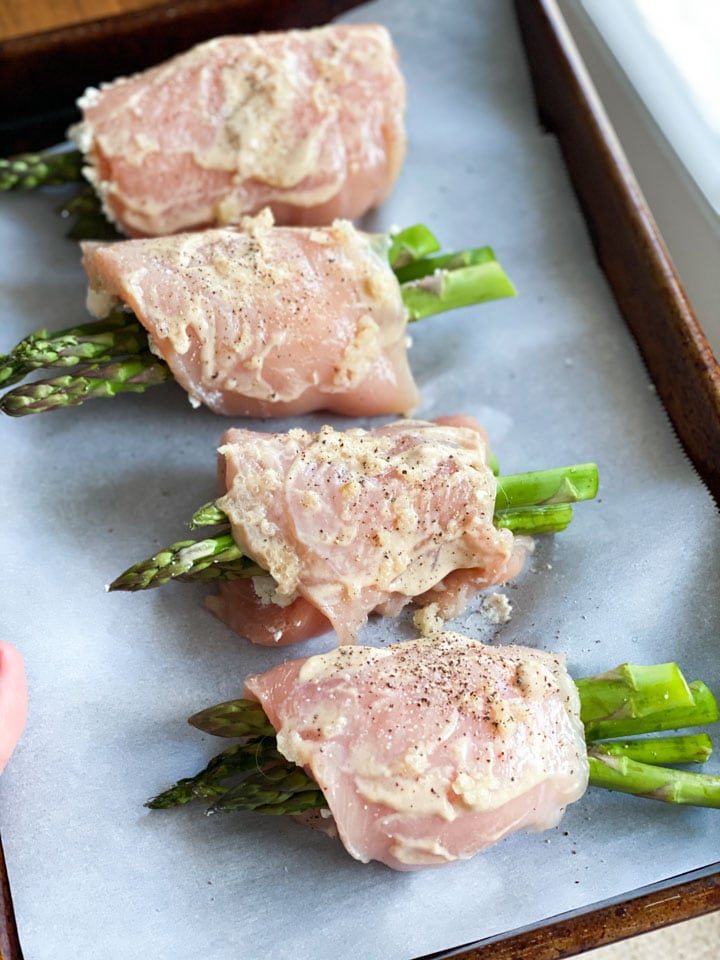 Side Suggestions
I served this along with simple roasted baby potatoes and a sides salad using the Celery Seed Dressing from my cookbook. If you don't have the cookbook, I recommend using this easy Italian herb dressing.
A few other options this would be great with: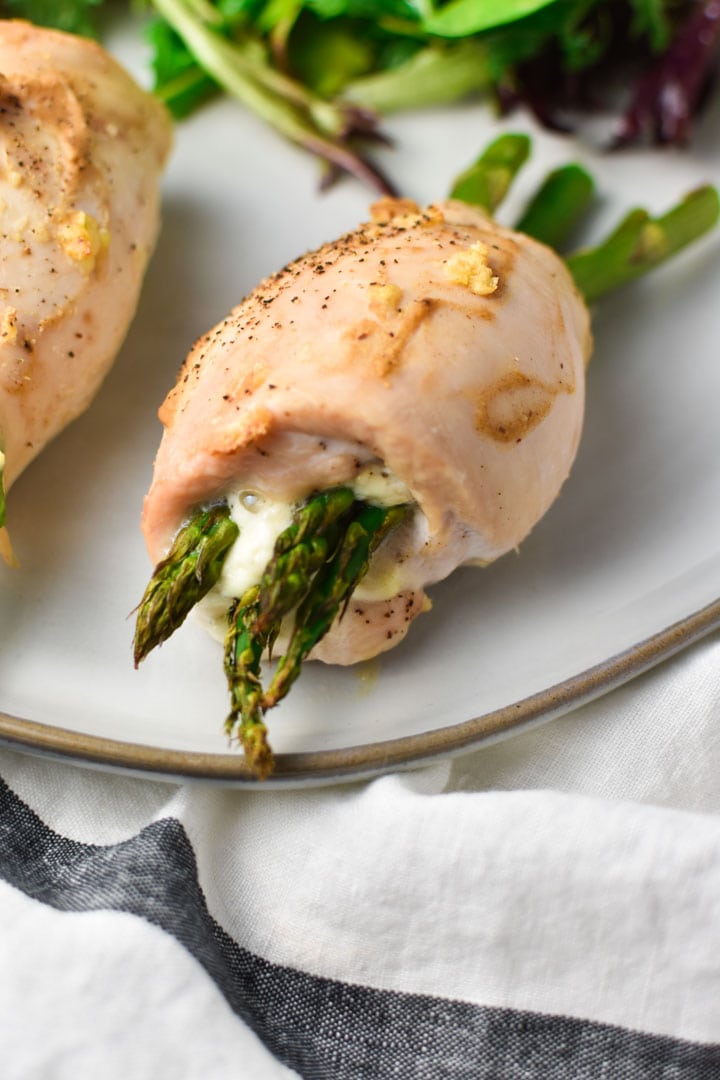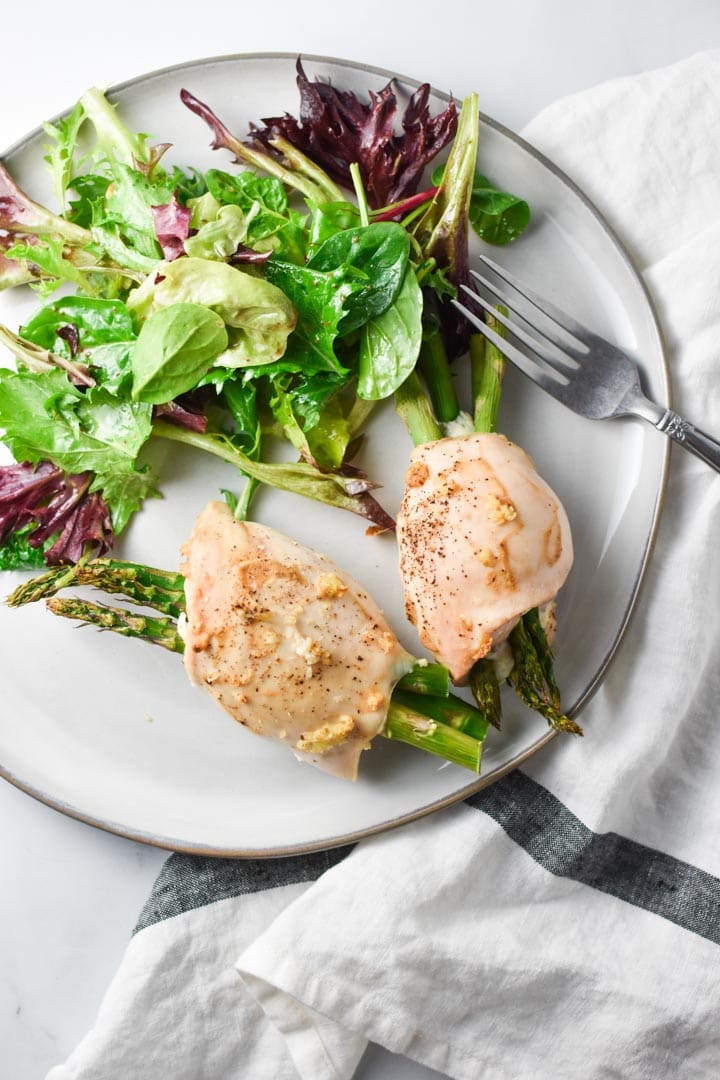 Other Easy Chicken Recipes
Creamy Rosemary Chicken
Honey Garlic Chicken
Simple Roasted Chicken
Honey Chipotle Chicken Sandwich
Chicken Sesame Stir Fry
Boursin Stuffed Chicken
This Boursin stuffed chicken with asparagus is creamy, delicious, and is ready in just 30 minutes! Flavorful and healthy, it's an easy weeknight, gluten-free meal your whole family will love.
Print
Pin
Rate
Ingredients
1.15

pounds

boneless, skinless chicken breasts (4 total)

1/2

5.2oz

Boursin Garlic and Fine Herbs Cheese

1/2

pound

asparagus spears, preferably thin

1.5

tablespoons

dijon mustard

2

minced garlic cloves

kosher salt and pepper
Instructions
Preheat oven to 400 degrees F. If you can't find thin-sliced chicken breasts, cut the boneless chicken breasts in half by slicing through the sides of the breast. If you start with 2 large, this should give you 4 chicken breasts. Place the breast between parchment paper and pound it out to get at least 1/4"-1/2" thickness. The thinner you get it, the easier it will be to roll...so get out some of that stress! Sprinkle a little bit of salt and pepper on both sides of your chicken breasts.

Spread the chicken breasts with a thin layer of Boursin cheese and place the asparagus spears on one end of the breast (I used about 3-4 spears per chicken breast). Carefully roll the side that you put the asparagus spears on until the chicken is completely rolled. Place on a baking sheet lined with parchment paper, seam side down. You shouldn't need toothpicks...it should just stay. However, if you perhaps didn't pound out your chicken breasts enough you may need to toothpicks to secure everything together.

Mix together the dijon mustard and garlic and spread that on top of each roll up, fully covering in the top as best as possible. Add more fresh pepper if you'd like.

Bake at 400 degrees F for 20 minutes until chicken is cooked through and slightly brown on top. Serve warm.
Notes
This recipe can serve 4 people 1 roll up each (if you have a good amount of sides) or 2 really hungry ones!
I used Boursin Garlic and Fine Herbs - but even herbed goat cheese would work well here.
My favorite migraine-friendly Dijon is Annie's Organic, HEB/Central Market Brand, or Greenwise - basically any without wine/sulfites.
Nutrition
Calories:
167
kcal
|
Carbohydrates:
3
g
|
Protein:
29
g
|
Fat:
4
g
|
Saturated Fat:
1
g
|
Cholesterol:
84
mg
|
Sodium:
217
mg
|
Potassium:
597
mg
|
Fiber:
1
g
|
Sugar:
1
g
|
Vitamin A:
468
IU
|
Vitamin C:
5
mg
|
Calcium:
26
mg
|
Iron:
2
mg