These healthy No Bake Cake Pops are melt in your mouth good with a creamy white chocolate shell, sprinkles, and no oven or cake mix required.
Made with oat flour, sunflower seed butter, and applesauce to sweeten, they are a healthier option! Best of all, they're great for kids to bring to school because they're allergy-friendly.
You'll love these no bake cake pops for birthdays, spring parties, or a fun treat that will easily in the freezer for a couple months.
Need another healthy no bake treat? Try my white chocolate cereal bars.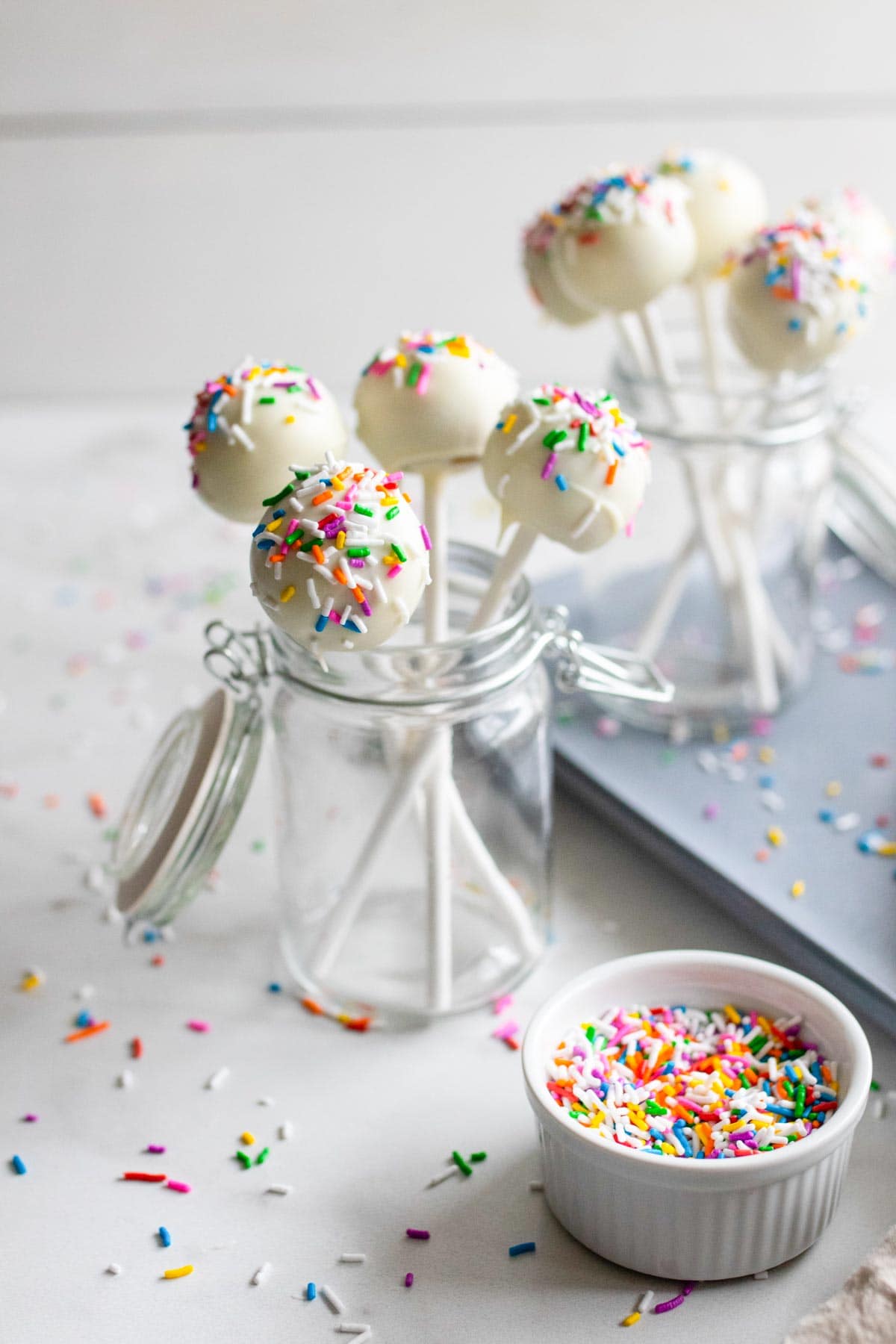 Jump to:
The Best No Bake Cake Pops
I developed this healthy cake pop recipe last spring for Easter and posted it on my instagram, but they were so good I thought it deserved a permanent recipe post. I needed a fun treat for my small workout group and I knew these girls would want something a little more healthy.
What's so great about this recipe is it accommodates so many types of diets while being super delicious. After I finished the cake pops and tasted one, I almost didn't want to give them away!
You'll love these no bake cake pops because:
Allergy Friendly - These are nut free, gluten free, egg free and can be made dairy free.
Delicious - They're soft on the inside almost like a truffle and have the classic white chocolate shell on the outside.
Healthy - The applesauce lends a lot of natural sweetness.
Easy - No need to bake a cake or even use cake mix for these!
Why You Shouldn't Use A Cake Mix
It's really important that you don't use cake mix in no bake cake balls without baking it first for health reasons. A lot of us get concerned about using raw egg and salmonella, even if it's a small risk. What people fail to realize is raw flour can actually cause a food borne illness.
This is why oat flour is used in this recipe. Because it's just ground oats, it is ok to eat raw.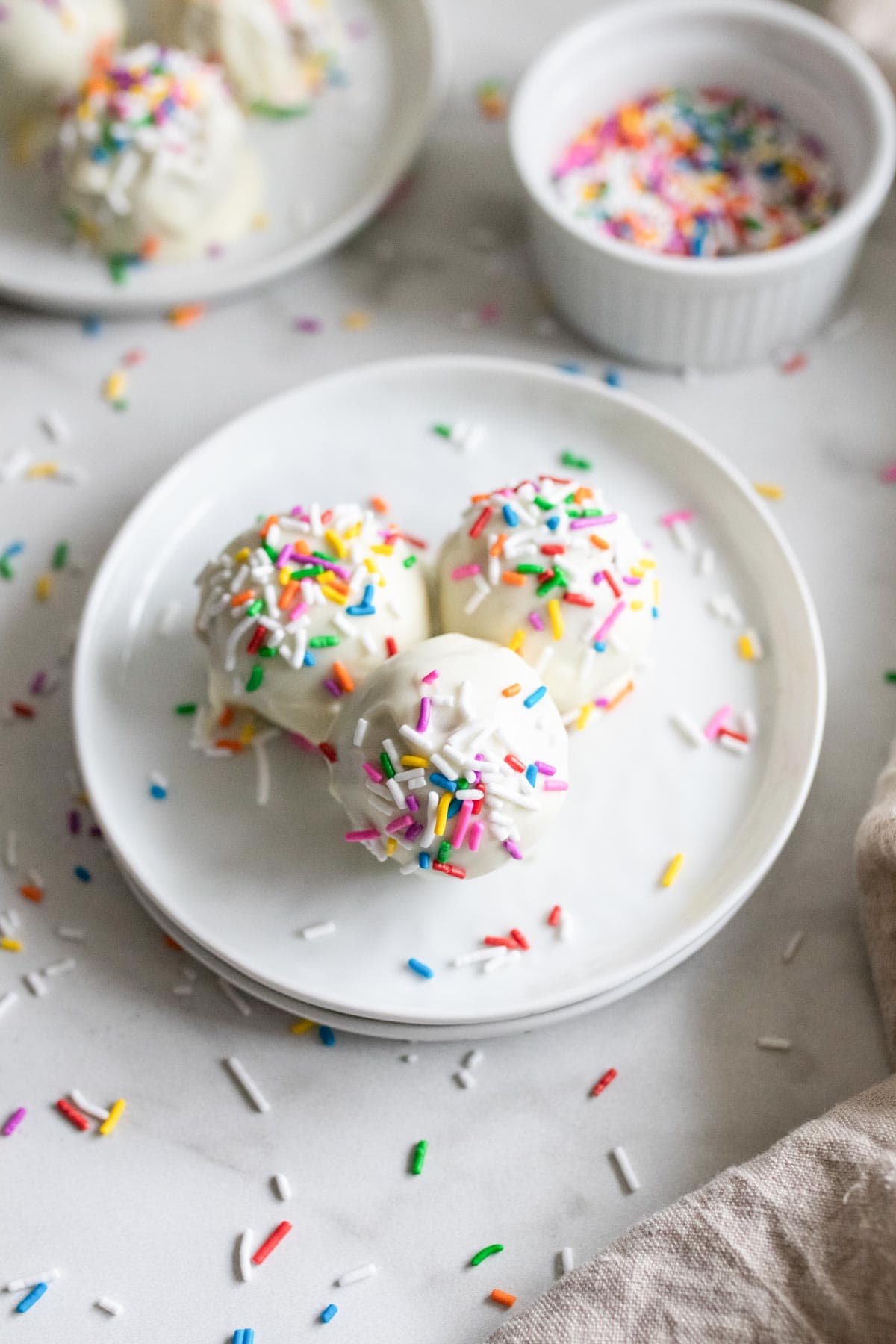 Cake Pops without Candy Melts
You may wonder if you can use real chocolate instead of candy melts to coat the cake pops...you can! For this recipe, we use white chocolate which contains cocoa butter, but isn't actually real chocolate because the cocoa solids have been removed. This is different from candy melts which are made from palm oil, sugar, and milk powder.
A lot of cake ball recipes use candy melts because it's easier to work with and hardens quickly, plus it's a little more stable at room temperature. However, I find both the taste and texture is not as good as real white chocolate. Plus the ingredients aren't as good!
If you are careful with melting the chocolate, you should not have any issues. This involves using a low heat - either in the microwave in increments or using a double boiler method. This is called tempering. Overheating chocolate can cause it to become muddy.
Ingredients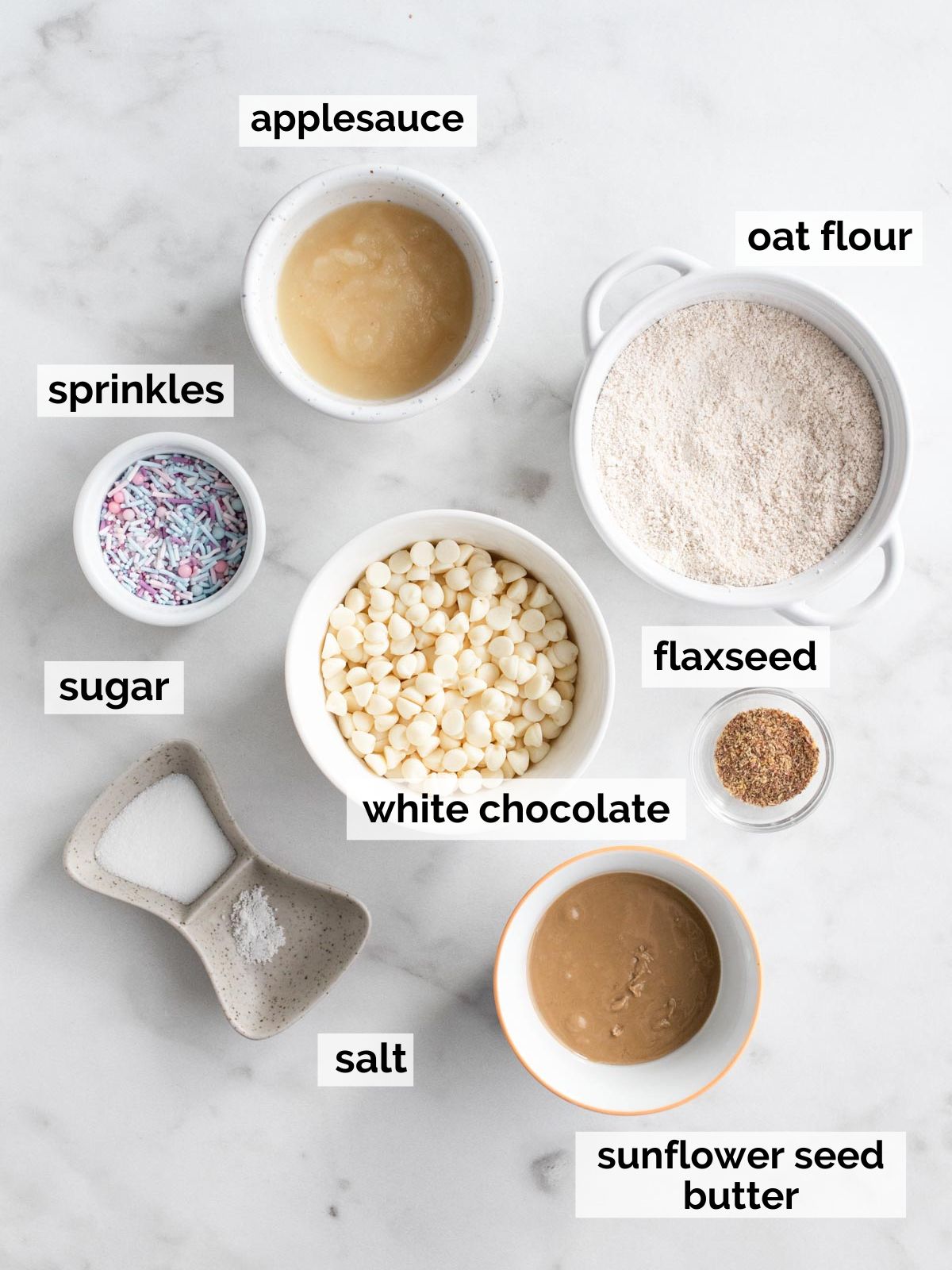 Just a few simple ingredients are needed for these no bake cake pops.
Oat Flour - You can buy this or make it at home by grinding rolled oats in a food processor till they form a flour consistency.

Sunflower seed butter - I used Sunbutter organic brand, but pumpkin seed butter would work here too.

Applesauce - This works as the "icing" that gets mixed in and helps to form the ball. I recommend unsweetened.

Flaxseed meal - This ground flaxseed actually gives you a brain health boost with Omega 3 fatty acids and fiber.

Sugar - I recommend adding this if using unsweetened applesauce and sunbutter.

White Chocolate Chips - My favorites are Callebaut, Divine, Ghirardelli. Walmart and Enjoy Life make white baking chips that are dairy free, although I find Enjoy Life doesn't melt quite as well as other brands.

Sprinkles - Any fun colored sprinkles will work! You can even find some sprinkles that are naturally dyed with vegetables if you're into that.
Step-by-Step Process
These healthy no bake cake pops are allergy friendly and nut free, making them great for a school birthday treat. Filled with a mix of sunbutter, applesauce, and oat flour, they're coated in white chocolate and sprinkles. A great birthday cake ball!
Step 1: Make the dough
Place the oat flour, flaxseed, sunflower seed butter, applesauce, sugar, and salt in a bowl and stir till fully combined. Use a cookie scoop to scoop even balls and roll in your hands, placing them on a parchment paper.
Chill in the freezer for at least 30 minutes to 1 hour. If using cake pop sticks and have the room in the freezer, insert them now so they can be frozen with the ball.
Step 2: Melt the white chocolate
Meanwhile, either using a double boiler or microwaving in 20 second increments and stirring often, melt the white chocolate. I prefer the double broiler so the chocolate doesn't overheat and seize up.
A double boiler is just a heat proof bowl over a pan of low simmering water. Stir the white chocolate pieces often till smooth and melted.
Step 3: Coat the balls with white chocolate
If freezing the balls without the sticks, you may need to wait 15-20 minutes for them to soften enough to add the sticks. Add cake pop sticks, if using, and dip the chilled cake balls into the melted white chocolate. You can use a cake stand to let them cool or punch holes in an old cardboard box.
These are also great just as balls without pop sticks. If making this way, use a spoon to dip into the white chocolate and let them cool on parchment paper.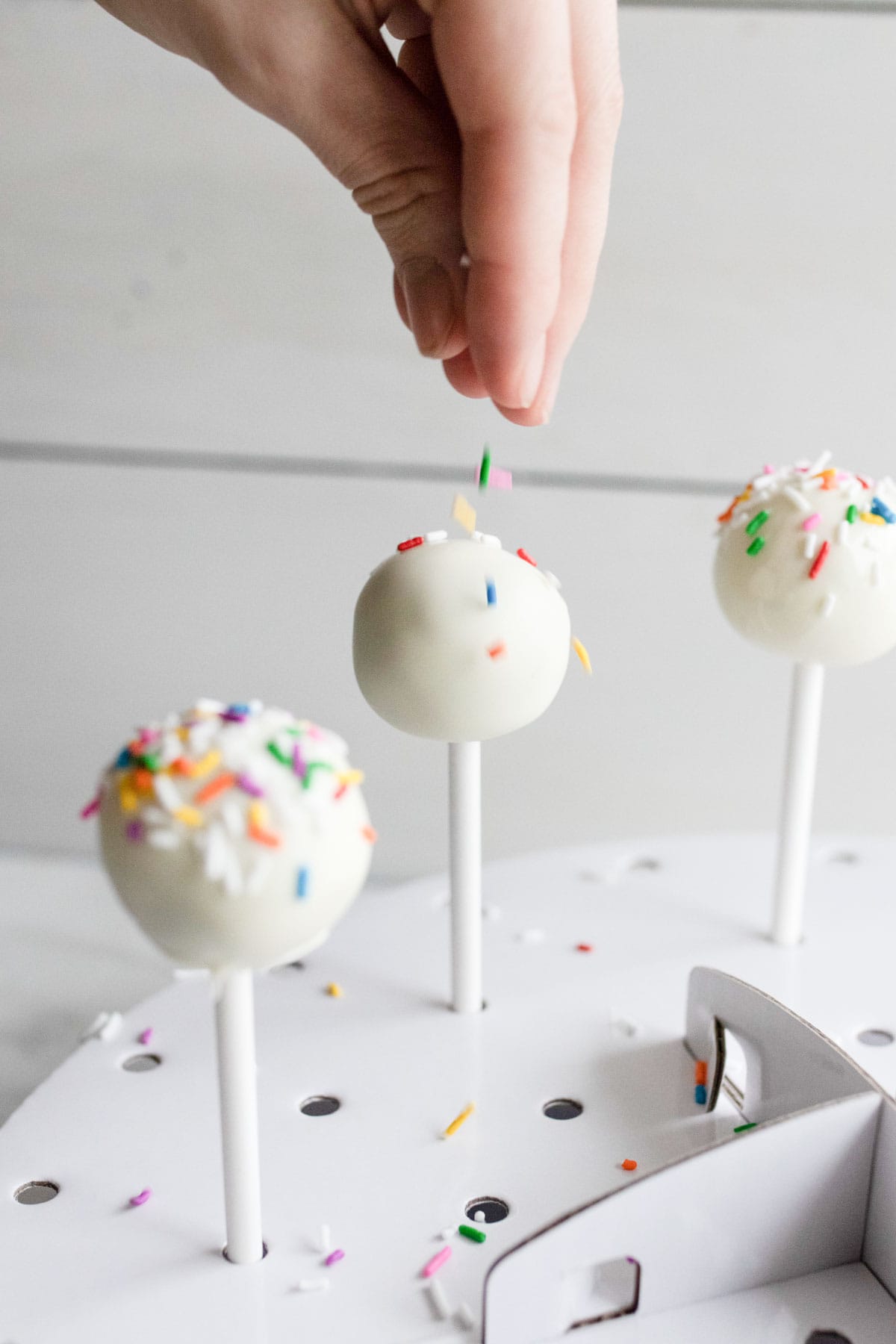 Step 4: Add sprinkles
Before the white chocolate hardens, add colorful sprinkles on the tops. Store in a cool place (or in the fridge) till the white chocolate hardens. These also store well in the freezer if you're making balls instead of pops.
Do I Need a Cake Pop Stand?
Using a cake pop stand like this one isn't necessary, but it does make life easier and also makes a nice display. You can find them on Amazon. If you don't intend to display them, just use a leftover cardboard box that you can poke holes into! This will allow them to dry and harden in a pretty way!
Storage Tips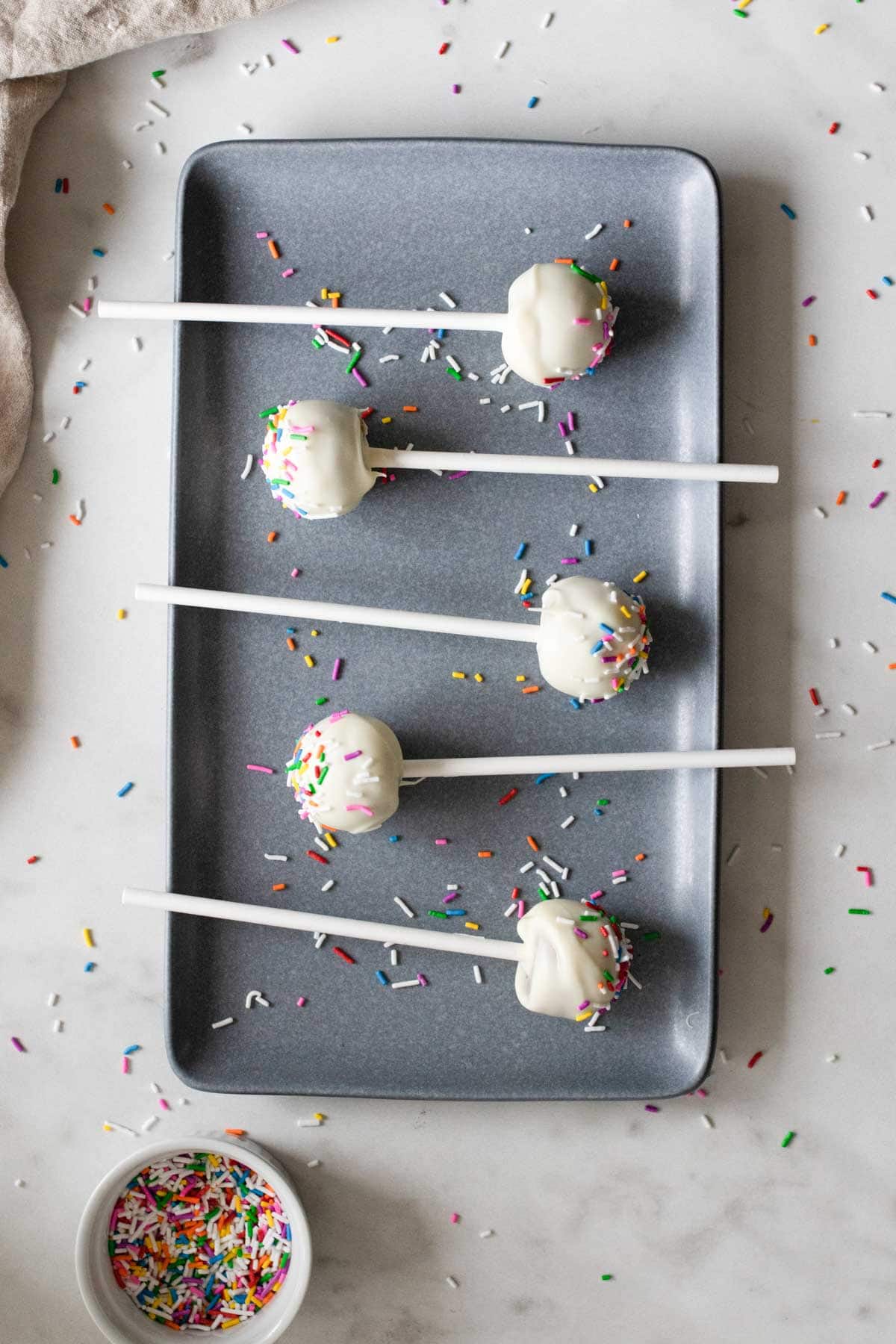 If serving that day, store the cake pops in the fridge till ready so the white chocolate doesn't soften, especially if it's a warm day.
These store in the freezer for up to 5 months. Before serving from the freezer, allow the cake pops to sit at room temperature for at least 15 minutes. Otherwise they'll be too hard to bite into!
Substitutions
Oat Flour - Instead of oat flour you could use coconut flour, but this will change the taste and texture. Or you can bake all purpose flour at 350 degrees Fahrenheit for about 5 minutes before using.
Sunflower seed butter - Can be subbed with pumpkin seed butter (88 acres) or any other type of nut butter (if tolerated).
For extra sweetness - I've used ground biscoff cookies or shortbread cookies instead of oat flour to make these extra decadent! They don't need the added sugar. Just pulse the cookies in a food processor to get cookie flour.
For vegan - Use a dairy free, vegan white chocolate.
Sprinkles - Try adding extra sprinkles to the dough for a birthday cake pop!
Recipe FAQ
How do I form the dough into a ball?
Getting cake pops to stick together means you need a good balance of liquid to flour. If you find yours are falling apart, try adding a little more applesauce to the mix. Too soft to form? Add more oat flour.
How do I get the cake pop to stay on the stick?
It's essential your cake pops are chilled! Freezing them will help them hold together, especially when dipping into the melted chocolate. You can also dip the stick into the chocolate first before placing it into the ball.
Can I make these into no bake cake balls?
Yes! No pops needed! All you have to do is roll the cake ball in chocolate and place onto a sheet of parchment paper to cool.
Help! My cake pops fall off the stick.
Try inserting the stick before freezing the cake ball. This can be tricky with freezer space, but it will help the cake pop stay on the stick. Also, serve these cold since you are using good quality white chocolate. If using a compound chocolate, the outer shell will not soften as fast at room temperature.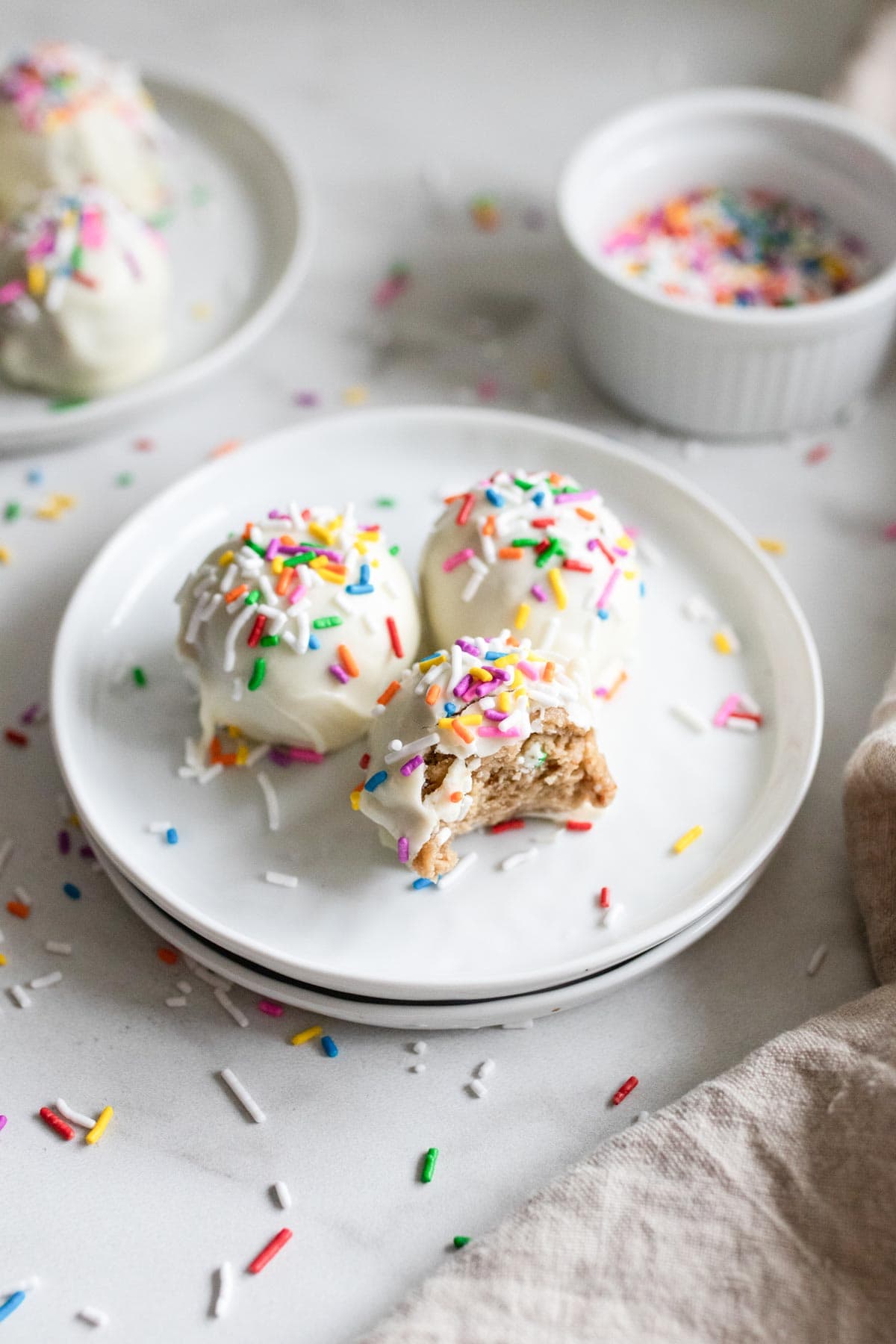 White Chocolate Desserts
For more white chocolate desserts like these no bake cake pops, try some of these recipes!
If you make this, tag me #thedizzycook or @thedizzycook on Facebook and Instagram. And if you love the recipe, please leave a review below! Follow along on my Pinterest for more great recipes.
No Bake Cake Pops
Delicious and easy, these no bake cake balls are soft on the inside with a crunchy white chocolate outer shell! Made healthier by using allergy-friendly ingredients.
Print
Pin
Rate
Ingredients
¾

cup

oat flour

⅓

cup

sunflower seed butter

⅓

cup

unsweetened applesauce

2

teaspoons

sugar

1

teaspoon

flaxseed meal

10

oz

white chocolate chips

pinch of salt

¼

cup

colored sprinkles
Instructions
Combine all the ingredients in a bowl except white chocolate and sprinkles. Stir with a spatula till well-combined. Use a 1 inch cookie scoop to scoop the dough and form into round balls with your hands. If using sticks, insert the sticks now if you have room in your freezer. Freeze for 1 hour.

To melt chocolate with a double boiler - place a heat-safe bowl over a pot of simmering (not boiling) water - maintain the heat between low to medium to keep the water from boiling. Place the white chocolate pieces or bars in the bowl and stir consistently till the pieces have melted and are smooth. Remove from heat immediately.

To melt chocolate in the microwave - place white chocolate pieces in a microwave-safe bowl and heat in 20-30 second increments until just starting to melt. Stir after each increment until fully melted and smooth.

If inserting the sticks after freezing, you will need to wait 15-20 minutes for the balls to soften enough to insert. Then coat a cake pop stick tip with melted white chocolate and place into the ball. Dip the balls into the melted chocolate, top with sprinkles, and poke a hole into a sturdy cardboard box or use a cake pop stand to allow the chocolate to harden.

If not using a cake pop stick, use two spoons to coat the balls into the chocolate, then top with sprinkles. Place on parchment paper to harden. If you have space in the refrigerator, it will speed the process.

Serve cool or store in the freezer for up to 6 months, allowing them to sit at room temperature for at least 15 minutes before eating so they can soften.
Notes
This recipe makes between 15-20 cake pops.
Add optional 1 teaspoon of non-alcoholic vanilla extract for a boost of flavor!
For better flavor, texture, and ingredients, use white chocolate. If you need a coating that's easier to work with and hardens quickly, use candy melts.
For a birthday cake cake pops, stir in 1 tablespoon of sprinkles directly into the dough when mixing.
White chocolate will seize up if water comes into contact with it, so be careful to not let the water boil over if using a double boiler method.
These are best stored in the fridge till you're ready to serve.
If wanting to make these into cake balls, use two spoons to dip the ball into the white chocolate and place on parchment paper to harden.
Nutrition
Calories:
165
kcal
|
Carbohydrates:
20
g
|
Protein:
3
g
|
Fat:
10
g
|
Saturated Fat:
4
g
|
Polyunsaturated Fat:
0.4
g
|
Monounsaturated Fat:
2
g
|
Cholesterol:
4
mg
|
Sodium:
15
mg
|
Potassium:
86
mg
|
Fiber:
1
g
|
Sugar:
14
g
|
Vitamin A:
10
IU
|
Vitamin C:
0.3
mg
|
Calcium:
49
mg
|
Iron:
1
mg