This recipe for Vegetable Tian layers gorgeous, bright summer vegetables and fresh herbs in an au gratin dish for an easy vegan side dish. Heirloom tomatoes, zucchini squash, summer squash, and eggplant combine with crispy fried basil for a little fun. Because anything with this many veggies should incorporate a fried element.
Summer Vegetable Tian
One of my favorite movies of all time is Ratatouille, where one simple dish becomes a culinary masterpiece. It turns out the dish in Ratatouille wasn't actually ratatouille at all, but vegetable tian. This is because a tian is layered systemically and ratatouille is thrown together in one large dish as a stew. You'll see recipes online with perfectly cut and layered vegetables a la Ratatouille, but I think there's so much beauty in imperfectly layering each slice. If you're having company over and want to impress, then by all means make it perfect. But for our casual date night dinners, I don't put a ton of thought or time into it.
The most important part of this dish is really the fresh vegetables, and all of these should be very easy to find in season at your local farmers market during the summer. This dish is super simple so you want the flavors to sing. Roasting with olive oil brings out a lovely buttery flavor to the vegetables.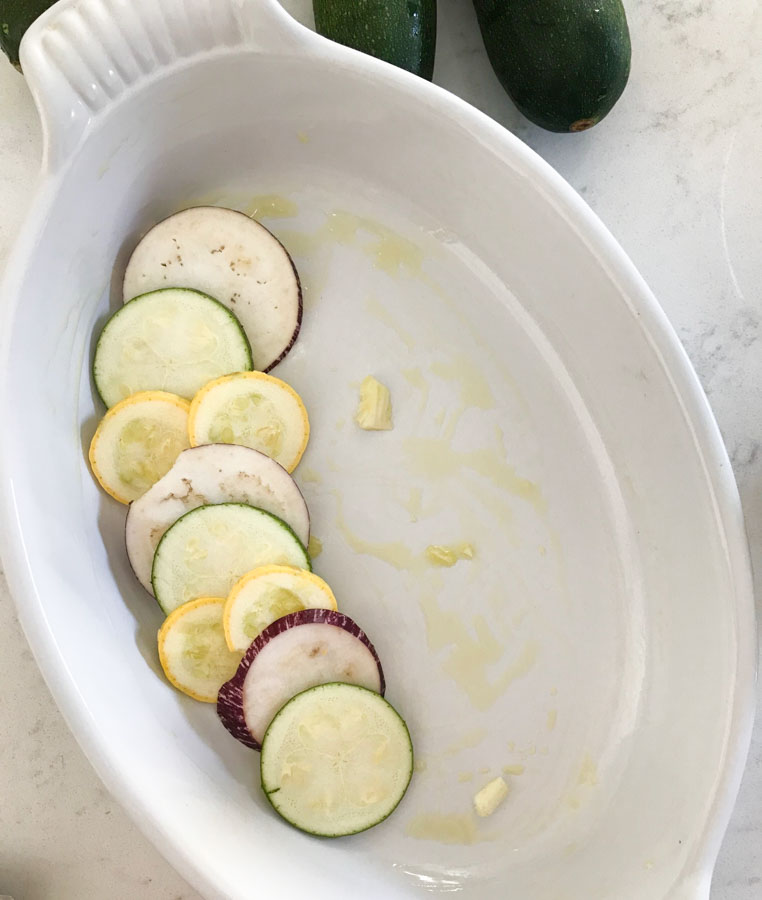 Is a Mandoline Necessary for Vegetable Slices?
I've made this by slicing my vegetables with a really sharp chefs knife and also a mandoline and I have to say that I prefer using the chefs knife. Although the mandoline will help you cut the vegetables more evenly, a good eye is all you really need. As I said before, this dish is beautiful even if all the slices aren't absolutely perfect. It's also one less thing to clean up.
How to Fry Basil
This recipe is inspired by one of my favorite cookbooks The Cooks Atelier. These ladies have an amazing cooking class in Beaune that I had the opportunity to experience last year. Since then, their gorgeous book sat on my shelf, mostly untouched, until I had the urge to cook through it this summer in an effort to pull myself out of some depressive moments.
Their idea for fried basil is amazing and adds that perfect crispiness to compliment the roasted vegetables. You just have to be careful you don't eat them all before the tian is done. I usually give myself a few extra to snack on.
I love to serve this vegetable tian with any kind of simple grilled steak, roasted pork loin, or salmon.
Grilled Flank Steak with Chimichurri
Roasted Pork Loin
Seared Salmon from Salmon with Creamed Spinach
Peach & Watermelon Summer Salad
For more migraine-friendly vegan and vegetarian recipe ideas, see this post.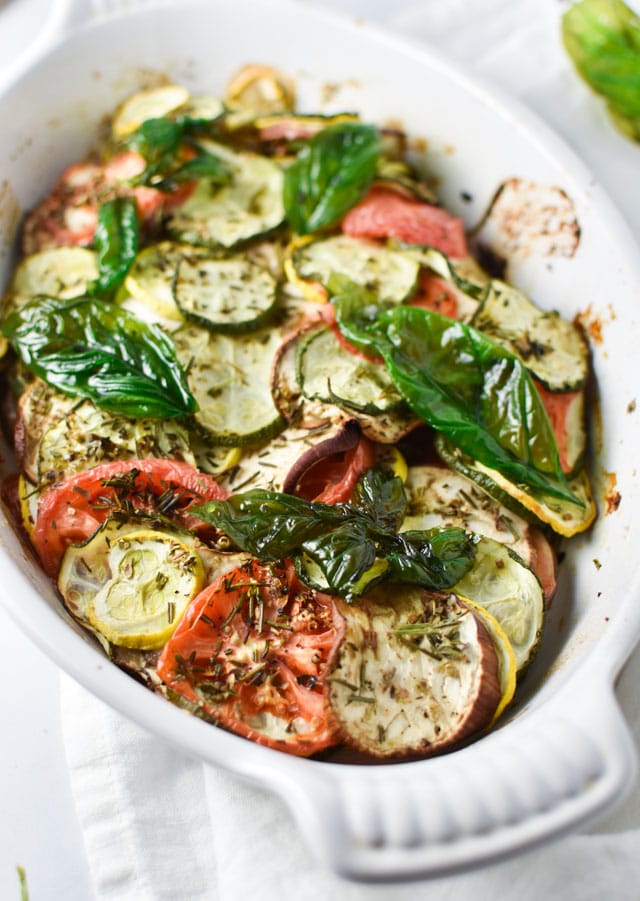 Vegetable Tian with Crispy Basil
Zucchini, summer squash, eggplant, and tomatoes are combined with herbs and roasted to create this simple and healthy side dish. Serve warm along side pasta or simply grilled meat.
Print
Pin
Rate
Ingredients
Vegetable Tian
1

garlic clove, minced

2-3

large heirloom tomatoes, sliced into thin rounds

1-2

yellow summer squash, sliced horizontally into ¼" rounds

1-2

zucchini, sliced horizontally into ¼" rounds

2

shallots, sliced thin

1

mini purple or striped eggplant, sliced into thin rounds

½

teaspoon

dried rosemary (or 1 teaspoon fresh, minced)

¼

teaspoon

dried thyme leaves (or ½ teaspoon fresh, minced)

¼

teaspoon

dried oregano (or ½ teaspoon fresh, minced)

extra virgin olive oil

kosher salt and fresh black pepper
Fried Basil
organic canola or high-heat frying oil

7 (or more!)

fresh basil leaves, washed and thoroughly dried
Instructions
Preheat oven to 350 degrees F. In a small bowl, combine the dried (or fresh) herbs. Prepare a large gratin baking dish by lightly coating with a little bit of olive oil and rubbing with the minced garlic. Begin to layer your squash, zucchini, tomatoes, shallots, and eggplant. (I forgot to include the tomatoes in the picture, but you can add those in as you like them). Sprinkle with herbs and a little bit of kosher salt and black pepper between each layer.

Continue to layer all the vegetables until the gratin dish is filled. Drizzle the top with a bit of olive oil and bake for about 40 minutes until the vegetables are lightly browned and tender.

Prepare paper towels on a plate next to your pan. Meanwhile, pour canola or high heat oil into a heavy bottomed pan, like a cast iron. You want to pour enough oil to cover the entire bottom of the pan. Heat over medium until the oil sizzles with a small flick of water. Place TOTALLY DRY basil leaves into the oil and fry them for a few seconds (about 10-20) until they're bright green. (Be careful as they tend to splatter..a splatter screen helps.) Remove the basil leaves with a slotted spoon and place onto paper towels to dry. Sprinkle with a tiny bit of salt and try to avoid snacking.

Top vegetable tian with the fried basil pieces and serve warm.
Notes
Don't like eggplant? Sub it out with more tomatoes, zucchini or summer squash.
Nutrition
Calories:
51
kcal
|
Carbohydrates:
11
g
|
Protein:
3
g
|
Fat:
1
g
|
Saturated Fat:
1
g
|
Sodium:
11
mg
|
Potassium:
573
mg
|
Fiber:
4
g
|
Sugar:
7
g
|
Vitamin A:
758
IU
|
Vitamin C:
28
mg
|
Calcium:
31
mg
|
Iron:
1
mg