These past few days I have been struggling with an increase in my vestibular migraine symptoms. I think a huge part of it is the storms that have been blowing through Texas. I'm like Karen in Mean Girls who can tell when it's already raining, only it's with my head and not my boobs. Since I'm no longer taking meds, Magnesium Glycinate has been my saving grace this week as well as stayed well adjusted with chiropractic treatments. There are certain dinners that are perfect to make when you have an increase in symptoms and this is one of them.
I first tested this recipe out on my grandma, who happens to be very distinguished in her culinary tastes. I'll never forget the time we brought her a nice red wine for dinner and she mixed in Sprite, insisting that the wine by itself was much "too intoxicating". My grandma knows what she likes and she will be the first to let you know if she doesn't care for something. She doesn't normally allow others in her kitchen too often, but she hasn't been feeling well the past few years after she fell down the stairs. I'm convinced her fall and concussion triggered vestibular migraine as we experience the same symptoms now. Unfortunately she lives in a small town, and it was nearly impossible for me to be diagnosed when I live in the giant city of Dallas. I started going through her pantry and realized everything she was eating was pre-packaged and full of additives and MSG. I made it my mission to cook all Heal Your Headache meals for her while I was visiting.
For those that live in a small town, I really feel your pain. We had to drive at least 45 minutes to the nearest Trader Joe's to find ingredients for this recipe, but you really can find these almost anywhere. I love this rice if you do have a Trader Joe's near or want to get it from Amazon. I seem to be ok with organic dried cranberries with no sulfites, but they can be triggering for some. If you have an issue with dried fruit, you should try pomegranate seeds as a substitute. Also make sure you are getting a pure pork loin that has not been injected with a solution or been pre-seasoned.
I threw together a simple salad with this dressing for some easy greens. Toss it with some seeds of your choice and a little fresh goat cheese (chevre).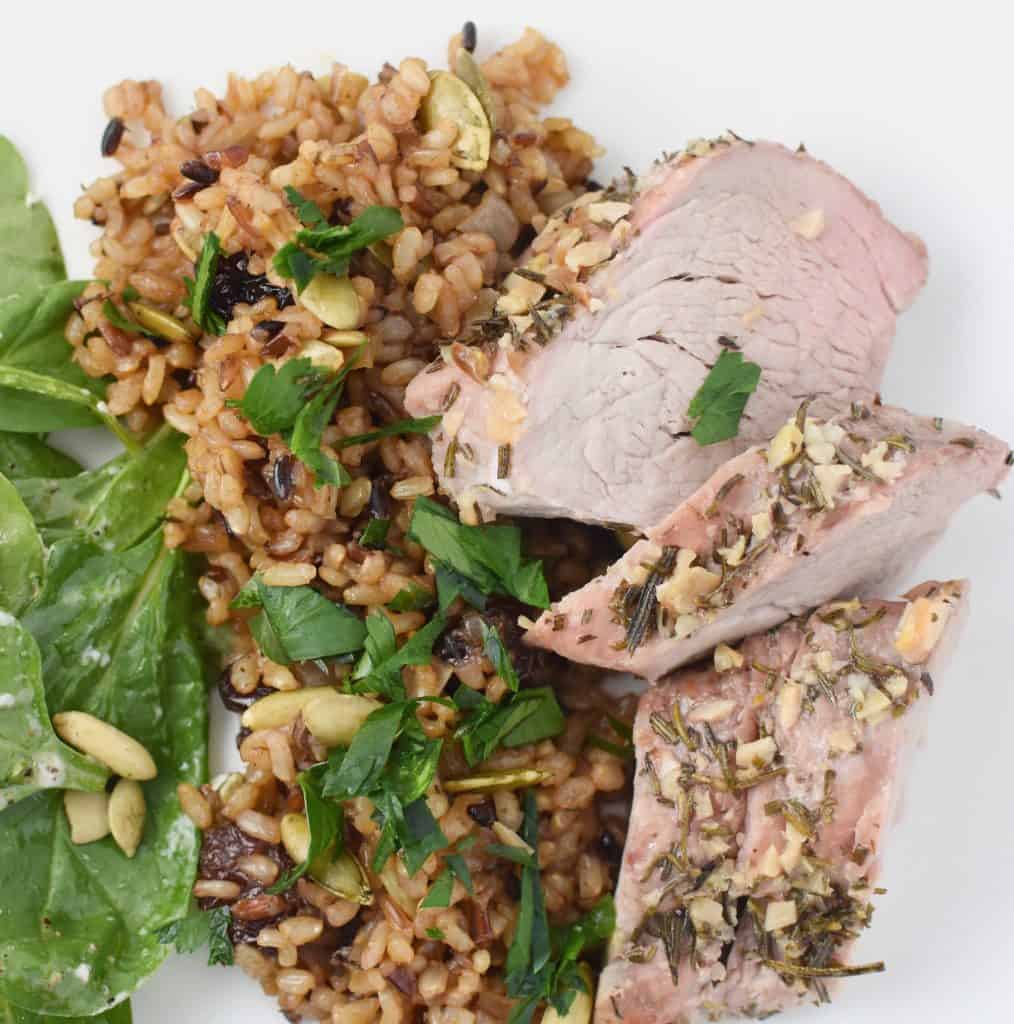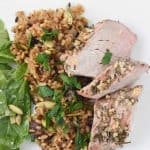 Roasted Rosemary Garlic Pork Loin
Ingredients
2-1/2

lb

boneless pork loin

4

garlic cloves minced

4

tsp

fresh rosemary or 2 tsp dried minced

1 1/2

tsp

kosher salt

1/2

tsp

black pepper
Instructions
Preheat oven to 400 degrees and line a 13x9x2in roasting pan with tin foil. Add garlic, rosemary, salt and pepper to a bowl and mix together, then rub onto pork loin. Make sure all the herbs are really pressed into it and place fat side down in the roasting pan.

Roast in the oven for 20 minutes then remove and turn fat side up. Place in the oven another 10-20 minutes until the internal temp reaches 155 degrees. Let sit for 5-10 minutes under foil before slicing.

Pork is really easy to overcook so double check it 10 minutes after you flip. At my grandmas this only took 30 min to cook in her oven but at my house it takes closer to 40.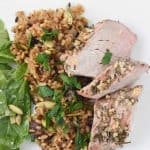 Winter Rice Pilaf
Adapted from Williams Sonoma
Ingredients
2

cups

HYH safe vegetable stock or broth

2

tbsp

kerrygold butter or ghee

1

tbsp

olive oil

1

cup

brown rice or blend

I used Trader Joe's organic sprouted California rice

1-2

shallots

1

bay leaf

1/4

tsp

dried thyme

1/4

cup

dried sulfite-free cranberries

or sub pomegranate seeds

1/2

tsp

salt and pepper

1/4

cup

toasted sunflower or pumpkin seeds

1/4

cup

chopped parsley
Instructions
Preheat oven to 375 degrees. Melt butter in an oven safe dutch oven and add shallots. Sauté 2-3 minutes. Add rice and sauté another 3 minutes until it smells nutty and fragrant. Stir in stock, spices, and cranberries. DO NOT add pomegranate seeds here if you are using those. Bring to a simmer and cover with lid.

Place the dutch oven in the oven and cook 40-45 minutes. Fluff with a fork. Once finished, add parsley, seeds, and pomegranate seeds if using instead of cranberries.