These air fryer southwest egg rolls are the vegetarian version of Chili's famous appetizer. Crispy on the outside and filled with a mixture of spices and veggies, they're perfect with my zesty ranch dipping sauce.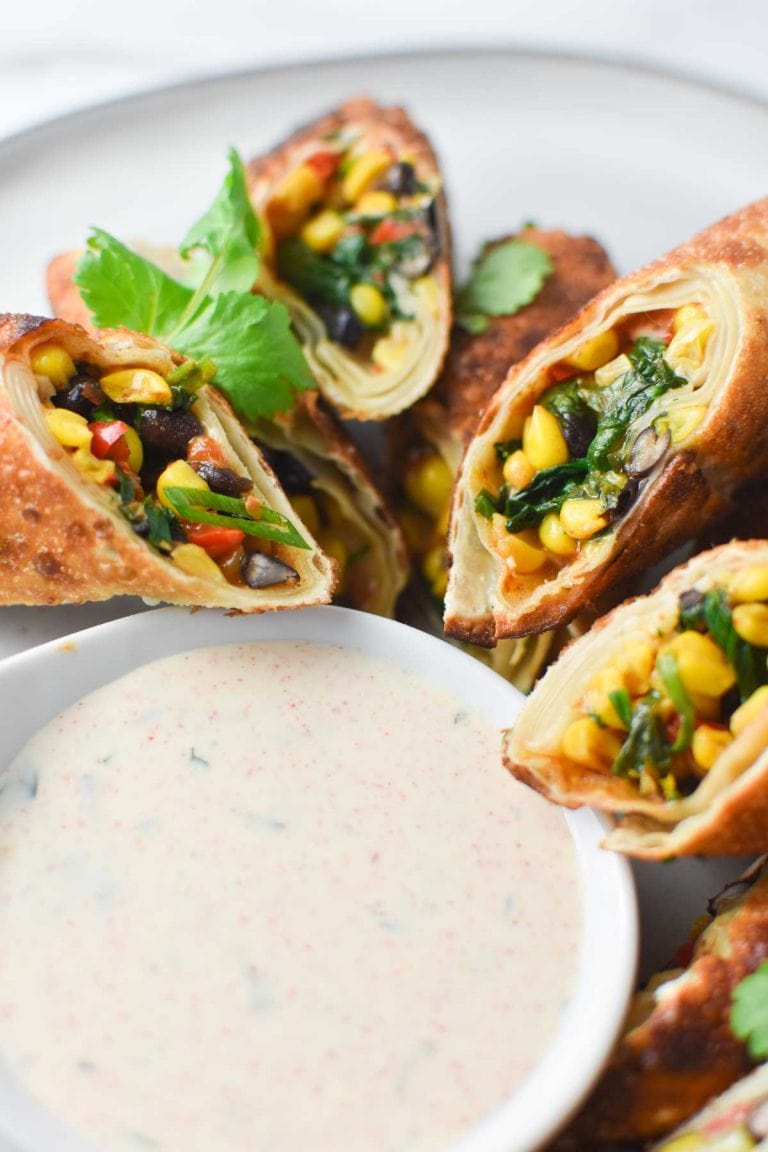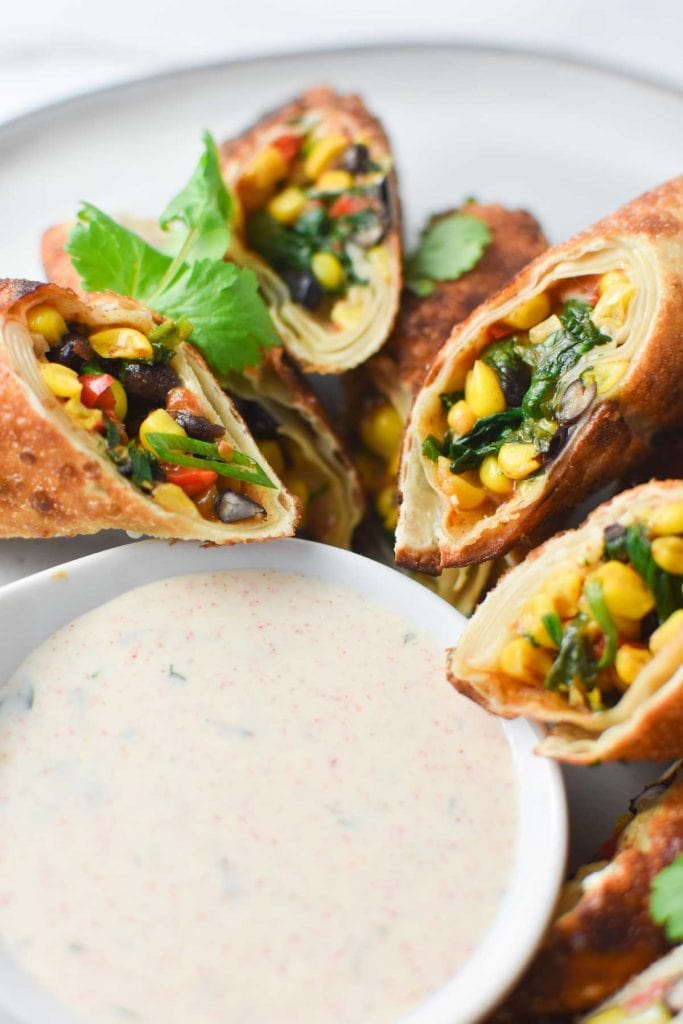 These bring back so many college memories for me. I don't know about you, but in my college town (almost 20 years ago…my goodness) Chili's was the hot date night place. And my favorite thing to order was the southwestern egg rolls. Then they came out with the triple dipper and I swear I would have gone on a date with just about anyone to get one of those.
I don't know why it took me so long to try to recreate this, but I've been trying to think of fun ways to use my air fryer and this seemed like a good idea. However, I really wanted to test it both ways - the air fried and with the traditional fryer to see which one was better.
Ingredients
I'm pretty sure Chili's uses chicken in their recipe, and you can, but I really didn't miss it for these. They tasted pretty much exactly the same omitting them. And what's nice too is if you left out the cheese, this is a completely vegan recipe. However, these vegetarian southwestern egg rolls hit the spot.
What I used:
Fresh red bell pepper
Frozen corn (this is just easier to keep on hand frozen, especially in the winter months)
Canned black beans (I always have these in the pantry)
Fresh spinach (frozen works too, although cut the amount in half)
Green onions/scallions
½ jalapeno just for some spice (you can omit this too)
Fresh cilantro
Shredded American cheese from Andrew and Everett
Frozen egg roll wrappers (you can find this in the frozen/ethnic food section with wontons and pre-made frozen egg rolls)
Add in some pantry spices and garlic and you're ready to go. The Andrew and Everett white American cheese is such a great quality and melts very well. I know Boar's Head has had some melting issues lately, but I think it's been fixed. Some other good brands are Organic Valley, Horizon, and Land O Lakes. Definitely don't go with the fake kinds.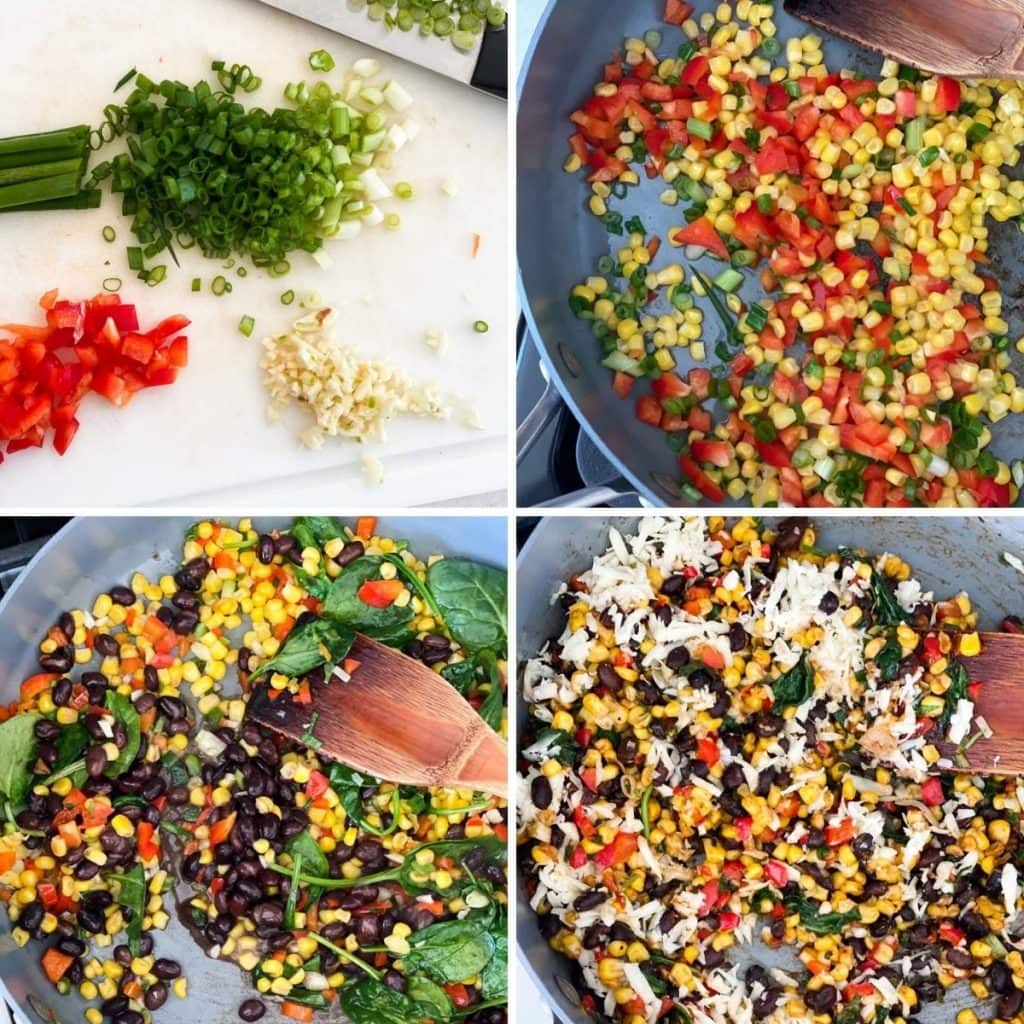 Egg Rolls in an Air Fryer
I have the instant pot air fryer lid so that's what I used for this recipe, but any air fryer will do. I really wanted to see if these would get just as crispy and good as traditional fried egg rolls.
The perfect method seemed to be to coat the egg roll wrapper with oil by brushing vegetable oil all over before placing it in the air fryer, preheated to 375 degrees F.
Then place them seam side down and "fry" it for 8-9 minutes on the first side till nicely golden brown. Flip, seam side up, and fry for another 4 minutes on the opposite side.
As they cool, they'll crisp up even more!
As a comparison, I also fried some of these in vegetable oil on the stove. While they are more similar to the traditional southwestern egg rolls, both were just as crispy. In fact, I think the air fryer ones had slightly more crunch to them.
Both were delicious, so you really can't go wrong either way. If you have an air fryer, save some calories and use it. If you don't, try the traditional frying method.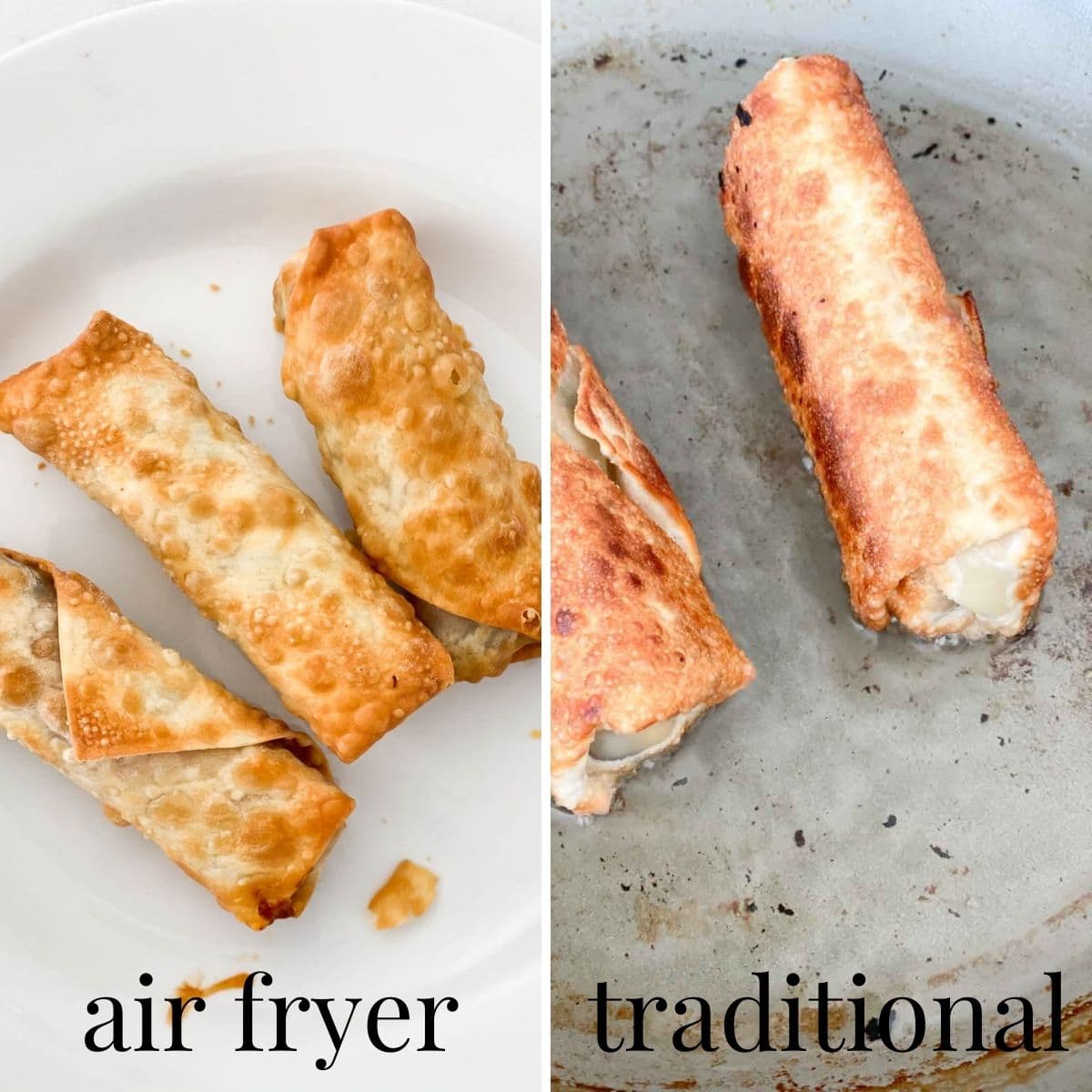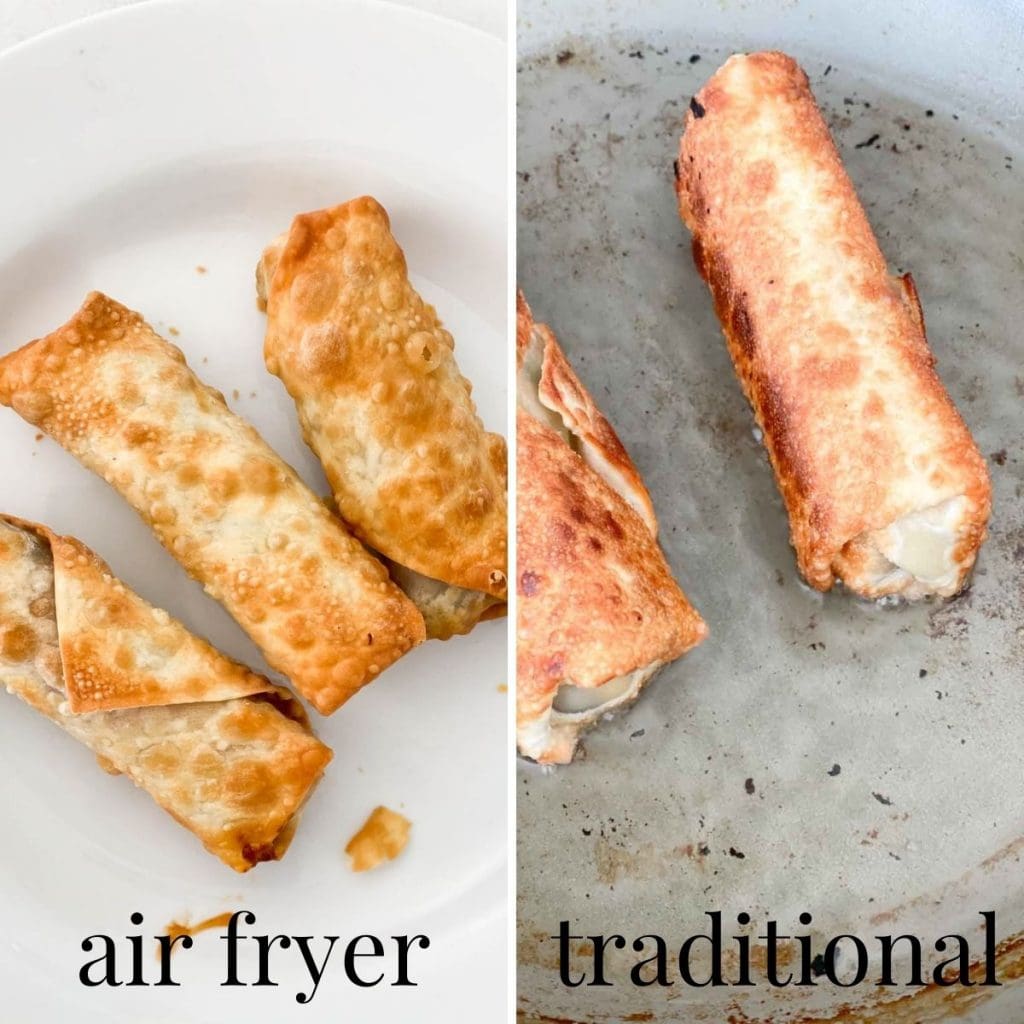 Frequently Asked Questions
What is the cook time for egg rolls in an air fryer?
About 13 minutes total, 8-9 minutes on the first side and 4 on the next. You want them to be golden brown. They'll crisp up as they cool.
Can I fry these egg rolls in oil instead of using an air fryer?
Yes, they only take about 1-2 minutes per side to fry in vegetable oil.
Does it matter what air fryer I use for this recipe?
No, but I used an Instant Pot Air Fryer Lid, which only fits a few in at a time. A larger air fryer can cook more egg rolls faster.
Can I make these Southwestern Egg Rolls vegan?
Yes! Just leave out the cheese. They will still be delicious and flavorful.
How to Wrap
Probably the most challenging part of this whole recipe is wrapping the egg roll but once you get the hang of it, it becomes rather simple.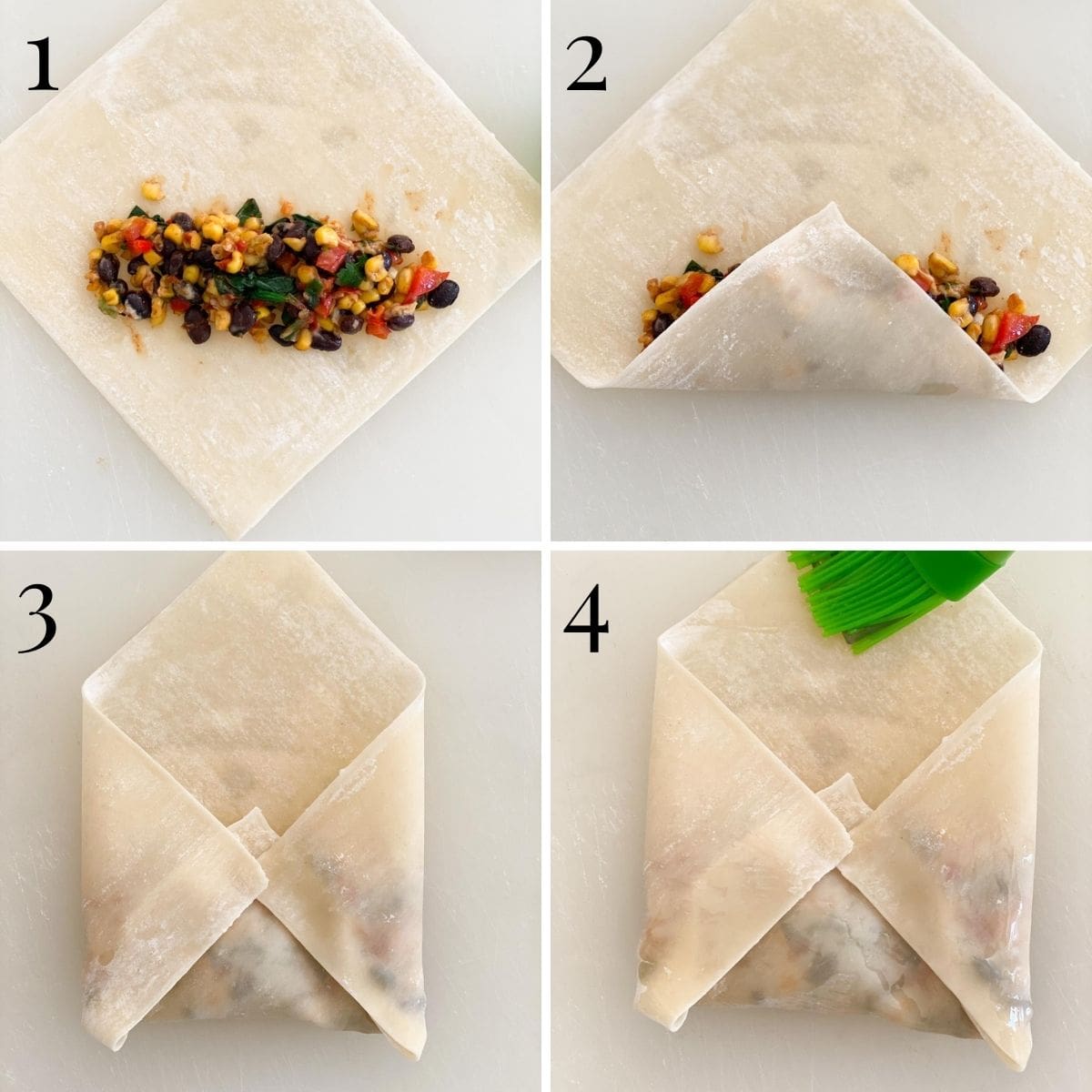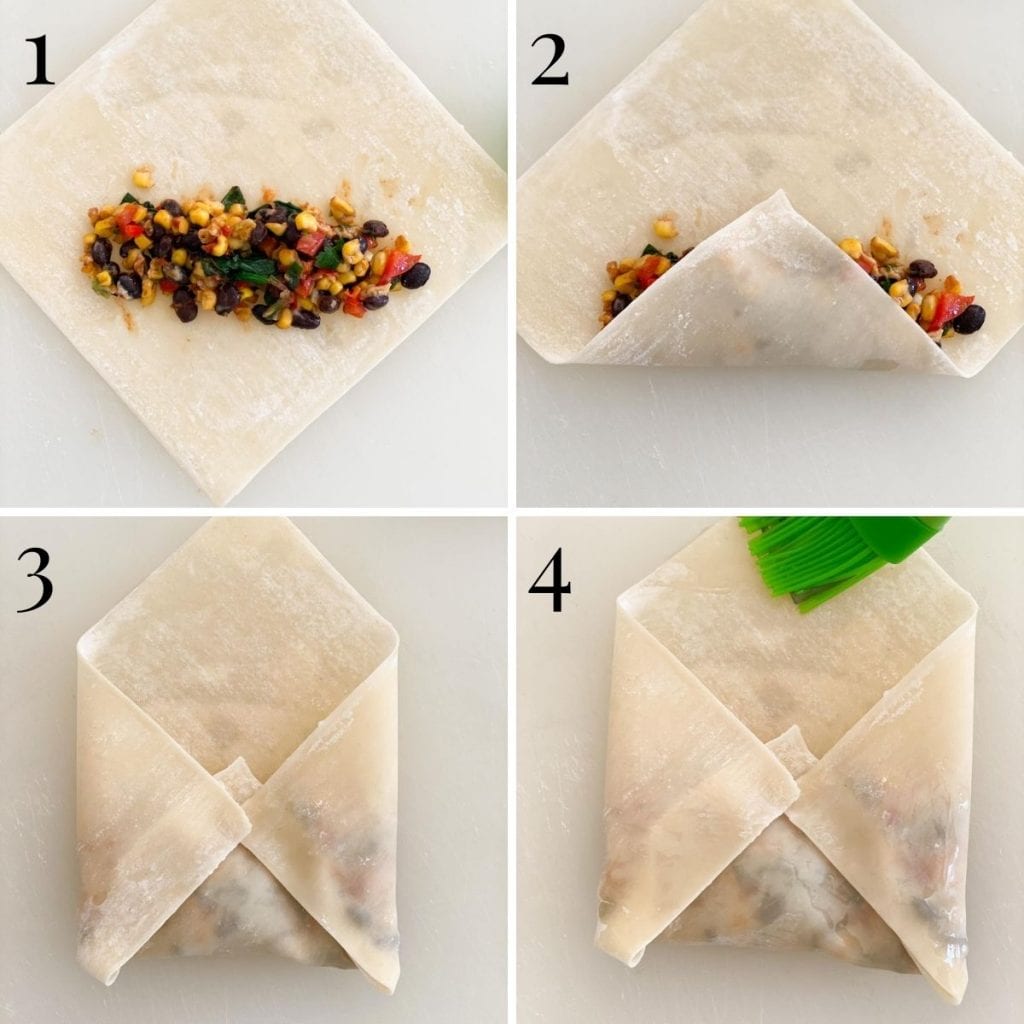 Start with laying your egg roll wrapper in a diamond shape (1).
Spoon in about 2-3 tablespoons of filling. You don't want to overfill these or they'll break apart (1).
Begin by wrapping up the bottom of the diamond, then fold in the sides so it looks kind of like a letter. Brush both sides with oil and pinch them together so they stay (2-3).
Begin to roll the egg roll towards the unwrapped top, pressing in the sides as needed, and brush with oil at the top corner to secure the wrapper (4).
Place on a baking sheet and brush the entire egg roll with vegetable oil.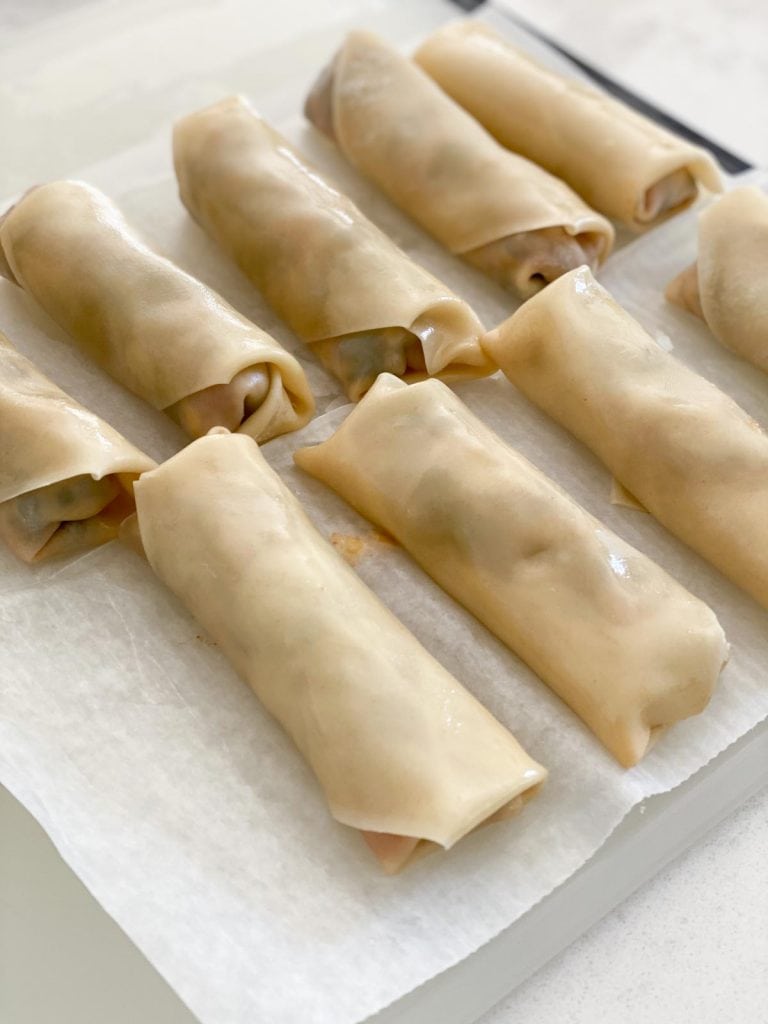 How to Reheat
These southwestern egg rolls reheat extremely well in the oven, no matter how you fried them. From the fridge, I baked them at 350 degrees F for about 15 minutes and then let them cool.
You can freeze these by wrapping them in cling wrap and then storing them in a freezer safe bag. If you individually wrap them, there is less chance they'll stick together in the freezing process.
To reheat these from frozen in the air fryer, cook at 350 degrees F for about 5 minutes per side.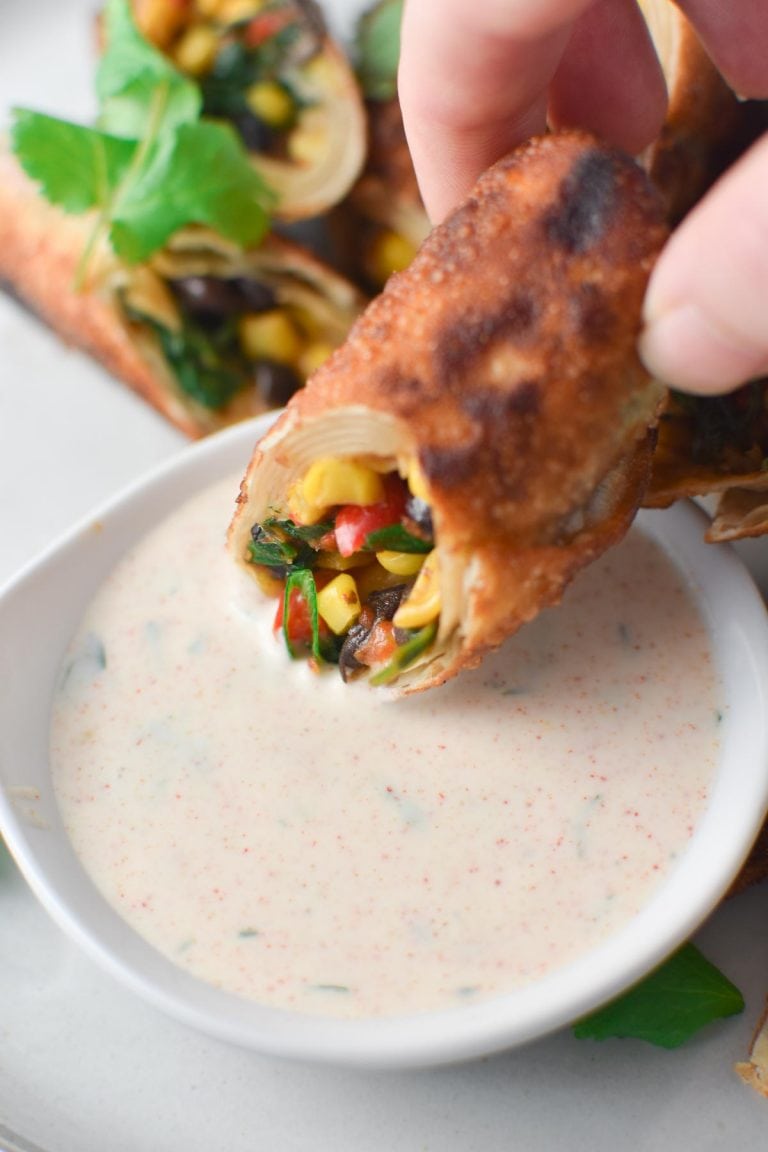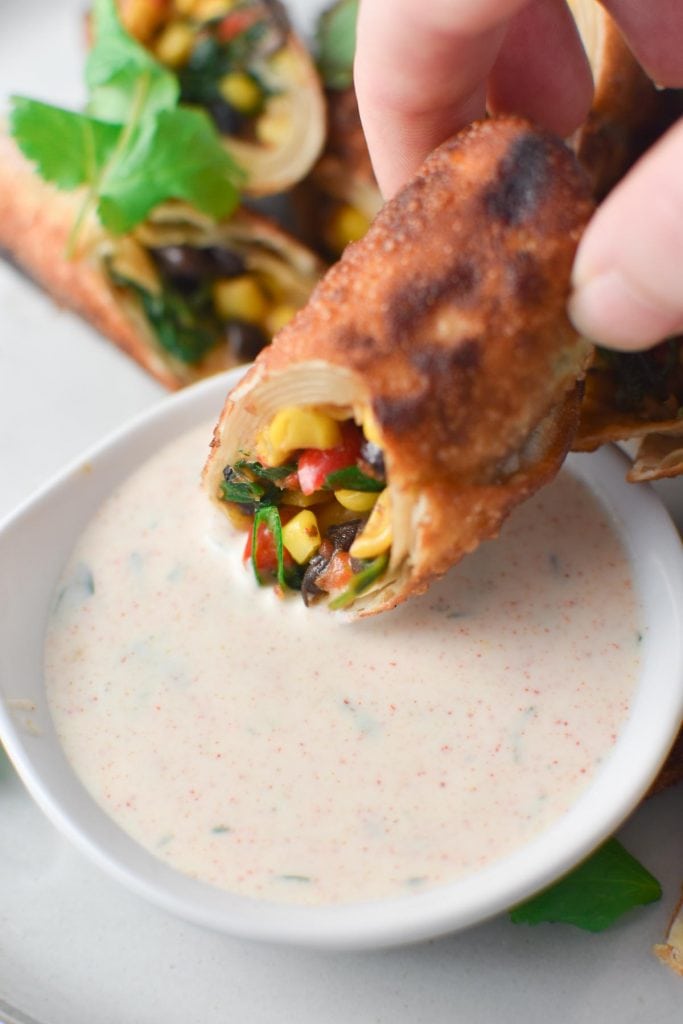 Other Vegetarian Appetizers
For other appetizers that are vegetarian, check out these recipes:
Arichoke Hummus
Caramelized Shallot Dip
Creamy Spinach Artichoke Dip
Endive Boats with Goat Cheese
Butternut Squash Crostini

If you make this recipe, don't forget to tag me #thedizzycook or @thedizzycook on Facebook and Instagram. And please leave a review below!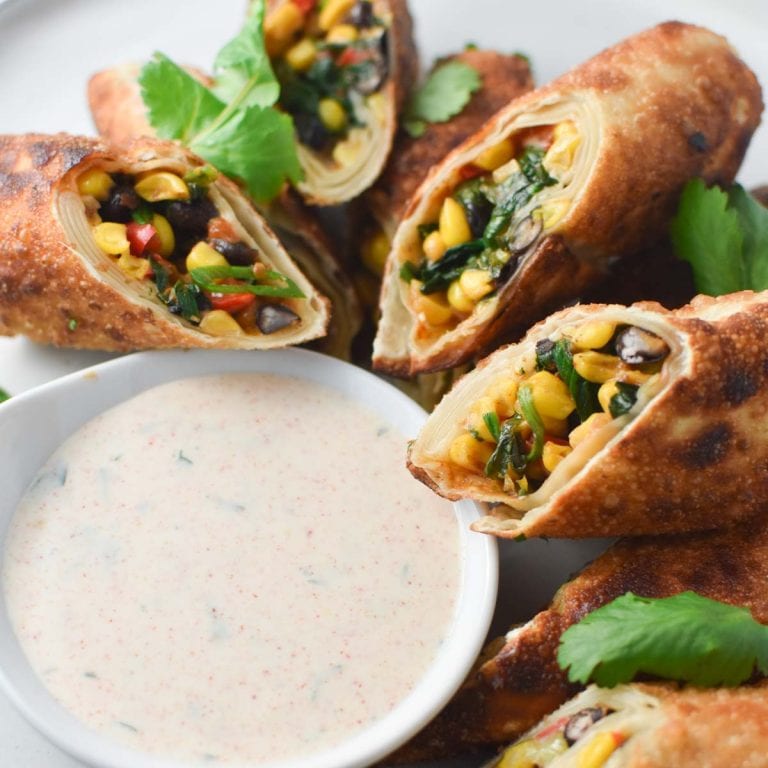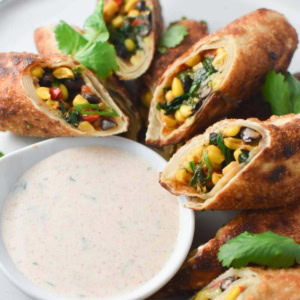 Air Fryer Southwest Egg Rolls
These southwestern egg rolls are the vegetarian version of the popular appetizer at Chili's, but air fried! Served with my cilantro sauce or southwestern ranch for dipping, they're a super flavorful dish.
Print
Pin
Rate
Ingredients
½

cup

diced green onion

½

cup

diced red bell pepper

1

cup

frozen corn (or fresh)

½

jalapeno, seeded and chopped (optional)

3

garlic cloves, minced

¾

cup

canned black beans, drained

1

cup

packed fresh spinach leaves

1

teaspoon

chili powder

½

teaspoon

cumin

½

teaspoon

smoked paprika

½

teaspoon

kosher salt

⅓

cup

fresh chopped cilantro

¾

cup

good American cheese

(see post for recommendations on brands)

10-11

egg roll wrappers, defrosted

mild oil like vegetable, avocado, or canola
Instructions
In a large saute pan coated with 2 teaspoons of oil, combine the green onion, red bell pepper, corn, and jalapeno over medium heat. Saute for about 3-4 minutes until cooked through, then add the minced garlic and stir for another minute. Add the canned black beans and spinach, till spinach is wilted down. Then add the chili powder, cumin, smoked paprika, and salt.

Once combined, turn off the heat and stir in the cilantro and American cheese. Preheat air fryer (if using) to 375 degrees F. Meanwhile place an egg roll wrapper to make a diamond shape. Add about 2-3 tablespoons of the southwestern filling and fold up the bottom. Then fold in both sides, making an "envelope" shape. Brush all the edges with oil. Continue to roll the bottom of the envelope towards the top of the diamond, folding in the sides as needed. Brush oil on the top of the egg roll flap to secure it and place seam side down. Brush oil over the entire surface of the egg roll.

Place in the air fryer in a single layer, seam side down, and cook for 8 minutes until golden brown. Flip and cook another 4-5 minutes until golden brown. Remove from the air fryer and allow them to cool before serving with dipping sauce.
Notes
To fry these the traditional way, coat a heavy bottomed pan with vegetable or canola oil till it's about ½"-1" deep. Heat over medium heat till hot. Fry for about 1 minute each side till golden brown. Drain on paper towels and allow to cool.
These can be made vegan by leaving out the cheese. You can add in more vegetables to make up that ¾ cup.
Nutrition
Calories:
112
kcal
|
Carbohydrates:
15
g
|
Protein:
5
g
|
Fat:
4
g
|
Saturated Fat:
2
g
|
Trans Fat:
1
g
|
Cholesterol:
12
mg
|
Sodium:
424
mg
|
Potassium:
171
mg
|
Fiber:
2
g
|
Sugar:
1
g
|
Vitamin A:
777
IU
|
Vitamin C:
13
mg
|
Calcium:
132
mg
|
Iron:
1
mg