This smooth artichoke hummus is super creamy and delicious! Tangy artichoke hearts are combined with garlic, tahini, and olive oil for the most delicious dip.
If you're looking for unique hummus recipes, don't pass up this one! This is a great hummus without chickpeas. It's perfect for parties, Mediterranean mezze platters, or a quick snack paired with pita, vegetables, or pretzels.
This artichoke hummus is a delicious take on regular hummus that's a little more tangy in flavor without adding citrus.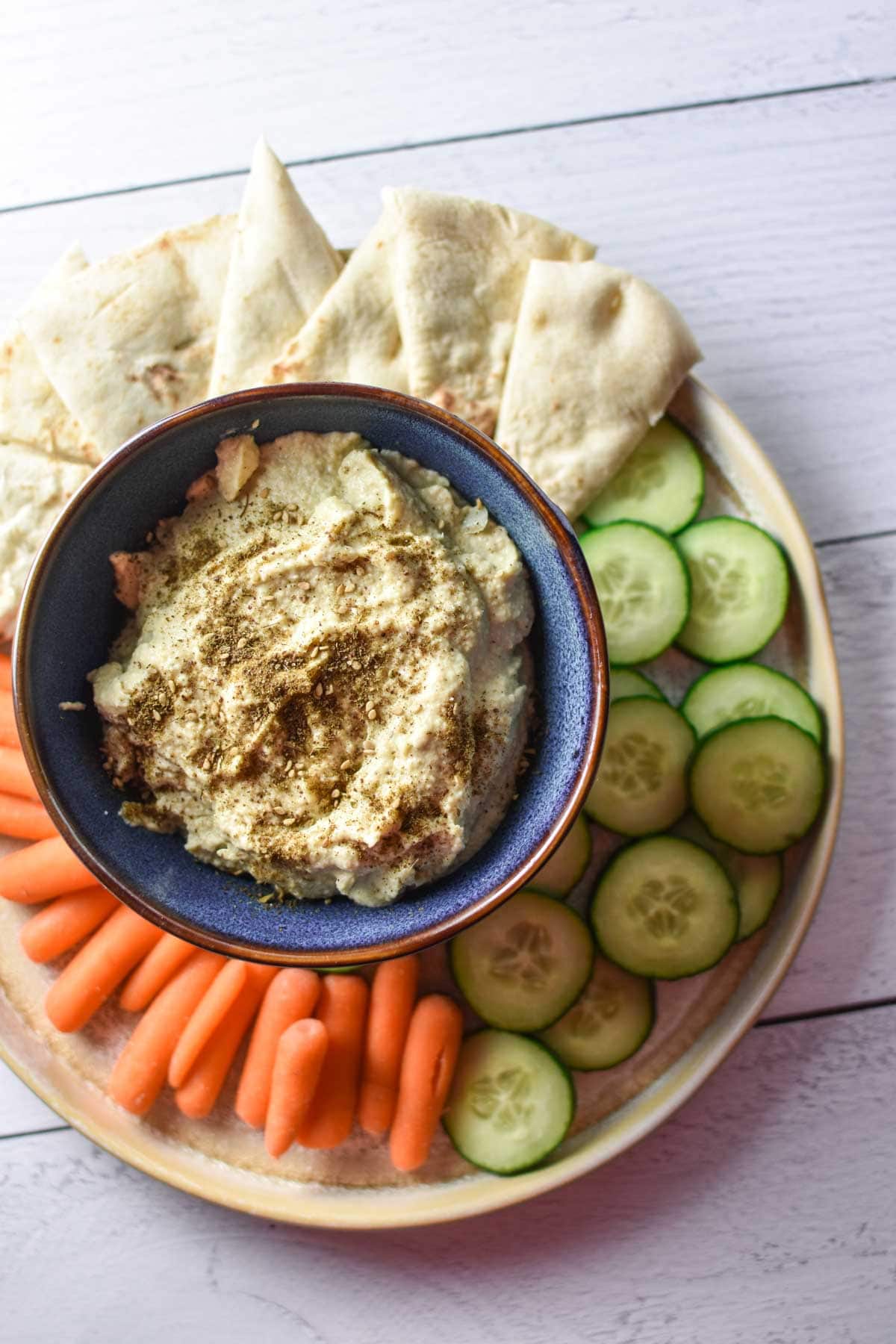 Jump to:
Why Artichoke Hummus?
This recipe is inspired by one of my favorite Greek restaurants in Dallas - Ziziki's. I used to suggest it all the time for dates just to grab this artichoke hummus! It's one of the most delicious and unique versions of hummus I've ever tasted.
The artichoke isn't overpowering, but a subtle way to provide a different flavor.
If you're tired of the same old hummus recipe, I highly recommend this one as a great way to mix it up.
Hummus without Chickpeas
When I originally made this recipe, I used chickpeas to blend with the artichokes. However, over time I've realized you don't actually need the chickpeas at all.
Without using chickpeas in the hummus you get a stronger artichoke flavor that's extra delicious. It's a lot less work as well. Plus you have a million recipes of hummus that have them out there, might as well try a hummus without chickpeas!
Ingredients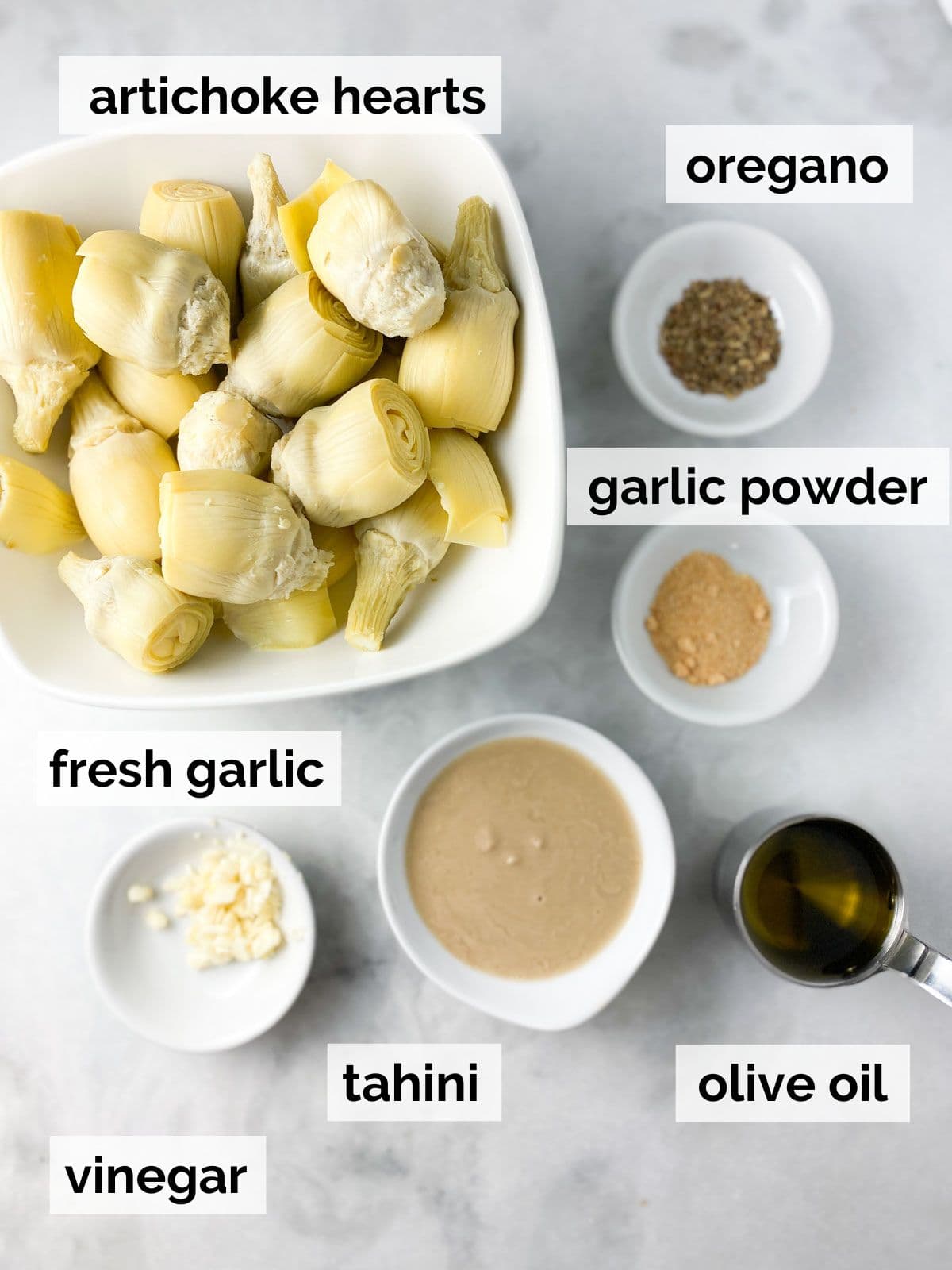 Canned artichoke hearts - I've tested this recipe using Trader Joe's brand artichokes, frozen artichokes, Native forest artichoke hearts, and Cento artichoke hearts. Overall I find that canned works best for this recipe. I've never experienced any stringy texture using these brands, but I'll touch on this later.
Tahini - Just a small amount of this sesame seed butter is used, which makes it more like a traditional hummus recipe.
Garlic - Both dried garlic powder and fresh garlic are used for this recipe as they provide a nice balance of flavor.
Vinegar or lemon juice - If in the elimination stage of a migraine diet, you'll want to use distilled white vinegar (or if you don't have lemons on hand!). Lemon juice also makes a great addition.
Greek oregano - Make sure to grab a Mediterranean oregano and not Mexican oregano.
Pita - For dipping I recommend warmed pita bread or naan. I love to pair Trader Joe's frozen naan with this recipe.


Equipment Needed
I highly recommend investing in a food processor for this recipe. Especially a very high quality food processor.
Very few readers have reported some strings in their hummus, and while this can occur based on the artichoke hearts not being fully trimmed, it's most likely due to the food processor not being able to blend the artichoke heart until smooth.
For this recipe I've had luck with both a Kitchen Aid and a Breville. My family and I have been making this for years and have never had an issue with stringy artichokes, even though we've used multiple brands. So I have the feeling this is the main culprit!
How to Make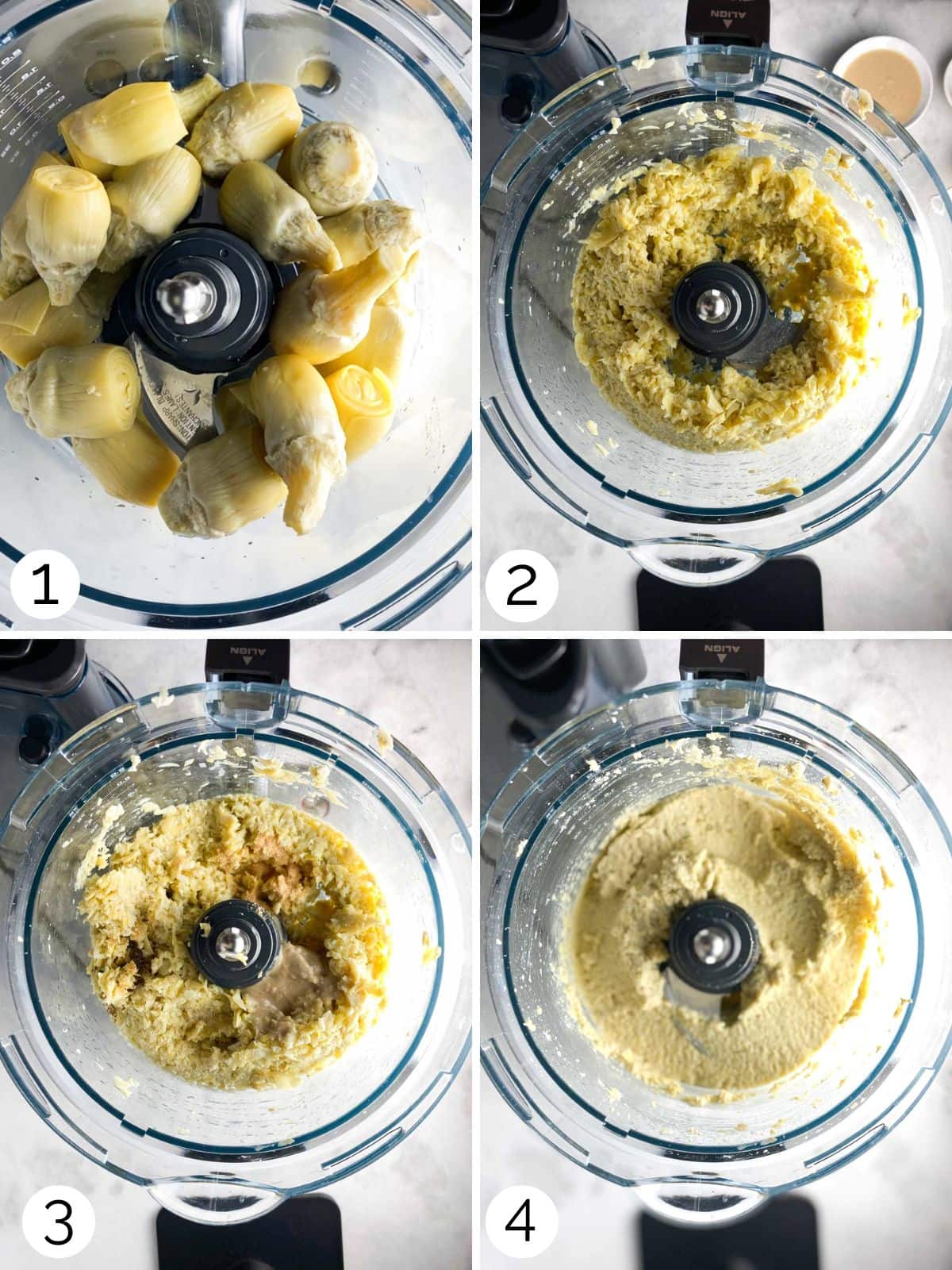 Step 1 - Chop the artichoke hearts
Place the artichoke hearts in the food processor and blend till thoroughly chopped up.
Step 2 - Add remaining ingredients
Add the tahini, garlic, oregano, vinegar, and sumac to the food processor. With the food processor on, slowly add in the olive oil until the mixture has emulsified. Turn off the food processor, transfer the artichoke hummus to a bowl, cover and chill for at least 30 minutes.
What is Za'atar?
Za'atar (pronouced zah-tar) is a Mediterranean spice blend that typically consists of oregano, sesame seeds and sumac. It's typically found in the bulk aisle of your grocery store spices.
It's a great way to add flavor if you're missing from lemon juice, which is not allowed on a low tyramine migraine diet. Or if you just want to jazz up any hummus recipe!
How to Store Hummus
This artichoke hummus can be made ahead and stored in the refrigerator for up to 1 week.
To freeze, place in a freezer bag or airtight container and freeze up to 3-4 months. Defrost overnight in the refrigerator before serving.
After defrosting, some moisture may appear and this is totally normal. You can either dab it with a paper towel carefully off the top, or just stir it into the hummus till combined.
Variations
There are so many wonderful ways to make a hummus without chickpeas and this is just one of them! You can blend in other vegetables as well, like zucchini.
A few ways I love to use artichoke hummus:
Sandwich spread - substitute hummus for mayonnaise on sandwiches. It would go great with this turkey pesto sandwich.
Meatball dip - If you make any kind of Mediterranean meatballs, this is a great dip to pair them with.
Appetizer - The typical way! Serve with endive, carrots, celery, radish, or pita chips. I also love Trader Joe's frozen naan for dipping.
There are so many ways to use hummus beyond just a party dip!
Frequently Asked Questions
Can I make this hummus low carb?
This artichoke hummus without chickpeas is very low carb - just 2 grams of carbohydrates per serving. Pair with endive, celery, jicama, radish or low carb chips for dipping.
Can I make artichoke hummus without tahini?
Yes, you can omit the tahini from the recipe, it just won't have the same flavor you're used to with traditional hummus, but it still tastes good. I would also recommend substituting with watermelon seed butter if you have that on hand.
How do I achieve the best texture for hummus?
The best way to make this is with a quality food processor. Pre-processing the artichoke hearts before adding in the rest of the ingredients will make sure they get completely chopped up. If you notice any "stringy" bits, you can remove them at that point, or check to see if you notice any tough parts while washing and draining the artichoke hearts.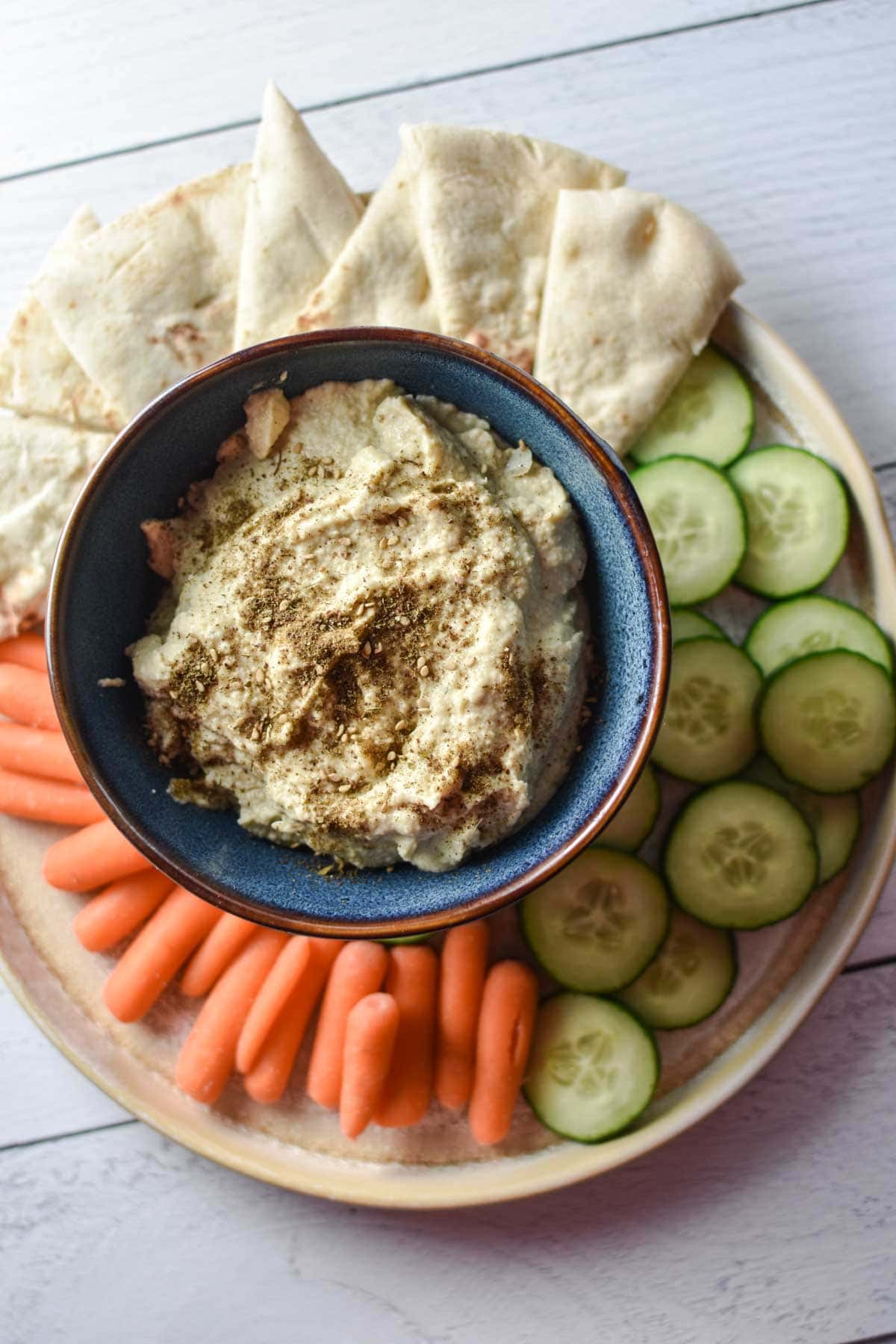 Dip Recipes
For more easy appetizer dip recipes like this artichoke hummus, check out these posts. The caramelized shallot dip is a personal favorite for game days.
If you make any of my recipes, don't forget to tag me #thedizzycook or @thedizzycook on Facebook and Instagram. And please leave a review below!
Artichoke Hummus
This artichoke hummus is heavy on the artichokes, but also combines ½ a can of chickpeas for a creamy, smooth texture. Vegan and gluten free, this dip will be a hit at any party!
Print
Pin
Rate
Ingredients
Artichoke Hummus
2

14oz

cans of artichoke hearts packed in water, drained and rinsed with water

2

tablespoons

tahini

1

small garlic clove, minced

1

teaspoon

garlic powder

1

teaspoon

Mediterranean oregano

1

tablespoon

distilled white vinegar, or juice from ½ lemon*

¼

cup

extra virgin olive oil

kosher salt and pepper to taste

Optional: za'atar to sprinkle on top

pita or naan bread, fresh cucumber, carrots, and celery for dipping
Instructions
Drain the artichoke hearts and rinse them under cool water, pat dry with a towel. Then place into a food processor and pulse till chopped fine.

Add the tahini, minced garlic, garlic powder, vinegar or lemon, and oregano and blend till combined. With the food processor turned on, slowly add olive oil through the spout until mixture is smooth. If you like a thinner consistency, add 1-2 tablespoons of cold water into the processor. Taste and adjust any seasonings, adding salt and pepper.

Cover and allow to sit in the fridge at least 30 minutes to let the flavors combine. Sprinkle the top with za'atar and/or extra olive oil.

If using, brush pita with olive oil on both sides and grill on flat top or in cast iron pan until golden brown. Slice grilled pita into 8 pieces. Arrange pita around dip and serve.
Notes
For those following a migraine diet - lemon is NOT allowed in the elimination stage. Use the distilled white vinegar as a substitute.
Za'atar contains sumac, which offers a citrus flavor that is nice when you cannot have citrus on a migraine diet. It's great for topping. I find it in the bulk spice aisles or online.
Readers (and myself) have had good results with Reese brand and Trader Joe's brand of canned artichoke hearts packed in water, as far as smoothness goes.
Previously this recipe used 1 can of artichoke hearts and ½ can chickpeas, if you'd like to make it the original way.
Nutrition
Calories:
167
kcal
|
Carbohydrates:
2
g
|
Protein:
1
g
|
Fat:
17
g
|
Saturated Fat:
2
g
|
Polyunsaturated Fat:
3
g
|
Monounsaturated Fat:
11
g
|
Sodium:
5
mg
|
Potassium:
47
mg
|
Fiber:
0.4
g
|
Sugar:
0.03
g
|
Vitamin A:
5
IU
|
Vitamin C:
1
mg
|
Calcium:
13
mg
|
Iron:
0.5
mg