This creamy spinach artichoke dip is gluten free and has all your favorite flavors of a traditional warm artichoke dip. Paired with vegetables or pita chips, you'll love all the great traditional flavors without the aged cheese.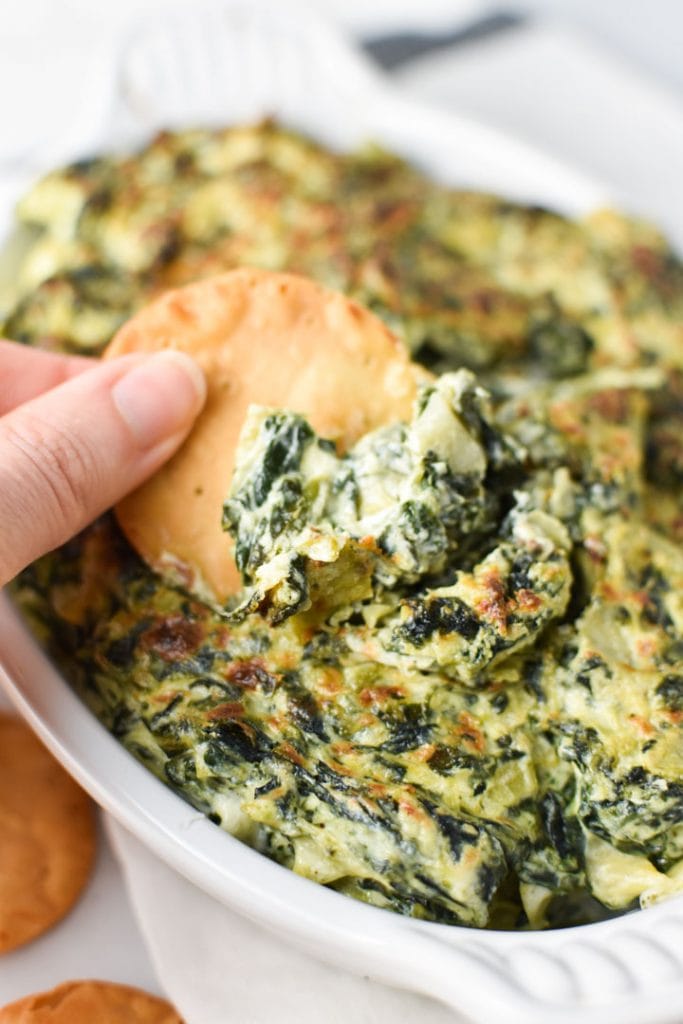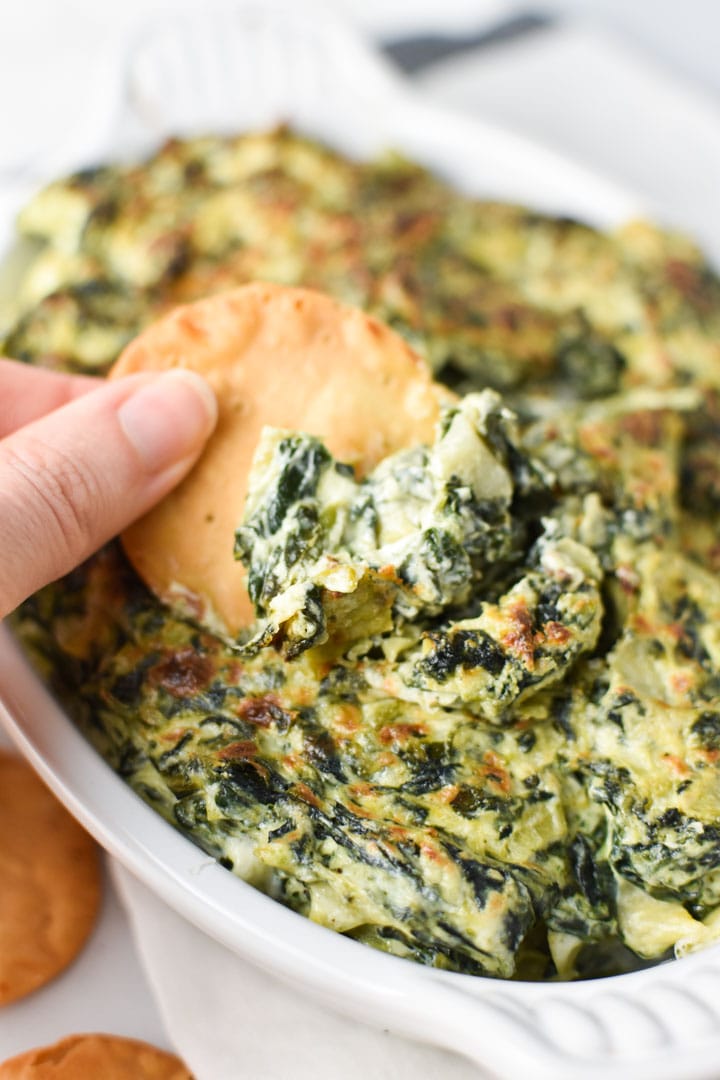 Dip without Aged Cheese
One of the hardest parts of re-creating so many traditional dips that we love is that every recipe uses parmesan. Parmesan imparts such a wonderful flavor, but it's still possible to recreate a creamy artichoke dip without it and have it be delicious. I promise in this recipe you won't miss it.
Why without aged cheese? A lot of the great cheeses out there also, unfortunately, tend to be migraine triggers for a large portion of people. This is typically due to the high amounts of tyramine and histamine that occur in aged items. Although this rule doesn't apply to everyone, people who find themselves especially sensitive tend to do better if cheese is aged around 3 months or less. On average parmesan is aged about 2 years making it one of the most extreme cheeses you could try! I've thankfully been able to incorporate it back into my diet, but usually in very small amounts.
Ingredients
Obviously when following a diet like this, ingredients are really important so I'll go through which ones I used for this creamy artichoke dip recipe.
The Veggies
For the spinach, I only had about 8oz of frozen spinach left so I combined frozen spinach and then supplemented with fresh. You can really do either one, it just depends on if you feel like wilting down the spinach yourself. If using frozen, make sure you defrost and then squeeze an excess moisture out with a paper towel.
For the artichokes I used Cento Quartered Artichoke Hearts in water. These canned artichokes contain citric acid and it's actually really difficult to find ones that don't, even if they're frozen. Citric acid is permitted on this migraine diet, but some people do find they're sensitive. To try to cut down on a reaction, and I would do this anyway, just rinse your artichoke hearts with water and pat them dry.
Cream Cheese and Mayonnaise
When it comes to cream cheese, it's nearly impossible to find one without any gums now. However, if you just avoid ones with carrageenan you should be totally fine. A few that do this are Publix Greenwise, Philadelphia Plain (in the block form), and Organic Valley. I've also found a few local store brands that only contain locust bean gum as well, which is a derivative of carob seeds. As for the mozzarella, I just tore apart a fresh ball of it.
My favorite store-bought mayonnaise is Sir Kensington's Organic, which does have a very small amount of lemon juice. Still, I find it's extremely well-tolerated. If you don't like the flavor or prefer to make your own, give this recipe a try. And if eggs are an issue, you can try this Vegan Aquafaba Mayo.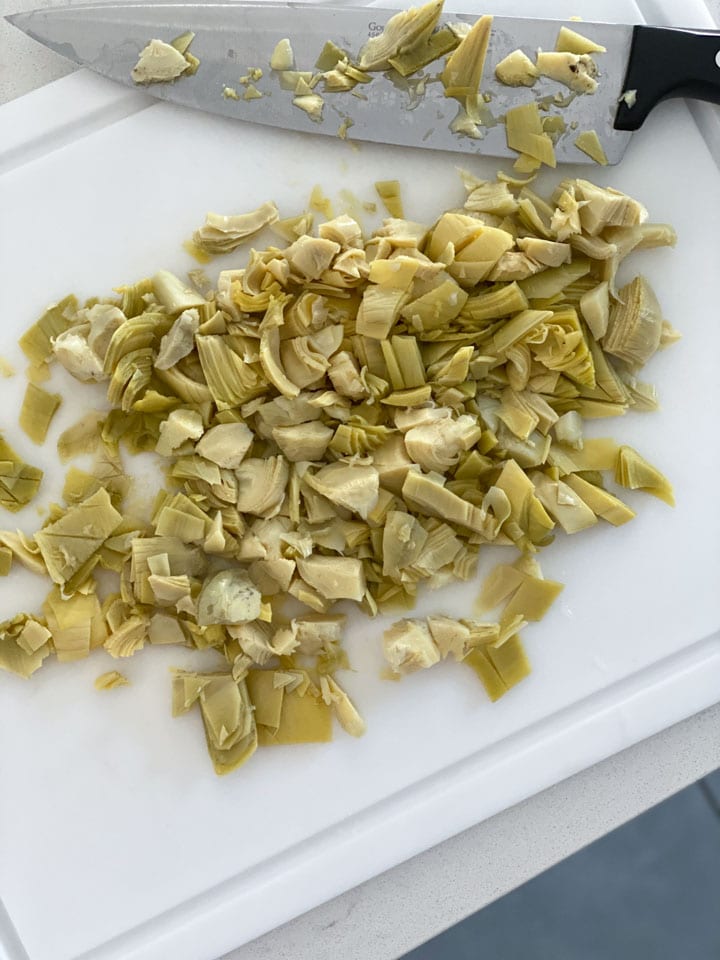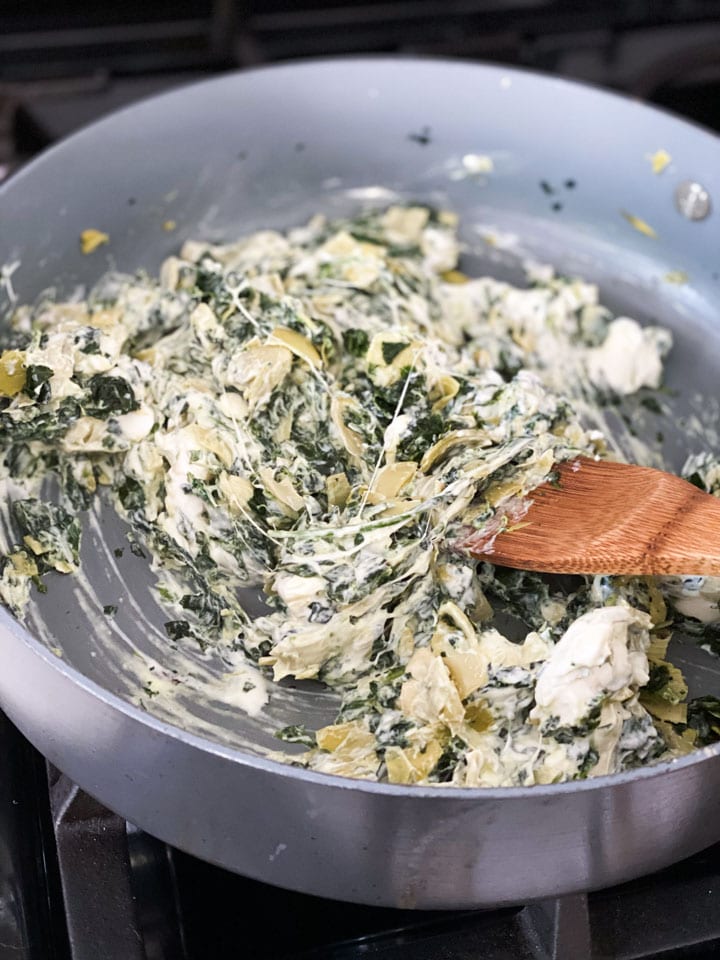 Cooking Techniques
There are so many different recipes out there for spinach artichoke dip, but really liked that this one heated up all in one pan and then you can transfer it to an oven-safe serving dish. I used a mini gratin dish, but a cute cast iron pan would be great as well.
Basically you want to make sure the spinach and artichokes get heated through to soften the artichoke hearts a bit more. Then turn the heat on low and melt in both cheeses. For a final step, I mix in the mayo. If you mix in the mayo on too high a heat, I find it becomes a bit oily. This way it stays creamy, even through broiling. You don't have to broil the artichoke dip, but it does get everything nice and bubbly before serving.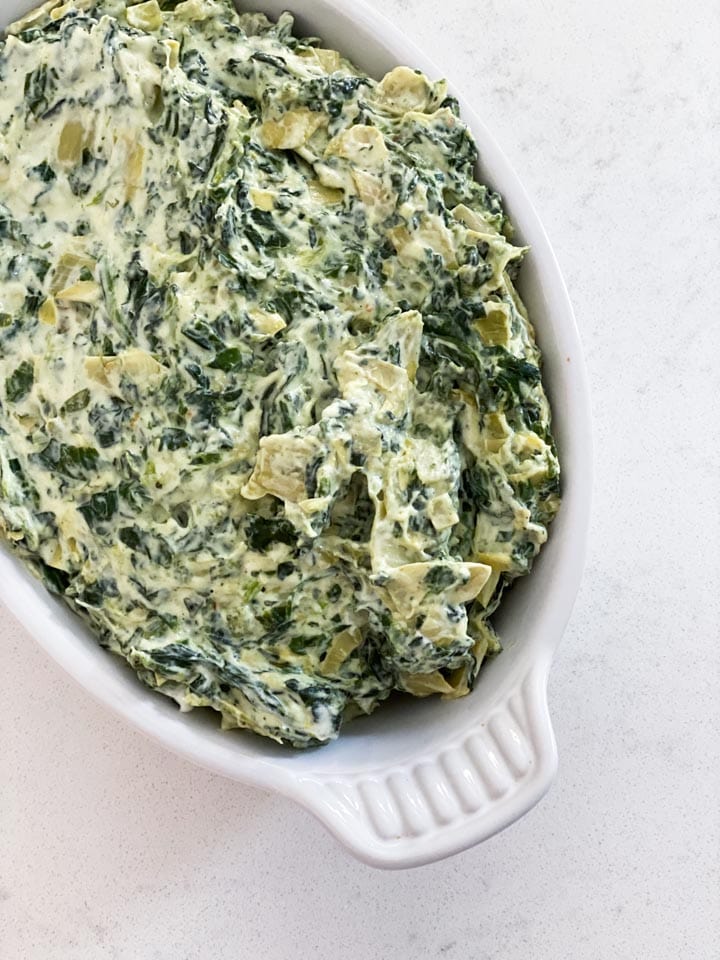 What to Serve for Dipping
Other Favorite Party Dips
If you're looking for an alternative to this creamy spinach artichoke dip, give these other recipes a try. Most of these are gluten free as well.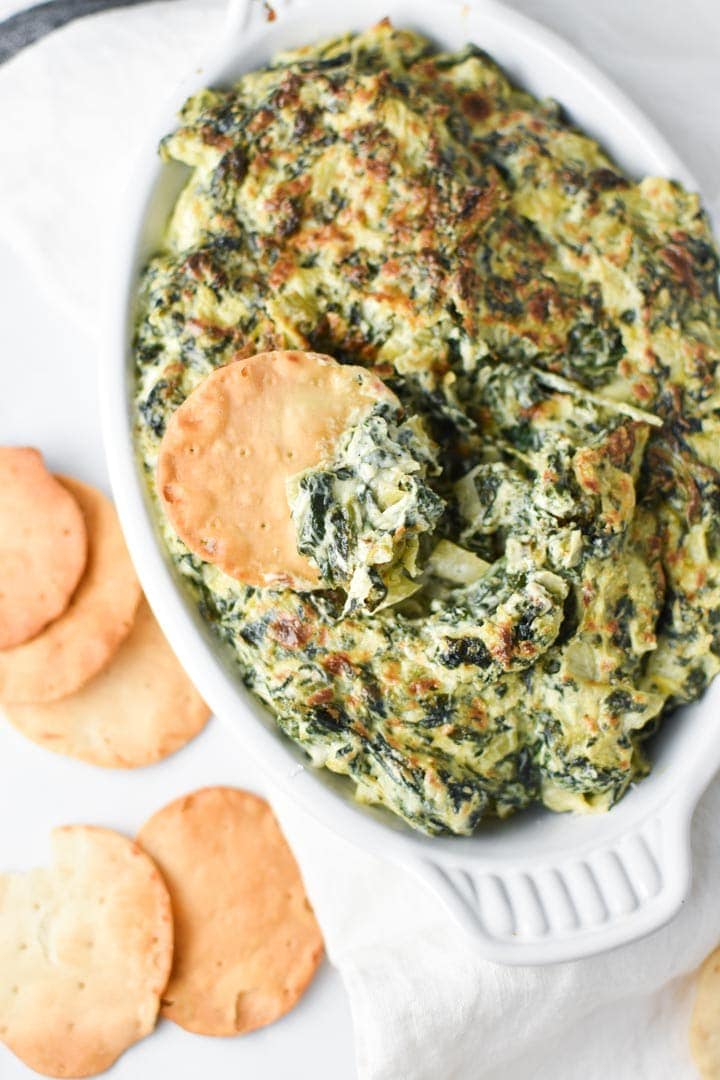 Creamy Spinach Artichoke Dip
This creamy spinach artichoke dip is perfect for parties or as a snack and is gluten free. Pair with crackers, tortilla chips, or veggies for a great appetizer dip!
Print
Pin
Rate
Ingredients
1.5

tablespoon

olive oil

2

small garlic cloves, minced

1

10oz

package frozen spinach (defrosted) or 12oz fresh

¼

teaspoon

red pepper flakes

* Leave out if you don't like anything spicy

1

14oz can

artichoke heart quarters in water

8

oz

plain cream cheese, cut up into cubes

⅓

cup

fresh mozzarella, shredded or torn into small pieces

2

tablespoons

mayonnaise

kosher salt and pepper to taste
Instructions
Start with getting any excess moisture out of your defrosted spinach by placing it in a kitchen or paper towel and giving it a squeeze. Also run quartered artichoke hearts under water to rinse and pat dry. Chop the artichoke hearts into smaller pieces and set aside.

In a medium pan, add olive oil and heat over medium. Add minced garlic and cook, stirring for about 1 minute until softened but not browned. Add the defrosted spinach (or fresh spinach) and stir till warmed through, or totally wilted. Add the chopped artichoke hearts and cook another 2-3 minutes until they're softened. Season everything with a small pinch of kosher salt and add red pepper flakes, if using.

Turn heat to low and sprinkle in cream cheese, stirring until it begins to melt down and become creamy. Add mozzarella, stirring till melted through. Remove from heat and stir in the mayo, taste and adjust any seasonings (this won't need a lot of salt in my opinion). Transfer to an oven safe dip dish like a gratin dish or mini cast iron.

Set broiler to high heat and cook about 3-5 minutes, until nicely browned on top and bubbly. Remove from the oven and allow to cool for about 10 minutes before serving.
Notes
See post for product recommendations and dipping suggestions
You can freeze spinach dip, just transfer to a freezer-safe container or bag and store for up to 2 months. Completely defrost before reheating to serve.
I just used a fresh mozzarella ball and tore into small pieces, but you can also shred it.
You can reheat in the oven or microwave.
Nutrition
Calories:
212
kcal
|
Carbohydrates:
2
g
|
Protein:
4
g
|
Fat:
21
g
|
Saturated Fat:
9
g
|
Cholesterol:
48
mg
|
Sodium:
192
mg
|
Potassium:
52
mg
|
Sugar:
1
g
|
Vitamin A:
594
IU
|
Vitamin C:
1
mg
|
Calcium:
70
mg
|
Iron:
1
mg