This recipe for cranberry jalapeño cream cheese dip makes the perfect holiday appetizer with its bright green and red colors. Zesty jalapeño is combined with a fresh cranberry sauce, cream cheese, and green onions for an easy party appetizer.
Cranberry Jalapeño Cream Cheese Dip
To my surprise, this is the first year we really don't have any Christmas parties to attend. My husband's work quit doing a party and The Dizzy Cook holiday party consists of eating leftover cookies with my two dogs who wait for any crumbs to drop. Even our friends haven't gotten in the mood to throw a party…most likely because the majority are pregnant. But thankfully, even if you're just having a small gathering, this dip is easy enough to whip up for guests.
My recipe for cranberry sauce without orange juice was a big hit for Thanksgiving! The secret is that they whole reason I made it was to try this dip out. I personally used to love jalapeño jelly combined with cream cheese and this was a little reminiscent of those flavors, but more tart!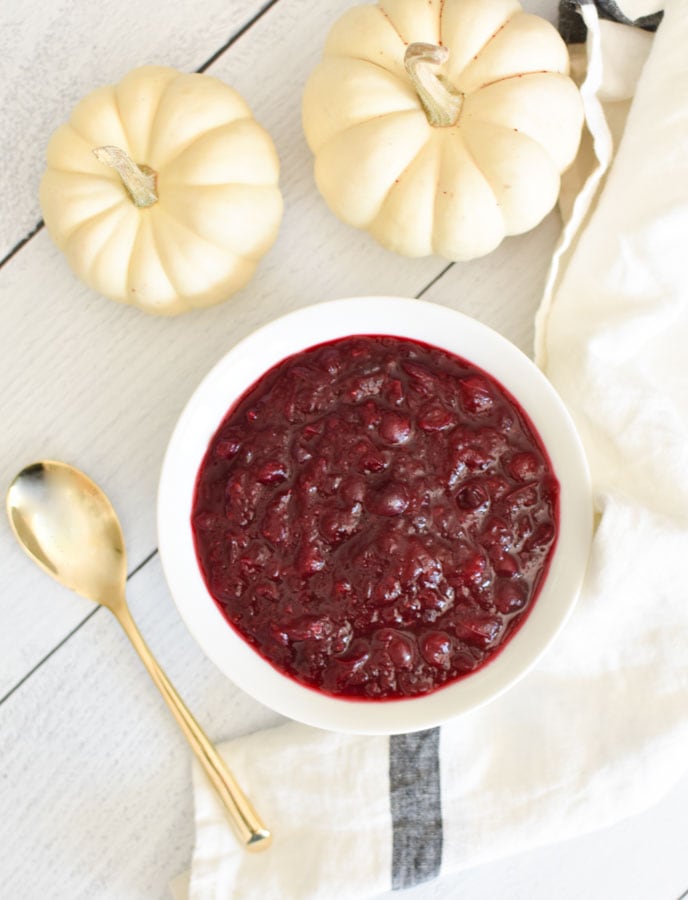 Finding a Good Cream Cheese
If you've ever looked at ingredients for cream cheese, particularly a popular brand like Philadelphia, you'll notice they contain carrageenan. In people who are sensitive to MSG, like those following a migraine diet, carrageenan can trigger attacks.
Carrageenan is typically used to emulsify or thicken foods, which is what makes it a popular ingredient for cream cheese. It's made from red seaweed and can also be problematic for those with IBS issues as it can be inflammatory.
There are a few brands that do a great job of keeping their products clean. Some use gums like locust bean gum, which is acceptable on the Heal Your Headache diet, although some people find they are still sensitive to it. Arla cream cheese is actually one of the only brands that does not contain any gums at all. Occasionally this makes this brand not so great for baking, but it's perfect for a recipe like this cranberry jalapeño cream cheese dip. Organic Valley or even some store brand organic options are good as well.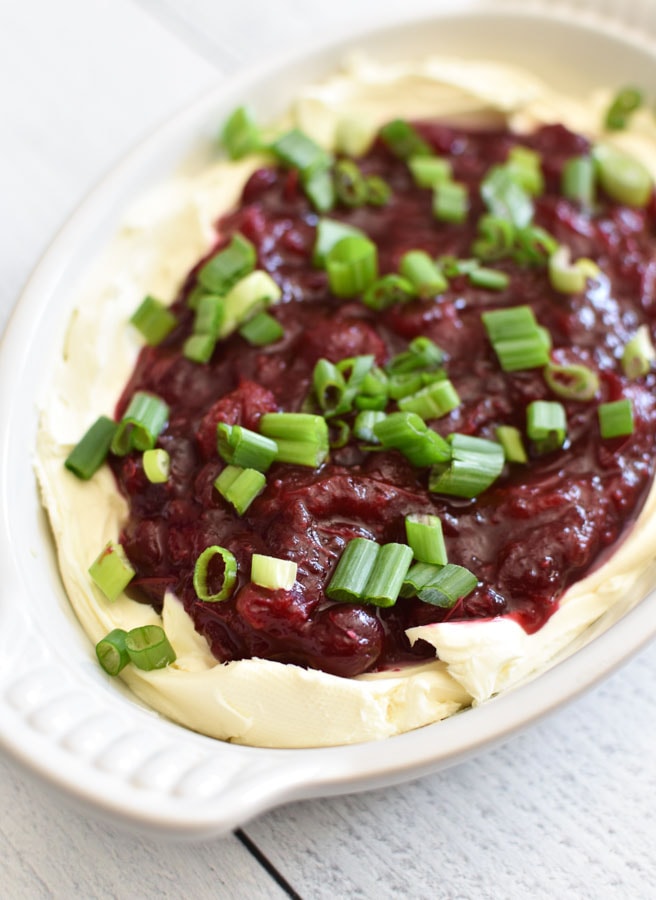 For other party dips you can't miss, check out:
Caramelized Shallot Dip
Artichoke Hummus
Creamy Crab Dip
Cranberry Jalapeno Cream Cheese Dip
This recipe for cranberry jalapeño cream cheese dip makes the perfect holiday appetizer with its bright green and red colors. A great Christmas party dip!
Keyword:
Cranberry Jalapeno Cream Cheese Dip, Party Dip
Instructions
Take the package of cream cheese out and let it sit at room temperature about 20 minutes to soften and make it easier to spread in your bowl and make a little well for the sauce.

Meanwhile, make the cranberry sauce and allow it to cool slightly. Sprinkle half the green onions on top of the cream cheese. Spoon warm cranberry sauce over the cream cheese and top with green onions. Cover and place in the fridge for about an hour to cool everything down. Serve with crackers, triscuits, or crostini.
Nutrition Facts
Cranberry Jalapeno Cream Cheese Dip
Amount Per Serving
Calories 72
Calories from Fat 9
% Daily Value*
Fat 1g2%
Cholesterol 1mg0%
Sodium 15mg1%
Potassium 23mg1%
Carbohydrates 18g6%
Protein 1g2%
Vitamin A 59IU1%
Vitamin C 2mg2%
Calcium 5mg1%
Iron 1mg6%
* Percent Daily Values are based on a 2000 calorie diet.