This fresh cranberry sauce without orange juice, or any citrus, is still lovely, sweet, and tart. It's easy to make in one pot and is finished in about 20 minutes, with most of that time being hands-off.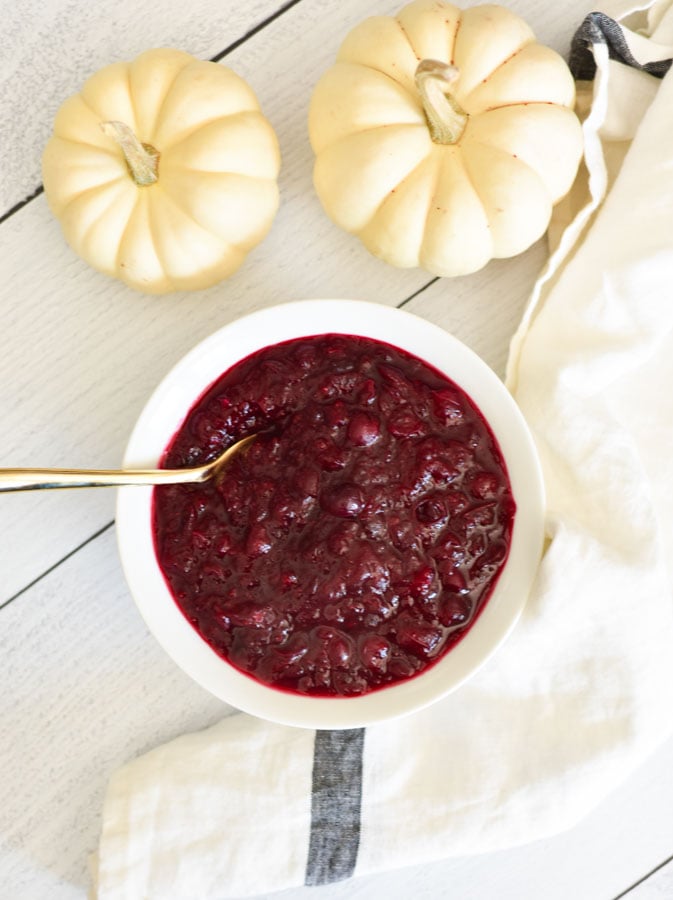 Easy to Cook
Both of my moms (real mom and MIL) adore cranberry sauce at Thanksgiving. I'm not sure if it's a generational thing or what, but they're typically the only ones to put it on the plate while the rest of us are beelining for the gravy and green bean casserole. Because of this, for a few years, my mom resorted to buying the canned stuff that plops out into a bowl and just kinda wiggles around….ew.
Thankfully I love my mom and know she deserves better so I'll usually try to whip up a small batch of this just for her. That's when I discovered how incredibly easy it is to make at home. Here are all the steps.
1. Dump cranberries in a pot, top with sugar and liquid(s).
2. Bring to a boil and then simmer for 20 minutes.
3. Let it cool.
THAT'S IT! Why on earth would anyone buy the canned stuff?! Unless you really are ready for that jelly.
Why Cranberry Sauce without the Orange Juice?
As most of us know, citrus is a lesser known potential migraine trigger. Thankfully I was able to reintroduce most of it back into my diet, but orange juice still gives me issues. I actually think I have a legitimate food allergy to it because it's always made me sick after I drink it, even before my migraine disorder began.
But when searching for recipes online, literally every cranberry sauce recipe contains orange juice. I figure there's got to be someone (most likely a mom) out there that will appreciate a cranberry sauce recipe like this one. Using a tart juice like pomegranate essentially gives it a similar tang and flavor, but it's still really delicious.
Other Uses for Cranberry Sauce
So I actually made this recipe for a dip which I plan on posting later, hence the chopped jalapeños in it. You definitely don't have to add jalapeños to yours if you love a super traditional recipe, but I find they add a nice kick.
If you make this for mom and have a ton of leftovers, I recommend using it for some of these recipes.
On a baguette or toast with goat cheese and chives as an easy holiday appetizer.

For a spread on a turkey or chicken sandwich.

As a breakfast "jam" on toast.
This perfectly sweet and tart cranberry sauce is made without orange juice for a lovely citrus-free twist that's vegan. Also get some ideas for how to use leftover cranberry sauce in other dishes!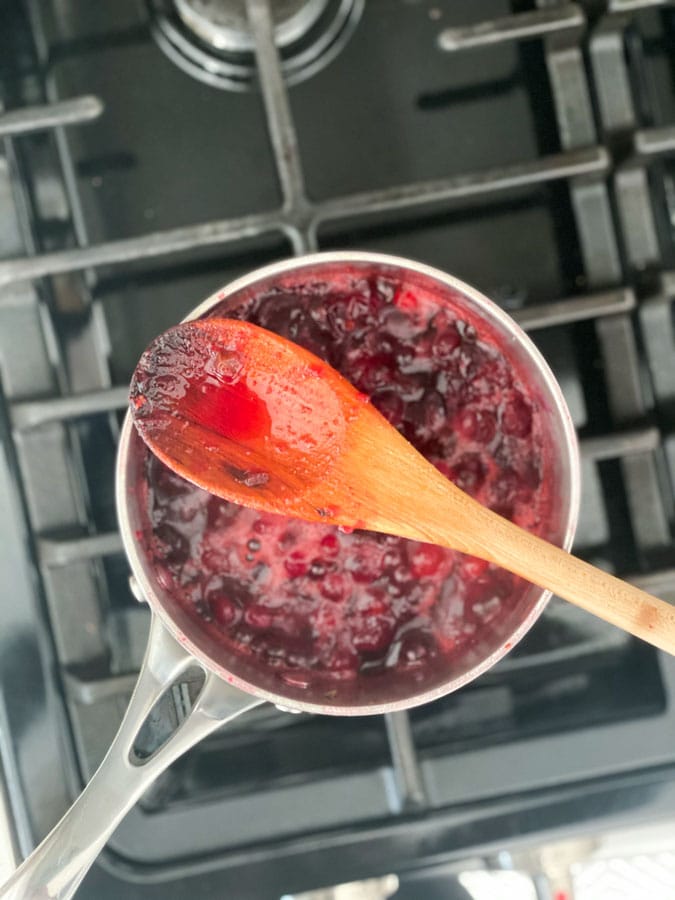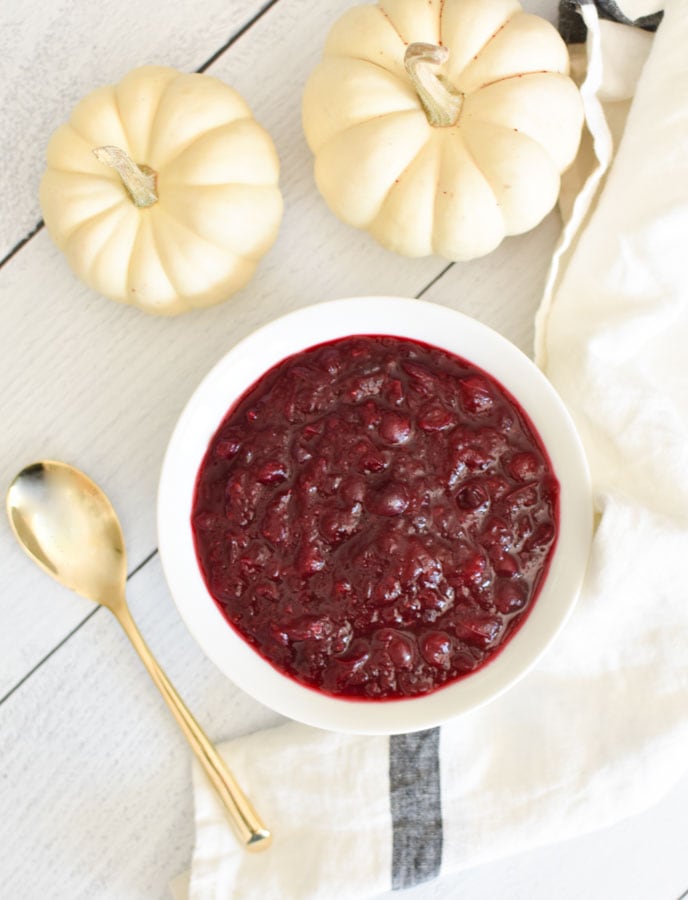 Other Holiday Recipes
Other good migraine-friendly thanksgiving recipes include:
Creamy Boursin Pasta
Broccoli Rice Casserole
Chipotle Sweet Potatoes
Butternut Squash Toasts
Stuffing Balls
Green Bean Casserole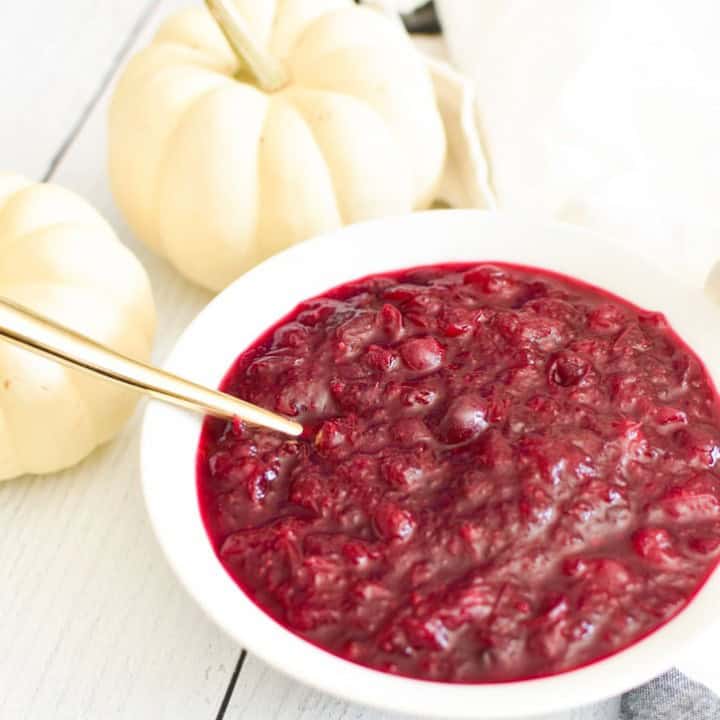 Cranberry Sauce without Orange Juice
A simple recipe that doesn't use any citrus or orange juice. Adjust the sweetness level to whatever suits you best!
Print
Pin
Rate
Ingredients
12

oz

fresh cranberries

½

cup

pomegranate cherry juice (POM)

½

cup

water

⅓

cup

white sugar (or more to taste)
Instructions
Combine the cranberries, juice, water, and sugar in a pot and bring to a boil. Turn the heat down to a simmer for 15-20 minutes until thickened. Placing a wooden spoon over the pot can help the mixture not bubble over.

Taste and adjust the sugar level to your liking. I prefer mine more tart so ⅓ cup is perfect. My mom prefers it sweeter, closer to ½ cup of sugar. Store in the fridge or serve warm.
Notes
You can make this refined sugar free by adding maple syrup or honey instead of sugar (or really any sugar substitute you like).
I like POM brand of pomegranate cherry juice, but you can use all cherry juice or all pomegranate juice.
For a southwestern flair, add 1 small chopped jalapeño that's been deseeded.
Nutrition
Serving:
4
oz
|
Calories:
80
kcal
|
Carbohydrates:
21
g
|
Protein:
1
g
|
Fat:
1
g
|
Saturated Fat:
1
g
|
Sodium:
4
mg
|
Potassium:
93
mg
|
Fiber:
3
g
|
Sugar:
16
g
|
Vitamin A:
34
IU
|
Vitamin C:
8
mg
|
Calcium:
7
mg
|
Iron:
1
mg