This Dairy Free Green Bean Casserole is the most delicious homemade Thanksgiving and Christmas classic dish. Crispy fried shallots are placed on top of a homemade mushroom sauce, making it a healthy and lower sodium version of this favorite dish. It also caters to vegan and nut-free diets.
With only a little more effort, it's surprisingly easy to make this vegan green bean casserole gluten free too. While you think you might sacrifice flavor for dairy free, making this dish with from-scratch ingredients makes all the difference.
The dairy-free sauce is super creamy, the green beans aren't mushy, and everything tastes one thousand times better than the canned version. I promise you and your whole family will love this dairy free green bean casserole, and probably won't even know it's a healthier version!
Jump to: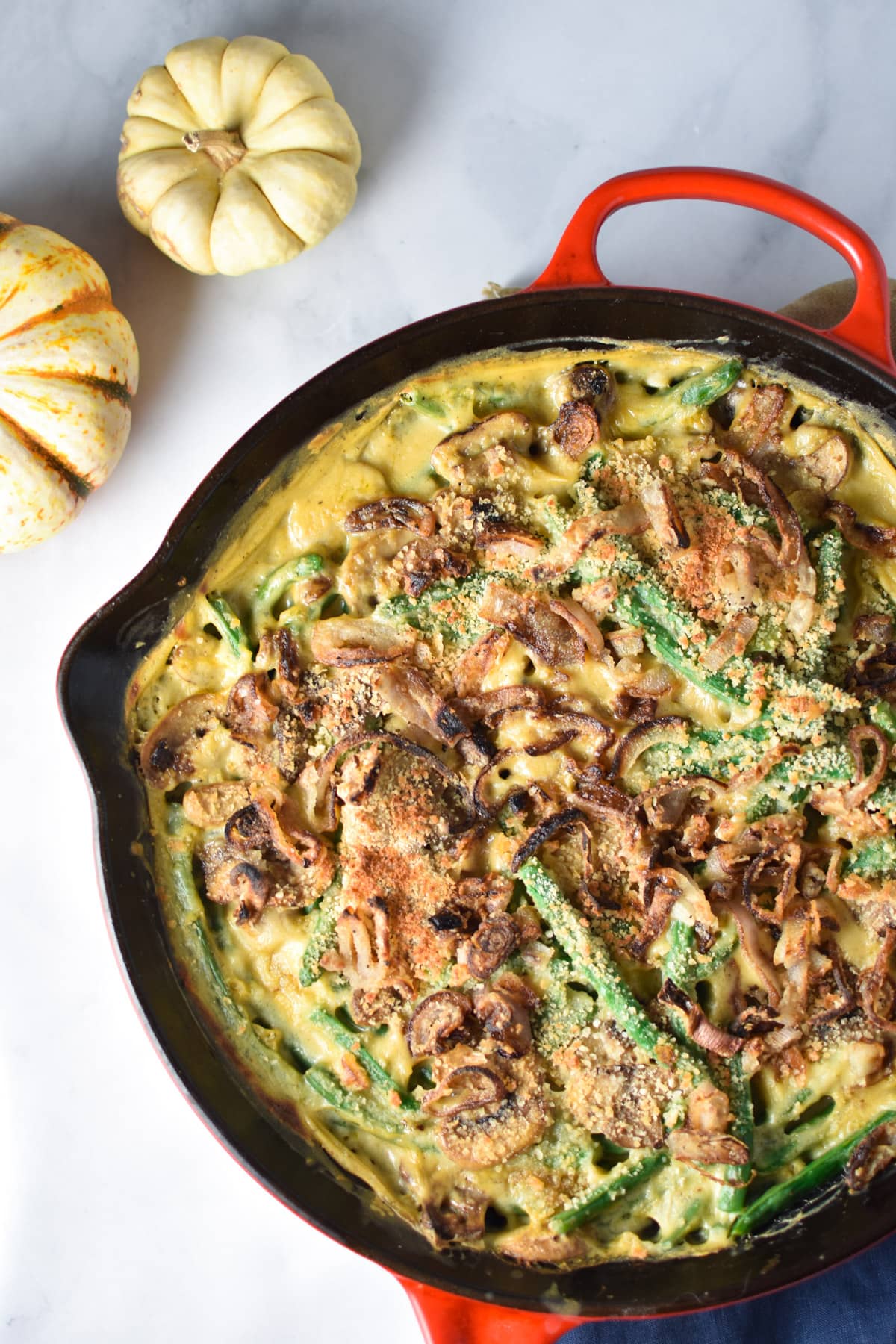 The Best Dairy Free Green Bean Casserole
Everyone has that one dish they request every holiday - mine was always green bean casserole. My favorite was Paula Deen's recipe with the cream of mushroom soup and French's fried onions. The epitome of health.
A lot of people don't realize this, but using canned or boxed cream of mushroom soups typically contain monosodium glutamate, which can be a migraine trigger, which no one needs on Thanksgiving. So I've created this recipe which tastes like the classic, but without the headache (literally).
Low sodium - This green bean casserole is low sodium, so you can control the added salt versus having to use canned cream of mushroom soups.
Just as easy - It's not much harder to make. The sauce will add probably 5 minutes to your cooking time that a can would take.
Better flavor than canned - You can't beat the flavor. Fresh vegetables and homemade fried shallots take this recipe over the edge.
Dairy free - It's dairy free and can be made gluten free too, but I also give you edits for a more traditional recipe. This way it's also a great vegetarian, nut-free, and vegan recipe as well.
Which Dairy Free Milk is Best?
For this recipe I highly recommend using a full fat oat milk that is unflavored. I find that Oatly has a great texture and flavor for this recipe.
Nut and seed milks tend to be more thin and don't always give that rich creaminess you need for this casserole. The only one I've found that would recommend is Three Seeds Oat and Seed Milk. Rice milk can be a bit too sweet, and hemp milk can be a little strong in flavor.
Coconut milk or coconut cream would work here, but it also has a stronger coconut flavor, which isn't ideal for a savory holiday.
Ingredients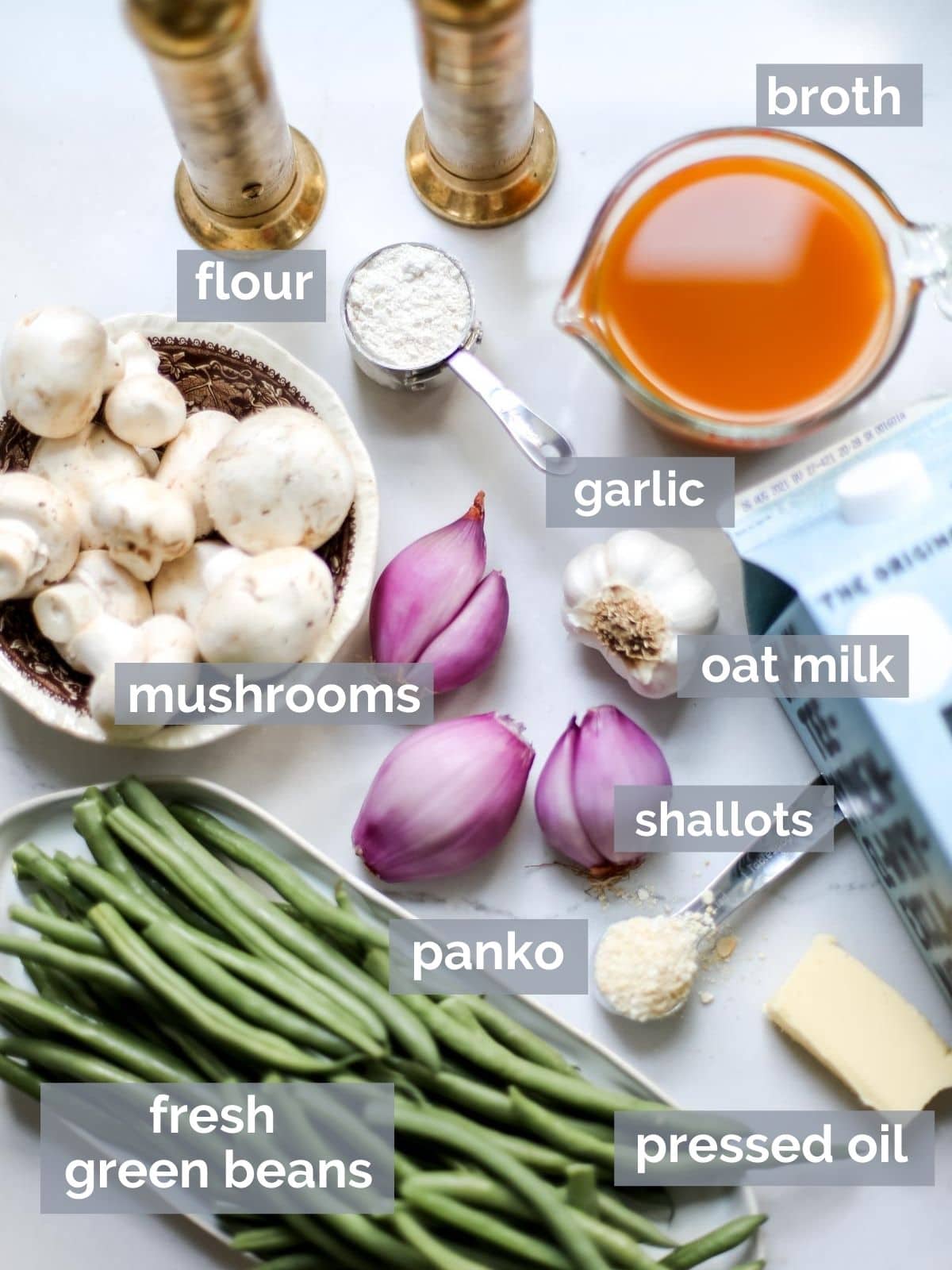 Shallots - I love the flavor of shallots in this recipe. They're lighter than onions and are just fantastic when fried. You will need A LOT for this recipe, but these are typically well stocked around the holidays.
Panko - I have used many different brands from Trader Joe's to Kikkoman. For gluten free, I like to use Jeff's Naturals or Aleia's.
Green Beans - Fresh green beans are so much more tasty than canned and the texture is a billion times better (not soggy or mushy). However if you're in a pinch, you can used canned as well. I just don't recommend it for the best flavor.
Mushrooms - Button mushrooms are the best for this recipe, but I've also made it with portobello which have a more earthy flavor.
Broth - I highly recommend using homemade broth for this recipe, and I also have a vegetarian version in my cookbook. It's easy to make at home in just 10 minutes with an instant pot. My favorite store-bought is Trader Joe's Hearty Vegetable.
Dairy Free Milk - Full fat Oatly oat milk is my suggestion for this recipe since it's super creamy and the most like whole milk. Plus the flavor profile pairs well. Understand that using a different kind of milk may change the texture as some nut and seed milks are more watery, or have a stronger flavor like hemp milk.
Oil - I recommend using Earth Balance Pressed Oils or Olive Oil for the casserole, and a vegetable oil or avocado oil for frying.
How to Fry Shallots
Don't be intimidated by frying your own shallots at home! It's easy to do and can be made earlier in the morning the day you intend to eat this. I wouldn't make these too far in advance as they can get soggy with time.
Begin by tossed cut shallot rings in flour or cornstarch (for gluten free).
Heat oil in a cast iron pan over medium high heat until shimmering and add coated shallots, frying for 3-4 minutes or until golden brown.
Remove the shallots from the pan and drain on paper towels.
Add to the top of the green bean casserole.
Shallots can be made the morning of, but avoid covering them or else they will get soggy.
Step by Step Process
Parboil green beans - Begin by parboiling green beans for 1 minute and 30 seconds, which softens them without making them mushy and brings out the bright green color.
Cook the mushrooms - In the same cast iron pan you fried the shallots (drain the oil), melt oil over medium heat and brown mushrooms, about 3-4 minutes. Add garlic and flour, tossing everything well to coat. Then pour in the broth. Pan should sizzle, but stir till the flour becomes combined with the sauce and starts to thicken.
Finish the creamy sauce - Add milk and bring to simmer 5-6 minutes, until sauce thickens and can coat a spoon. Then add in the cooked green beans and toss to coat with the sauce.
Bake - Top the green bean casserole with fried shallots and panko and bake at 400 degrees F for 15 minutes, or until lightly browned on top. You will need to watch the shallots so they don't get overdone!
Recipe Tips
If you have over-fried the shallots and they are very dark, leave them off from the final dish until after you've baked it at 400 degrees.
The panko on top adds an extra layer of crispiness so don't skip this!
Use oat milk for the best flavor and texture.
A cast iron pan does double duty as a great place to fry the shallots and also make your casserole. Only one dish to clean!
Don't drain the hot oil down the sink. Instead put it in an empty can and freeze it. Add oil to it any time you fry until it's full and you can throw it away. Draining oil down the sink isn't good for your pipes!
How to Make Ahead
Because this is typically a holiday dish and you may be making this for Thanksgiving or Christmas, it's important to know how you can prep this dairy free green bean casserole ahead so it's not all in the oven at the same time. Here are some tips:
The actual casserole (without the crispy shallots) can be made at least 2 days ahead and stored in the refrigerator. Just use the second part of the instructions under "Step by Step Process" up to Step, then bake the casserole and make the crispy shallots the day of.
Shallots tend to get soggy if made more than 12-24 hours in advance, especially stored in a container. Make these the morning you intend to serve or right before reheating the casserole.
Storage Instructions
Refrigerator - If you happen to have any leftovers, store them in an air tight container for up to 3 days. Reheat in the microwave or oven at 400 degrees Fahrenheit for 7-9 minutes.
Freezer - This casserole can be stored frozen for 2-3 months. Defrost overnight in the fridge before reheating.
Serving Suggestions
For other dairy-free recipe suggestions that work well for holidays, I recommend these recipes:
Gluten Free Edits
What I love about this recipe is it's so easy to make adjustments for anyone at your table who might be gluten or dairy free.
Frequently Asked Questions
I don't need a dairy-free option. How do I edit this?
Use butter for the olive oil in the casserole and whole milk for the milk substitute.
What dairy-free milk works best?
I highly recommend choosing a full fat, unflavored oat milk for the best flavor and texture. Coconut imparts a stronger flavor that's not always ideal for holiday recipes. And nut or seed milks tend to be too thin.
How can I make this green bean casserole ahead?
Simply prepare the green beans and dairy-free mushroom sauce up till the point where you bake it. Then when ready to serve, finish by baking the casserole and making the fried shallots.
Can I omit the mushrooms?
Yes! Just leave them out of the recipe. You can add more green beans in the same amount, if desired.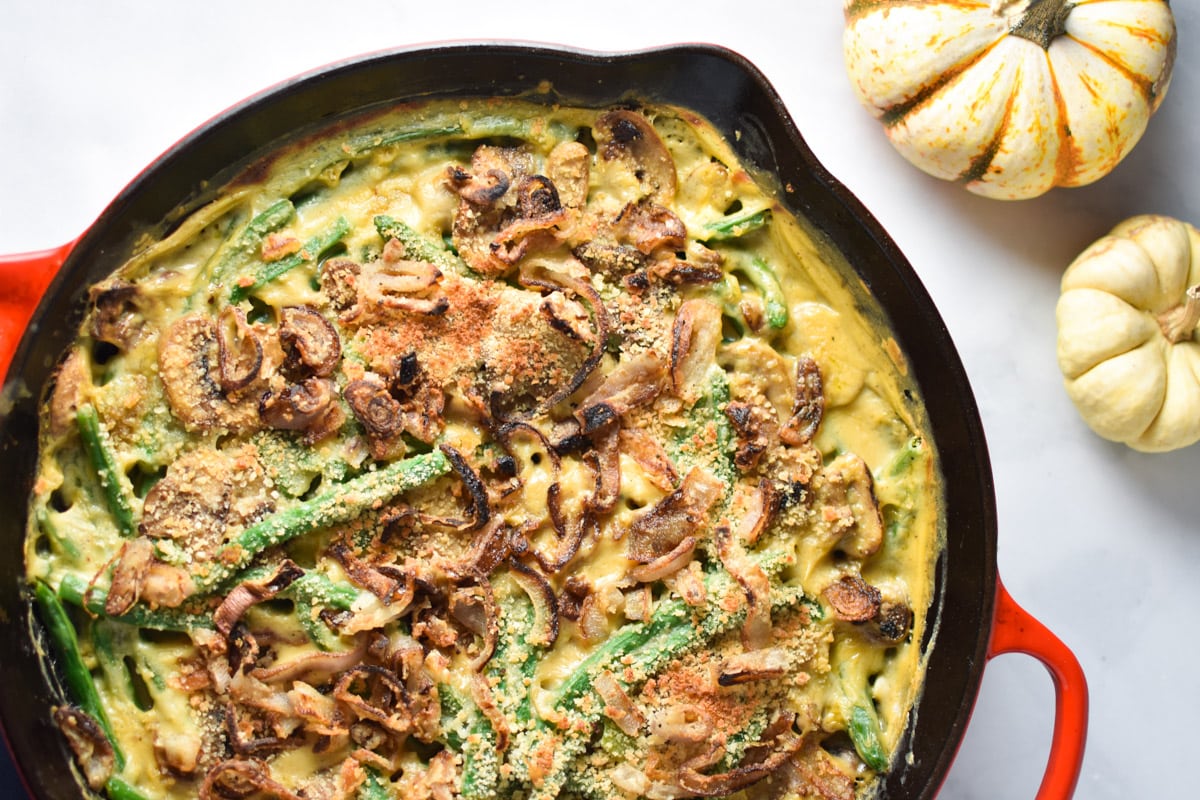 Thanksgiving Side Dish Recipes
For more recipes like this healthy green bean casserole check out these posts.
For something sweet:
Allergy Friendly Pumpkin Pie Bites
If you make this, tag me #thedizzycook or @thedizzycook on Facebook and Instagram. And if you love the recipe, please leave a review below! Follow along on my Pinterest for more great recipes.
Dairy Free Green Bean Casserole
This healthier version of green bean casserole is simple to make and will be a hit at your Thanksgiving or Christmas. Vegan, nut-free, gluten free, and dairy free-friendly!
Print
Pin
Rate
Ingredients
Fried Shallots
5-6

large shallots, peeled and thinly sliced into rings

¼

cup

all purpose flour

* see notes for GF

2

tablespoons

panko

Canola, safflower, or other high heat oil
Casserole
2

tablespoons

pressed oil or olive oil

8

oz

button mushrooms, sliced

1

garlic clove, peeled and minced

3

tablespoons

all purpose flour

* see notes for GF

1-¼

cups

broth of choice

½

cup

oat milk

12-16

oz

fresh green beans, trimmed

¼

cup

panko

kosher salt and pepper
Instructions
To make the fried onions - In a bowl, add ¼ cup of flour and panko with a small sprinkle of salt and pepper. Toss your cut shallots in the flour and shake excess off. In a cast iron pan, pour enough oil to cover the bottom of your pan about ½ inch. Heat over medium high until it sizzles if you flick a bit of water into it. Add the floured shallots, in batches if necessary, spread out with enough room so they're not on top of each other, and fry until light golden brown - about 4 minutes. Remember they will cook more in the oven. If they're dark brown, just save them to top at the end. Remove with a slotted spoon and place on a paper towel to drain. Drain remaining oil out of the pan.

Preheat oven to 400 degrees Fahrenheit. Heat a large pot of salted water over high heat until boiling. Toss the green beans in the pot and boil for 1 min and 30 seconds. Immediately remove, drain, and put in an ice water bath (a bowl of ice and water). Drain and pat dry. This process is called parboiling.

In a cast iron or oven safe skillet, melt 2 tablespoons of pressed oil or olive oil and add the mushrooms until browned - about 3-4 minutes. Add garlic and saute about a minute more, stirring frequently with a wood spoon.

Add 3 tablespoons of flour (or 2 tablespoons of cornstarch) and stir to coat the mushrooms. Gradually add in the broth, whisking it until smooth and bubbling, about a minute. Pour in the milk, whisk, and bring to a steady simmer, stirring frequently for about 5-6 minutes until the sauce has thickened. Add about ½ teaspoon kosher salt and pepper.

Add the parboiled green beans to the mushroom mixture and stir to coat. Then sprinkle your fried shallots and the remaining panko on top. Place in the oven at 400 degrees F for 15 minutes, until bubbly and browned on top.
Notes
Use 2 tablespoons of cornstarch or substitute your favorite gluten free all purpose flour for a gluten free sauce, and arrowroot or cornstarch for the fried shallots
I like to use Earth Balance Pressed Oil and Oatly full fat oat milk for dairy free.
If you don't want to make this dairy free, use whole milk and butter or ghee.
Buy a pre-washed/trimmed bag of fresh green beans to make it easy. Use the full size green beans and not "French green beans or haricot verts".
Nutrition
Serving:
6
oz
|
Calories:
197
kcal
|
Carbohydrates:
28
g
|
Protein:
7
g
|
Fat:
8
g
|
Saturated Fat:
4
g
|
Cholesterol:
18
mg
|
Sodium:
107
mg
|
Potassium:
517
mg
|
Fiber:
4
g
|
Sugar:
8
g
|
Vitamin A:
811
IU
|
Vitamin C:
14
mg
|
Calcium:
84
mg
|
Iron:
2
mg
This post was originally edited November 20, 2020 but was updated November 2, 2021 to include dairy free green bean casserole instructions, process photos, and recipe tips.