Everyone has that one dish they request every Thanksgiving – mine was always green bean casserole. My favorite was Paula Deen's recipe with the cream of mushroom soup and French's fried onions. The epitome of health.
As I got a little older and started experimenting in the kitchen, I found Smitten Kitchen's/Alton Brown recipe. Deb fries her onions herself because she's Deb and loves to do stuff like that. At first I thought it was too much work, but the minute I did it, I wondered why I haven't done this all my life. Were you guys ever big fans of Outback Steakhouse's Bloomin' Onion? These fried shallots are kinda like that, but 10x better. Plus the sauce is far more delicious than the MSG-laden canned stuff.
I've made a few different variations of that recipe but this one below is my favorite. If you want to be decadent, you can use heavy cream, but I prefer this lightened up version with whole milk. I use Bob's Red Mill All Purpose Flour (without malted barley). It's also possible to use a dairy substitute if you're dairy free. Just use olive oil instead of butter and your favorite milk substitute, like Oatly. Make a batch of this broth to have on hand through the week!
To make this gluten free, use arrowroot powder for frying the shallots, corn starch to thicken the sauce, and gluten free panko.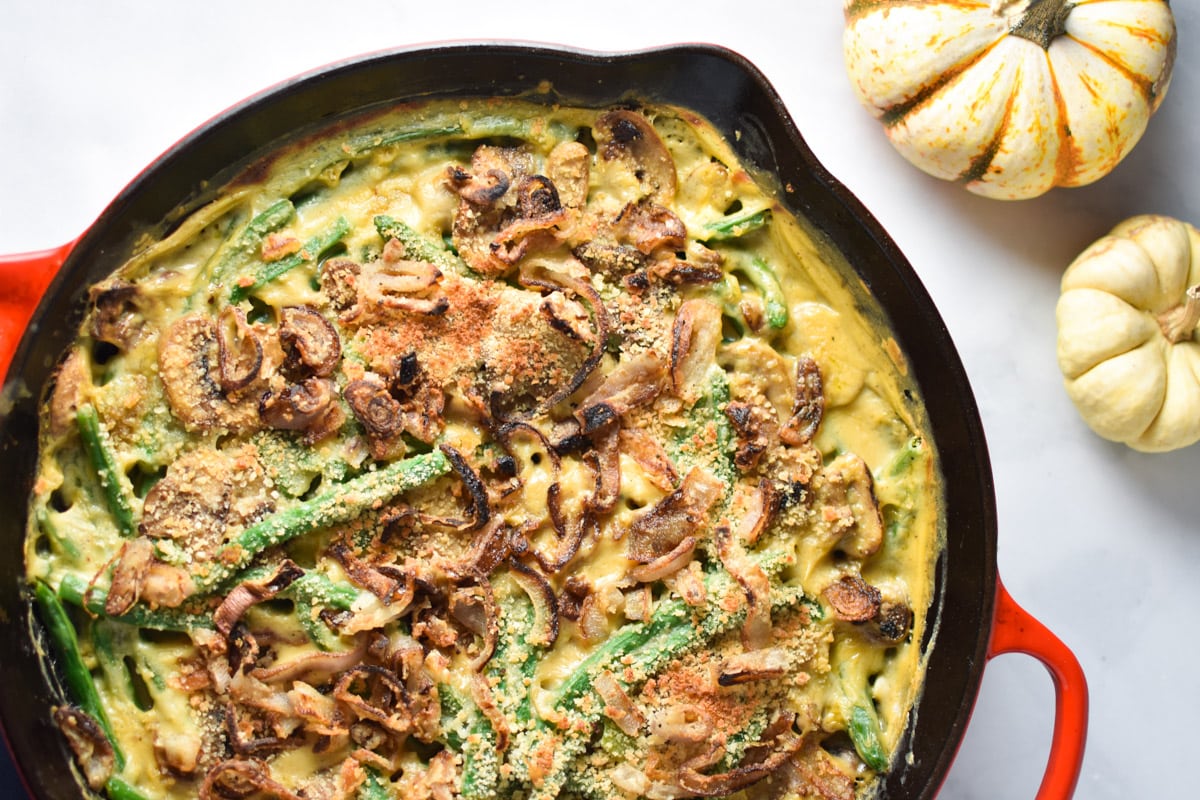 Green Bean Casserole - from scratch!
This healthier version of green bean casserole is simple to make and will be a hit at your Thanksgiving!
Cuisine:
American, Thanksgiving
Keyword:
Casserole, Green Bean, Healthy, Homemade
Ingredients
Fried Shallots
5-6

large shallots, peeled and thinly sliced

1/4

cup

all purpose flour

*I like Bob's Red Mill in links above, use arrowroot powder for gluten free

1/4

cup

panko

Canola, safflower, or other high heat oil
Casserole
2

tbsp

good butter

8

oz

button mushrooms, sliced

1

garlic clove, peeled and minced

3

tbsp

all purpose flour

*Use 2tbsp of cornstarch for gluten free.

1-1/4

cup

stock or broth of choice

*I used homemade chicken stock

1/2

cup

whole milk or milk substitute like Oatly

12-16

oz

fresh green beans, trimmed

*I bought a pre-washed/cut bag to make it easy on myself

kosher salt and pepper
Instructions
To make the fried onions - In a bowl, add 1/4 cup of flour with a small sprinkle of salt and pepper. Toss your cut shallots in the flour and shake excess off. In a cast iron pan, pour enough oil to cover the bottom of your pan about 1/2 inch. Heat over medium high until it sizzles if you flick a bit of water into it.

Add the floured shallots, in batches if necessary, spread out with enough room so they're not on top of each other, and fry until light golden brown - about 4 minutes. Remember they will cook more in the oven. If they're dark brown, just save them to top at the end. Remove with a slotted spoon and place on a paper towel to drain. Drain remaining oil out of the pan.

Preheat oven to 400. Heat a large pot of water over high heat until boiling. Toss the green beans in the pot and boil for 1 min and 30 seconds. Immediately remove, drain, and put in an ice water bath (a bowl of ice and water). Drain and pat dry. This process is called parboiling.

In your cast iron skillet, melt 2 tbsp of butter and add the mushrooms until browned - about 3-4 minutes. Add the garlic and saute about a minute more. Then add the 3tbsp of flour (or 2tbsp of cornstarch) and stir to coat the mushrooms. Gradually add in the broth, whisking together until smooth and bubbling, about a minute. Then add in the milk and bring to a steady simmer, stirring for about 5-6 minutes until thick. Add about 1/2 tsp kosher salt and pepper.

Add the parboiled green beans to the mushroom mixture and toss to coat. Then sprinkle your fried shallots and panko on top. Place in the oven at 400 degrees for 15 minutes, until bubbly and browned on top.