This spiced pumpkin cheesecake is divine with a toasted oat crust, a silky pumpkin filling, and whipped cream topping. It's a favorite Thanksgiving cheesecake option that often beats out pumpkin pie in our family.
An oat crust is combined with toasted pepitas for the most wonderful compliment to the silky pumpkin cheesecake filling. Great for any guests who are nut-free!
This is also really easy to make into a gluten free pumpkin cheesecake and I'll show you exactly how to do it.
Finally, there is no water bath needed for this recipe! One of my greatest hesitancies for making any cheesecake is the fear of it cracking. This recipe just has you do the homemade whipped cream, which covers so many things. I just find it to be one less thing to worry about, and it always turns out delicious.
Serve this spiced pumpkin cheesecake with favorite holiday sides like stuffing balls, apple fennel salad
Jump to:
Oatmeal Cheesecake Crust
One of my favorite parts of any cheesecake is the crust. Is that weird? But I just love a really good crust. Gingerbread or cookie crusts are great, but I just feel like it's a little overpowering and overly sweet. And the alternative seems to always have some kind of nuts, which I'm personally sensitive to.
Enter this oatmeal cheesecake crust! Mixed with ground pepitas (or sunflower seeds), it's crumbly and delicious without being overpowering. The oatmeal and seeds compliment the pumpkin flavors beautifully.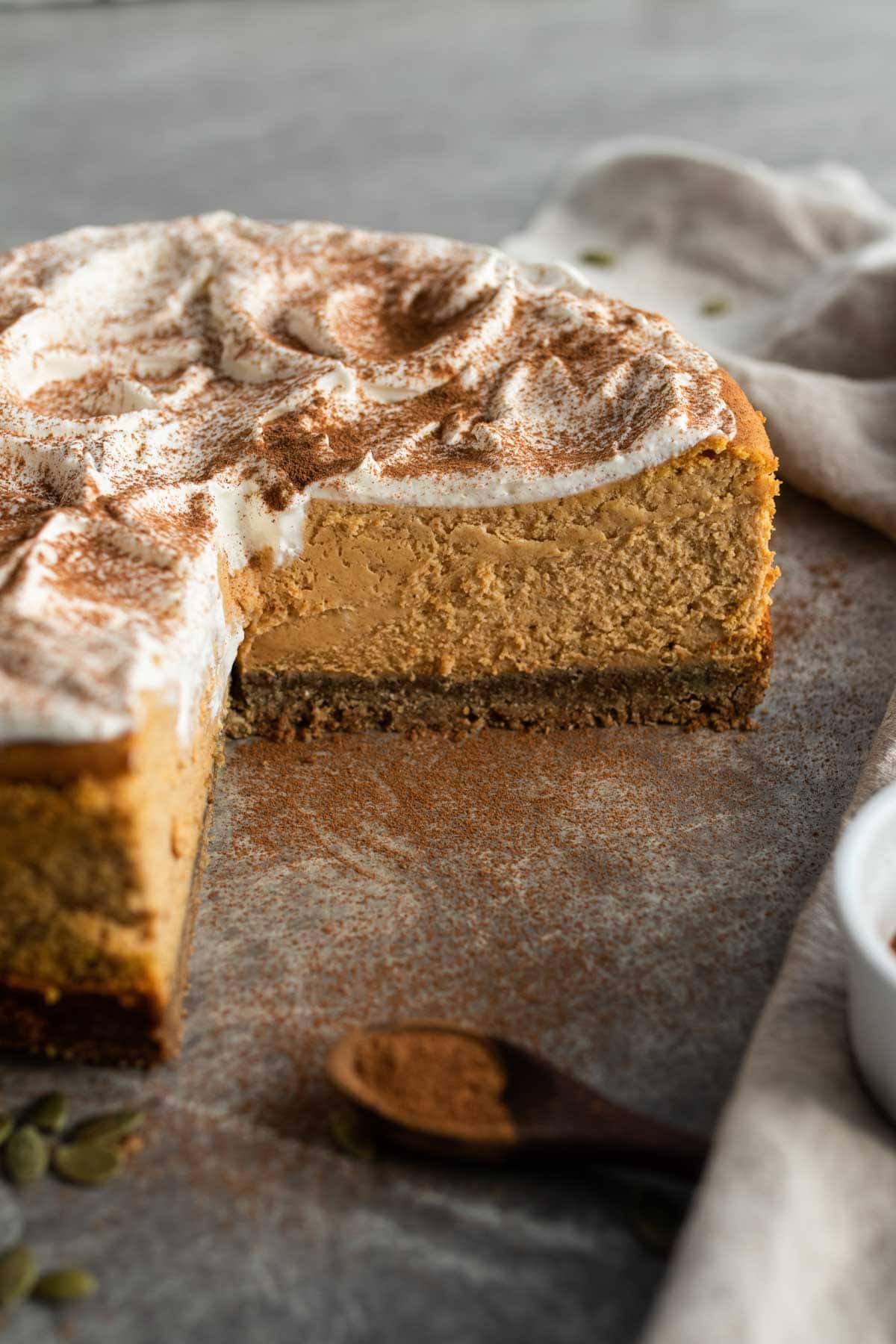 Does Cheesecake Need a Water Bath?
One thing I love about this spiced pumpkin cheesecake - it's not too fiddly. You know how some recipes say you must do a water bath with the tin foil wrapped around your pan? Not this one!
The advantage to the water bath technique is you can avoid cracking on the top of your cheesecake and promote more even cooking. With this recipe, unsweetened whipped cream is added to the top which covers any cracks, and I've never had mine cook unevenly the many times I've made this.
One tip I've found through the years - a water bath is recommended if in a dry climate. I'm in Texas where it's 80 degrees and humid most of the year and I believe this is what contributes to less cracking of my cheesecake, as you can see in the picture. It seems readers in cooler, northern climates experience more cracking.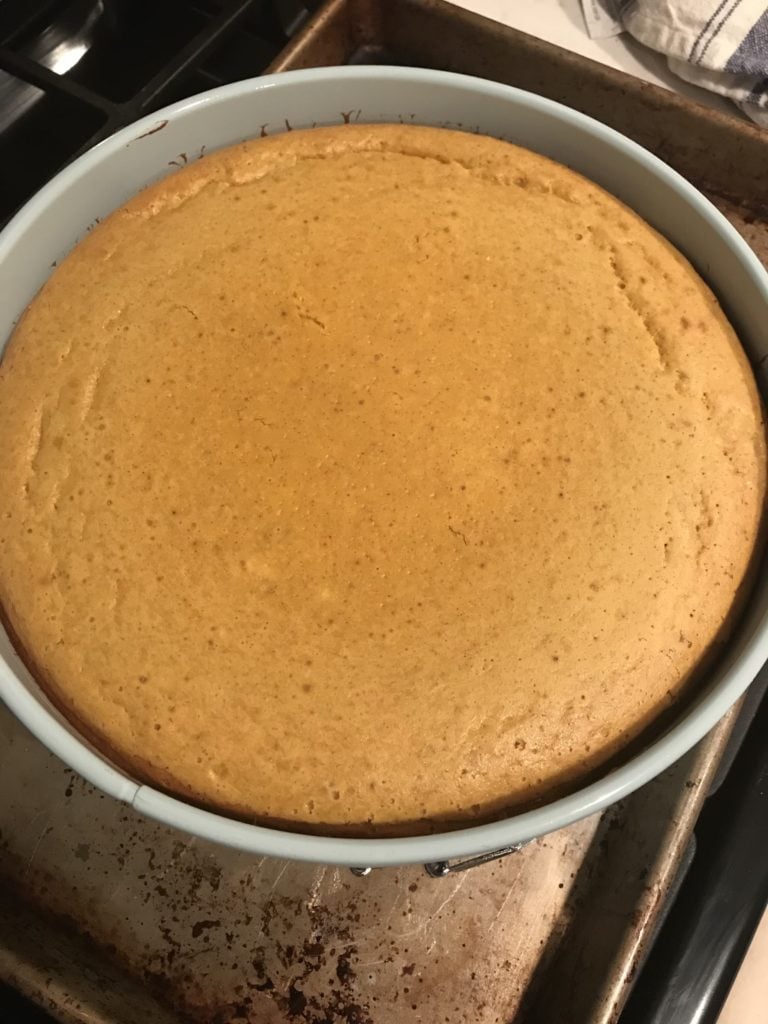 Ingredients
Cream Cheese - I recommend Whole Foods Organic Cream Cheese, but Organic Valley and Philadelphia (in block form) make good ones without carrageenan.
Pumpkin puree - This needs to be 100% pumpkin puree without any flavorings. I find Libby's to be one of the best for texture and flavor. Some pumpkin purees are more watery than others, contributing to a longer baking time. I find this with many store-brand "organic" versions.
Pepitas - These are shelled pumpkin seeds. Toasted and unsalted work best, but salted also will work if you want a more sweet and savory combination.
Oat flour - This is just rolled oats/oatmeal that has been blended in a food processor to make flour. You can buy it from a store or make your own.
Butter - Choose an unsalted brand that's free from "natural flavors".
Eggs - Large eggs are the size you need. Choose "soy-free" if you are sensitive to eggs.
Sugar - Both brown and white sugar are needed.
Heavy whipping cream - Again, choose a brand without carrageenan like Organic Valley or Horizon.
Spices - Cinnamon, nutmeg, ginger, and cloves.
Step-by-Step Process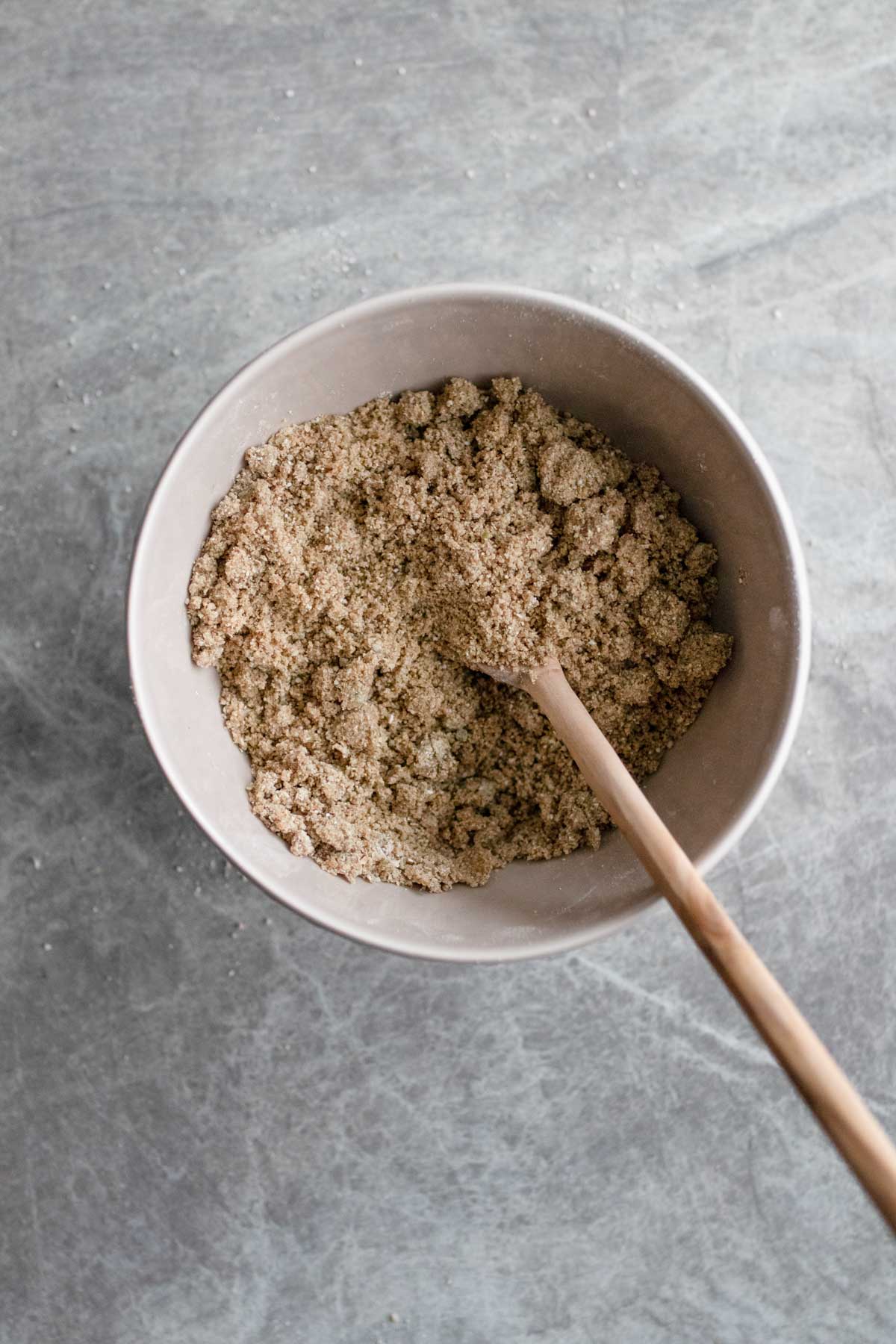 Step 1: Make the Oat Crust
Preheat the oven to 350 degrees Fahrenheit. Prepare a 9 inch springform pan with a cut out piece of parchment to line the bottom. Meanwhile grind the pepitas in a food processor until crumbly, but not finely ground. Add in the spices, brown sugar, and oat flour and pulse to combine. Then stir in the butter, pulsing until fully mixed in.
Remove the mixture and place it into the springform pan, pressing until packed down and covering the bottom. Place in the oven at 350 for 7 minutes. Remove and allow the crust to cool.
Step 2: Make the Pumpkin Cheesecake Filling
Beat room temperature cream cheese and sugar on high speed until light and fluffy. Add in spices and vanilla, then mix on low till combined. Finally add the eggs, one at a time, mixing on low speed. Do not overmix!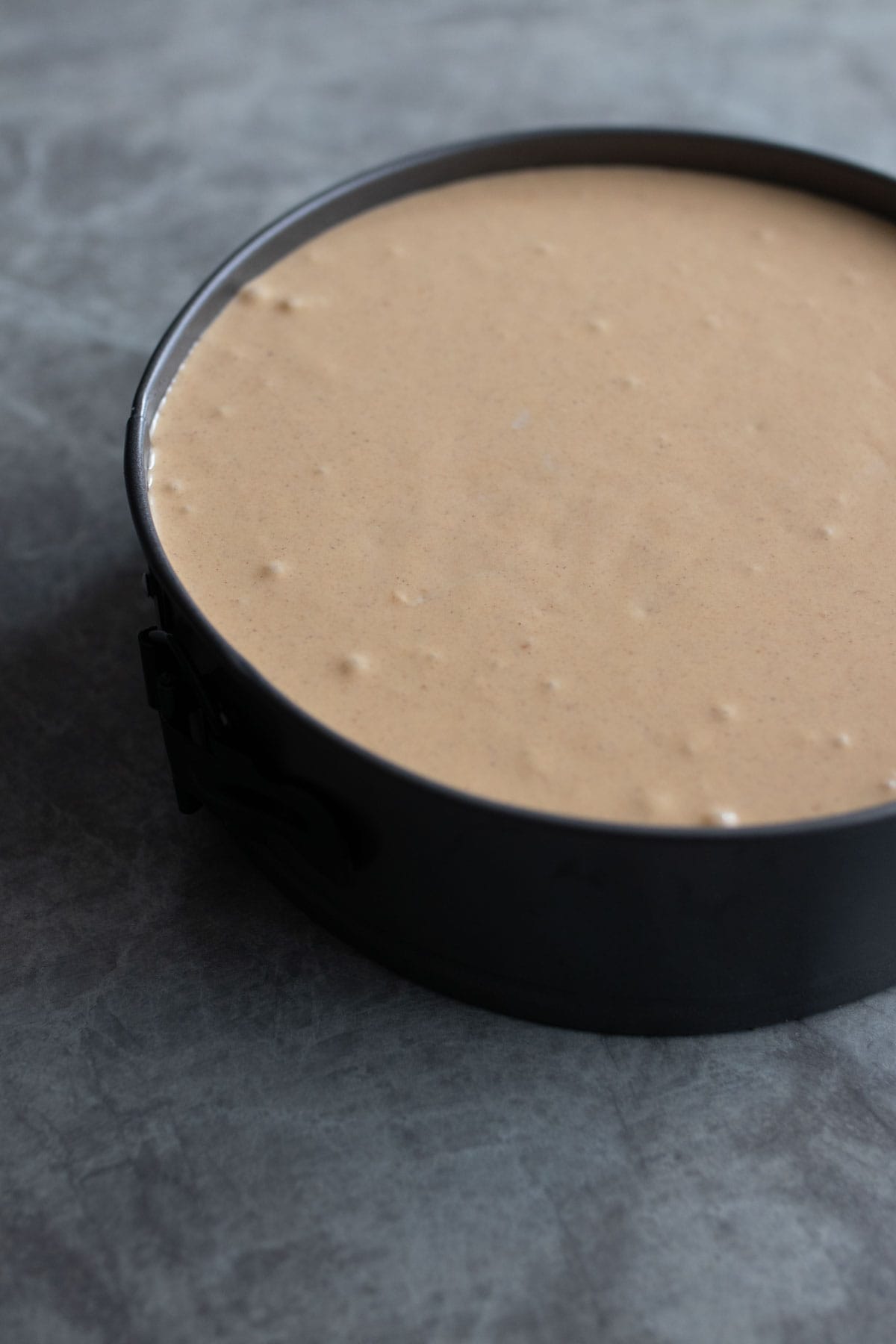 Step 3: Bake
If not using a water bath - Pour the cheesecake mixture in the the prepared crust and place on a large baking sheet, just in case you spring a leek. Bake at 350 degrees F for 55-65 minutes or until firm around the edges but jiggly in the middle, like jello. Allow to fully cool in the pan, then place in the fridge. It should take 4-5 hours in the fridge to fully cool.
If using a water bath - Cover the outer edge of the springform pan with tin foil all around (double or triple wrap it) so water does not seep into your cheesecake. Place the covered springform pan inside of a larger roasting pan, then fill that roasting pan with water about half way up the side of the springform pan.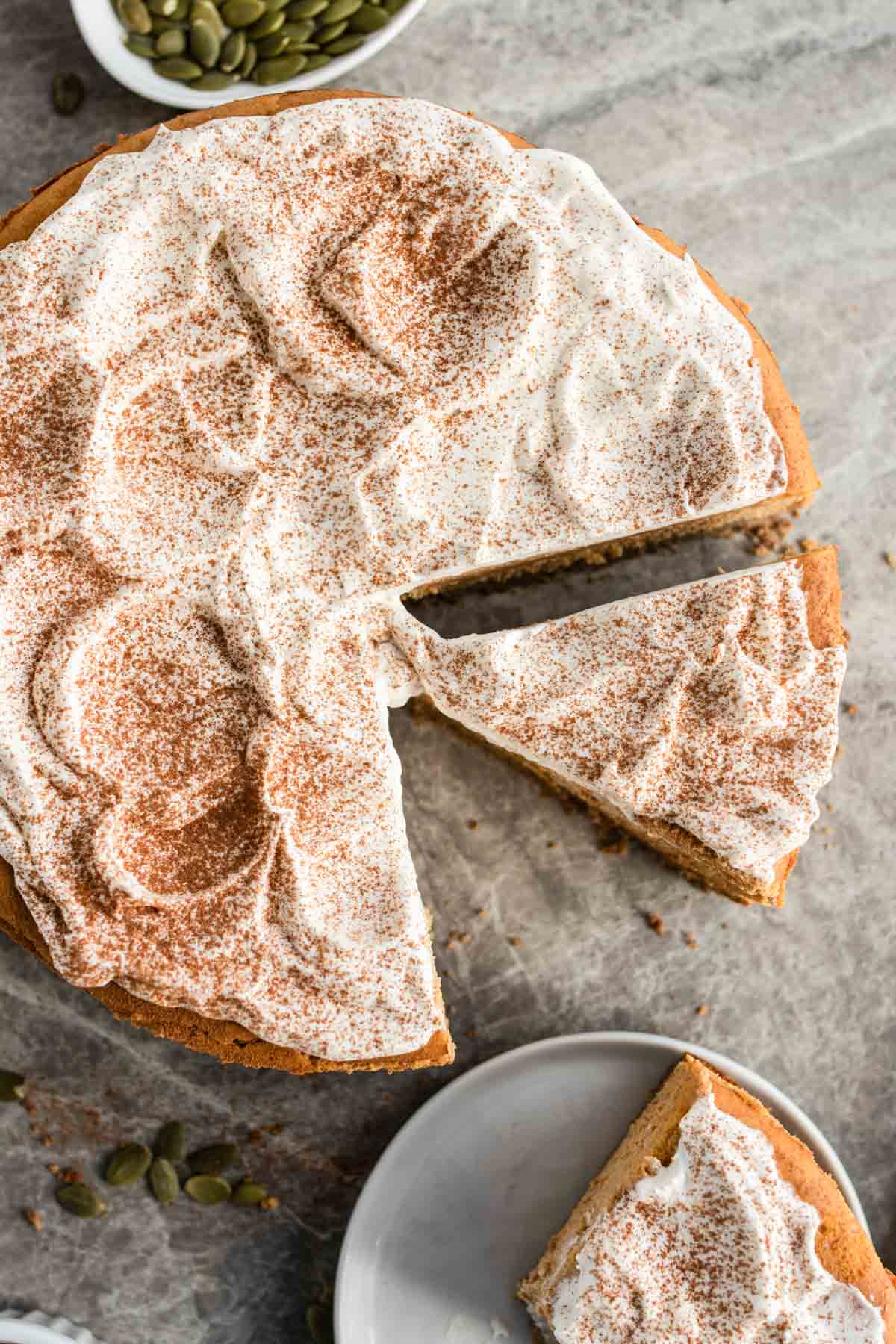 Step 4: Make Whipped Cream Topping
After the cheesecake has cooled, add heavy whipping cream to a chilled mixing bowl and whip on high speed until stiff peaks form. Spread on top of the pumpkin cheesecake and sprinkle with cinnamon.
Preventing Cracks without a Water Bath
While some tiny cracks are likely inevitable, here's how to avoid really severe ones.
Humid climates are beneficial - It helps to live in a warmer, humid climate.
Gradually cool - Keep cheesecake in a warm kitchen without drafts. Cooling quickly will create more cracking. If you live in a very dry, cool climate I would suggest cooling in your oven with the door open for roughly 1 hour.
Avoid overcooking - The cheesecake will not be set in the center when done. It should have a slight jiggle or sway to it.
Can This Pumpkin Cheesecake Be Made Gluten Free?
Yes! This is actually the best gluten free pumpkin cheesecake I've ever had. The crust is naturally gluten free, then just replace the flour in the pumpkin filling with Bob's 1:1 Gluten Free Flour.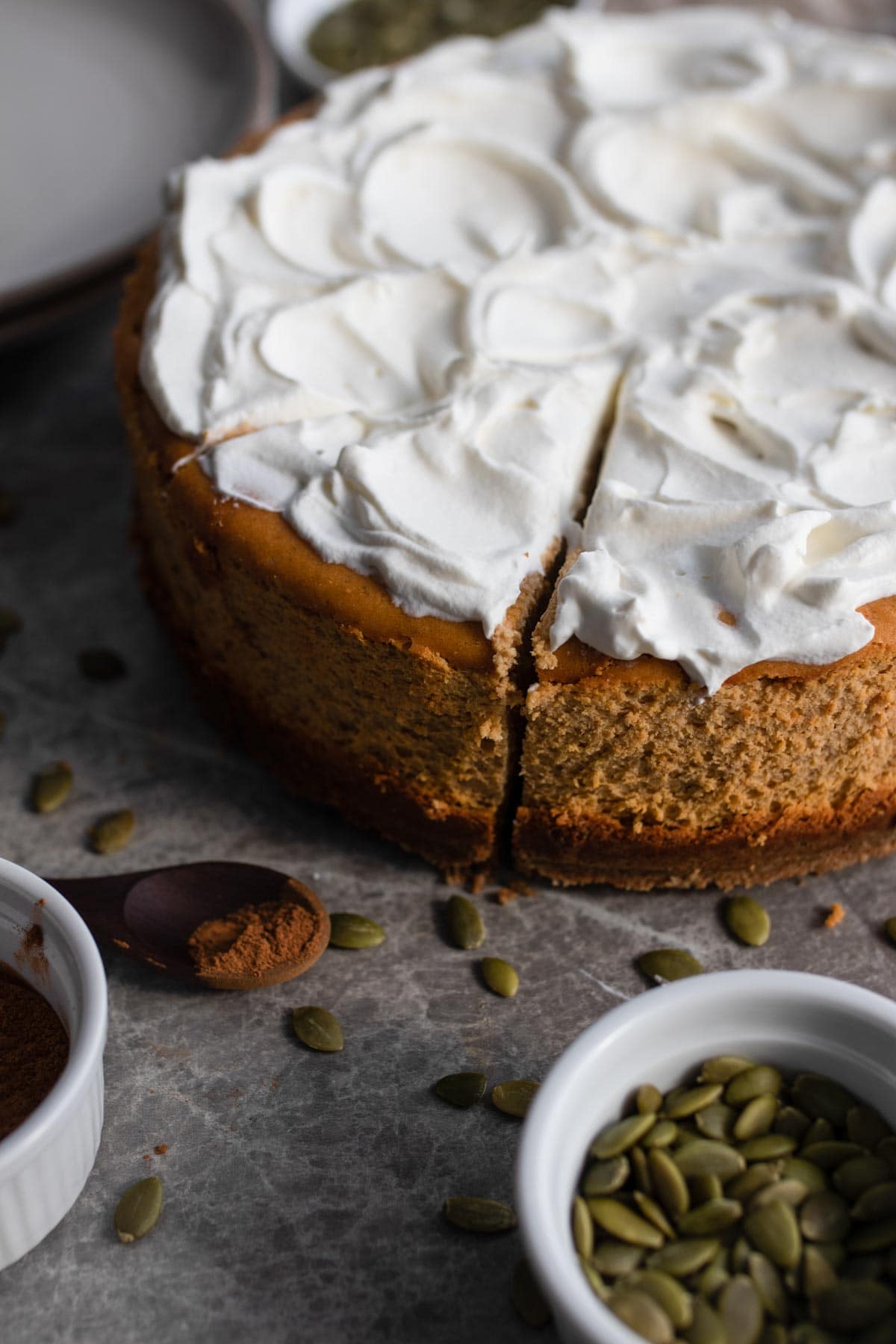 Storage Suggestions
Refrigerator - This pumpkin cheesecake will last 3 days in the fridge, covered in an air-tight container. If you can't find a container for it and want to make it ahead, I suggest just doing this the day before serving.
Freezer - I would only freeze this if you don't intend to serve it really pretty! Freeze for up to 3 months in an air-tight container. You can freeze it with or without the whipped cream on top.
Frequently Asked Questions
Do I have to add whipped cream?
No, but it really does make the whole cheesecake very pretty and it's less stressful overall to manage any cracks because you know they'll be covered!
Can I use sunflower seeds instead of pepitas for the oat crust?
Yes! I've made this with toasted sunflower seeds originally and it's so delicious. I will say I found sunflower seeds to have a stronger flavor than the pepitas so I found many readers to prefer the taste of a pepita seed crust.
Can I make this dairy free?
Because it's very difficult to find a migraine-friendly cream cheese substitute as they all contain nuts, additives, and/or MSG, I don't have a better option at this point for dairy free.
Can I leave the cheesecake out overnight?
I do not recommend leaving the cheesecake out at room temperature for an extended period of time. Because the ingredients are perishable, it's best to refrigerate for food safety.
What to Serve with Spiced Pumpkin Cheesecake
If you need some other recipes to pair with your spiced pumpkin cheesecake, check out these delicious Thanksgiving and holiday recipes!
Homemade Green Bean Casserole
Allergy Friendly Pumpkin Pie Bites
Butternut Squash Crostini
Easy Pumpkin Pasta
Pumpkin Cookies with Cream Cheese Frosting
Cranberry Pomegranate Muffins
Stuffing Balls
Pumpkin Recipes
For more pumpkin recipes like this spiced pumpkin cheesecake with oatmeal crust, try these out! And for another delightful cheesecake recipe, don't miss my white chocolate cheesecake.
If you make this, tag me #thedizzycook or @thedizzycook on Facebook and Instagram. And if you love the recipe, please leave a review below! Follow along on my Pinterest for more great recipes.
Spiced Pumpkin Cheesecake with Oat Crust
This delicious and silky pumpkin cheesecake with oatmeal and pepita crust can be made with or without a water bath!
Print
Pin
Rate
Ingredients
Crust
1.5

cups

oat flour

* I used Bob's Red Mill, but you can easily grind up quick cooking oats in a food processor

1

cup

roasted pepita seeds (shelled pumpkin seeds)

¼

cup

brown sugar

½

stick (4 tablespoons)

unsalted, good butter like Kerrygold, melted

½

teaspoon

ground ginger

1

teaspoon

ground cinnamon
Pumpkin Cheesecake filling
3

8oz packages

cream cheese blocks at room temperature

1

cup

white sugar

1

tablespoon

vanilla extract

2

teaspoons

cinnamon

½

teaspoon

ground ginger

¼

teaspoon

ground nutmeg

⅛

teaspoon

ground cloves

½

teaspoon

salt

15

oz can

canned pumpkin puree (unflavored)

¼

cup

all purpose flour

5

large eggs
Whipped cream
¾

cup

heavy whipping cream

1

teaspoon

cinnamon or pumpkin pie spice blend
Instructions
Preheat oven to 350 degrees Fahrenheit. In a 9 inch springform pan, cut out a piece of parchment paper the size of the bottom. Place it in the pan and butter or grease the sides of the pan.

In a food processor, grind pepita seeds until they're crumbly, but not quite fine. Add spices, brown sugar, and oat flour and pulse to combine. Stir in butter until well combined. Take the seed/oat mixture and press it into the bottom of your pan until it's packed. Place in the oven at 350 degrees for 7 minutes. Remove and allow to cool.

Meanwhile in a mixing bowl, beat the cream cheese and sugar on high speed until light and fluffy. Add spices and vanilla and mix till combined. Then add the pumpkin puree and flour. Finally add your eggs, one at a time, just mixing enough to incorporate them. Do not overmix once the eggs are added.

Pour cheesecake mixture into your prepared crust and place on a large baking sheet to guard from any leaks. Bake at 350 degrees for 55-65 minutes. The cheesecake should look firm around the edges with a slight jiggle in the very middle, like jello. Allow to cool completely in the springform pan, and then place in the fridge for 4-5 hours until chilled through.

Once your cheesecake is chilled through, place whipping cream in a chilled mixing bowl and whip on high for about 2-3 minutes until stiff peaks start to form. Gently smooth the whipped cream on top of your cheesecake and sprinkle with cinnamon or preferred spices.
Notes
I recommend Organic Valley or Whole Foods brand block cream cheese for this recipe as they don't contain carrageenan
Make sure you get 100% canned pumpkin puree without spices, NOT pie filling or pie mix. Pumpkin purees vary greatly in texture and flavor. I like to use Libby's for best results.
To prevent cracking, especially in cooler climates, see the post for tips like leaving in the oven to cool with the door cracked or how to implement a water bath.
To make this gluten free, substitute the all purpose flour with Bob's 1:1 gluten free baking flour.
Sunflower seeds can be substituted for the pepitas.
Nutrition
Serving:
1
piece
|
Calories:
462
kcal
|
Carbohydrates:
48
g
|
Protein:
9
g
|
Fat:
27
g
|
Saturated Fat:
12
g
|
Cholesterol:
132
mg
|
Sodium:
346
mg
|
Potassium:
271
mg
|
Fiber:
4
g
|
Sugar:
28
g
|
Vitamin A:
7295
IU
|
Vitamin C:
2
mg
|
Calcium:
70
mg
|
Iron:
3
mg