Are you guys anything like my family where you have a master file of Thanksgiving recipes with links and question marks that you send out to your family ahead of the big day? No? We're just the weird ones? Ok. Well, it never fails that someone can't agree on what the desserts should be. Pumpkin pie is for the ultimate traditionalists, and cheesecake is for the kind of people who like to live a little dangerously. Mash them together for this Pumpkin Cheesecake with Sunflower Seed Crust and you have the perfect dessert for your Christmas or Thanksgiving dinner.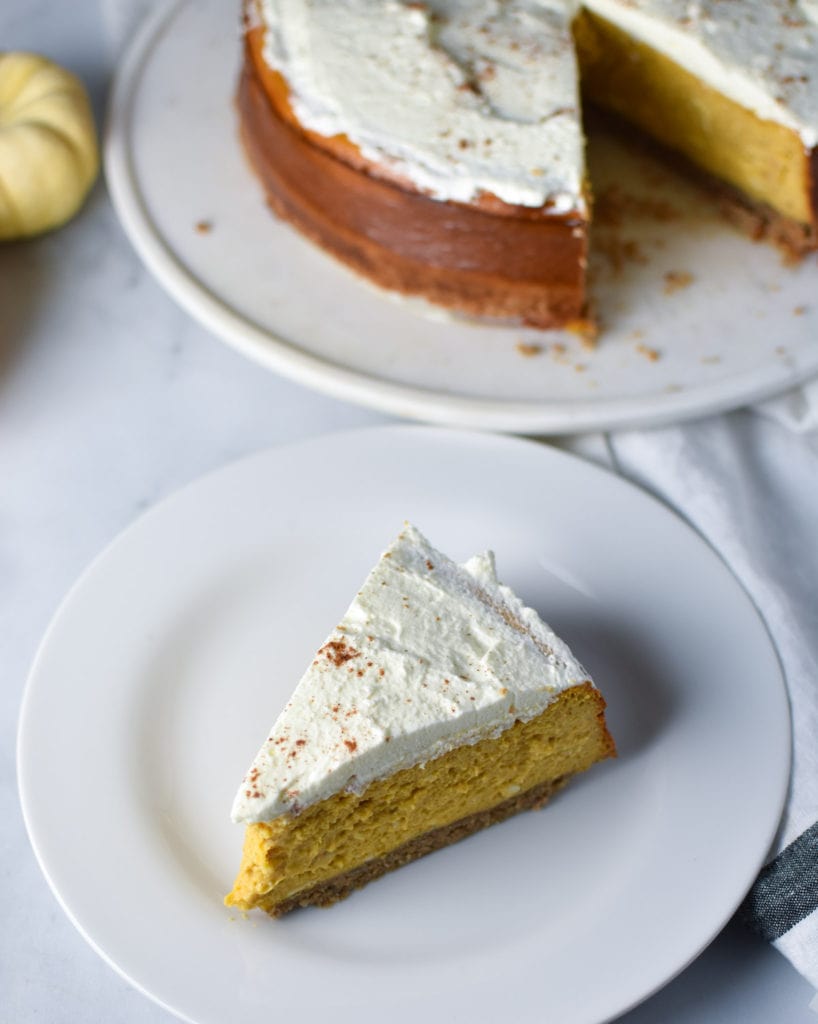 One thing I love about this cheesecake – it's not too fiddly. You know how some recipes make you do the water bath with the tin foil wrapped around your pan? Not this one! The advantage to that technique is you can avoid cracking on the top of your cheesecake. However, when you add fresh whipped cream and a sprinkle of cinnamon on top, it's not really necessary. If you're a fan of toasted sunflower seeds, you'll love the savory factor this adds to the sweetness of the pumpkin cheese filling. The thin layer of whipped cream isn't sweetened so it adds just another layer of decadence without causing your cheesecake to be too sweet.
I used Whole Foods Organic Cream Cheese, but Organic Valley makes a good one too. As for seeds, I like to buy the big packages of unsalted sunflower seeds from Trader Joe's. You can toast them pretty easily in the oven or in a large skillet over medium heat for about 2 minutes.
Other Thanksgiving Recipes:
Homemade Green Bean Casserole
Allergy Friendly Pumpkin Pie Bites
Ricotta & Butternut Squash Toasts
Easy Pumpkin Sage Pasta
Pumpkin Cookies with Cream Cheese Frosting
Cranberry Pomegranate Muffins
Stuffing Balls
Pumpkin Cheesecake (Gluten and Nut Free)
Nut free with a savory sunflower seed and oat flour crust, this gluten free option Pumpkin Cheesecake is perfect for Thanksgiving or Christmas dessert.
Cuisine:
American, Christmas, Thanksgiving
Keyword:
Gluten Free, Nut Free, Pumpkin Cheesecake
Ingredients
Crust
1.5

cups

oat flour

* I used Bob's Red Mill, but you can easily grind up quick cooking oats in a food processor

1

cup

unsalted sunflower seeds

1/4

cup

brown sugar

1/2

cup (4tbsp)

unsalted, good butter like Kerrygold, melted

1/2

tsp

ground ginger

1

tsp

ground cinnamon
Pumpkin Cheesecake filling
3

8oz packages

organic cream cheese blocks at room temperature

* I used Whole Foods Organic

1

cup

organic cane sugar

1/4

cup

all purpose flour

* Can use oat flour for gluten free

15

oz can

pumpkin puree (unflavored)

5

large eggs

1

tbsp

vanilla extract

2

tsp

cinnamon

1/2

tsp

ground ginger

1/4

tsp

ground nutmeg

1/8

tsp

ground cloves

1/2

tsp

salt
Whipped cream
3/4

cup

heavy whipping cream

1

tsp

cinnamon or pumpkin pie spice blend
Instructions
Preheat oven to 350 degrees. In a 9 inch springform pan, cut out a piece of parchment paper the size of the bottom (they also have these pre-cut if you're lazy like me!). Place it in the pan and butter the sides of the pan.

In a food processor, grind your sunflower seeds until they're crumbly, but not quite fine. Add spices, brown sugar, and oat flour and pulse to combine. Stir in butter until well combined. Take the seed/oat mixture and press it into the bottom of your pan until it's packed. Place in the oven at 350 degrees for 7 minutes. Remove and allow to cool.

Meanwhile in a mixing bowl, beat the cream cheese and sugar on high speed until light and fluffy. Add spice mixture and vanilla and mix till combined. Then add your pumpkin puree and flour. Finally add your eggs, one at a time, just mixing enough to incorporate them. Do not overmix once the eggs are added.

Pour cheesecake mixture into your prepared crust and place on a large baking sheet, just in case your springform decides to leak...eek. Bake at 350 degrees for 55-65 minutes. Your cheesecake should look firm around the edges with a slight jiggle in the very middle, like jello. Allow to cool in the springform pan and then place in the fridge for 4-5 hours until chilled through.

Once your cheesecake is chilled through, place whipping cream in a chilled mixing bowl and whip on high for about 2-3 minutes until stiff peaks start to form. Gently smooth the whipped cream on top of your cheesecake and sprinkle with spice.