This pumpkin sage pasta is filled with delicious fall flavors that are easy enough to whip up on a weeknight. With a creamy pumpkin sauce and crunchy sage pepita topping, you'll love this cozy recipe.
With under 10 ingredients and most of which are pantry staples, this super easy pumpkin pasta will have everyone coming back for seconds. It is also perfect to make ahead and store for lunches - I'll show you how!
There's nothing more that I love during cool evenings than a giant bowl of cozy pasta and this recipe is one that I've been making for years. I love it so much, I actually put it in my first cookbook.
I've made this pumpkin sage pasta recipe for dinner parties, Christmas, and Thanksgiving, and many readers and friends say it's like a healthy mac and cheese. Highly recommend serving with an Apple Fennel Salad for a side!
Why You'll Love Pumpkin Sage Pasta
Fall flavors - Sage, pepitas, and pumpkin all combine for the ultimate fall meal that doesn't require hours of baking.
Easy ingredients - All you need is canned pumpkin, pasta, a few pantry staples, and sage.
A lighter mac and cheese - This is a great way to sneak in extra vegetables for kids (and adults) by making a pasta that looks almost just like mac and cheese but with fewer calories and more health benefits.
Have you tried my, Mozzarella Alfredo Pasta, Boursin Pasta or Baked Goat Cheese Pasta yet? If not, I highly recommend those for a cozy pasta dinner as well!
Jump to:
3 Tips for Making Creamy Pumpkin Pasta
Choosing a pumpkin puree - You can do this several different ways, by making your own at home, or going with a favorite brand. Organic brands tend to have good flavor but be more watery than Libby, which has a more classic flavor that's good for baking.
Fresh herbs - Using fresh chives and sage can make a big difference when you have limited ingredients. In a pinch I'll use Litehouse dried, but I would highly recommend going fresh.
Quality Pasta - If you can choose a fresh pasta (the kind that's refrigerated) over boxed, it will make a big difference in flavor and texture for this recipe.
Which Pumpkin Puree is Best for Pasta?
There are so many types of pumpkin puree on the market and it's easy to think they're all the same, but alas - they're not!
Libby's - Libby's has a darker hue and tends to have a very strong pumpkin flavor that's really great for baking. It's also less watery than organic brands.
Organic pumpkin puree - Tends to have a lighter flavor and a more watery consistency.
Homemade - Homemade pumpkin puree can often have the best flavor. The instant pot can make this a speedy process.
Pasta is a lot more forgiving than baking so go with the pumpkin puree that you prefer for flavor.
Ingredients
Pasta - I love to use a fresh, small pasta for this like shells, cavatappi, farfalle, or orecchiette, just to name a few.
Pumpkin - Choose a pumpkin puree that's plain, without any flavorings.
Fresh herbs - Sage and chives are my favorite here and fresh does make a difference. In a pinch, I'll use Litehouse dried herbs.
Pepitas - These are pumpkin seeds, and I recommend getting pre-roasted ones. Salted or unsalted will both work. They provide a great crunch on top.
Cream cheese and butter - I recommend a cream cheese without carageenan, like Organic Valley or most organic house brands. Philadelphia plain cream cheese also works. For butter I love to use Kerrygold unsalted.
Broth - Vegetable broth like Trader Joe's Hearty Vegetable will work or a homemade one. I highly recommend my instant pot chicken stock.
Step-by-Step Instructions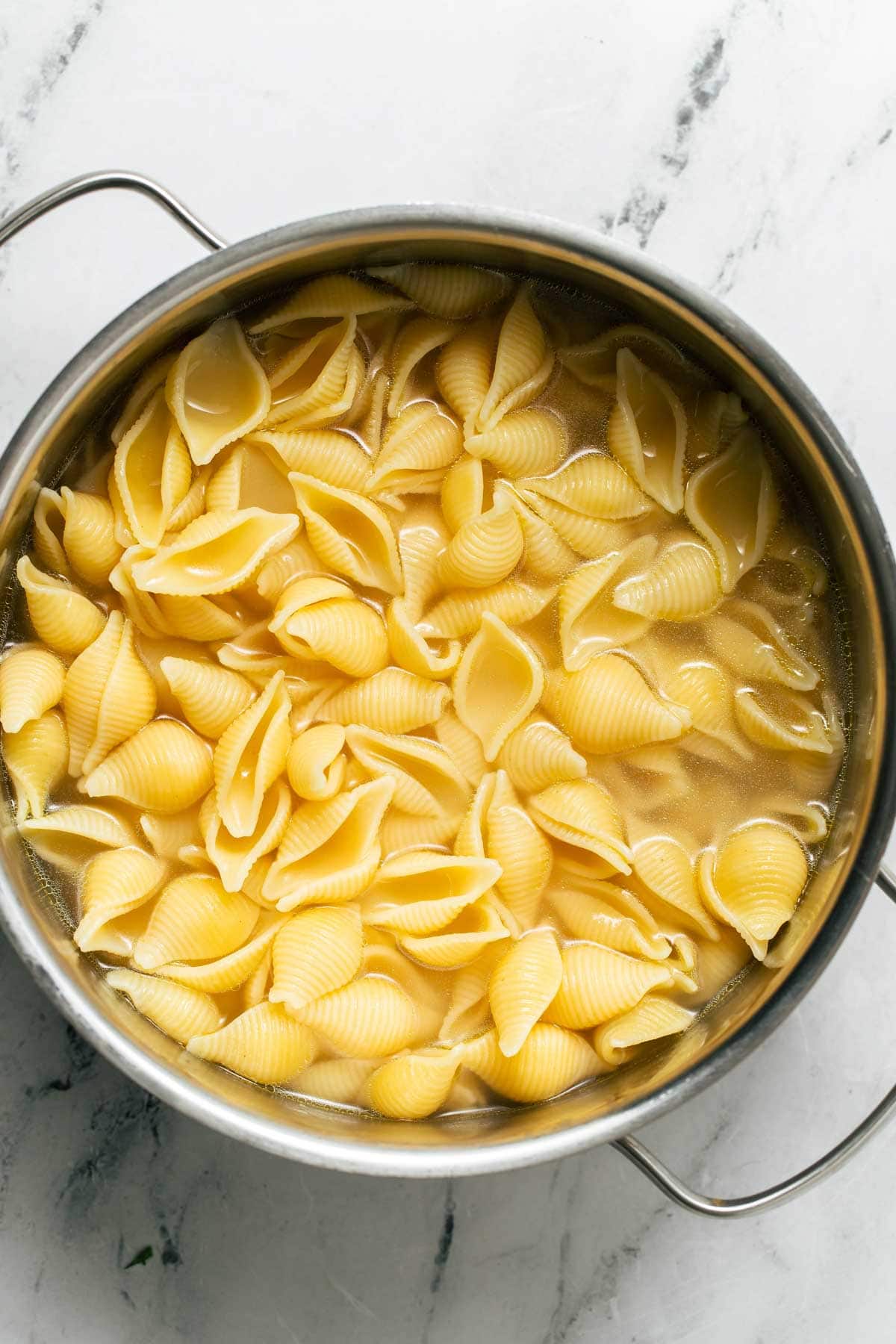 Step 1: Start boiling the pasta
In a large pot, heat salted water over high heat until boiling. Add pasta and cooking according to package directions. Drain, but reserve some of the cooking water for the sauce.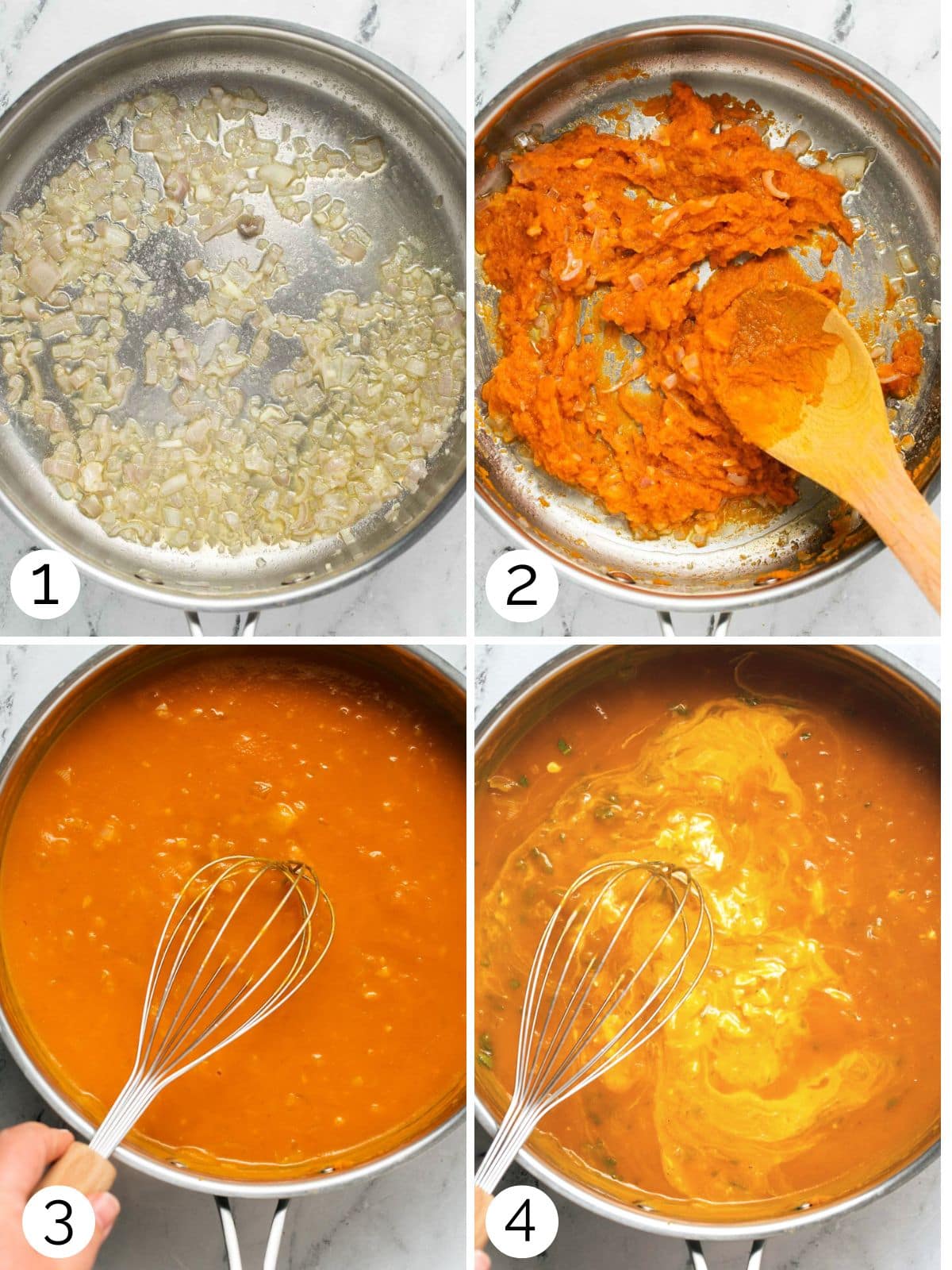 Step 2: Make the pumpkin pasta sauce
In a large pan, melt butter over medium heat, then add shallots and garlic. Stir frequently as it softens and becomes fragrant, being careful to not burn the garlic. Add in the pumpkin puree and a ¼-1/2 cup of pasta water, whisking till they are combined and smooth. Stir in the cream cheese and sage, until cheese is fully melted and smooth.
Step 3: Add in pasta
Add in the cooked, drained pasta to the sauce, tossing to combine. The sauce should be enough to coat the pasta well, but you can add more pasta water as needed. Top with chives, fresh sage, and pepita crumbles. Serve pumpkin pasta warm with some of the suggestions below!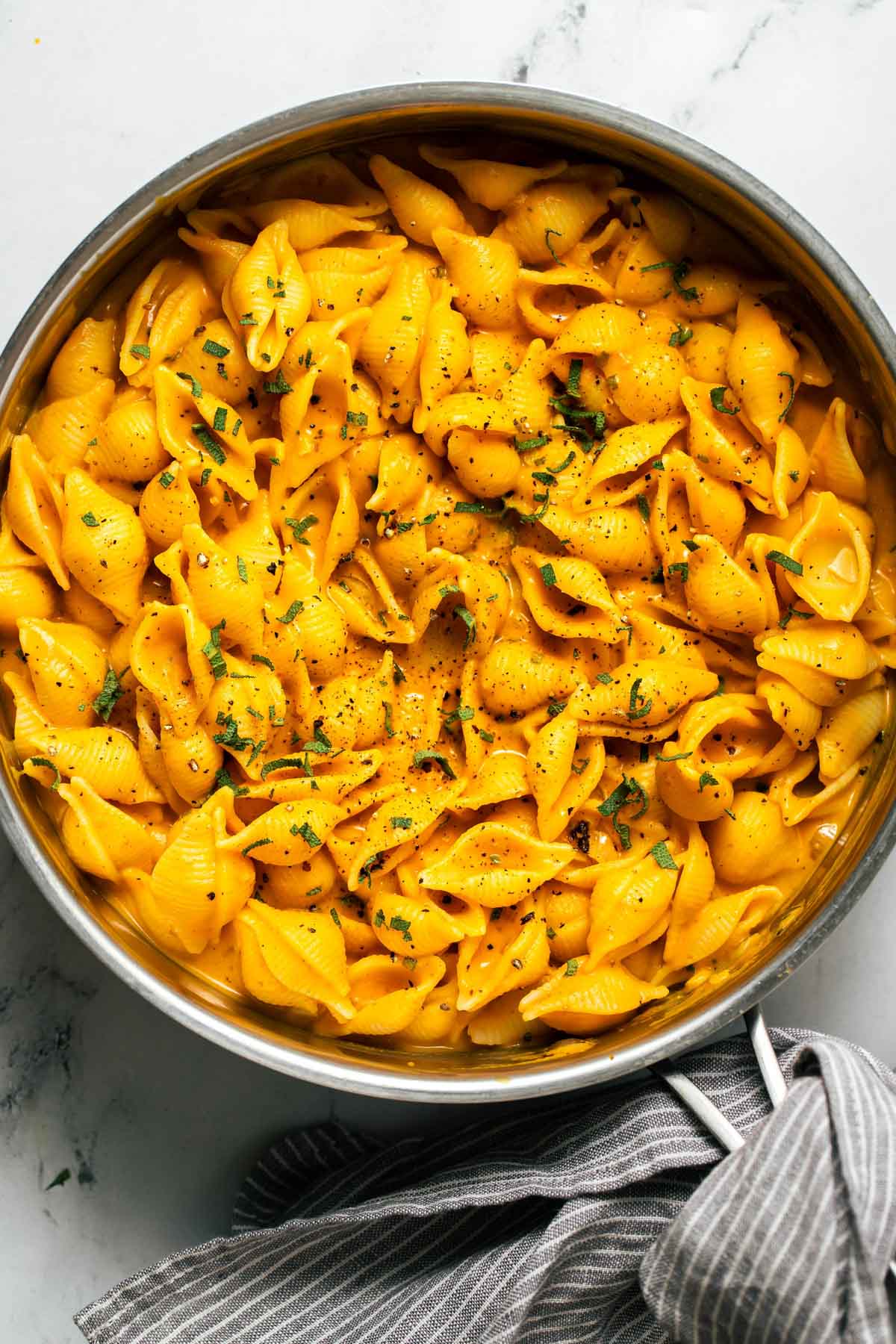 Variations and Substitutions
Goat cheese - Chevre works really well in this pumpkin pasta in place of cream cheese. Especially for a bit of tangy flavor!
Rosemary - Rosemary can be substituted for fresh sage.
Canned butternut squash or sweet potato - These can both be substitutes for pumpkin puree.
Toasted breadcrumbs - For an extra crunch, add toasted breadcrumbs to the pepita topping mixture.
Chicken - Add cooked chicken or rotisserie chicken.
Dairy free - Butter can be substituted with ghee, if tolerated, or use Earth Balance Pressed Oils. Omit the cheese. It's not quite as creamy, but still delicious.
Gluten free - Choose a favorite gluten free pasta.
Storage Instructions
This pumpkin sage pasta reheats well the next day! Simply store in an airtight container in the refrigerator up to 3 days.
To reheat, place in the microwave or on the stove over medium-low heat, stirring frequently. Add about 1 tablespoon of water or milk to the pasta to get the sauce to thin out, or more as needed.
Serving Suggestions
Need an idea for what to pair with this pumpkin sage pasta? Here are a few of my favorites.
Also just pair this recipe with a warm baguette and a simple salad like the ones above for the most perfect and cozy vegetarian dinner.
If you would like a wine pairing, I highly recommend a Chardonnay like Benzinger, or Liquid Farm Golden Slope. See here for more suggestions on the best alcohol for people with migraine.
Recipe FAQ's
What meat goes well with pumpkin?
It can be tricky to pair pumpkin pasta so it's really great as an all vegetarian dish, but my favorite meat dish to serve with it is pork. Salty, savory pork is complimented by the slight sweetness of pumpkin and makes for a lovely pairing. I recommend the air fryer pork tenderloin for a quick dinner.
How do I serve pumpkin pasta for holidays?
I would recommend trying to find an actual pumpkin shaped pasta, like fall zucchette pasta from Trader Joe's and also increasing the recipe proportions to serve more people. You can adjust the serving size in the recipe card. This would make a great Thanksgiving side dish.
What can I substitute for pumpkin?
This recipe also works with butternut squash or sweet potato puree.
What cheese pairs well with pumpkin?
I really love goat cheese in this recipe as I find the sour notes compliment the sweetness of the pumpkin well. But I find many readers just can't stand goat cheese (even though you can't really taste it strongly in this recipe), so cream cheese is an alternative.
How to Use Leftover Pumpkin
If you have any leftover pumpkin puree here are a few recipes where you can use it up!
Cozy Pasta Recipes
For more recipes like this delicious creamy pumpkin sage pasta, see these posts.
If you make this, tag me #thedizzycook or @thedizzycook on Facebook and Instagram. And if you love the recipe, please leave a review below! Follow along on my Pinterest for more great recipes.
Pumpkin Sage Pasta
This pumpkin sage pasta is easy to make with pantry ingredients! It's creamy without being too heavy, with great fall flavors from the sage, pumpkin, and goat cheese or cream cheese. This makes 4 large servings as a full meal.
Print
Pin
Rate
Ingredients
16

oz

pasta of choice

4

tablespoons

good butter

2

garlic cloves, peeled and chopped

2

medium shallots, peeled and chopped

1

15oz can

unflavored pumpkin puree

2

oz

unflavored cream cheese or goat cheese

2

tablespoons

fresh sage (or 1 teaspoon of dried), chopped

3-4

tablespoons

fresh chives, chopped

½

cup

toasted pepitas (pumpkin seeds)

kosher salt and fresh pepper to taste
Instructions
Bring a large pot of salted water to a boil and cook pasta according to package directions. Drain the pasta, but save about a cup of the pasta water for later.

Meanwhile in a large pan, melt butter over medium heat and add shallot and garlic. Cook till fragrant, stirring often with a wood spoon, about a minute or two. Add the pumpkin puree and stir to combine.

Add a little bit of the pasta water about ¼ cup at a time until desired consistency is reached, the mixture should be thick enough to coat the pasta well. Whisk in cheese and sage until creamy and thick. Then add the hot pasta and toss to coat. Add kosher salt and pepper to taste.

Top pasta with toasted pepitas and chives. Serve immediately.
Notes
Don't forget the pasta water is your friend. Reserve it to get the sauce to the consistency you love. You can also use it for reheating the pasta!
I favor goat cheese/chèvre with this, but cream cheese also works well.
Don't skip the pepitas, the texture and crunch is worth it!
Try subbing out the pumpkin puree for sweet potato or butternut squash puree to mix things up.
Nutrition
Calories:
578
kcal
|
Carbohydrates:
88
g
|
Protein:
18
g
|
Fat:
17
g
|
Saturated Fat:
8
g
|
Polyunsaturated Fat:
3
g
|
Monounsaturated Fat:
4
g
|
Trans Fat:
0.5
g
|
Cholesterol:
30
mg
|
Sodium:
99
mg
|
Potassium:
376
mg
|
Fiber:
5
g
|
Sugar:
4
g
|
Vitamin A:
489
IU
|
Vitamin C:
3
mg
|
Calcium:
40
mg
|
Iron:
2
mg
This post was originally published November 4, 2018 under Pumpkin Sage Pasta and has been updated with new photography and recipe tips.