It's been a while since I've posted a salad recipe and that's probably because I assume that no one actually needs a recipe for salad. You just throw everything in a bowl and secretly wish it actually tasted like cookies. What I sometimes fail to realize is that there's a bit of magic in a really good salad. Not the kind of salad that's just an afterthought where you hurry through it just to get some greens in, but one that makes you want to go back for seconds. With peppery arugula, toasted pepitas, and sweet pears that compliment each other beautifully, this is that salad.
You see, my parents officially closed on a new house that's less than an hour away from me. It's a pretty big deal because I have never lived this close to my parents since I left for my freshman year of college. I'm an only child so we are pretty close knit. The day they closed I wanted to make them a really decadent dinner to celebrate. We got some NY strip steaks and I made a top secret potato dish that I'm working on for the cookbook, but I needed really good salad to round it out. Every year my wonderful mother in law sends us a box of Harry and David pears for Valentine's day in lieu of chocolate (note to others who have chocolate as a migraine trigger!). Typically I make a pear clafoutis, and have a few leftover for snacking.
A Vegan Salad Star is Born
I'll admit, this salad came to be from a need to clean out the refrigerator a bit. This is what I had on hand:
A box of arugula
The lone watermelon radish (these are greenish-white aka super boring on the outside, but a gorgeous, bright pink on the inside.)
Leftover toasted pepitas (pumpkin seeds).
Insane amount of pears
Pantry staples – olive oil, mustard, maple syrup, etc.
Mustard Options
I've made this dressing a few times, with dijon, with whole grain, and a combination of the two. It's really quite delicious with both options. Some of my favorite brands include.
Annie's Dijon (No sulfites or wine)
Brad's Organic (No sodium)
Pommery Meaux (This one is for when you feel fancy – we ate it often on our trip to Burgundy. The "spices" are questionable, but it's so dang good.)
Like any salad dressing, using really good olive oil can make a huge difference. Enjoy!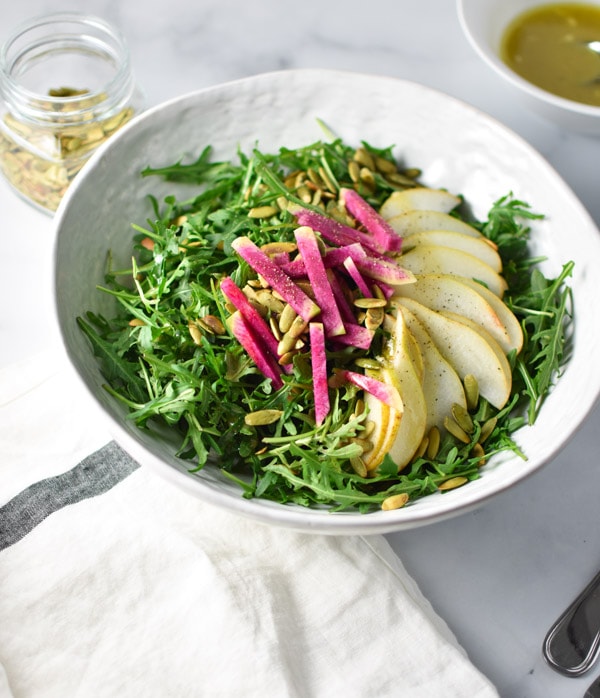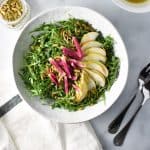 Pear, Arugula, & Pepita Salad with Maple Vinaigrette
A vegan and nut free salad, this is a recipe that you'll definitely want to have seconds. Easy to throw together with pantry ingredients, it's elevated yet simple.
Keyword:
Arugula, Pear, Pepita, Salad
Ingredients
1/2

5oz

package of fresh arugula

1

watermelon radish, washed and roots trimmed, chopped small

* If you can't find a watermelon radish, red radishes would be fine.

1

pear - royal riviera or comice are preferred, sliced

1/4

cup

lightly toasted pepitas
Maple Vinaigrette
3

tbsp

extra virgin olive oil

1.5

tbsp

white vinegar

1

tbsp

maple syrup

1

small clove of garlic, peeled and minced

2

tsp

whole grain or dijon mustard

kosher salt and pepper to taste
Instructions
To lightly toast your pepitas, warm a clean pan (no oil) over medium low heat. Add pepitas and toast, stirring occasionally for roughly 3-5 minutes. Check often to make sure they do not burn.

In a small bowl, whisk together the salad dressing ingredients. Taste and adjust for more salt and pepper. In a large bowl, add the fresh arugula and toss with as much dressing as you'd like (there might be a bit leftover for a future salad). Add pears, pepitas, and radish to the top.


*If not ready to serve immediately, store the salad, undressed and covered, in the fridge. Pears will brown after a while, so cut those right before serving.