This was a recipe my mother in law suggested to me as one of her favorite easy dinners. She has impeccable taste when it comes to recipes so I had no doubt this one would be good. If I'm being completely honest, and I hate to admit this, I've been doing some weird Whole 30/Heal Your Headache mishmash diet for the last month. Part of this was because in the process of creating cookbook and blog recipes, I was mentally justifying that 20 cookies must be thoroughly tested. The other part is I'm going to the beach in a few weeks, and those cookies are much harder to burn off in my 30's.
Another big reason to do this was I consider myself sort of a guinea pig for you guys. I know there are people out there who like to eat healthy, and this little experiment has allowed me to get creative! As I work on creating meal plans, I need some great weeknight dinners that fit a mass amount of people.
Enter Smitten Kitchen's Sausage and Potato Roast. This recipe was too easy not to try out. You basically dump a bunch of potatoes, shallots, and sausage on a single pan and roast it for around 40 minutes. Easy prep and easy clean up. I did have to make a few changes to make this work better for me and be HYH friendly. Instead of the lemon juice, I used basic white vinegar. I mixed in some purple potatoes with fingerlings. Did you know that purple potatoes contain anthocyanin, an antioxidant that contains many health benefits? This antioxidant not only gives the purple potato it's hue, but also can help boost your immune system.
I also had to adjust the baking time a little bit because I like really crispy potatoes. The baking time in the original post produced pretty dry sausage for me since I used chicken sausage. Speaking of sausage, there are a few safe brands out there. I often have luck harassing my local butcher for every print out of ingredients. Central Market carries fresh, local Sweet Italian Sausage. I've also seen people have luck at their local butcher or Whole Foods. If you can't find a safe sausage, not to worry, this will work well with seasoned chicken breast also.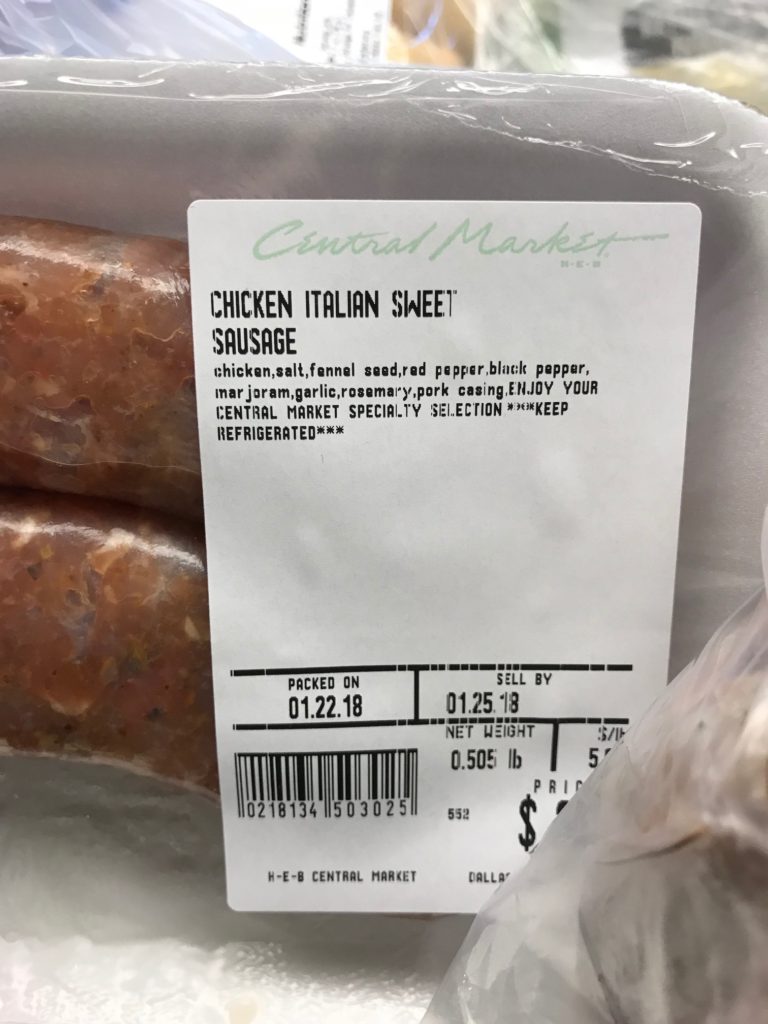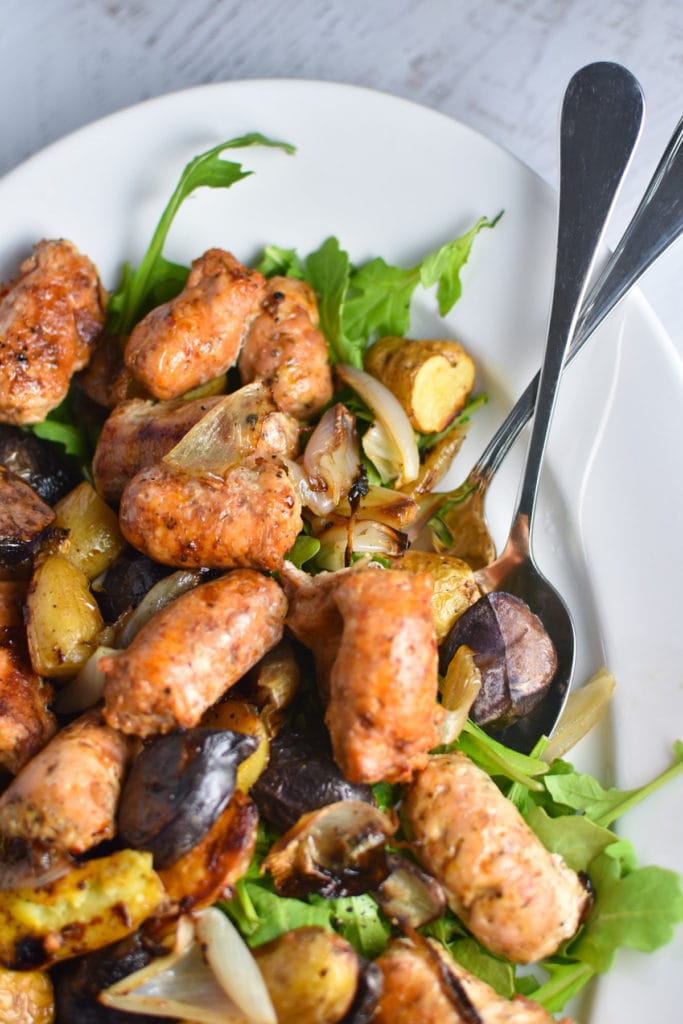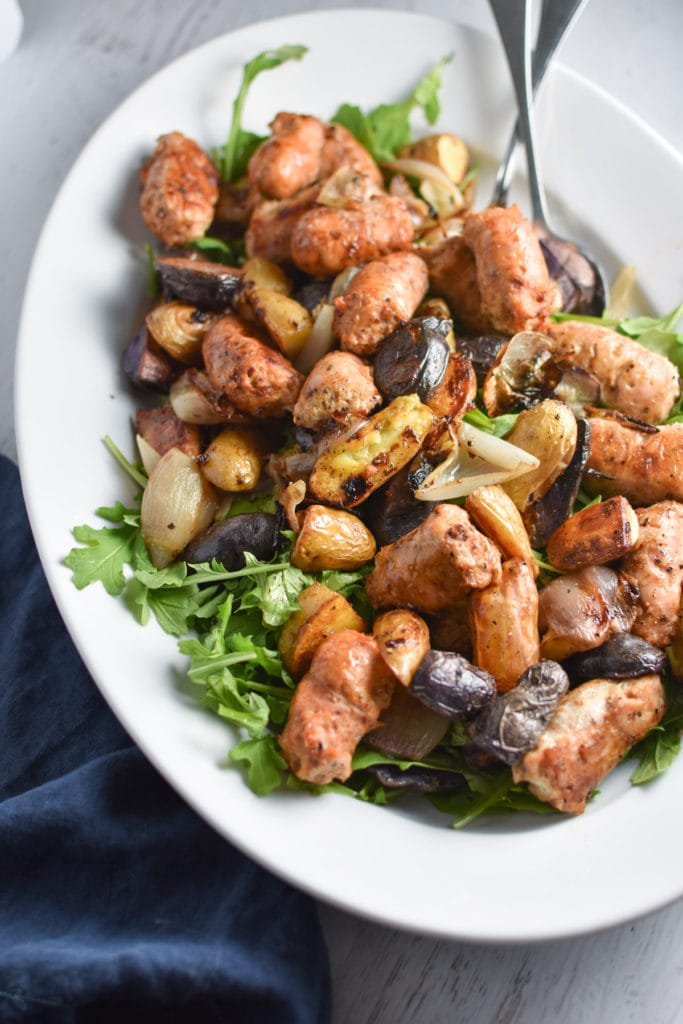 One Pan Chicken Sausage, Arugula, and Potato Salad
Adapted from Smitten Kitchen, this perfect fall dinner requires one pan, simple ingredients, and easy clean up. Look for fresh sausages at your local butcher, Central Market, or Whole Foods to avoid MSG and additives. This is a really versatile recipe. I've mixed in sweet potatoes and butternut squash to the potatoes before, but this original version is my favorite.
Print
Pin
Rate
Ingredients
3

tablespoon

olive oil

1-¾

pounds

mixed small potatoes like fingerlings and purple potatoes, cut in half and in 1" pieces (if not fingerlings)

1-½

pouds

sweet Italian chicken sausage, cut in 3 inch sections

* If you can't find fresh & clean chicken sausage, either make your own or use chicken breasts

5-6

large shallots, peeled and halved

1

5oz bunch of arugula

* I just bought a packaged but used only ½

1-2

tablespoon

white vinegar

kosher salt and fresh ground pepper to taste
Instructions
Heat oven to 425 degrees while you cut your potatoes, shallots, and sausages. On a large baking sheet (I like to cover mine with parchment paper), toss together the potatoes and shallots with the olive oil. Make sure your potatoes are all laying flat on the sheet and not stacked on top of each other. Sprinkle with salt and pepper.

Bake potatoes and shallots for 20 minutes. Remove the sheet from the oven and toss the potatoes and shallots. Then add the cut sausages to the baking sheet. Cook another 20-25 minutes at 425.

In a large bowl toss the arugula with the vinegar and some salt and pepper to taste. Add the roasted chicken sausage, shallots, and potatoes.

If using chicken breasts, cut the breasts in half so they're in smaller pieces. Sprinkle with salt and pepper, 1 clove of minced garlic, 1 tablespoon of olive oil, 1 teaspoon of thyme, and 1 teaspoon of oregano. You can combine all of this in a bowl for easy mixing, if you'd like. Cook the same, giving the chicken about 15-20 minutes at 425. Chicken should reach 165 internal temperature.