These cinnamon oatmeal muffins make the perfect breakfast or snack. Can easily be made gluten free or vegan, you'll love how delicious they are with just a hint of crunch from pepitas on top.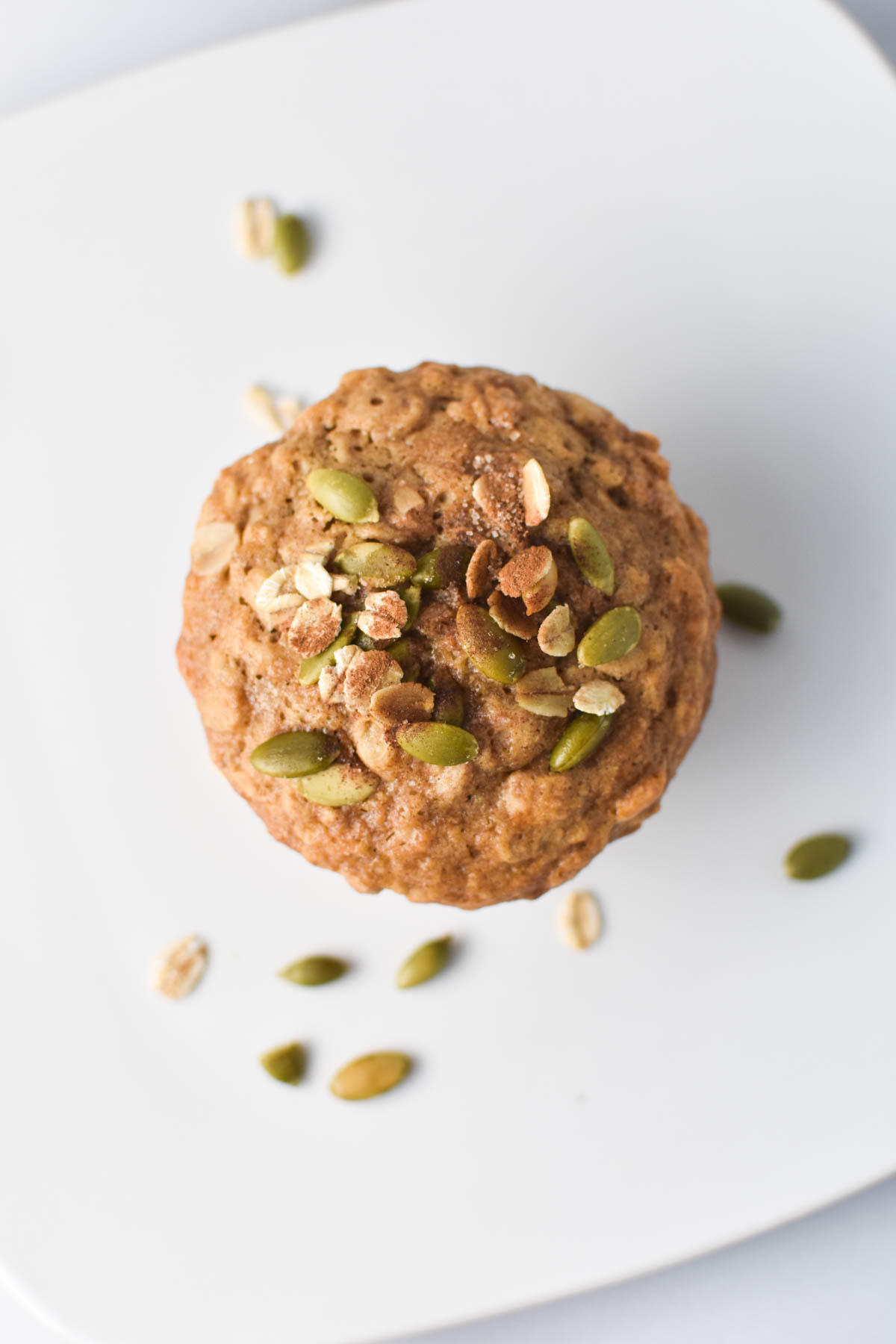 Jump to:
Why You'll Love These
As I neared my delivery date, I was really into meal prepping anything and everything that's easy to freeze. This obviously includes muffins. I also wanted to make something that I could bring to my nurses during the delivery, plus have for snacking. If you've ever spent time in the hospital, you know the food leaves something to be desired.
Everyone kept telling me to bring something that is comfortable - a favorite robe or lotion. To me there's nothing more comforting to me than having something home cooked. So I figured these cinnamon oatmeal muffins are easy to freeze and they can defrost at the hospital!
Perfect for meal prep! Freeze them and store for a few months.
Back to school snacks. So delicious and cozy - they taste like fall!
Great as gifts! I brought these to my labor and delivery nurses.
Allergy-friendly for school functions.
Dairy free, nut free, vegan, and gluten free (if edited).
Ingredients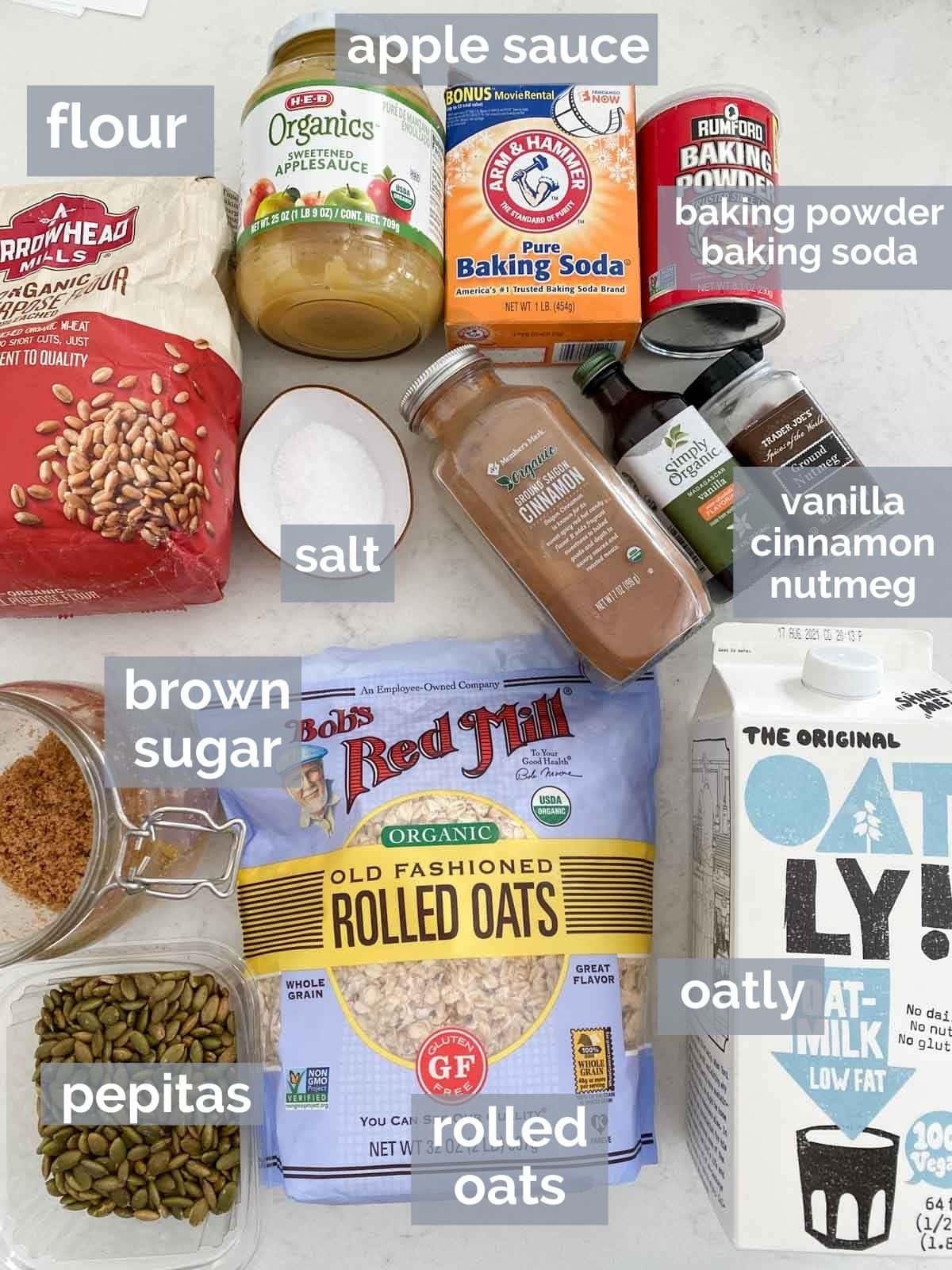 This oatmeal muffin recipe was inspired by another banana applesauce muffin recipe I made, but alas bananas aren't allowed in the elimination phase of a migraine diet. I racked my brain on some other good options and loved the idea of using applesauce paired with cinnamon and oats. Plus I had some to use up in the fridge - ha! Here are the main ingredients:
Applesauce - It makes a good binder in muffins instead of using eggs. You don't want to use too much or your recipe will end up dense and kind of gummy, but I found this amount to be perfect. I do like sweetened for this recipe since you're not using a lot of sugar, but unsweetened will also work.
Rolled Oats- Oatmeal is something I always have in my pantry, along with the other basic staples used for these muffins. I loved the idea of combining apples and oats, but without having the texture of chunks of apples. You get all the great flavor this way in a soft and smooth muffin batter.
All Purpose Flour or Gluten Free 1:1 Flour - You can also use oat flour, although that tends to be more crumbly than the other two.
Vegetable Oil - Generic vegetable oil or another mild oil like canola oil will work for this recipe. You could also use melted butter.
Milk - I used Oatly for this recipe, but any type of milk will work for these cinnamon oatmeal muffins.
Cinnamon and Nutmeg - Both of these spices provide that wonderful cozy flavor.
Pepitas - Don't skip these! They are basically shelled, toasted pumpkin seeds and they provide the best crunch on top of the muffin. I like to buy them roasted and salted, but you can also do this at home by lightly toasting them in the oven.
How to Make Cinnamon Oatmeal Muffins
As far as mixing goes, you really just need two large bowls to start - dry ingredients in one, wet ingredients in the other. Then all there is to it is to mix the wet ingredients into the dry ones, put in a muffin tin, top with some pepitas and you're good to go.
Step 1: Combine dry ingredients. Preheat oven to 425 degrees F. Start with the dry ingredients in a large bowl. Mix in flour, baking powder, baking soda, salt, and brown sugar.
Step 2: Combine wet ingredients. In a smaller bowl, mix the wet ingredients - a lightly whisked egg, milk, vanilla, oil, and applesauce.
Step 3: Mix the ingredients. Mix the wet ingredients into the dry using a wooden spoon or a dough mixer. Stir till just combined.
Step 4: Fill into muffin cups. Spoon the cinnamon oatmeal muffin mixture into paper muffin cups and top with extra oats and pepitas.
Bake for 5 minutes and then turn the heat down to 350 degrees F to continue cooking another 15-17 minutes.
For the perfect "dome" - The initial blast of hot air will help to get a nice dome muffin top. Just don't forget or you'll over-bake the muffins!
How to Serve
I recommend serving these cinnamon oatmeal muffins warm, either freshly baked or microwaved for 15-20 seconds with butter or one of the following accompaniments.
Freezer Tips - Store in an airtight container or ziplock freezer bag for up to 3 months. Defrost overnight in the fridge, or microwave in 10 second increments till defrosted.
Frequently Asked Questions
Can I make these vegan or egg free?
Yes, just add an extra 2 tablespoons of apple sauce instead of the egg.
Can I make cinnamon oatmeal muffins gluten free?
Substitute the all purpose flour for oat flour or your favorite 1:1 gluten free flour.
How do I freeze and reheat?
The best way to freeze these cinnamon oatmeal muffins is to line them up evenly in a plastic storage bag or container. Freeze in one layer. To reheat, either thaw at room temperature (usually about an hour), or reheat in the oven. I'll usually do this by sticking it in there on a sheet pan and preheating to 350 degrees F. Once the oven beeps, it's typically warmed through. Microwave is a last resort option.
Any way to add more protein to these muffins?
Yes! I love these with pumpkin seed or sunflower seed butter. The spices in the cinnamon oatmeal muffin mix so well with the spread.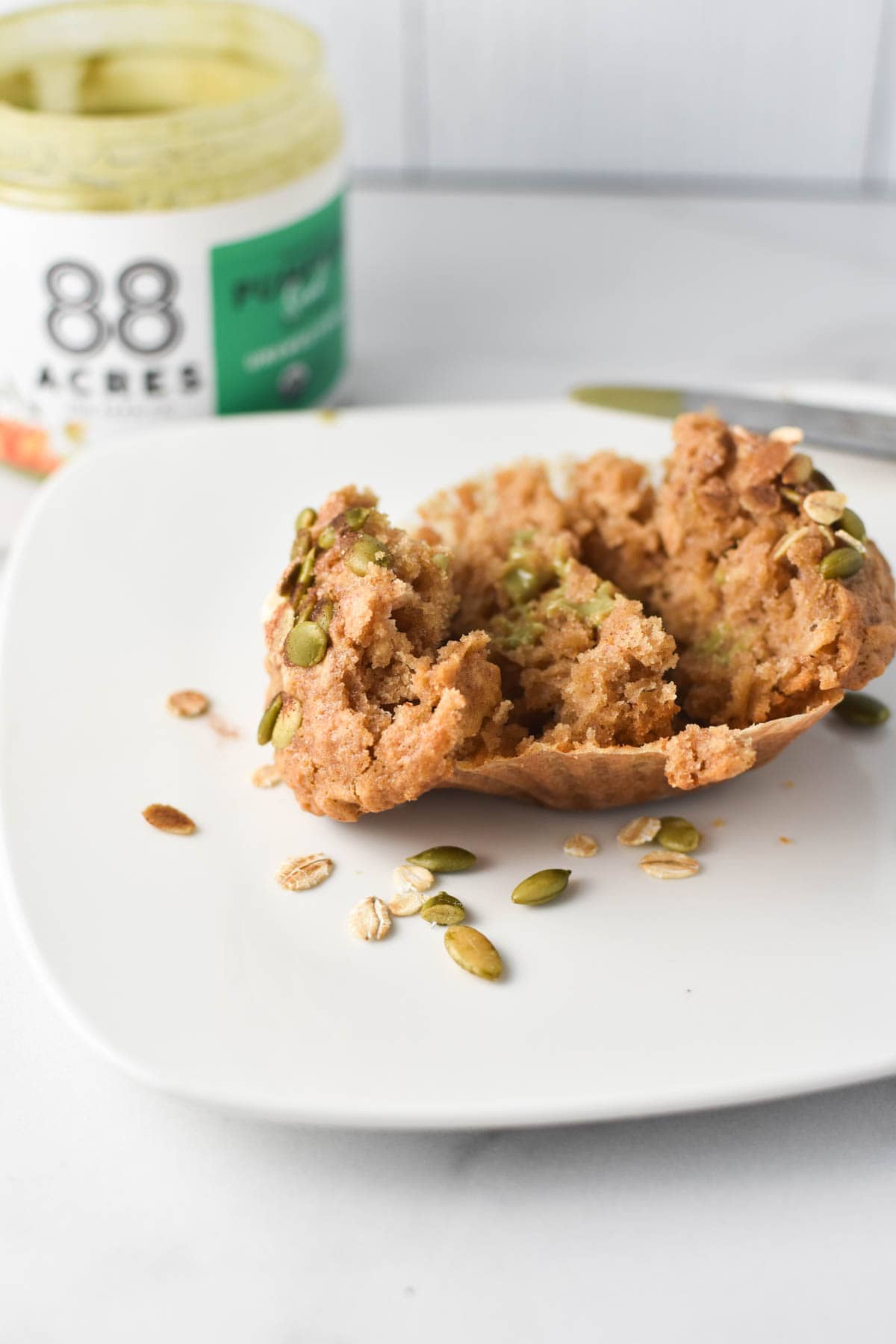 Other Muffin Recipes
There are so many famous muffin recipes on this site, so these cinnamon oatmeal muffins fit right in. If you want some other options, check out these recipes. (OK the cinnamon milk isn't one, but it pairs wonderfully with these!)

Cinnamon Oat Scones - If you need another gluten free/vegan option I highly recommend these too!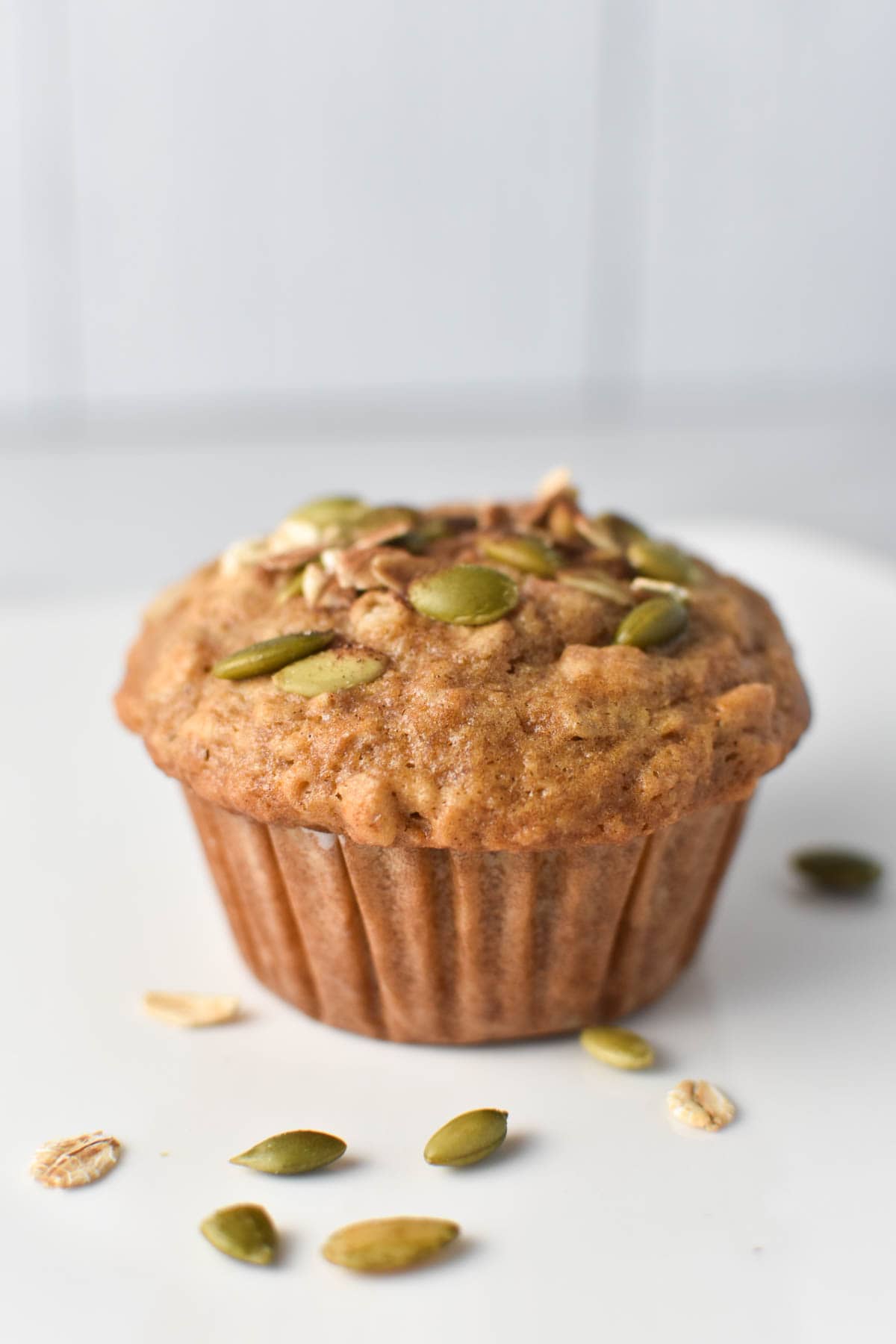 If you make any of my recipes, don't forget to tag me #thedizzycook or @thedizzycook on Facebook and Instagram. And please leave a review below!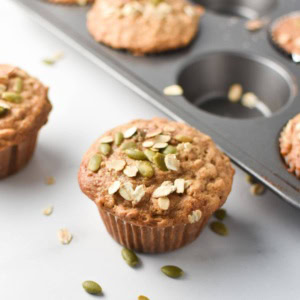 Cinnamon Oatmeal Muffins
These delicious cinnamon oatmeal muffins are delicious with roasted pumpkin seed butter for breakfast for a snack. Dairy free and can be made gluten free, see my tips in the post.
Print
Pin
Rate
Ingredients
1 ¼

cups

rolled oats + extra for garnish

1¼

cups

all purpose flour*

2

teaspoons

baking powder

½

teaspoon

baking soda

½

teaspoon

kosher salt

½

cup

packed light brown sugar

⅓

cup

sweetened apple sauce

1

large egg

½

cup

vegetable oil

¾

cup

milk of choice

1

teaspoon

vanilla extract

1

teaspoon

ground cinnamon

½

teaspoon

ground nutmeg

¼

cup

toasted pepitas for topping
Instructions
Preheat oven to 425 degrees F. In a medium bowl, combine the dry ingredients - rolled oats (NOT quick cooking/instant/steel cut), flour, baking powder, baking soda, ½ teaspoon salt. Stir to combine. In a separate large bowl, combine the sugar, apple sauce, egg, vegetable oil, milk, vanilla, cinnamon, and nutmeg. Mix until thoroughly combined and smooth. Add the flour mixture to the wet ingredients, stirring till just incorporated. Do not overmix.

Prepare a muffin pan with paper cups or grease the pan well. Fill the batter, almost to the top of the cups or pan. Sprinkle the tops with extra rolled oats and pepitas.

Bake at 425 degrees F for 5 minutes, then reduce the heat to 350 degrees F without removing the muffins. Bake another 15-17 minutes until cooked through. Allow the muffins to cool in the pan for about 5 minutes then remove to continue to cool on a wire rack. If you eat them while still hot, they'll be more crumbly!
Notes
To make all gluten free, use your favorite 1:1 gluten free all purpose flour or oat flour.
To make these vegan, add an extra 2 tablespoons of apple sauce instead of the egg.
Pepitas are just small, shelled pumpkin seeds. They add a great crunch to the topping. Cinnamon sugar would be lovely as well.
Nutrition
Calories:
180
kcal
|
Carbohydrates:
21
g
|
Protein:
2
g
|
Fat:
10
g
|
Saturated Fat:
8
g
|
Trans Fat:
1
g
|
Cholesterol:
15
mg
|
Sodium:
158
mg
|
Potassium:
125
mg
|
Fiber:
1
g
|
Sugar:
10
g
|
Vitamin A:
47
IU
|
Vitamin C:
1
mg
|
Calcium:
60
mg
|
Iron:
1
mg
This recipe was originally published February 15, 2021 and has been updated August 13, 2021 to include ingredient photos and extra tips for baking!