These pumpkin jumbo muffins are one of my favorite muffin recipes of all time! With delicious pumpkin spice flavor and a huge fluffy top, they are the best bakery-style muffins you can make at home.
All you need for this recipe is a jumbo muffin pan, made for 6 muffins. These can also be made in a regular muffin pan which will make 12 muffins, with just a small time adjustment. But sometimes you just want a giant muffin!
Don't forget the crunchy sugar on top! It really adds the best texture to these pumpkin spice muffins. Serve these jumbo muffins with a cinnamon milk or winter wassail, and a Quiche Florentine for the ultimate breakfast.
Jump to:
The Best Jumbo Muffins
I got the urge to make jumbo muffins at home after visiting my local bakery every weekend. While the walk to the bakery is great, $6-7 a giant muffin starts to add up really fast. I researched a few different recipes, tested this one multiple times, and I think I have the perfect combination to create bakery-style muffins at home.
You'll love these because:
Lower cost - Instead of spending $7 on a bakery-style muffin, you can make a bunch of them at home for half the price.
Fall flavors - These are so delicious for cool, cozy weekends, brunch, Thanksgiving or Christmas breakfasts, or snacks. They also make great gifts.
Gluten and dairy free friendly - I'll give you some substitutes to make these pumpkin muffins gluten and dairy free.
Pumpkin Puree for Muffins
Canned pumpkin puree can vary greatly both in flavor and moisture. Not all pumpkin purees are created equal. Usually this isn't a huge deal when making a dish like pumpkin pasta, but for baking, it can really throw off the moisture content of your muffin.
Libby's - This tends to be very tried and true when it comes to both flavor and water content. Make sure you get unflavored and not one that's got spices already in it. You do not want "pumpkin pie filling".
Trader Joe's - I've used this with varying degrees of success. Overall though, it turns out good.
Whole Foods or "Organic" Brands - These tend to turn out less flavorful and have a lot more moisture in them. I know that we always hear organic is "better" but in this case, it may not be!
Costco - I got a big batch of the "green valley" brand, which is darker in color, but also a little lighter in flavor. Libby or Trader Joe's are my choices, then this.
Equipment Needed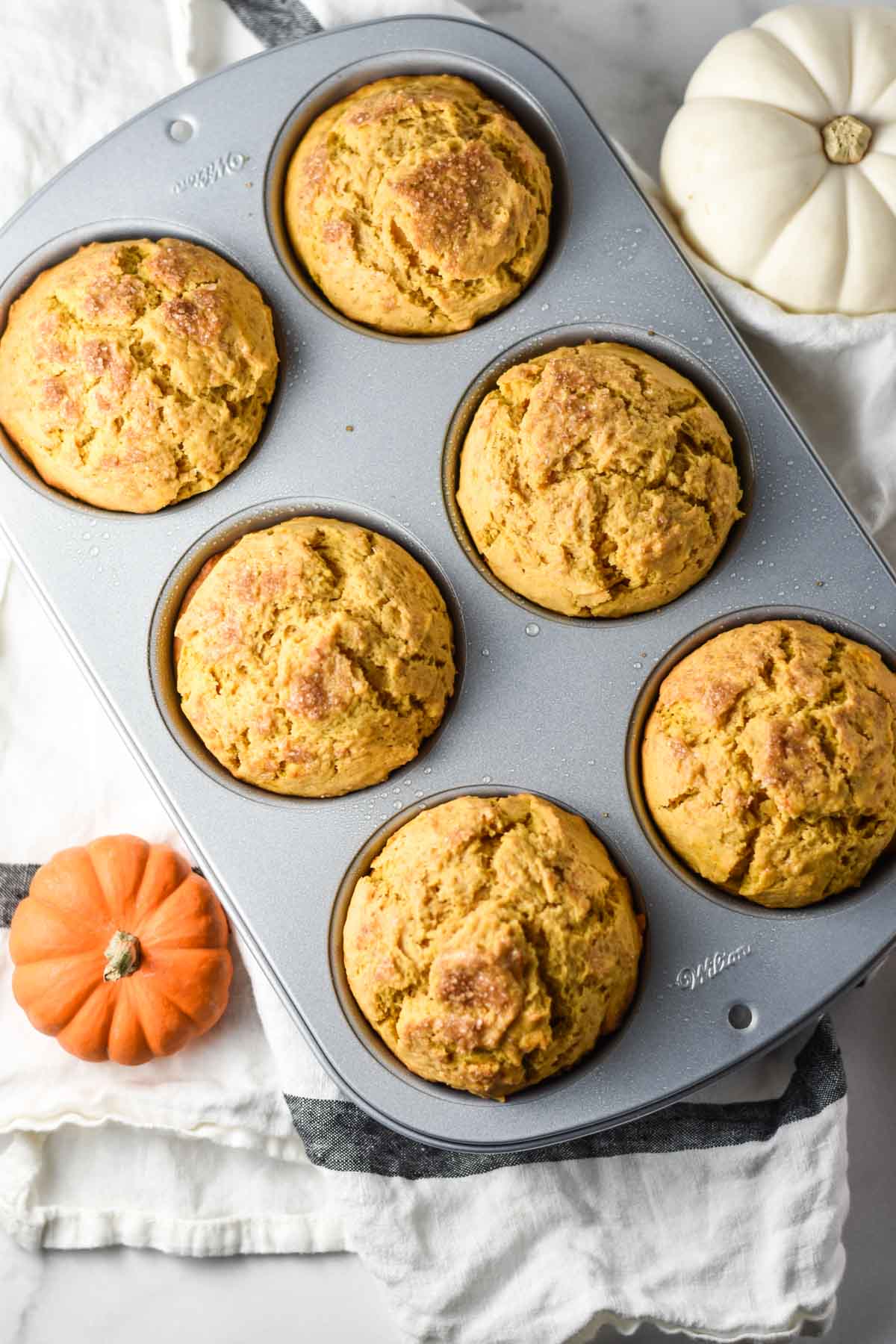 To make this recipe as intended, you do need a jumbo-sized muffin tin. I ordered mine from Wilton on Amazon.
You can also make these into regular sized muffins - it should make 12 total. But let's just be honest, they're not quite as fun as the big bakery style muffins. They will taste just as good!
Ingredients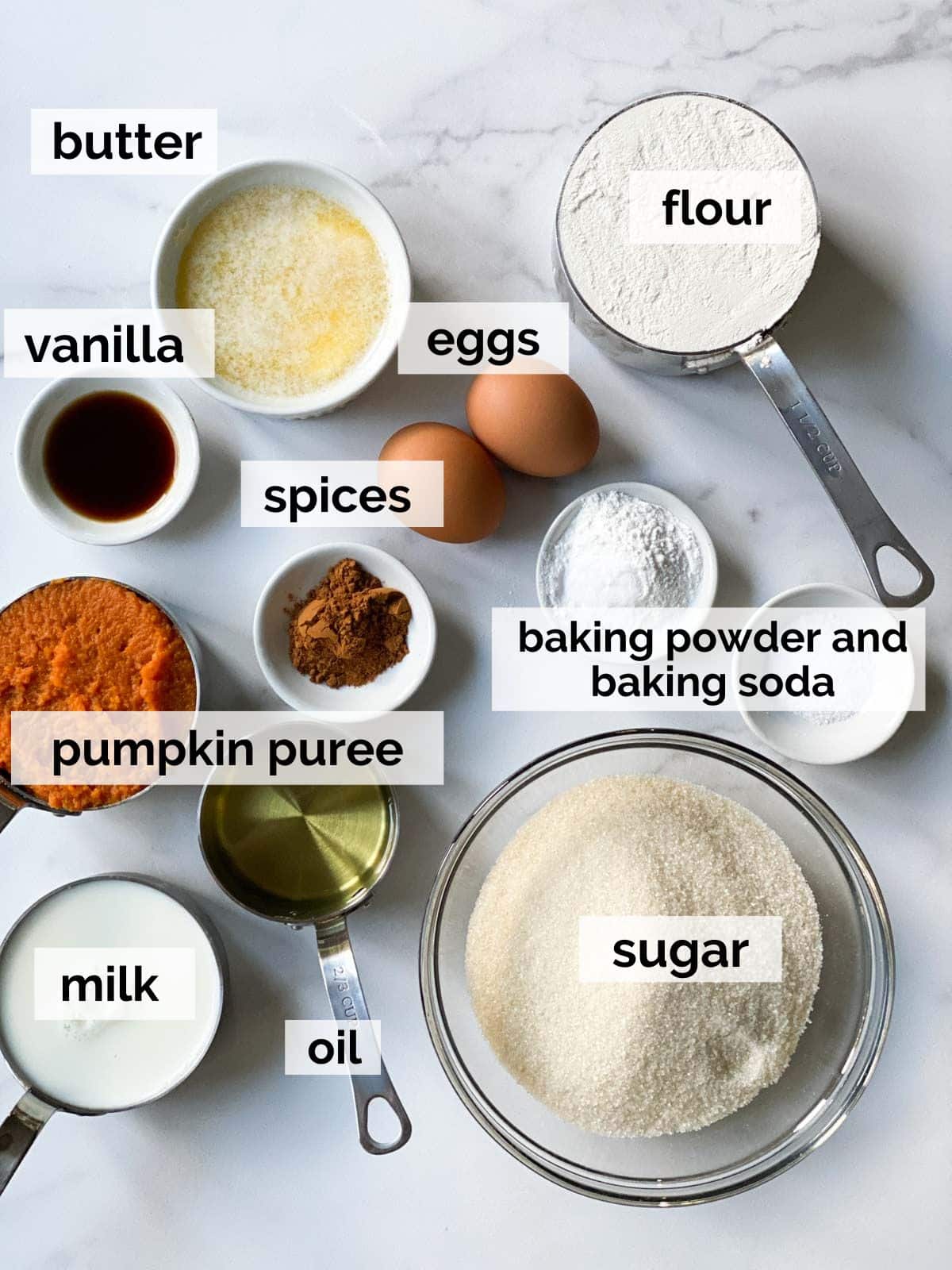 All purpose flour - This can also be substituted with Bob's 1:1 gluten free flour. I like using Bob's Red Mill Organic Unbleached, Gold Medal, or White Wings.
Baking powder and baking soda - Make sure this is fairly fresh for best results.
Spices - Cinnamon and nutmeg are essential flavors.
Melted butter and vegetable oil - This combination of butter and oil provides the best texture and flavor, however you could use one or the other. Substituting it will result in changes. For instance, using all oil results in less depth of flavor, but also a more spongey texture. I recommend using Earth Balance Pressed Oils in place of melted butter for dairy free.
Sugar - Any white sugar will work. I have not tested this with coconut sugar. I imagine the flavor could work here though!
Eggs - Use 2 large eggs - not extra large!
Milk - I recommend using whole milk for the best results, but any milk will work for this recipe. Use oat milk for dairy free.
Pumpkin Puree - See my notes above on picking a pumpkin puree. If you have a favorite for baking, just use that!
Vanilla Extract
Turbinado sugar - This is optional but gives these muffins a sparkling, crunchy top. Sometimes this is called "Sugar In The Raw".
Step by Step Instructions
Mix together dry ingredients - Preheat oven to 425 degrees Fahrenheit. Grease a jumbo muffin tin for 6 muffins. In a large bowl, stir together the flour, baking powder, baking soda, cinnamon, nutmeg, and salt.
Mix together wet ingredients - Melt butter in the microwave for about 30 seconds. Mix together the vegetable oil, sugar, butter, milk, vanilla, and pumpkin puree in a large bowl. Add in 2 large eggs, whisking till smooth.
Mix wet and dry ingredients - With a spatula or wood spoon, stir the dry ingredients into the wet ingredients, little bit little.
Stir till just combined, but do not overmix.
Pour batter into muffin tin - Pour the pumpkin batter into the greased muffin tins, filling almost to the top. Sprinkle tops with turbinado sugar for the extra crunch.
Bake - For the perfect domed jumbo muffins, start baking the muffins at 400 degrees Fahrenheit and then decrease the temperature to 350F after 5 minutes and continue baking another 25 minutes. If you don't care about a high dome, just bake another 5 minutes at 350.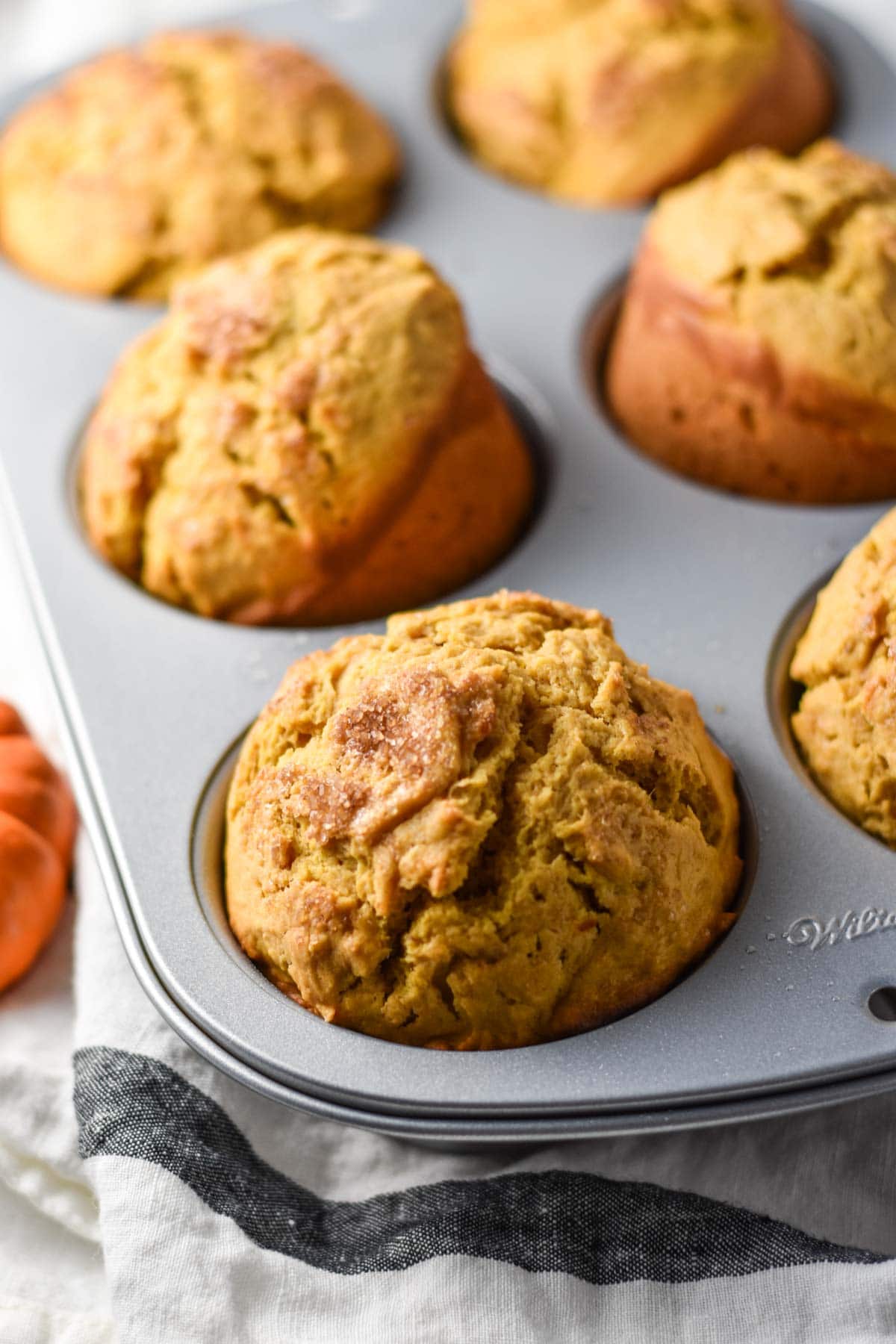 Cool - Allow the pumpkin muffins to cool for about 5 minutes in the pan before removing them onto a baking rack to continue cooling.
How to Make Perfect Bakery-Style Muffins
Here are a few of my expert tips for making giant muffins:
Fresh leavening - Make sure your baking powder and baking soda are fresh. If not, this often results in flat muffins.
Higher oven temperature - Use the tip for starting at the higher oven temperature. It really does make a difference and gets them slightly crunchy on the tops, but still soft in the middle. I've tried it both ways with these muffins and the ones I didn't start at a higher temperature (while still delicious) are not as domed. Just don't open the oven door when you decrease the temperature.
Do not overmix - A few lumps are ok, just eliminate any large chunks of flour and use your wrist to scrape around the edge of the bowl and fold the batter in rather than stirring vigorously.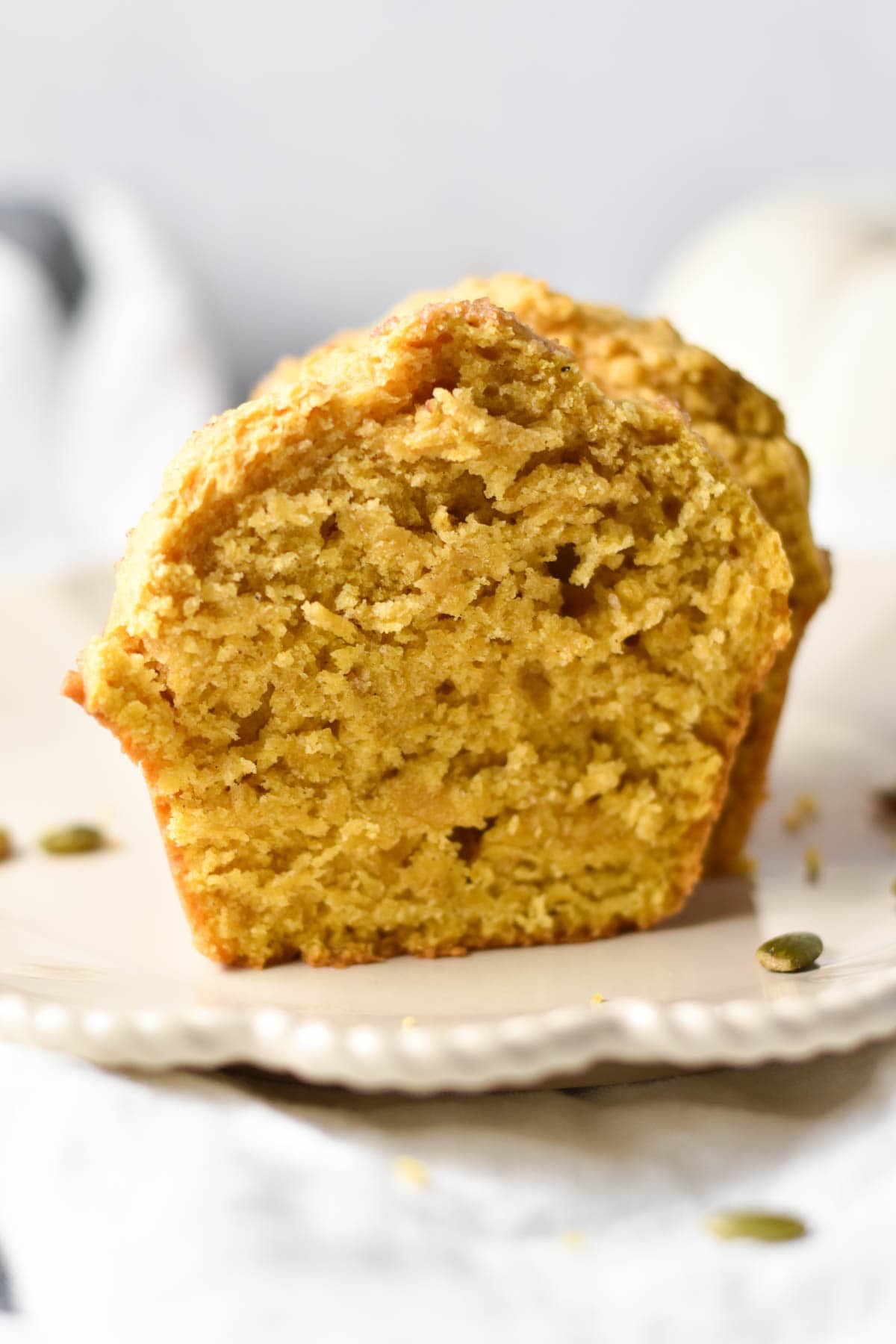 Serving Suggestions
These jumbo muffins go great with a breakfast spread. I highly recommend serving them with:
Mini Quiche (best for a party or large breakfast)
Simple scrambled eggs and homemade sausage (page 53 of The Dizzy Cook cookbook)
How to Store and Reheat
Jumbo muffins are best stored in an airtight container for 1-2 days on the counter. If you won't eat right away, I recommend freezing them. You can freeze these up to 3 months.
To defrost - Place in the refrigerator overnight or cover in foil and place into an oven that you preheat to 350 degrees Fahrenheit.
To warm from room temperature - Place the pumpkin muffins uncovered on a sheet pan and preheat to 300 degrees F. Remove once it reaches that temperature.
Warming in the oven gets the top to crisp up a little bit again but still heats the muffin in the center.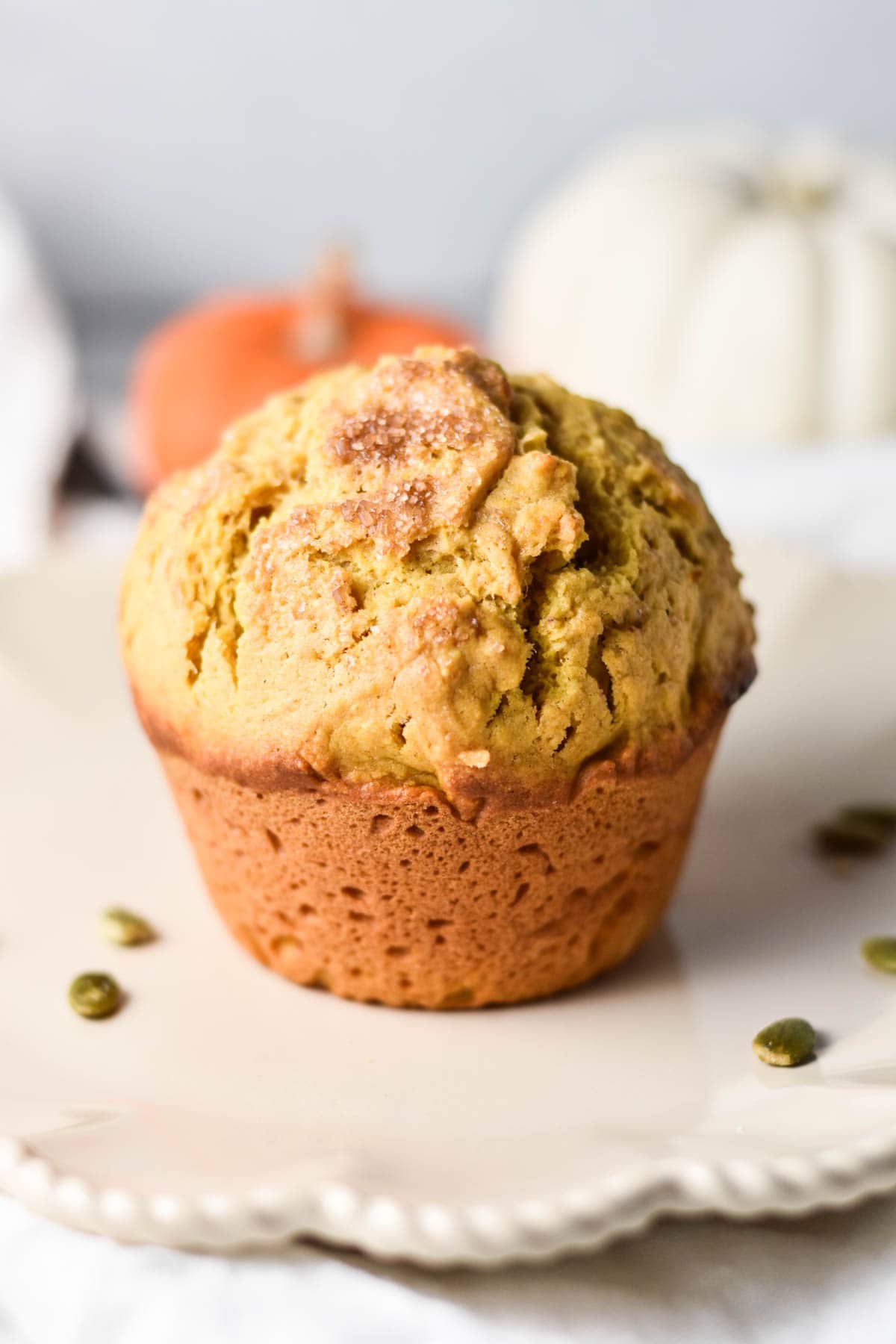 Recipe FAQ
How do I get the perfect jumbo muffins?
Start with a good, large muffin pan like Wilton. Fold the batter, don't just stir into oblivion. Use fresh leavening and start with a high heat, then decrease the heat while baking for the perfect domed top.
Can I make these gluten free?
Yes, these work well with Bob's 1:1 gluten free flour.
Can I make these muffins dairy free?
You can substitute the melted butter with ghee, coconut or earth balance pressed oils. Keep in mind, using oils will change the texture of the muffin to be a little more spongey. Use full fat oat milk as a milk substitute.
Will these bakery-style muffins work in a smaller muffin pan?
Yes, you just need to spoon them evenly into the smaller muffin tin and bake them for less time. Typically 15-20 minutes.
Pumpkin Recipes
For more fantastic pumpkin recipes like these jumbo pumpkin muffins, see these posts!
If you make this, tag me #thedizzycook or @thedizzycook on Facebook and Instagram. And if you love the recipe, please leave a review below! Follow along on my Pinterest for more great recipes.
Pumpkin Jumbo Muffins
These bakery style muffins are large and in charge! With a fluffy cinnamon pumpkin bread and crunchy sugar top, they're just like the jumbo muffins you pay $6 for!
Print
Pin
Rate
Ingredients
3

cups

all purpose flour

¼

teaspoon

baking soda

3

teaspoons

baking powder

½

teaspoon

kosher salt

1½

teaspoons

cinnamon

½

teaspoon

nutmeg

⅓

cup

melted butter

⅓

cup

vegetable oil

¾

cup

white sugar

2

large eggs

¾

cup

milk

½

cup

pumpkin puree

1½

teaspoons

vanilla extract

1

tablespoon

turbinado sugar (sugar in the raw)
Instructions
Preheat oven to 400 degrees Fahrenheit. Grease a jumbo muffin tin for 6 muffins with extra oil or butter (if using the Wilton pan, this is very nonstick so not a lot is needed). In a large bowl, stir together the flour, baking soda, baking powder, cinnamon, nutmeg, and salt.

Melt butter in the microwave for about 30 seconds. Mix together the vegetable oil, sugar, butter, milk, vanilla, and pumpkin puree in a large bowl. Add in 2 large eggs, whisking till smooth.

Slowly stir the flour mixture into the wet ingredient mixture a little bit at the time till combined, scraping your spatula around the edges of the bowl and folding in. Some small lumps or streaks of flour are ok - be careful to not overmix.

Use a large spoon or scoop to transfer the pumpkin batter into the greased muffin tins, filling almost to the top. Make sure all are filled evenly. Sprinkle tops with a generous pinch of turbinado sugar.

Bake at 400 degrees F for 5 minutes, then without opening the oven, decrease heat to 350F and bake another 25-27 minutes. A toothpick inserted in the center should yield a few crumbs but not wet batter.

Allow the muffins to cool in the pan for about 5 minutes and then remove them to cool the rest of the way on a wire rack. Serve warm or wait for them to cool completely before storing.
Notes
Use plain pumpkin puree, not spiced pumpkin pie filling.
I used the scoop and level method to measure flour. Digging the measuring cup into the flour may result in more dry muffins.
This recipe works with Bob's 1:1 gluten free flour.
For a sweeter muffin, add ¼ cup brown sugar.
If you find your muffins take much longer to bake or are overly moist, try a different pumpkin puree next time. Some are more watery than others.
These pumpkin muffins store well at room temperature for 1-2 days. If you don't eat them in that amount of time, freeze them!
Nutrition
Serving:
1
muffin
|
Calories:
432
kcal
|
Carbohydrates:
56
g
|
Protein:
10
g
|
Fat:
13
g
|
Saturated Fat:
7
g
|
Polyunsaturated Fat:
1
g
|
Monounsaturated Fat:
3
g
|
Trans Fat:
0.4
g
|
Cholesterol:
84
mg
|
Sodium:
360
mg
|
Potassium:
380
mg
|
Fiber:
3
g
|
Sugar:
28
g
|
Vitamin A:
3603
IU
|
Vitamin C:
1
mg
|
Calcium:
154
mg
|
Iron:
4
mg