These dairy free quiche are so easy to make in a muffin tin and absolutely delicious. Pre-made crust, non-dairy milk, and eggs are combined with leeks and sausage for a great breakfast on the go.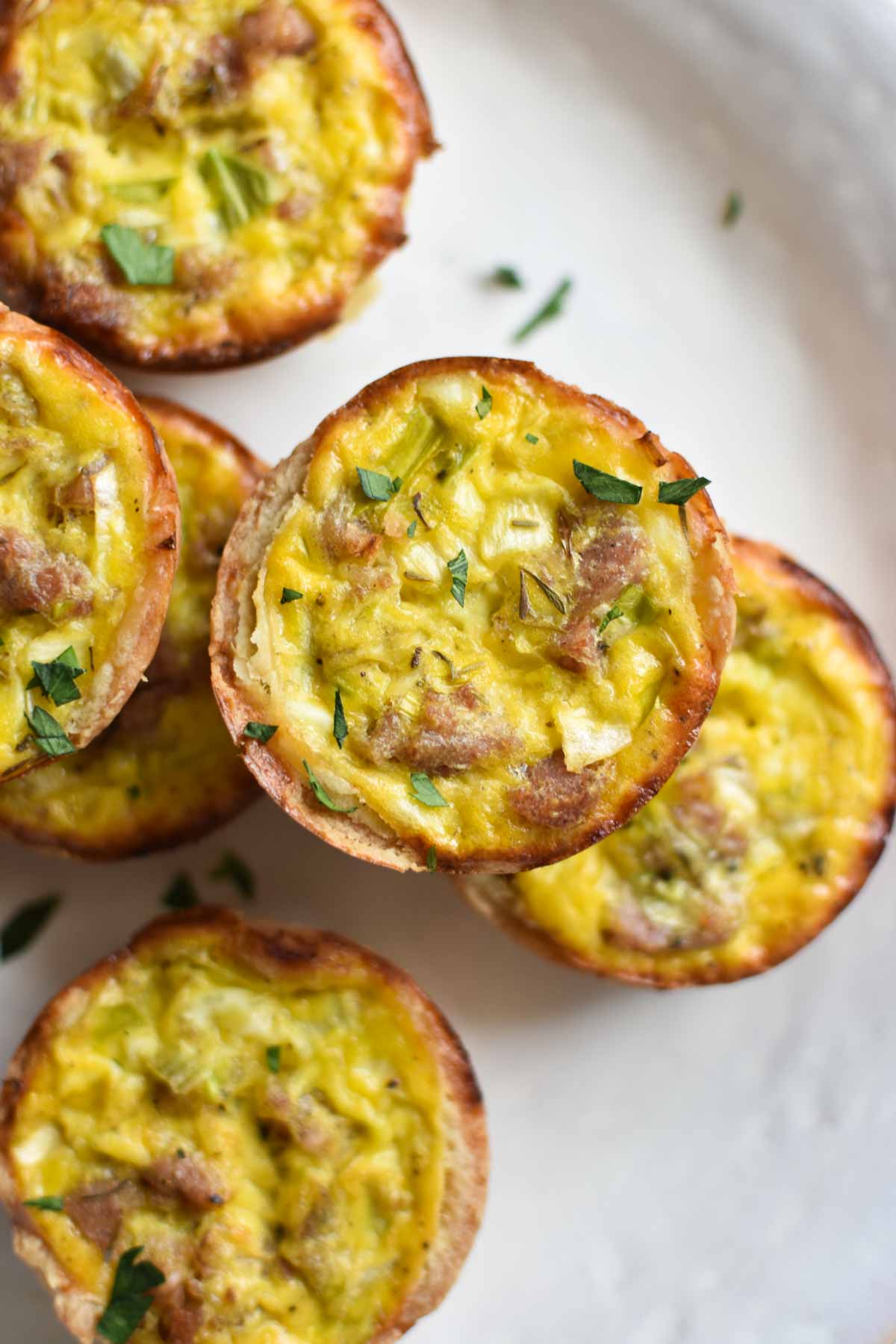 Why Make This Recipe
Pre-made crust makes this quiche recipe so easy. You can also easily make it gluten free.
It's perfect for a Mother's Day Brunch or shower.
Using a muffin tin for smaller quiches makes it easy to freeze or keep in the fridge for a meal-prepped breakfast.
It's dairy free! No butter, cheese, or milk - although you can definitely add some if you'd like.
It's absolutely delicious!
Of course I love my quiche florentine recipe, but that takes about an hour total to cook. With this recipe, there's a little more work rolling out the dough, but the cook time is cut down to about 30 minutes total.
Ingredients You'll Need
I was surprised to find how flavorful this recipe was without using any dairy products. Typically I thought all quiche had to have cheese to be delicious - not true! Using good ingredients and eggs are the key, and here's a little more information on the most important ones. I do not use nutritional yeast in my recipes because of its high glutamate content. For those sensitive to MSG, it can be an issue.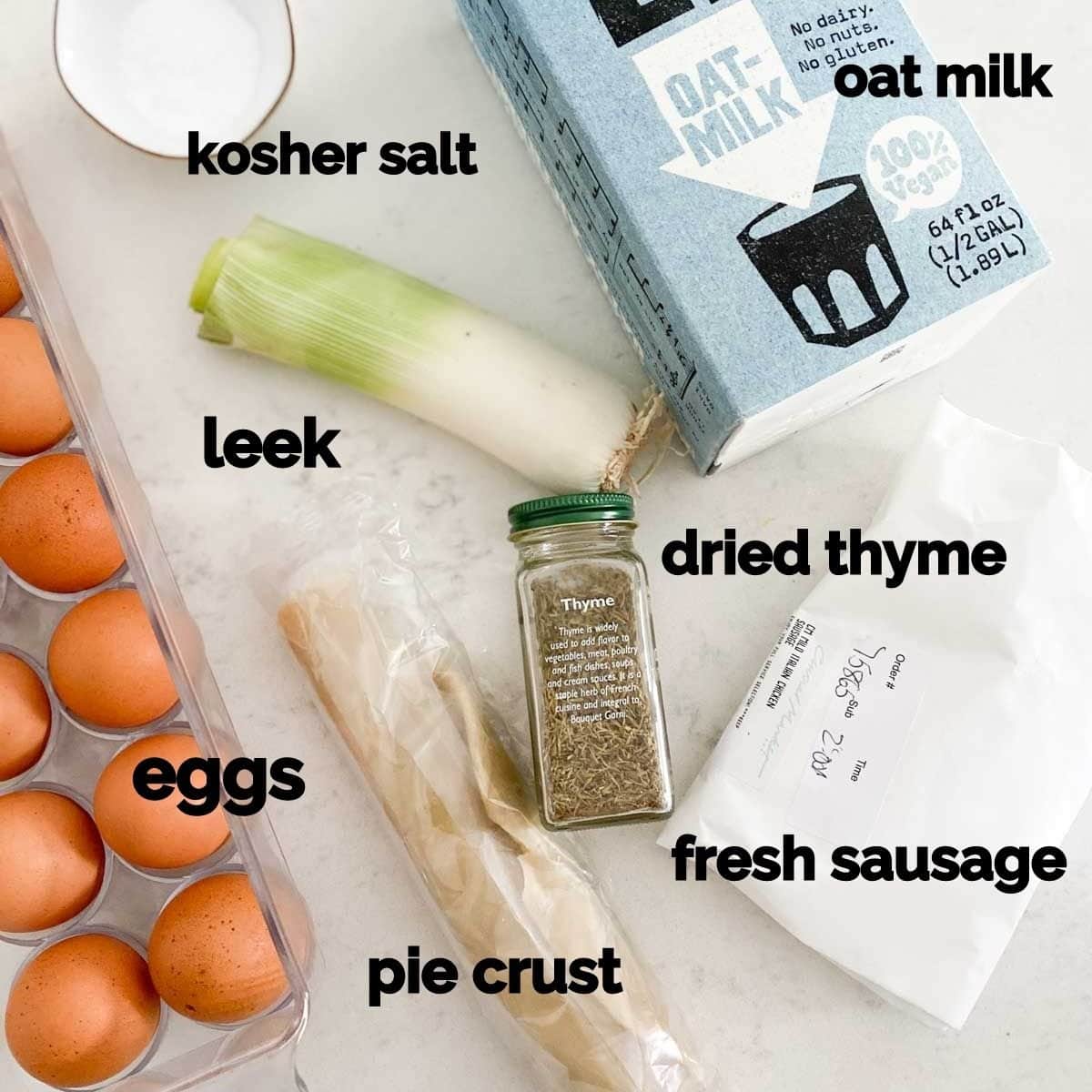 Eggs - I'm currently using soy-free eggs which are helpful for those following a migraine diet, particularly if you're sensitive to soy. If not, any eggs will do. I recommend at least using pasture raised eggs for really good quality.
Oat Milk - For this recipe, I recommend using a good oat milk, like Oatly. I prefer this to other brands because I think it has the best flavor and creaminess. Hate oat milk? You can definitely use rice or hemp, but it will change the flavor.
Pie Crust - To make your life easier, this recipe uses a store-bought pie crust that hasn't been formed. Wholly Wholesome makes a good one.
Leeks - I love using leeks for this quiche without cheese because they bring a light onion flavor without being overpowering. You do have to clean them well as they can be quite sandy. If you're intimidated by the massive ones with green stalks, you can buy trimmed ones in a nice little package at Trader Joe's. This can also be subbed with green onions.
Sausage - You can use the homemade one from my book on page 53 or in a pinch I'll buy the fresh sweet Italian sausage from Central Market or Whole Foods. If you're not following a migraine diet, which has you eliminate preserved meats, you can use any type of sausage you like. It just needs to be pre-cooked.
How to Make a Dairy Free Quiche
You want to start by washing the leeks very well. They tend to hide grit in between their layers. I like to just go ahead and chop them roughly, then put them in a bowl of cold water and let all that grit sink to the bottom. Use your fingers to scoop them out without stirring the water too much so they don't get dirty again. Place them in a colander to rinse them again and pat dry.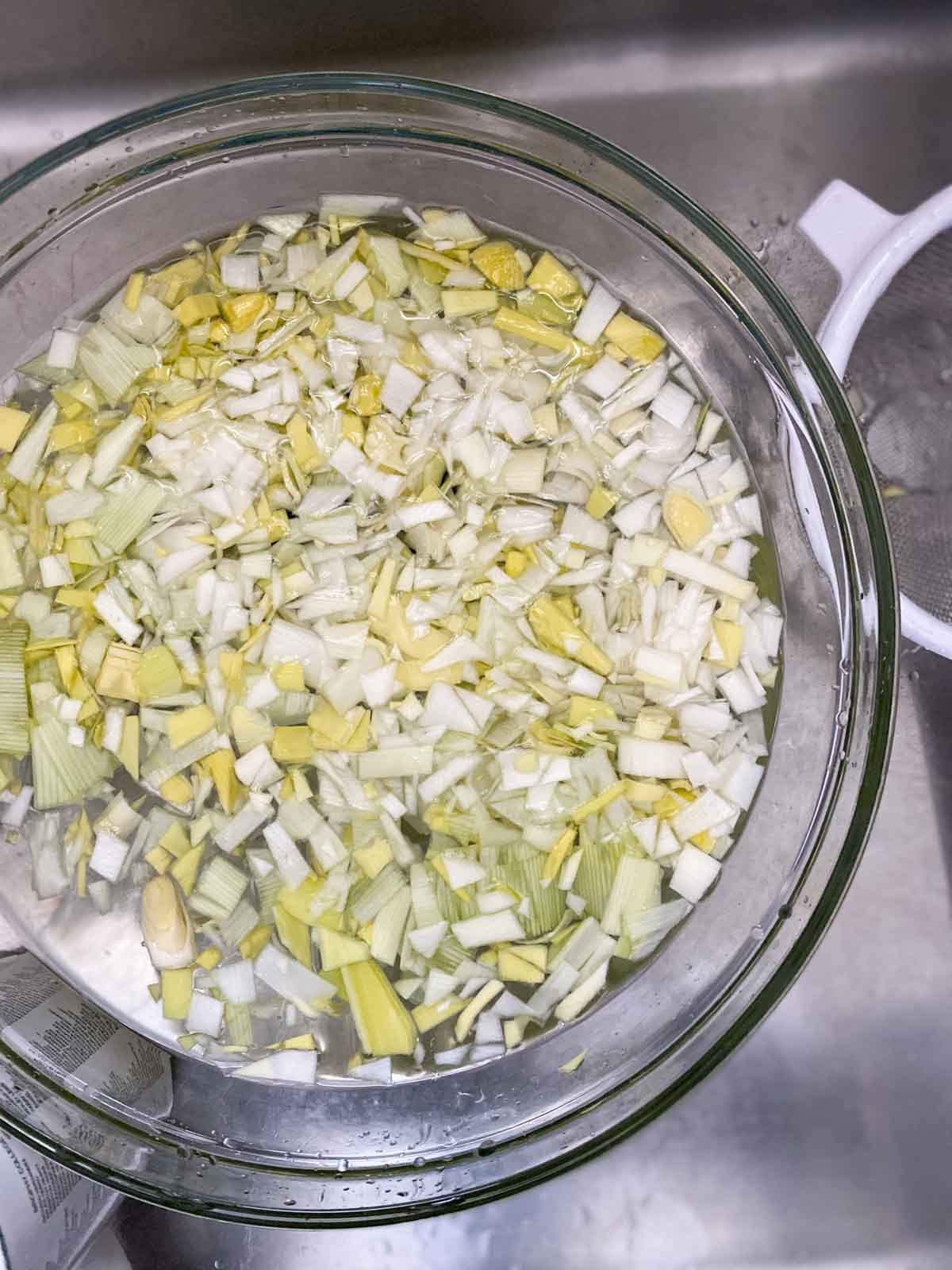 2. Mix the eggs, milk, leeks, and pre-cooked sausage together in a bowl, adding the thyme, salt, and pepper. Whisk everything with a fork till combined (step 1).
3. Meanwhile, unwrap the dough, which has been defrosted and is at room temperature. This will make it easier to unroll and work with. Mine still tends to break apart, so I'll form it back into a ball and roll it with a rolling pin. You want to get it to about ¼" thickness (steps 2-4).
4. Use a drinking glass or cookie cutter that is about 3" wide to cut small circles into the dough. Place them in the bottom of a greased muffin tin, or a non-stick muffin tin. Once you have them cut out, form the dough back into a ball and roll out again. 1 pie crust should be enough for 12 muffin tin quiches (steps 4,5).
5. Smash the dough up the sides of the muffin tin, as far as it can go without breaking or creating holes. It's ok if it doesn't reach the top. Pour the egg mixture into each dough cup and bake at 375 degrees F for 25-30 minutes (steps 6,7).
6. Allow the quiche to cool for about 5 minutes in the pan, then run a thin knife along the sides and gently lift them out of the muffin tin (Step 8).
How to Store and Reheat Quiche
If you'd like to meal prep these muffin tin quiche, they don't make it long in the fridge! Store them in an air tight container or ziplock bag once they are completely cooled. They'll last 3-5 days in the refrigerator.
You can also freeze them and defrost or reheat directly in the oven. These will reheat in the microwave, but they taste best when put in the oven at 350 degrees F for about 10-15 minutes (longer for frozen).
Tips and Tricks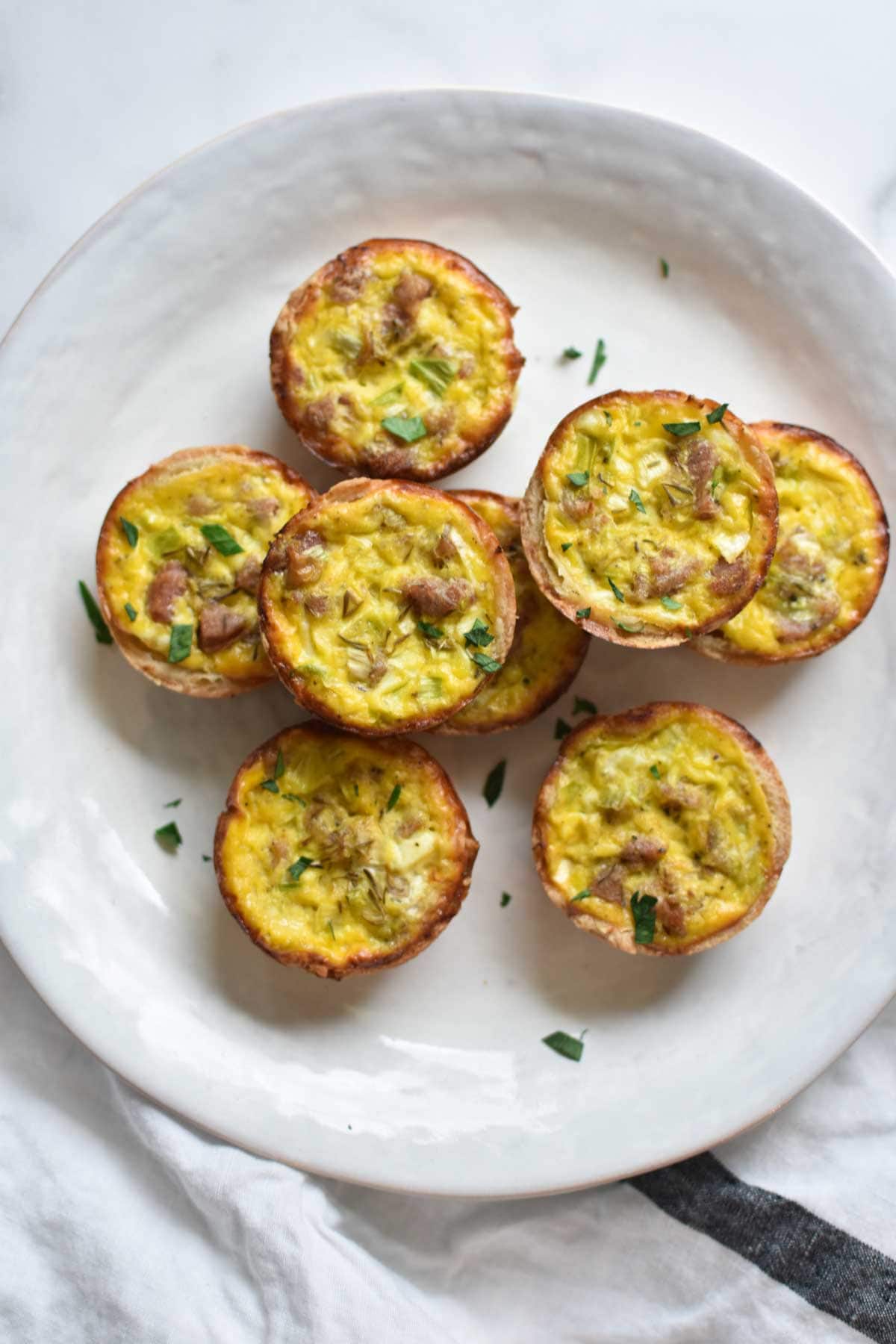 Allow the dough to be at room temperature for better rolling.
You can make this gluten free by simply using a gluten free dough. I've also made these crustless and they are still very good, although I prefer the crust.
It's important to press your dough into the muffin tin so it's fairly thin. A thick dough will not cook through as well and you would be better off pre-baking it.
I find these bake best with a non-stick dark muffin tin.
Frequently Asked Questions
Do I have to prebake crust for quiche?
Not with this recipe! The crust is thin enough to bake well in the pan. I always use a dark, non-stick muffin tin and have had success with it multiple times. You are always welcome to pre-bake it if you are nervous about it.
What can I use instead of milk in quiche?
I would recommend sticking with another non-dairy milk like rice, hemp, flax milk, or nut milks (if tolerated). However, I find oat milk gives a great flavor and bakes well.
Are quiches healthy?
Quiche can be extremely healthy! It's a great way to get in some extra protein and I love grabbing these for a quick breakfast when baby is crying and I need something fast. Since this recipe doesn't use a lot of dairy or additives, it's a great option for a healthy breakfast.
What is a good side dish for quiche?
If you're serving this for brunch, I recommend a simple green salad with radish and sunflower seeds, along with my Italian Dressing. You could also pair this with these famous Cinnamon Oatmeal Muffins.
Other Dairy Free Breakfast Recipes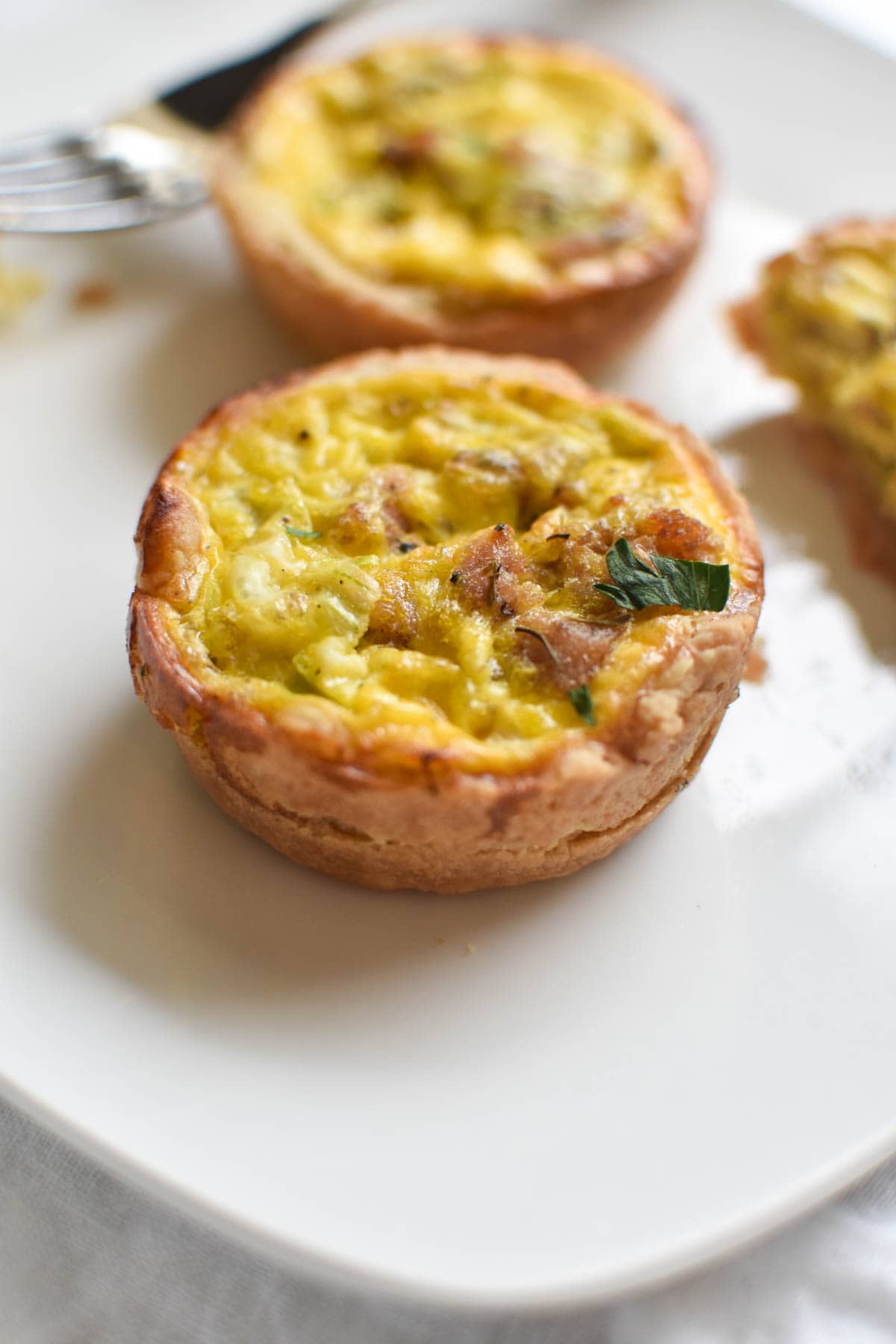 For more delicious allergy-friendly breakfast recipes like this dairy free quiche, check out these posts.
If you make this, tag me #thedizzycook or @thedizzycook on Facebook and Instagram. And if you love the recipe, please leave a review below! Follow along on my Pinterest for more great recipes.
Dairy Free Quiche (with Sausage and Leeks)
This dairy free quiche recipe is made in a muffin tin with pre-made dough for a quick and easy, yet fun, breakfast.
Print
Pin
Rate
Ingredients
⅓

cup

leeks, washed and chopped

¾

cup

cooked sausage

4

large

eggs

½

cup

oat milk

¼

teaspoon

dried thyme leaves

½

teaspoon

kosher salt and black pepper to taste (about ¼ tsp)

1

pre-made 9" pie dough (flat, not in a large pie form) at room temperature

oil for greasing the muffin tin
Instructions
Preheat oven to 375 degrees F. Begin by washing your chopped leeks well, draining and drying. In a medium bowl, combine the leeks, cooked sausage, eggs, oat milk, thyme, salt, and pepper, whisking till well combined.

Meanwhile form the pie dough and roll it out with a rolling pin to about ⅛-1/4" thickness. Use a 3 inch glass or cookie cutter to cut circles in the dough and put into a greased or non-stick muffin tin. You will probably have to do this in two steps, rolling out the remaining pie dough again to use the rest. Press along the sides of a greased muffin tin so the dough is thin (it does not need to reach the top). You should have enough for all 12 tins.

Pour the egg filling into the quiche dough, evenly dispersing among the cups, and bake for 25-30 minutes until cooked through and set on top. Allow to cool in the muffin tin for 5 minutes and then slide a knife around the edges, carefully lifting the quiche out the pan. Serve warm and enjoy!
Notes
I recommend using a dark nonstick muffin tin. If you don't, it may require longer cooking time or pre-baking the crust.
For this recipe I like to use my sausage recipe (pg53 of my cookbook) or pre-made fresh sweet Italian chicken sausage from whole foods, sprouts, Central Market or trader joe's. These would be the kind that are uncooked with fresh ground meat, usually sold behind the meat counter, and not the kind in sealed packages that have the texture of hot dogs. This makes this recipe migraine diet compliant.
Make sure your dough is at room temperature or it won't be easy to work with.
Nutrition
Serving:
1
quiche
|
Calories:
124
kcal
|
Carbohydrates:
9
g
|
Protein:
5
g
|
Fat:
7
g
|
Saturated Fat:
2
g
|
Trans Fat:
1
g
|
Cholesterol:
72
mg
|
Sodium:
231
mg
|
Potassium:
46
mg
|
Fiber:
1
g
|
Sugar:
1
g
|
Vitamin A:
203
IU
|
Vitamin C:
1
mg
|
Calcium:
28
mg
|
Iron:
1
mg