This vanilla chia pudding is light and quick for a breakfast on the go. Can be made dairy free and does not use yogurt, this basic recipe is very easy to customize to your diet. I love the proportions here for a chia pudding that's got good texture.
Migraine Diet Breakfast Recipes
I've been getting a lot of questions recently about Heal Your Headache safe breakfasts that are high in protein. The natural default is to recommend eggs or oatmeal, but some find eggs to be a trigger and others are hungry an hour later after oatmeal (or is that just me?). Enter this simple recipe for vanilla chia pudding!
Chia pudding is wonderful for migraine sufferers because it's a good source of protein, fiber, calcium, and most importantly, magnesium. In fact, 4 tablespoons of chia contains half of the recommended daily allowance of magnesium. This doesn't mean that you can take fewer magnesium supplements, but it's a nice way to supplement your magnesium intake since it is one of the most important preventatives we can take.
It's also low carb, gluten free, vegetarian, and paleo (if using hemp milk). What more could you want?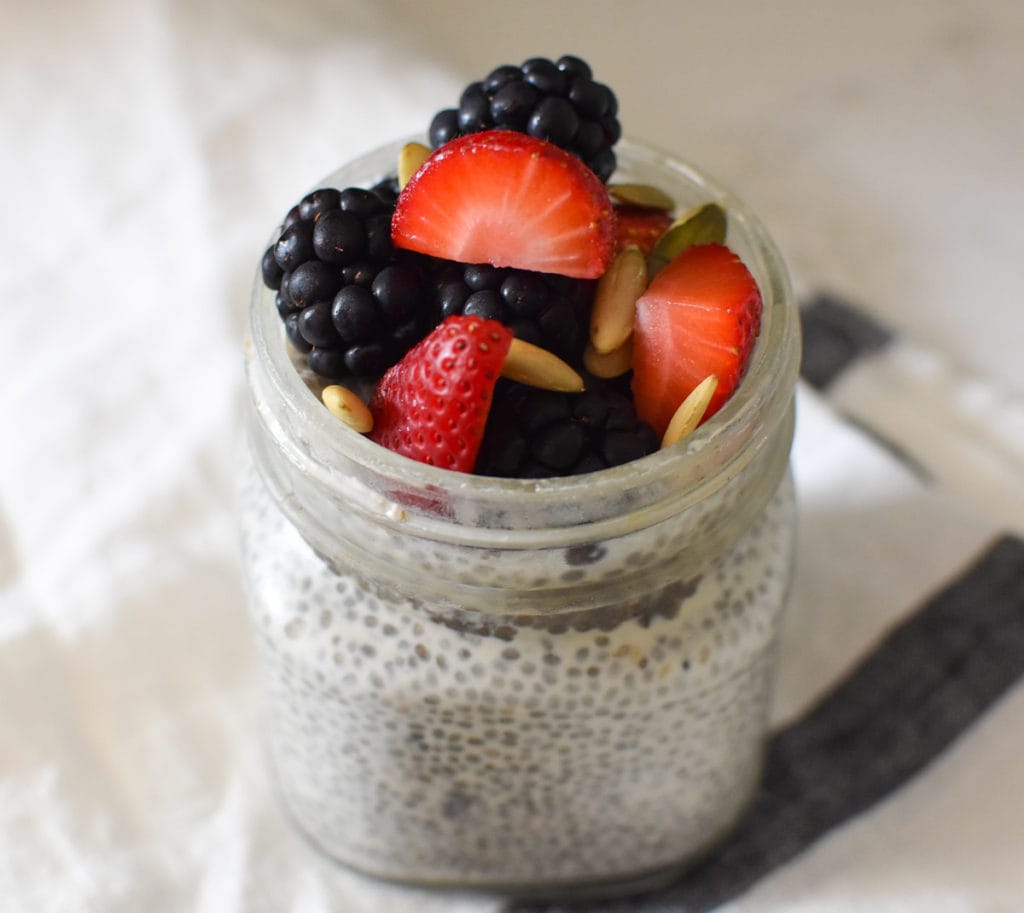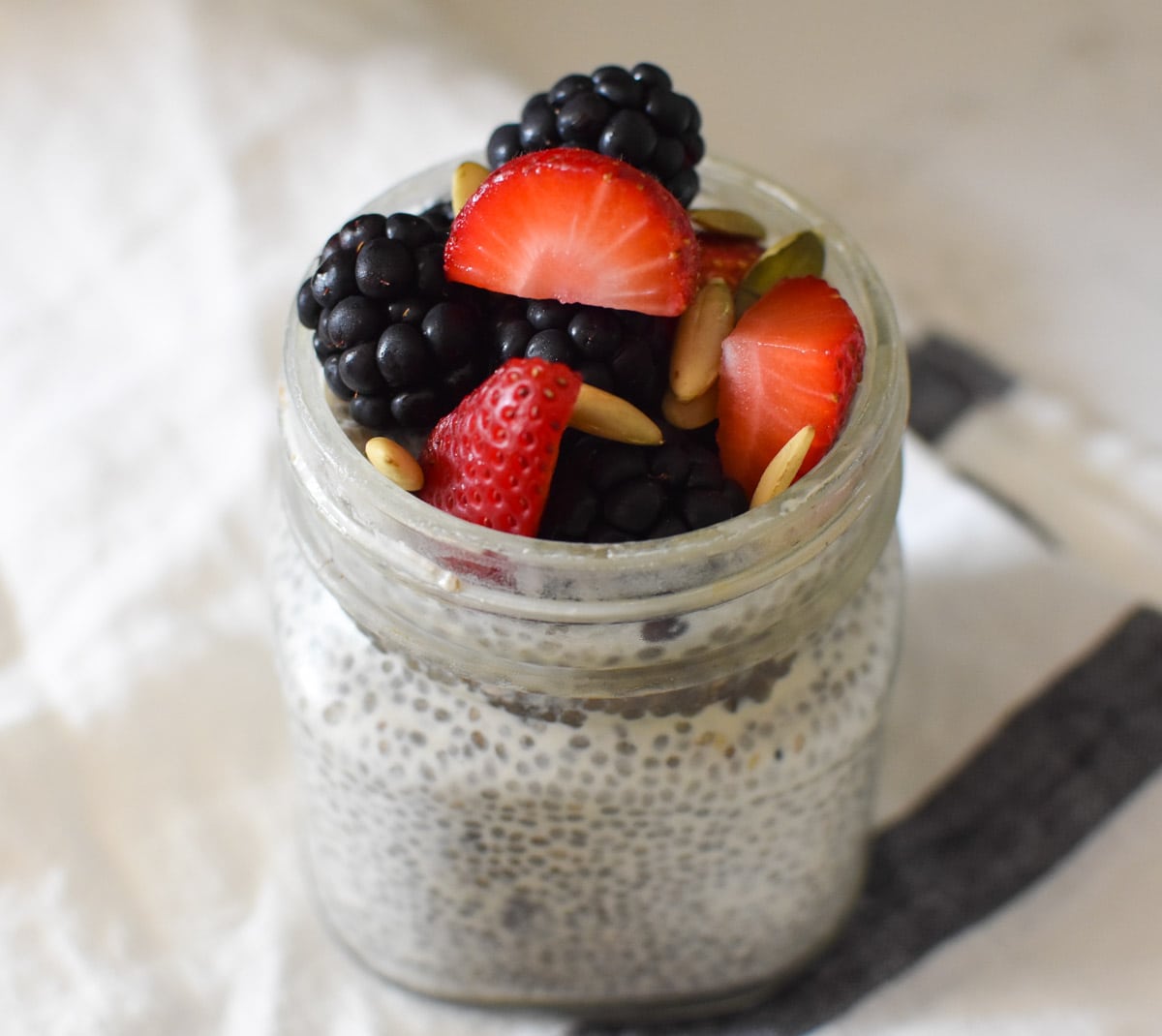 How to Add Protein
Did you also know that in this recipe for vanilla chia pudding, you're looking at roughly 17-20 grams of protein? ¼ cup of chia runs around 7-8 grams, homemade hemp milk or cows milk is about 8 grams, and a tablespoon of sunbutter will get you between 3-4 grams. Add some extra seeds and you're really getting the same amount you would from 3 eggs.
Chia Seed Pudding Ratio
The only thing that I find to be a drawback? The texture. Most recipes out there contain, what I believe, is too much milk and it makes everything sort of slimy.
I find the ¼ cup of chia to 1 cup of milk works best. Mix in sunbutter for extra creaminess and this buckwheat granola for a little crunch. I promise, you won't miss yogurt once you try this. You could make a few of these on a Sunday for a little meal prep action.
Toppings for Chia Pudding
Other chia pudding topping options to mix it up include:
For a fall flavor - 1 tablespoon of pumpkin, plus ¼ teaspoon of ginger and cinnamon
Blueberries, mango, and/or pomegranate seeds
If feeling super decadent, try with strawberries and 1 tablespoon of mascarpone cheese, omit the sunbutter.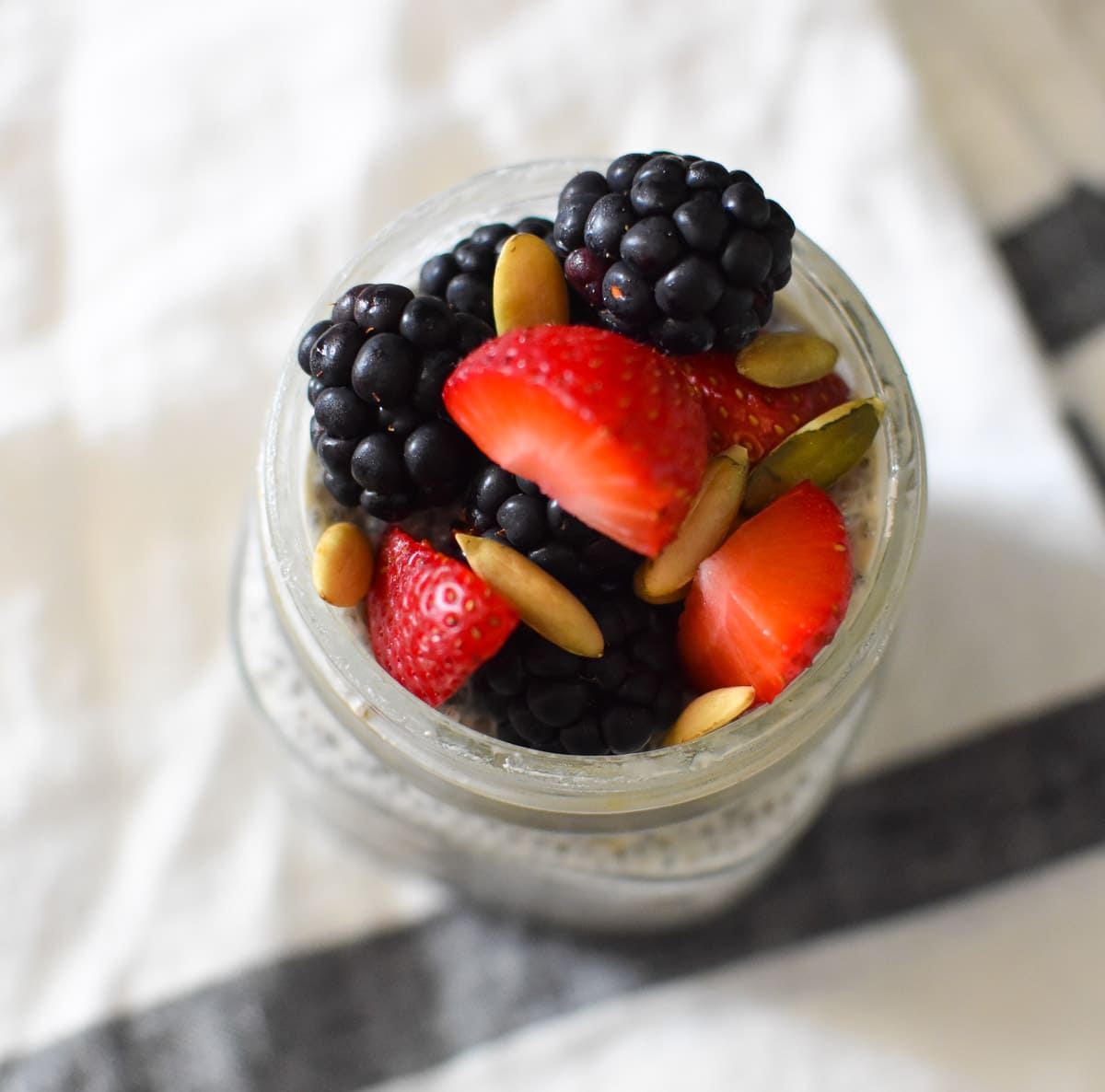 Vanilla Chia Pudding
This recipe is just a good base to start and then you can add whatever toppings you would like! Feel free to use any kind of milk that fits your diet as well.
Print
Pin
Rate
Ingredients
¼

cup

chia seeds

1

cup

milk of choice

1

teaspoon

vanilla extract

1-2

teaspoon

honey

2

teaspoon

sunbutter (sunflower seed butter)

Optional: strawberries and blackberries

Optional: pumpkin and sunflower seeds
Instructions
In a mason jar that's at least 12oz, combine the milk with vanilla and honey. Shake, shake, shake your booty (and the container) till fully combined. Add the ¼ cup of chia seeds and shake a little more. Place in the fridge for 30 minutes, then stir the seeds to make sure they're fully mixed with the milk. Continue to chill for another hour or overnight.

Stir in the sunbutter, berries, and seeds. Enjoy!
Notes
I used homemade hemp milk for extra protein (recipe linked above)

I used 1 teaspoon of honey, but I think certain types of milk already add sweetness. My favorite is using hemp milk, but any kind will do.
Nutrition
Calories:
240
kcal
|
Carbohydrates:
20
g
|
Protein:
9
g
|
Fat:
14
g
|
Saturated Fat:
3
g
|
Polyunsaturated Fat:
5
g
|
Monounsaturated Fat:
1
g
|
Trans Fat:
1
g
|
Cholesterol:
12
mg
|
Sodium:
56
mg
|
Potassium:
258
mg
|
Fiber:
7
g
|
Sugar:
9
g
|
Vitamin A:
213
IU
|
Vitamin C:
1
mg
|
Calcium:
282
mg
|
Iron:
2
mg