This buckwheat granola is super crunchy and makes an awesome snack or the perfect topping for smoothie bowls!
Made with buckwheat groats, seeds, oats, and honey, it's a simple recipe that changes up your traditional granola recipe. Buckwheat also offers a gluten free alternative to a lot of breakfast cereals, giving this recipe an extra crunch that holds up well to liquids without getting soggy.
My favorite way to use this buckwheat granola is with acai bowls, whipped cottage cheese, or as a snack. This is also a perfect low histamine granola option! And if you're looking for another recipe without any grains, check out my other nut free granola.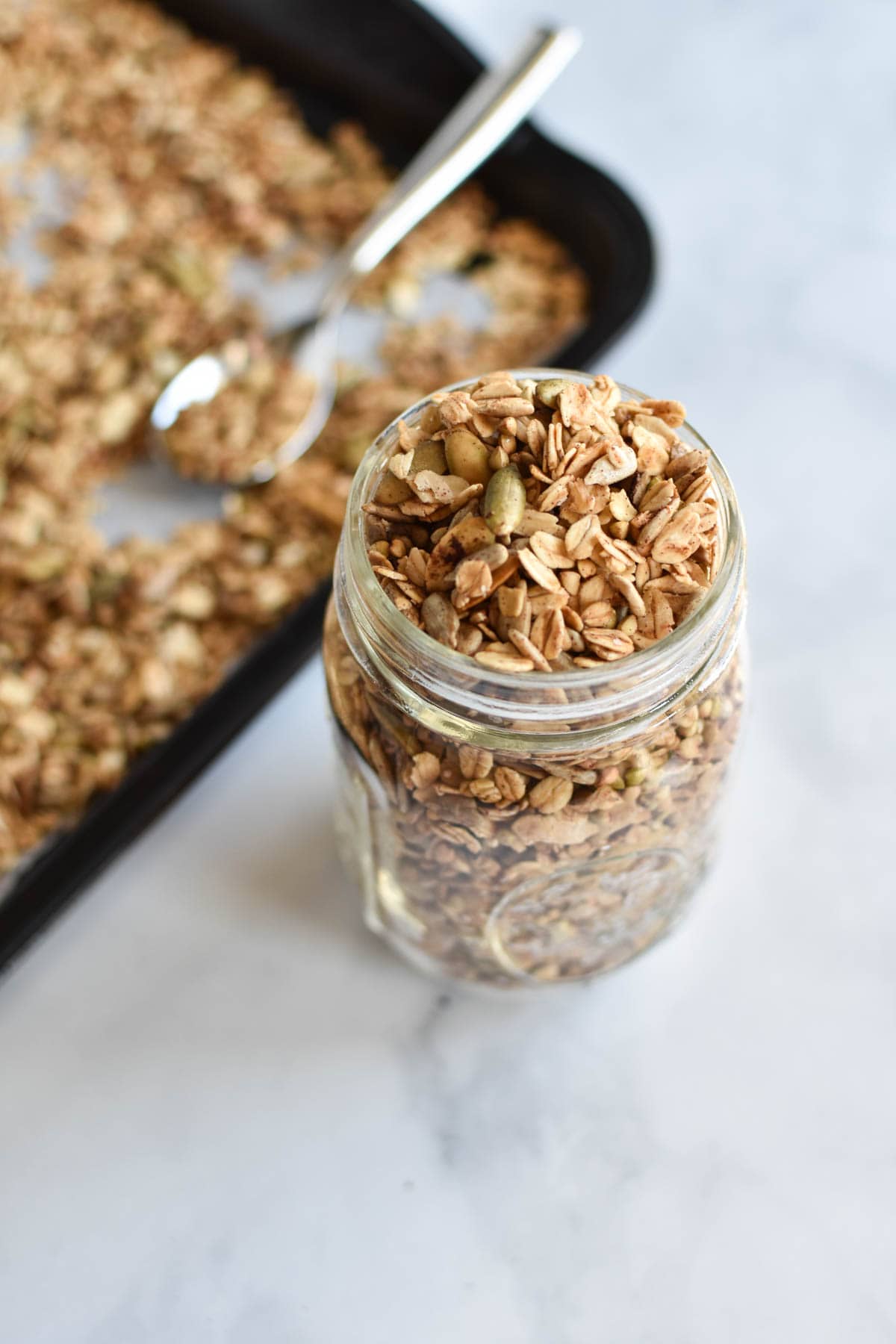 The idea for this recipe came from a trip to LA where we went to eat breakfast at The Butcher's Daughter. I had the most amazing acai bowl topped with "buckwheat granola" which I had never had before! I knew I had to recreate it at home.
However, the first time I bought buckwheat groats I thought I'd buy the pre-toasted "kasha" thinking it was the same thing, just toasted. It's not the same thing! I'll save you a tooth by telling you exactly what to get here for the perfect granola.
You'll love this buckwheat granola recipe because:
Super crunchy - Buckwheat groats don't get soggy like a lot of oats or other types of cereals do so it's perfect as a topping for smoothie bowls!
Gluten free - This recipe is gluten free and can also be vegan by using maple syrup instead of honey.
Easy to meal prep - A big batch of this stores great in the refrigerator or freezer for a couple weeks, but it rarely lasts that long!
High in fiber and protein - Buckwheat is naturally higher in both protein and fiber making it a great addition to a well-rounded breakfast.
Jump to:
What are Buckwheat Groats?
Don't let the name fool you, buckwheat is not actually a grain but it is a seed. Buckwheat groats are just hulled seeds from the plant. It is not only gluten free, but it is also shown to lower blood pressure and relieve symptoms of Type II diabetes.
Buckwheat contains 11-14 grams of protein for every 100grams, making it a better option for breakfast than most grains. It can have a strong earthy flavor, so I find I have to balance it when I use buckwheat flour.
Another positive for people focusing on brain health or migraine is that it contains a good amount of magnesium as well.
Can I Use Buckwheat Kasha?
The first time I tried to make this recipe I made the mistake of buying "buckwheat kasha" which is roasted buckwheat groats thinking it would just be more flavorful. Note to everyone - DO NOT GET ROASTED BUCKWHEAT/"KASHA". It was like eating rocks.
I can usually find them in the bulk section of my grocery store if you feel like testing them out before buying a big package. You'll want ones like Bob's Red Mill Buckwheat Groats.
Ingredients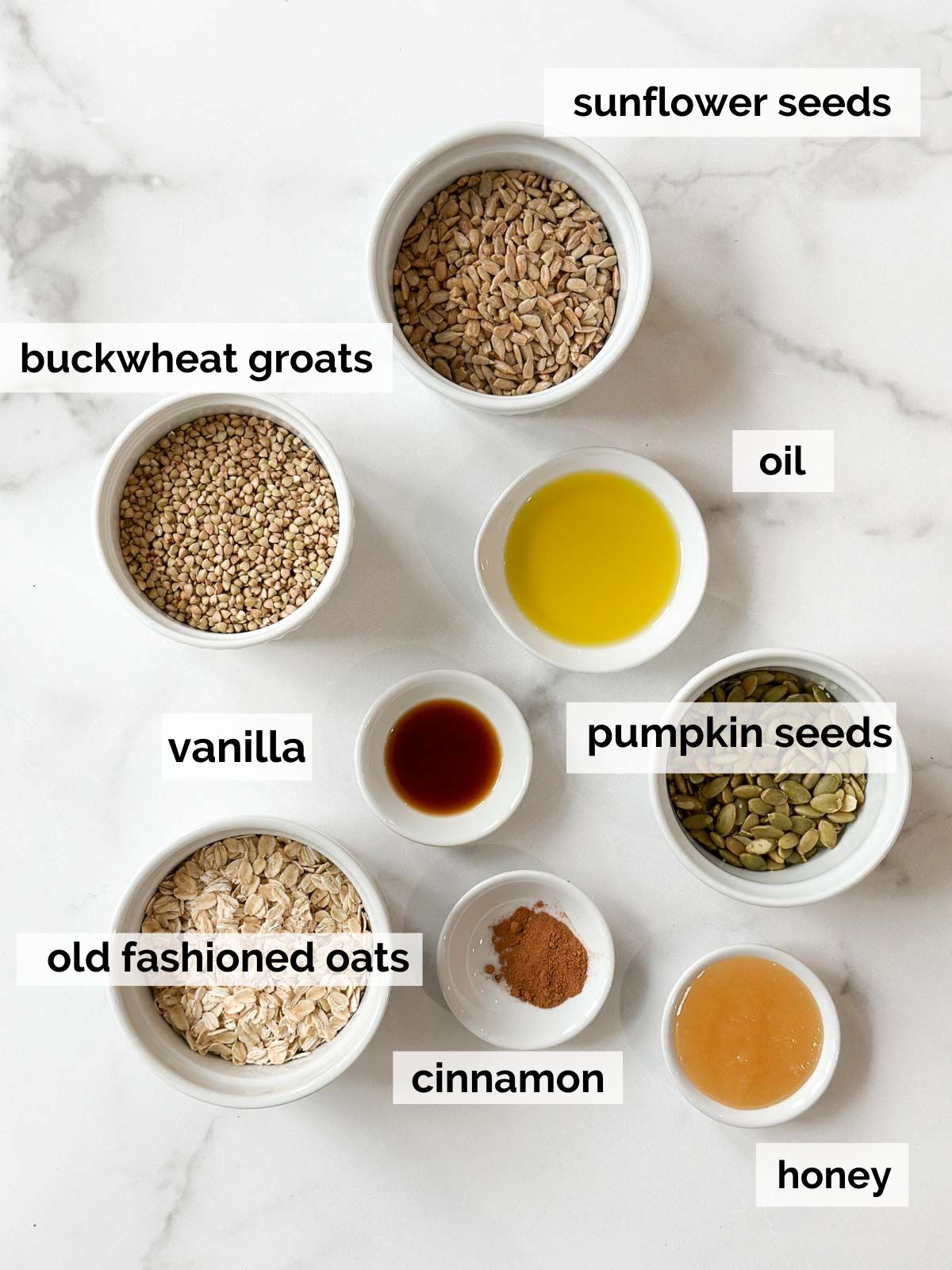 Raw Buckwheat Groats - Bob's Red Mill has these, you can usually find in bulk at health food stores or order online.
Oats - Whole rolled or old fashioned oats (not steel cut or quick cooking) are best for this recipe.
Sunflower and pumpkin seeds - You could even use all of one or another.
Honey - This can also be substituted with maple syrup but I prefer the flavor of honey.
Cinnamon - Mix this up with other spices if you like ginger or pumpkin spice.
Vanilla - Any type of vanilla extract will work.
Oil - You could use canola, olive oil, or coconut oil here.
Step-by-Step Process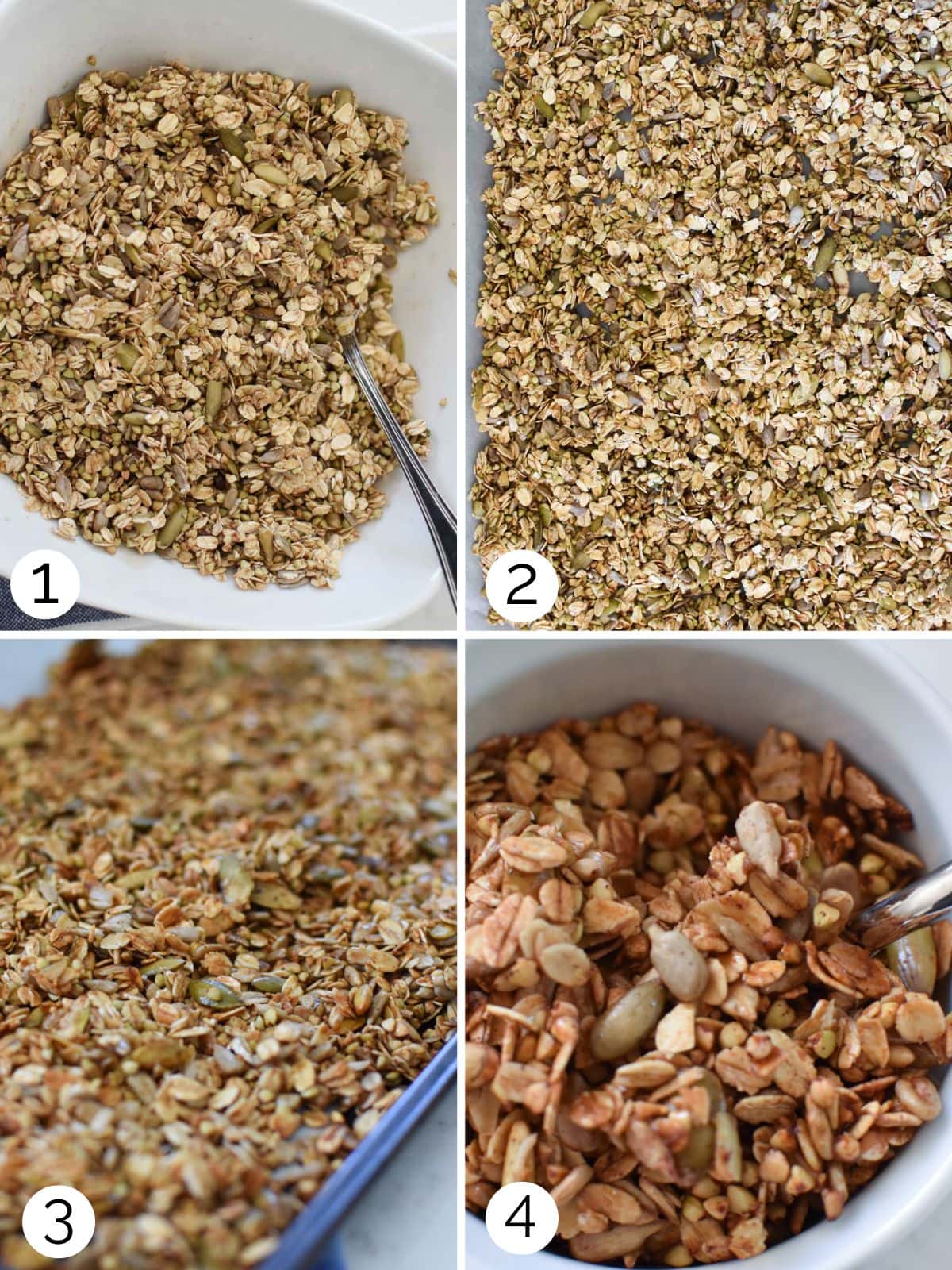 Step 1: Combine ingredients
Preheat oven to 300 degrees Fahrenheit. Combine the dry ingredients (buckwheat groats, rolled oats, seeds, cinnamon/spices). Then stir in the oil, vanilla, and honey
Step 2: Prepare a baking sheet
Prepare a large baking sheet with parchment paper and spread granola on top in an even layer.
Step 3: Bake the granola till golden brown
Bake for 45 minutes, stirring every 15 minutes so it toasts evenly.
Step 4: Cool
Remove from the oven and cool completely, which will allow the oats to crisp up more.
Variations
Substitute seeds with your favorite nuts (if not doing a migraine diet).
Spices - Instead of cinnamon, try ginger, nutmeg, or just use the vanilla extract.
Gluten free - Use certified gluten free rolled oats.
Low FODMAP - Use all pumpkin seeds.
Storage Information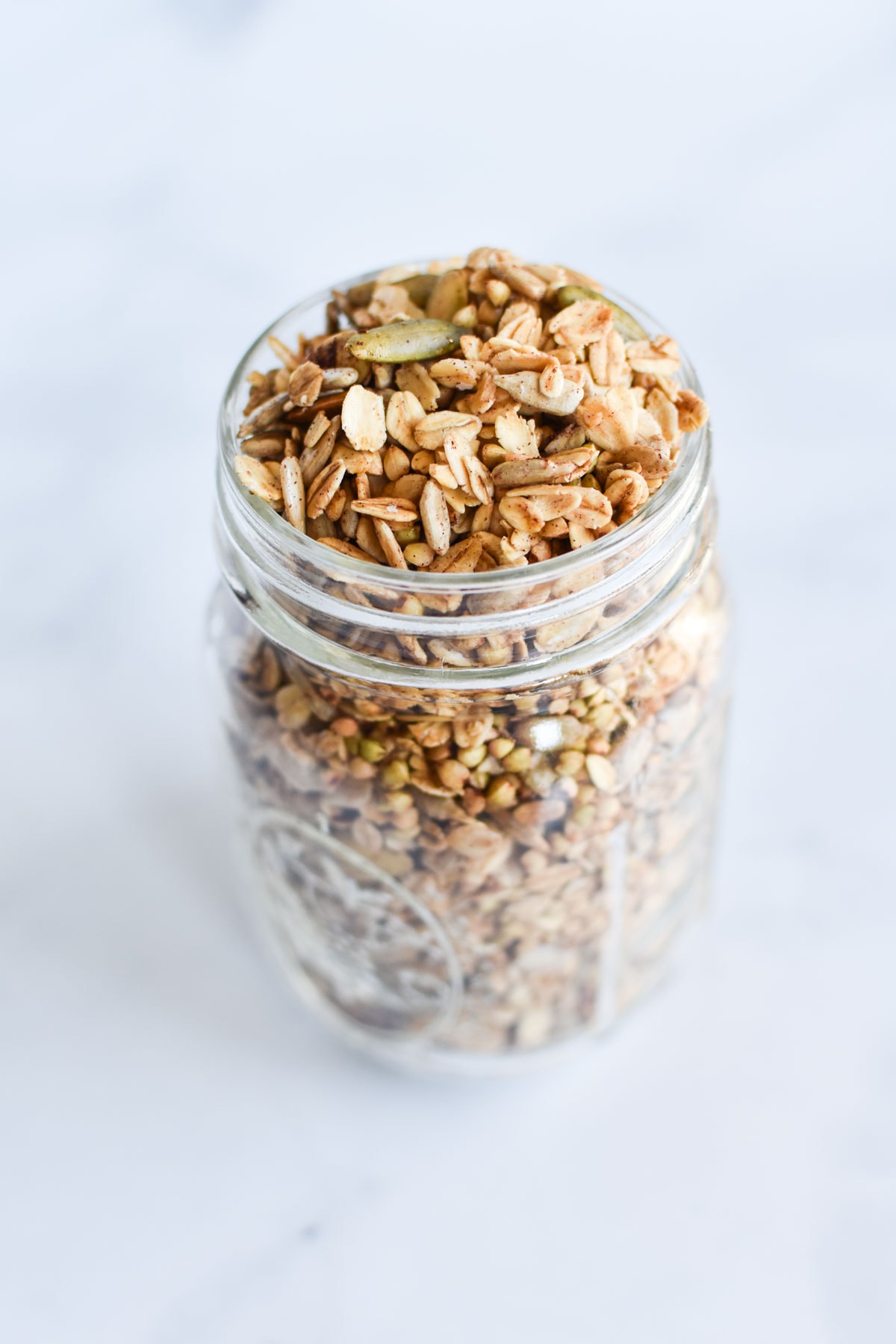 Cool the granola completely before storing to prevent it from forming condensation and becoming soggy. Store in an airtight container (like a mason jar) in the fridge for up to 2 weeks or freeze for up to 6 months.
Recipe FAQ
I can't find buckwheat groats. What can I substitute?
Buckwheat groats can be a little more difficult to locate, but are generally found with other grain cereals in grocery stores or in bulk at specialty food stores (like Central Market). You can either order them off Amazon or make a different recipe like this nut free granola.
What are the health benefits of buckwheat?
With lots of fiber, some added protein, and vitamin benefits like riboflavin and magnesium, buckwheat is a great brain boosting food to add to your diet!
Do I need to soak the buckwheat groats first?
Not for this recipe! As long as the buckwheat is roasted the full amount of time, it's still crunchy but not too hard to chew.
How to Serve Buckwheat Granola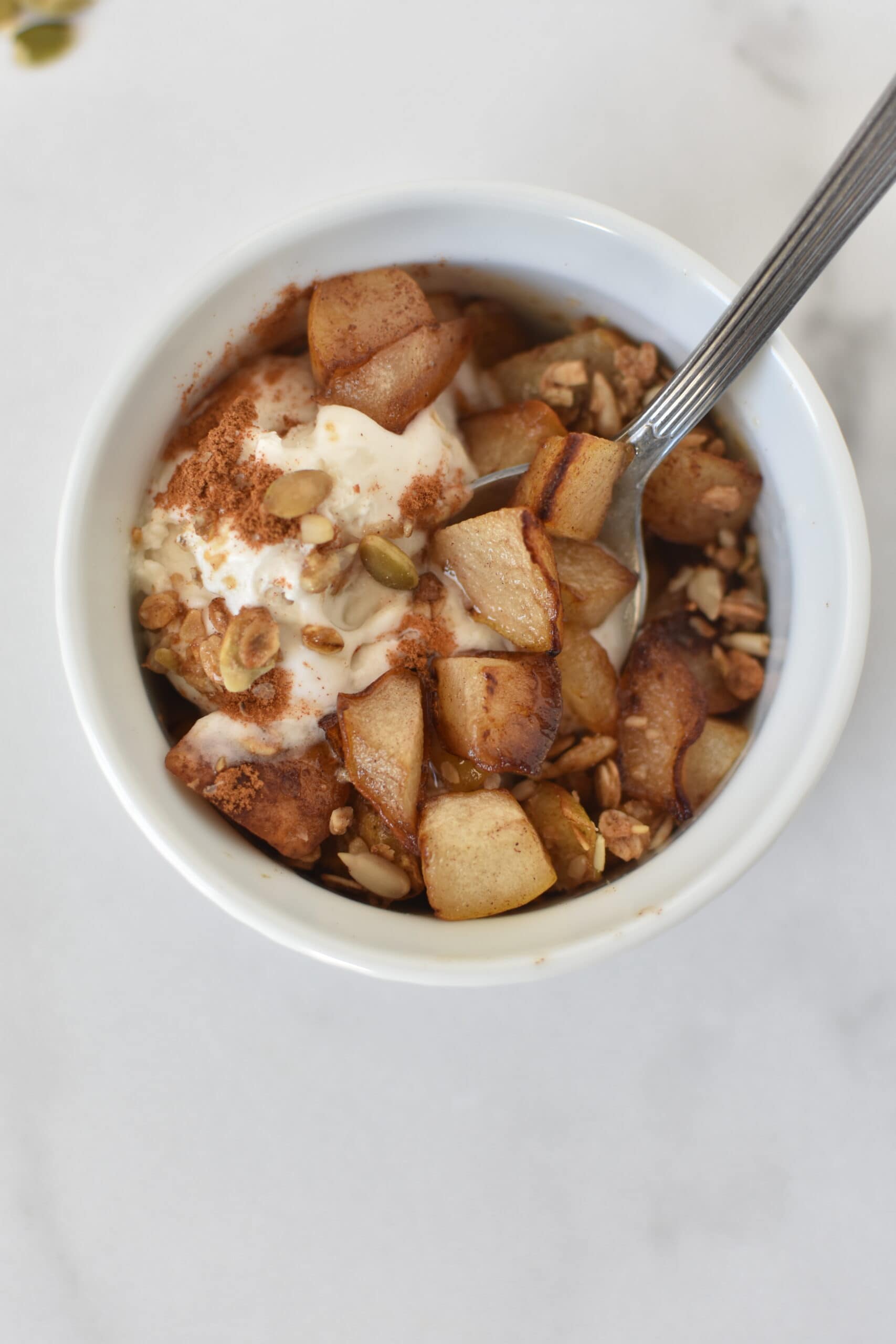 Obviously this homemade granola is great on it's own as a snack, but here are a few other pairings to serve it with. One of my favorites is this Healthy Pear Crumble!
Final Tips
Here are my top tips for making the perfect buckwheat granola!
Use buckwheat groats and not kasha.
Buy old fashioned oats and not quick cooking or steel cut.
Cool completely before storing!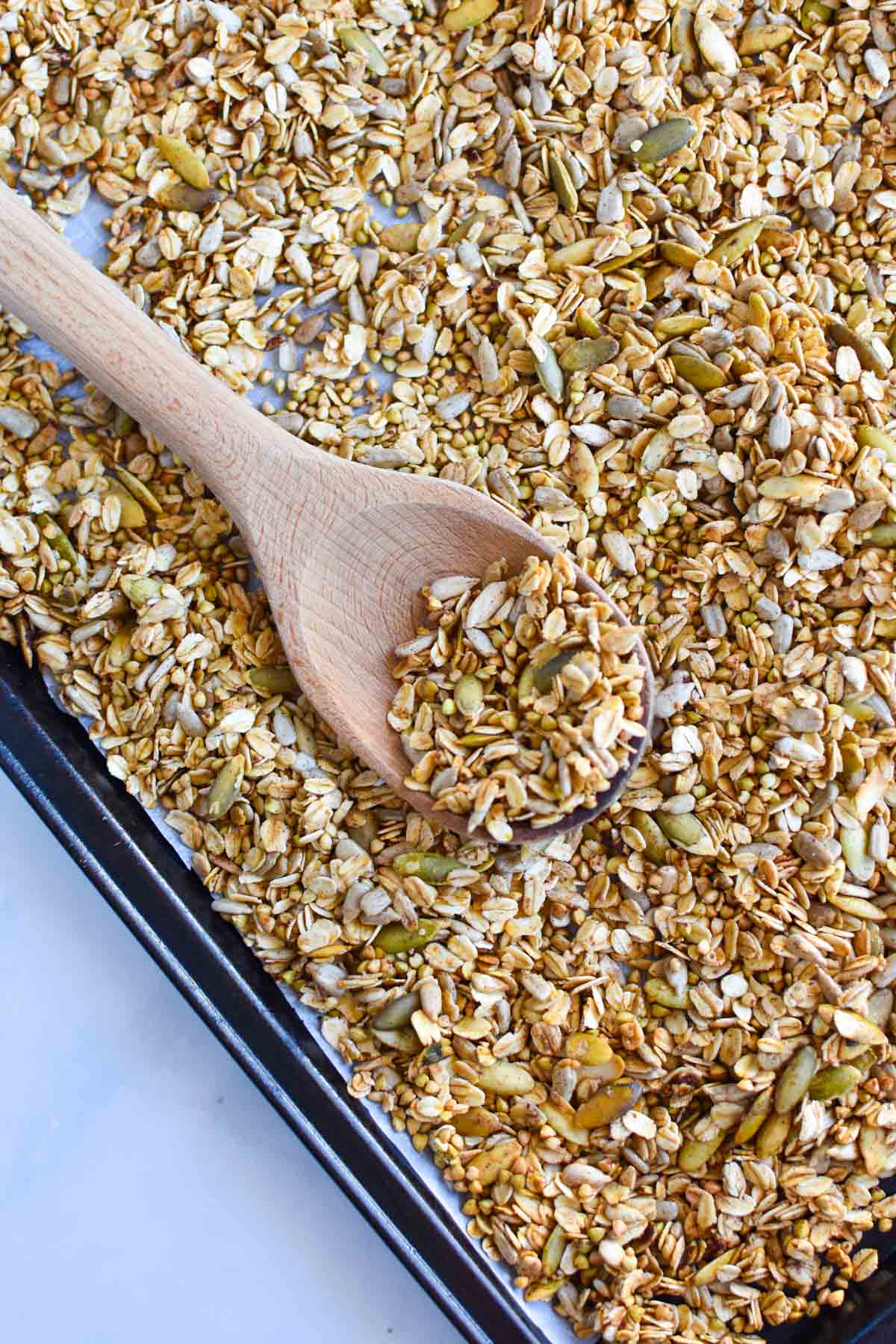 Nut Free Snacks
For more recipes like this buckwheat granola, don't miss my Buckwheat Pancakes. And see the below for more nut free snacks and breakfasts!
If you make this, tag me #thedizzycook or @thedizzycook on Facebook and Instagram. And if you love the recipe, please leave a review below! Follow along on my Pinterest for more great recipes.
Buckwheat Granola
This crunchy recipe is gluten free and nut free, perfect to top on oats, smoothie bowls, or just have as a snack!
Print
Pin
Rate
Servings:
12
servings (3 cups)
Ingredients
1½

cups

old fashioned rolled oats

¾

cup

buckwheat groats

½

cup

unsalted sunflower seeds

¼

cup

unsalted pumpkin seeds

3

tablespoons

oil of your choice

3

tablespoons

honey

1

teaspoon

cinnamon

1.5

teaspoon

vanilla extract

¼

teaspoon

kosher salt
Instructions
Preheat oven to 300 degrees Fahrenheit. Combine dry ingredients and stir. Add oil, vanilla, and honey and stir until thoroughly combined.

Prepare baking sheet by covering with parchment paper. Spread granola in even layer on sheet. Bake for 40-45 minutes total, stirring granola every 15 minutes to brown evenly.

Remove from oven and cool completely before sealing in a container. This will allow it to crisp up. Can be stored in an airtight container, however it probably won't last very long because it will be gone before you know it!
Notes
For oil, I've used olive oil but love the flavor. Use a vegetable oil for a less noticeable flavor or coconut oil for a hint of coconut!
Buckwheat groats can be found online or in health food stores. Bob's Red Mill makes a good option.
For vegan, substitute honey with maple syrup.
This stores well in the fridge for around 2 weeks.
If buckwheat groats cannot be found, I've seen some readers use all oats, but that does take away from the crunch and health benefits.
Nutrition
Serving:
0.25
cup
|
Calories:
144
kcal
|
Carbohydrates:
16
g
|
Protein:
4
g
|
Fat:
8
g
|
Saturated Fat:
1
g
|
Polyunsaturated Fat:
4
g
|
Monounsaturated Fat:
3
g
|
Trans Fat:
1
g
|
Sodium:
91
mg
|
Potassium:
111
mg
|
Fiber:
2
g
|
Sugar:
5
g
|
Vitamin A:
1
IU
|
Vitamin C:
1
mg
|
Calcium:
12
mg
|
Iron:
1
mg