These sunbutter energy balls use sunflower seed butter and pumpkin seeds for a protein-rich snack that's perfect for traveling or work. They're easy to make, gluten free, and allergy-friendly.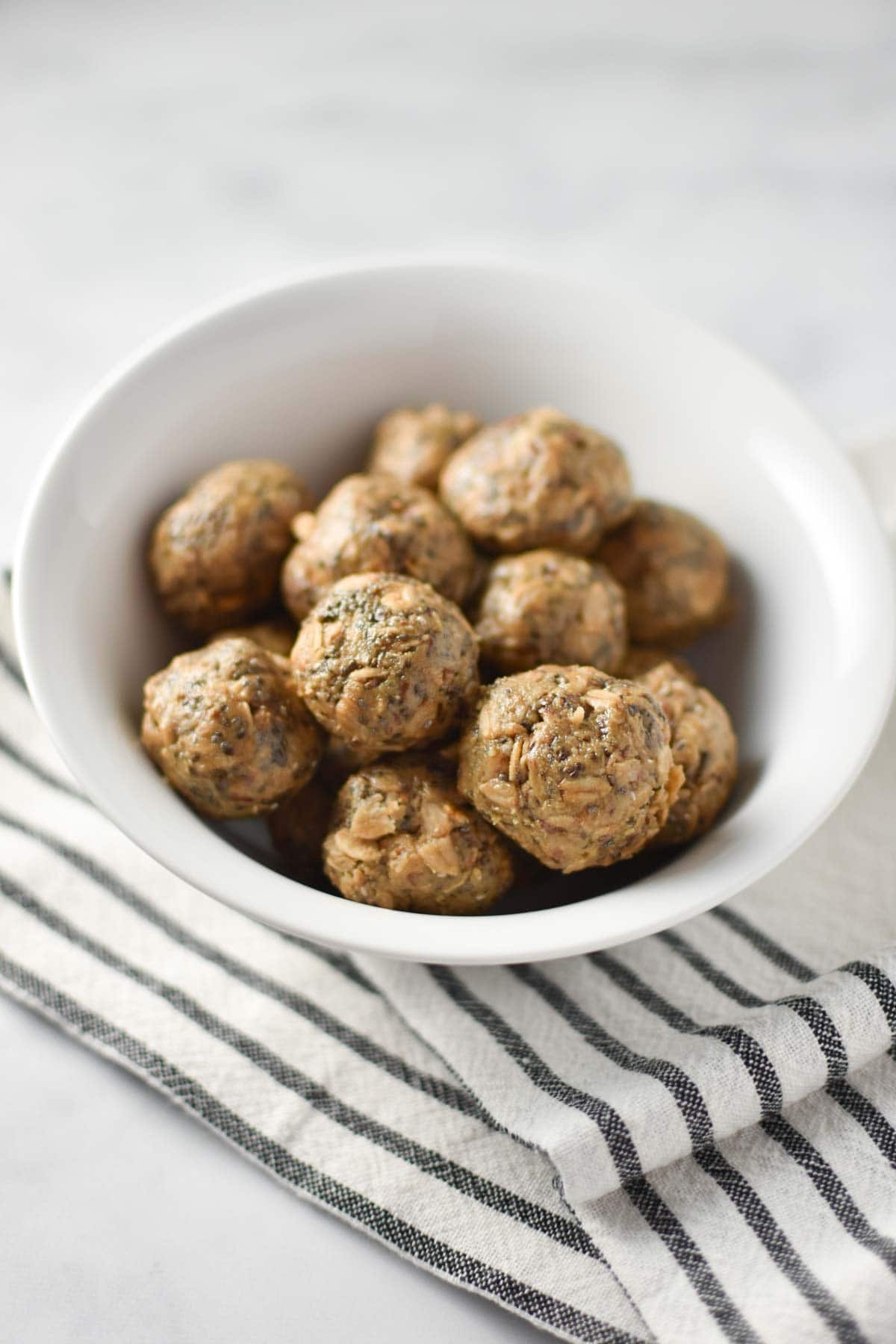 Nut Free Energy Balls
The irony of this post is I am writing to you while recovering from a migraine that popped up from a combination of air travel, barometric pressure drop, and altitude change all in one day and I don't have much energy at all. Wish I had some of these balls around to help!
This recipe was a staple that I could trust when I first started the Heal Your Headache Diet. One of the key pieces to sticking to the diet is having safe, ready-to-go foods for when you're starving and don't have the time to cook. I would keep these in the fridge or freezer and could have 1-2 as a snack to hold me over till I could make something. I also made a batch of these to take with me on my first long flight since being diagnosed with chronic vestibular migraine. Because I was really nervous about testing myself with a 7 hour flight from Dallas to Hawaii, I wanted to stick to the diet as closely as possible to reduce any extra triggers I could.
Clearly airlines aren't going to be accommodating to an odd diet, especially when you're flying coach! I racked my brain for anything that would be ok at room temperature and came up with these energy balls as well as a quinoa salad. Although I picked up a cold on that plane I miraculously did not pick up a migraine!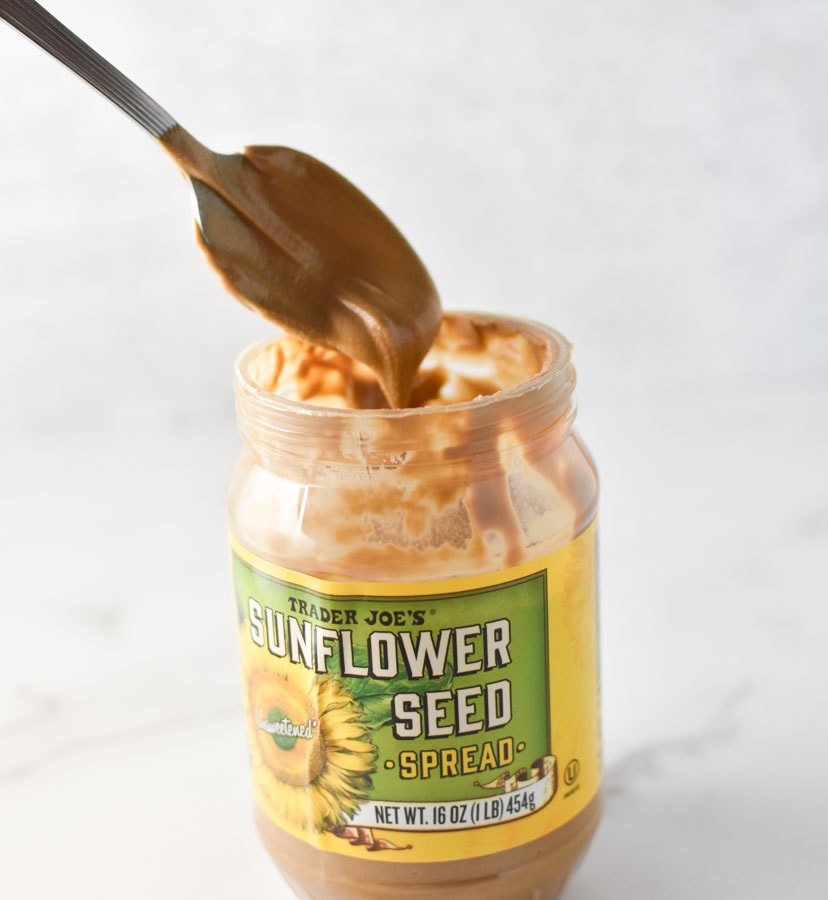 Sunbutter Options
Sunflower seed butters can be tricky and they come in a wide range of flavors, even though it's essentially the same thing. My personal favorites are:
1. Trader Joe's Sunflower Seed Spread (Yellow/Green Container) - This one is slightly salted (100mg) with no added sugar. I literally eat it by the spoonfuls as a quick "breakfast" before a workout when I don't want to eat a full meal. It tastes like salted, toasted sunflower seeds to me.
2. Sunbutter Organic - Sugar and salt free, yet creamy and slightly sweet. I find this one best for baking and using in dessert recipes. It has zero sodium so you may need added salt when cooking or a pinch to these energy balls.
If sunflower seed butter isn't your thing, you can try pumpkin seed butter or even watermelon seed butter, like this kind from 88 acres. You can get 15% off with the code DIZZY15 directly from the 88 acres website.
How to Store
To store, I like to keep these sunbutter energy balls in the freezer. At room temperature, they can get too soft.
If you plan to have them on the go, this gives them a little time to defrost. You can keep them in the freezer for up to 3 months. Separate them with parchment paper to avoid them sticking together.
Additional Ingredients
These are also kind of sweet so I tend to think of them as a little dessert, although I'm sure some of you would smack me for that assessment. For that crew, you can add white chocolate to it to make it a little more dessert like. Did you know white chocolate is actually safe for people with migraine?
It's not considered genuine chocolate because it does not contain the chocolate solids that dark or milk chocolate would. Therefore white chocolate does not have the high tyramine or caffeine content. I like Ghirardelli's brand or these. The soy lecithin is used as an emulsifier and should not be confused with the more common trigger, soy protein.
Other Snack Options
For other nut free snacks, some that contain sunflower seed butter, check out these options.
Strawberry Cream Cheese Muffins
Pumpkin Apple Bread
Chia Pudding
Sunbutter Smoothie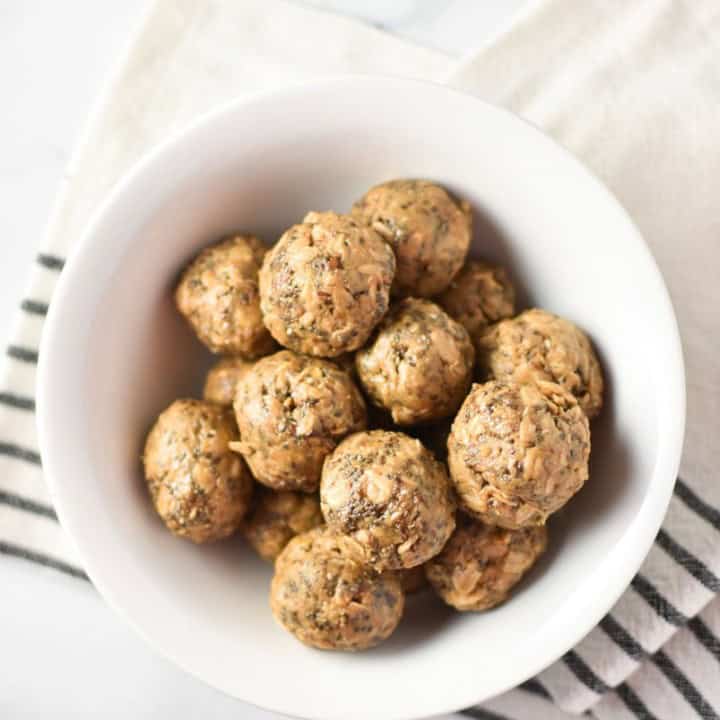 Sunbutter Energy Balls
These allergy friendly energy balls are perfect to store in the freezer for a grab-and-go snack or quick, light breakfast. Use sunflower seed butter, watermelon seed butter, or pumpkin seed butter!
Print
Pin
Rate
Ingredients
⅓

cup

honey

1

cup

gluten free oats

I like Trader Joes

½

cup

sunbutter

I like Trader Joes or Sunbutter Organic brand

¼

cup

flaxseed meal

1

tablespoon

chia seeds

¼

cup

toasted pumpkin seeds

1

teaspoon

alcohol free vanilla

¼-1/2

cup

white chocolate pieces (OPTIONAL)

Ghirardelli is good
Instructions
Combine all ingredients in a mixing bowl and stir to combine. Honestly, It's easier to use your hands and just mush it all together.

Cover and chill in the fridge for 30 min. If mixture is too sticky, add more oats. If mixture is too dry, add more sunbutter.

Form into 1 to 1-½ inch balls and store in the freezer.
Notes
My favorite sunflower seed butter is either Sunbutter Brand or Trader Joe's. See the post for more options, like pumpkin seed butter.
If using a sodium free brand, a pinch of salt would work really well in this mixture.
Nutrition
Serving:
1
ball
|
Calories:
92.8
kcal
|
Carbohydrates:
10.25
g
|
Protein:
2.74
g
|
Fat:
5.12
g
|
Saturated Fat:
0.59
g
|
Sodium:
1.64
mg
|
Potassium:
52.6
mg
|
Fiber:
1.26
g
|
Sugar:
4.76
g
|
Vitamin A:
3.38
IU
|
Vitamin C:
0.18
mg
|
Calcium:
19.69
mg
|
Iron:
0.78
mg