Traveling with vestibular migraine can be incredibly challenging. Not only are you afraid of easily triggering an episode, but it's also scary to not be around all your comforts of home. Plus flying with vestibular migraine can be a challenging experience.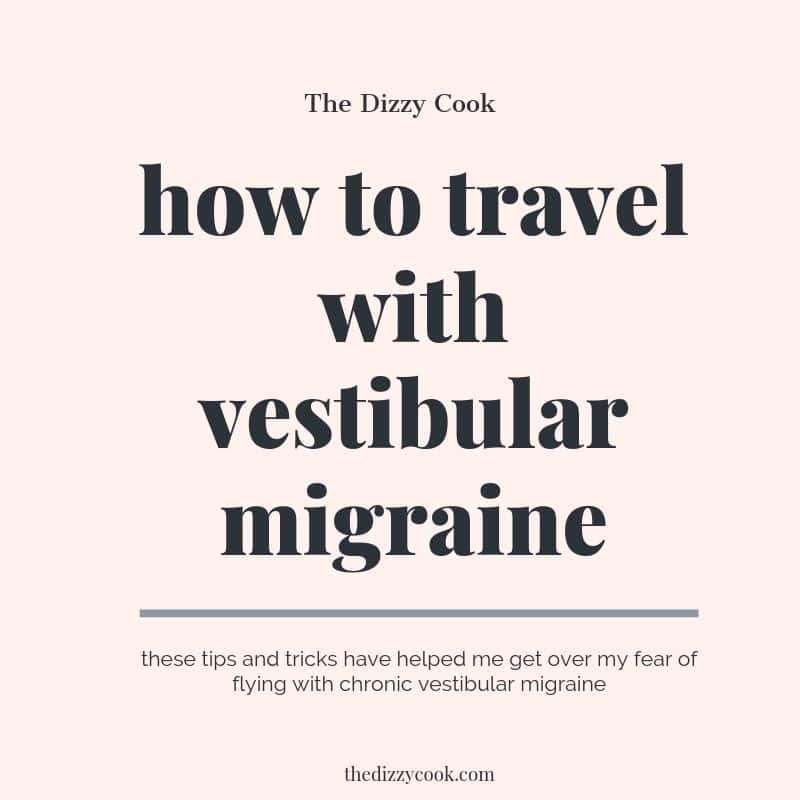 Because my chronic vestibular migraine disorder started after a trip around Asia, flying terrified me for a long time. My husband and I loved to travel, and it was always a huge part of our lives before this neurological illness began.
We haven't had children, and it's probably the #1 thing we save up for every year. I decided I could only let this fear hold me back for so long. The worst that could happen was my VM would get more intense, and I would spend the whole trip in bed. The best that could happen was knowing that I could travel again, and continue to live my life as normal as possible.
Flying with Vestibular Migraine
The first trip we took after I was diagnosed with Vestibular Migraine was to Las Vegas. Talk about going all in! This was a trip we usually went on annually, but that year was not the best choice. Between the heat, loud noises, and smoky atmosphere, I did not do well.
I could have let this bad experience prevent me from trying again, but I refused. The next opportunity I had to travel was to go on a business trip to Florida, but I ended up leaving my company right before and had to cancel the trip. I have a huge connection with Florida because I grew up in Tampa, and every time I go back it still feels like home.
My husband and I decided we would buy our own tickets and go to St Pete Beach. There's a big, pink hotel I always loved there called the Don Cesar. When I was a child we would sometimes go there to get ice cream and I always thought it was so magical.
Since it was a short trip, we decided to go all in and book a room there. It was the first time we were able to have fun together in months. We felt so far away from all the torturous doctor's appointments and FMLA fights. It gave me renewed hope that maybe I could live a normal-ish life with vestibular migraine.
Migraine Diets & Airplane Travel
With every new trip, I overcame a fear. The next big obstacle was when we traveled to Hawaii. The 7 hour flight was scary, and I had just started the Heal Your Headache diet, but my migraines were kept in check fairly well. I brought my sunbutter energy balls and a quinoa salad (cooked quinoa, spinach, sunflower seeds, roasted carrots and cauliflower) to eat on the plane.
Although it was tough to turn down fresh pineapple and papaya, we went grocery shopping when we first got in and picked up lots of blueberries and strawberries. We kept clean bagels and cream cheese in our fridge for breakfast. I ate more fish tacos than I could count. It gave me confidence for our next big trip to Spain.
When we flew to Spain, we got an insanely great deal on business class. I was able to pick out my meal ahead of time and even get a little rest - what a difference that can make! I tried to stick to a migraine diet the best I could, but at some point you just have to live a little bit. Obviously Spain does not have the most migraine friendly foods, but I picked my battles.
We did a food tour one day and I went all out with chocolate and churros, jamon iberico, and aged cheese. Let's just say I spent that afternoon in bed, but to me it was worth the experience. When I look back, I don't necessarily remember the migraines I got on the trip, only the fun times I was able to have in spite of managing an illness.
Since I've written this post, we've flown to France, back to Maui, and have done countless trips all over the US. Each time I use these tips and it never fails me! Of course there are also medications that can help with pressure changes or stress too, but here are my best tips for traveling with vestibular migraine that you can try without a prescription.
Travel Products for Vestibular Migraine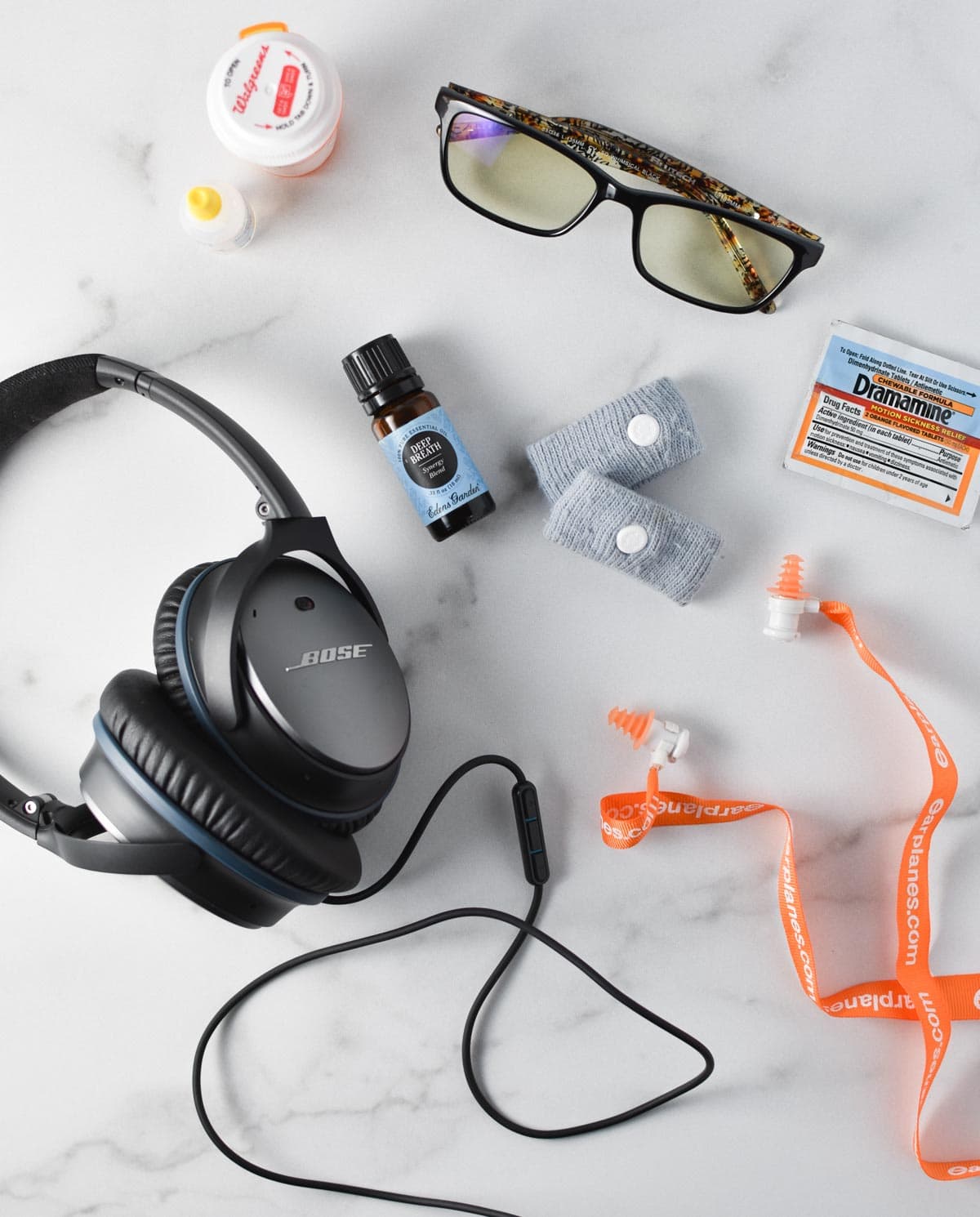 EarPlanes or Flents Flight Mates - I've linked to both on Amazon, but you can also find EarPlanes at Walgreens. These are more than just ear plugs. They help to regulate the cabin air pressure changes, so the discomfort is not as extreme. I will never fly without these. You can use 1 pair for at least two flights.



Make sure you put them in before the cabin door closes and wait to remove them till after the door has opened. I find the regular size tends to be uncomfortable on long flights and I do better with the kids size.

You can use over the ear headphones to listen to music or watch shows.
Migrastil Migraine Stick & Essential Oils - Essential oils can be wonderful for anxiety before your flight or they can mask the scent of your seat mate who overdid it on the cologne. You can apply Migrastil to your temples and behind your ears to ground yourself and relax, or even abort an oncoming migraine. I find half the time, my elevated nerves are what tends to bring the attack on.

Applying lavender or peppermint under your nose works well to mask scents from smelly neighbors. The last time this happened to me, I used this Deep Breath oil from Eden's Garden, but I also like the Nausea Relief Stick from Migrastil which is a little less messy.

For those with vestibular migraine, frankincense oil is said to be very grounding and help with dizziness, but I find the scent to be really pungent so that's one to check with your seat mate about before you apply.
SeaBands - SeaBands work by stimulating the Nei-Kuan, P6, acupressure point. This pressure point relieves nausea, motion sickness, and headaches. I'll put these on before I get to the airport and leave them on till I reach the hotel. You can also do acupressure on yourself.
Blisslets are the really cute alternative to SeaBands if you're looking for something a little more fashionable. They're my personal favorite and once I found them I never went back! Use code dizzycook for 15% off.
Hemi-Sync playlist - I always use it during takeoff and landing to get myself in the right mindset. There are playlists for it on Spotify and Apple. You can also try using the circle breathing on the Calm app or meditating, which works without wifi or cell service. It helps to calm your mind and relax you when your surroundings are less than relaxing.
Consider an easy acute medication that works quickly, like Timolol Eye Drops. Easy to apply quickly instead of waiting on a pill. I usually reserve my heavy duty acute medications for flights over 5 hours and sometimes for international flights, I will pre-treat symptoms.
Afrin protocol - I do a spritz in each nostril before takeoff as prescribed by my physician. This can help to keep nasal passages clear when flying, which helps with plugged up ears. Afrin overuse can create health issues, so it's important to discuss with your physician before trying this!
Diamox is another prescribed medication that can help people who really struggle with altitude changes and vestibular issues. I haven't tried this personally, but have many readers who report success.
Favorite Products After Flying
Once you've landed, the work doesn't end. Here are some tips for getting your bearings after flying with vestibular migraine.
Extra Magnesium - I pack a few extra magnesium pills to take the day of and evening of my travel day. Magnesium glycinate is a favorite because it's easily absorbed by your body, and less likely to cause the laxative effect that one might get with magnesium citrate. A definite plus when traveling!
Ancient Minerals Magnesium Chloride Flakes and Magnesium Lotion with Melatonin. They nearly always get flagged by TSA who probably think I'm transporting something nefarious, but it's acceptable to fly with. The flakes are great to take a bath with when you first get in. Quiet the mind, relax and center yourself in your environment. If you don't want to hassle with the flakes, the lotion is a great alternative. It contains melatonin so if you're dealing with time changes, it will help you sleep.
Hydrate! I always take my empty S'well bottle with me and fill it up once I'm past security. Not only does it keep my water cold for hours, but it also helps me keep better track of how much I'm drinking. I have the 25oz and I promise it's worth the investment. I never drank as much water before I had this bottle!
Go for a walk. This helps me get grounded, especially after an international flight where I'm jet lagged. Taking a walk outside, feeling the sun on my facing and the ground beneath my feet, helps to calm those floaty feelings. It can also help you adjust to the time change better and keep you awake!
Migraine Glasses
Migraine Glasses - sometimes the airport itself is enough to trigger a migraine. Before when I felt one coming on or I'm extra stressed, I wore my sunglasses to help block the fluorescent lights and crowds out. Eventually I discovered that wearing sunglasses indoors can actually increase your photophobia, which was the last thing I needed. These lenses allow enough light in so you aren't making yourself more light sensitive in the long run.
I have the Axon and TheraSpecs. For airplane travel, I highly recommend Avulux or Axon, which let in a narrow band of green light that can actually be helpful for migraine.
They're dark enough to help with the lights and movement, but not so dark that you are seeing everything in pink. Use code THEDIZZYCOOK for $20 off on Avulux and Axon.
Need more information? I've done a full comparison of which migraine glasses are best!
If you'll be spending a lot of time outside, look for polarized sunglasses. These lenses remove a lot of glare, just make sure you don't check your phone with them on!
What About Alcohol?
This is an updated tip that I've recently discovered in the last few months. Obviously you're on vacation and might want to have a drink or two...or five! I'm one of those people who can't pass up a good wine tasting, especially when I'm visiting a place like Burgundy.
On my most recent trip I took these Wine Wands from Pure Wine. They basically remove all the sulfites and histamines, without touching the flavor of your wine.
Although skeptical, I used it on red wine for our last trip to California and did not even have that fuzzy headed feeling I normally get. Typically I have to stick with biodynamic wines to even have a chance at feeling normal, but these give me a little more freedom. (Because I had such great success with WineWands, they are giving readers 20% off right now with code SAVE20)
Another option? Typically people tolerate vodka or clear liquors. Organic vodkas like Ocean Vodka are a great way to test the waters. But for some suggestions that go beyond liquor, see this post on the best alcohol for migraine.
Enjoy Your Trip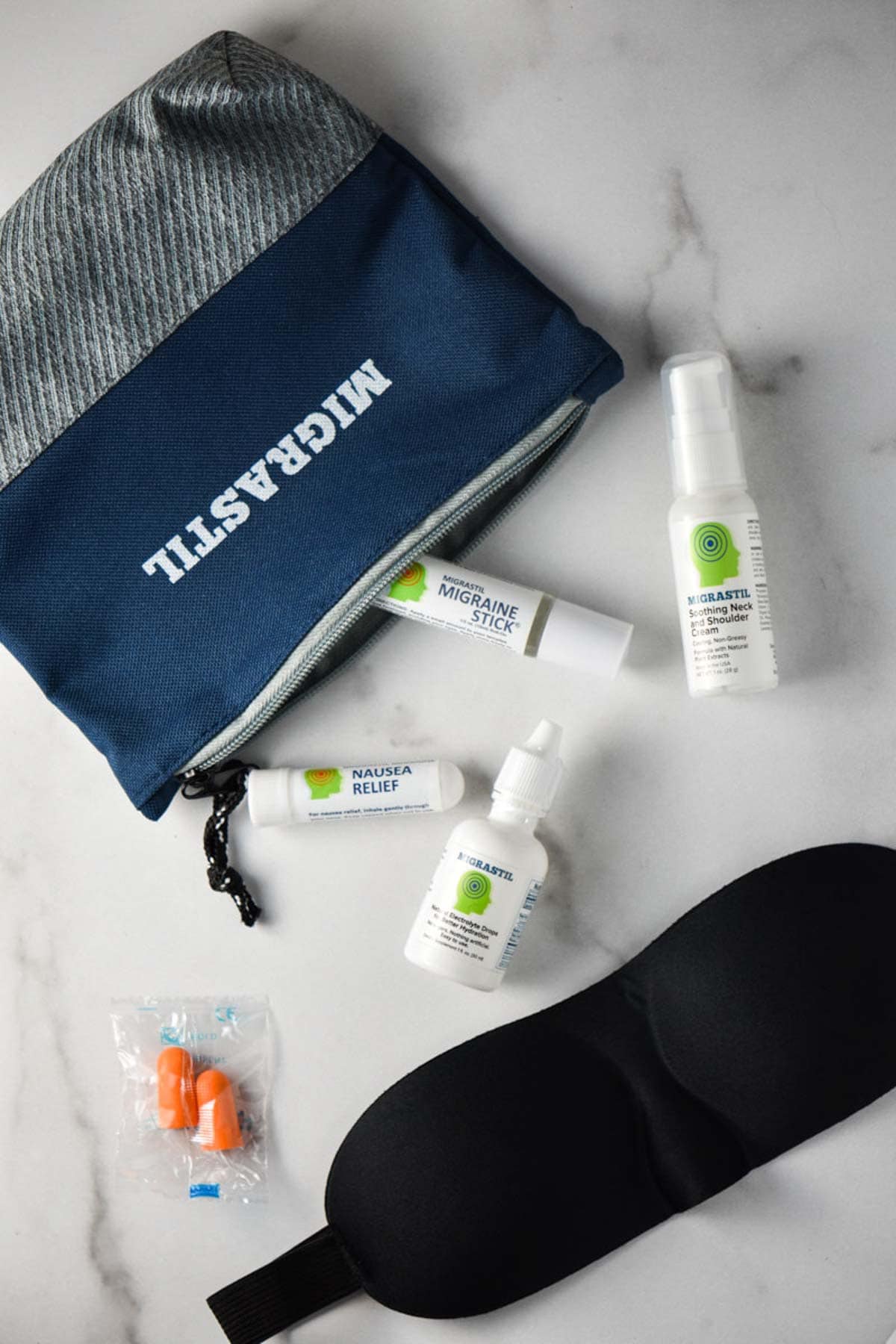 I try to not plan anything the day of and the day after I travel, and will either eat in the hotel or a place close by when I get in. The longer you can give yourself to rest and recover from the flight, the better you will feel. Our brains are super sensitive and it can take a while for to us to recover from sleep schedule and time changes.
If I can encourage you to do one thing, it's take a trip for yourself whether it's near or far. You are stronger than you think and it's so rewarding to overcome a fear you've been holding on to.
PS: I went back to Vegas the next year after doing months of vestibular rehab therapy that included watching videos like this one to get my brain used to all the sights. I had also been on a migraine diet for 8 months and found my favorite combination of supplements. I had very few, if any, issues and had the best time.
All opinions are my own and not sponsored. This post was written in 2018 and updated November 2021 with new photographs, links and an easier to read format.