These gluten free blueberry muffins are famous for a reason! They're delicious, crusty on the outside and soft on the inside with the combination of rice flour and oat flour. The oat flour gives it a wholesome taste, making it perfect for breakfast.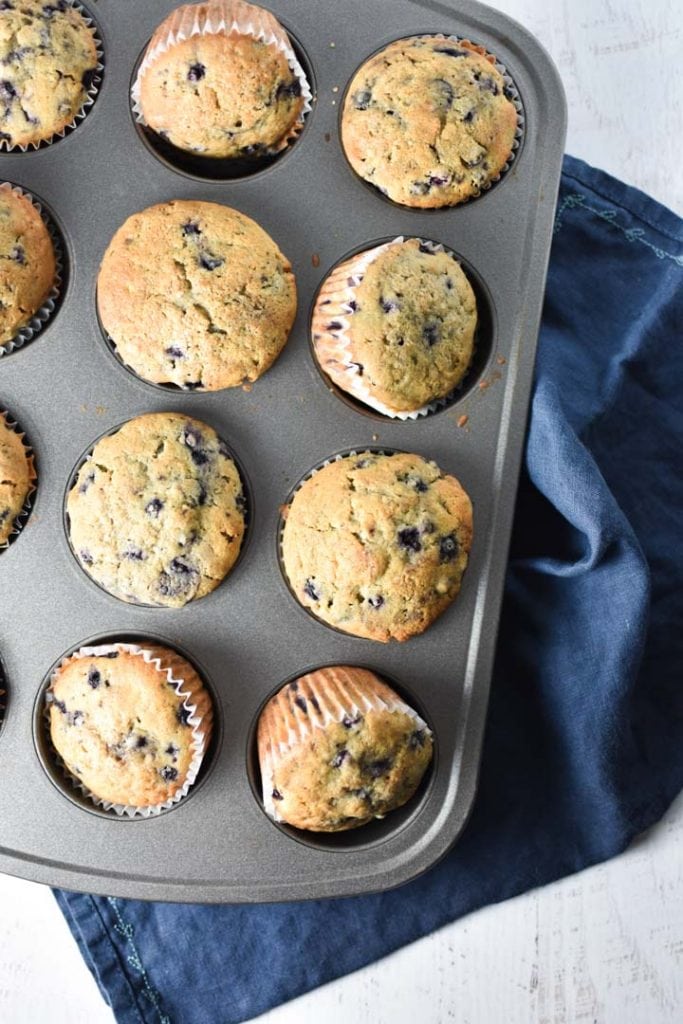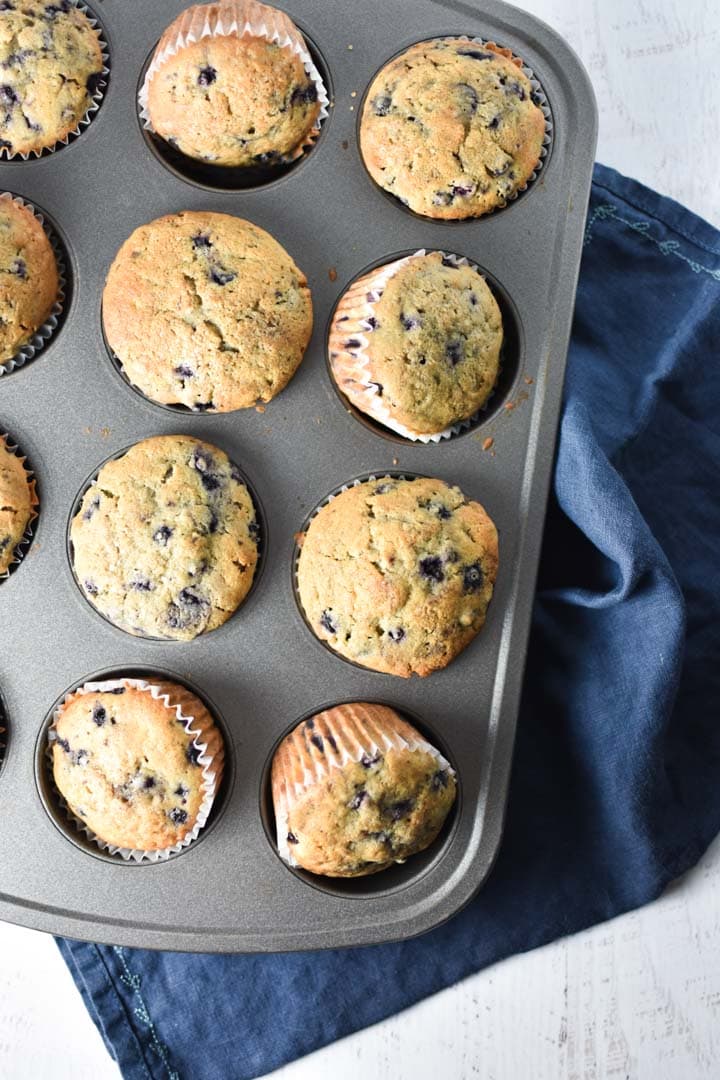 Introducing The Dizzy Baker
Today we have a special guest from, Migraine Strong. Over two years ago, Jennifer Bragdon was diagnosed with vestibular migraine after 3 months of seeking answers, 5 specialists, 4 faulty diagnoses, and many uncomfortable tests…sound familiar? The 24/7 dizziness was never-ending torture and she didn't leave her house for months. I love reading her story because I could finally relate to someone who never got headaches, but still has migraine. It's incredibly difficult to explain to others that there are many types of migraine out there. Some come with paralysis, some mimic stroke, and some give you the feeling that you're incredibly drunk…on a boat…during a storm.
After just two months of finding the right treatment plan for her, Jennifer began to experience relief. Now she's back to working full time along with helping others manage their migraines as an administrator for Migraine Strong. She's truly an inspiration for those of us seeking to manage our migraines, and has a famous gluten free blueberry muffin recipe to boot.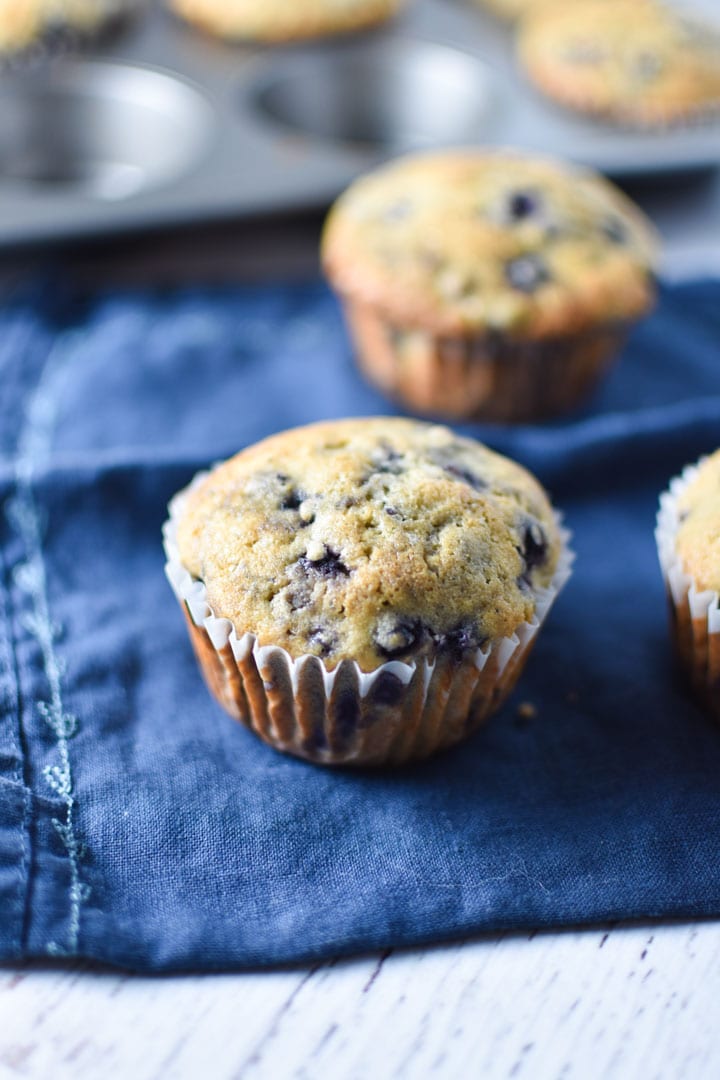 Oat Flour Muffins
Nothing says home to me like the smell of blueberry muffins baking in the oven. I grew up in New Hampshire and was raised on my grandmother's blueberry muffin recipe, made with fresh picked blueberries. Even into my adulthood she and my grandfather would drive us out to the woods where we'd pick & eat wild blueberries until our teeth & fingertips were covered in blue. I love her recipe and I mean, I REALLY love it. After I was diagnosed with VM, her recipe, which began with Bisquick, was no longer a safe option for me.
Not having fresh, homemade muffins in my life was not happening. I began my mission to find a head safe replacement recipe. I finally settled on this one from the New York Times, and altered it to fit my eating plan.
Wheat is considered safe on the Heal Your Headache diet, yet many Migraine Strong members have chosen to eliminate it in addition to following HYH recommendations. If you feel good eating wheat, feel free to use your wheat flour. If you'd like to see if avoiding wheat and other sources of gluten help your overall pain level, check out my flour recommendations below.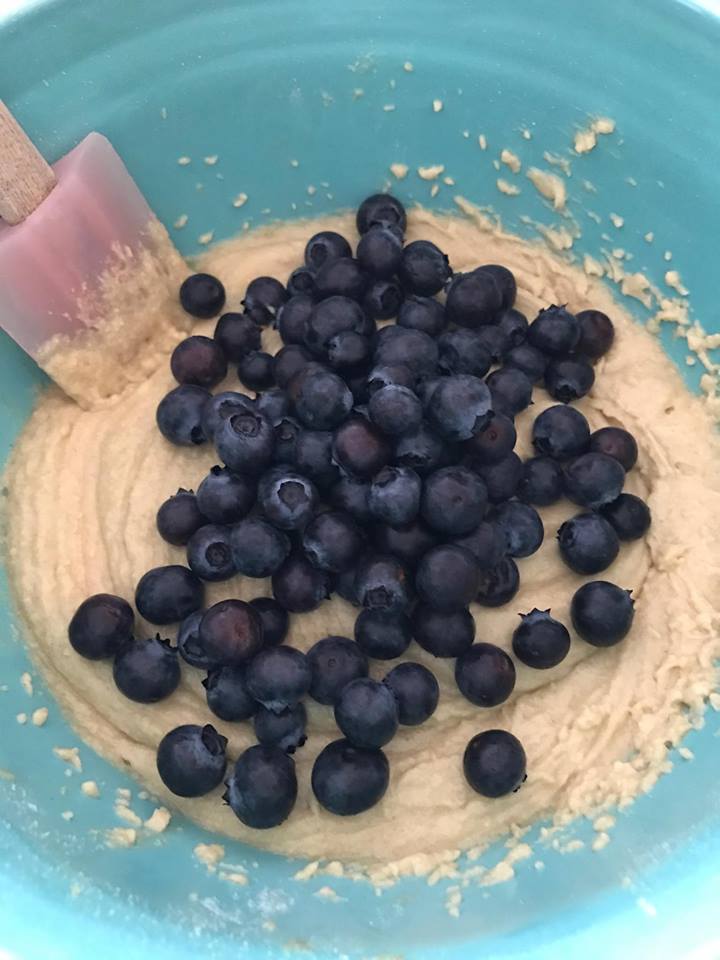 Tips for Baking
These gluten free blueberry muffins use simple ingredients and are so easy to make. I will share some tips & tricks, but there really are no complicated steps to making this recipe. Seriously, you could toss all the ingredients into a bowl and stir, and these muffins would still turn out delicious. So don't let the tips deter you!
The key to light, fluffy muffins is to not overmix the batter. No mixer required!

Just a few stirs by hand will do it.

I begin by combining the flour, sugar, salt and baking powder into a large bowl. If you're a baker you may be gasping right now!

I never start by creaming the wet ingredients together - never ever.

I add the dry, then the wet, and stir….easy peasy and just like my grandmother made them.
I like to use frozen berries in my muffins.

So pick (or buy) your berries fresh, wash them and lay them out to completely dry.

Then toss them into freezer bags & into the freezer. You'll always have the berries you need on hand.

Frozen berries make the batter instantly cold and firm. The dough will support the berries and keep them from sinking.
Fill your lined muffin pan all the way to the top with batter.

That's how you'll get those beautiful, tall-domed muffin tops.

Sprinkle with a bit of sugar before baking if you like a crispy, brown top.
Muffins are always best the first day.

If they make it into day two, store them in an open container.

A sealed container will cause the muffins to be too moist.

These freeze great and reheat beautifully as well.
Finding the Right Muffin to Blueberry Ratio
I truly feel like this may be the last muffin recipe you'll ever need. It yields muffins that are delicate, yet sturdy enough to support an obscene amount of blueberries.
These gluten free blueberry muffins have nearly as much blueberry as they do muffin, so the best part of my grandmother's recipe is still in there. My guy says they are the best muffins he's ever tasted. Sometimes change is a good thing.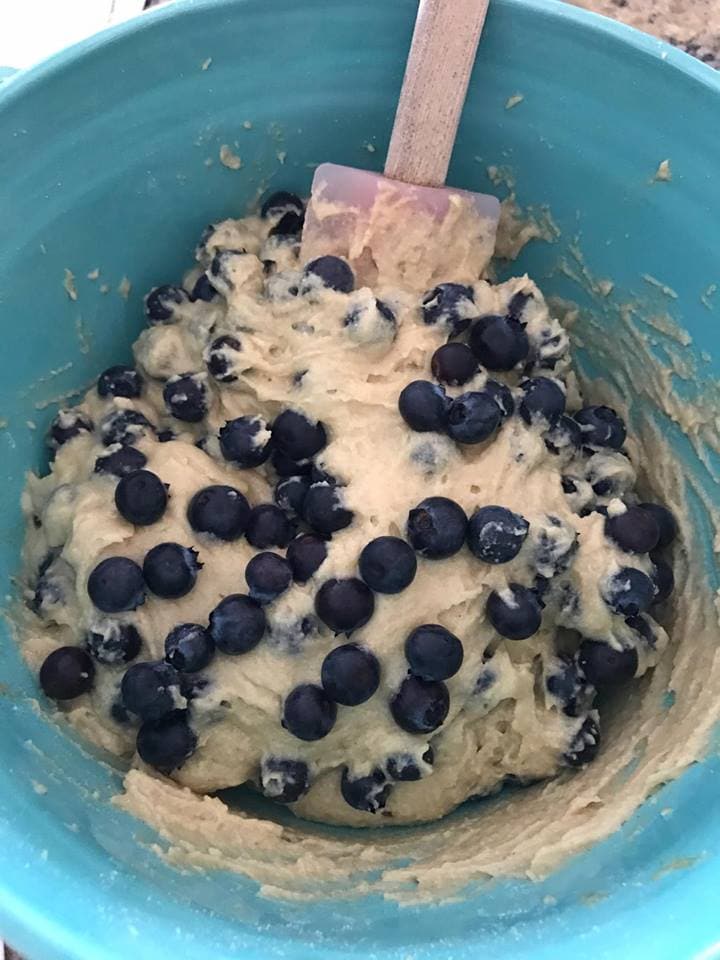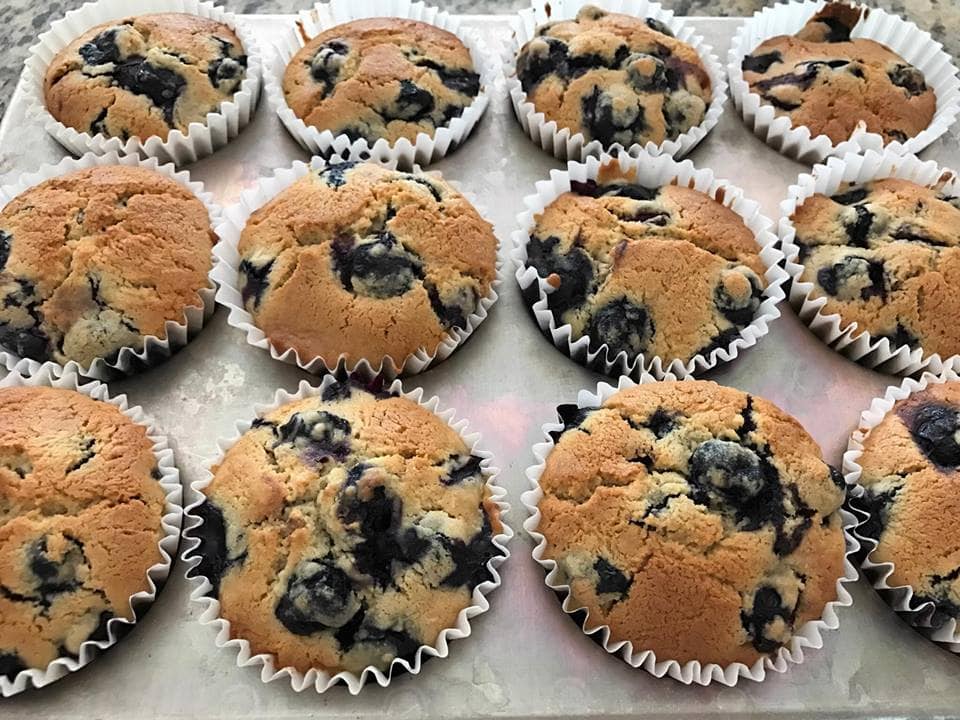 For more migraine-safe breakfast recipes, check out these posts.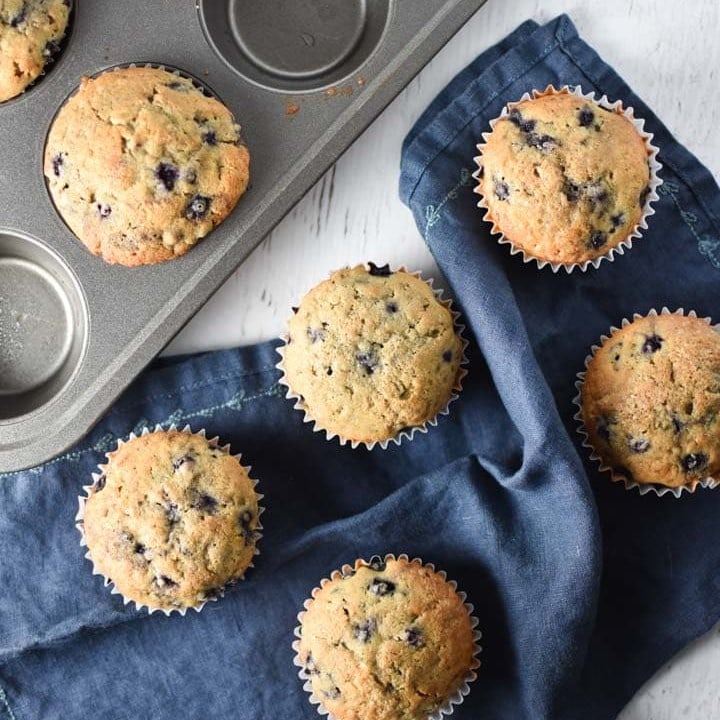 Gluten Free Blueberry Muffins
Adapted from The New York Times, this recipe is a famous favorite even for those who aren't gluten free. Warm, with that perfect slight crunch on the outside, these are made with rice and oat flour. They are best with frozen blueberries.
Print
Pin
Rate
Ingredients
4

oz (½ cup)

softened butter

* I used Kerrygold

¾

cup

organic cane sugar

2

eggs

1

teaspoon

vanilla extract

1

cup

organic oat flour

* I used Arrowhead Mills

1

cup

brown rice flour

*I used Bob's Red Mill

½

teaspoon

sea salt

2

teaspoon

baking powder

½

cup

whole milk

2

cups

blueberries, fresh or frozen
Instructions
Take your butter out of the fridge about an hour or so before starting the recipe. Room temperature butter is much easier to work with.

Preheat oven to 375. Combine dry ingredients and stir. Add butter, eggs, vanilla & milk and stir by hand with a spatula. Once thoroughly combined add blueberries and continue to stir till combined.

Fill each lined muffin cup with batter all the way to the top. Sprinkle with sugar for a crunchy muffin top.

Bake for 40 minutes. Check with toothpick to be sure center is cooked through. A toothpick inserted in the center that comes out almost clean means it's done!

Cool 20 minutes on a wire rack before serving.
Notes
It's best to use frozen blueberries for this recipe as they suspend more evenly in the dough, making them evenly dispersed.
If using regular flour, you may need to cut down on the cooking time. Depending on your oven, they could take anywhere between 25-35 minutes total. Look for golden brown tops and a toothpick coming out clean when inserted into the center of the muffin.
Nutrition
Calories:
237
kcal
|
Carbohydrates:
34
g
|
Protein:
4
g
|
Fat:
10
g
|
Saturated Fat:
6
g
|
Cholesterol:
49
mg
|
Sodium:
183
mg
|
Potassium:
202
mg
|
Fiber:
2
g
|
Sugar:
16
g
|
Vitamin A:
306
IU
|
Vitamin C:
2
mg
|
Calcium:
62
mg
|
Iron:
1
mg
A big thank you to Jennifer, and we hope she'll come back for another guest post as I could use major help in the baking department!