A creamy and gluten free soba noodle salad with sunbutter sauce is basically done in the style of a peanut sauce made with sunbutter. Sunflower seed butter is combined with coconut aminos for a peanut, nut and soy-free sauce that's flavorful and delicious. These Asian-inspired noodles are allergy friendly!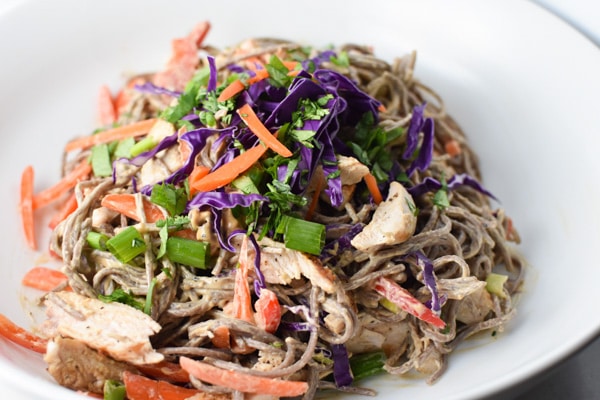 A Peanut Sauce Made with Sunbutter
This is for all my fellow Heal Your Headache dieters who miss their spicy peanut noodles...or in my case the spicy soba cashew chicken from that Noodle Wave in the strip mall. I've had a really difficult time giving up Asian food. Without being able to use migraine triggers like fish sauce, peanuts, cashews, soy, mirin, or most srirachas you're kind of up a creek without a paddle.
Before we get started let me put a little disclaimer here that this is a more advanced HYH recipe. Technically you're not allowed to have coconut on the HYH diet and some do have an issue with it. However many do not and it's allowed on the much more strict, Charleston diet.
If you've been doing really well in your progress and you MUST have a soy sauce replacement, try coconut aminos. I'm linking to this one at Thrive because they're half the price of Amazon. Coconut aminos are considered the best soy sauce substitute, but some people do find it sweet. To balance this, I usually use less sweetener in a recipe and add more salt. I encourage you to try your sauce before you add more of either.
If you can't have peanuts, this faux peanut sauce made with sunbutter is really delightful. Use a salty sunbutter like Trader Joe's Sunflower Seed Spread or Sunbutter Brand.
Srirachas without Sulfites
Let's also take a quick study into sriracha. Your basic sriracha that you can find anywhere contains these ingredients: chili, sugar, salt, garlic, distilled vinegar, potassium sorbate, sodium bisulfite and xanthan gum. Not great. Let's say you're horrible with sulfites but can tolerate tiny amounts of xanthan gum and citric acid - Sky Valley is your pick.
Maybe you're terrible with all of the above, but can tolerate minor amounts of citrus? Yellowbird is super clean but has tangerine and lime concentrate. **UPDATE** Yellowbird's Blue Agave Sriracha (found at Whole Foods) is no longer safe!
Or you could go with Shark brand, the cleanest of the bunch of which I've only been able to locate on Amazon **UPDATE Shark now has xanthan gum...ugh**. It contains chili, sugar, garlic, salt, and vinegar.
My personal favorite is Lingham's or Fix which I've been able to find at Whole Foods or on Amazon. Lingham's has xanthan gum as the very last ingredient, but it doesn't seem to bother me. Perhaps because you're using such a small amount. I should probably look into a recipe where you can make your own for a future post!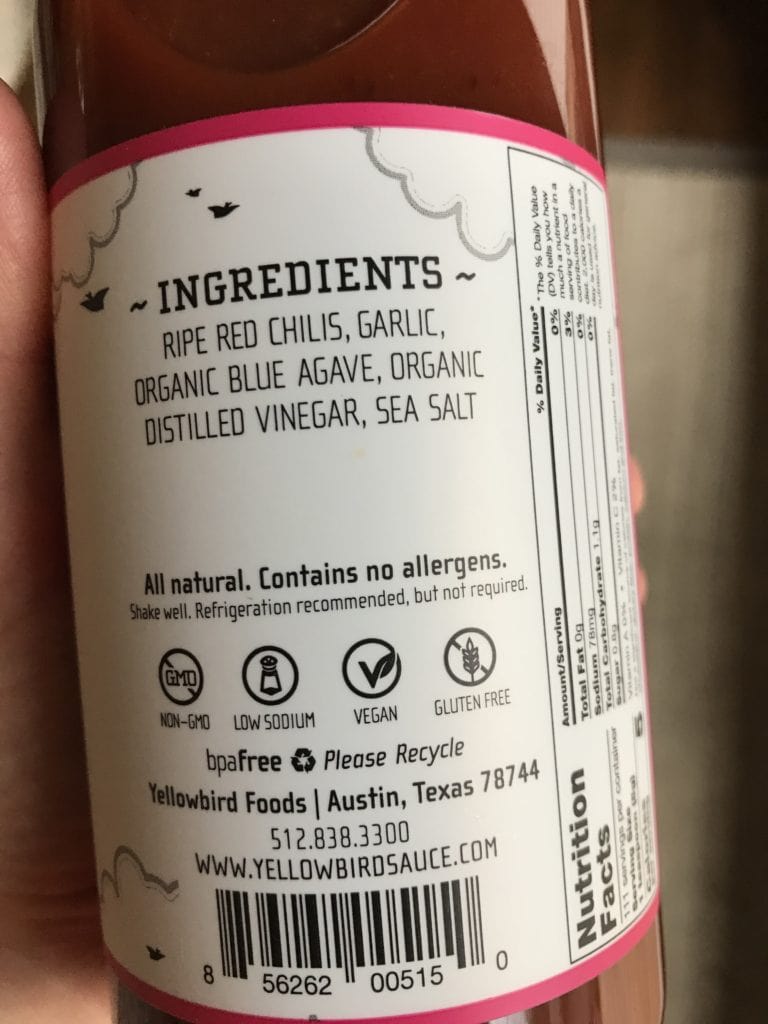 Gluten Free Buckwheat Noodles
Buckwheat noodles are gluten free, but you have to get the 100% buckwheat kind. I used Eden which you can find here or less expensive here on Thrive.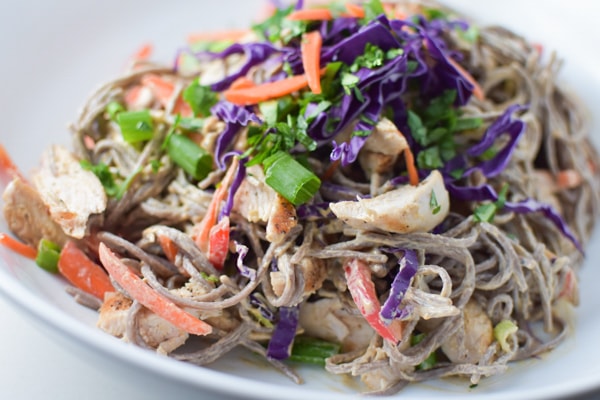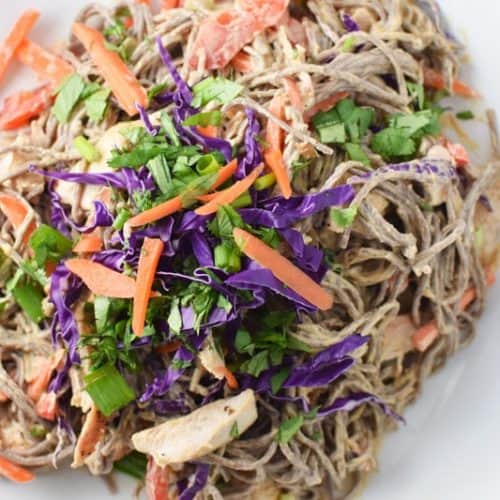 Sunbutter Soba Noodle Salad
A faux spicy peanut salad recipe. Leave out the chicken for a filling vegetarian option! True buckwheat noodles are naturally gluten free. Check your labels to make sure it's not a less expensive, mixed version.
Print
Pin
Rate
Ingredients
Sunbutter Sauce
⅓

cup

sunflower seed butter

* see notes

¼

cup

coconut aminos

1-½

tbsp

toasted sesame oil

2

tbsp

distilled white vinegar

½

tsp

dried ginger or 1 tsp fresh

2

small garlic cloves minced

1

tbsp

sriracha of your choice

5-6

tbsp

water

1

tsp

kosher salt

*may need to adjust depending on sunbutter sweetness/saltiness

1

tbsp

honey

*may need to adjust depending on sunbutter sweetness/saltiness
Other toppings
1

lb

grilled or cooked chicken sliced or shredded

*leave out for vegetarian

½

red bell pepper

3-4

chopped green onions

¼

cup

chopped cilantro

¾

cup

red cabbage shredded

½

cup

matchstick carrots

Optional: toasted sunflower seeds if you like a little crunch
Instructions
Heat a large pot of water on medium high till it comes to a boil.

Place all the ingredients for the sauce except water, salt, and honey in a food processor (or whisk yourself) and blend together. Add water 1 tbsp at a time till you reach desired consistency. It should be a little thick. Taste and see if it needs salt and honey depending on the flavor of your sunbutter. I find they range quite dramatically in flavor! Mine was unsalted and unsweeted so I used the above amounts.

Add soba noodles to boiling water and cook according to package directions. Mine was 7-8 minutes. Err on the lower side...you do not want to overcook these.

Place all the chopped veggies, soba noodles, and chicken in a large bowl and toss with about half of the sunbutter sauce. If you need more, add the rest. I had some leftover! It makes for a great dipping sauce or salad dressing.
Notes
I find some sunbutters are sweeter than others. I like Trader Joe's (which is a bit salty) or Sunbutter Organic (no sugar or salt)
For Gluten Free use 100% Buckwheat Noodles
Nutrition
Calories:
211
kcal
|
Carbohydrates:
22
g
|
Protein:
6
g
|
Fat:
12
g
|
Saturated Fat:
1
g
|
Sodium:
391
mg
|
Potassium:
210
mg
|
Fiber:
2
g
|
Sugar:
7
g
|
Vitamin A:
5837
IU
|
Vitamin C:
33
mg
|
Calcium:
53
mg
|
Iron:
2
mg