I get asked almost daily which migraine glasses are best and what the difference is between Axon Optics vs. Theraspecs, and comparing both of them to Migraine Shields, Felix Gray and Avulux. In this post, I'll also answer how FL 41 glasses differ from blue light blocking glasses both in tint and effectiveness, as well as how each brand is unique in lenses, prescription, and frames.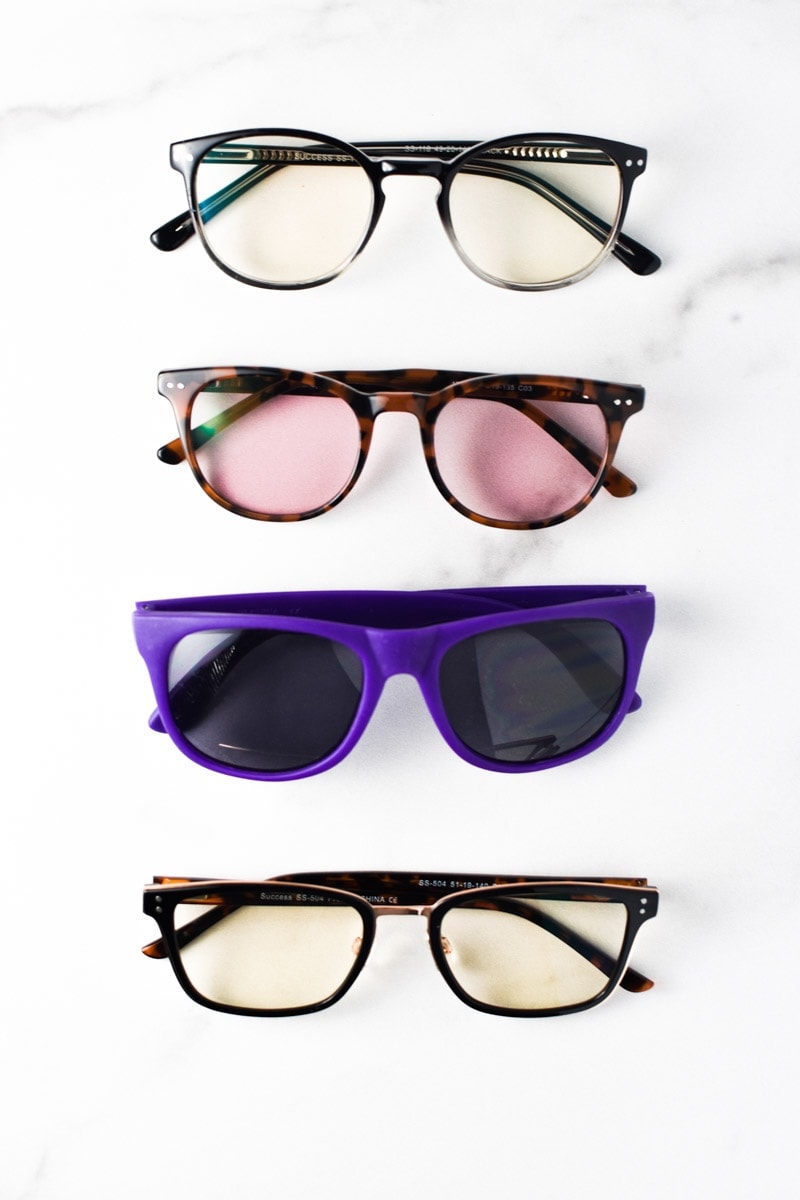 Jump to:
If you're interested in trying Avulux, they offer $25 off with code THEDIZZYCOOK and also a 60 day easy return policy.
So Which Migraine Glasses are Best?
All four brands are really solid companies and I have owned and used all of them in my five years of dealing with chronic and episodic vestibular migraine. The truth is, they're all very different and good for specific activities.
At this point in my migraine journey, it's also a little difficult for me to compare them. I'm more episodic now and really only deal with eye/head pressure and dizziness when I'm on the computer too long, whereas before I was trying to solve a mountain of issues like vertigo, derealization, etc. with FL-41 lenses.
I really enjoyed Migraine Shields, so it's a shame what has happened to the company. However, for relief from eye strain specifically caused by the computer, I'd recommend Felix Gr

a

y.

I spend so much time squinting while editing photos and writing posts that I really enjoy a lighter tint or no tint to avoid

color skewing.
I think TheraSpecs are best for those with really severe attacks as an alternative to wearing sunglasses, or for super bright big box stores. Readers really enjoy the wrap around lenses.
Avulux and Axon I've worn for a couple years now, but I've noticed the lenses to be very calming for my eyes. I definitely have less eye strain and sleep better using them to look at screens in the evenings. This is a really solid brand if you need prescription lenses and can spend a little more money. If you're in a chronic stage, I'd say this is probably the best option. These are also great for screens as well, especially if you don't mind tinted lenses.
In conclusion, finding the best migraine glasses involves testing them yourself. All these companies offer fantastic return policies, so order a few and then return the ones that aren't a fit for you.
I hope they don't hate me for saying that, but it's truly the only way to know what will work best! What suits me best, may not suit you. I do hope I offered a little more insight into the differences between all four lenses.
A Note on
Sunglasses
The most important thing to note, and why I added my sunglasses photo, is wearing sunglasses all the time indoors can actually increase your light sensitivity. Therefore you may actually be making your symptoms worse in the long run for short term relief.
Investing in one of these migraine glasses may have good long term effects on decreasing that sensitivity overall.
More Posts on Migraine Glasses
For more information on these lenses for migraine, check out the following posts.
Natural Migraine Treatments
TheraSpecs for Vestibular Migraine
Gift Guide for People with Migraine
How to Relieve Migrainous Vertigo
My Vestibular Migraine Treatment Plan
This post was originally written January 4, 2021 and was updated June 1, 2023 with new information on Avulux and Felix Gray lenses.