This warm cinnamon milk is perfect for a caffeine-free drink or a cozy drink before bed. It's been my favorite substitute for coffee in the morning!
Heading into my 35th week of pregnancy, I've unfortunately been experiencing intense acid reflux. I'm convinced this baby is going to come out looking like Chewbacca based on the old wives tale that acid reflux = a hairy baby. That being said, I've had to shift from my morning Swiss water processed decaf coffee to something that is not so acidic.
This is essentially a concoction of steamed milk with a pumpkin spice blend, sometimes called a "steamer" if you go Starbucks and just order warm, steamed milk. Normally I think these recipes are just too easy to post, but it's been one of my absolute favorites. There's something so comforting and cozy about a mixture of warm milk with cinnamon. It's wonderful for a morning substitute for coffee or tea, or as a way to calm down before bed.
Types of Milk
Obviously you can use any that suit you best, but my favorites are whole milk and oat milk because of how frothy they get when you steam or blend them. They also have a more creamy texture over milk substitutes like nut milk or hemp milk, which always seem more watered down. With real full fat milk and oat milk, it will retain the same froth for far longer after steaming.
If you use oat milk, this recipe would fit a vegan diet. A few of my favorite brands of oat milk ranked in order of preference:
Oatly (my favorite) because it also doesn't contain any gums or additives

Califia Farms Barista

Elmhurst also doesn't contain gums, but it's a lot more expensive and I don't think it tastes as good as Oatly

Planet Oat contains gellan gum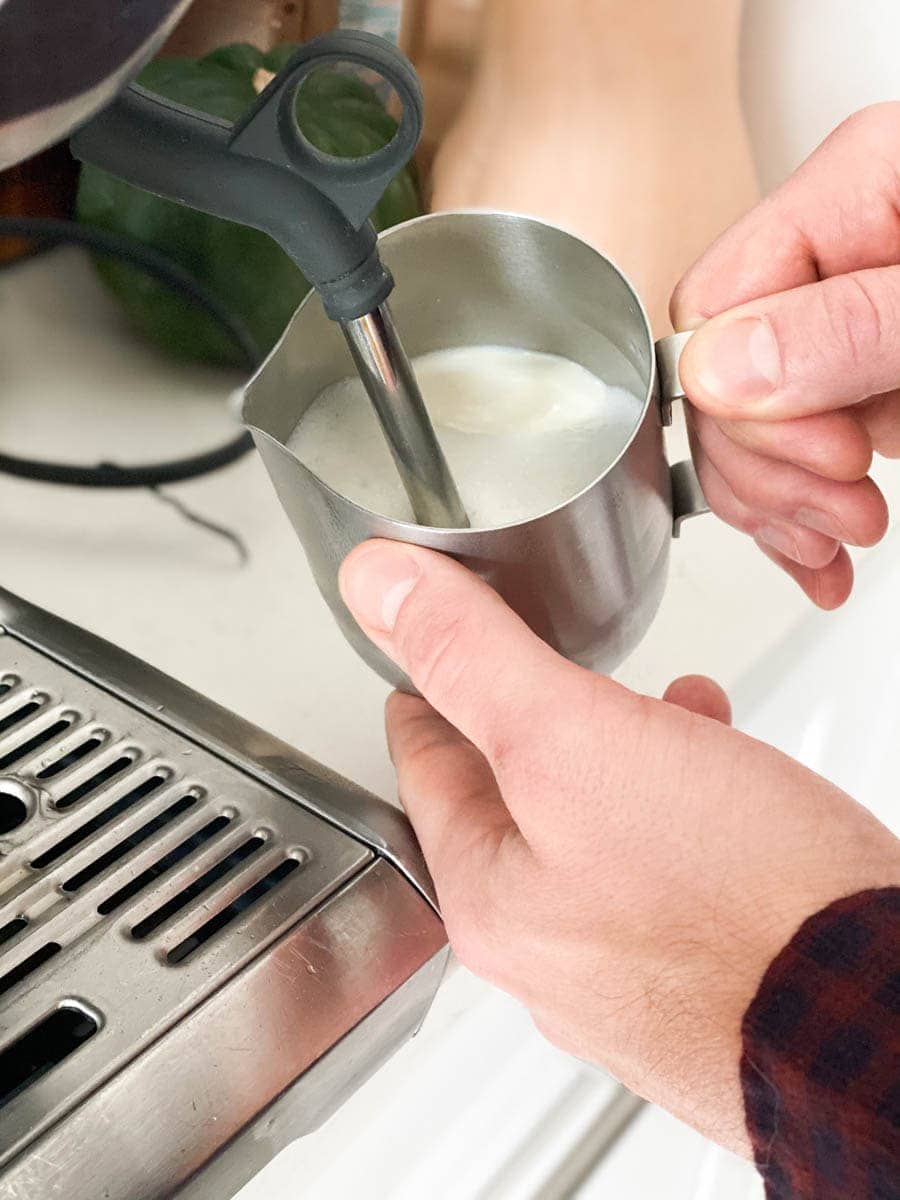 How to Froth Milk
There are a few ways you can froth your milk for this recipe. If you have an espresso machine, this is probably the easiest way to do it. I start by placing about a cup of milk in a stainless steel cup and turning on my machine, allowing it to heat up the steam, and placing the milk under the spout. Then gently move your hand in circles gradually shifting the cup up and down to get the milk to froth up. You may also need to tilt your cup to a 45 degree angle while steaming the milk.
If you don't have an espresso maker, not to worry, there are so many gadgets out there that will froth milk for you, and some easy makeshift ones you probably have already in your home.
A detachable milk frother
A giant foamer for making multiple batches
A cheap handheld frother (but this won't heat the milk for you)

Warm the milk on the stove and then blend in a blender

Warm the milk and then place into a mason jar and shake vigorously
Pumpkin Spice or Cinnamon
Pumpkin spice doesn't actually contain any pumpkin, it's just a blend of cinnamon-forward spices that are typically found in pumpkin pie. I like to use a blend as a shortcut here, but you can certainly make your own. Usually pumpkin spice is about 1 teaspoon cinnamon, ¼ teaspoon of nutmeg and ginger, and a pinch of ground cloves.
Some of my favorite blends are from Primal Palate and Simple Organic. If you're follow a migraine diet, just double check the ingredients. The one at Trader Joe's contains lemon peel.
Or if you want you can keep this strictly as just cinnamon milk. Either way you're getting wonderful anti-inflammatory properties of cinnamon which can also help unstable blood sugar levels, always a good thing.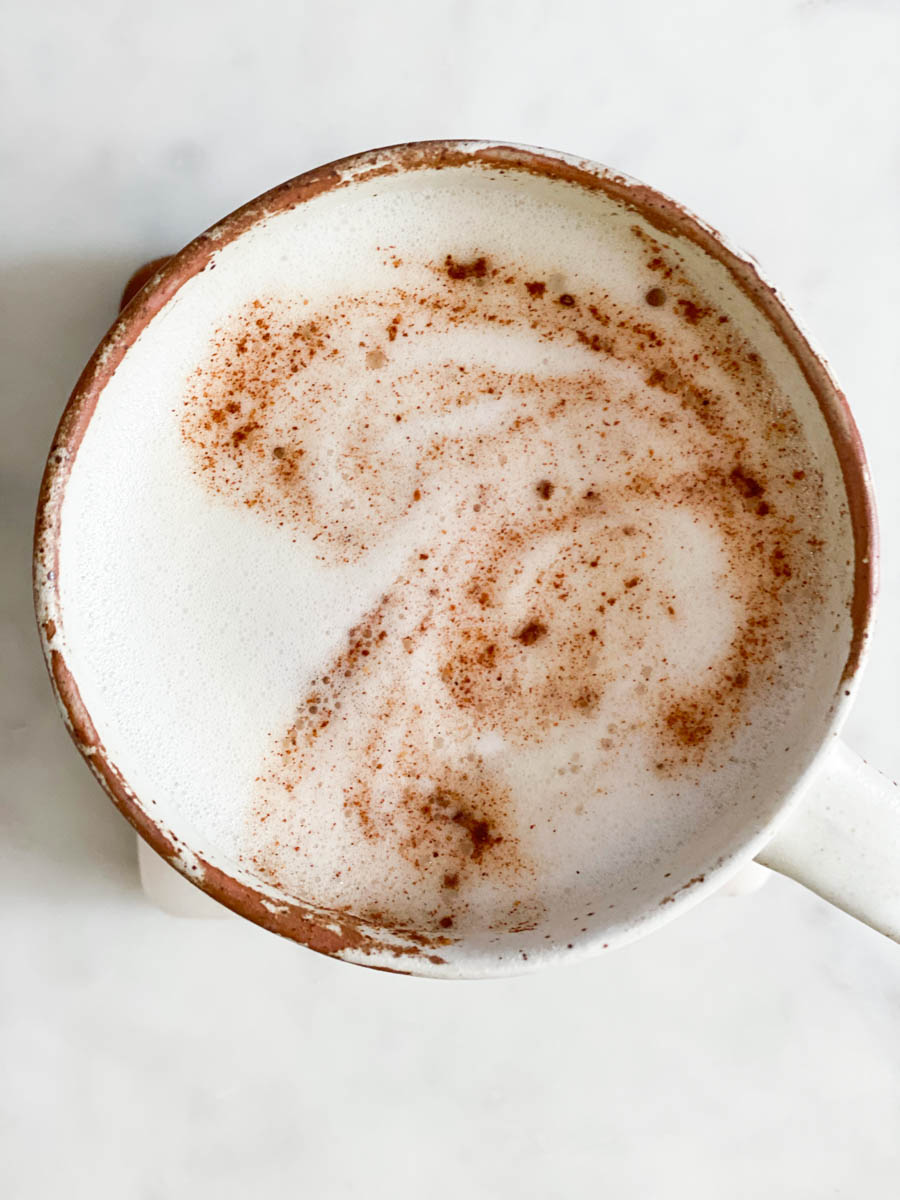 More Warm Drinks
For other cozy drinks like this warm cinnamon milk, give these posts a read.
Homemade Winter Wassail
Decaf Coffee Alternatives
Ginger Turmeric Tea
Warm Cinnamon Milk
A cozy nightcap drink or a way to wake up without coffee, this cinnamon milk is an easy, caffeine-free recipe that is a great substitute for lattes.
Print
Pin
Rate
Ingredients
8oz

milk of choice - I recommend whole milk or oat milk

¼

teaspoon

pumpkin spice or cinnamon

½

teaspoon

vanilla extract

Sweeten to taste
Instructions
Prepare your milk by using one of the recommended methods in the post - either in a stainless steel steamer cup or steamer appliance. If using a blender, a handheld frother, or shaking in a jar, warm the milk in a small saucepan over medium heat till just beginning to bubble.

If using a latte machine/steamer - swirl the stainless steel cup at an angle for about 1-2 minutes until milk is fully heated through. Continuously moving the cup in a steady, circular motion at this angle will help to get the milk nice and frothy.

Pour into a mug and top with cinnamon or pumpkin spice blend and vanilla extract. Stir with a spoon to incorporate both and add sweetener as needed (I personally don't think it needs any).
Notes
See post recommendations for preferred pumpkin spice blends. Both that and cinnamon will work. I tend to prefer ½ teaspoon in my milk, but start with ¼ and see what you think.
Maple syrup is a great way to sweeten this, if desired.
I like to use a good vanilla extract for this. Trader Joe's has a good alcohol free one, and Nielsen Massey is my other favorite.
Nutrition
Calories:
12
kcal
|
Carbohydrates:
1
g
|
Protein:
1
g
|
Fat:
1
g
|
Saturated Fat:
1
g
|
Cholesterol:
1
mg
|
Sodium:
4
mg
|
Sugar:
1
g