Beautiful patterns make these light and crispy rosette cookies such a treat, especially for holidays. Dust with powdered sugar for the perfect finish.
As an only child, I tend to spend most holidays with my parents. I think they must have keeled over the first time I decided to fly out Christmas day to see my boyfriend, now husband. With pregnancy and my father losing his brother to COVID, we've been extremely careful during the pandemic. Anytime we see each other, it's strict quarantine for weeks along with tests. But it has made our holiday dinners together very special. Typically I do all the cooking while my mom does the baking!
This year she decided to make this old world favorite - rosette cookies. I had been ages since we made these rosettes, but I love how unique they are compared to our typical holiday cookies - almost like individual funnel cakes. And who doesn't like a light funnel cake?!
Frying Tips
While the ingredients for this recipe are very simple, the technique is what gets tricky when it comes to these cookies. If you're a little out of practice, it takes one or two to get the hang of frying these cookies. Here are some troubleshooting tips so you can learn from our mistakes. The two most important factors for making rosettes are getting the oil to the right temperature and avoiding batter on top of the iron molds.
Avoid getting the batter on top of the rosette iron. If this does happen, you can fry as usual and then gently remove with a knife to release it, but it's easy to not have this happen in the first place.

You must use a thermometer to get the oil to be the right temperature of 375 degrees F. If the oil is too hot or too cold, the batter will not adhere properly to the rosette iron.

Keep a plate with a paper towel next to your fryer so once the iron is heated in the oil, you can "blot" the excess oil before dipping into your batter. This will help the batter adhere better.

If your rosettes are not crispy, you may need to thin out the batter with a little milk. But first check your temperature as that is typically the issue. You also may need to extend the frying time.

Sifting the flour is important to prevent clumping.

Maintaining the proper temperature is important also for dipping the hot iron into the batter. If it is too hot, you will cook your batter!

If your rosette gets stuck to the iron, just use a table knife to gently loosen it. It should drop right off. If it does not, fry a little bit longer.

Rosettes must be completely submerged in the oil or else they will fall off the iron.
Storing and Freezing
Despite being fried, these actually store quite well. You want to start by allowing them to cool, open side down, on a paper towel or a cookie rack.
From there, you can dust with powdered sugar and eat right away, or use a few different storage methods.
Layer the cookies, using parchment or wax paper between them, and store in an airtight container for up to 3 days. Reheat on a baking sheet at 300 degrees F for 2 minutes and then allow to cool to get crispy again.
If you want to freeze your rosette cookies, use the same layering method, but store in a freezer container or bag (just be careful laying anything on top of them so they don't get broken or smashed). No need to defrost them. Reheat on a baking sheet at 300 degrees F for 3-5 minutes until nice and crispy.
It's important you watch these carefully as they reheat in the oven. It's really easy to defrost them. If you do plan to store them and reheat, I recommend not dusting them with powdered sugar until they're ready to serve.
Cooking Essentials
For this recipe, you do need both rosette cookie irons and a good candy or frying thermometer. A deep, heavy bottomed pot, like a dutch oven, is also really helpful to keep the oil for splattering too much.
Rosette cookie irons come in so many different shapes and sizes, making them perfect for any holiday.
The last essentials you'll need:
More Holiday Cookies
For more holiday cookie recipes like these cookies, check out these links.
Sugar Cookies with Cherry Buttercream Frosting
Honey Spice Cookies
Amish Swig Cookies
Gingerbread Cookies
Gluten Free Snickerdoodle Cookies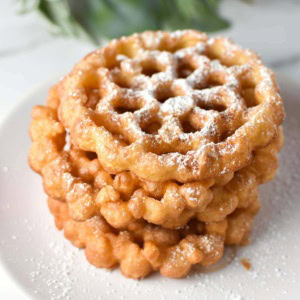 Rosette Cookies
These rosette cookies are light and crispy in beautiful patterns. Top with powdered sugar, they freeze and reheat well.
Print
Pin
Rate
Ingredients
2

teaspoons

sugar

2

large eggs, slightly beaten

1

cup

sifted flour

¼

teaspoon

salt (table salt)

1

cup

milk

2½

teaspoons

vanilla extract

vegetable oil or canola oil

powdered sugar
Instructions
Add sugar to the slightly beaten eggs, then add in the milk. Sift flour with the salt, then stir into the egg mixture, beating until smooth. This should be a consistency comparable to heavy cream. Add in the vanilla extract, stirring till just combined.

In a heavy pot like a dutch oven or deep fryer, add about 2 inches of vegetable oil. Heat to 375 degrees F on your candy or deep fryer thermometer for about 1-2 minutes. Do not get too hot or it will burn your batter! Attach the rosette iron molds to the handle and immerse in the hot oil until heated. Shake off any excess oil or blot onto a paper towel (this will help the batter adhere better), then place the iron into the batter ONLY to the depth of the mold and not covering the top of the iron mold.

Place the dipped iron mold into the hot oil and fry for about 30 seconds or until golden brown - the foamy bubbling should subside after the initial frying so you can see. Lift the iron out and allow any excess oil to drip back into the fryer. Gently tap on the rosette or use a knife to loosen it onto a paper towel.

Cool rosettes with the open side down on a cookie rack or paper towel. Dust with powdered sugar, if desired.
Notes
If your first rosette cookies are not crispy, thin out the batter with a little more milk.
If your batter is not adhering to the molds or they are not crisping, check the temperature to make sure you're at 375 degrees and that your mold is getting hot enough.
Reheat at 300 degrees F for 1-2 minutes from fresh, or 3-5 from frozen.
Nutrition
Serving:
1
cookie
|
Calories:
20
kcal
|
Carbohydrates:
3
g
|
Protein:
1
g
|
Fat:
1
g
|
Saturated Fat:
1
g
|
Cholesterol:
9
mg
|
Sodium:
20
mg
|
Potassium:
14
mg
|
Fiber:
1
g
|
Sugar:
1
g
|
Vitamin A:
22
IU
|
Calcium:
9
mg
|
Iron:
1
mg