Salted caramel cookies have the perfect amount of savory and sweet. Made with one pan, you'll love how easy and quick these cookies are!
How to Make
These salted caramel cookies are so easy to prepare and taste great too. You won't need a hand or stand mixer because these are made in just one pot right on the stove top. I know that's really unusual for baking but, trust me, in this case unusual is good! My guy says the salt on top is really what makes these cookies taste so good. Did I mention they smell amazing too? I had a hard time keeping his paws off of them while I was trying to photograph because they smelled so good! If you have company coming over this is a great cookie to bake up just before they arrive to fill your house with delightful caramel aroma.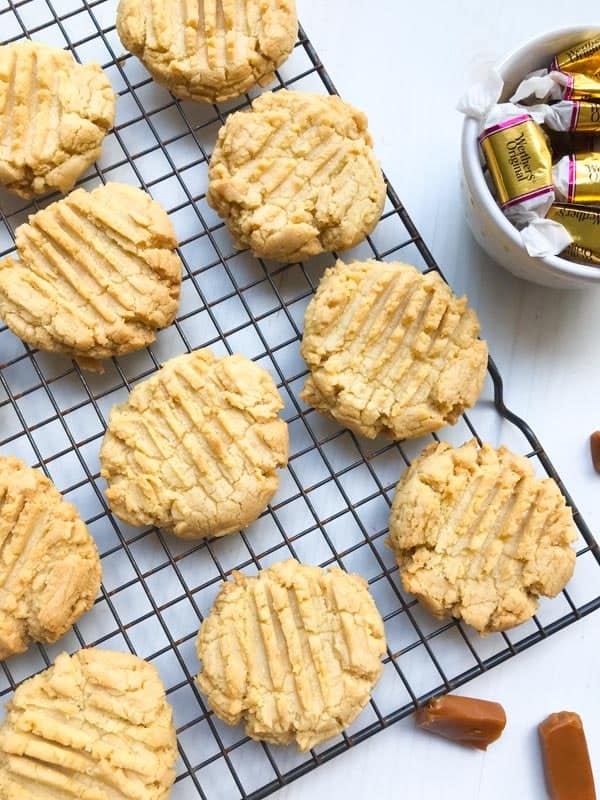 Don't Let Your Dough Cool
For these salted caramel cookies, you'll start by making your caramel sauce and then add in the dry ingredients.
It's important to note that once you do, you'll want to work rather quickly to transfer your dough to your baking sheet. Don't let it cool too much or the dough will become too crumbly to work with.
If you have any extra dough drop them onto a second baking sheet right away. Do not leave it to sit in the pot waiting for round two.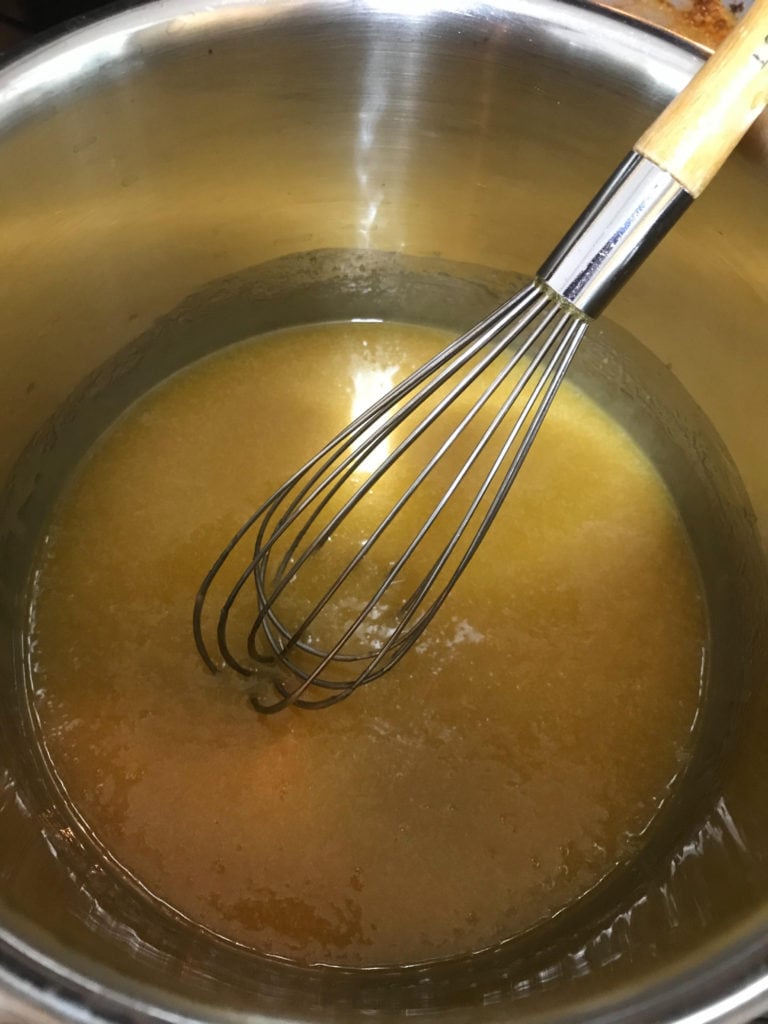 Hydration and Salt for Migraine Management
Now onto a migraine management tip! As our weather begins to get warmer, it's important to make hydration a priority. Adequate hydration is an effective migraine preventative, and adversely dehydration is one of the top migraine triggers & increases your risk for migraine. It takes an average of 64-80oz to replace the water our bodies release in 24hours. This means you should be drinking at least a half-gallon of water a day! Some migraine sites suggest as much as a gallon in hot weather or during strenuous exercise.
Consistent hydration is one of the best strategies we can implement to avoid attacks. One study showed when people with migraine increase their water intake by just four cups a day they had 21 fewer hours of pain over a two-week period than those who did not increase their water intake. You can view the study here.
If you have vestibular migraine and are dealing with ear symptoms, hydrating can reduce the severity of your symptoms. Drinking 8 glasses of water a day is actually the first line of treatment for ear symptoms in Eastern medicine. Drinking throughout the day can help decrease medication side effects like dry mouth as well.
Feeling thirsty is not the only sign of dehydration. Here are some signs of dehydration to watch for.
Fatigue

Dizziness

Headaches

Dry mouth or lips

Dark urine

Irritability
If you think you're severely dehydrated, you can replenish electrolytes by adding a pinch of salt and sugar to your water. Typically, you should begin to feel better right away...or just have a salty caramel cookie with your water!
This guest post is courtesy of Jennifer Bragdon, our dizzy baker! You can find all of her recipes here. I also encourage you to read her path to recovery. Jennifer is an administrator for one of my favorite migraine support groups, Migraine Strong, and a fellow vestibular migraine warrior.
More Cookie Recipes:
Salted White Chocolate Cookies
Gluten Free White Chocolate Oatmeal Cookies.
Gooey Blondies
White Chocolate Peppermint Cookies
White Chocolate Cereal Bars
Salted Caramel Cookies
No need for a mixer! These cookies come together right on your stove top. Salty caramel is paired with vanilla for a sweet and savory combination that's out of this world!
Print
Pin
Rate
Ingredients
½

cup + 1 tablespoon

good butter, like Kerrygold

1

tablespoon

heavy whipping cream

* I used Organic Valley

½

cup

cane sugar

1

tablespoon

light brown sugar

1

teaspoon

vanilla extract

1.5

cups

all purpose flour

* I used Arrowhead Mills

1

teaspoon

baking soda

1

tablespoon

sea salt

* For the topping only, don't mix in
Instructions
Preheat your oven to 350 degrees F. Add the butter, cream, white and brown sugars with vanilla in a saucepan, and whisk them together over medium heat. Allow it to simmer gently whisking continually until it begins to bubble. Once it bubbles allow it to cook about a minute more, then remove from heat and allow to cool a bit (to a warm but not hot temp).

Sift the flour and baking soda together, then add it to the cooled caramel mixture and stir. Using a small 2inch cookie scoop, place balls of dough onto a baking sheet. Press dough down with a fork or a floured glass then sprinkle with sea salt to taste.

Bake for 15 minutes or until golden brown around the edges. Remove from oven and allow to cool on the baking sheet for a few minutes. Transfer to a wire rack to cool completely.
Nutrition
Calories:
177
kcal
|
Carbohydrates:
21
g
|
Protein:
2
g
|
Fat:
10
g
|
Saturated Fat:
6
g
|
Polyunsaturated Fat:
1
g
|
Monounsaturated Fat:
2
g
|
Trans Fat:
1
g
|
Cholesterol:
25
mg
|
Sodium:
745
mg
|
Potassium:
23
mg
|
Fiber:
1
g
|
Sugar:
9
g
|
Vitamin A:
296
IU
|
Vitamin C:
1
mg
|
Calcium:
7
mg
|
Iron:
1
mg