Chewy with a bit of a crunch, these white chocolate peppermint cookies will be a hit at your holiday party or Christmas dinner. They're the perfect Chrismas Cookies
This guest post is courtesy of Jennifer Bragdon, our dizzy baker! You can find all of her gluten free recipes here. I also encourage you to read her path to recovery. Jennifer is an administrator for one of my favorite migraine support groups, Migraine Strong, and a fellow vestibular migraine warrior.
White Chocolate Peppermint Cookies
Peppermint and chocolate are one of my favorite flavor duos. There's no better way to put you into a fun and festive winter mood. These cookies taste like a buttery sugar cookie with a chewy chocolate chip cookie texture. The peppermint candy provides a slight crunch, and the peppermint extract packs these cookies with fresh flavor. Fresh might seem like a weird way to describe a cookie, but I swear it's delicious, and will keep you feeling upbeat and energized through your holiday celebrations. (I mean, I'm pretty sure that's why cookies exist. ????).

Let's face it, the holidays can wear us down. The fear of a Migraine attack and not being able to take part in festivities can stir up anxiety and worry. In the spirit of the season, I thought I'd share a few holiday tips to keep you feeling calm, anxiety and attack free throughout the holiday season. So before you mutter "Bah humbug," give them a go.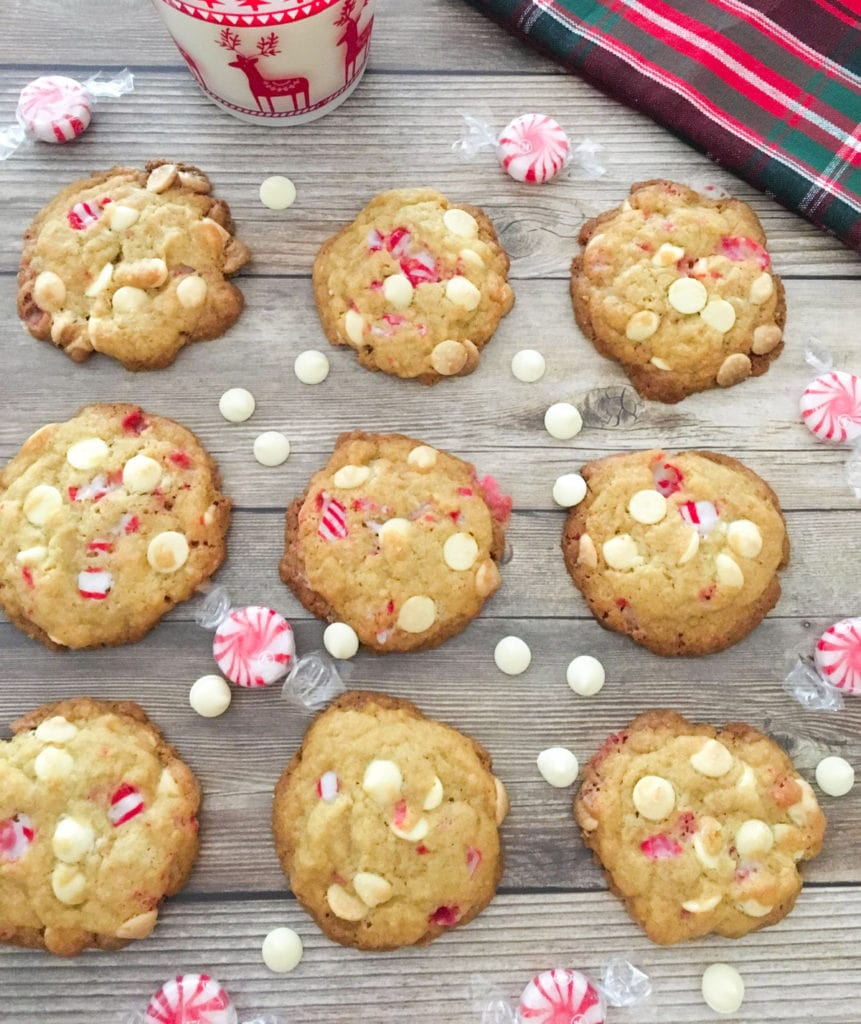 12 Tips to Manage Your Migraine during the Holiday Rush
Start early. The minute you see holiday decorations show up in retail stores think about your holiday cards. November may be too early to put up your Christmas tree, but it's the perfect time to start writing out your holiday cards. Just tuck them away until you're ready to drop them in the mail.
Make lists to keep yourself organized and on track. Include foods to prepare, gifts to purchase, cards and invitations to write out etc.
Pace yourself and only schedule one or two things each day. It's so easy to throw ourselves into an attack by over scheduling and over stimulating ourselves. If you know you have your company Christmas party and know you're going to be on your feet for 3-4 hours in the evening, that's not the day to be on your feet in the kitchen all day baking your Christmas cookies.
Have your groceries delivered. It's one less thing you'll need to worry about during the holiday hustle and bustle.
Do your holiday shopping online, and wrap gifts as you get them so you don't have a bunch to wrap in one sitting. Using gift bags with coordinating tissue can further simplify gift wrapping.
Manage your scent exposure. If the strong scent of pine bothers you, purchase an artificial tree. There are really gorgeous ones out there now. Slip peppermint oil into your clutch at holiday parties and put a little under your nose when you come across the inevitable friend or family member that wears too much perfume.
Stick to your regular sleep schedule. It's ok to step out of a party a bit early. You showed up - go you!
Pack a migraine attack sac. Bring items of comfort and abortive meds with you. Having your ear plugs, ginger and magnesium capsules on hand can help to fend off an attack before it starts.
Do your best to eat right and continue to follow your diet. This includes planning so you don't skip meals and staying hydrated. Tuck snacks you know you can eat into a bag and bring them with you to holiday functions. Bring a "head safe" shared dish or two to holiday gatherings. Order a cranberry seltzer at the bar. No one has to know you're not drinking.
Keep managing your migraine and find time for yourself. Skip the bright flashing light displays. Take breaks when situations feel over stimulating. Go to the bathroom, step outside for some fresh air or go sit in the car. Find moments to engage in activities that make you happy. Listen to the Calm app, create a holiday play list, listen to audio books or soak your feet in magnesium flakes.
Ditch the guilt. Do what you can and no more. It's ok to forego some holiday gatherings and instead plan smaller gatherings or schedule one on one time to be with people you love that will be less triggering. Say no to your Aunt Betty's green bean casserole (try this one instead!). It's not rude to avoid foods that might throw you into an attack. Bake in spurts and freeze, or better yet, buy goodies. It's okay to bring store bought cookies to your child's class party.
Most importantly, be kind to yourself and enjoy the season. Practice mindfulness techniques of staying in the moment and focusing on all of the goodness happening around you.
Wishing you a joyous holiday and a healthy new year! - Jennifer B.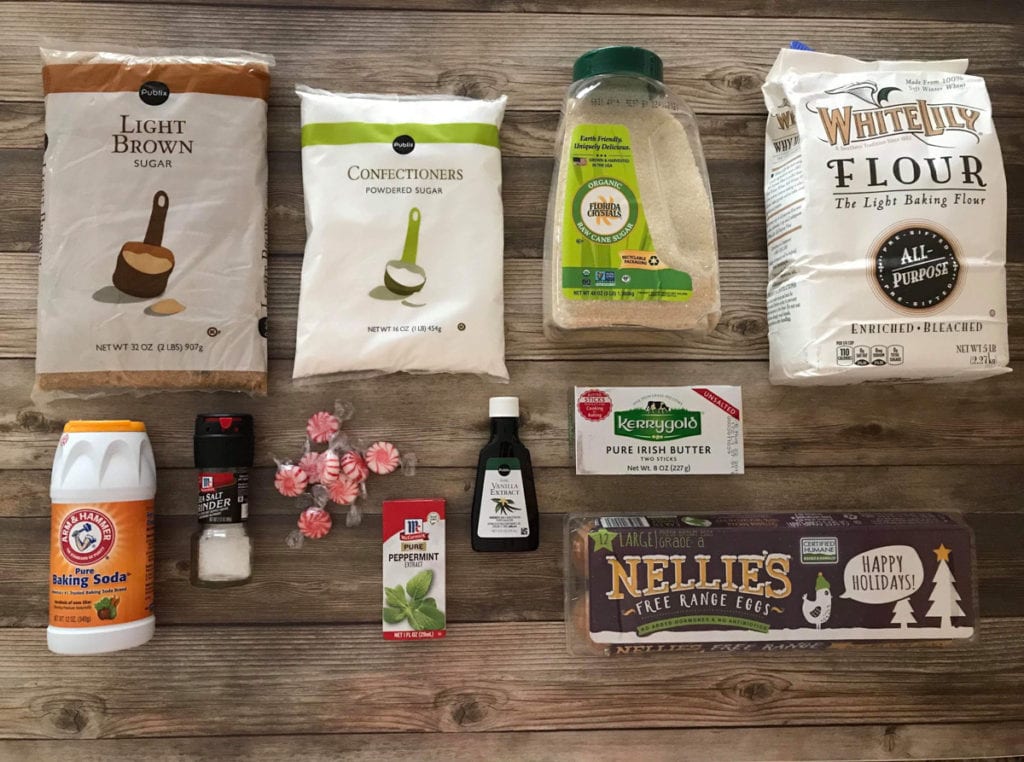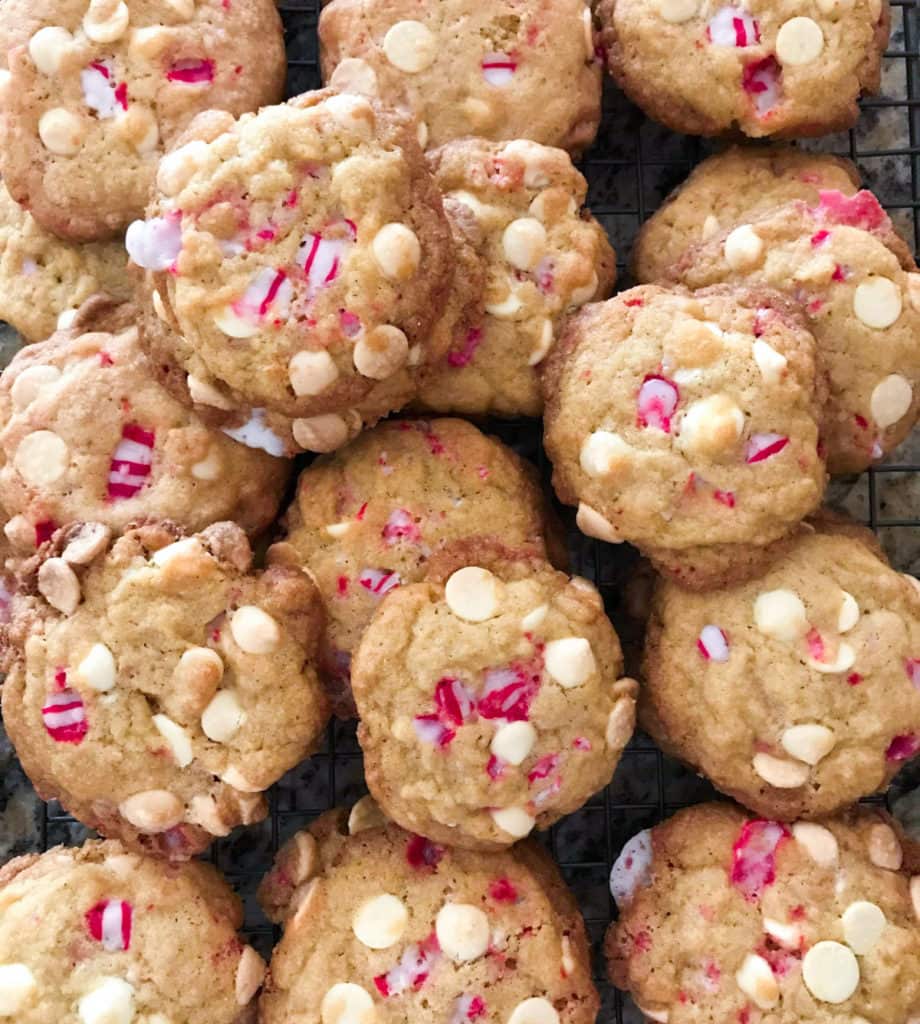 White Chocolate Peppermint Cookies
Perfect for your holiday parties, these cookies are just the right amount of chewy and crunchy. These festive cookies will be a hit at Christmas!
Print
Pin
Rate
Ingredients
2

cups

all purpose flour

½

cup

granulated sugar

½

cup

packed light brown sugar

1

teaspoon

baking soda

1

teaspoon

cornstarch

½

teaspoon

salt

¾

cup (or 1.5 sticks)

unsalted butter, softened to room temperature

1

large egg at room temperature

1.5

teaspoon

vanilla extract

¾

teaspoon

peppermint extract

1

cup

white chocolate chips

½

cup

crushed peppermint candy pieces

* see note on how to crush in instructions
Instructions
To crush your candy pieces, place them in a baggie and gently pound with a rolling pin being careful to leave med sized pieces and not a fine powder. You want them about the same size as your white chocolate chips. The larger the pieces the less spread. Fine pieces will cause the cookie to spread too much) Set some aside to press into the top of each cookie once they're rolled and ready to bake.

Whisk the flour, sugar, brown sugar, baking soda, salt, and cornstarch together in a medium bowl. In a large bowl add softened butter, egg, vanilla extract, and peppermint extract. Using a hand-held mixer beat until completely smooth and creamy.

Slowly add the dry ingredients into the wet ingredients and mix on low until combined. The cookie dough will be thick. Once combined, add the white chocolate chips and most of the crushed candy cane. Hand stir until combined. Cover the dough tightly with plastic wrap and chill for at least 2 hours and up to 3 days. Overnight is best. It's important not to skip this step. Warm cookie dough yields cookies that spread too much.

Preheat oven to 350°. Remove cookie dough from the refrigerator. Line 2 large baking sheets with parchment paper or silicone baking mats. (I LOVE the Silpats from Williams Sonoma) Set aside.

Roll dough into individual balls, about 1.5 Tablespoons of dough each, and place them onto your cookie sheet leaving space for spread. Press a few extra pieces of peppermint candy onto the tops of each ball.

Bake for 14 minutes, or until lightly golden brown around the edges. Allow them to cool for about 5 minutes on the cookie sheet, then transfer to cooling rack to cool completely.
Notes
Baked cookies and unbaked dough balls freeze well for up to 3 months so these can be made ahead and tucked away for the holidays.
There is no need to thaw cookie balls before baking, just add an extra minute or two onto your baking time.
Cookies stay fresh covered & stored at room temperature for about 1 week.
Nutrition
Calories:
183
kcal
|
Carbohydrates:
25
g
|
Protein:
2
g
|
Fat:
9
g
|
Saturated Fat:
5
g
|
Cholesterol:
24
mg
|
Sodium:
106
mg
|
Potassium:
43
mg
|
Fiber:
1
g
|
Sugar:
16
g
|
Vitamin A:
197
IU
|
Vitamin C:
1
mg
|
Calcium:
23
mg
|
Iron:
1
mg