These salted white chocolate cookies are the perfect amount of soft and chewy mixed with sweet and savory. The salt helps to cut the sweetness of the white chocolate chips, and a few extra tips make these cookies perfect.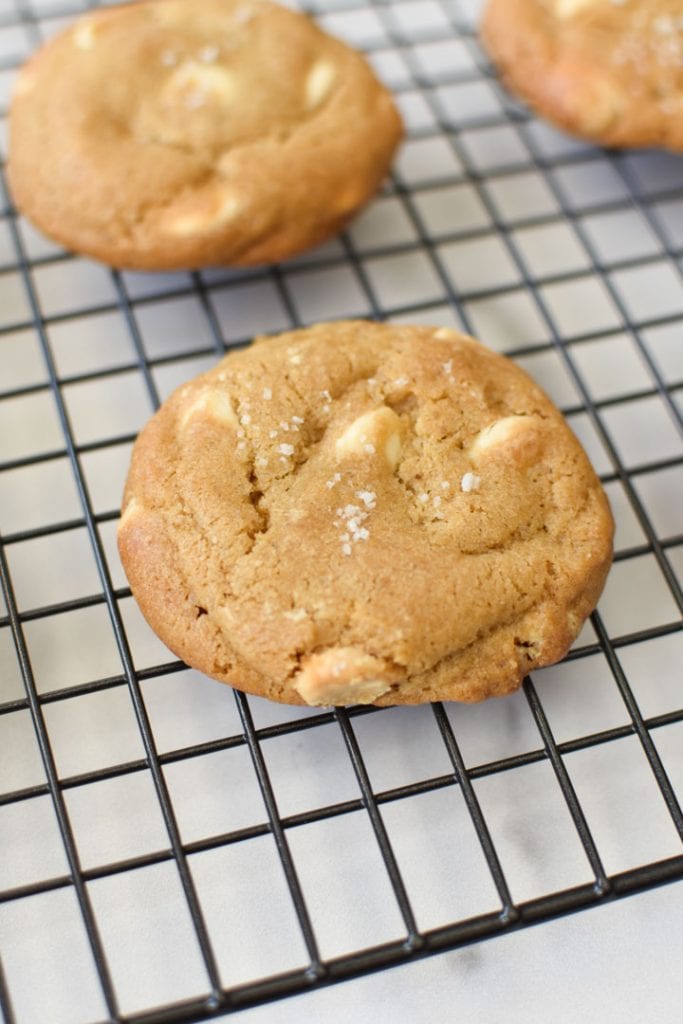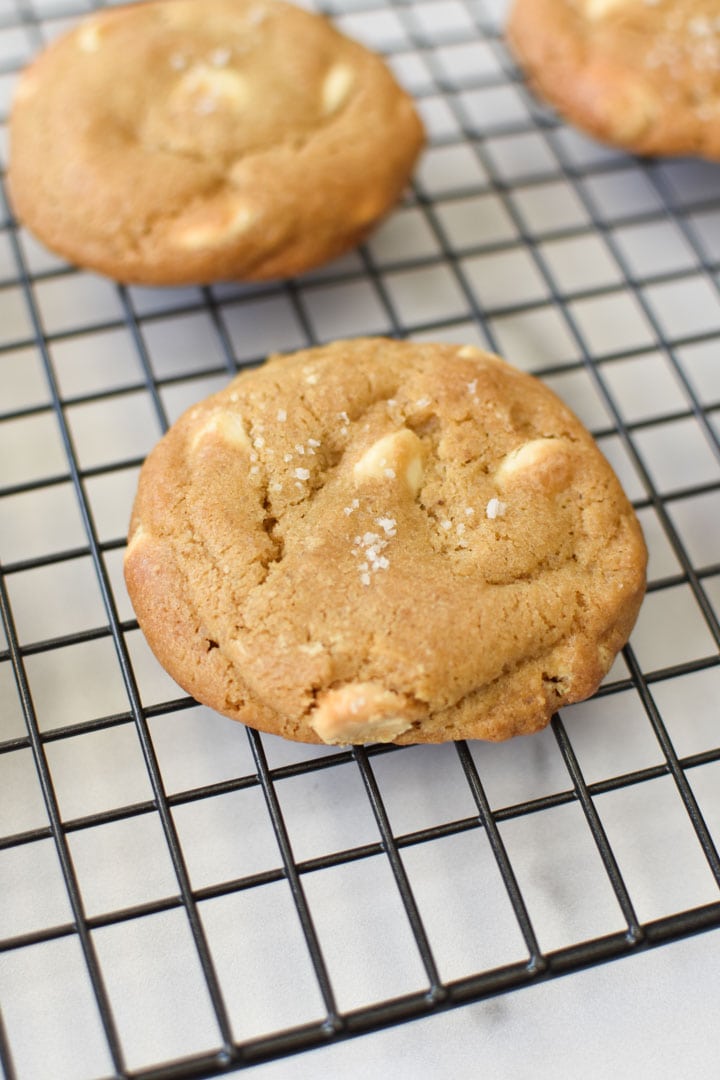 Cookie Recipes with White Chocolate Chips
So we all know that white chocolate isn't really considered chocolate...right? This is because it doesn't contain the chocolate solids that actually get strained out to make cocoa butter. What we're left with is a creamy, vanilla flavor, but often I find they're super sweet! I guess most people in this world do not complain about things being too sweet, but I'm one of those who really can't stand a lot of cookie recipes with white chocolate chips.
There are a few white chocolate recipes I've been fond of, especially my gooey white chocolate blondies and the white chocolate pudding from the book. When I really thought about the recipes I love, the key seems to be balancing the extra sweetness with savory flavors - like butter and salt.
Also my favorite chocolate chip recipes always use sea salt in each cookie, giving it just a hint of interest when you bite into it. But alas, chocolate isn't something that's usually recommended for people who struggle with a migraine disorder. While there's conflicting info where some studies show it's not the bigger trigger it was once believed to be, anecdotal evidence usually tells us it's fairly common. This is why an elimination diet can be so important! Who wants to give up chocolate forever if they don't have to? Well, actually, you may not be bothered by it after trying these cookies!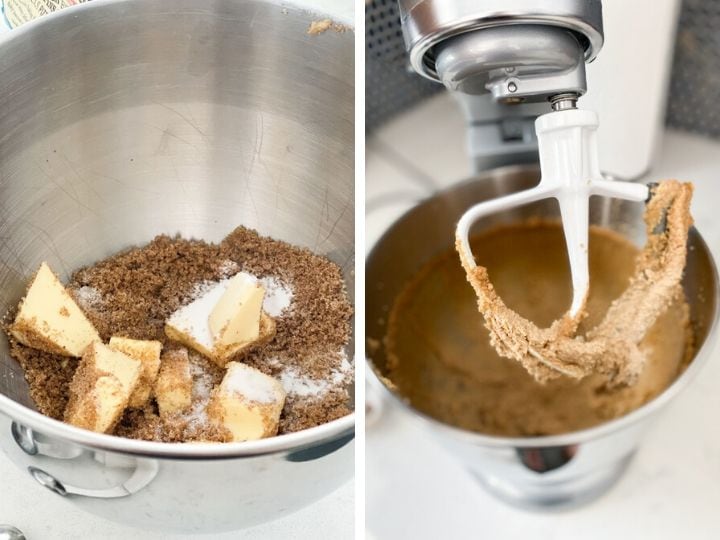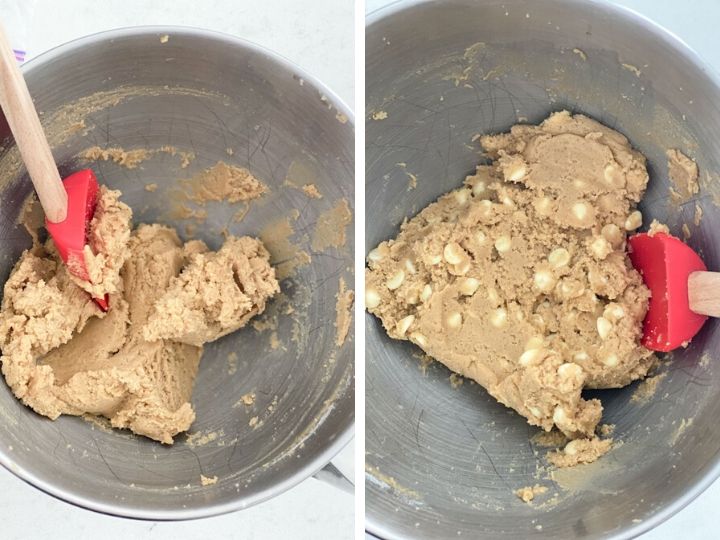 How to Make
Making white chocolate chip cookies is pretty straightforward. But for this recipe I did some research into the best chocolate chip cookies. Many involve you letting the dough chill for 72 (!!!!!) hours. Who has that kind of patience for cookies? If you do, I have so much respect for you. You should really teach a class. So I tried it. Does it make a difference? I think so. Perhaps some of that has to do with the build up of anticipation of cookies...much like a first kiss that doesn't happen right away!
After seeing lots of fiddly recipes using half bread flour half regular and so on, I went to my old, reliable resource for all things baking - Smitten Kitchen. Of course Deb had similar sentiments on the 72 hour rule, which is how I know we would be friends in real life. I tried her recipe and it was delicious. Two tips I picked up from her:
Add turbinado sugar, also known as Sugar in the Raw, to the dough. If you do one finicky thing, this is it. It adds a really nice crunch to the cookies, while still being soft on the inside. However if these are quarantine cookies and it would be a pain to get, just do regular white or brown sugar.
Bake at 360 degrees. Apparently this yields a "better cookie" and I'm not about to argue with baking experts.
Salt the top with good sea salt. Yes, this has salt mixed in, but the extra bit on top is what compliments the white chocolate so well. I recommend Maldon.
What White Chocolate to Use
This recipe is a little different because I'm clearly using white chocolate, I'm using less of it, and I'm not using it in chunks. Although you could definitely buy a white chocolate bar and chop it into chunks I think if you used the same amount of white chocolate it would just be way too sweet. And messing with the sugar content messes with the overall structure of the cookie.
For this recipe I used Callebaut White Chocolate Callets from Whole Foods. These do contain soy lecithin, which is usually not an issue for people on a migraine diet even if they are sensitive to soy. Guittard is another good option that has sunflower lecithin.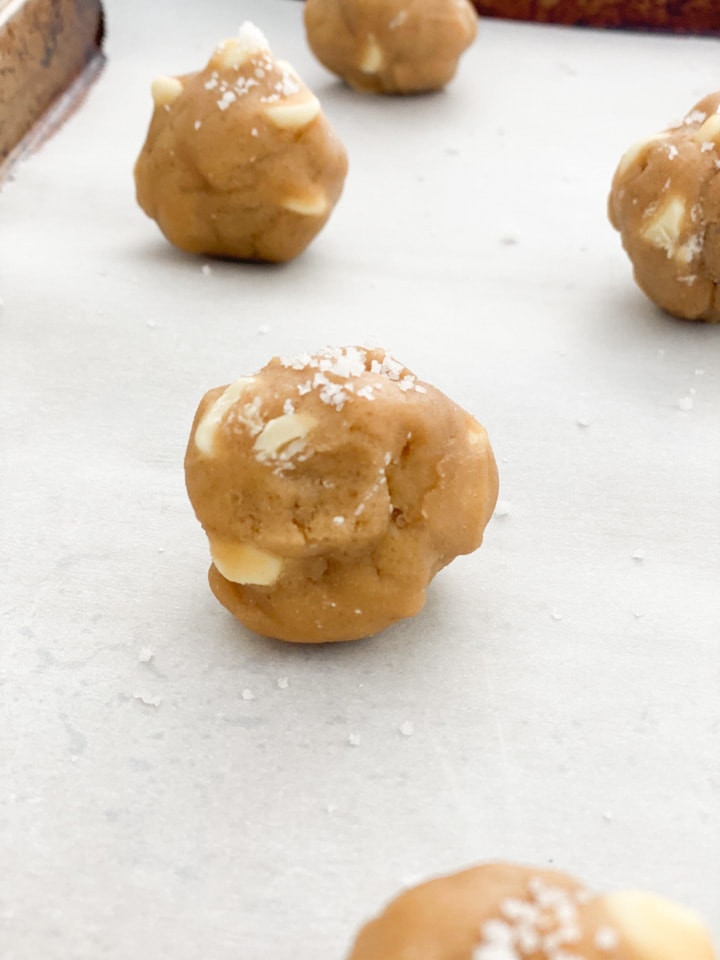 Other White Chocolate Dessert Recipes
I know I'm going to get the question of can you make this gluten free and I have not tested them yet. But thankfully Jennifer Bragdon has a recipe on this site for Gluten Free White Chocolate Oatmeal Cookies.
These are also delicious as a white chocolate monster cookie.
Also you can try:
Gooey Blondies
White Chocolate Peppermint Cookies
White Chocolate Cereal Bars
If you make these salted white chocolate chip cookies, don't forget to comment and leave a review or tag me on instagram so I can see!!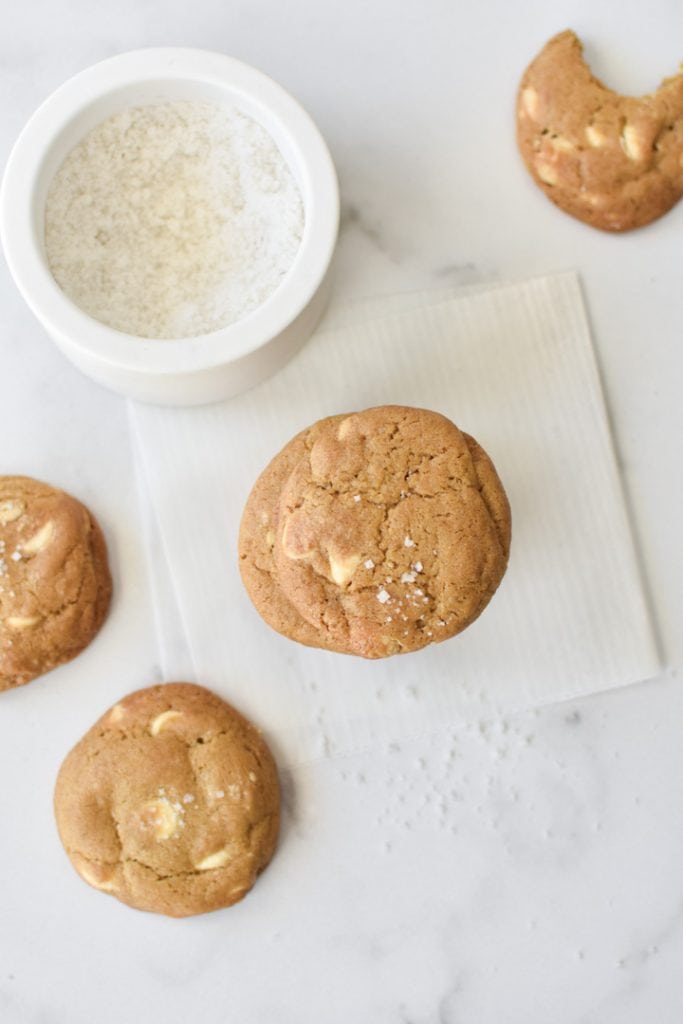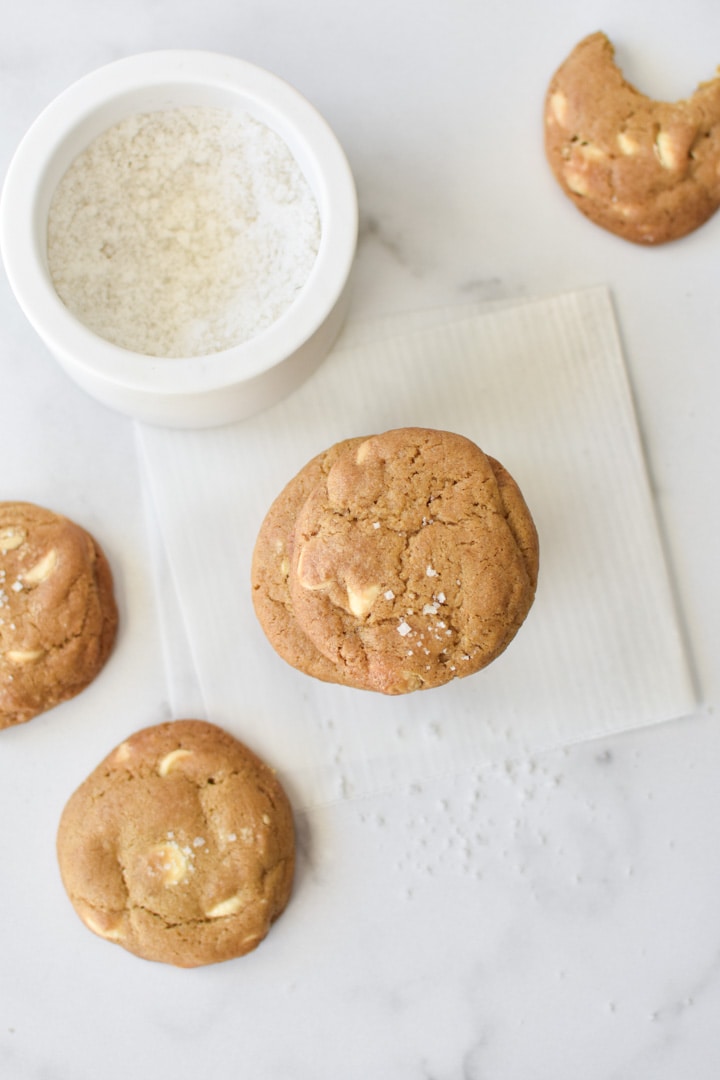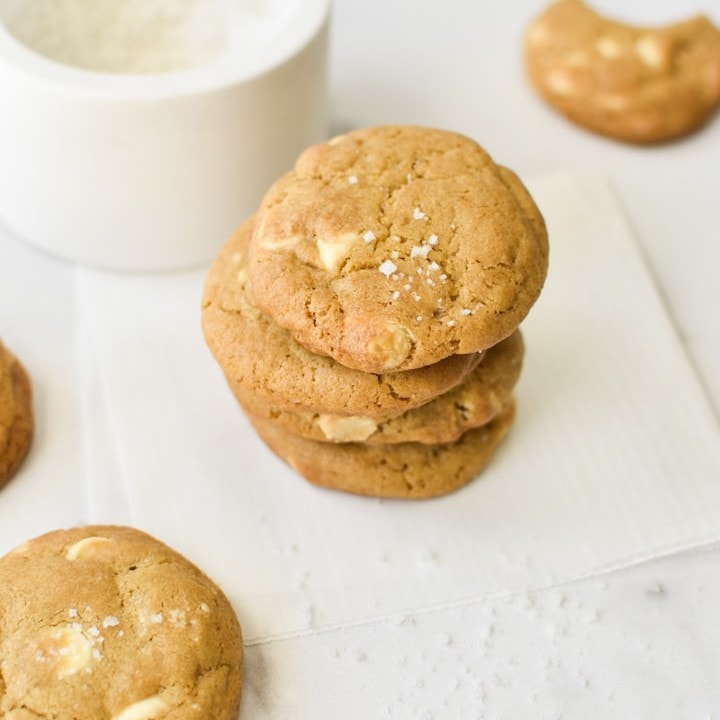 Salted White Chocolate Cookies
A little bit of sweet and savory, these white chocolate cookies are topped with flakey sea salt for a perfect balance. Slightly crispy on the outside and gooey on the inside, you'll love these cookies!
Print
Pin
Rate
Ingredients
½

cup

unsalted butter, at room temperature

2

tablespoons

granulated sugar

2

tablespoons

turbinado sugar

*aka Sugar in the Raw (can be subbed with other sugars)

¾

cup + 2 TBSP

packed light brown sugar

1

large egg

1

teaspoon

vanilla extract

¾

teaspoon

baking soda

¼

teaspoon

table salt (like Morton's)

1 ¾

cup

all purpose flour

1

cup

white chocolate chips

Maldon sea salt to finish
Instructions
In a large bowl, combine the room temperature butter and all the sugars and cream together with a mixer on medium speed till light and fluffy, about 4-5 minutes. Add the egg and vanilla extract, beating on a lower speed till just incorporated, then add the baking soda and table salt.

Again on low speed (or by hand), mix in the flour in 3 parts. The dough will be pretty thick. Stir in the white chocolate chips. From here you can either form the cookies into balls and place in the fridge or just transfer the whole dough. If you're patient you can even leave it overnight...

Preheat the oven to 360 degrees F. Use a scoop or form into 1.5 inch balls and place on a baking sheet covered with parchment paper. Take a small pinch of sea salt and sprinkle it just on the top.

Bake for about 12 minutes until the tops are just lightly browned (you still want them soft and gooey on the inside so they should still be a tad underdone). Then allow them to rest on the cookie sheet about 5 minutes before transferring to a rack or plate or your mouth.
Notes
These cookies freeze really well! I prefer to freeze them in balls and then bake when I want them. No need to thaw, just place them directly on the cookie sheet. They may just take 1-2 minutes more.
Nutrition
Calories:
202
kcal
|
Carbohydrates:
29
g
|
Protein:
2
g
|
Fat:
9
g
|
Saturated Fat:
5
g
|
Cholesterol:
25
mg
|
Sodium:
62
mg
|
Potassium:
60
mg
|
Fiber:
1
g
|
Sugar:
20
g
|
Vitamin A:
174
IU
|
Vitamin C:
1
mg
|
Calcium:
34
mg
|
Iron:
1
mg