These steamed clams without wine are made in a delicious butter herb broth that is super flavorful. You won't miss the wine at all! This recipe uses littleneck clams, but mussels are an easy substitute as well.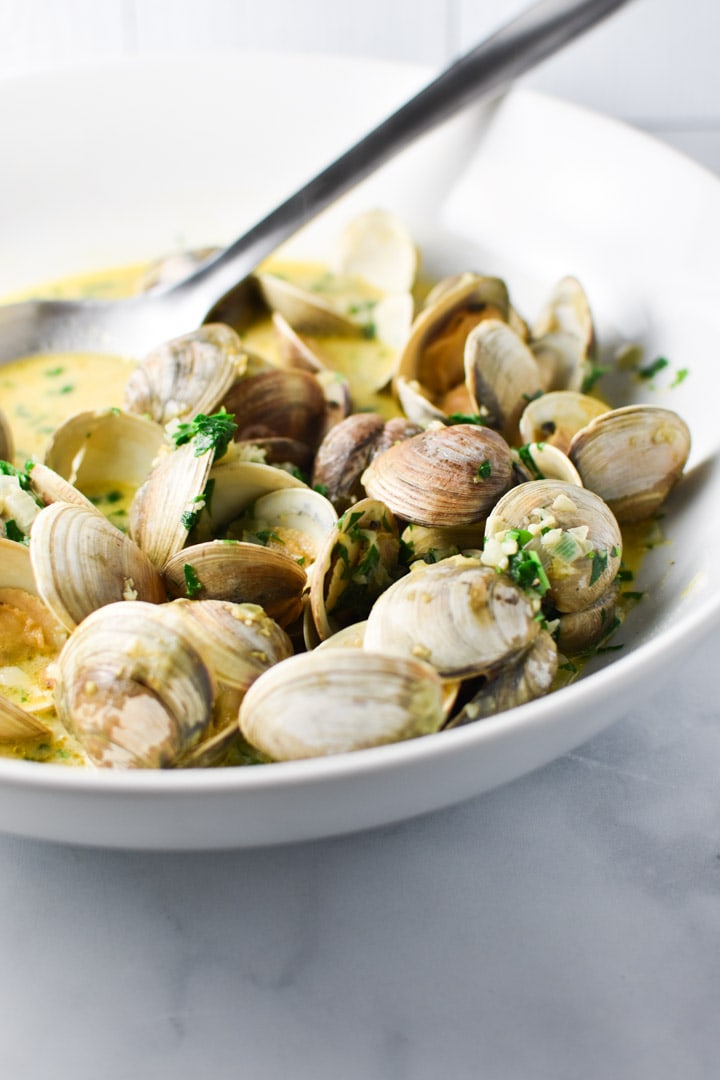 Wine-Free Steamed Clams
Also known as the easiest dinner ever. Once I made clams for the first time, I realized I had been missing out for years. These things cook in just 7 minutes? And they let you know when they're done by opening?! It doesn't get any easier than that.
Unfortunately most of the recipes out there contain lots of citrus and wine, two potential migraine diet triggers according to Heal Your Headache. Luckily with this recipe for littleneck clams in a wine-free herbed butter broth, you'll hardly notice they're sitting this one out.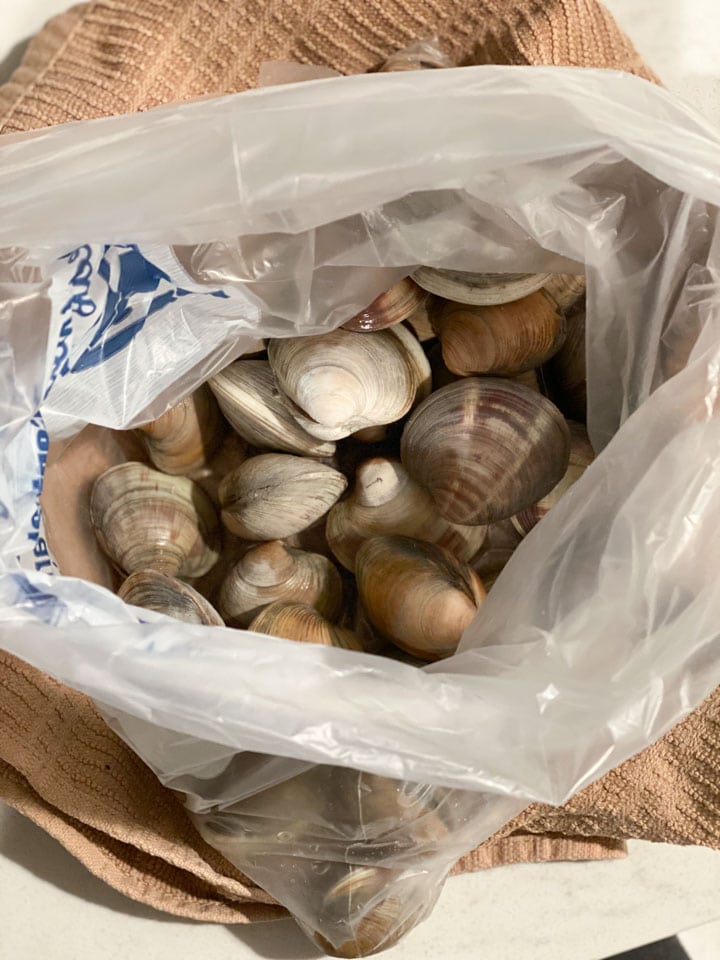 How to Pick and Wash Clams
The hardest part about clams is getting them prepared for cooking. You can typically find good littleneck clams at your local fish store or in Whole Foods. Your fishmonger should know this, but do not put them in a plastic bag that's closed up. They're alive and need to breathe. If you're not using them right away, I like to keep them in a bowl in the fridge or on ice. I also like to buy these the day of, just to make sure they're as fresh as possible.
To check if they're alive, they should either be closed or should close in a few seconds after you give them a little tap on your counter. If there is a large chip in one or if it doesn't close, just discard it to be safe. I usually only end up discarding about 2-3 at most. If you have more than that, I would let your grocery store or fish guy know and maybe they'll give you a discount next time (I've personally never had this issue with clams specifically though).
To clean them, just scrub them with a bristle brush to remove excess grit and sand. Then gently set them in a bowl of fresh, cold water. Leave them submerged for about 15-20 minutes. Then carefully pull them out (if you dump them then you'll just pour all the grit/sand they expelled back on them!), and place them on a towel. While they're submerged, you can prep your pot and start the broth. The whole thing comes together in under 30 minutes!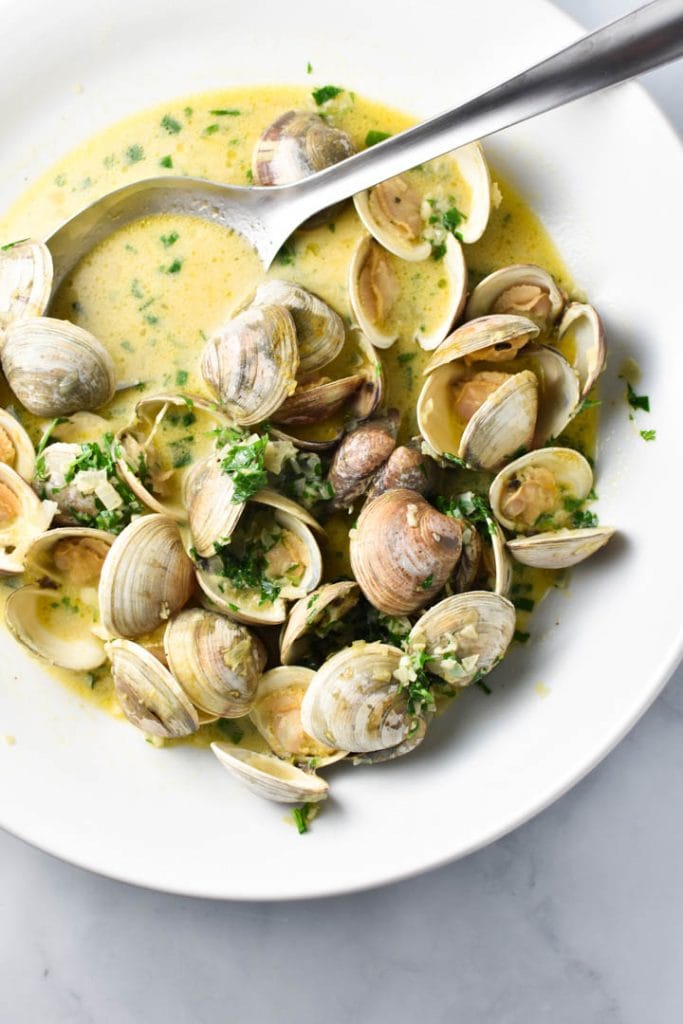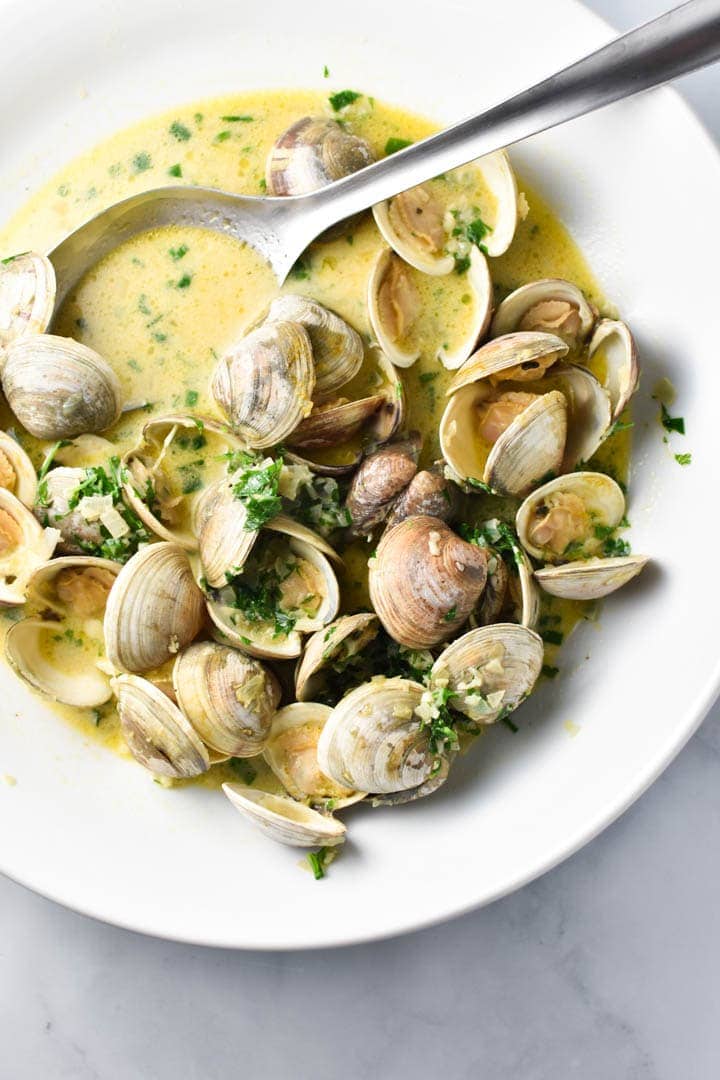 How Do I Know Clams Are Cooked?
Clams let you know when they're done by opening! If you find one or two aren't opening with the others, give them another minute or two to simmer with your lid on. Sometimes if I give them a tap with a spoon, they'll open. If they don't open after all of this, just discard them.
What to Serve with Steamed Clams in Broth
The obvious accompaniment to clams is something to soak up the sauce, so any bread you love will go perfectly. Clams aren't exactly a super hearty dish, but you eat them slowly so they fill you up without having a ton (I mean, and all the bread in sauce helps). I usually get about 2-2.5 pounds for a full meal and my husband usually eats 2 servings, so they serve about 2-3 total. If you want these as an appetizer, they'll serve about 4-5 people.
A light, green salad pairs perfectly with this dish. I'd use my Italian Herb Dressing with romaine or butter lettuce.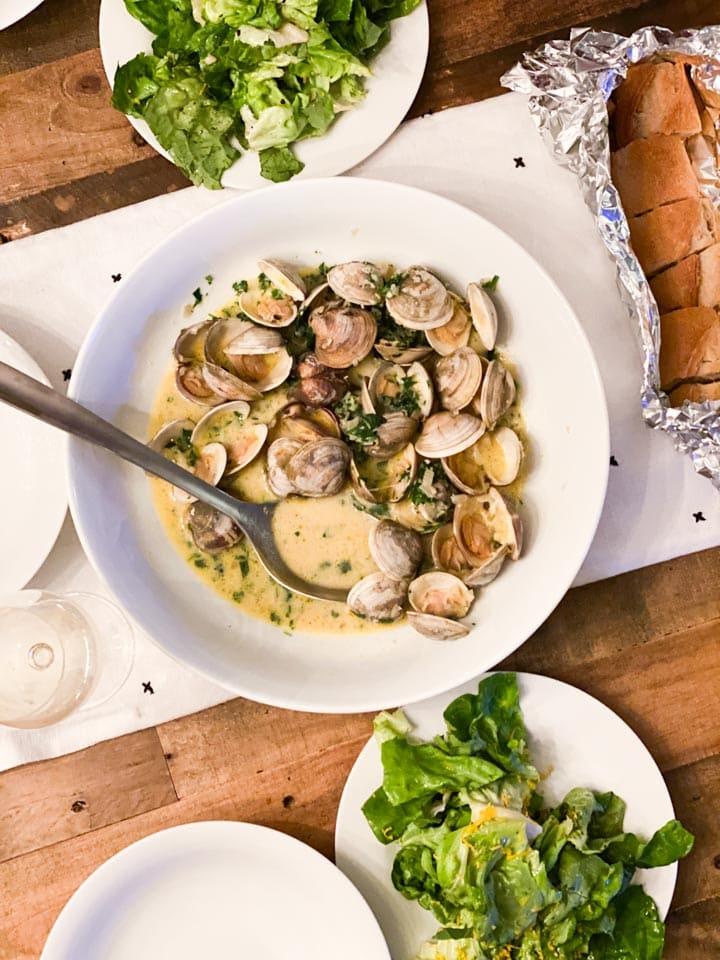 For more migraine-friendly seafood recipes, check out these other options.
Steamed Clams in (Wine Free) Herbed Butter Broth
These littleneck clams are so quick, easy, and delicious. They cook in under 10 minutes! The broth is made without citrus and is non-alcoholic.
Print
Pin
Rate
Ingredients
2-2.5

lbs

littleneck clams

3

tablespoon

butter or ghee (for a whole30 or paleo option)

1

tablespoon

olive oil

2

shallots, peeled and chopped

3

garlic cloves, peeled and chopped

1 - ¼

cup

broth

* See my instant pot chicken broth for an easy recipe!

½

cup

loosely packed parsley leaves

1 - ½

tablespoon

chopped chives

2

teaspoon

white vinegar

Optional: ¼ cup heavy cream
Instructions
Make sure your clams are stored in a cool place and are able to breathe (so don't close the bag they're in or submerge them in water while storing). Scrub clams under water and place into a large bowl with ice cold water. Discard any with large chips or that do not close with a little "tap" on your counter. Allow them to sit for 15-20 minutes to expel any extra grit/sand. Carefully remove each one (do not dump) and place on a towel.

While clams are sitting in water, prepare a large, heavy bottomed dutch oven or pot with cover by melting butter and olive oil over medium heat. Add shallots and saute for about 1 minute. Then add garlic and saute a minute longer.

Add broth and bring to a simmer. Then carefully add in clams. Cover the pot with a lid and simmer for 7-10 minutes. Clams will open when they're done. If one does not open, give it a little longer to simmer. Throw out if it continues to not open.

Remove clams from the pot with a slotted spoon and place into a big bowl. Meanwhile turn the heat up a little bit to get a strong simmer going. Simmer the broth an extra 4 minutes or so, until it's reduced enough to your liking. Pour the reduced broth over the clams.

Top with fresh herbs and vinegar, which will give it the acidity you miss from wine or citrus. DO NOT ADD SALT - the clams should be salty enough as is. You can always add more later. Serve immediately. Bread is a really great idea here (unless doing a paleo or whole30 option) to sop up all that butter broth!
Video
Notes
This recipe really serves 2-3 people for a full meal and 4 people as an appetizer.
If you add the optional ¼ cup of heavy cream, do it after the clams have been removed while you reduce the leftover stock.
Mussels can easily be substituted for clams in this recipe, they usually follow the same cleaning rules but you want to make sure they are debearded (google it). They will also open when ready and may take a little longer to steam.
Nutrition
Calories:
207
kcal
|
Carbohydrates:
7
g
|
Protein:
8
g
|
Fat:
17
g
|
Saturated Fat:
8
g
|
Cholesterol:
44
mg
|
Sodium:
773
mg
|
Potassium:
144
mg
|
Fiber:
1
g
|
Sugar:
2
g
|
Vitamin A:
1602
IU
|
Vitamin C:
16
mg
|
Calcium:
46
mg
|
Iron:
2
mg