Have all the flavors of your favorite sushi roll at home with these spicy salmon bowls! Surprisingly easy and fast, this will become a favorite weeknight dinner like it has in our home.
Salmon pieces are marinated and pan-seared while you prepare rice and chop cucumbers, carrots, and make a quick vinegar slaw. Don't forget the spicy mayo sauce that gets drizzled on top to round out all the flavors.
Spicy salmon rolls are one of my favorite takeout orders, but when I decided to change my diet because of my migraine disorder, I knew I had to be careful with ordering them out. Enter this spicy salmon bowl, which takes all the same flavors I love and have missed into an easy to make dinner. No sushi skills required!
The salmon is quickly marinated in coconut aminos, a great substitute for soy sauce that's also naturally sweet, so it gives the fish a teriyaki flavor. Pre-shredded cabbage is combined with vinegar and coconut aminos for a quick pickled flavor that pairs well with rice, which can be quickly microwaved!
All you have to do is chop a few vegetables, cook the fish, and mix together mayonnaise and sriracha for a spicy mayo sauce. If you love these Asian-inspired recipes, give my Soy Free Stir Fry, Vegetable Fried Rice, or Teriyaki Salmon a try.
Jump to:
Teriyaki Marinade for Salmon
To give the salmon a little boost of flavor before adding to our spicy salmon bowls, it helps to marinade it in a quick homemade, soy-free teriyaki sauce before cooking. This also coats the salmon in a glaze so it gets nice and caramelized when you pan-sear it.
Because coconut aminos are so naturally sweet, there's no added sugar necessary. Mixed with toasted sesame oil and a tiny amount of garlic, it's the perfect sweet and savory combination.
If you absolutely hate coconut aminos or you just want to keep the salmon plain, just coat it with the garlic and sesame oil before pan-searing.
The Spicy Sauce
The spicy mayo sauce is very easy to make with just three ingredients and you can use this sauce for practically anything. The trick is to start with your two favorite brands or recipes of mayonnaise and sriracha.
For store-bought, I like Sir Kensington's Organic Mayo for it's simple ingredients, and Underwood Ranch Sriracha for the same. However, if you're looking to make your own simple mayonnaise, or would like to do an egg-free mayonnaise, I have two great recipes.
For those following a migraine diet, I suggest using distilled white vinegar to thin out the mixture and provide some acidity. If you have re-introduced lime juice, this is a great place to mix it in!
Ingredients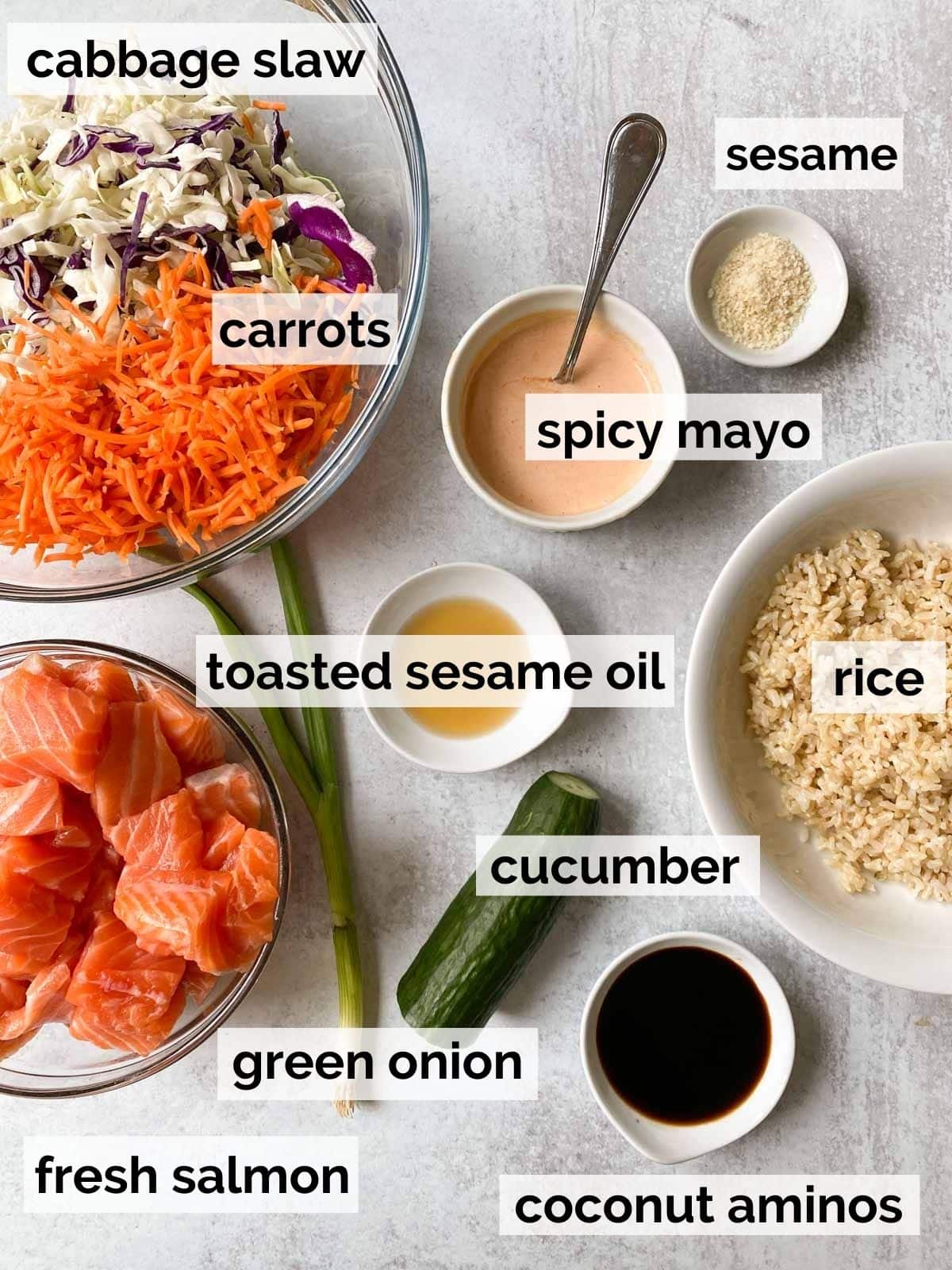 The full list of ingredients can be found on the recipe card below, but here are some helpful tips for choosing some of the main features of this spicy salmon bowl.
Salmon - Skin-off will save you a step if you can ask your fishmonger to trim it for you, otherwise just slide a sharp knife between the meat and the skin to remove it. I recommend fresh, but it can be previously frozen. For this recipe, I tend to prefer the mild flavor of sustainably farmed salmon, but if you love wild-caught or have access to a great supplier - go for it!
Coconut Aminos - I like The New Primal or get the large Coconut Secrets from Costco. Just be aware that different types of coconut aminos have different flavors and levels of sodium. Generally this is overall significantly less than soy sauce, but it's something to check.
Toasted Sesame Oil - Typically found with other cooking oils or in the ethnic food aisle at grocery stores. Do not substitute this with regular sesame oil, it is not the same flavor!
Mayonnaise and Sriracha - My favorites are Sir Kensington's Organic and Underwood Ranch sriracha. The big thing to watch for with sriracha is sulfites. Try to avoid those.
Panko - This isn't 100% necessary to the dish so you can always omit it, but I love the extra crunch it provides!
Sesame Seeds - Same comment as the panko. I buy a pre-toasted sesame seed bottle at my local Asian grocery store and it lasts me forever! Makes life a little easier.
Rice - White or brown rice works here. I prefer brown for the added nutritional value, but go with whatever you have on hand or prefer. To make this meal faster, I like to buy the frozen rice that you can just microwave in 3 minutes, like from Trader Joe's.
Cabbage Slaw - Find pre-shredded cabbage with other bagged lettuce. Sometimes I'll get a coleslaw mix and throw out the dressing it comes with, just using the shredded cabbage.
How to Make a Spicy Salmon Bowl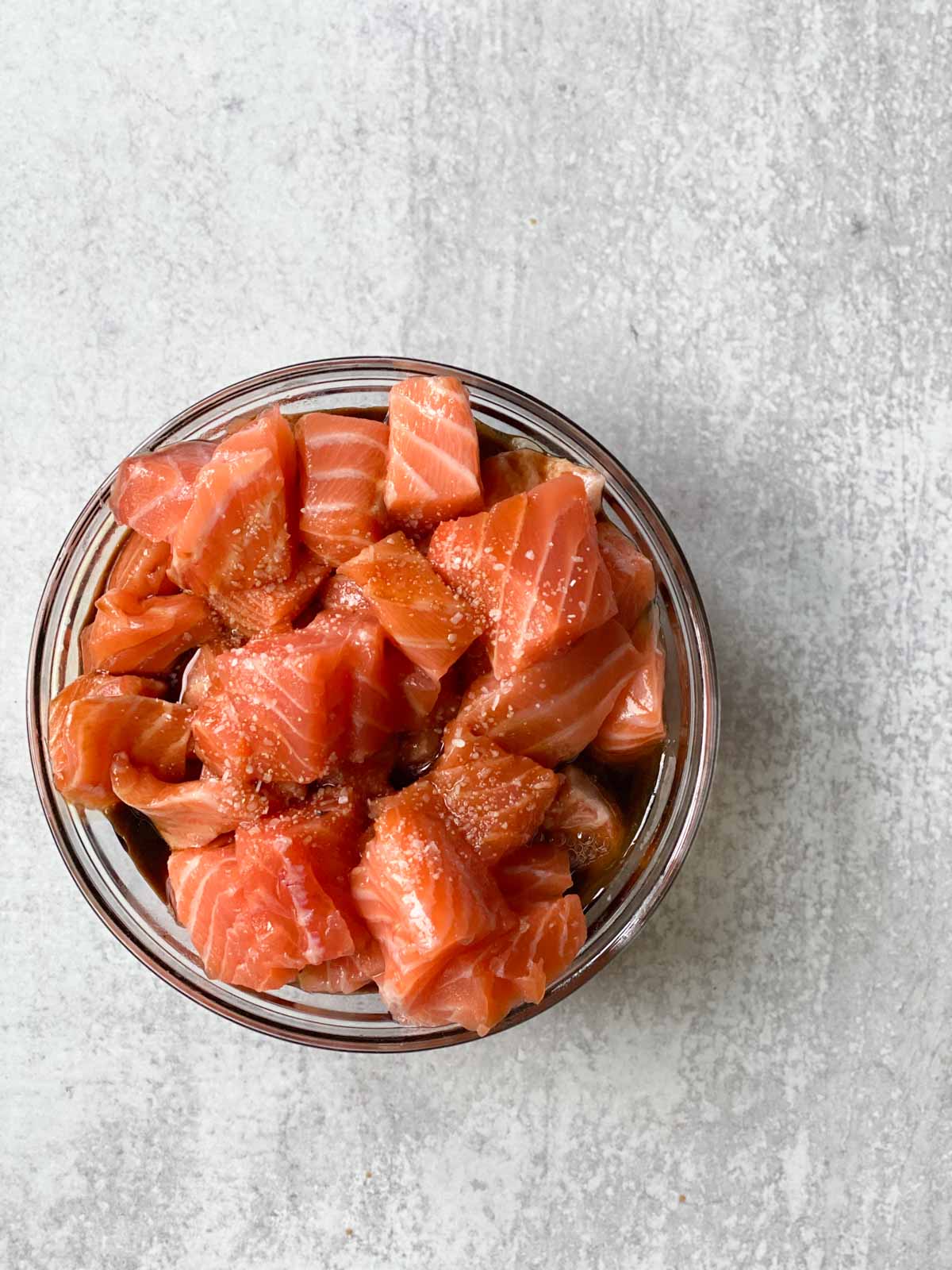 Step 1: Marinate salmon and prep vegetables
Remove the skin from salmon, if not already done and chop into 1 inch sized cubes. In a medium bowl, combine the coconut aminos, toasted sesame oil, garlic and salmon with a sprinkle of kosher salt. Stir to combine and refrigerate for 30 minutes, up to 8 hours.
Meanwhile, prep the vegetables for topping by chopping the cucumber, carrots (or buy pre-shredded), and green onion. Cook the rice. Stir the cabbage slaw with the vinegar and coconut aminos and place in the fridge till you're ready to serve.
Step 2: Cook the salmon
Heat a large nonstick or carbon steel pan over medium high and add in the salmon pieces, spacing them out enough to properly sear, about an inch. Cook for about 2 minutes per side, till brown and caramelized on the surface. You may need to do this in batches to space the salmon out properly.
Prepare a plate with a paper towel to soak up excess oil, and transfer the cooked salmon pieces to it as they cook through.
Step 3: Prepare the bowl
Place the rice and slaw at the bottom of the bowl. Layer the salmon on top with chopped cucumber, carrots, and green onion. Mix together the mayo, vinegar or lime, and sriracha for the spicy sauce and drizzle it on top of the salmon. Top with panko, toasted sesame seeds, or both.
Can I Make This a Spicy Salmon Poke Bowl?
This recipe would work very well as a spicy salmon poke bowl! Poke, a Hawaiian staple, is a mixture of raw fish that has been marinated. All the flavors of this bowl would work well with it!
My warning is do not use regular salmon if you're going to make this into a poke bowl. You must use sushi-grade salmon, which is typically found in the freezer at your local grocery store. Sushi grade means it has been quickly frozen to a certain temperature to kill parasites, almost immediately after being caught.
The same marinade for the cooked salmon would work for sushi grade in this recipe. Just allow it to soak in the fridge for the same amount of time.
Frequently Asked Questions
Can I substitute the coconut aminos for anything else?
Instead of substituting the coconut aminos, I would recommend just tossing the salmon with the garlic and toasted sesame oil before cooking. However, coconut aminos do add sweetness and a depth of flavor that makes this more of a teriyaki glaze. It makes the salmon sweet and sticky! So I highly recommend trying it first with unless you have an allergy or aversion.
Is a salmon bowl good for you?
Salmon is one of the best brain-healthy foods out there. Loaded with Omega 3 fatty acids, which have been shown to help with migraine prevention, it's a great source of protein with iron and vitamin D. Salmon's nutritional components can help lower inflammation and aid with cognitive function.
Can you bake the salmon?
I prefer to pan sear the salmon to get the outside nice and crisp, but you could definitely bake this as a filet and flake it with a fork for the bowl. To bake, keep the fillet whole and bake at 400 degrees F for 15-20 minutes.
What can I serve with salmon bowls?
This spicy salmon bowl is truly a whole dish in one! You really don't need sides as it's very filling on it's own. However, I would definitely pair this with a great drink like this sparkling pear mocktail.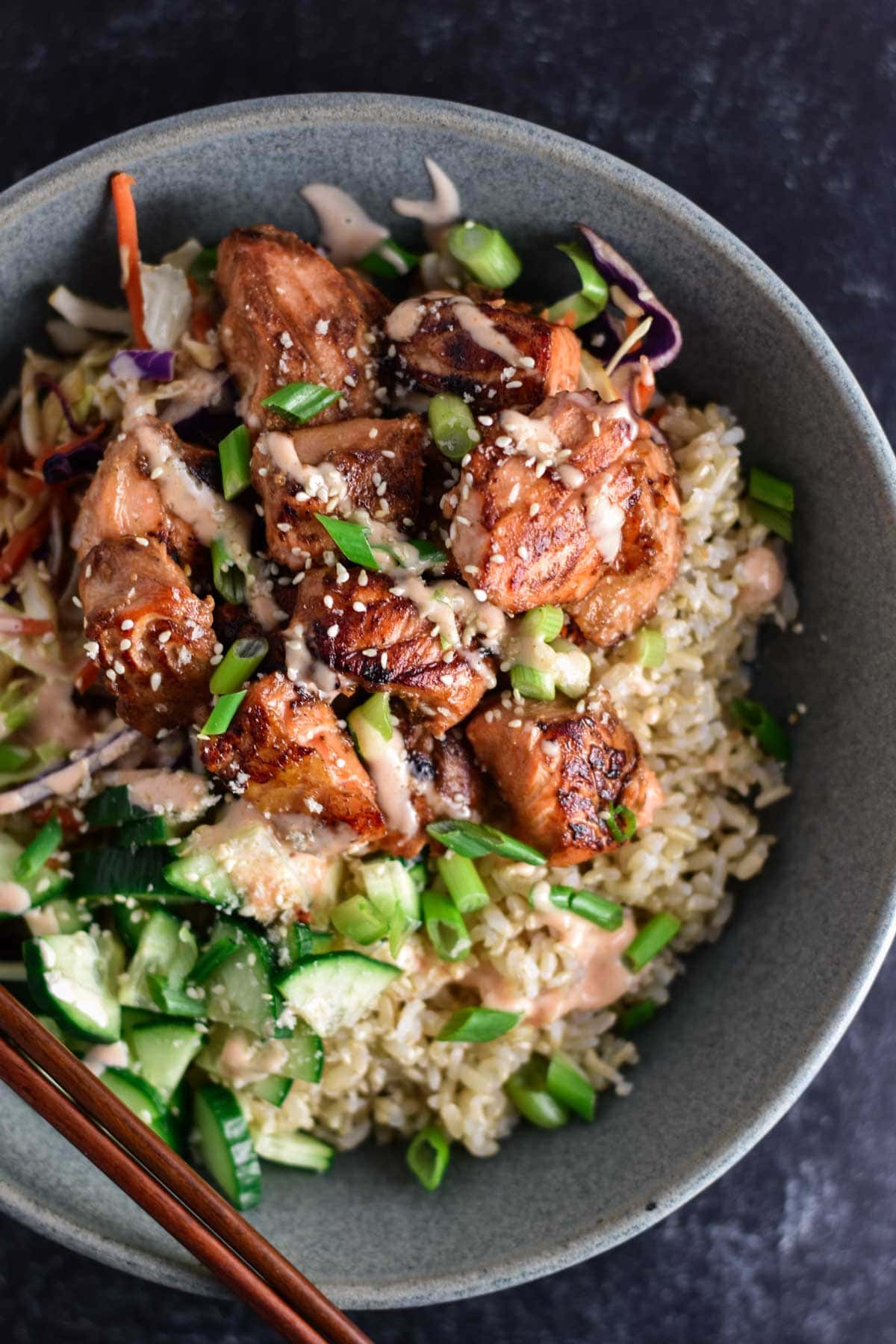 More Salmon Recipes
For more salmon recipes like this spicy salmon bowl, see these favorite posts!
If you make any of my recipes, don't forget to tag me #thedizzycook or @thedizzycook on Facebook and Instagram. And please leave a review below!
Spicy Salmon Bowl
A spicy salmon bowl is perfect for weeknight dinners where you want something fresh and light! Enjoy this savory salmon with crisp marinated slaw for lunch or dinner.
Print
Pin
Rate
Ingredients
Marinated Salmon
1½

pounds

fresh salmon, skin off, cut into 1 inch cubes

⅓

cup

coconut aminos

1

tablespoon

toasted sesame oil

1

garlic clove, minced
Bowls
2

tablespoons

distilled white vinegar

1

tablespoon

coconut aminos

8

oz

bag shredded cabbage/slaw mix

20

oz

bag microwavable rice, brown or white

1

cup

shredded carrots

½

english (seedless) cucumber, sliced

2

tablespoons

toasted sesame seeds and/or panko
Spicy Mayo
⅓

cup

mayonnaise

1

tablespoon

sriracha

1

teaspoon

distilled white vinegar or lime juice*
Instructions
In a medium bowl, combine salmon, coconut aminos, toasted sesame oil, and garlic. Stir to combine and place in the fridge for at least 30 minutes to marinate.

Meanwhile, stir together the mayonnaise, sriracha, and vinegar - adjusting to your taste for spice level. Set aside. Stir together the coconut aminos and vinegar, then toss the cabbage with the mixture, thoroughly coating the cabbage, and set in the refrigerator till ready to use. Microwave the rice and chop the vegetables.

Over medium heat, add salmon to a large non-stick or carbon steel pan, leaving space between pieces to sear. Adjusting heat to medium-medium high to sear on first side for about 2 minutes till a nice caramelization forms on the outside. Don't mess with the salmon or move it around, or it may stick and not sear properly.

Using tongs, flip salmon to the other side and cook another 2 minutes till cooked through to a medium temperature (or cook longer if you want it to be cooked through). You may need to work in batches, so set a plate with a paper towel next to the pan and remove the salmon pieces as they're finished.

Build your bowl - Add rice and slaw to the bottom, then top with carrots, cucumber, and salmon. Drizzle with spicy mayo and top with panko and/or sesame seeds.
Notes
If you are sensitive to coconut aminos, leave them out of the recipe. It won't have the same sweetness, but will still be good.
To make this salmon bowl low carb, use cauliflower rice or double the amount of cabbage and use that as a base.
The oil from the salmon marinade should be enough to sear it in, however, if you have a pan that isn't nonstick, oil the pan accordingly.
Nutrition
Serving:
1
bowl
|
Calories:
542
kcal
|
Carbohydrates:
47
g
|
Protein:
40
g
|
Fat:
19
g
|
Saturated Fat:
3
g
|
Polyunsaturated Fat:
8
g
|
Monounsaturated Fat:
6
g
|
Trans Fat:
1
g
|
Cholesterol:
97
mg
|
Sodium:
411
mg
|
Potassium:
995
mg
|
Fiber:
2
g
|
Sugar:
3
g
|
Vitamin A:
169
IU
|
Vitamin C:
25
mg
|
Calcium:
52
mg
|
Iron:
2
mg