Grilled bok choy can be one of the easiest and healthiest side dishes, but is often forgotten about. Only 3 total ingredients are needed for this recipe! The mild bitterness of bok choy is highlighted with toasted sesame oil, a light char from the grill, and a bit of sweetness from sweet chili sauce.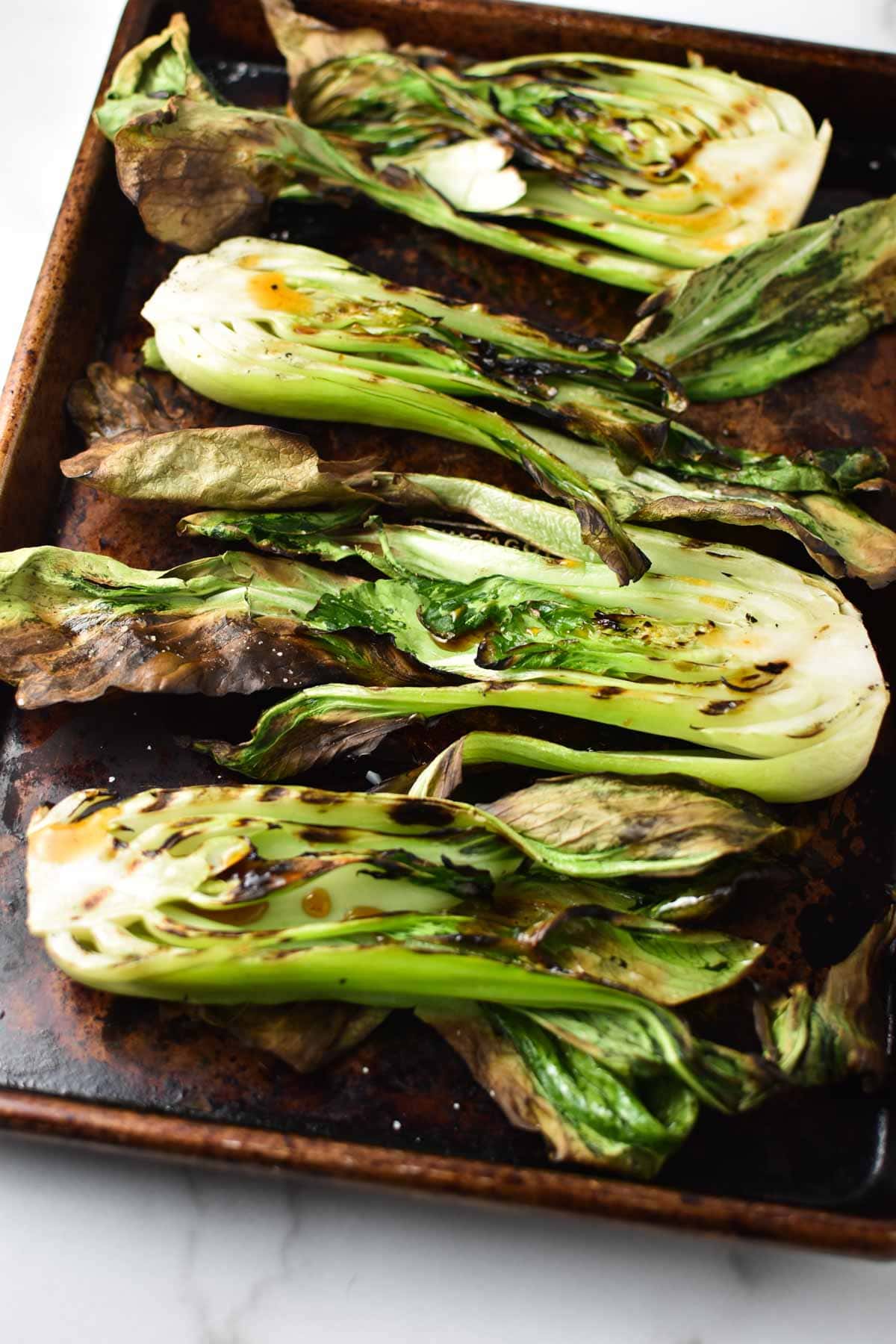 Jump to:
What is Bok Choy?
Also referred to as "Chinese cabbage" but different than Napa Cabbage (which is lighter green and looks more similar to an oblong version of the green or red cabbage you're probably more familiar with). Bok choy has thick white stalks that fan out into dark green leaves. It's actually quite beautiful in the way it looks, and the entire plant can be eaten.
The stalks are reminiscent of celery in a way, although not stringy, but with a big crunch. The leaves are similar to lettuce.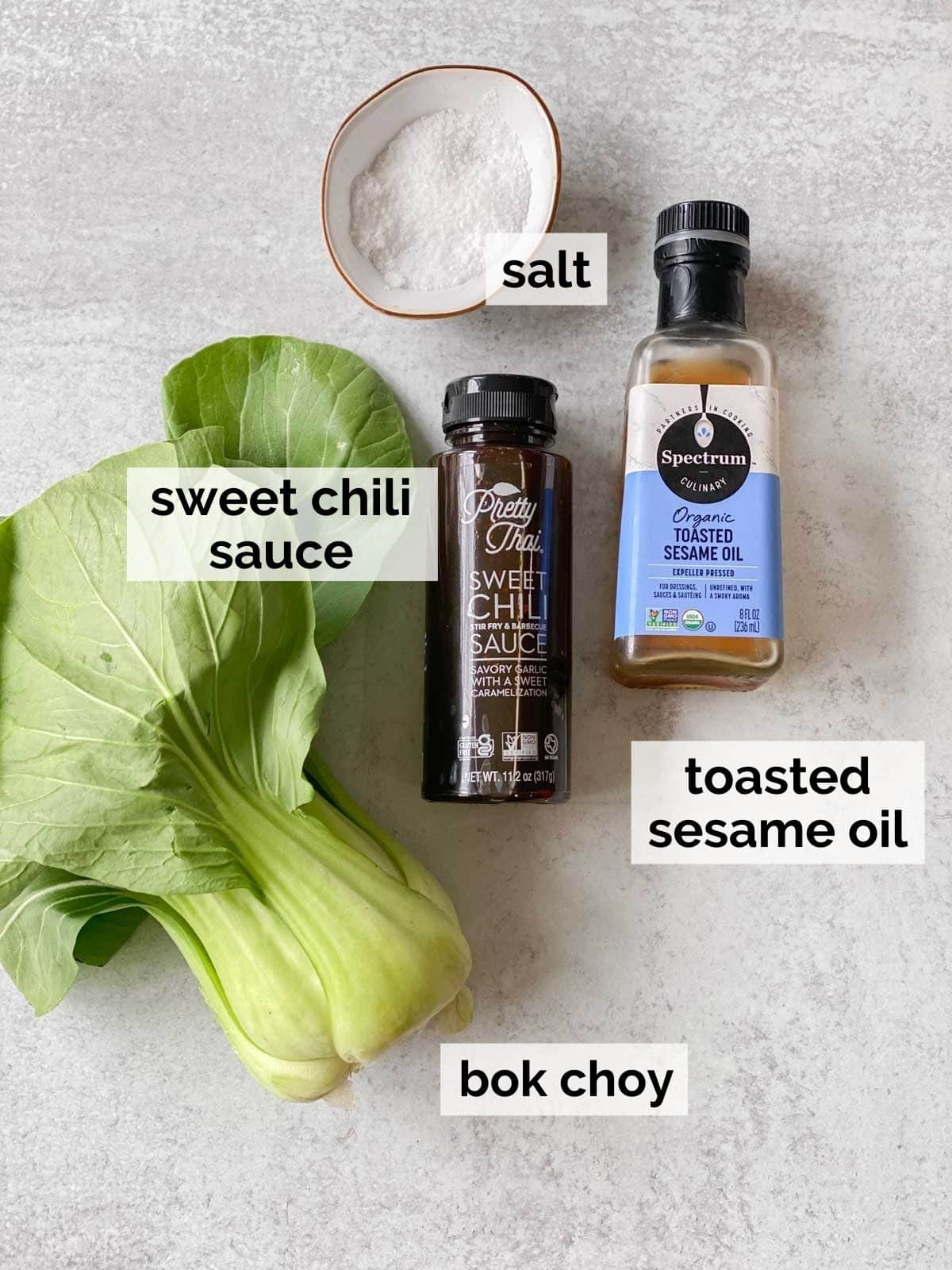 Ingredients
Bok Choy -

For this recipe you can either use full size bok choy or baby bok choy. I find this at grocery stores that tend to carry specialty items like Whole Foods and Fresh Market, as well as Asian grocers.

Trader Joe's has perfectly packaged baby bok choy, in a red and clear bag that you can find in the refrigerated vegetable section. It usually contains 3 pieces and is typically what I use for this recipe.

Toasted Sesame Oil - Used for coating the leaves so it doesn't stick to the grill, but also for flavor! This is found either in the oil section or with ethnic foods.
Sweet Chili Sauce - Adds flavor, spice, and a little sweetness after the bok choy has been grilled. My favorite is Pretty Thai which is a local Texas brand.
How to Grill Bok Choy
You can easily chop up and sauté bok choy in stir-fry, but one of my favorite ways to cook it is by grilling. It's so simple and allows the flavors to really shine. Grilled bok choy doesn't need a ton of heavy seasoning, just something to give it a little pizzaz.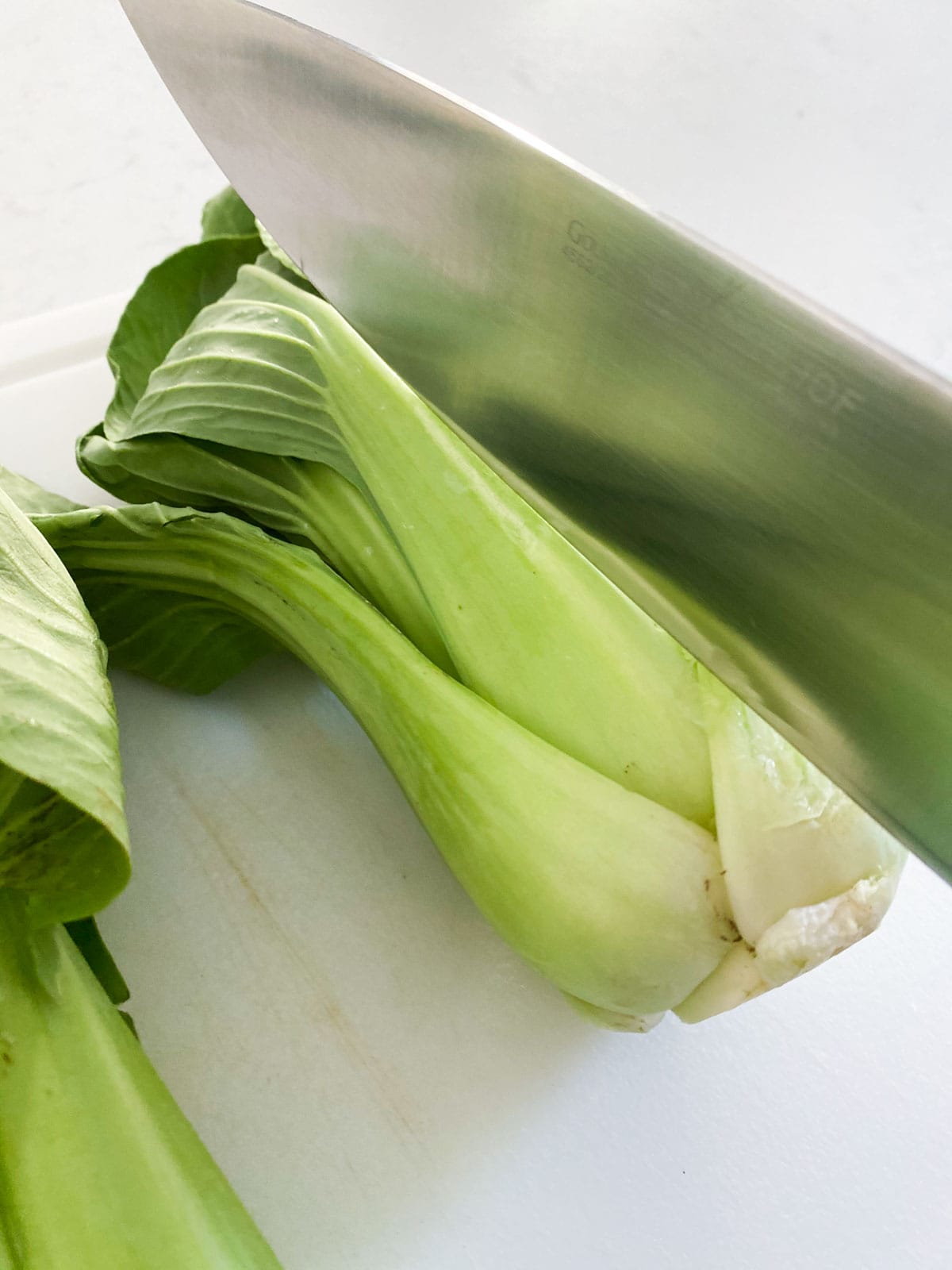 Step 1: Slice the bok choy. Carefully cut down the center so you have two halves and place on a baking sheet.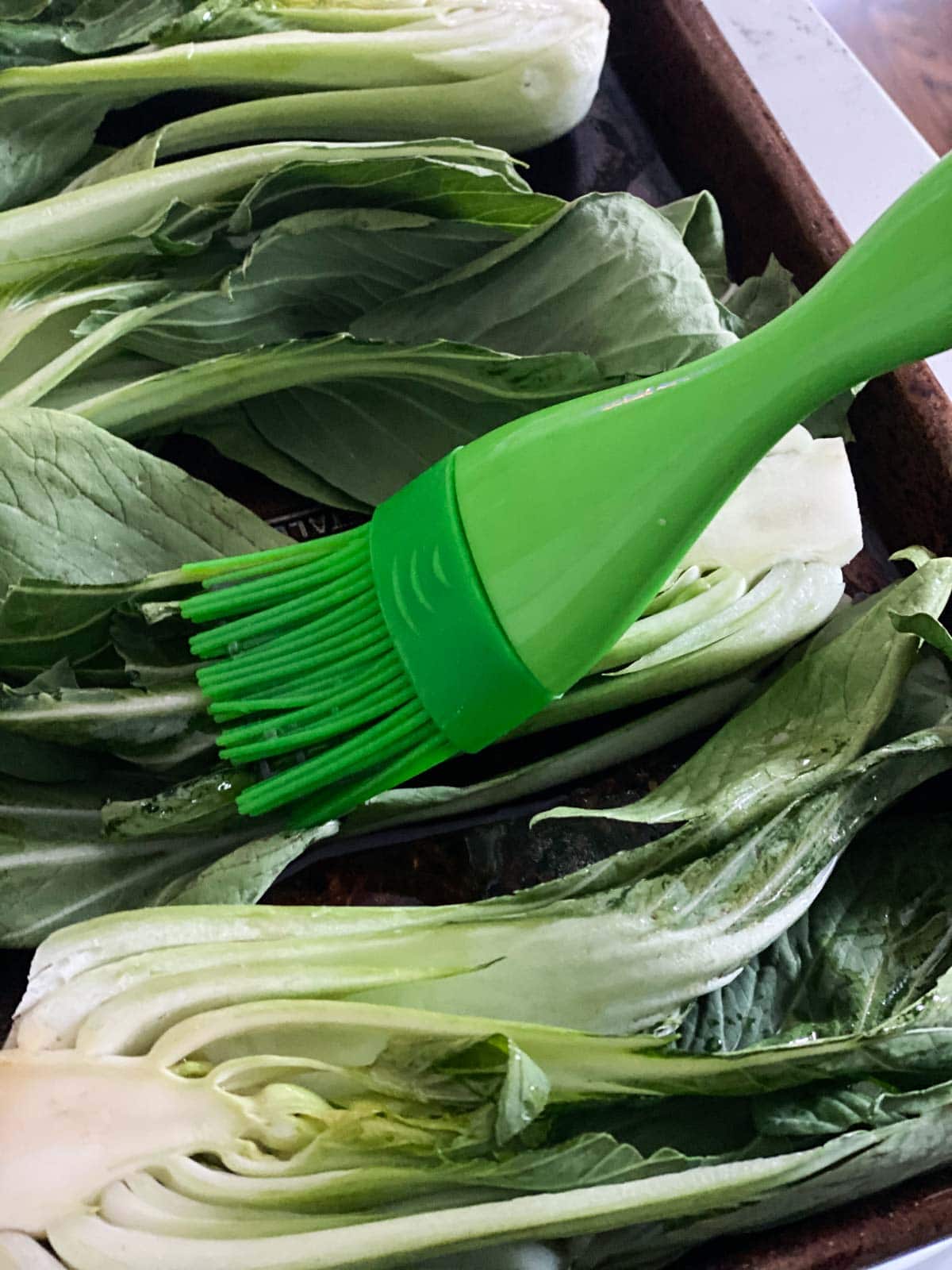 Step 2: Brush with sesame oil. Dip a brush into sesame oil and coat both sides of the bok choy. Sprinkle with kosher salt and black pepper.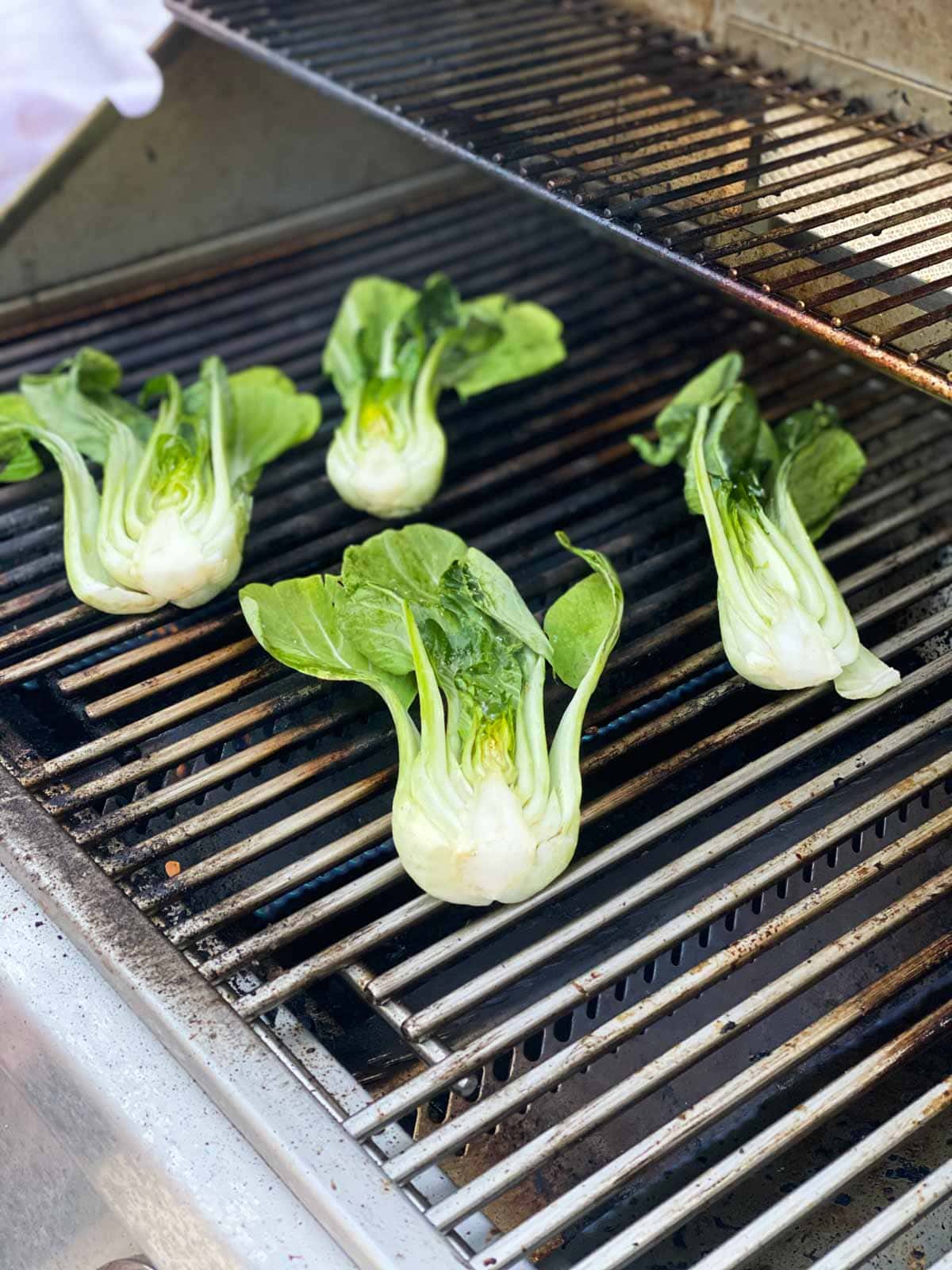 Step 3: Time to grill! This can be done using an outdoor charcoal grill, gas grill, or indoor grill pan over medium high heat. These grill FAST. You do want a bit of a char, but not for the whole thing to burn.
If you have a grilling basket, that can help so the stalks don't fall below the grill grates, but I rarely have this issue if I just trim a few errant pieces.
Close the grill lid and allow the stalks to soften while getting some nice grill marks, about 3-4 minutes. Then flip and do the same on the opposite side.
Grilling Tip - If the leaves begin to char too quickly or start to burn after one side, place a sheet of aluminum foil underneath them while keeping the bottom, thick stalk directly on the grill grates. This happens more often with larger, thicker bok choy versus baby bok choy.
How to Serve
These grilled bok choy would pair great with Pan Fried Teriyaki Salmon or Air Fried Teriyaki Salmon, Teriyaki Chicken Burgers, Soy Free Stir Fry, Ginger Sesame Wings, and Healthy Mongolian Beef (which is my personal favorite pairing).
They could also be the star of the show with a vegetarian menu of brown rice and grilled mushrooms, or my Soy Free Fried Rice.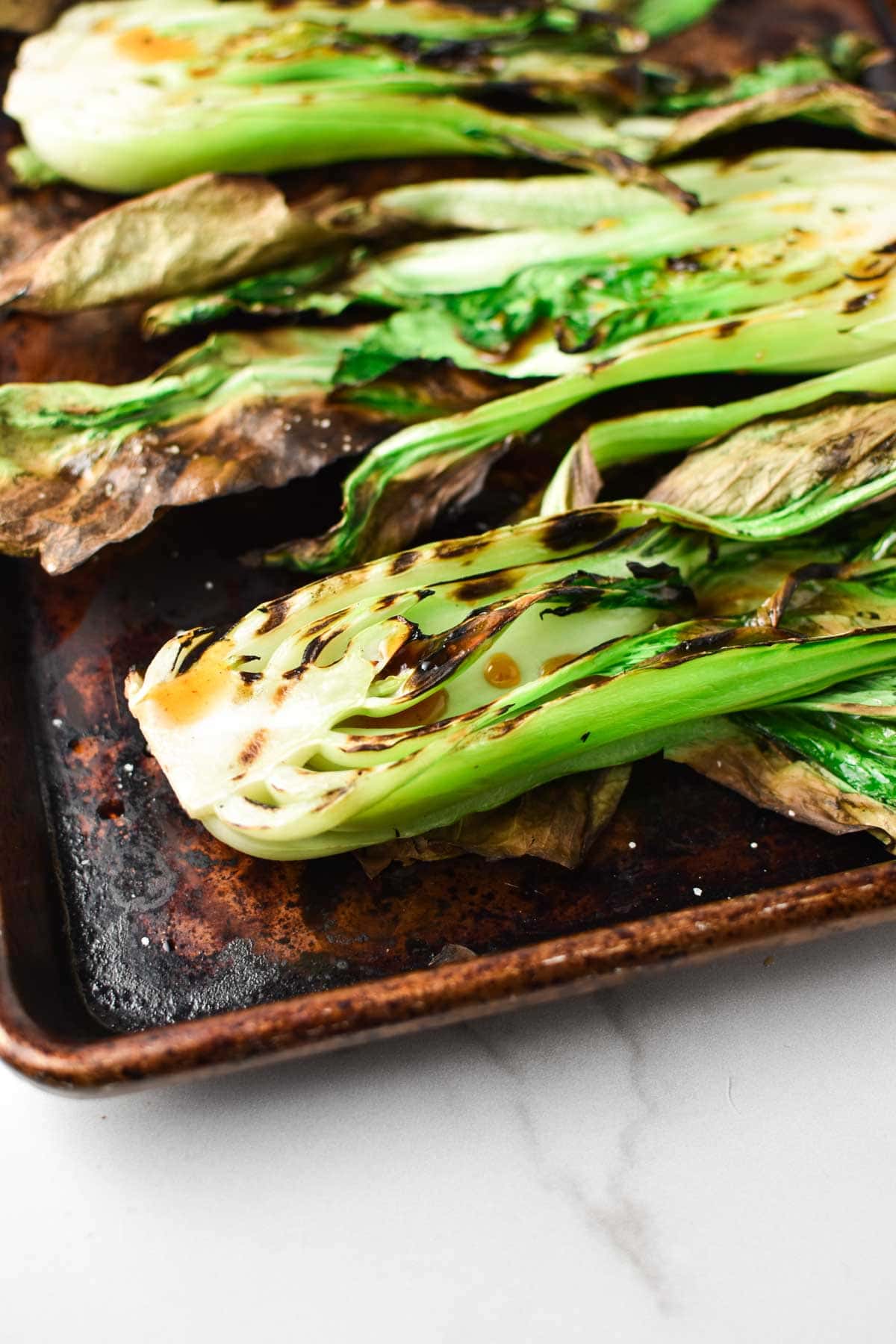 Health Benefits
Although going dairy free or even vegetarian are not a requirement for those following a migraine diet, some people choose to do it because of personal preferences or individual allergies. Without the ability to consume dairy, sometimes calcium can take a hit.
Bok choy is full of calcium and magnesium which can aid in maintaining good bone health. According to the United States Department of Agriculture National Nutrient Database, 1 cup of uncooked bok choy, weighing 70 grams contains 74mg of calcium, 176mg of potassium, and 13mg of magnesium.
Potassium, which is most-commonly associated with bananas, can be found in some greens and potatoes. Since bananas are to be avoided during an elimination period for a migraine diet, this is a great way to get some extra potassium if that's a concern for you.
Choline is also found in bok choy, making it a great way to reduce inflammation naturally. It can also help with sleep and memory function, two things which can be impaired by a migraine disorder.
Frequently Asked Questions
What part of bok choy are you supposed to eat?
Before eating, I just trim off the very end of the base, which is really tough. Otherwise the entire plant is edible - leaves to stem (so the green parts to the white part).
How do you get bitterness out of bok choy?
Grilling is a great way to remove the natural bitter flavor of bok choy. It gives it a little smokiness. Another way to do this is by adding sweetness, which is why we use sweet chili sauce in this recipe.
Can I substitute something else for the sweet chili sauce?
Yes! If you can't find a good sweet chili sauce, use 1 tablespoon of coconut aminos and 1 clove of garlic instead. Mix these two with the sesame oil and brush on the bok choy before you grill, and again after you're done grilling. I recommend the coconut aminos because they still add some sweetness.
Grilling Recipes
For more great recipes like this grilled bok choy, see these posts.
If you make this, tag me #thedizzycook or @thedizzycook on Facebook and Instagram. And if you love the recipe, please leave a review below! Follow along on my Pinterest for more great recipes.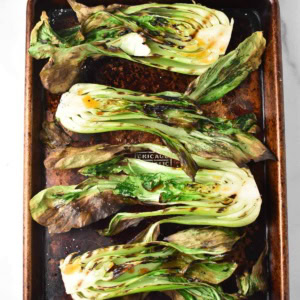 Grilled Bok Choy
This healthy grilled bok choy (can use baby bok choy too) is packed with nutrients like calcium and magnesium and has great flavor. With just 3 ingredients, it's an easy Asian side dish that's vegan and gluten free.
Print
Pin
Rate
Ingredients
2

bok choy, cut in half

Baby bok choy and full size will work

1

tablespoon

toasted sesame oil

1

tablespoon

sweet chili sauce

*see substitutions in notes

kosher salt and pepper
Instructions
Slice bok choy in half and brush both sides generously with toasted sesame oil. Sprinkle with kosher salt and pepper.

Preheat grill to medium high heat and place diagonally on grill grates, making sure leaves don't drop below the grates. (Watch out cause dripping oil may cause flares) Cover with the grill lid and grill for 3-4 minutes until grill marks form, then flip and cook another 3-4 minutes, covered, until bok choy stems are softened, but not too charred. If using larger bok choy, cook about 5 minutes per side.

If leaves are cooking too quickly and charring before the base has softened, place a small sheet of aluminum foil underneath the leaves to protect them from cooking more as the base continues to cook. This can also be done at the beginning if you do not want the leaves to be charred.

Place grilled bok choy on a sheet pan and brush both sides with sweet chili sauce. Serve warm.
Notes
If you can't find a good sweet chili sauce, use 1 tablespoon of coconut aminos and 1 clove of garlic instead. Mix these two with the sesame oil and brush on the bok choy before you grill, and again after you're done grilling.
Baby bok choy will cook faster than the larger size. Those take roughly 3-4 minutes per side, while larger bok choy takes about 5 minutes per side.
I use Pretty Thai Sweet Chili Sauce.
For full size bok choy, double the amount of oil and sweet chili sauce used.
Nutrition
Serving:
1
piece
|
Calories:
94
kcal
|
Carbohydrates:
11
g
|
Protein:
6
g
|
Fat:
4
g
|
Saturated Fat:
1
g
|
Polyunsaturated Fat:
2
g
|
Monounsaturated Fat:
1
g
|
Sodium:
316
mg
|
Potassium:
1058
mg
|
Fiber:
4
g
|
Sugar:
7
g
|
Vitamin A:
18766
IU
|
Vitamin C:
189
mg
|
Calcium:
441
mg
|
Iron:
3
mg
This post was originally published June 22, 2020 and has been updated March 2022 to include new recipe tips and frequently asked questions.