These Grilled Italian Shrimp are so flavorful and healthy! A quick marinade with garlic, basil, and thyme are combined with tomatoes for a delightful summer meal.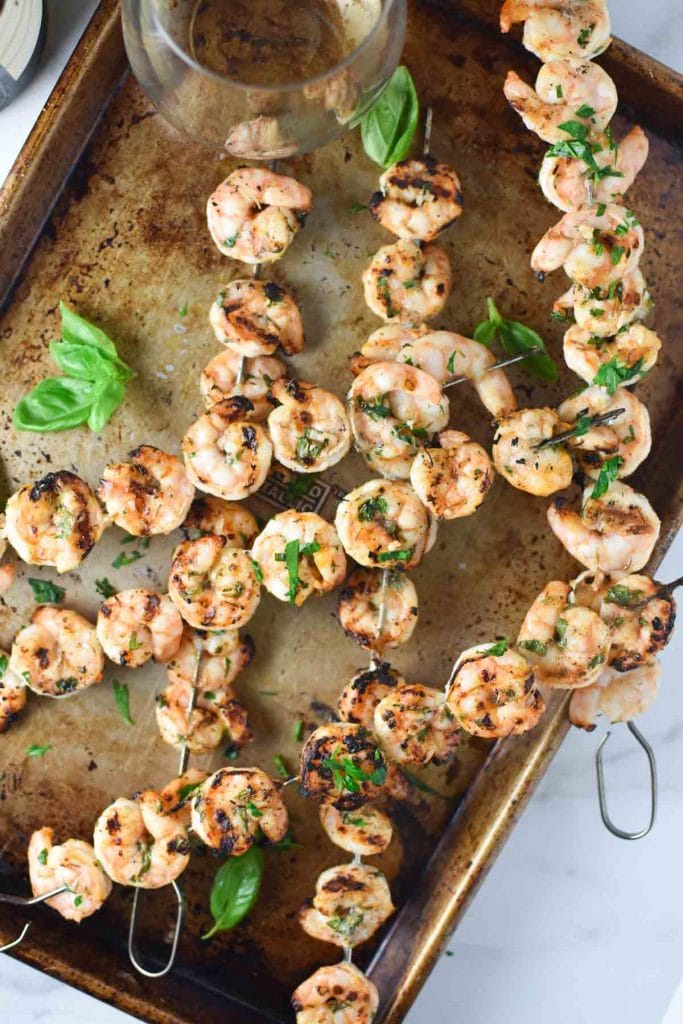 This post was first published in August 22, 2018 and edited May 11, 2021 to include updated pictures and recipe tips.
Why You'll Love This Recipe
This is one of my favorite summer recipes because it's healthy, light and easy.
Shrimp is a healthy source of protein that's rich in nutrients like omega-3 fatty acids, zinc and vitamin B12, which boosts immunity and can improve brain health.
This recipe fits a number of diets from the Heal Your Headache migraine diet, dairy free, gluten free, paleo, and whole30 (if you omit the honey).
It takes about 5 minutes to prepare the marinade in a food processor - no chopping required!
The grill makes for easy clean up, but you can also use a grill pan.
It's perfect for meal prep for the week or road trips.
When I say it's perfect for road trips, this is one of my go-to's along with pasta salad any time we drive from Dallas to Phoenix. It pairs great with hummus, cherries, veggie sticks, chips, and sunflower seeds for an easy to pack lunch. It's still delicious, warm or cold, and is great on salads.
We have plenty of energy the rest of the drive and I don't get a spike in dizziness that I often do from eating unknown fast food.
I've also made this recipe a few times for company because it's so easy to prepare ahead of time and quick to cook.
Ingredients and Cooking Utensils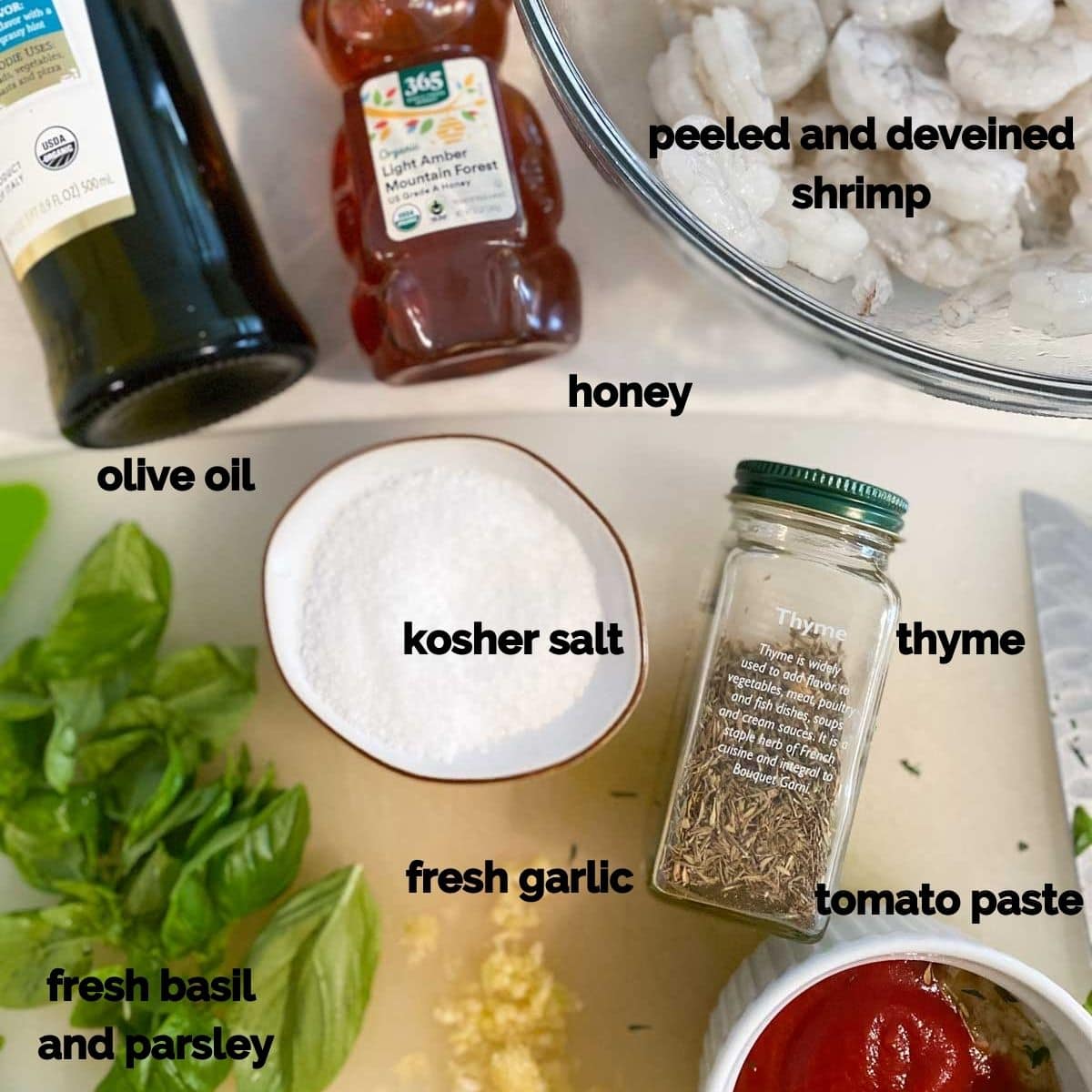 This recipe for marinated Italian Shrimp uses mostly pantry staple herbs and oils like thyme and olive oil.
Shrimp - Good quality shrimp is usually wild caught and doesn't contain any preservatives. Fish Fixe is a great company that will ship you quality seafood, like wild gulf shrimp in perfectly sized portions. I recommend purchasing unpeeled and deveined large or jumbo shrimp, unless using them for a salad. They can be tail on or off, that is up to your personal preference.
Tomato Paste - This really gives a deeper flavor to the marinade, but if you're on a migraine diet and do not tolerate tomatoes well, you can omit it from the recipe.
Fresh Basil and Parsley - This is a must to do fresh! It adds that brightness to the shrimp marinade.
Honey - It's such a small amount that it doesn't add a lot of sweetness, but it does balance the acidity of the vinegar and tomatoes.
Grill or Grill Pan - You can use a gas grill, charcoal grill, or grill pan for this recipe. It's even great baked, although I love the flavor that comes from a little char on the outside.
Reusable Skewers - This is a must for easy flipping on a gas or charcoal grill.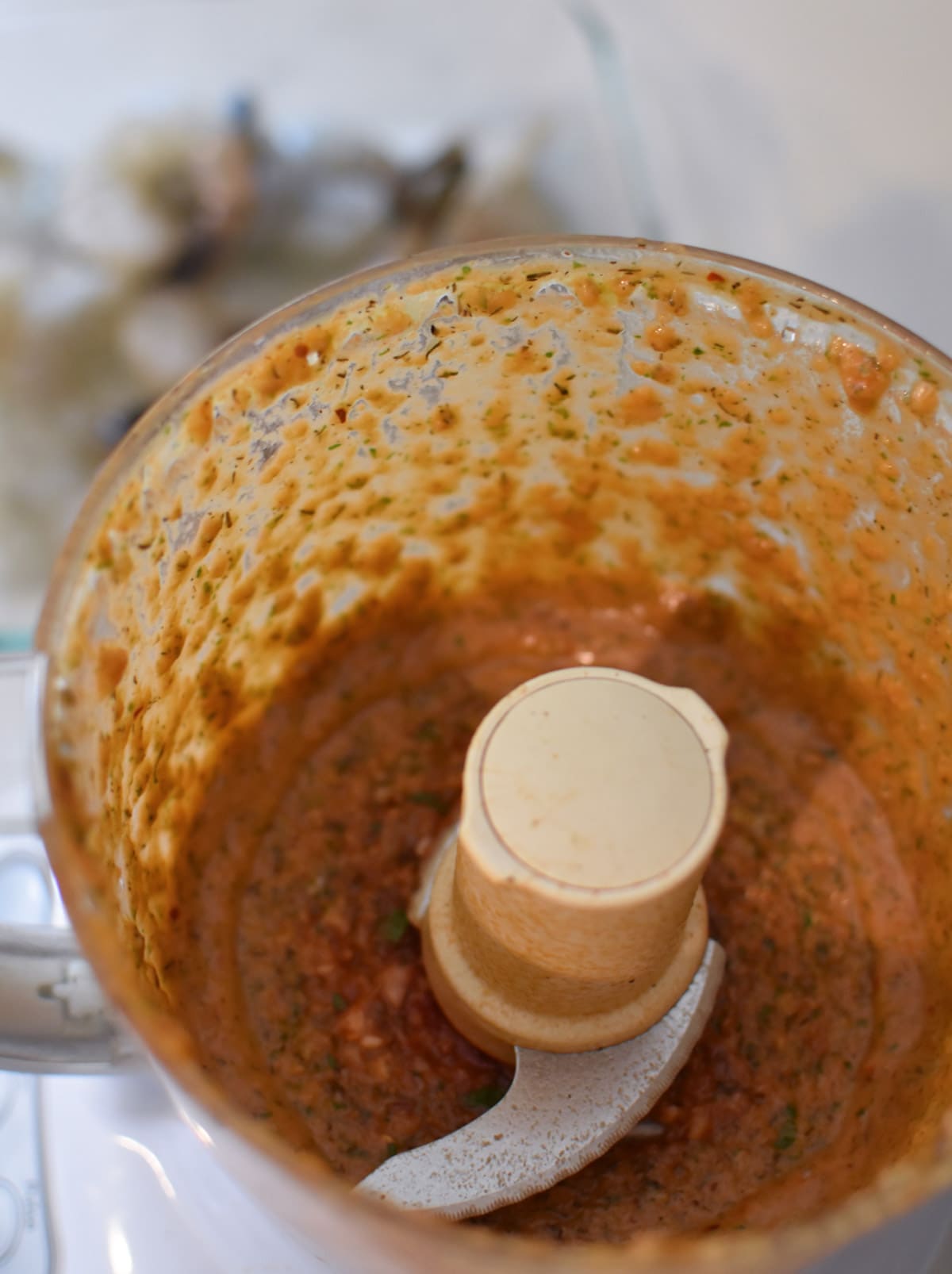 How to Grill Italian Marinated Shrimp
Begin by blending the marinade ingredients together in a small food processor and then marinating the raw shrimp in the Italian herb sauce for at least 30 minutes to an hour.
Preheat the grill to medium high heat.
Place the raw, marinated shrimp in a line on soaked wooden skewers or reusable metal ones.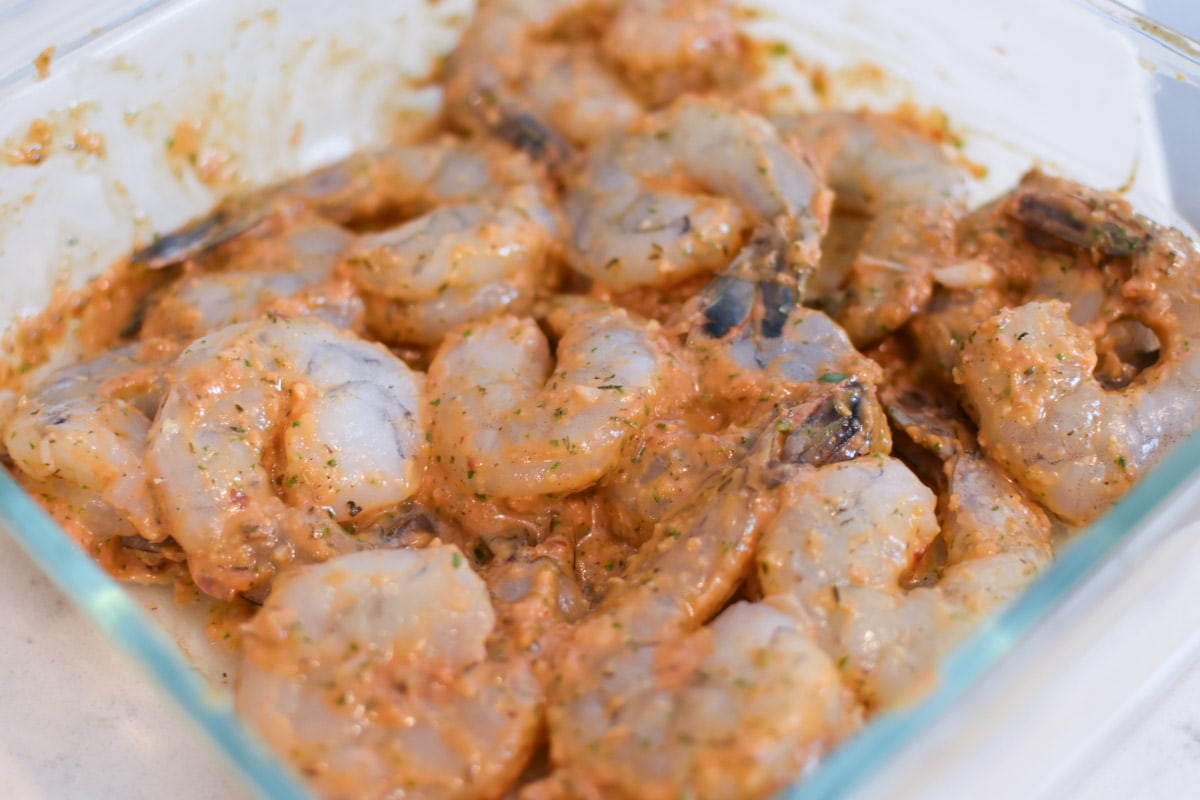 Add the shrimp skewer to the hot grill at an angle and cook for 2 minutes - don't move them!
After 2 minutes, flip and grill on the remaining side until cooked through - another 2-3 minutes.
Remove the skewers from the grill and place on a baking sheet to cool until you're ready to serve.
Frequently Asked Questions
Should I peel shrimp before grilling?
Yes! If you haven't bought pre-peeled and deveined shrimp you will need to peel and devein them at home. Cut down the back of the shrimp and remove the outer shell. Make a small cut along the long curved edge to reveal the black "vein" and pull that out with a sharp knife. They also make plastic tools to help with this task!
How do you grill shrimp without them drying out?
Watch them carefully and only cook for 2-3 minutes per side. You want the grey, translucent parts gone and for the shrimp to be opaque. After that happens, remove them from the grill. This will avoid them getting rubbery.
Can I grill frozen shrimp?
No, you would need to defrost these before marinating. You can do this quickly by placing frozen shrimp in a bowl of cool water and changing the water every 15 minutes until completely defrosted.
Other Summer Shrimp Recipes
For more seafood recipes that would be great for summer parties like this grilled Italian shrimp, check out these links!
If you make this, tag me #thedizzycook or @thedizzycook on Facebook and Instagram. And if you love the recipe, please leave a review below! Follow along on my Pinterest for more great recipes.
Grilled Italian Shrimp
Perfect for an easy weeknight meal or for company, this grilled Italian shrimp recipe will become a family favorite! Even chilled, this recipe is wonderful to pack for road trips.
Print
Pin
Rate
Ingredients
2

large garlic cloves, peeled

2

tablespoons

fresh basil

1

tablespoon

fresh parsley

1.5

teaspoon

dried thyme

1

teaspoon

honey

1

tablespoon

tomato paste

3

tablespoons

extra virgin olive oil

1.5

tablespoons

distilled white vinegar

½

teaspoon

kosher salt

1

pound

peeled and deveined jumbo or extra large RAW shrimp, tail on

* fresh or frozen and defrosted is fine

fresh black pepper to taste
Instructions
If your shrimp does not come deveined, this is pretty easy to do. Remove the shell (which is usually already cut) and use a small knife to cut along the back side of the shrimp. There will be a slimy dark "line" that becomes exposed. Remove that from the shrimp and rinse. Pat the shrimp dry.

Place all the ingredients except shrimp in a food processor and blend it till almost smooth. Pour sauce over the shrimp, toss, and place in the refrigerator to marinate 30min to an hour. If using a grill, thread your shrimp onto skewers.

Prepare your grill or grill pan to medium high heat. Place your shrimp on the hot grill or grill pan and cook, not moving for 2 minutes. Flip and cook on the other side another 2-3 minutes, depending on the size of your shrimp. You want them to be opaque with no clear/grayish parts. Serve immediately or cover and chill for up to 2 days.
Notes
If you're sensitive to tomatoes, simply remove the tomato paste from the marinade. It's not *quite* as good, but still really flavorful and delicious.
Make sure the shrimp is completely defrosted before using. You can defrost quickly in a bowl of cold water, changing the water out every 20 minutes until shrimp have defrosted.
I love to pair this with a pasta salad, mozzarella salad, or mashed cauliflower.
Nutrition
Calories:
293
kcal
|
Carbohydrates:
4
g
|
Protein:
31
g
|
Fat:
16
g
|
Saturated Fat:
2
g
|
Cholesterol:
381
mg
|
Sodium:
1606
mg
|
Potassium:
200
mg
|
Fiber:
1
g
|
Sugar:
3
g
|
Vitamin A:
283
IU
|
Vitamin C:
10
mg
|
Calcium:
239
mg
|
Iron:
4
mg