I haven't had Chick-fil-a in over 2 years now. In the past I would eat it at least once every two weeks. The last time I had it was when we were driving back from The Mayo Clinic in Arizona, the first time I was diagnosed with vestibular migraine. It was a 16 hour trip that we were trying to do in a day and after eating chicken sandwiches for lunch we were so exhausted and sluggish. Since I had 24/7 symptoms at the time, I'm not sure if it was possible to feel any worse!
Little did I know that Chick-fil-a packs a ton of MSG in their fried chicken. Of course it also didn't help that I smothered Chick-fil-a sauce on everything (which everyone knows is the best sauce). The sauce also contains msg as well as other migraine triggers. I'm just raining on everyone's parade over here, but one day I vow to recreate a migraine friendly version of both items. Victory shall be mine!
Last year I was strictly HYH, so for our road trip we packed chicken roll ups, pasta salad, chips and apples. The first thing we noticed was that neither of us got that 2pm crash. Who knew that eating healthy actually gives you energy?! It made the drive so much easier for both of us to handle, and we really enjoyed the picnic style lunch versus just chowing down on a sandwich while driving.
Because our picnic lunch worked out so well the first time, I racked my brain for what I could make this year that would do well in a cooler. I made this recipe the night before our trip, and kept it in the fridge along with a version of this pasta salad, some hummus, cherries, veggies, chips and sunflower seeds. The shrimp was very flavorful, even when chilled. We had plenty of energy the rest of the drive and I didn't get a spike in dizziness that I often do from eating unknown fast food.
I've also made this recipe a few times for company because it's so easy to prepare ahead of time and quick to cook. The recipe is customizable to what works best for you, whether it's cooking on the outdoor grill or using a cast iron grill pan.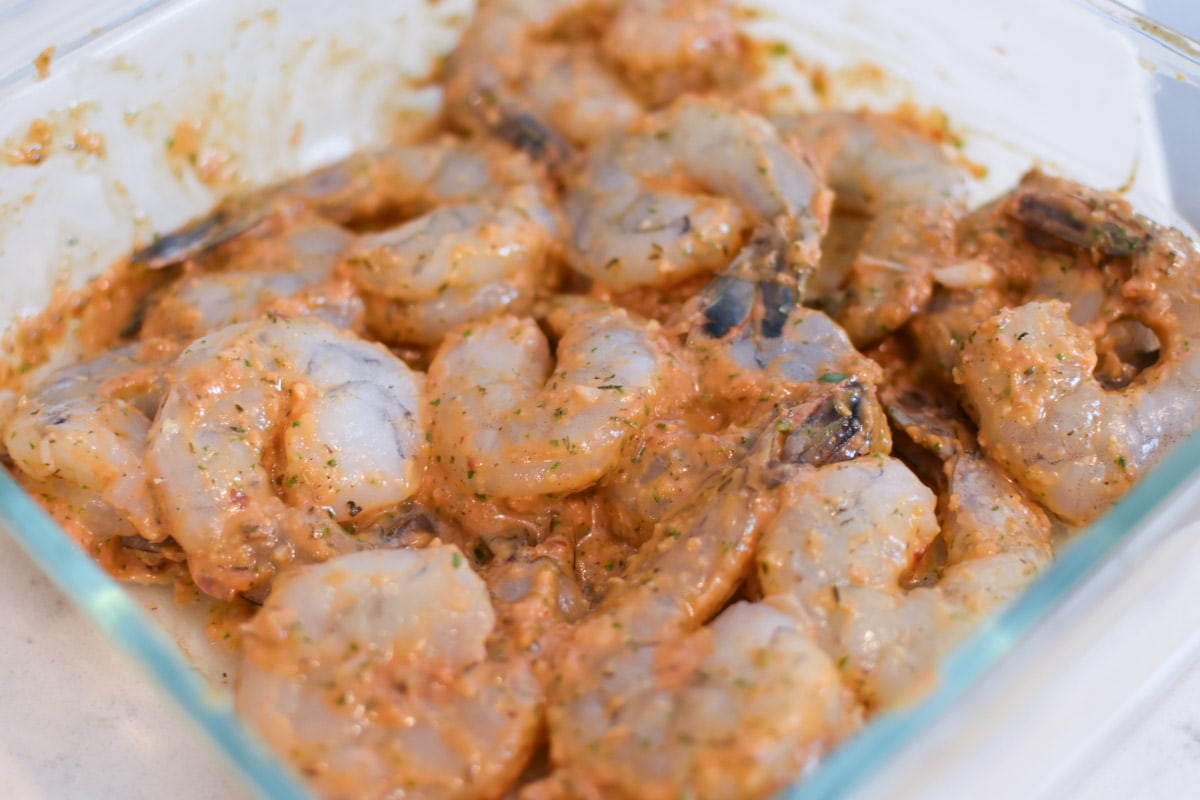 Grilled Italian Shrimp
Perfect for an easy weeknight meal or for company, this grilled Italian shrimp recipe will become a family favorite! Even chilled, this recipe is wonderful to pack for road trips.
Cuisine:
American, Italian
Keyword:
Easy Dinner, Grilled Italian Shrimp, Heal Your Headache
Ingredients
1

lb

peeled and deveined jumbo or extra large RAW shrimp, tail on

* fresh or frozen and defrosted is fine

3

tbsp

extra virgin olive oil

1.5

tbsp

distilled white vinegar

1

tbsp

tomato paste

* I haven't tried to leave this out, but if you have an issue with tomatoes I'm sure it would still be good

2

large garlic cloves, peeled

1.5

tsp

dried thyme

2

tbsp

fresh basil

1

tbsp

fresh parsley

1

tsp

honey

* I've left this out before but it does make a difference

1/2

tsp

kosher salt

fresh black pepper
Instructions
If your shrimp don't come deveined, this is pretty easy to do. Remove the shell (which is usually already cut) and use a small knife to cut along the back side of the shrimp. There will be a slimy dark "line" that becomes exposed. Remove that from the shrimp and rinse. Pat your shrimp dry.

Place all the ingredients except shrimp in a food processor and blend it till almost smooth. Pour sauce over the shrimp, toss, and place in the refrigerator to marinate 30min to an hour. If using a grill, thread your shrimp onto skewers.

Prepare your grill or grill pan to medium high heat. If using a grill, my husband likes to get it super hot and then take an onion on a grilling fork to clean the grill.

Place your shrimp on the hot grill or grill pan and cook, not moving for 2 minutes. Flip and cook on the other side another 2-3 minutes, depending on the size of your shrimp. You want them to be opaque with no clear/grayish parts. Serve immediately or cover and chill for up to 2 days.