These healthy shrimp tacos are an easy 30 minute meal that combines the smoky flavor of chipotle with a creamy and crunchy slaw. The slaw is tossed with my famous creamy cilantro sauce for a delicious and healthy meal!
What makes these shrimp tacos healthy? A simple marinade with no packaged seasonings cuts down on the sodium content and additives. The shrimp are pan-seared in olive oil instead of deep fried.
Squeeze in some extra vegetables with the delicious slaw that's coated in a fresh creamy cilantro sauce. This helps cool down some of the spicy chipotle powder in the shrimp. You'll absolutely love these healthy shrimp tacos for your next weeknight dinner!
Jump to:
What Makes These Shrimp Tacos Healthy?
A lot of shrimp taco recipes will use pre-made packet seasonings which always contain a lot of extra ingredients you don't need. They are typically extremely high in sodium, some contain MSG, and have a bunch of extra calories without really making a huge difference in flavor.
Or you could be getting fried shrimp tacos that are covered in sauce and cheese. Not necessarily a bad thing, but some days you just want something lighter that doesn't leave you super thirsty. Enter these healthy shrimp tacos!
You still get the creamy sauce and all the flavor but with less calories. These also fit gluten and dairy free diets too.
Shrimp is actually a really wonderful brain food that can add some Omega 3 fatty acids to your meal.
What Shrimp Is Best?
Shrimp Sizing - For this recipe I like to go with extra large shrimp. You may see a number on the bag like U15, 16/20, 21/25. This indicates how many shrimp are in a pound. Lower numbers indicate larger shrimp, therefore you get less per pound. Smaller shrimp tend to work better than jumbo for this recipe.
Shrimp Types - This recipe works well with lots of different types. The only important factor is that you buy them raw, not cooked. Fresh shrimp or frozen uncooked shrimp both work.
Sodium Tripolyphosphate and Sodium Bisulfite - This is often put into shrimp to help retain water and increase the weight or to preserve the color. I recommend avoiding both for those if you have a sulfite sensitivity.
Defrosting Shrimp - Place the shrimp in a large bowl with cool water, defrosting overnight in the fridge. Or do this quickly on the counter by changing out the cool water every so often till fully defrosted. This should take about 15-20 minutes. Dry the shrimp completely with a towel before cooking.
Ingredients
Shrimp - I recommend peeled and deveined raw shrimp, just for ease of preparation. Tips given above for selection!
Pomegranate Juice - This gives the best tart flavor that pairs perfectly with spices. I know it's a little different than what you're probably used to. I promise it's great!
Spices - Chipotle chili powder, smoked paprika, and cumin round out the spices. It's a simple combination that's smoky and a bit spicy. If you hate spiciness, cut down on the chili powder. I like Frontier Chipotle Chili Powder.
Slaw - I love to use bagged cabbage slaw or broccoli slaw for a crunchy topping.
Fresh cilantro - This recipe uses a lot of cilantro, but the flavor is very mild, especially when mixed with the other flavors of the tacos. If you hate cilantro I recommend replacing with parsley and basil for a green goddess style dressing.
Mayonnaise - This makes a great sauce, but if you want to cut down on the mayo, use all cottage cheese.
Cottage cheese - Cottage cheese makes a wonderful sub for yogurt and actually contains more protein! If you're not following a migraine diet, both are interchangeable.
Tortillas - Flour or corn work with this recipe. I recommend a good quality brand without a lot of extra ingredients and preservatives. Your local Mexican restaurant probably sells the best ones! But check the refrigerated and freezer sections too for fresh ones. TortillaLand is a widely found brand.
Salt, pepper, and distilled white vinegar round out the ingredients.
How to Make
Step 1. Marinate the Shrimp
Combine the marinade ingredients - oil, spices, and pomegranate juice. Cover and chill in the fridge for 15 minutes or until you're ready to cook.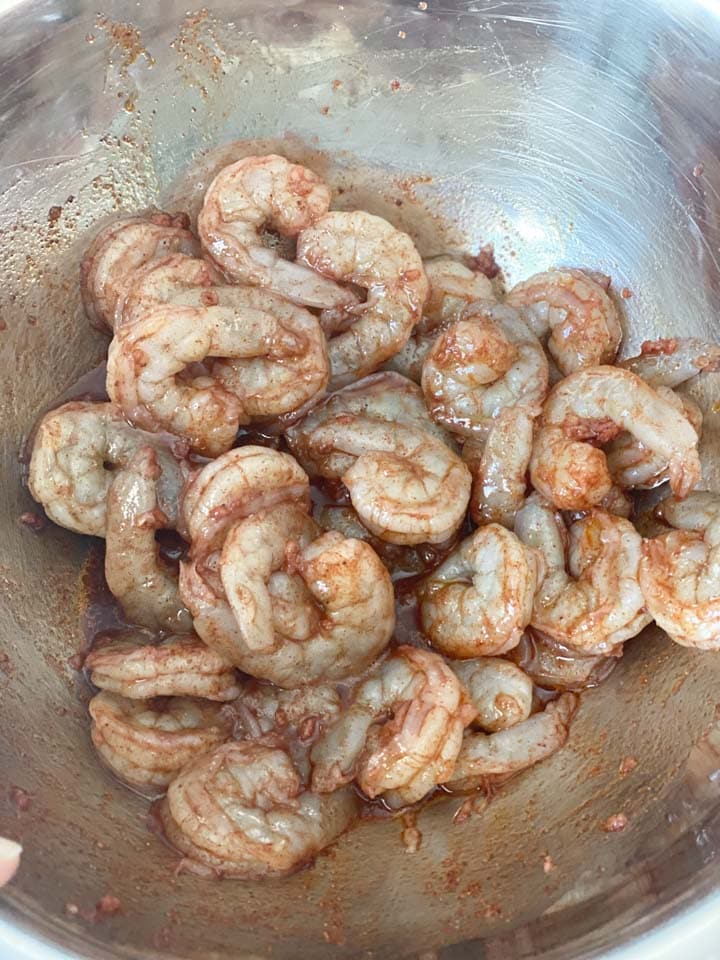 Step 2. Make the Creamy Cilantro Slaw
Combine the slaw sauce ingredients in a food processor and pulse till completely combined and smooth. Add slaw to a bowl and toss with a few spoonfuls of the sauce till everything is well-coated. Cover and refrigerate till ready to use.
Step 3. Cook the Shrimp
Heat a large pan over medium high heat and add the shrimp and sauce. Cook for 2-3 minutes per side, until the shrimp are opaque and have cooked through. Set aside to build your tacos.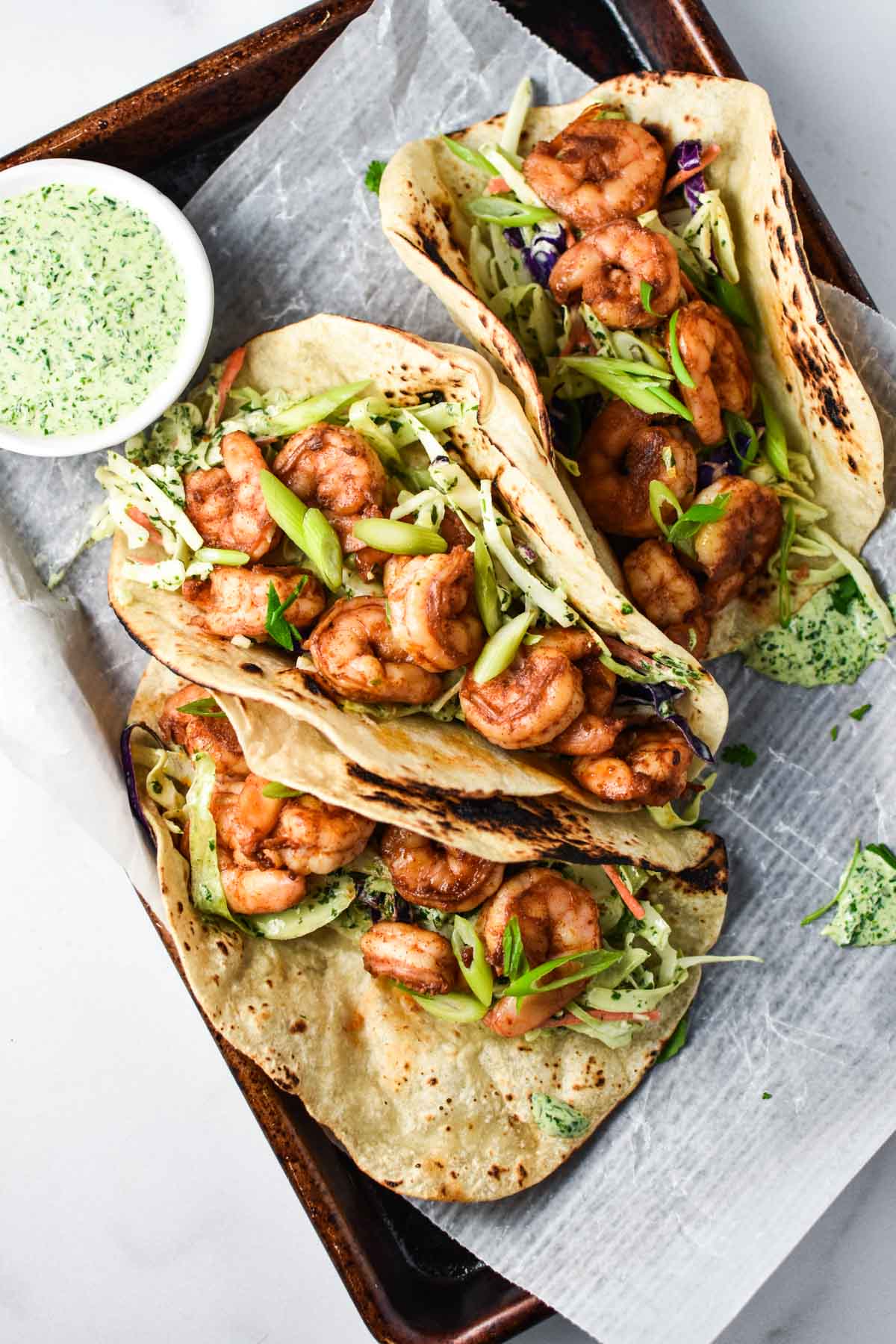 Step 4: Warm the Tortillas
Warm the tortillas, either covered with a damp paper towel in the microwave or over a gas grill, watching carefully and turning every 15-30 seconds until warmed through with a light char in spots. Add shrimp and top with cilantro slaw.
For best flavor, use tongs to hold the tortilla while you warm it over the gas grill. It gives the best flavor and texture!
Creamy Cilantro Slaw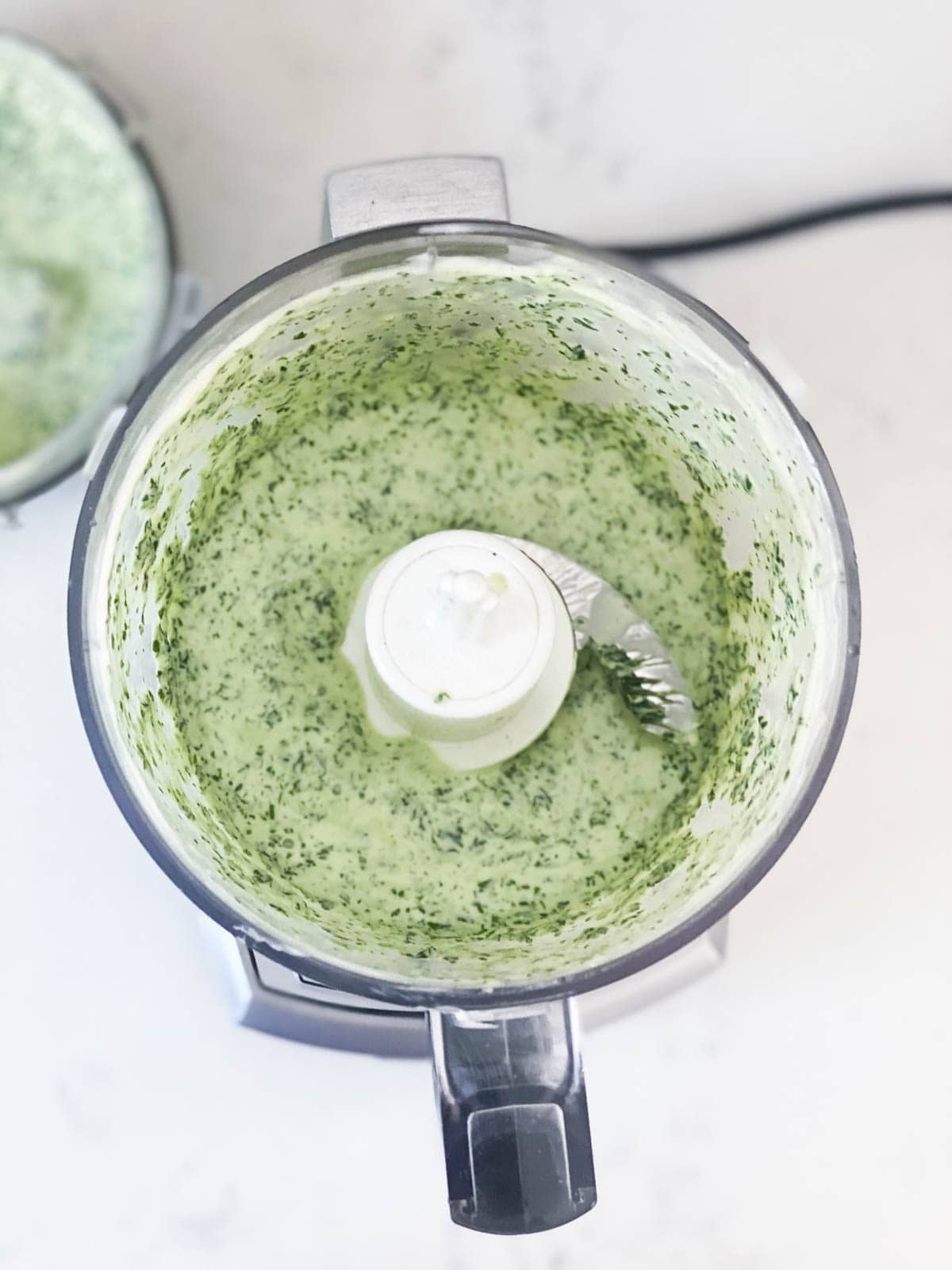 Affectionately known among my readers as "the sauce", which is originally used on these zucchini poppers, I knew I had to find other ways to incorporate this sauce into other dishes. Some use it just as a dip for chips and veggies, but it's so good as a sauce for tacos or even grilled seafood.
To make this easy on myself, I whipped up a batch in my food processor and just tossed it with a coleslaw mix. You can usually find this mixture of cabbage and carrots bagged near all the lettuce and other salad mixes. If dairy is an issue for you, you can simply leave out the cottage cheese in the mixture. This makes a wonderful creamy cilantro slaw for shrimp tacos.
Modifications
Gluten free - If you're gluten free, you can easily sub corn tortillas for these spicy shrimp tacos, but other options include jicama tortillas (sometimes I see these sold in grocery stores) or just serve on a bed of lettuce or cauliflower rice.
Dairy free - Omit the cottage cheese and use all mayo, or use coconut yogurt, if tolerated.
As stated above, you can replace the cilantro with another herb, but I recommend a combination of parsley and basil, similar to this creamy basil sauce. Homemade ranch will also work well with these healthy shrimp tacos!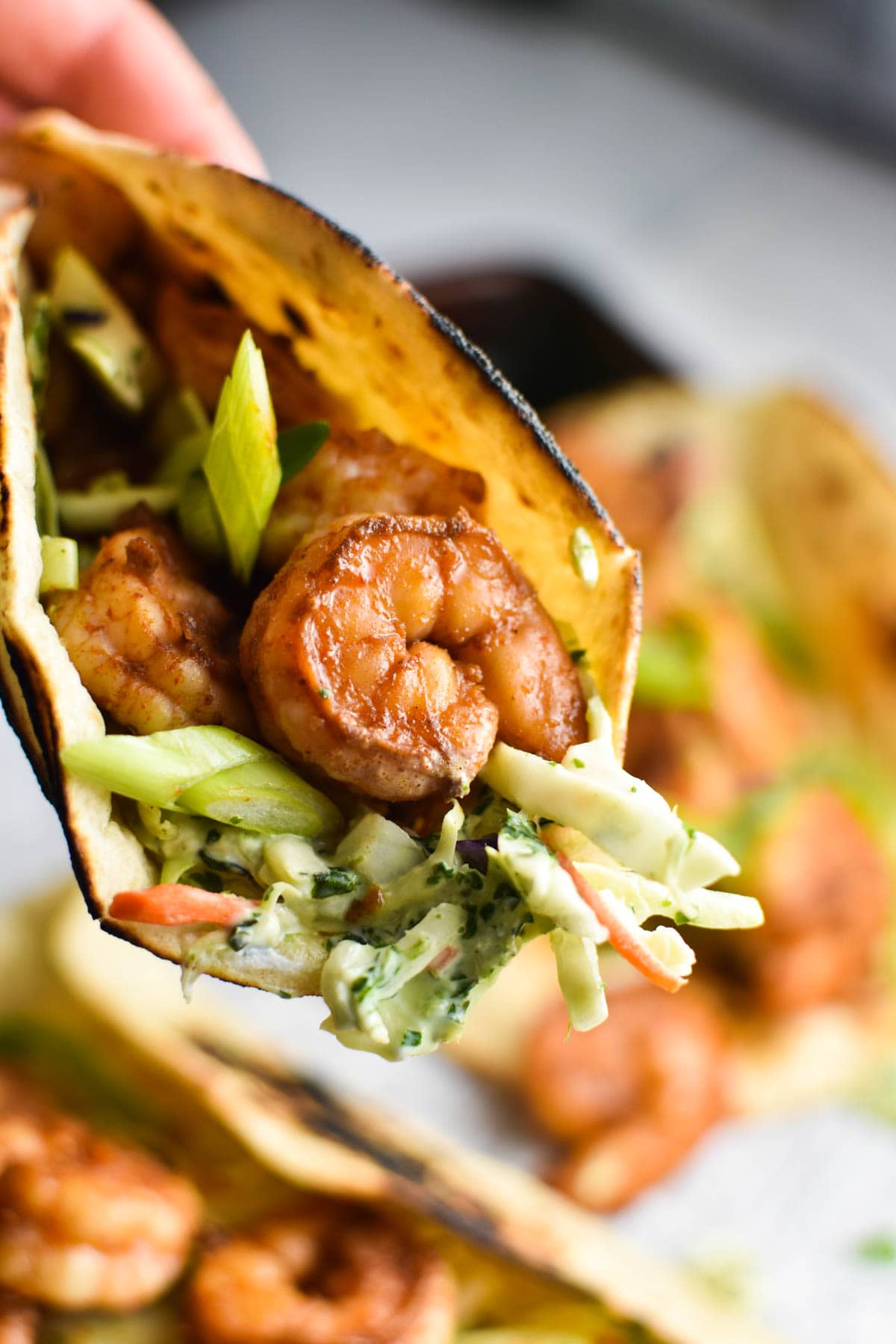 Serving Suggestions
These healthy shrimp tacos pair so well with many different sides! Here are a few of my favorites. I recommend adding at least 1 side since the recipe makes two small tacos (street taco sized).
You can also serve these shrimp on top of a taco salad!
Frequently Asked Questions
How many calories are in a shrimp taco?
These healthy shrimp tacos are just 343 calories for two street taco sized portions and contain 25 grams of protein!
What's good with seafood tacos?
I give some linked suggestions in the post above and highly recommend the Spanish brown rice, chips and salsa, elote, extra slaw, and black beans as great sides!
What if I want to make baja style shrimp tacos?
If you want to put a healthy spin on the fried baja style, I recommend trying my baja fish tostada recipe, which you can also use with shrimp.
Are these spicy?
Yes, the homemade seasoning has some heat due to the chipotle chili powder. If you're heat sensitive, try cutting the chili powder in half to start.
Healthy Taco Recipes
These health conscious taco recipes are some of my favorites for easy weeknight meals.
If you make this, tag me #thedizzycook or @thedizzycook on Facebook and Instagram. And if you love the recipe, please leave a review below! Follow along on my Pinterest for more great recipes.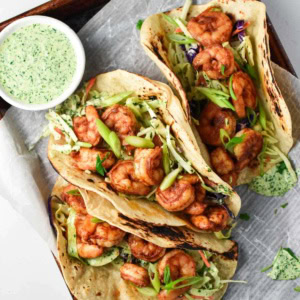 Healthy Shrimp Tacos with Cilantro Slaw
These spicy shrimp tacos have a chipotle chili marinade for spicy smoky flavor and are paired with a creamy cilantro slaw for a quick 30 minute meal that is so flavorful and delicious.
Print
Pin
Rate
Ingredients
Spicy Shrimp Tacos
1¼

pound

peeled and deveined raw shrimp

2

tablespoons

pomegranate juice

2

tablespoons

olive oil (or any mild oil will do)

1

teaspoon

chipotle chili powder

½

teaspoon

smoked paprika

1

teaspoon

cumin

½

teaspoon

kosher salt

8

small corn or flour tortillas
Creamy Cilantro Slaw
1

cup

fresh cilantro

½

garlic clove (or full depending on preference for garlic flavor)

⅓

cup

mayonnaise

1

tablespoon

cottage cheese

*can be subbed with mayo for dairy free

1

tablespoon

distilled white vinegar

kosher salt and pepper to taste

5

oz

coleslaw mix (just ½ a 10oz bag)
Instructions
In a large bowl, combine defrosted peeled and deveined raw shrimp with oil, pomegranate juice, chipotle chili powder, smoked paprika, cumin and salt. Stir to combine and coat well. Then cover and chill in the fridge till you're ready.

In a small food processor, combine the ingredients for the creamy cilantro sauce (not the coleslaw mix), blend till smooth, and place in the fridge to chill.

Tortillas can be covered in tin foil and heated in the oven for 5 minutes at 350 or, if you have a gas grill or stovetop, you can toast them over the open flame about 30 seconds per side using tongs (and WATCHING CAREFULLY) to get a nice char. If microwaving, cover with a damp paper towel and heat in 15 second increments.

Heat a large pan over medium high and add marinated shrimp with all of the sauce. Make sure all the shrimp are in one layer. Cook for 2-3 minutes on the first side, then flip the shrimp and cook another 2-3 minutes until cooked through and light pink. Quickly toss the coleslaw mix with the creamy cilantro sauce, and fill the tortillas with the shrimp and slaw!
Notes
See post for gluten-free and low carb suggestions.
This recipe isn't too spicy in my opinion but I'm also Texan! If you want, you can cut back on the amount of chipotle chili powder. If you need more, I recommend adding your favorite hot sauce.
If you end up with extra cilantro sauce, you can use it as a dip or on this recipe.
This recipe fills 2 small, street-size tacos per person.
Nutrition
Serving:
2
tacos
|
Calories:
343
kcal
|
Carbohydrates:
30
g
|
Protein:
24
g
|
Fat:
15
g
|
Saturated Fat:
2
g
|
Polyunsaturated Fat:
4
g
|
Monounsaturated Fat:
7
g
|
Trans Fat:
0.02
g
|
Cholesterol:
182
mg
|
Sodium:
806
mg
|
Potassium:
390
mg
|
Fiber:
5
g
|
Sugar:
3
g
|
Vitamin A:
857
IU
|
Vitamin C:
14
mg
|
Calcium:
149
mg
|
Iron:
2
mg