Ahi tuna salad is one of my favorite fresh summer recipes. With a sesame ginger dressing that's delicious and unique, fresh mango, radish and greens, you'll feel like you've transported yourself to a tropical island.
This seared tuna salad doesn't use soy sauce, which I feel overpowers the fish with sodium. Coconut aminos really highlight all the flavors here and add a little bit of sweetness to the dish.
You'll love this ahi tuna salad for a light dinner that's both refreshing and super flavorful. It's one of my favorite 30 minute meals, especially when ahi tuna goes on sale!
What is Ahi Tuna?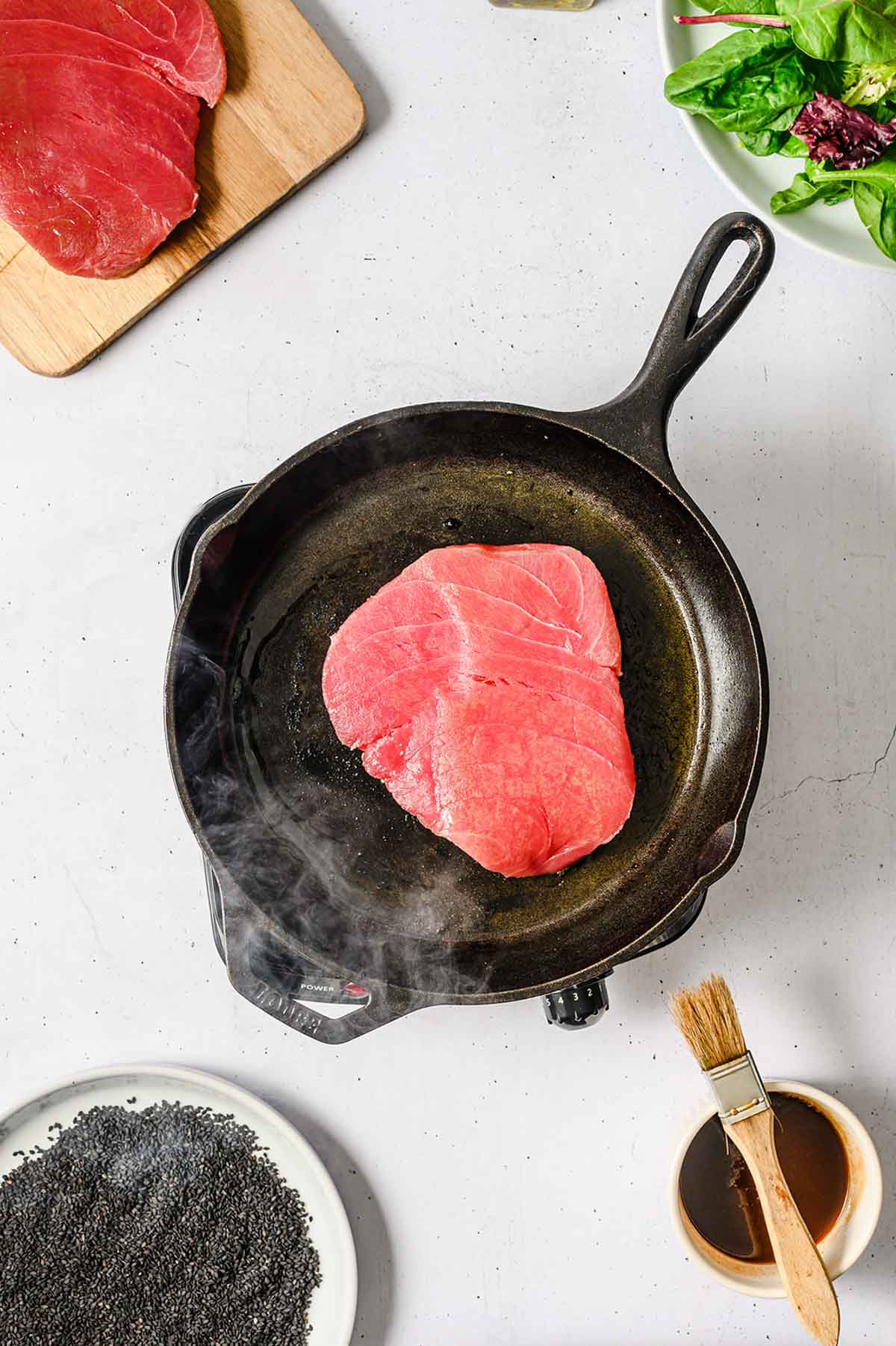 Ahi tuna is a really hearty fish that can be enjoyed a few different ways. While most people are familiar with canned tuna, this recipe uses a fresh tuna steak from your local fishmonger.
Ahi tuna usually comes as two separate species - yellowfin and bigeye. You can typically find it from a local grocery store frozen, or defrosted and ready to use from a local seafood counter.
Tuna does have a lot of benefits, especially when it comes to Omega-3's, which are helpful for brain health. Plus it's a nice alternative from salmon that can often be less expensive.
Tips for Buying Tuna
If you're new to purchasing ahi tuna steaks, here are some tips to help you pick a really fresh cut.
Check the color - Look for bright coloring, which should be a red or pink color. If it is turning gray or dark, pass on it for now. When planning meals, I always make my tuna recipe the same night as grocery shopping day so it's very fresh.
Smell the fillet - The smell should be briny and not strong or pungent. It should smell similar to the ocean!
Use a trusted vendor - Your local fishmonger should be able to tell you when the fish was delivered and how fresh it is. Use one you trust who can help you pick the best fillet. This is a perk to local fish markets vs. large supermarkets. Although I find the fishmongers at Central Market to be wonderful! I always pick up tuna steaks whenever they have a large delivery (which usually means they're on sale!).
Frozen works - A lot of tuna is flash frozen at it's freshest, and you can buy this frozen as sushi or sashimi grade tuna. It's not totally necessary for this dish, but if you do love a very raw center and don't have a trusted fish resource, I highly recommend going this route.
How to Thaw Tuna
Since many of you will be purchasing frozen tuna fillets I thought I'd include some tips for how to thaw it!
The safest way to do this is overnight in the refrigerator. The quick method is to place the tuna in the sealed package into a bowl of cold water and allow it to defrost over 30 minutes to one hour. You may need to change out the water at least once till fully defrosted.
Never set the raw tuna out at room temperature to defrost. This will just increase the likelihood of bacteria.
Ingredients
Ahi Tuna - This should be previously frozen, but just make sure it's defrosted before you begin.
Coconut aminos - These can be found in almost any grocery store (Costco has a great deal!) and have a little more sweetness and less sodium than soy sauce.
Rice flour - I kept this recipe gluten free but you could also use regular all purpose flour to thicken the sauce.
Pear juice - This is a wonderful addition to the marinade! It's sweet without being a strong flavor and complimentary to the other sauce ingredients. If you struggle to find pear juice, apple juice can be used. However, if you have the option definitely go with pear for the best flavor. You can use it again in this pear mocktail.
Tahini - Tahini is just ground sesame seeds, so this gives the seared tuna salad a great sesame flavor.
Sesame seeds - Black or white will work for this recipe!
Mango - Fresh mango pairs so well with the ahi tuna so don't skip this addition!
The rest of the ingredients are pretty straightforward. I used mixed greens as the base for the salad.
How to Make
Step 1: Make the sesame vinaigrette
Whisk together all the ingredients for the sesame ginger dressing, or for best results, blend in a small food processor. Allow this to sit in the refrigerator for at least 30 minutes to let the flavors combine.
Step 2: Make the ahi tuna sauce
Combine the marinade ingredients together in a small pot and bring to a simmer. Allow it to simmer until thickened, about 5 minutes.
Step 3: Sear the ahi tuna
The best way to cook fresh ahi tuna is to sear it. This leaves a little bit of bright pink in the middle while cooking the fish on the outside. Doing this properly will give you the best flavor and texture.
Generally this takes about 1-2 minutes, a little less for very rare and a little more for medium-cooked.
Heat oil in a cast iron or large non-stick pan over medium high heat. Add the tuna steak and sear on one side for about 1-2 minutes. Then flip the tuna, brush with the sauce on the cooked side, and sear another 1-2 minutes, or until preferred doneness.
Remove the tune and brush the other side with the sauce, then place into the toasted sesame seeds to coat both sides.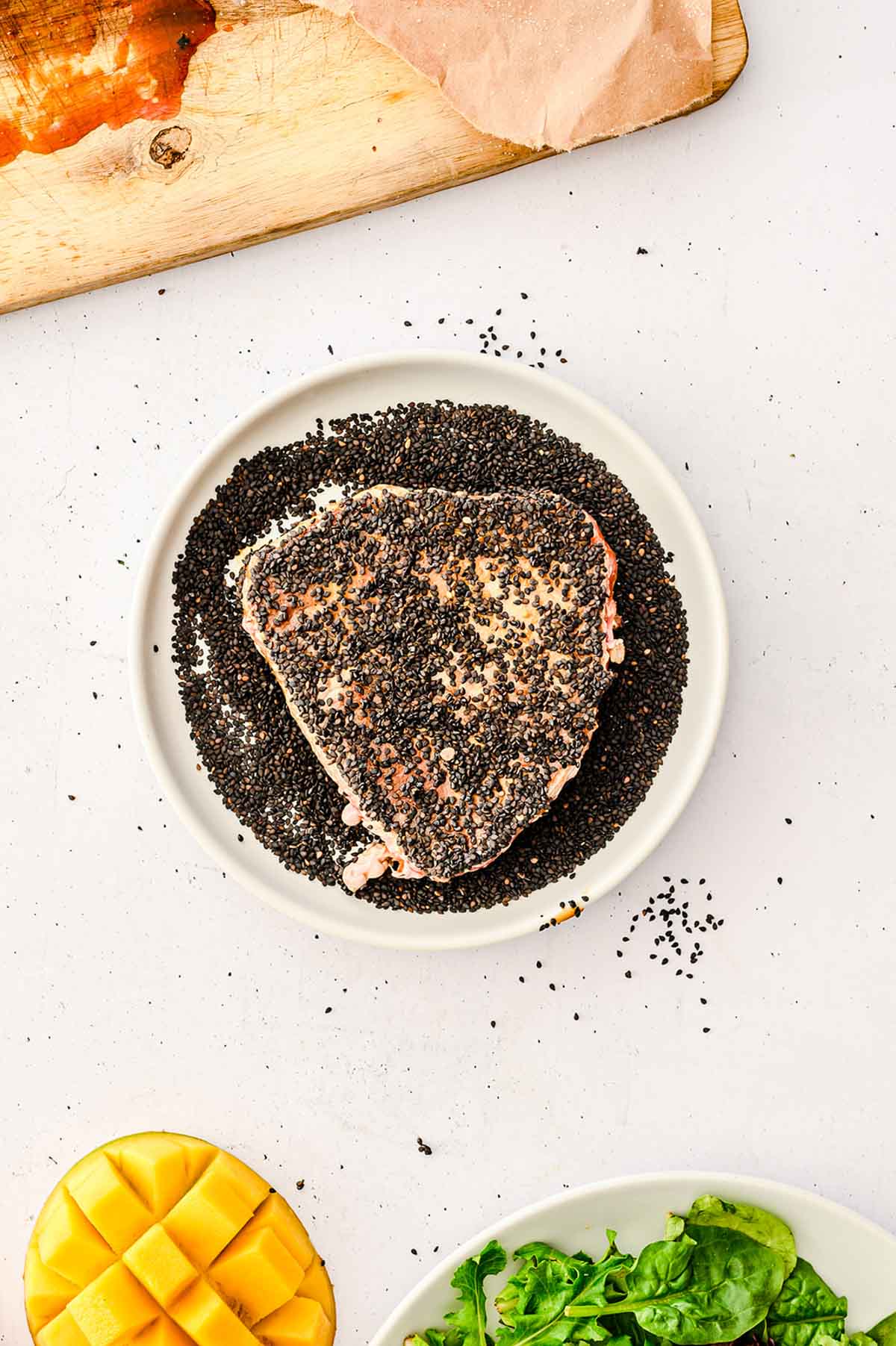 Step 4: Build the seared tuna salad
Add mixed greens to a bowl and toss with the sesame dressing. Top with sliced seared ahi tuna, mango, green onions, and radish.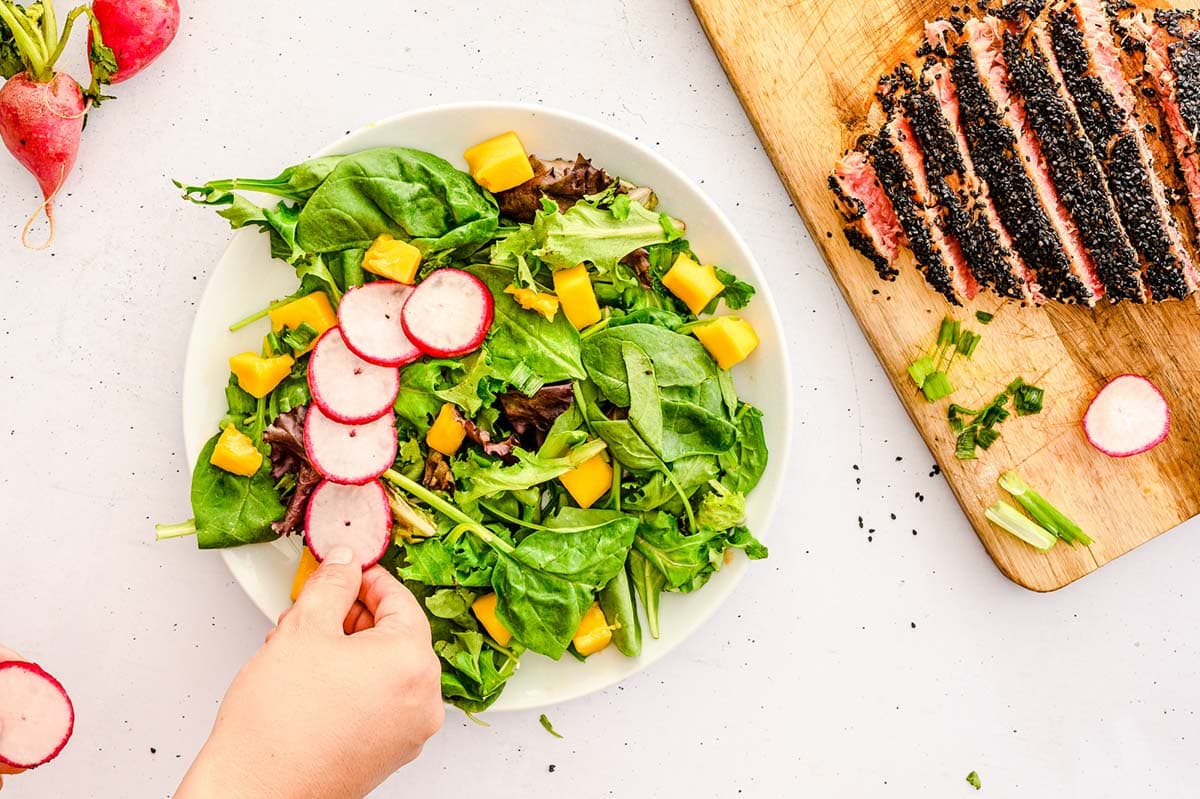 Seared Tuna Tips
The best way to cook fresh ahi tuna is to sear it. This leaves a little bit of bright pink in the middle while cooking the fish on the outside. Doing this properly will give you the best flavor and texture.
Generally this takes about 2 minutes, a little less for very rare and a little more for medium-cooked.
Serving Ideas
This ahi tuna salad is a full meal by itself, but if you'd like to just make it by itself, here are some side dish suggestions.
Steamed brown or white rice
Sautéed green beans
I highly recommend occasionally making this into a rice bowl at some point! You can use the base for this spicy salmon bowl which would be delicious with this sesame crusted tuna.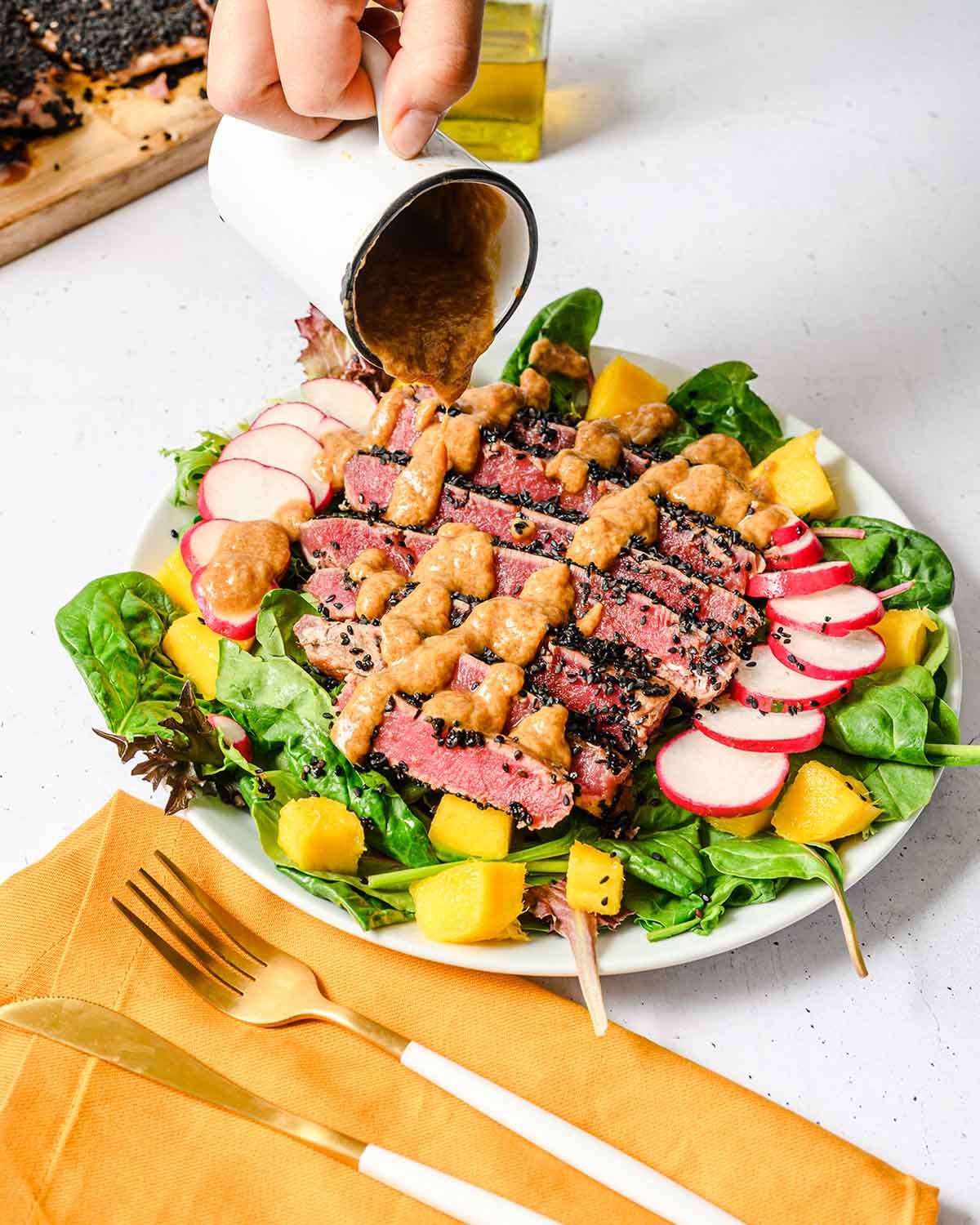 Storage Suggestions
Because the tuna is rare in the center it's best to consume that same day. If planning to do leftovers, I recommend cooking more thoroughly. Break apart the tuna pieces and just store them separately from the lettuce and the dressing.
Cooked tuna should last 2 days in the fridge, keeping the dressing separate.
Frequently Asked Questions
What does ahi tuna pair well with?
If not making this ahi tuna salad, I recommend pairing the tuna steak with brown rice and a cabbage slaw. Even just shredded cabbage tossed with a little bit of the coconut aminos, vinegar, and toasted sesame oil is really tasty. Adding some sliced mango and making this a rice bowl would be perfect.
Can you eat ahi tuna raw?
Yes, generally good-quality raw tuna is safe to eat, however the risk of food borne illness does increase with consuming raw or undercooked meat. The best way to avoid this is use safe-handling practices for defrosting and cooking, plus purchase from a trusted fishmonger.
Is tuna healthy?
Tuna is extremely healthy, a lean protein packed with omega 3 fatty acids. However, certain varieties of tuna like bigeye are more susceptible to higher mercury levels. It's important to limit consumption, but still enjoy on occasion!
Can I use soy sauce instead of coconut aminos?
Coconut aminos are gluten free and lower sodium, plus more migraine-friendly than soy sauce. That being said, you can substitute soy sauce for this recipe, but will need to add a little sweetness, like honey, to balance out the increased sodium.
How do I make this ahi tuna salad vegan?
Crazy, huh? But you can transform this seared tuna salad to a wonderful vegetarian focused meal. I actually recommend searing watermelon slices and brushing it with the sauce, as well as the sesame seeds.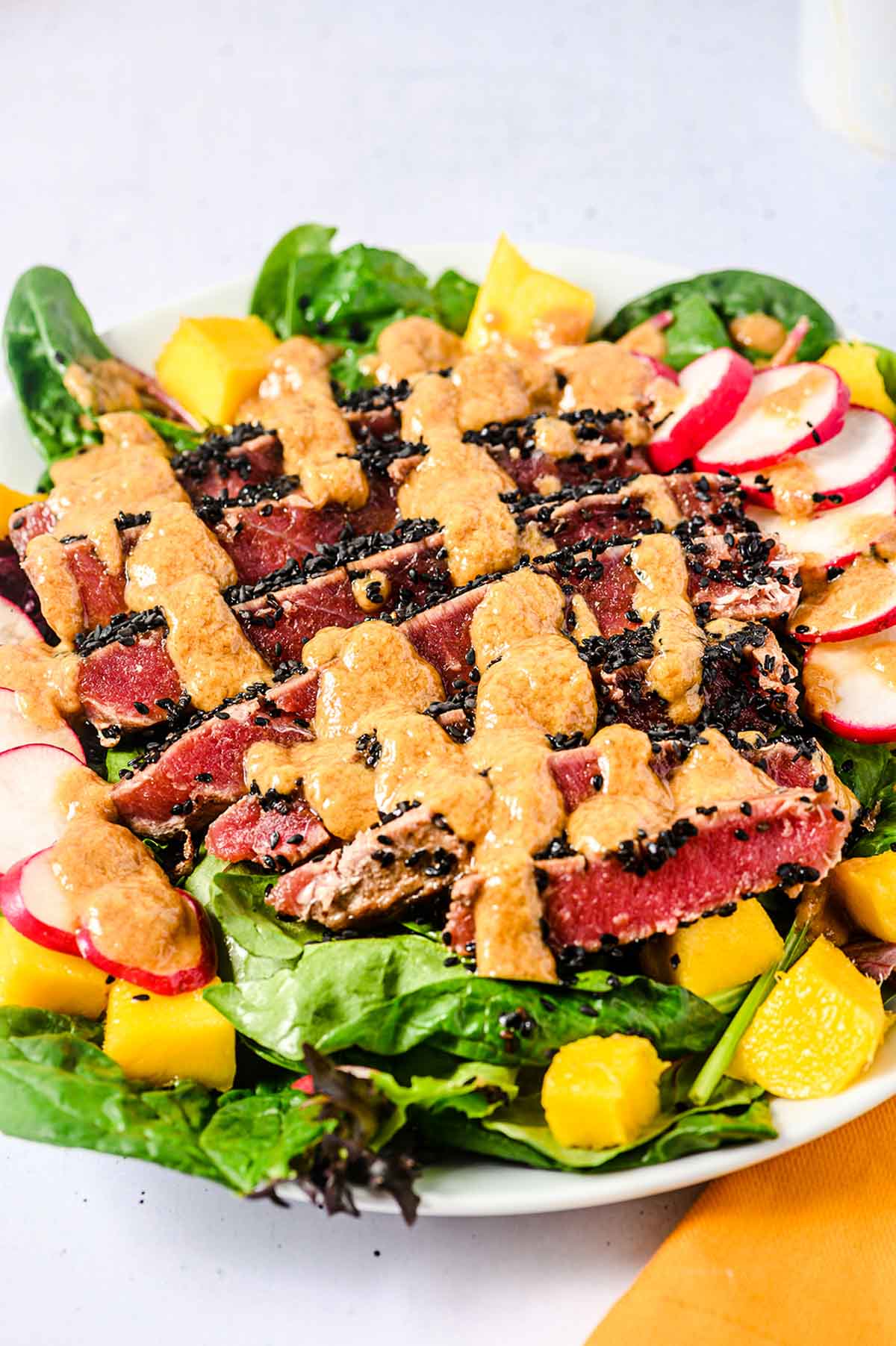 Salad Recipes
For more delicious salad recipes like this sesame crusted ahi tuna salad, check out these posts!
If you make any of my recipes, don't forget to tag me #thedizzycook or @thedizzycook on Facebook and Instagram. And please leave a review below!
Ahi Tuna Salad with Sesame Dressing
A light salad that's delicious and flavorful, you'll love this seared ahi tuna salad for a healthy dinner or lunch with a sweet sesame ginger dressing.
Print
Pin
Rate
Ingredients
Sesame Crusted Ahi Tuna
2

ahi tuna steaks

3

tablespoons

mild cooking oil (I use sesame or grapeseed)

2

tablespoons

coconut aminos

1

teaspoon

rice flour

¼

cup

organic pear juice

2

tablespoons

honey

1

teaspoon

sriracha hot sauce

⅓

cup

white and/or black sesame seeds, toasted
Salad
4-5

oz

mixed greens

1

large mango, sliced

1

large radish, sliced

⅓

cup

green onions, chopped (about 1-2)
Sesame Ginger Dressing
¼

cup

toasted sesame oil

1

tablespoons

coconut aminos

2

tablespoons

pear juice

1

tablespoon

white vinegar

1½

tablespoons

tahini

1-2

teaspoons

ginger (if using fresh use 2 teaspoons and if using dried use 1 teaspoon)

1

clove

garlic, minced

salt and pepper to taste

I used about 1 tsp
Instructions
For the dressing, whisk all ingredients together till very smooth, or for best results put them in a small food processor and blend. Allow to sit in the fridge for at least 30 minutes for the flavors to combine. If sesame seeds aren't toasted

For the ahi tuna sauce, combine the coconut aminos, flour, pear juice, honey, and sriracha in a small pot. Heat over medium high heat until simmering. Allow to simmer till thickened, about 5 minutes.

In another non-stick or cast iron pan, heat oil over medium-high heat. Lightly salt both sides of the ahi and add to the pan. Sear for 1-2 minutes on the first side, flip and brush with the thickened sauce. Sear another 1-2 minutes for rare to medium rare. For medium, sear 3 minutes. Remove the ahi steak the pan and brush the just cooked side with the remaining sauce.

Spread your sesame seeds on a plate and lay your tuna on them, coating both sides of the fish. Slice very thin.

Combine the lettuce and a spoonful of the dressing, tossing till well-coated. Place the seared tuna on top with the radish, green onion, and mango.
Notes
If you can't find pear juice, apple juice will work in a pinch. But I would highly recommend trying for the best flavor.

Toast the sesame seeds by either broiling on high heat and watching VERY carefully for about 1-2 minutes or heating them in a dry skillet over medium heat till very lightly browned.

Purchase frozen sushi grade or good quality fresh ahi tuna from a trusted fishmonger. Remember raw or undercooked fish does increase the risk of foodborne illness, so purchasing good quality is essential.
The longer the fish sits after cooking, the more it will cook through on the inside. If you want this just barely seared, cook for 1 minute on both sides and slice quickly. If you'd like your tuna more cooked through, cook 2 minutes on the first side and 2-3 on the second.
If not following a migraine diet, you can substitute soy sauce for coconut aminos, however, the recipe will be much more sodium heavy. I would recommend balancing it with some sweetness like extra honey.
Nutrition
Serving:
1
tuna
|
Calories:
409
kcal
|
Carbohydrates:
19
g
|
Protein:
23
g
|
Fat:
27
g
|
Saturated Fat:
4
g
|
Polyunsaturated Fat:
11
g
|
Monounsaturated Fat:
10
g
|
Cholesterol:
32
mg
|
Sodium:
327
mg
|
Potassium:
388
mg
|
Fiber:
2
g
|
Sugar:
10
g
|
Vitamin A:
2184
IU
|
Vitamin C:
16
mg
|
Calcium:
145
mg
|
Iron:
3
mg
This recipe and post was originally published March 22, 2018 and has been updated with new photographs and recipe tips. Below is an original photo for reference.