This decadent seared scallop linguine comes with a light, creamy sauce full of shallots and parsley. With minimal ingredients, but lots of fresh flavor, you'll love this scallop pasta for a special dinner.
This recipe starts with perfect, pan-seared scallops that take only 5 minutes to cook. Then as the linguine cooks, you make a quick pan sauce with broth, cream, and shallots. It's a quick recipe overall, but feels super decadent.
This scallop linguine pairs well with simple sides like green beans, pear rocket salad, or an apple fennel salad.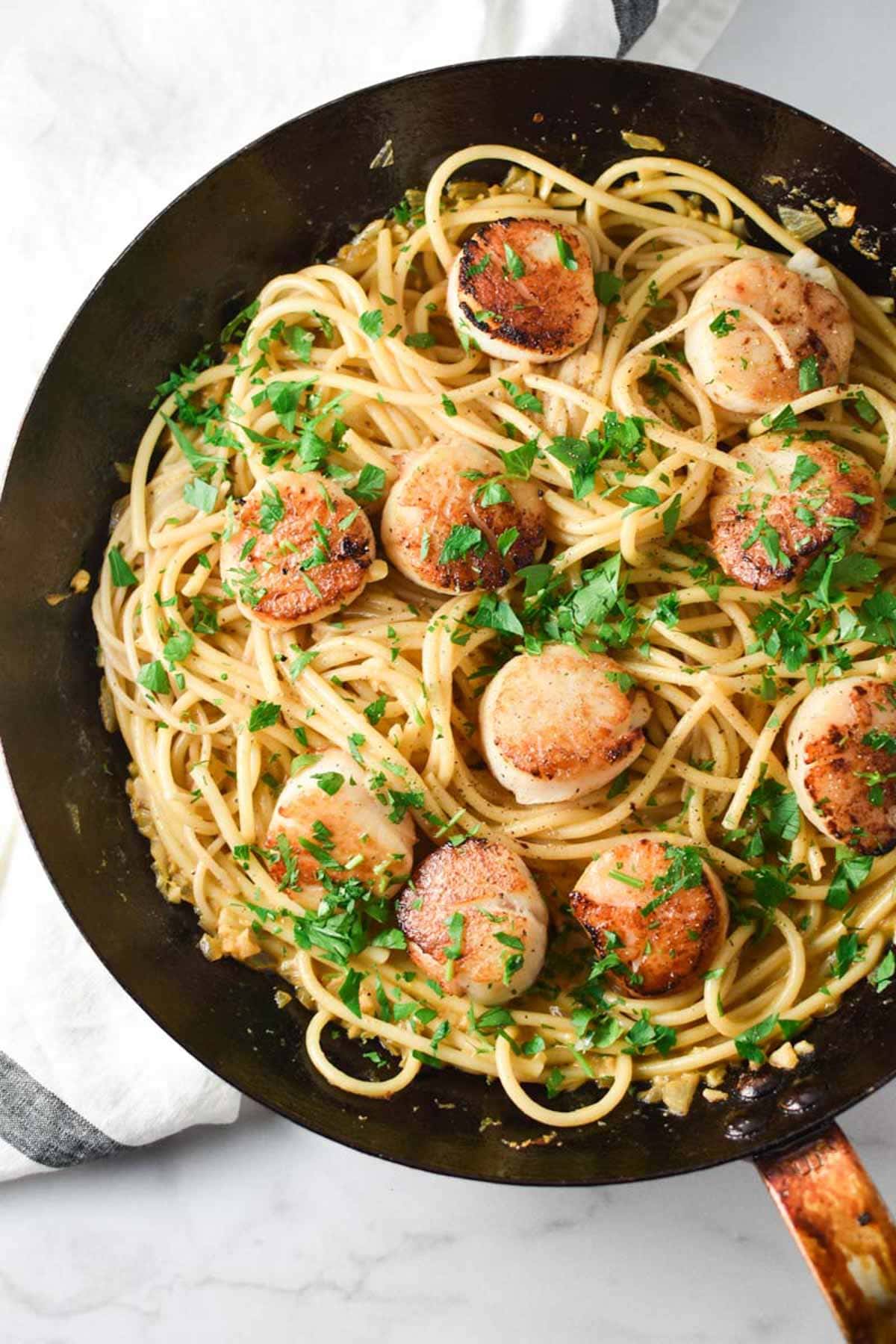 The Best Scallop Pasta
The past few years we've had really low key holidays and this has been one of my favorite New Years Eve dinners. If you're looking for a meal that feels like you're dining at a 5 star restaurant, but without all the effort, this scallop linguine is for you.
Since the ingredients are so simple, it really allows the sweet, creamy nature of the scallops to shine. The garlic cream sauce is cut with vegetable broth, which lightens the whole meal up a bit. It's decadent without being heavy.
Simple Ingredients - Most of these you probably have in your pantry already!
Gluten Free Friendly - Just use a gluten free linguine. Jovial makes a great one!
Easy to substitute - If you can't find sea scallops, this recipe can be made with jumbo shrimp or chicken!
Choosing Good Scallops
When you use minimal ingredients, it's important the ones you're using are high quality. Good scallops are called "dry scallops" and have a slightly peachy color to them.
Wet scallops are typically treated with sodium tripolyphosphate, causing them to bloat with excess fluid so they appear larger than they are. These are the kind you might find frozen at Walmart. If you use these, it's difficult to get a proper sear and additional chemicals aren't great for people with migraine anyway.
Dry scallops will have more of a skin-colored, creamy tone as opposed to being a gray-ish white. If you have any questions, don't hesitate to ask your local fishmonger.
Ingredients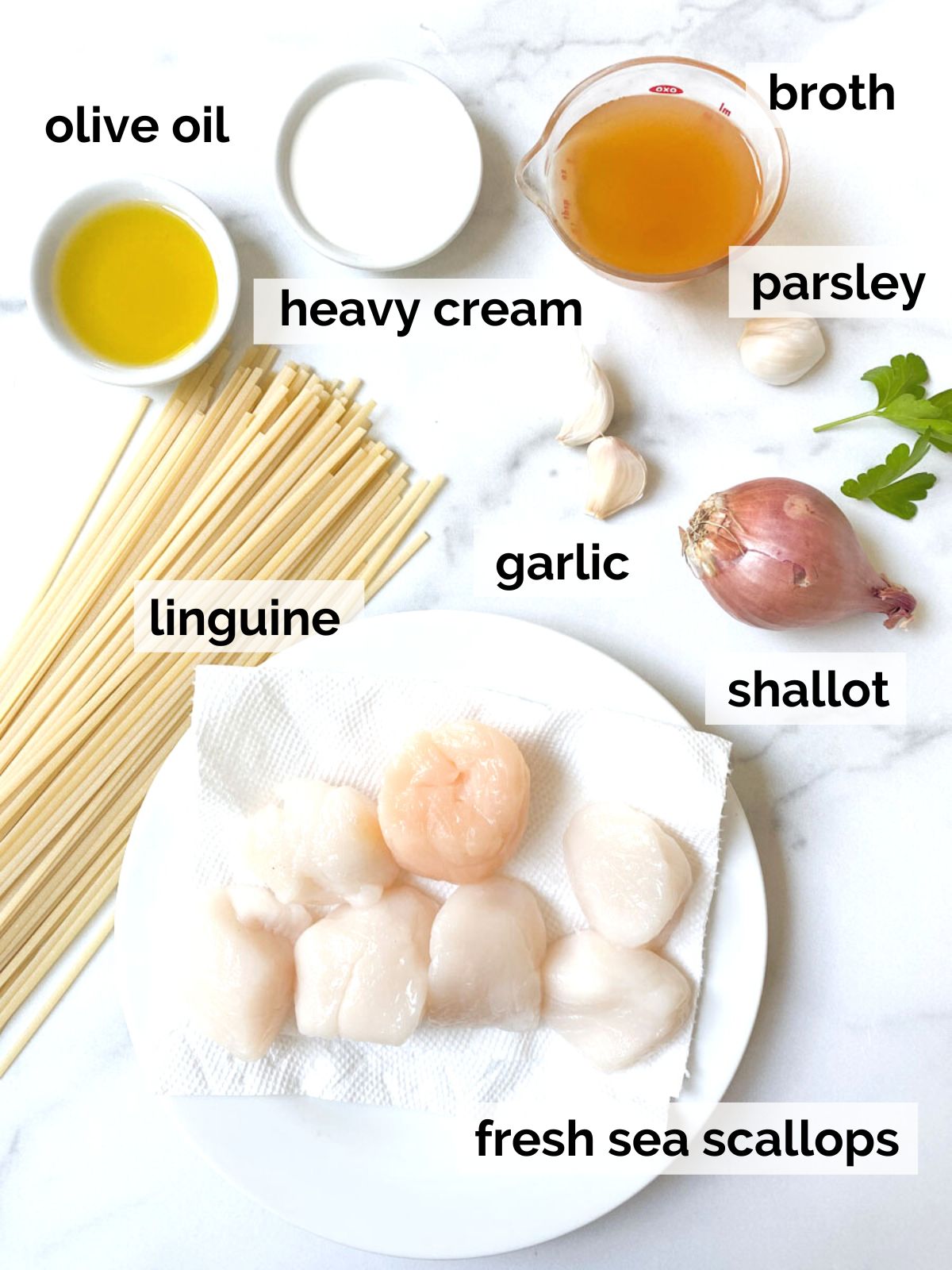 Scallops - See above for tips on choosing. Look for dry, sea scallops. Bay scallops will also work in this pasta!
Linguine - I used dried linguine, but most pastas will work well with this recipe.
Olive oil - Use your favorite extra virgin olive oil.
Garlic - Feel free to measure this with your heart.
Shallot - Do not substitute this with onion! The light flavor of a shallot is needed.
Heavy Cream - Look for a brand without carrageenan like Organic Valley or Horizon.
Broth - I prefer to use vegetable broth for this recipe, but seafood broth or stock, or chicken broth would also work well. For store-bought, I use Trader Joe's Hearty Vegetable.
Parsley - Fresh parsley is needed for that super delicious flavor since the ingredients in this are so simple.
Tips for Perfect Seared Scallops
So how do you get that perfectly golden crust on the outside of your scallops without overcooking them? Here are a few rules for searing scallops for this delicious scallop linguine.
Dry Scallops Thoroughly - Just like you want to start with dry scallops, make sure they're patted dry as well, removing any excess moisture. Sometimes I'll pat them between two paper towels and then return them (uncovered) on a plate to the fridge. Pull them out just before you want to cook. Excess moisture causes the scallops to steam instead of sear. This is also why it's important to space them apart at least 2" in your pan.
Get Your Pan Hot - Your pan needs to be really hot when you add them. Like just starting to smoke hot. This is why I like to use half butter/half oil when searing. Oil increases the searing temperature without the butter burning, while butter adds the flavor. You can also do this with all oil as well or ghee, which has a higher smoke point than regular butter.
Don't Mess with Them - Don't add them to the pan and then get curious and start lifting them around. This is bad!! No!! Set them in the pan and don't check them for at least 2 minutes on the first side. Scallops usually only take 1 ½ - 2 minutes to cook per side, depending on how large they are. Mine are pretty large here so they took closer to 2 minutes. This will help you develop that nice, golden crust without getting rubbery in the middle.
How to Make
Step 1: Sear the scallops and prepare pasta
Prepare pasta according to package directions, using salted water, and reserve about 1 cup of the pasta water. Meanwhile pat the scallops completely dry and season them with pepper. Heat a large non-stick or cast iron pan with olive oil over medium high heat. Once hot, sear the scallops on one side and do NOT touch them.
After 2 minutes, check the scallop is golden brown and flip them. Cook another 2 minutes or until golden brown and then remove from the pan and set aside.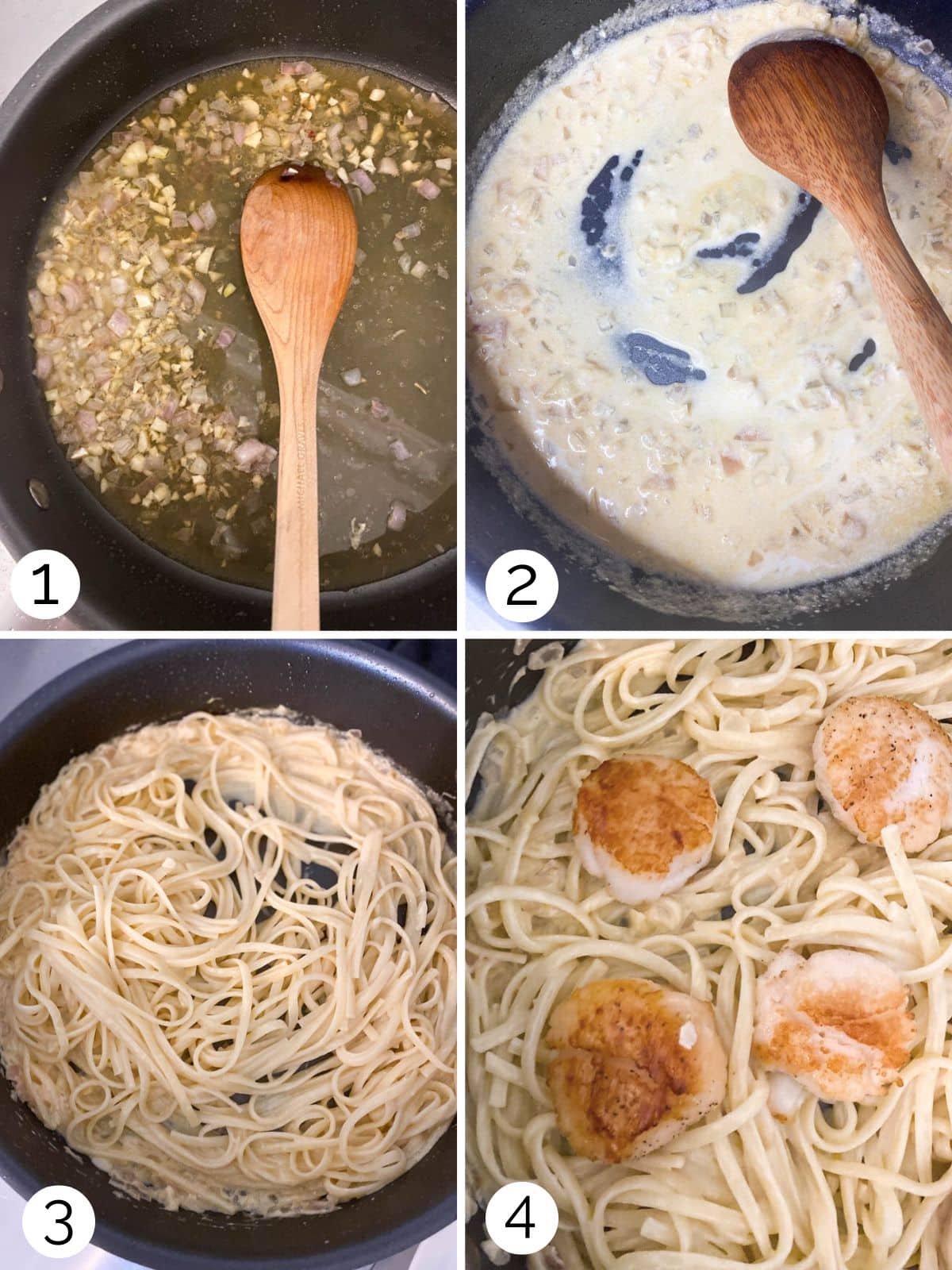 Step 2: Make the cream sauce
In the same pan you cooked the scallops, add garlic and shallots over medium heat, cooking for about 1-2 minutes or until softened. Add broth to deglaze the pan over medium high heat.
Scrape up any brown bits from the scallops and bring to a simmer. Add cream and simmer for another 3-4 minutes or until the sauce has thickened and reduced. Taste and add kosher salt and pepper as needed.
Step 3: Add pasta
Add in the drained pasta to the sauce, using tongs to toss around and fully coat the noodles with the sauce. Add in the seared scallops and top with parsley. If the scallop linguine seems a bit dry, add a splash of pasta water and toss with everything.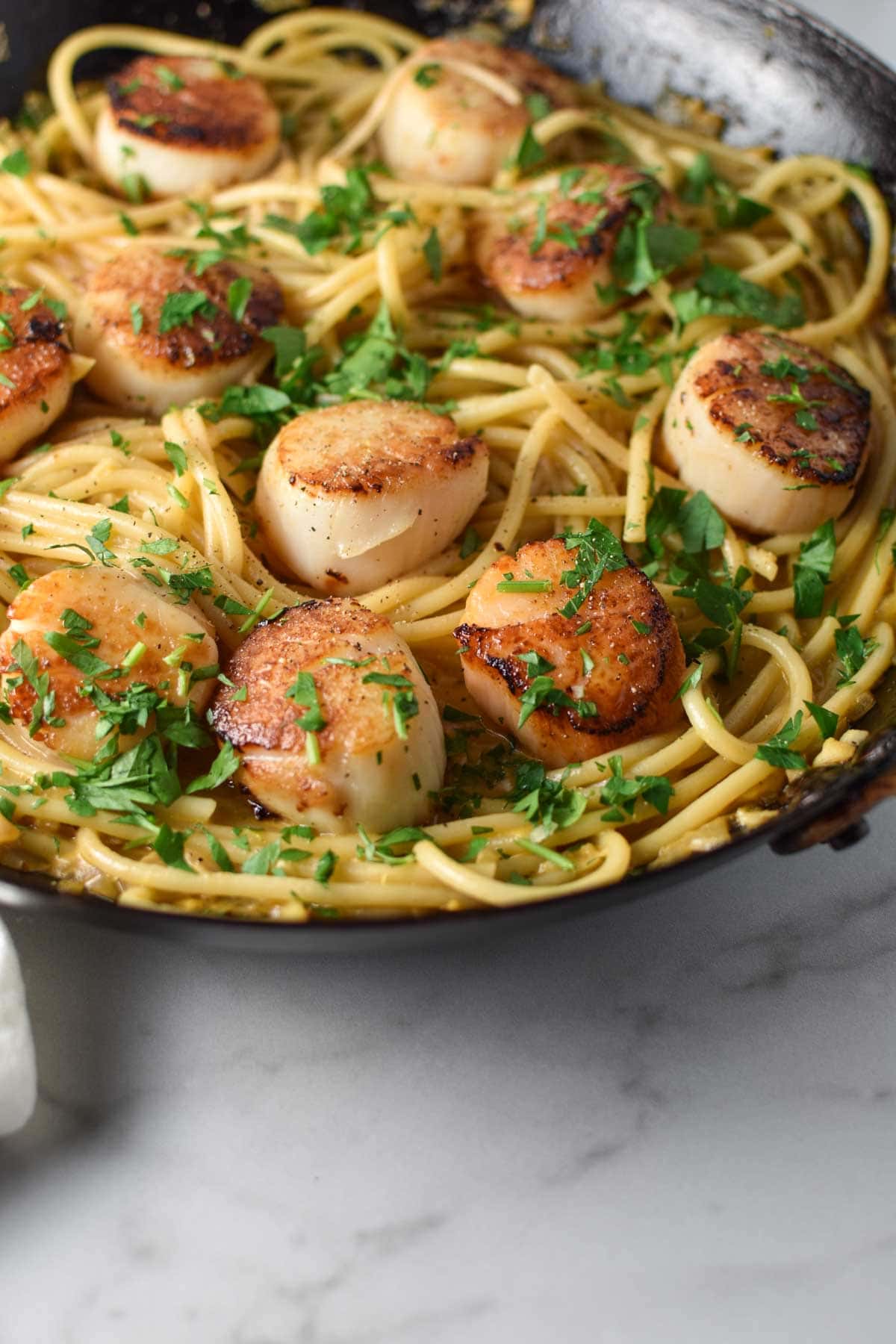 Recipe Substitutions
A very versatile recipe, here are a few ways to switch up this scallop linguine.
Scallops - can be substituted with jumbo shrimp, chicken, or vegetables.
Heavy cream - An oat creamer would work well for a dairy free substitute, but you may need to add 2 teaspoons of flour or cornstarch to thicken the sauce.
Linguine - Use any kind of pasta you like!
Parsley - I think fresh chives would be a wonderful addition here too.
What to Serve with Scallop Linguine
Serve this scallop linguine with fresh, green sides. Here are a few favorites.
Crab Dip (to start)
Roasted Green Beans (page 88 of the Mediterranean Migraine Diet)
Recipe FAQ
My scallops won't brown - what did I do wrong?
This could be a few things - using wet scallops, not getting the pan hot enough, crowding the pan with too many, and moving the scallops around too much when cooking. A proper sear requires dry scallops, a hot pan, a good amount of space between them, and not moving the scallop around while it's cooking so it can form a nice crust.
How do I get the cream sauce to thicken?
If your cream sauce is not thickening on its own, this usually has to do with not simmering long enough. Sometimes this can take up to 7-10 minutes, so be patient! If it's still not thickening, add 2 teaspoons of flour or arrowroot powder, which will help the process along. Also remember adding a starchy pasta will help thicken it as well.
Can I add cheese?
Normally I would suggest parmesan cheese for this scallop linguine, but this wouldn't be ok for someone in the elimination diet stage to add. I'd use a lighter cheese here like a really good ricotta - Liuzzi or Calabro brand.
If you make any of my recipes, don't forget to tag me #thedizzycook or @thedizzycook on Facebook and Instagram. And please leave a review below!
Scallop Linguine
This seared scallop pasta with a light creamy garlic sauce is so delicious for a simple holiday dinner or date night.
Print
Pin
Rate
Ingredients
1

tablespoon

butter or ghee

1

tablespoon

olive oil or cooking oil

8

large sea scallops

kosher salt and pepper

8

oz

pasta

1

large shallot, chopped

4-5

garlic cloves, minced

1 ⅓

cups

vegetable broth

½

cup

heavy cream

⅓

cup

fresh Italian, flat leaf parsley, chopped
Instructions
Prepare a pot with salted boiling water and cook pasta according to package directions. Reserve about 1 cup of pasta water just in case you need it to thin the sauce.

Prepare the scallops using the tips from the post (pat them dry and don't sprinkle with salt and pepper till immediately before searing). I actually don't season my scallops with salty as I find the pasta is enough and you can really taste the sweetness of the scallops this way.

Heat a large pan, I prefer non-stick or cast iron, with butter and oil over medium high heat. Once hot, add the dry, seasoned scallops and don't crowd them or mess with them! If they don't make a sizzle sound, your pan isn't hot enough. Leave them to sear for 2 minutes, or until a nice brown crust forms. Flip and cook another 2-2½ minutes or until you get the same crust on the opposite side. Set the scallops on a warm plate and cover with foil.

In the same pan, use the leftover butter/oil to saute the chopped shallot and garlic, about 2 minutes until softened and fragrant. If your pan is dry, use 1 tablespoon more butter or oil. Deglaze the pan by adding broth, scraping up any browned bits (this basically means add broth to a hot pan which should bubble up and start to simmer). Then add cream and bring to a simmer for about 3-4 minutes until the sauce has thickened (it will still be fairly thin, that's ok, it will thicken once the pasta is added).

Add your cooked pasta and toss with the sauce, simmering to thicken it a bit more. If your sauce is too thick or isn't coating the pasta well, add in ¼ cup of the reserved pasta water till it reaches your desired consistency. Add in fresh chopped parsley and kosher salt and pepper to taste. Top with the cooked scallops.
Notes
Use dry scallops instead of wet for the best sear/flavor
In my opinion, scallops don't need a ton of seasoning - salt them very lightly just before searing, if at all. Fresh pepper is more important.
I used Organic Valley Heavy Cream and the vegetable broth from my cookbook. If you have homemade seafood stock on hand, that will work here too.
Use gluten free pasta for GF, and leave out the cream for a dairy free option. If you do this, I recommend adding more herbs like basil and chives for flavor.
Fresh squeezed lemon would be fantastic here, but not allowed in the elimination stages of a migraine diet. For those not on this diet, feel free to top with a squeeze of lemon.
Nutrition
Calories:
356
kcal
|
Carbohydrates:
16
g
|
Protein:
12
g
|
Fat:
28
g
|
Saturated Fat:
17
g
|
Cholesterol:
111
mg
|
Sodium:
910
mg
|
Potassium:
664
mg
|
Fiber:
3
g
|
Sugar:
7
g
|
Vitamin A:
2383
IU
|
Vitamin C:
24
mg
|
Calcium:
78
mg
|
Iron:
2
mg