This Beef Stew Recipe without wine is hearty and delicious, not needing the addition of the red wine. Perfect for those avoiding sulfites and histamine, this brings all the traditional flavor of stew without alcohol!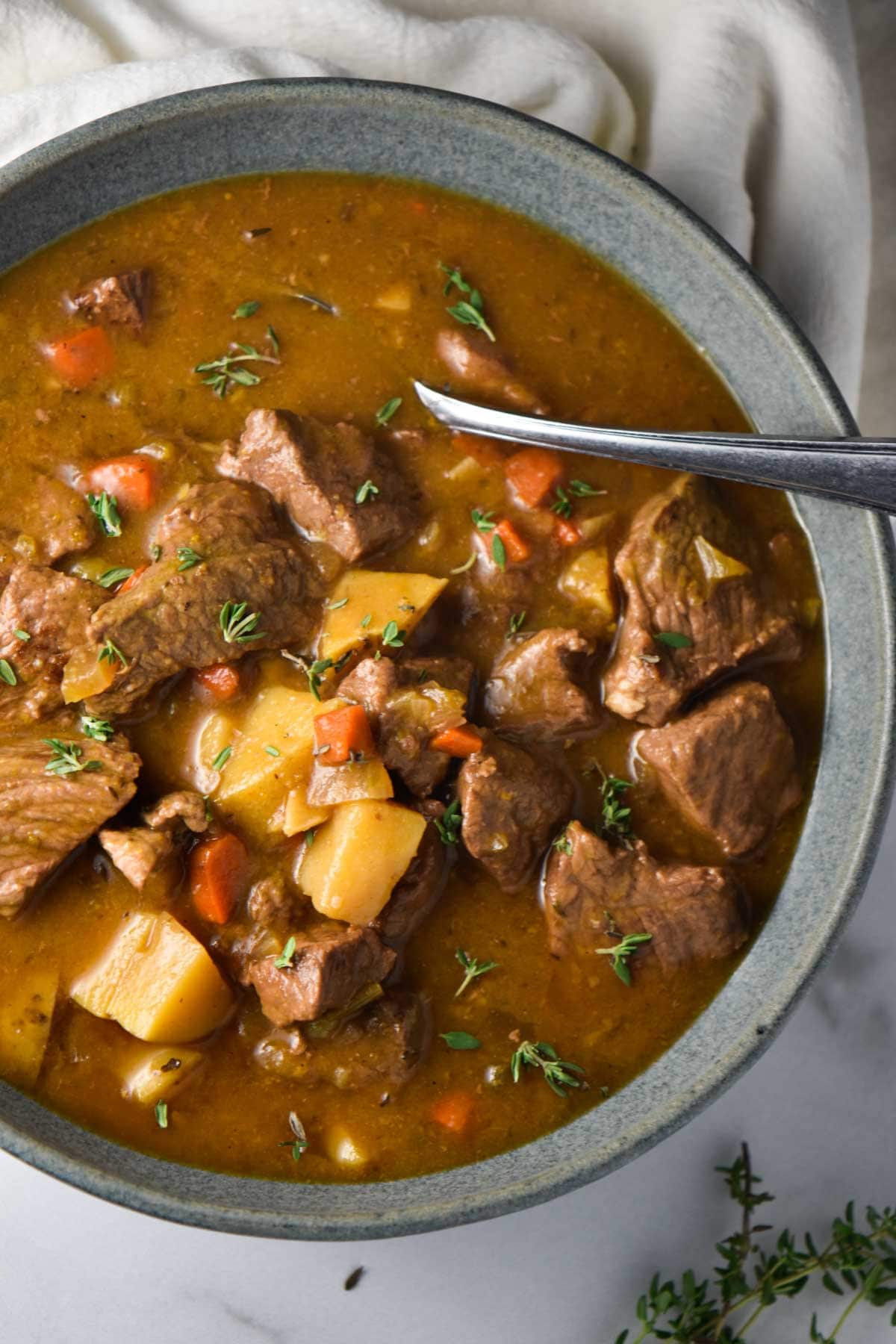 Although some people with migraine find they can eventually reintroduce red wine back into their diet, overall it's a very common trigger. And cooking or reducing wine doesn't eliminate sulfites, in fact it concentrates them to a much smaller area, making them even more potent per serving. You'd also be surprised by how much alcohol does not actually "cook off".
You'll love this beef stew recipe because:
It doesn't contain red wine, sulfites, and is low histamine.
It's easy to make in one pot.
This recipe is gluten free and dairy free.
It's perfect for meal prepping because it freezes and stores well. The flavor just improves with time!
Ingredients
Beef Chuck Roast - Believe it or not, pre-packaged stew meat isn't the best choice for beef stew! This is because it's usually a combination of scraps from the butcher, and not one similar cut of meat. Chuck roast is my favorite cut for pot roast, and the same thing happens here where the tough fibers break down over a long cooking time and become more tender. If you find a great deal on stew meat, scroll down and I'll give you some tips for using that instead.
Carrots, Celery, Garlic and Shallots - To make life a bit easier, I like to use pre-washed and peeled vegetables. Sometimes that means using baby carrots instead of whole. Shallots add such a lovely and light onion flavor to this beef stew, and garlic really rounds out the flavors.
Potatoes - Yukon gold are the best for this beef stew recipe - no need to peel them!
Flour - I used all purpose flour for this recipe, which helps to thicken the liquid as it cooks. For gluten free, you can substitute cornstarch, arrowroot flour (whisked with broth till smooth), or gluten free all purpose flour.
Butter or Oil - Butter adds a lovely depth of flavor, but I've also used olive oil for a dairy free version. Both are awesome.
Herbs - For this recipe I used fresh rosemary, dried thyme and bay leaves because that's what I had on hand. You can use all fresh or all dried, just note that dried herbs are much stronger than fresh.
Broth - Getting a good broth is super important. From a taste perspective, beef broth is the best to use and I would recommend Butcher's Beef Bone Broth. From a migraine diet perspective, bone broth is higher in tyramine and histamine and it's difficult to find an MSG-free beef broth. If you're sensitive, I recommend a vegetable broth. I've made this with both types and it's delicious either way. I personally like to make my own broth using my cookbook recipe, or get Trader Joe's Hearty Vegetable Broth.
How to Make a Wine-Free Beef Stew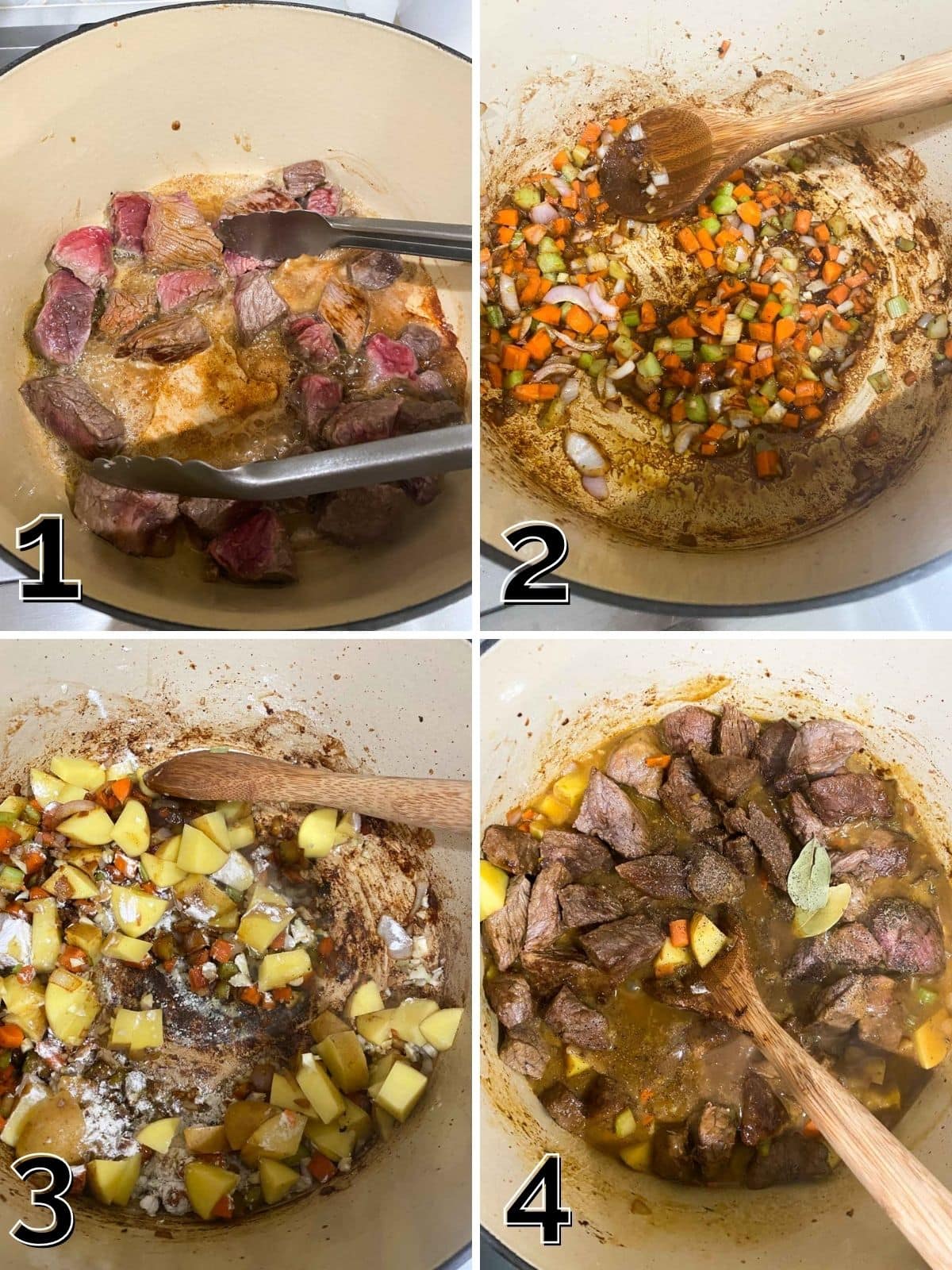 Choose a deep and heavy pot, like a dutch oven. I used my 7qt Le Creuset for this stew. Add 2 tablespoons of butter or olive oil to the pot over medium high heat. Sprinkle with salt and pepper, and sear beef roast chunks till dark brown on most sides, making sure the pieces aren't touching. You may need to do this in 2 batches depending on the side of your pan. If you crowd the meat, it will steam and not brown. Once finished, remove the meat and set aside.
Don't drain any leftover liquid. Add the shallots, carrots, and celery to the pan, stirring occasionally for about 3 minutes or until softened. Add the minced garlic and stir to combine, another minute.
Mix in potatoes and flour till all vegetables are coated.
Add the broth, scraping up any browned bits that should release from the pan. Then sprinkle in the thyme, rosemary, and bay leaves. Bring to a boil and then reduce to a simmer. Cover and cook for at least 1-1.5 hours until the beef is tender.
Taste and adjust any seasonings. The flavors will intensify the longer you let the stew sit. Often I think it's best to cook the day before and serve the next day.
Storage and Freezing
This pot roast recipe stores really well and freezes well. Typically if I prep it a day before, I just store it in the dutch oven in the fridge. That way you can reheat it on the stove easily without extra dishes. This pot roast will last 3-5 days in the fridge.
For freezing, I recommend filling a large ziplock bag and laying flat. That way you can stack bags and store them efficiently in the freezer. This is also a perfect gift for friends with a new baby, a family dealing with hardship, or anyone who could use a homemade meal.
To reheat - defrost in the fridge overnight, or place in warm water for about 30 minutes. Then pour the stew into a large pot and reheat over medium until warm.
Frequently Asked Questions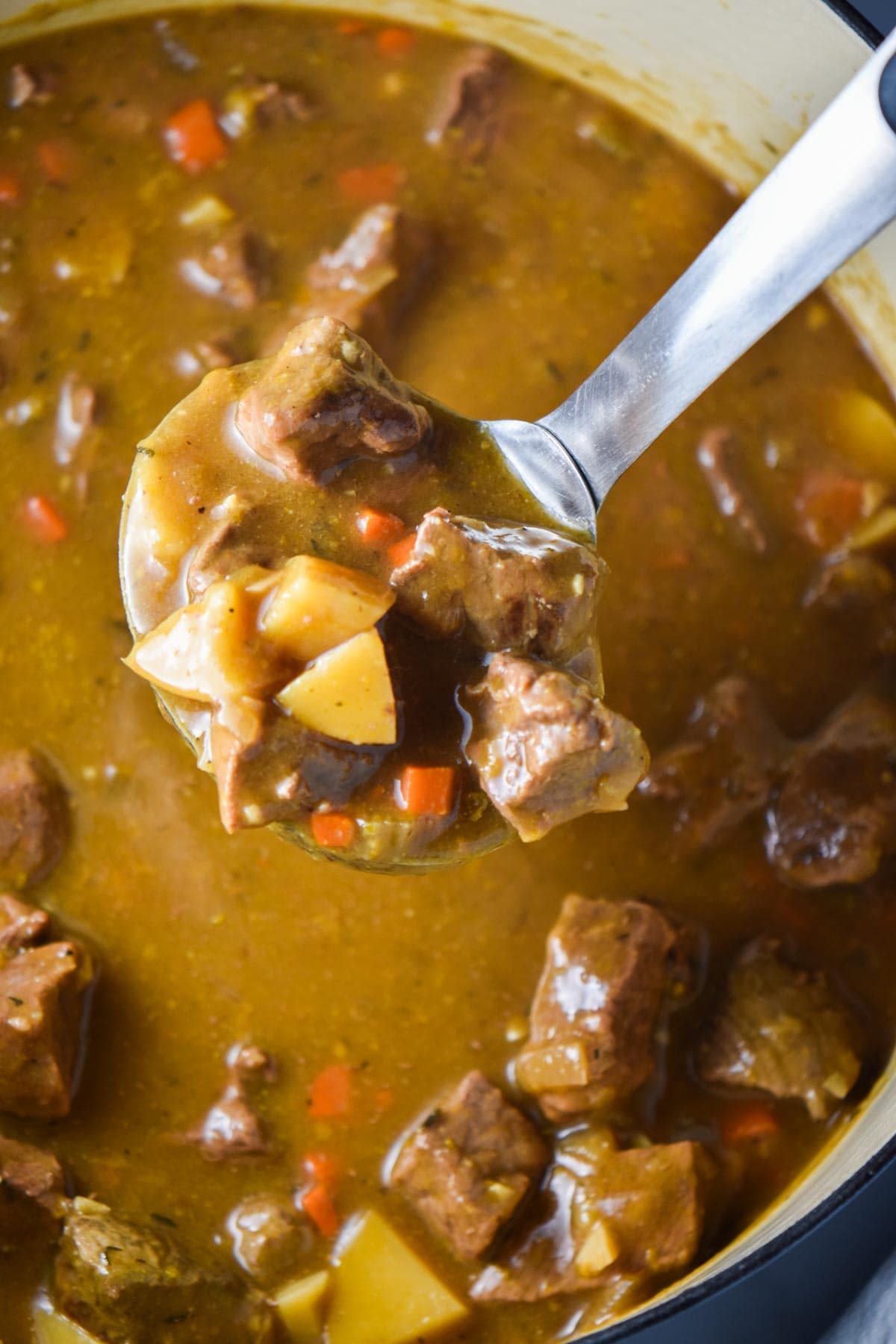 How can I make beef stew without wine more flavorful?
For a flavorful beef stew it's important to start with good meat and a good broth or stock, since that's a huge base of your dish. Making sure you have quality beef chuck that's well-marbled will add a bunch of flavor that you won't be getting from red wine. Also searing the meat before you begin is a very important step to add more flavor.
What are some other substitutes besides beef broth?
Instead of beef broth, you could use a really good vegetable broth or a combination of a few things. I've tried this recipe before with vegetable broth and ½ cup tart cherry juice, which gives the color of red wine and some of the tanginess without the alcohol. I've also added ¼ cup of coconut aminos to the recipe for a little sweetness and depth.
Can I still add red wine if I remove the sulfites?
If you want, you can use a PureWine Phoenix or a Wine Wand to remove the sulfites and histamines before you start cooking. In that case, I would replace ½ of the broth with red wine.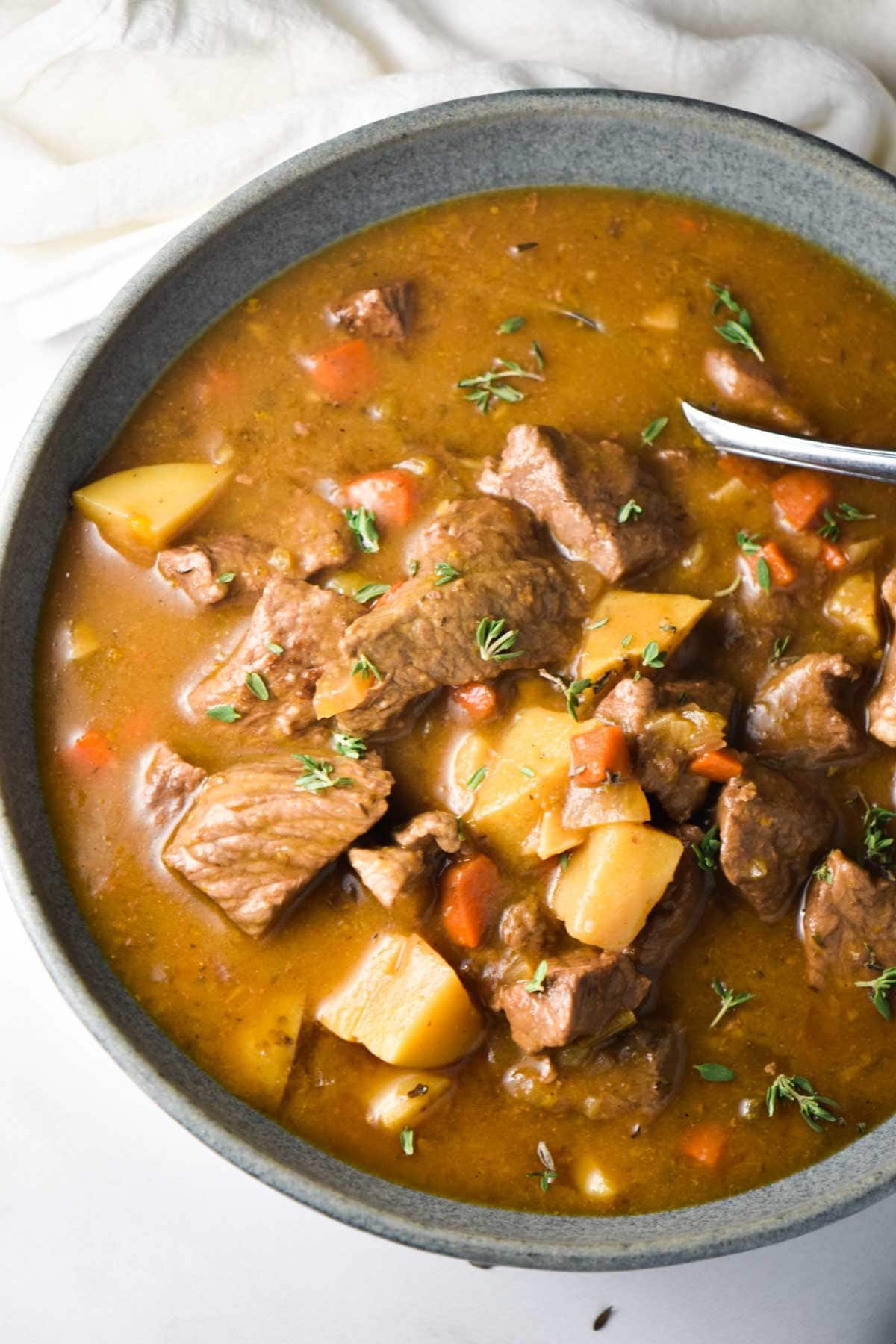 Hearty Soup Recipes
For more cozy fall soups like this wine free stew, check out these posts. And for another classic dish without wine, check out my Wine-free Chicken Marsala.
If you make this, tag me #thedizzycook or @thedizzycook on Facebook and Instagram. And if you love the recipe, please leave a review below! Follow along on my Pinterest for more great recipes.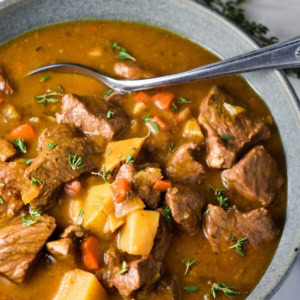 Beef Stew Recipe without Wine
This wine free beef stew brings all the flavor without the alcohol for an easy and delicious soup for cold nights!
Print
Pin
Rate
Ingredients
2.75

pounds

boneless beef chuck roast cut into bite sized pieces

splash of olive oil

2

tablespoons

butter or olive oil

2

large shallots, chopped

2

celery stalks, chopped

3

carrots, peeled and chopped

3

garlic cloves, minced

3

yukon gold potatoes, cut into 1" pieces

2

tablespoons

flour

2

sprigs fresh rosemary

½

teaspoon

dried thyme

2

bay leaves

5

cups

low sodium beef or vegetable broth

kosher salt and pepper
Instructions
In a large dutch oven, splash a bit of olive oil and turn to medium high heat. Season beef with kosher salt and black pepper. Add chopped beef chuck roast in batches, leaving enough space so it browns and doesn't steam. Brown on all sides, about 5-6 minutes total. Repeat with any leftover meat.

Remove the meat and leave the drippings. Add 2 tablespoons butter or olive oil to the dutch oven along with shallots, celery, and carrots. Stir occasionally over medium heat until softened, about 3 minutes. Add garlic and mix into the vegetables. Then add the potatoes and beef. Stir in flour with a wood spoon until fully mixed in, coating all the beef and vegetables.

Stir in rosemary, thyme, bay leaves, ½ teaspoon kosher salt, and finally all the broth (or any other liquid additions you're using). Bring everything to a boil over high heat and reduce heat to low. Cover and cook on low heat (or enough for a low simmer) for about 1.5 hours or until the beef is tender and flavors have combined. Taste and adjust any seasonings. Remove bay leaves and rosemary stalks before serving.
Notes
For beef broth, I recommend Butcher's Bone Broth. For vegetable broth I recommend Trader Joe's Hearty Vegetable or the recipe from my cookbook.
If using vegetable broth, I recommend adding ¼ cup of coconut aminos when adding the broth for a greater depth of flavor. Tart cherry juice can also be used as a "red wine" replacement. See post for more details.
For gluten free, use all purpose GF flour or cornstarch.
This can also be made in the oven (in a covered dutch oven) at 325 degrees F for roughly 2 hours.
Nutrition
Calories:
460
kcal
|
Carbohydrates:
10
g
|
Protein:
42
g
|
Fat:
29
g
|
Saturated Fat:
11
g
|
Polyunsaturated Fat:
2
g
|
Monounsaturated Fat:
16
g
|
Trans Fat:
1
g
|
Cholesterol:
143
mg
|
Sodium:
202
mg
|
Potassium:
860
mg
|
Fiber:
2
g
|
Sugar:
3
g
|
Vitamin A:
5188
IU
|
Vitamin C:
3
mg
|
Calcium:
59
mg
|
Iron:
5
mg