Do you get wine headaches often? Can you only drink white wines, but not red? Maybe you swear by European wines over American. If so, then this post is for you. People consistently blame sulfites for migraine symptoms, but that may not be the issue! Today we uncover the most popular wine and migraine myths.
PureWine for Migraine Disorders
This year I attended the first Migraine World Summit live event and left with a nice little gift bag full of migraine safe goodies. One that caught my eye was The Wand™ by PureWine. I had seen similar products before, but never one that filtered both sulfites and histamines without adding anything to the wine. If you've seen my instagram stories with the two wine fridges in my office, you know that I'm a big fan of wine. It's been a struggle for me to balance my passion for it with my vestibular migraine disorder. I've collected a few bottles from our vacations to California and Burgundy, but I hated that I had to risk immediate dizziness and headaches the next day if I wanted to partake, especially with reds. While it seemed to help if the winery was biodynamic, there's always a little fear when trying something new. And biodynamic wines aren't exactly mainstream, so I was often toting my own bottles with me to fancy dinners and on vacations.
On our recent trip to Big Sur, I decided to bring a box of The Wand™ with me to test out. We ordered a local red wine that I'm going to guess wasn't biodynamic or organic. I was shocked to find out that I felt completely normal during dinner, and even the next morning. Since we had some leftover, we brought the bottle home to have the next day. I tried a sip of it without The Wand™ and could tell the flavor had changed due to the oxidization. Once I used it, the flavors came back to what it tasted like the night before. I couldn't believe this thing actually worked.
So not only do these products remove biogenic amines and sulfites, but it also absorbs the oxidized components of wine. PureWine calls this "Phoenix Technology", where it can restore the flavor if a bottle has been open for a few days. I thought this was really great for other family members who might not have an issue with migraine, but don't want to go through a full bottle in a night.
PureWine products are also available on Amazon UK or in some stores and on Amazon Canada.
Some Tips for Using Wine Wands:
People with migraine often are super sensitive to these amines and sulfites. For best results, you want to continuously stir the wand in your wine for a full 8-10 minutes. This will ensure that at least 95% of the sulfites and biogenic amines are removed (PureWine also has confirmed this through extensive lab testing). It is a long time, but trust me it's worth it for peace of mind.

Choose a good quality wine. While TheWand™ can filter out all these extra things that can trigger symptoms, there are a lot of low quality wines that still add flavorings and preservatives that can affect symptoms as well. There are some tips on selecting a good wine in the wine myths below.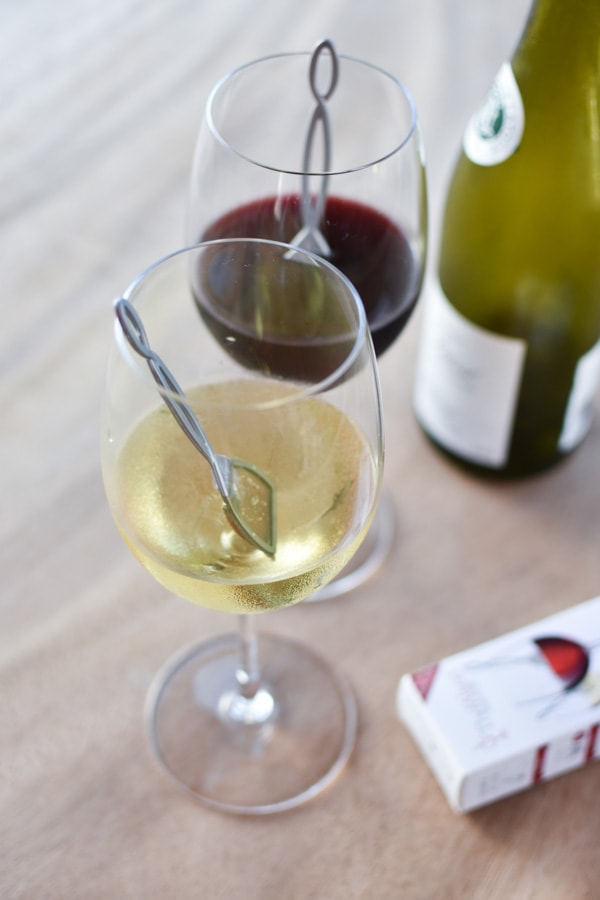 Biogenic Amines and Wine
Although sulfite allergies are possible, it's more likely for someone to have an issue with the biogenic amines, which cause a reaction such as hives, nasal congestion, flush, diarrhea and migraine attacks or headaches. The nice thing about The Wand™ product specifically is you can stir it in your glass as long as you'd like to assure that you've filtered it thoroughly. The testing they performed through ETS Labs in Napa Valley showed up to 90-100% removal of biogenic amines after 8-10 minutes of use, depending on the type of wine. It's able to filter this out through a patented resin, which won't drastically change the flavor of your wine while leaving behind the beneficial antioxidants. Essentially it clears the junk out without adding anything to your wine, unlike the other products I've tried out.
Since then I've brought The Wand™ and The Wave™ on a few of my trips and I've been really happy with the freedom it's given me to enjoy wine with my husband, family, or friends without having to be so worried about exactly what type of wine I'm drinking.
Because this product has made my life so much easier when it comes to traveling and dinners, I reached out to the inventor, David Meadows PhD, who also happens to live in the Dallas area. We met up to talk more about PureWine, and I learned a little (ok, A LOT) more about how he invented it.
Popular Wine Myths
You see, there are lots of wine myths out there that we are told or tell ourselves. I've definitely been guilty of saying I do better with European wines than US wines, but I figured it was because of the sulfite content. We like to say that we drink white wine because it's better for migraine, not realizing that white wine usually contains a lot more sulfites than red. And did you know that a sulfite sensitivity is actually a lot more rare than a sensitivity to biogenic amines, like histamine or tyramine?
David was kind enough to spend a little time debunking some of the most popular wine myths for us.

Sulfites in Wine
Myth 1: I have to drink white wines or clear spirits because red wine is too high in sulfites.
DM: "Ever since Roman times, sulfur has been added to wines to extend shelf-life and ensure long-term wine quality. Low levels of sulfites are naturally formed in ALL wines during the fermentation process. It is important to realize that white wines and champagnes can have much higher levels of sulfites than red wines because red wines have lots of antioxidants in them that stabilize the wine during storage. Typically red wines have 10-40 parts per million (ppm) total sulfites, while white wines regularly have 75-150 ppm sulfites.
Sweet wines, such as Sauterne and Moscato, and champagnes with high levels of sugars can have as much as 350 ppm sulfites. If you have stopped drinking red wines like Cabernet Sauvignon, Syrah and Merlot because of headaches, flush, GI distress or nasal congestion and now only drink Moscato or Sauvignon Blanc wines, then you are not reacting to the sulfites in the red wine."
Even if you're purchasing a wine that says "no added sulfites", the wine will still contain it naturally. It's important to distinguish exactly what you're reacting to – the biogenic amines, the tannins, the sulfites, or perhaps the additives in the wine. If you notice an issue with Cabernet, Merlot, and Tempranillo wines specifically, this could be because they contain higher levels of biogenic amines.
Myth 2: European wines are better for you because they don't add sulfites to them.
DM: "We have all heard people say and may have actually experienced it ourselves, "when I went to Europe last summer, I never got any headaches from the wines because they don't put sulfites in them". This is certainly not true. European wines normally have just as much sulfites in them as US, Australian and South American wines. This can be confirmed easily by looking closely on the label where you will see the required labeling "CONTAINS SULFITES" (e.g., "CONTIENE SOLFITI" in Italian wines).
It is more likely because of the grape varieties they use and the fermentation technologies. Not all grapes or wines are created equal. Grapes grown in hot climates usually have thicker skins and form more biogenic amines during fermentation process. Also if low quality grapes are used, then biogenic amine content will usually be higher."
Myth 3: Organic wines don't contain sulfites, so they're better to drink.
DM: "Organic wines can still contain up to 20 ppm sulfites. Typically the term "organic" is referring to the way the grapes have been grown and harvested using very strict organic agricultural methods. The use of all natural fertilizers and pesticides is required along with tight controls on the fermentation and bottling processes. Organic wines will normally cost a bit more due to these production requirements, but for some wine consumers organic wines are helpful in reducing their side effects.
Unfortunately, the quality and taste of these wines is almost universally horrible from my experience. Use of sulfites in the production of high-quality wines is critical, but many of us need to remove them from the wine prior to consumption in order to enjoy our glass or bottle without the ugly side effects."
In my experience, biodynamic wines tend to be the best tolerated, even more than organic. This is because they're grown by fairly small producers and people who are passionate about their wines. Even organic wines can be deceiving, as the USDA allows certain additives that are considered "natural". While organic and biodynamic wines still contain naturally occurring sulfites, they are regulated so that additional sulfites cannot be added. Some great wineries to look for include Benzinger, Liquid Farm, and Dragonette Cellars. From my experience, small winemakers are the ones who care the most about their products being the best quality. If you're not sure where to start, just ask! Typically I can find at least one helpful guy at Total Wine who gets really excited about it.
Tannins and Headache
Myth 4: I cannot tolerate tannins in wine so I switched to drinking beer or vodka.
DM: "Extensive lab testing confirmed that our products do not remove ANY tannins from wine, so this myth can be debunked if people can drink red wine after using PureWine products. During digestion of red grapes, their gut microbiome is going to digest the proteins in the grapes using the same biochemistry as wine-making and form the biogenic amines that will then be absorbed into the body. The allergic-like reactions will probably be delayed compared to when they drink red wine."
If you cannot tolerate tannins in red wine, you would also have a sensitivity to coffee and tea, apples and apple juice, grapes, chocolate, pomegranates, and all types of berries. Some low tannin red wines include pinot noir, grenache, gamay, and zinfandel. A cabernet sauvignon would be very high in tannins.
Dehydration and Wine
Myth 5: My wine headaches are caused by dehydration so I have to drink more water to avoid a reaction.
DM: "Wine usually triggers headaches after just 1-2 glasses so very little dehydration would occur. If consumption of water does seem to help, then it is probably due to the more rapid flushing of histamines out of their body. This is a similar effect to drinking lots of water with coffee as it helps flush the caffeine out of the body more rapidly."
While it may not have a lot to do with the wine you're drinking, dehydration can be a huge contributing factor to migraine. It's recommended to drink at least 70-90oz a day.
This will be an ongoing series, so leave a comment with any wine questions you'd like to see answered. Also be sure to check out more of David's wine myth blogs where he answers many of the questions his customers send in. A big thank you to him and the whole company for educating us a little more about wine, and allowing us to try out their product.
You can also find PureWine on Amazon (I recommend starting with wands first) and get 15% off here with code thedizzycook
This post was not paid for by PureWine and all opinions are my own. It does contain affiliate links and, after trying, my family has recently invested in this product. Thanks for supporting the ways I help keep Dizzy Cook resources free. All photos in this post are were taken and copyrighted by Alicia Wolf, The Dizzy Cook.