What is the best alcohol for migraine sufferers? The topic of alcohol and migraine seems to be a tricky one. There are so many reasons we probably should avoid alcohol when we have a migraine disorder, but around the holidays, birthdays, or the new year, it can get to be incredibly difficult.
If you're anything like me, you might love a glass of wine as a way to celebrate special occasions. Before I was diagnosed with vestibular migraine, I was really into wine. As a lover of food, a lot of my trips have centered around exploring regional cuisines and that often includes enjoying wine or local cocktails. However, I knew that if I was going to try a migraine diet, I'd have to sacrifice alcohol for a little while.
What I found after years of navigating migraine disease and alcohol is that you may not have to avoid it completely, despite what other resources say. This post will share some tips for what you can look for in liquor, beer, and wine, if you live with migraine attacks, as well as some recommended options!
Jump to:
Alcohol and Migraine Diets
If you're following a migraine elimination diet that your physician has recommended let me be clear - there is no "safe" alcohol. This post is really meant for those who have made it through that elimination phase and are starting to reintroduce foods. Or perhaps for someone who is looking for an option to enjoy on a birthday, anniversary, etc.
When we live with migraine, it can often feel like we're robbed of a lot of joyful moments. And if a joyful moment for you would be celebrating your anniversary with the champagne you had at your wedding, then I think that's something you have to personally prioritize.
While there will never be a "best" type of alcohol for migraine, if you can make better choices throughout that celebration, it can help you not suffer as many consequences with an attack the next day. These things include:
Limiting your alcohol consumption to 1-2 glasses at the most.
Balance a cocktail with a mocktail.
Stay hydrated. Plan for a glass of water with each glass of alcohol.
Keep other triggers low - whether it's balancing other personal food triggers, having a drink during stable weather or when you've had a good night of sleep.
Use wine wands to help remove the histamine and sulfites. Use code SAVE20 for an extra 20% off.
Pick a quality brand - This may mean wineries with biodynamic practices or liquors that are distilled a certain way.
How Does Alcohol Trigger Migraine Attacks?
Alcohol is perceived as a widely common food trigger, but just how common is it? In some studies, only 10% have found a link. Considering around 39 million people live with migraine, even 10% is a pretty big chunk.
Generally food triggers like alcohol can trigger an attack within 30 minutes to a couple of hours after consumption. This would be known as an alcohol induced attack. Delayed alcohol induced headache aka "hangover" is typically experienced the next day. Unfortunately people who experience migraine are more prone to experiencing a migraine attack after drinking than the average person.
There are several factors that can coincide with individual triggers when it comes to how alcohol may trigger a migraine attack. This could point to a histamine sensitivity or tyramine sensitivity, particularly with certain types of fermentation, sensitivity to certain additives and flavorings, or a sensitivity to sulfites.
Other factors, like the expansion of blood vessels and increased blood flow when we drink alcohol can contribute.
Congeners in Alcohol
Congeners, which are byproducts of the distillation process like acids, acetaldehyde, and methanol, are thought by some researches to cause migraine attacks. These occur in dark liquors like brandy, red wine, bourbon and whiskey.
Lighter drinks like vodka, white wine, and light beers typically have low levels of congeners. It's theorized that breaking down congeners in the body competes with breaking down ethanol and this is what contributes to a hangover. More research is needed in this area, but it could explain why some of these drinks are better tolerated than others.
Best Wine for Migraine
This can be completely individual and depend on what you're sensitive to. All wines contain sulfites, histamine, tyramine, and tannins, as these are a result of the fermentation processes for wine.
Wines with higher alcohol content contain more naturally-occurring sulfites than less alcoholic wine. But adding sulfites to wine is a common practice, especially in sweeter wines, as sulfites are a preservative. Some wineries offer "sulfite-free" wines that have either no added sulfites or that have had the majority of the sulfites removed, though there is no such thing as a truly sulfite-free wine (read labels carefully to be sure you know what you're getting). So if you're sensitive to sulfites, look for labels that say things like "organic," "sulfite-free," or "no added sulfites." Or, try a dry white wine, like a Sauvignon Blanc.
You won't find any labels indicating tyramine and histamine content in wine, but it's generally the case that red wines and sparkling wines have both histamine and tyramine in greater quantities than other types of wine. Another thing you won't find on the label? Additives.
Additives in Wine
Many mass-produced wines like Kendall Jackson or Beringer have clients that expect the same flavor year after year and have to mass produce so much wine they can't be picky with their grapes. But grapes don't produce that same flavor every year. The flavor of those grapes can significantly depend on the weather that year - droughts, too much rain, too much sun, just to mention a few.
So how do wine brands get around this so you can have that big buttery flavor in your KJ chardonnay? By manipulating it with additives. The FDA doesn't require these to be labeled on wine like they do sulfites, but they definitely exist.
Other factors include how the winery treats the grapes. Are they spraying lots of pesticides? Do they include rotted grapes in their batches? These are all little things that could potentially filter down to a trigger for someone with migraine. So how do you find wine like this? A little research!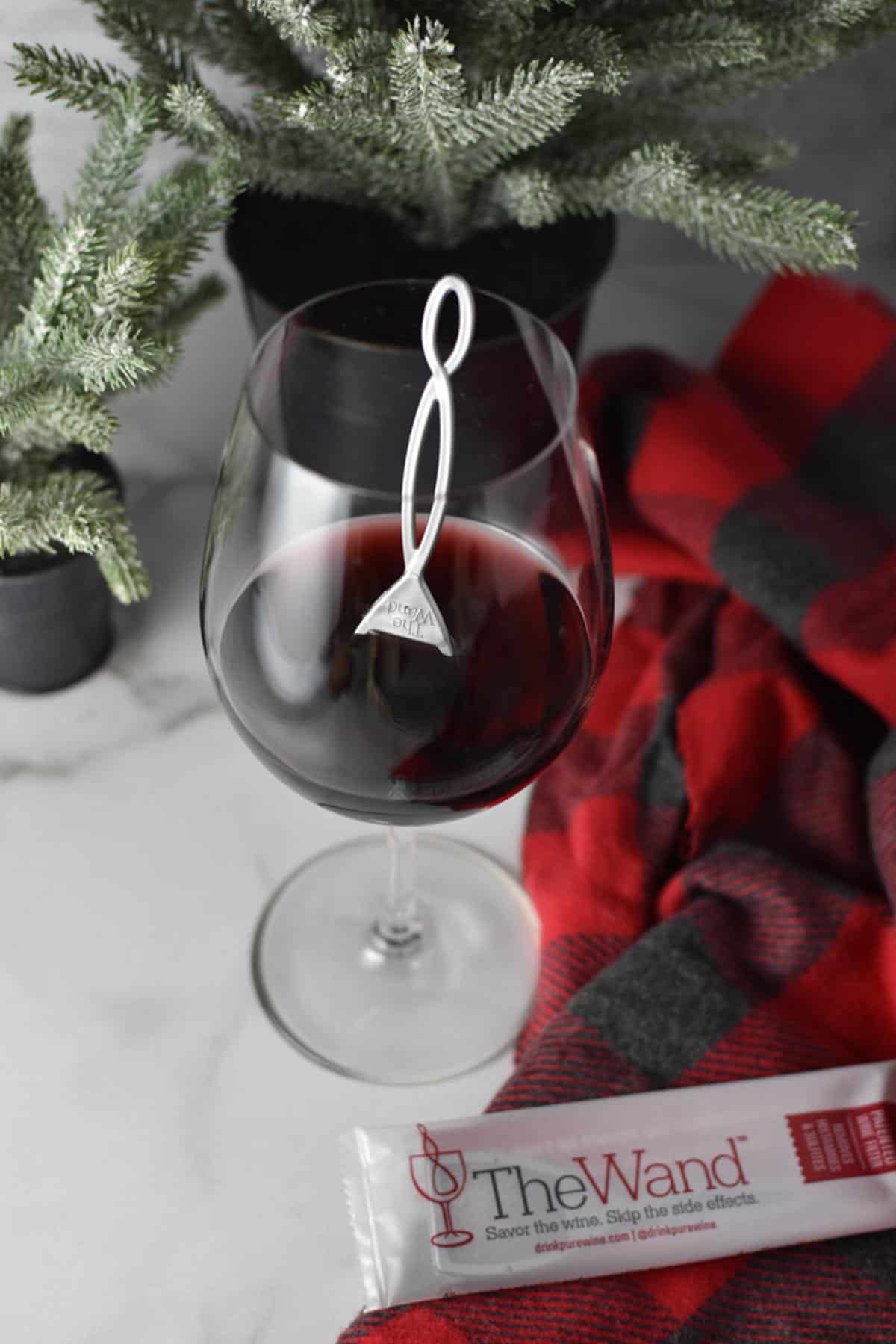 Choosing a Migraine-Friendly Wine
Here are some tips for navigating wine and migraine.
Wines that are organic or biodynamic tend to be better tolerated.
Wine doesn't always have to be labeled "organic". Getting an organic certification for wine is very expensive, so a lot of smaller wineries use these practices but without the certification. Reading up about them on their websites is a good place to start, but also asking a good sales rep at your local wine store or Total Wine can often give you some new brands to try.
Certified organic wine isn't always great when it comes to flavor because they know they are in a hot, niche market.
Biodynamic wine is essentially using responsible farming practices and working with the land to avoid pesticides and fertilizers. When a winery is putting this much effort into the wine, they're letting the grapes shine. This means the flavor combination of a particular could change from year to year, but nothing is being added to the wine as far as flavorings go. Some even use other creative ways to reduce sulfites, like Happy Canyon adds a very slight carbonation to their white wines.
White wines in stainless steel barrels might be better tolerated than those aged in oak. These will typically have a clean, crisp taste rather than bold and buttery.
Sticking with dry white wines and lighter reds tend to be the best tolerated for those with migraine disorders. This would include unoaked chardonnay, sauvignon blanc, pinot grigio, albariño, soave, muscadet, viognier, or a dry riesling.
Lighter reds tend to be better tolerated like pinot noir, gamay, or grenache.
Moscato, champagne, and heavy reds like cabernet sauvignon tend to be more risky for people with migraine.
Region can matter. A lot of people will say they feel better drinking Italian wines, but it may have more to do with the process of how it's made than it being an "Italian" wine. European wine still contains sulfites too.
Wine Brand Suggestions
Here are a few favorite wines that have worked well for me personally. I'm a big fan of wines from the Santa Barbara region of California and find there's a large emphasis there on sustainable practices, so you'll see that reflected here with suggestions.
I highly recommend planning to spend at least $15, which will generally get you a better brand overall.
Affordable Wines
Bonterra - My friend Kayla enjoys the sauvignon blanc. You can usually find this brand at most grocery stores and/or Total Wine and it will run you about $14 a bottle.
Benzinger - These can range from $15-85 a bottle, but they're sustainable and biodynamic.
Au Bon Climat - You can typically find this brand in Whole Foods as well as Total Wine and their bottles range from about $20-80. They also sell special smaller batch wines through their website, which we always enjoy.
Feed Me Phoebe has some great suggestions for biodynamic or organic white wine.
Specialty Wines
Dragonette - This is one of the only brands I can drink without using a wine wand, and it's all thanks to meeting one of their winemakers and having him encourage me to take a chance on it. A little more pricey, it's a good one to save for special holidays. These cost around $40 and you have to ship directly from the website.
Stolpman - I'm a big fan of their whites, but they use a naked fermentation without additives. This one is also a little easier to find online without a wine membership on Foxtrot.
Liquid Farm - another great winery in the Santa Barbara area, Liquid Farm believes in no manipulations to their wine. They let the grapes speak for themselves each year without using additives or chemicals. You can sometimes get lucky at Total Wine, or you can search here for a store near you. This will range from $30-40.
Happy Canyon - The most affordable of all 3, their white wines are really fantastic, and have a lower sulfite and alcohol content. The only downside is they're probably too easy to drink!
What are Wine Wands?
Wine wands are developed by PureWine, a small Texas-based company that my family actually ended up investing in once we realized how well they worked for me. Even once I reintroduced foods, I could only tolerate white wines, but red seemed to always trigger dizziness for me. This was especially common with bold reds, like cabernet sauvignon. One common misconception I see in my migraine groups is that these are basically the same thing as the drops you see online - this is not true.
PureWine is the only product on the market that also addresses biogenic amines, like tyramine and histamine. Stirring the wine wand in your drink for up to 8 minutes removes not only all the sulfites but also these amines, which tend to be a bigger culprit for triggering attacks than sulfites. The other products, like the drops, only remove sulfites. There are so many common wine myths out there - like if you just buy sulfite-free wine you won't get an attack - but most are just misinformation. You can get 20% off on these all the time with my code SAVE20.
Non-Alcoholic Wines
Non-alcoholic wines (and non-alcoholic beers) are produced in the same way as their alcoholic counterparts. The alcohol is removed after the fact, meaning that all the other byproducts of fermentation and additives are still in non-alcoholic wines. So, if you aren't in it for the alcohol, you're better off with a delicious mocktail!
That being said, you may be able to try using a wine wand on them to see if it helps out. I generally find the flavor isn't the best for these, despite it improving over the years. If you are only triggered by the alcohol and not the additives, I recommend Giesen Sauvignon Blanc and Nosecco.
Best Beer for Migraine
Beer contains fewer sulfites than wines, and fewer histamines and tyramine than red wines. Look for organic beers to avoid additives, and try a lighter beer with a lower alcohol content, like a lager. This can help minimize histamine and tyramine.
Another factor is some beers contain gluten and if you have a gluten sensitivity or celiac, this can also contribute to migraine attacks.
Expert tip - You can also use the Wine Wand with beer to aid with some of the histamine removal. It may just take away some of the fizziness, but it is effective.
Some recommended beer brands:
Heineken light lager (they have a good non-alcoholic option too!)
Shiner light blonde
Omission Light Golden Ale (gluten free)
Athletic Brewing Lite or Upside Dawn
Best Liquors for Migraine
If wine isn't your thing or it's not well tolerated, there are a few liquor options that may work well for you. Just like wine, some options are better than others. This can depend on the same process. Are there flavorings added or is the liquor produced with a natural process?
Tequila - the silver or "blanco" type would be the best tolerated over reposado or añejo as it is the youngest version. Two favorites are Casamigos and Siembra Azul, but now there are many small batch brands of tequila that are wonderful. Just be aware, some tequilas, especially aged, can be higher in congeners
Vodka - Ocean vodka is a favorite and found at Total Wine and made from sugar cane! I know a lot of people love Tito's, but I tend to get mixed feedback. I sometimes wonder if it's cause it is corn-based, which can bother a small amount of readers. If you are looking into certain vodkas, definitely see what they're made from and try to avoid any personal food triggers.
Gin - Another well-tolerated alcohol, Prairie makes an organic gin that is pretty popular.
If you're a fan of the darker liquors, you can also use the Wine Wand with liquor and beer to aid with some of the histamine removal.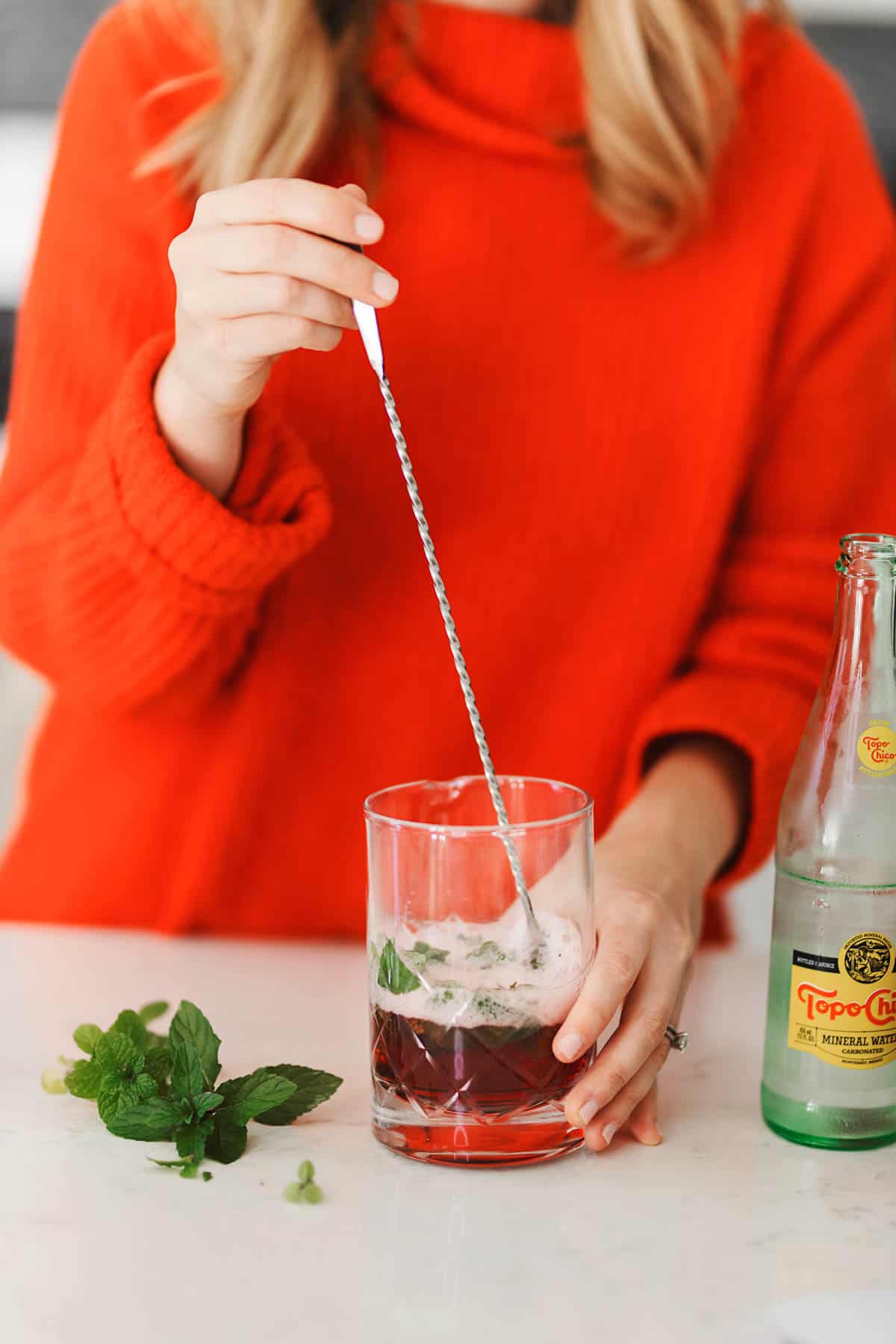 Worst Alcohol for Migraine
As we've discussed above, dark liquors and red wine tend to have the highest amounts of congeners as well as tyramine and histamine. Champagne and sweeter wines also tend to be a larger issue from higher sugar content.
Types of alcohol to avoid for migraine:
Heavily aged liquors like whiskey, brandy, and anejo tequila
Sweeter wines like moscato
Heavy, full-bodied red wines like cabernet sauvignon
Champagne
Non-Alcoholic Drinks
For those that cannot tolerate alcohol at all, but are ready to get a little more adventurous with their diet, there are a few really great non-alcoholic knockoffs.
Many of these do contain things like citric acid, which is ok on a migraine diet, but some find they are sensitive. Some of the natural flavors may also contain citrus, so this is something to keep in mind.
Seedlip - if you're a fan of gin and tonics, give this non-alcoholic "gin" a try! It's available in the UK and even on Amazon. I don't drink this straight, but it's really great mixed with a good tonic or soda water. I use cucumber in mine. Side note - it does contain citric acid if you find that to be a trigger for you.
Ritual - Ritual Zero Proof has tequila and gin knockoffs, although I've only ever tried their tequila. It does need to be mixed in a drink, but paired with pomegranate juice and sparkling water, or even apple cider, it does give you a similar flavor without the alcohol. I've used this one with flavored sparkling waters and it really does give you a spicy margarita flavor.
Lyre - Lyre makes a good vermouth knockoff for those that miss martinis. Now this does contain non-alcoholic fermented grape juice, so this is just another thing to watch out for. Again, the option here is to give you something that avoids the alcohol portion, but I'm not recommending it as totally migraine-friendly. Lyre also makes some good gin replacements as well. I'm not the biggest fan of their tequila substitutes, but if you like a really light flavor, you may enjoy them.
Mocktail Recipes
See these recipes for easy migraine-friendly drinks without alcohol. And if you're looking for mixers, see my post on the best ginger beers or how to make a base for homemade ginger juice.
This post was originally published in December 2020 and was recently updated to include new pictures and information on congeners, with some more information on beer and wine from Natalie Mead.