Curious what the best ginger beers on the market are? This post some popular brands from best to worst based on taste, spiciness, smell, sugar content, and fizziness.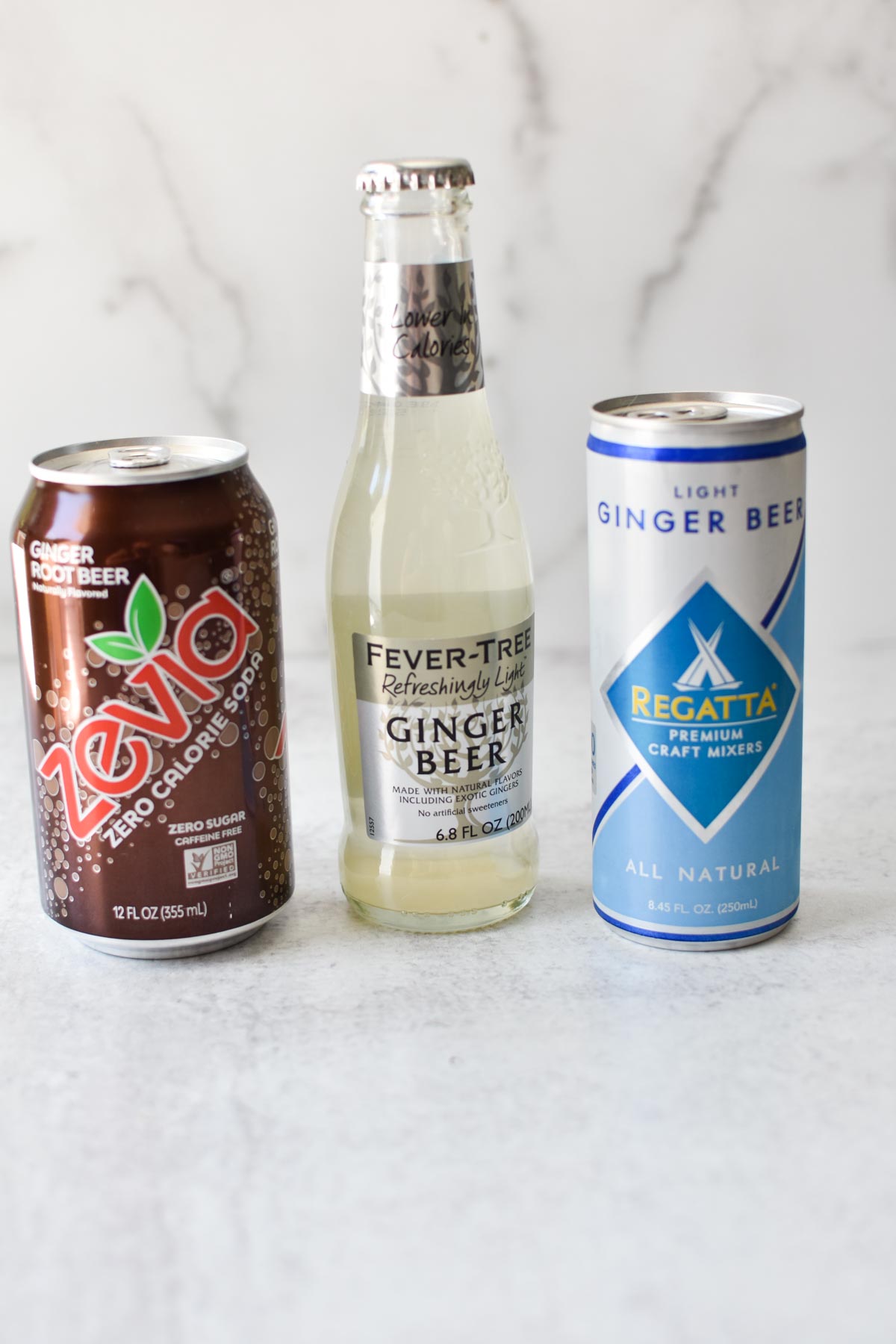 Why did I do a ginger beer taste test? Well my first trimester was a rough one. Really, that extended to about 20 weeks. Then I had about 8 weeks of sweet, sweet relief before heartburn had me throwing up again. During that time, everyone will tell you to eat and drink a ton of ginger. It's actually really annoying.
While I couldn't stomach ginger chews or loads of ginger flavored foods, what I did enjoy was a few sips of a good ginger beer. However, since this was all during the pandemic, I often found my top choices subbed out with unknown brands. Instead of wondering if I truly liked one ginger beer better than another, I decided to do a taste testing of some popular brands and compare notes.
What were the rules for our ginger beer contest? We evaluated each brand for Color, Taste, Bubbles, Sugar, and Smell. In between tastings our palates were cleansed with sparkling water.
Health Benefits of Ginger
I realize most people only concern themselves with what ginger beer is best for moscow mules, however, when it comes to migraine and pregnancy there are a lot of benefits. First of all, ginger has actually been shown to abort attacks in medical studies. The other positives, especially with vestibular migraine, is that it can be a good option to ease nausea, vomiting, and vertigo attacks.
The brands I tested were all non-alcoholic and one of the big factors I also searched for was limited ingredients and sugar. This is where Bundaberg Ginger Beer, which is extremely popular, maxed out at 40g a pop. I guess we know why it's so popular! The max for these guys didn't get over 30g. It's still high, but they do have light options as well.
Citric Acid and Natural Flavors
Normally on a migraine diet, these are two factors we have to watch for. Citric acid is permitted on this diet and most tolerate it well, but there are always a few who report issues particularly in larger amounts. What I usually recommend is to try to avoid it unless the product makes it unavoidable. In the case of ginger beer, it is a tough one to avoid. This is why I included the ingredients for each product in case you are sensitive. Many of these use tartaric acid instead, which occurs naturally in grapes and other fruits.
As far as "natural flavors", for ginger beer you wouldn't have to worry about this being a hidden name for MSG. Typically this would be either ginger flavor, perhaps pepper to enhance the spiciness, and in some cases citrus. Now citrus isn't permitted in the elimination phase. I've successfully reintroduced it into my diet so I'm a little less strict with taste testings. If you do find it to be a trigger, or if you plan to drink a lot of ginger beer, just contact the company directly and ask.
Ginger Beer vs Ginger Ale
So what's the difference between ginger beer versus ginger ale? It's all in the process. In some cases, ginger beer does contain a little bit of alcohol and is fermented. This is not the kind of ginger beer we reviewed today. And you'll definitely be able to spot this on the label.
In this case, these are non-alcoholic but contain a higher amount of ginger flavor versus your typical ginger ale. Ginger beer is typically brewed like a beer but with ginger, and ginger ale is usually carbonated water with ginger syrup.
What I prefer about ginger beer is the ingredients contain real ginger and also tend to be more minimal/less processed. They also tend to contain less sugar overall. But if you're looking for something with lighter flavor, definitely go with ginger ale.
Fever Tree Refreshingly Light Ginger Beer
Fever Tree was tied for first in our taste testing. This is a great option if you love ginger and want something spicy. With its strong ginger flavor, this is a better option for either mixing or perhaps using for pain relief or attacks. What I wouldn't use it for is when you have nausea or vomiting as it does burn a bit more than our next contender.

Ingredients - Carbonated Spring Water, Fructose (fruit sugar), Ginger Root, Natural Ginger Flavouring with other Natural Flavourings, Acid: Tartaric Acid, Antioxidant: Ascorbic Acid.
Color - Very light beige, like white wine.
Taste - Strong spicy ginger flavor that lingers after you drink it.
Bubbles - 5/10, fairly smooth.
Sugar Content - 8 grams sugar - sweet but not overwhelming. Probably a 6/10 on the level of sweetness.
Smell - Burnt sugar and spicy ginger.
Regatta Light Ginger Beer
Regatta was also tied for first, but only because this was my favorite when dealing with major pregnancy nausea and vomiting. The ginger beer flavor is light but not overpowering. It's sweet, but not too sweet. Just overall very easy drinking without any burn from ginger.
Ingredients - Sparkling Filtered Water, Cane Sugar, Natural Ginger Flavor Extracts, and Other Natural Flavors, Citric Acid, Quillaia Bark Extract, Caramel Color, Gum Arabic, Ester Gum, and Guar Gum.
Color - Somewhat cloudy and light beige.
Taste - Mellow, less burn and no lingering finish. More like ginger ale. Easy to drink.
Bubbles - 6/10 light bubbles.
Sugar Content - 13 grams sugar - sweet but not too much. A 7/10 on the level of sweetness.
Smell - Burnt sugar and spicy ginger.
Central Market Light Ginger Beer
Again, this one is very specific to Texas (and tough to find!) but it's a great everyday, inexpensive ginger beer. Located at HEB as well. I loved the addition of real ginger juice as well as the simple ingredients. Although the flavor wasn't our top favorite, the use of real ginger does win a lot of points.
Ingredients - CARBONATED WATER, ORGANIC SUGAR, ORGANIC GINGER JUICE, ORGANIC GINGER EXTRACT, TARTARIC ACID, NATURAL FLAVORS.
Color - Cloudy but more clear and less yellow.
Taste - Light with more of a citrus flavor and less sweet. Slight burn at the end.
Bubbles - 4/10 - not as fizzy as the rest.
Sugar Content - A comparable 9 grams of sugar but tasted a lot less sweet than the other brands.
Smell - Very light scent, but a little bit of a "cleaner" smell.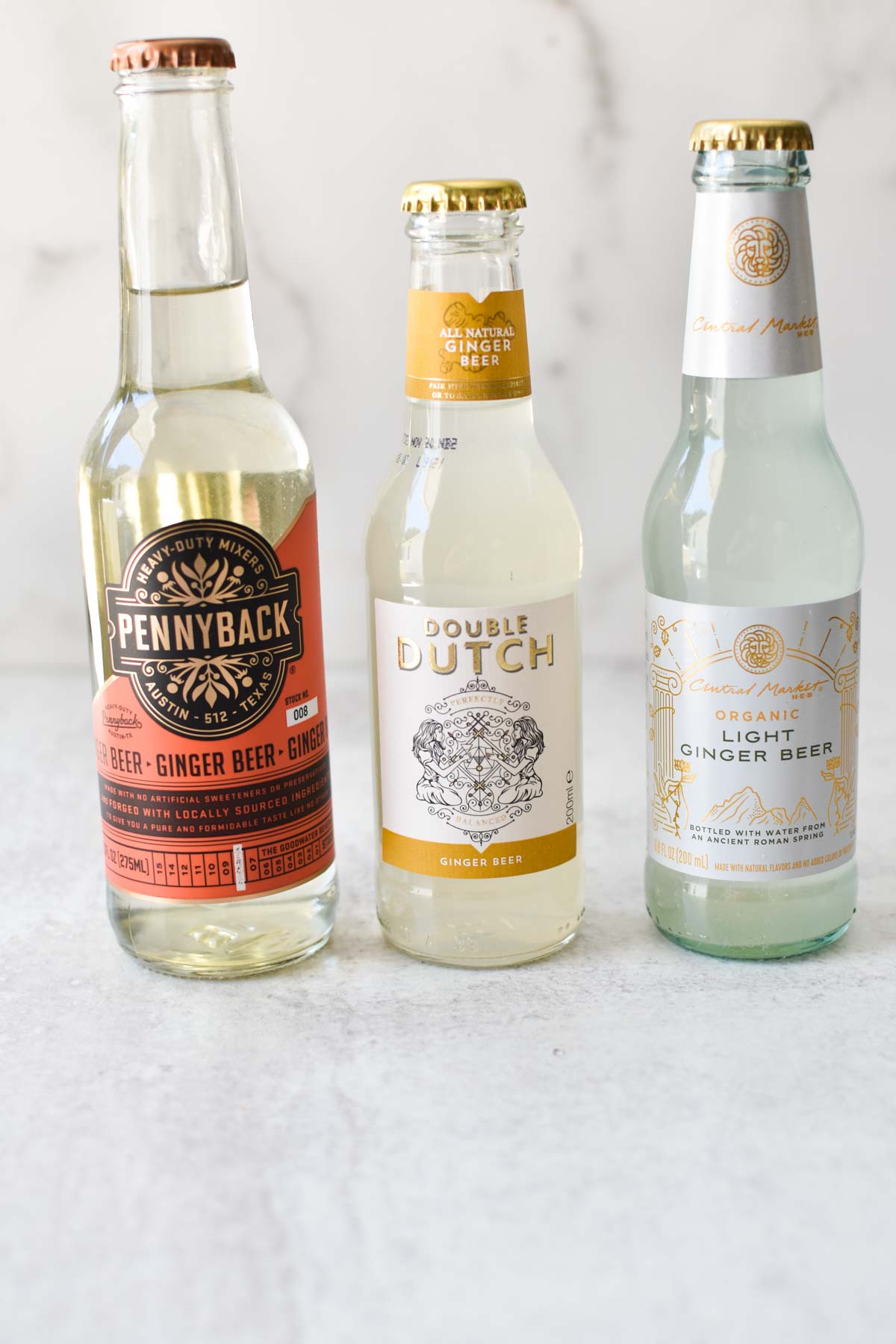 Pennyback Ginger Beer
Pennyback is an Austin based company so I'm not sure how widely available it is outside of Texas. It is sold in Total Wine and Central Market. I love supporting small, somewhat local companies, so had to grab this one to try when it was in stock. Overall it's a crowd pleaser. I tend to go for much less sweet drinks, but I know that is not always the popular opinion!
Ingredients - Pure Carbonated Artesian Water, Natural Cane Sugar, Agave Nectar, Natural Flavor, Citric Acid, Sea Salt and Ginger Root.
Color - Darker beige/caramel.
Taste - Spicy after taste, some citrus, a lot of sweetness.
Bubbles - 7/10 - definitely more bubbles.
Sugar Content - A whopping 27 grams sugar. Definitely more for those who love sweet!
Smell - Very light scent with hint of citrus.
Double Dutch Ginger Beer
Double Dutch Ginger Beer is actually a European mixer, so I'm not sure how it ended up in Central Market, but it was really nice to try. Founded by two women who were set on making high quality mixers, it could be good for those in the UK. To be honest though, this wasn't one of our favorites overall. Especially when drinking on its own.
Ingredients - Carbonated water, sugar beet, natural flavourings, Acid: tartaric acid
Color - Super cloudy and an off-white color.
Taste - Floral notes with a lingering spiciness.
Bubbles - 9/10 - very fizzy.
Sugar Content - 19 grams sugar
Smell - Honestly, it smelled a bit of bathroom cleaner. I think their natural flavors definitely have citrus in it, so something to watch.
Zevia Ginger Beer
Zevia uses stevia to sweeten this ginger beer and make it zero calories. I'm typically not a fan of zero calorie diet drinks as I think they taste so odd. And this was a perfect example of that. It's just so cloyingly sweet and that sweetness just doesn't leave your mouth. Perhaps if you're low carb or keto and this is your only option, go for it. But definitely not our favorite when it comes to overall taste. Another downside is there is no real ginger in this - just flavoring.
Ingredients - Carbonated water, natural flavors, citric acid, Stevia leaf extract.
Color - Totally clear.
Taste - Definitely has that fake after taste that most diet drinks have. The kind that stays on your tongue. No overwhelming ginger flavor.
Bubbles - 8/10 - definitely more bubbles.
Sugar Content - 0 grams
Smell - Like root beer.
Homemade Ginger Beer
Yes, you can actually make your own ginger beer at home! This way you can control the exact ingredients that go into it. Here are the 3 staples you'll need to start.
Sparkling water
Ginger juice (fresh pressed ginger)
Honey or agave
Mix them in parts to create your perfect flavoring.