This recipe for za'atar roast chicken uses this Middle Eastern blend of spices to flavor spatchcock-style whole chicken along with simple roasted sumac potatoes. It's a delicious one pan dish.
The inspiration for this actually came from an instagram post of a friend who was cooking from one of Ottolenghi's cookbooks. I saw the combination of flavors and knew I had to try that out for a future recipe. I've never actually seen his cookbook recipe so if you're coming here looking for a knockoff, I am so sorry to disappoint!
What attracted me to the combination of spices though is it's a great pairing of flavors, particularly for those who might be triggered by citrus. This whole meal only dirties one pan and is really simple to make with a wonderful and unique flavor combination.
What are Za'atar and Sumac?
Za'atar and sumac are two Middle Eastern spices - za'atar actually being a blend of spices. You can make your own za'atar at home by combining cumin, sesame seeds, thyme and sumac...or some similar combination. There are tons of recipes for this online. Or you can make it really easy on yourself and just pick up a pre-blended version from most grocery stores. If you're following a migraine diet, just watch out for lemon peel.
Sumac, I swear this isn't the poisonous sumac you're probably thinking of, is a bright red spice with a tart, lemony flavor. It's a wonderful substitute for lemon in savory recipes. It also has some great antioxidant properties as well...yay health! Sumac pairs so well with roasted chicken and potatoes, so you can use this spice anytime without making a whole roasted chicken.
How to Spatchcock a Whole Chicken
What exactly is "spatchcock" chicken? It's a method where the backbone of the chicken is removed, creating a flat whole chicken that is able to roast faster than a traditional whole chicken. For some people the time saving of about 30-40 minutes is worth the Game of Thrones scene in the kitchen. The whole bird cooks in about 40-45 minutes, depending on how large it is.
All you need is really sharp kitchen shears/scissors to cut through some of the bones. I'll take you through the step by step process.
Place your bird breast side down, with the spine facing you. Confront the bird with your shears, either starting at the neck or at the base.
Carefully start cutting on one side of the backbone all the way through to the other end.
It might be easier for you to turn the bird to begin cutting the opposite side.
Remove the backbone, and snip the breastbone to help the bird lay flat (you will also need to shove down on the breast a bit to flatten it.
Place in a baking dish, breast side up, with legs spread out and flattened.
Slide fingers under the skin of the breast, loosening it a bit, and apply olive oil and minced garlic.
If this is too much for you, don't worry. You can easily make this recipe as a whole roasted chicken. It will just take a bit longer.
Recipe Modifications
This za'atar roast chicken with potatoes is already gluten and dairy free, so not much needs to be modified if you have additional dietary restrictions.
If you're looking for something a little bit faster than a spatchcock chicken, I've also done this recipe with roasted chicken breasts. They take about 20-30 minutes total. Typically I'll start off by roasting the potatoes for about 15-20 minutes, then add the chicken breasts and cook another 20 minutes. I guess this actually ends up being similar cooking times in the end, but might be easier if you already have boneless chicken breasts on hand.
I like to serve this with green beans or a simple side salad. The chicken and potatoes have wonderful, bold flavors so a simple side works great here. Hummus and pita would also be a great appetizer. Za'atar pairs beautifully when sprinkled on top of hummus.
Other Chicken Recipes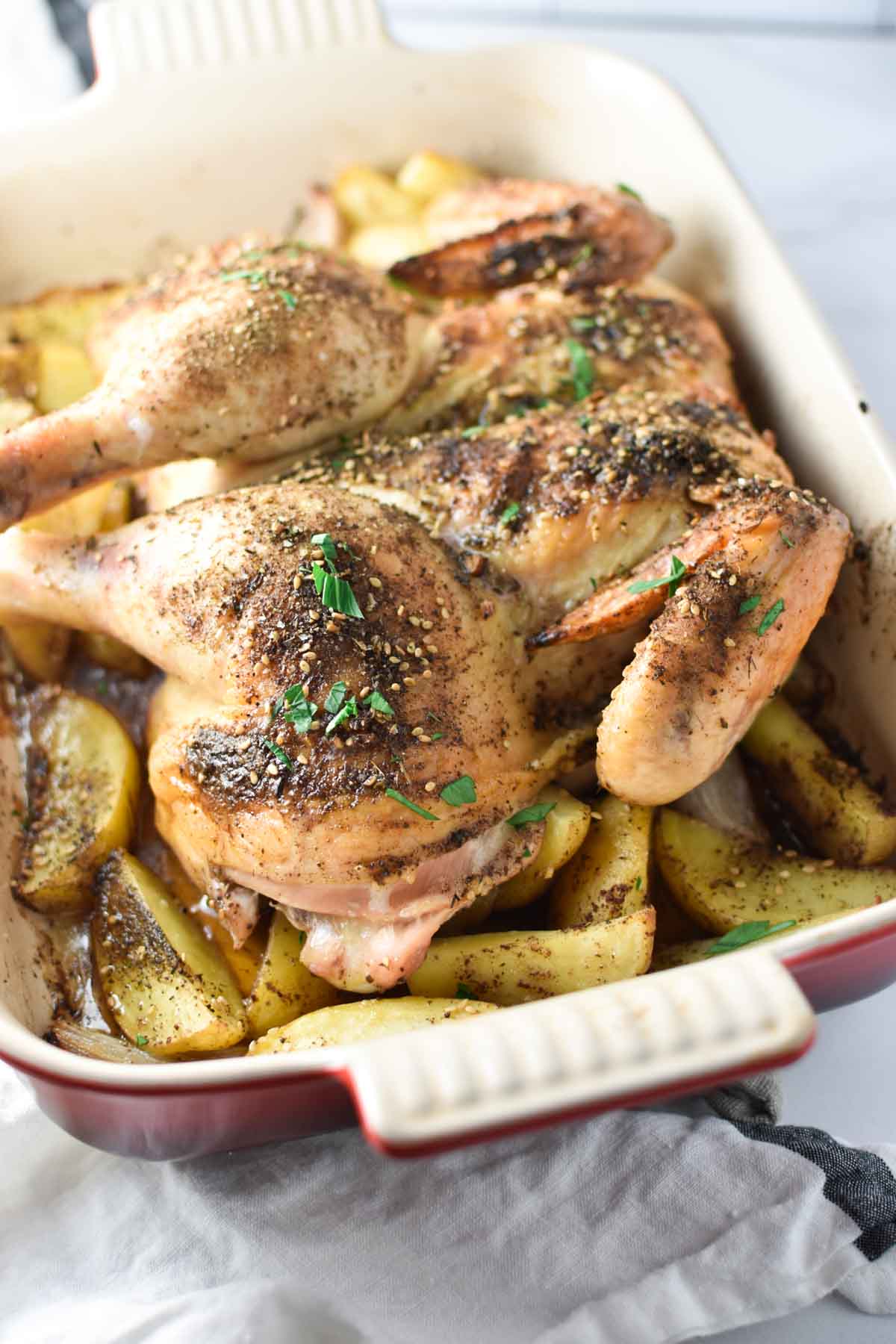 For more easy chicken recipes like this chicken with za'atar, see the below ideas!
Simple Whole Roasted Chicken
Creamy Rosemary Chicken
Moroccan Chicken
Honey Chipotle Chicken
Mexican Chicken

Za'atar Roast Chicken with Potatoes
This za'atar spiced roast chicken is made spatchcock style with sumac potatoes, but you can also use chicken breasts or a whole roasted chicken.
Print
Pin
Rate
Ingredients
Sumac Potatoes
1

tablespoon

olive oil

1

pound

yukon gold potatoes, cut into wedges

2-3

shallots, peeled and cut into wedges

1

teaspoon

sumac
Za'atar Chicken
4

pound

whole chicken

1

tablespoon

olive oil

2-3

garlic cloves, minced

2½

tablespoons

za'atar

kosher salt and black pepper
Instructions
Preheat the oven to 425 degrees F. In a roasting pan large enough to lay your chicken flat (you can also use a high rimmed baking sheet), toss the wedged potatoes and shallots with olive oil, sumac, and salt and pepper to your liking (I typically start with ½ teaspoon). Spread them in a single layer.

Spatchcock the chicken using the pictures from the post. Start by using your kitchen shears to cut along one side of the backbone (breast side down). You may have to make smaller snips in thick parts. Flip and cut out the other side of the backbone. Use your scissors to snip at the breastbone. You can also press hard on it to sort of "break" it enough to lay completely flat. Place the chicken in the roasting pan, surrounded by the potatoes, breast side up with legs spread. Tuck the wings if you can.

Slide your fingers between the skin and the meat to loosen it a bit, then apply a little bit of olive oil and the minced garlic between the meat and the skin. Rub the rest of the olive oil on the outside of the skin and top with the za'atar all over (you can rub this under the skin too). Sprinkle with kosher salt and pepper.

Roast for 45 minutes or until a meat thermometer reads 165 degrees F in the thickest part of the breast. Remove from oven, cover with foil, and allow it to cool for about 5 minutes before slicing. Serve with sumac potatoes and shallots.
Notes
Za'atar and sumac can be found at most grocery stores or online, like Amazon. You can also make your own at home with easy recipes online. If you're following a migraine diet, just watch out for lemon peel. I used a homemade za'atar blend and Morton and Bassett Sumac.
For a whole roasted chicken (with the backbone), increase the cooking time to about 1 hour and 10 minutes.
Nutrition
Calories:
424
kcal
|
Carbohydrates:
16
g
|
Protein:
29
g
|
Fat:
27
g
|
Saturated Fat:
7
g
|
Trans Fat:
1
g
|
Cholesterol:
109
mg
|
Sodium:
108
mg
|
Potassium:
638
mg
|
Fiber:
3
g
|
Sugar:
1
g
|
Vitamin A:
268
IU
|
Vitamin C:
19
mg
|
Calcium:
61
mg
|
Iron:
4
mg