Here are two recipes for delicious and fun craft holiday mocktails that can also be made into migraine cocktails! These two mocktails (or cocktails) combine festive cranberries and sparkling water, along with apples and decaf rooibos tea. Migraine cocktails are made with migraine diet friendly ingredients that follow Heal Your Headache!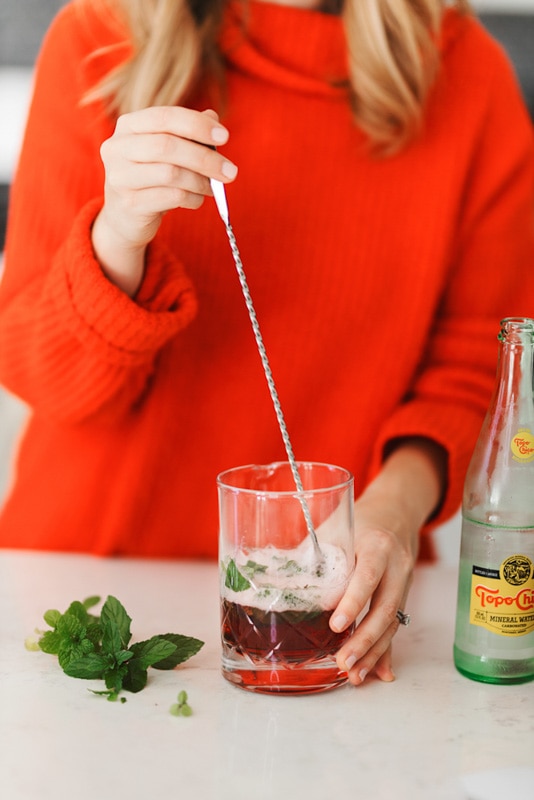 Can Alcohol Trigger Migraines?
When it comes to migraine and alcohol, all we hear is to stay away. However, according to an article on the American Migraine Foundation, the risk tends to be exaggerated. There are two types of migraine attacks that can be caused by alcohol, an immediate reaction (within 30 minutes to 3 hours) and a delayed reaction, better known as a "hangover". Having alcohol as a trigger would mean you have a consistent reaction to it every time it is consumed. It also means you're not reacting to other things inside your drink, like histamine, as this article on wine myths notes.
Basically there are certain types of alcohol that are generally better than others when it comes to managing migraine attacks. These include the following. Keep in mind some do better with good quality brands, and vodka tends to be the most well-tolerated.
Vodka
Gin
Blanco Tequila
Dry, organic or responsibly farmed white wines
For more information on why wine can trigger a migraine attack, or what are some good brands to look for, see this post.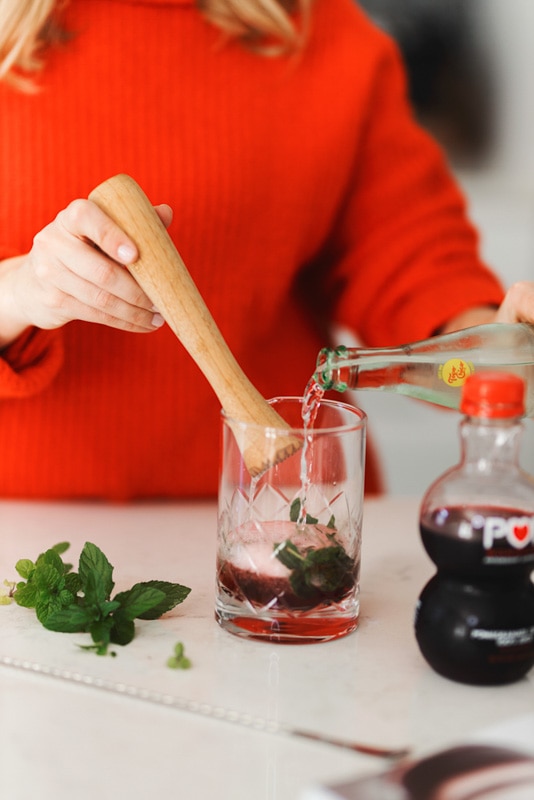 Craft Mocktails
For those of you that cannot tolerate any alcohol, you're not alone. This is why bartender Karen Tartt created these recipes for craft mocktails. There's nothing worse than being stuck at a party with just ice water. And while I love mixing juices with sparkling water, it's nice to take things a little bit further and get fancy with the holiday mocktails.
Who is Karen Tartt? Well she's worked in the bar industry for years and even competes in cocktail competitions. Did I mention she also has vestibular migraine? I personally cannot imagine working in an industry that requires you to stand and take orders with precision while managing brain fog and dizziness, but this girl is a rock star and is super talented.
Here's a little bit more about her story, from Karen herself:
After being diagnosed with VM in early 2019 after a couple of years searching for answers, I was bound and determined to not let this limit or compromise my professional goals as a career bartender. I still compete in cocktail competitions- speed and recipe based- I'm just a lot more methodical about it now. While I have struggled to find employers who would accommodate me in the past, I'm very happy to use my platform to positively educate folks about living with a chronic illness. In choosing to live out loud with this, I've been approached by colleagues with chronic illnesses who have offered support and advice. In the service industry, community is everything. I would not be able to do the work that I love without the support of my peers and regular guests.
How a Bartender Manages Vestibular Migraine
I work a set schedule which helps me plan out my week. I credit this to having amazing coworkers who remind me to eat/drink water, offer encouragement when I'm feeling anxious and offer to pick up shifts when I'm not well. To manage my triggers better, I create all my own playlists and only work at bars with no strobe lighting and dimmers on their overhead lighting so I can set a good environment for the guests and myself.
Another goal for myself is to go to hot yoga 3 times a week to learn better ways to make my body work for me on days that I'm not 100%. The folks at my yoga studio (Black Swan) always adjust the lights for me, and I swear have started to tailor balance challenges and meditation for me in class.
One of the benefits of working in the service industry is having a wide network of peers at various locations. This means I walk on the Riverwalk (and run when I feel well enough to) because I know I can stop at any spot where my colleagues might be working for a break, an ice cold Topo Chico or a Lyft/Uber home if I'm just too dizzy.
Making migraine safe cocktails feels like a very natural progression in how in growing and challenging myself to be a better bartender. I'm very excited in the potential of exploring new mocktails/cocktails, sensory friendly aesthetics in bars and a more thorough knowledge of VM specific sensitivities in the cocktail community. – Karen Tartt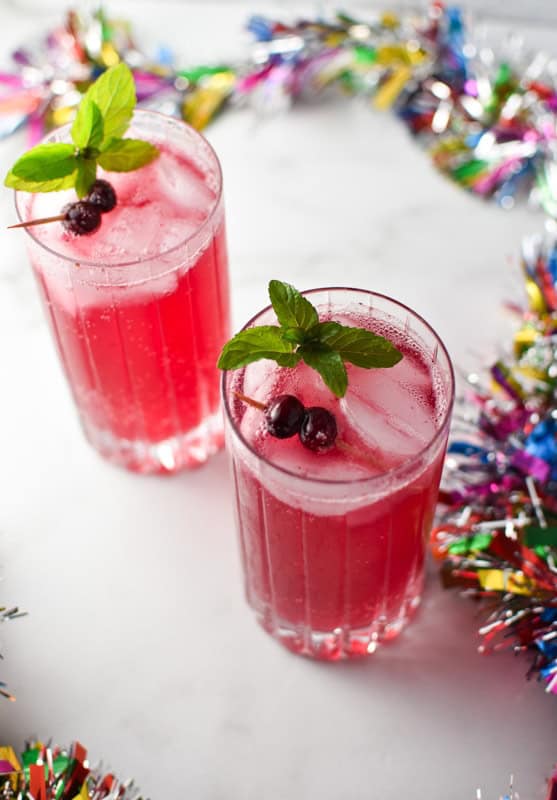 Christmas Mocktail Recipes
I hope you enjoy the following holiday mocktail recipes from Karen for Christmas, Thanksgiving, New Years or any fun celebration! Huge thank you to her for sharing her story with us.
Rooibos Tea as a Mocktail Ingredient
For the Apple Cider mocktail, this uses rooibos tea which is natural decaffeinated. Some people find that any kind of tea, decaf or not, triggers their migraine symptoms. This tends to be one of the best tolerated.
For more posts on alcohol and migraine, see these:
The Top 5 Wine Myths
Celebrating the Holidays with Migraine
Pear Mojito Mocktail
Apple Cranberry Wassail
"Fiona on Holiday" Cranberry Ginger Mint Mocktail
A mocktail or a cocktail! Inspired by the VeDA mascot, Fiona the Flamingo. Shrubs are an interesting way to add acid to cocktails without the addition of citrus juice. Historically, they came about as a way to preserve fruits and vegetables before refrigeration was commonplace. I'll often describe them to my guests as similar to the base for a soda. Without getting too detailed, this was the safest production method I could come up with to achieve the flavor I was after. - KT
Keyword:
Cocktails, Cranberry Ginger Mocktail, Mocktails
Ingredients
1

oz

Cranberry Ginger Mint Shrub

*recipe to follow

1

oz

OPTIONAL spirit of choice - gin, vodka, or blanco tequila

Sparkling water to top off glass

2

candied cranberries

mint sprig for garnish
Cranberry Ginger Mint Shrub
2

cups

fresh cranberries

1

cup

cranberry juice

*

1

cup

white sugar, plus a bit more to roll cranberries in

3

star anise

2

tablespoons

fresh ginger, minced

13-14

fresh mint leaves

1

cup

distilled white vinegar
Instructions
Combine cranberries, cranberry juice, sugar and star anise in saucepan over medium high heat. Stir until most sugar is dissolved. (Use a slotted spoon to remove half the cranberries, transferring them to be completely coated in sugar. Shake the excess sugar off and leave the candied cranberries to dry on wax paper.) Bring rest of ingredients to a boil until you hear the first gentle pops of the cranberries bursting.

Turn off the heat, stir and let cool a bit. Transfer the pot's contents to a blender. Add ginger, mint and white vinegar. Blend until cranberries are mostly broken up. Strain with a wire mesh colander or several layers of cheesecloth. 

Measure 1 oz. of the shrub and spirit, if imbibing, into a Collins glass. Add ice and top with sparkling water. Garnish with 2 candied cranberries on a cocktail pick and a mint sprig top. (This is meant to imitate Christmas holly.) 
Recipe Notes
I like using cranberry juice from RW Knudsen, but any good, clean brand will do. 
The mixture for cranberry ginger shrub will make more than one mocktail/cocktail, however the recipe above is for 1 serving. 
Apple Cider Mocktail
Based on an original cocktail I made for a charitable pop up themed after the movie, "The Craft". It was essentially an Appleton 12 year rum old fashioned, heavy in the bitters with a cider reduction and a brûléed dried apple. This version is migraine-friendly. I love making this at work. It smells so cozy and always grabs people's attention. If I'm making this for entertaining, I'll often make the syrup right before people arrive so the aroma is still in the air as the cocktail is being sipped.
Orgeat, typically made of from almonds or other nuts, serves as a sweetener and thickener for most cocktails. I was really worried about this mocktail becoming too thin without a spirit, but the sunflower orgeat adds an almost sily texture to this cocktail.- KT
Keyword:
Apple Cider Mocktail, Mocktails
Ingredients
1/4

oz

sunflower orgeat

*recipe below

1/4

oz

apple cider reduction

*recipe below

2

oz

double strength rooibos tea

*see recipe for how to make double strength

1

cup

water

apple slices and fresh black pepper for garnish

Optional- 1 oz vodka or blanco tequila 
Sunflower Orgeat
1/2

cup

unsalted sunflower seeds

1

cup

sugar

1

cup

water
Apple Cider Reduction
40

oz

apple juice

*I prefer Martinelli's

3

cinnamon sticks

10

whole allspice

5

whole cloves
Instructions
For the apple cider reduction - Put all ingredients in saucepan. Bring to a gentle boil and reduce until 10 oz. of liquid remains. Turn off heat, stir in 4 oz. of sugar until dissolved and let cool. Strain out spices. 

Meanwhile, lightly toast the seeds in a small saucepan, shaking it occasionally. When you start to notice the aroma, they are probably good. Add the water and turn up the heat until it's at a gentle rolling boil. Stir in the sugar until it's dissolved. Turn off the heat and let cool.

Transfer this sunflower seed mixture into a blender. Pulse/blend until the seeds are mostly broken up. Strain the orgeat using a wire mesh colander or maybe several layers of cheese cloth. The resulting liquid is technically a suspension so it will separate if left to sit for a while. This is totally okay. Just give it a quick shake before you use it. You just want to get all of the pulp out so the texture is silky and not grainy. 

Brew the tea at double strength to account for any spirit that might be added. This means using twice the amount of recommended tea and steeping for the normal recommended time. Allow everything to cool to at least room temperature.

Measure ingredients into a rocks glass, stir for a few seconds, garnish with a thinly sliced wedge of apple and a little freshly cracked black pepper.
Recipe Notes
You get way more bang for your buck if you buy loose leaf from the bulk section. Don't let the price on the side of the jar scare you. It was a little less than $5 for me to make enough for 10 cocktails. I

 have also tried Republic of Tea's Decaf British Breakfast tea with great results for caffeine sensitive folks. The dryer the tea, the better the flavor. Here rooibos, which is naturally decaffeinated, is the best option for those on a migraine diet. 

A more tart apple slice for the garnish will provide a good balance of acid to sweet with this cocktail and also compliment the sharpness of the cracked black pepper.