This recipe has no tomatoes. I repeat - NO TOMATOES! I didn't think it was possible to have a Caprese salad without tomatoes. At one point I also didn't think it was possible to have a Caprese salad without balsamic vinegar, but let me tell you a little secret. The balsamic vinegar is not even part of a traditional Caprese salad. So while we're at it, we might as well just forget about the tomatoes too.
While tomatoes are not necessarily forbidden on the Heal Your Headache diet, many find that they can trigger a migraine and choose to eliminate them. This is because they can contain relatively high levels of free glutamate. If you're someone who has a heavy sensitivity to MSG and free glutamates, it's worth a further elimination of foods like mushrooms, tomatoes, and even peas. I used peas in this recipe, but they can easily be replaced with additional asparagus or green beans. Here I had set out to replace the tomatoes and ended up adding something that still had free glutamate. Such is life. By the way, it's pea pods that are not allowed on Heal Your Headache, but not the actual peas themselves. So while you must eliminate items where you eat the pod, like snow peas, shelled peas are relatively safe unless you have a free glutamate sensitivity.
What is "Good" Olive Oil?
One thing that is super important for the success or this salad is good ingredients. Use fresh asparagus, fresh peas or green beans, fresh mozzarella, and good olive oil. Let me explain about the "good olive oil". When you're not using other strong ingredients like vinegars and honey, the flavor of the olive oil can really stand out in your dish. If you're using a less expensive brand or it's gone rancid, this can greatly affect the flavor and make a great salad terrible. I typically keep two (who am I kidding, it's more like 5) olive oils around my kitchen.
The cheap Trader Joe's Greek Kalamata EVOO (this link is way overpriced, but I wanted to show you what it looks like) does the day to day heavy lifting. For dishes, like salads, where the EVOO is the star, I like to break out the good stuff. I usually pick up my good extra virgin olive oil while traveling, like this one below that I picked up in Spain. But it's possible to get really good olive oil here too. Frankies, a popular Italian restaurant in New York, has a good one you can get here on Amazon. Another good option that's more widely available is California Ranch.
Blanching is Key
In this recipe, we use a technique called "blanching". Blanching is basically throwing your fresh vegetables in a pot of boiling water for 2-3 minutes, then removing quickly and immediately dunking those vegetables in a bowl of ice water. The purpose is to preserve the color and texture of the vegetable, without it going soggy. After about a minute of boiling, you'll want to continuously check your vegetables, particularly if your asparagus are on the thin side. For this dish, you'd much rather have them undercooked than overcooked and soggy. I also like to use a large frying pan rather than a deep pot for this. The water boils a lot faster this way!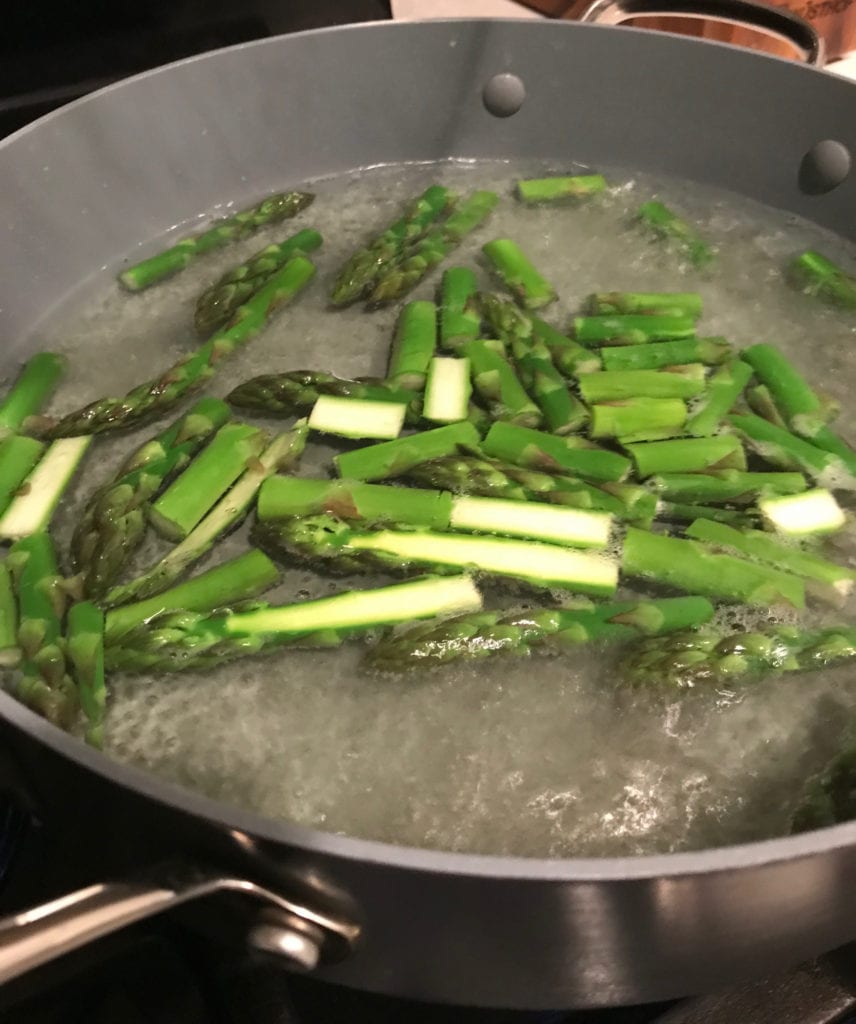 One final note, the key word here is "fresh". If you're bummed that you have to buy a ton of fresh herbs and think they'll all go to waste - fret not! A good way to store them is to take them out of their rubber bands, trim the ends, and place in a cup of water in the fridge. You'd be surprised how easy it is to use them during the week. I like to add them to my sparkling water for some flavor. Or take a cracker, spread some cream cheese on it, and top with mixed herbs for a snack.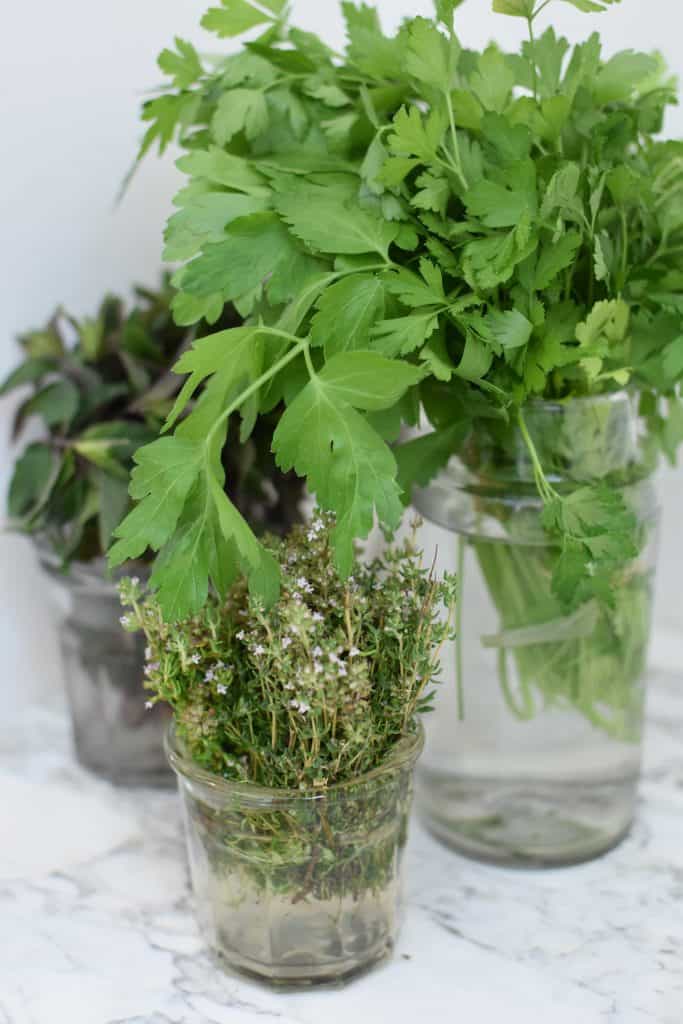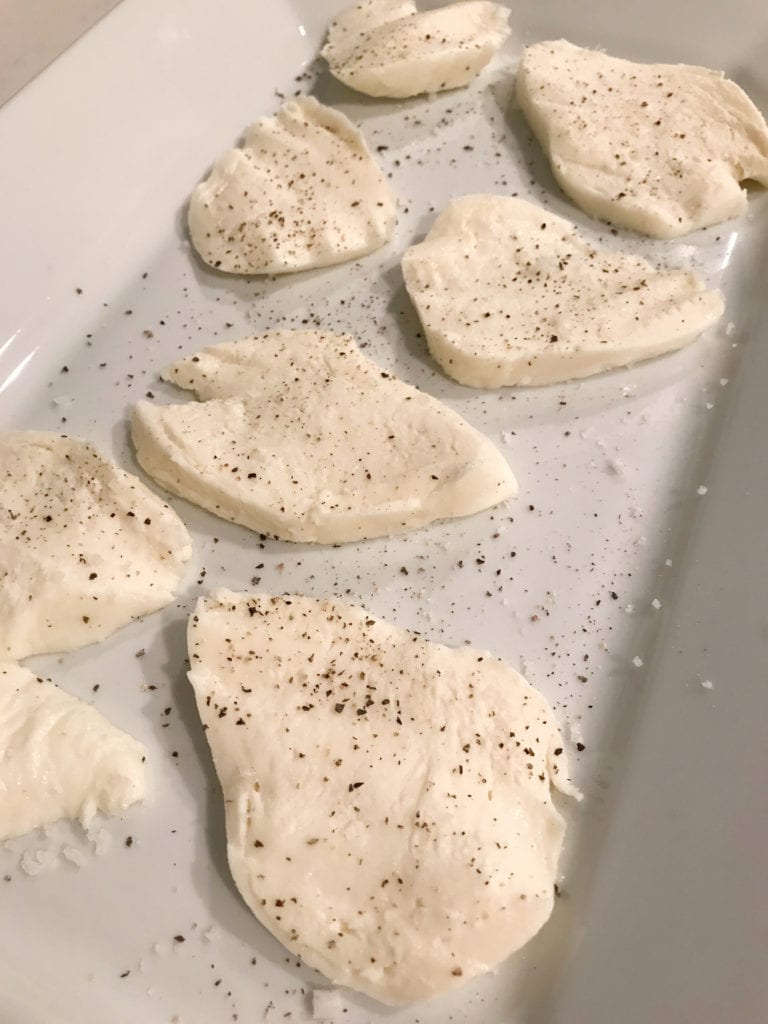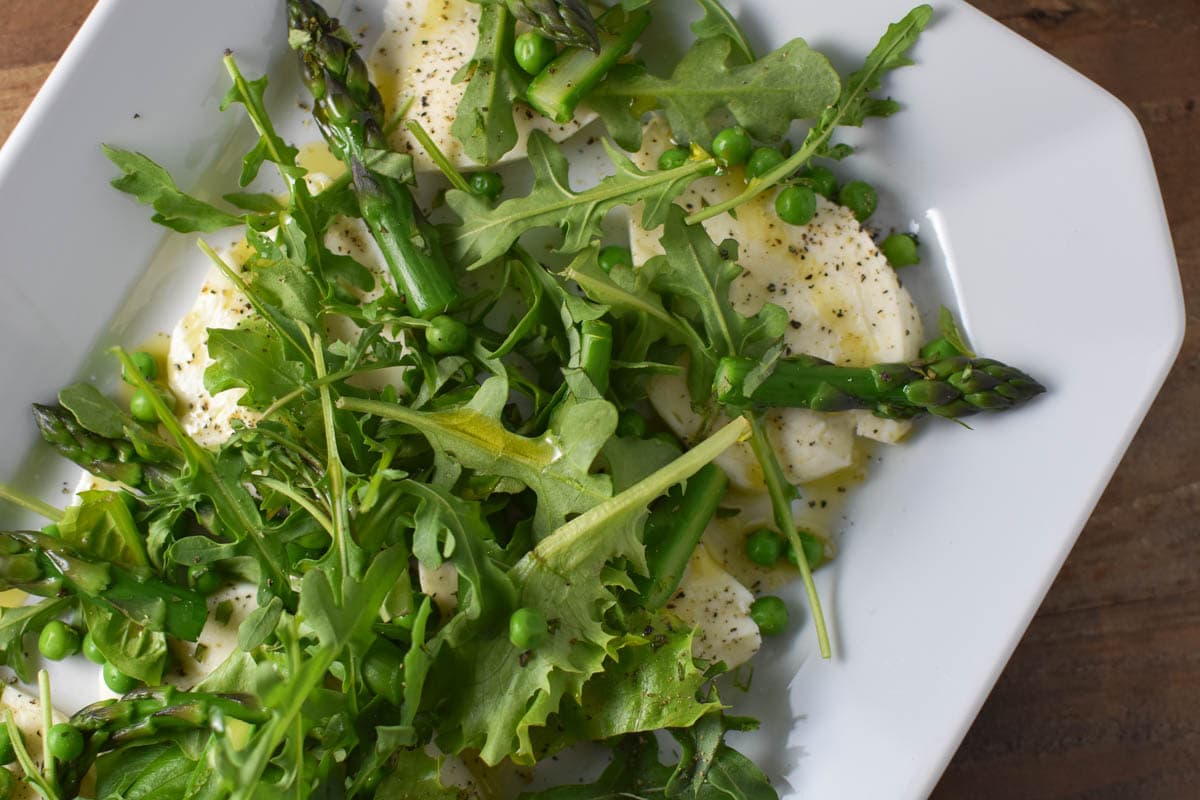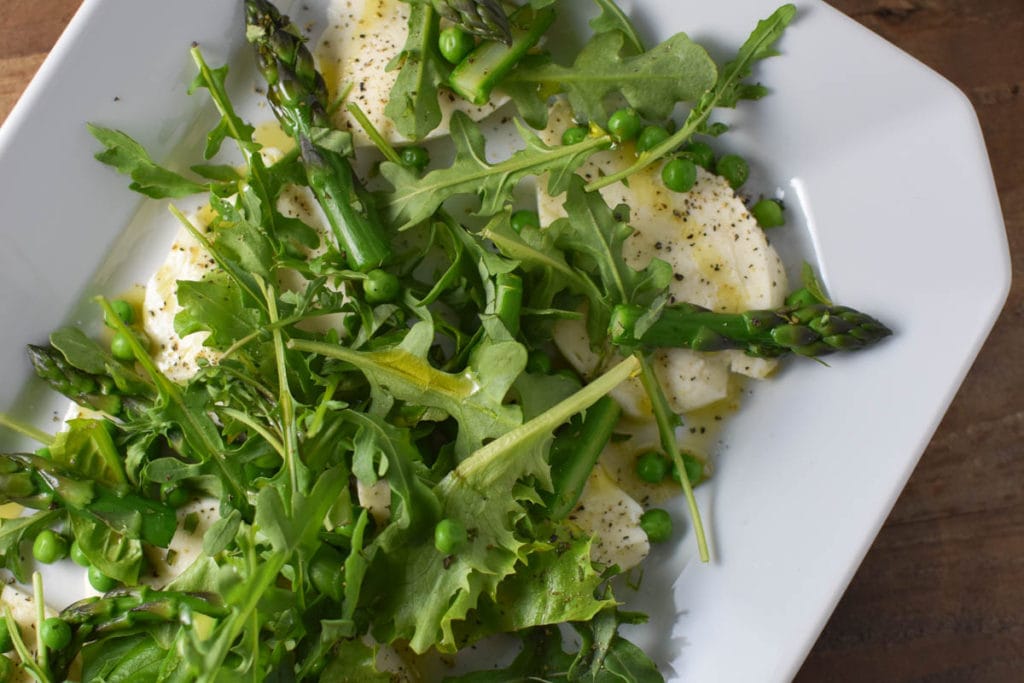 Spring Caprese Salad
This tomato-free version of Caprese Salad uses spring vegetables to replace the traditional tomatoes. With fresh mozzarella and good olive oil, it's light, bright, and delicious.
Print
Pin
Rate
Ingredients
1 ½

cups

fresh greens

I used a combination of arugula and baby romaine

½

cup

shelled English peas (can sub fresh green beans)

I used the shelled ones from Trader Joe's (not frozen)

1

cup

fresh green asparagus

1

tbsp

fresh basil

2

tsp

fresh oregano

1

tsp

fresh mint

8

oz

fresh mozarella

GOOD olive oil

fresh ground cracked pepper and fleur de sel or sea salt
Instructions
Fill a large pot or pan with water and place over high heat to boil. Also prepare a bowl full of ice for later. Meanwhile trim your asparagus. A good tip is to bend the asparagus while holding on to both tips until it breaks in half. Where is breaks in half is where you should trim and discard the ends. Then cut into 2-3 inch pieces. Place in a bowl of water to let the sediment settle to the bottom and rinse thoroughly. Remove the mozzarella and cut into ½ inch thick pieces arranged on a plate

Once the water comes to a boil, add the asparagus. Depending on the thickness, you'll want to boil for 2-3 minutes. You want them cooked, but still nice and crispy. Check after 1 minute to make sure you're on track. The worst thing that could happen to this salad is overcooking the greens! Once done, use a slotted spoon to remove the asparagus pieces and immediately drop into the ice water bowl to stop the cooking.

Keep the water boiling and add the peas or green beans. Again, cook these for 2-3 minutes then remove and put in the ice water. Drain the veggies and pat dry.

Top the mozzarella with fresh veggies, fresh herbs, and greens. Add a drizzle of olive oil, freshly cracked black pepper, and salt. You can serve immediately or if you plan to serve later, wait to add the olive oil, salt, and pepper. Cover and place in the fridge till ready.