This easy Dutch Oven Pot Roast (without wine!) recipe is made with garlic, shallots and carrots. The surprise ingredient? Juice instead of wine! It can be rare to find a pot roast recipe without beef broth or wine, but this recipe uses a migraine diet alternative for a cozy, winter meal that's also gluten free.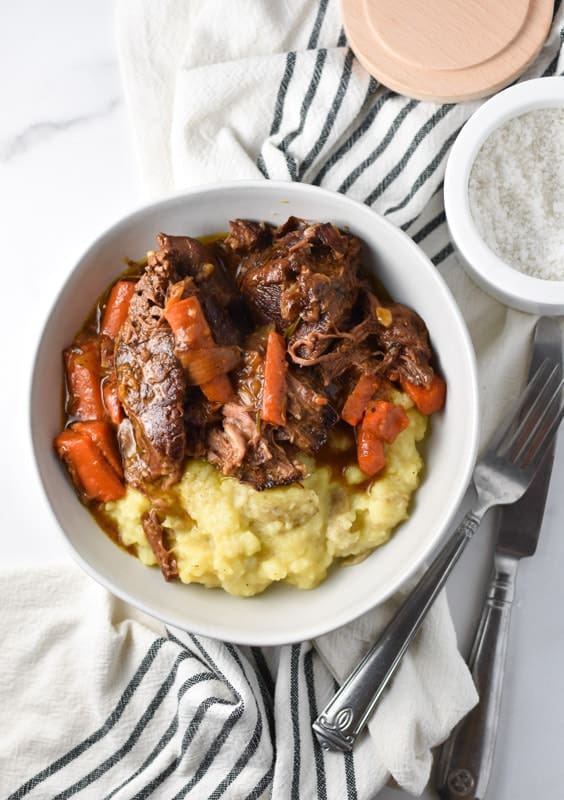 Whole30 Pot Roast
Most pot roast recipes are in fact gluten free, which is great for anyone who has a sensitivity to it. Although not required when following a migraine diet, some people with gluten sensitivities do find it helpful to eliminate. But one thing a lot of them do have is broth with MSG or red wine. So coming up with an alternative to this can be a challenge!
How to Make Pot Roast without Beef Broth or Wine
This is one big issue for those following a migraine diet. Most beef broths on the market do contain MSG in the form of yeast extract or "natural flavoring". The only one that I have found without it is Butcher's Bone Broth, which is found in the refrigerated meat section of some grocery stores. Still, it's very limited on locations it can be found.
For this recipe, I used Trader Joe's Hearty Vegetable Broth, but if you'd like to make your own beef or chicken stock, those would work as well. Trader Joe's does contain onion, but it's one of the only broths out there that you can buy without MSG.
What is a Dutch Oven?
If you're new to cooking, a dutch oven is one kitchen item you should invest in. I think a Le Creuset gets added to every wedding registry without people knowing exactly what it is. But basically it's a really sturdy large pot that's both oven and stovetop safe. Usually made from enameled cast iron or ceramic, it has a heavy lid that seals in moisture and can be cooked at really high heat. It's wonderful for pot roast, stews, baking bread and other hearty dishes.
I used a large 7qt Le Creuset for this dish, but Lodge and Amazon have some affordable versions if you're not looking for an investment piece.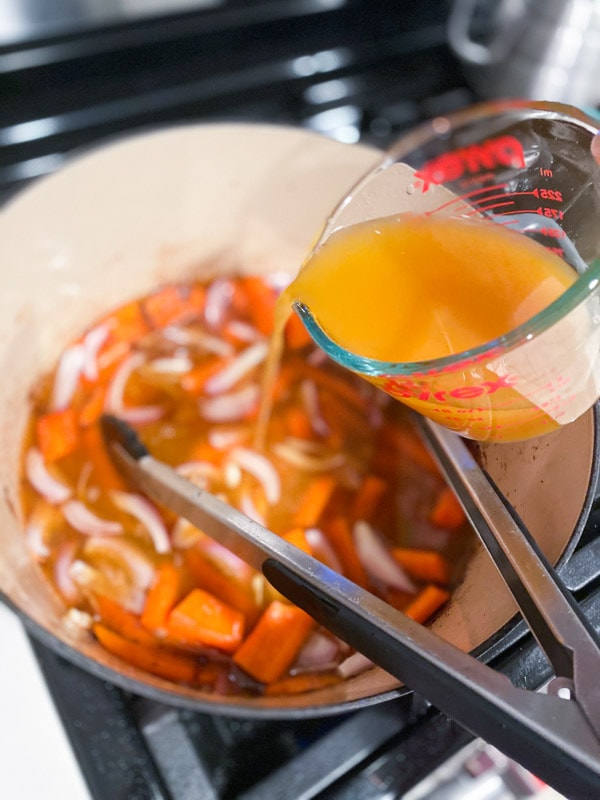 Wine as a Migraine Trigger
Many recipes for pot roast also use red wine, which can be a migraine trigger for many. A lot of times I will use Wine Wands for drinking, but for large amounts of cooking this is difficult to do. Some might say that the alcohol is burned off during the cooking process, but for people who have migraine attacks, they're most likely more sensitive to the biogenic amines and or sulfites. Because cooking with wine reduces the content, it concentrates the sulfites and amines in a smaller surface area. Therefore foods made with wine can actually trigger more attacks in those who are incredibly sensitive to these particular things.
For this pot roast recipe without beef broth, I substituted pear juice and distilled white vinegar. Pear juice can be found at most grocery stores, and RW Knudsen is a great brand. Although it seems like the recipe would turn out sweet, it's actually quite savory and flavorful. Another option would be apple juice, although I do find apple juice more sweet than pear.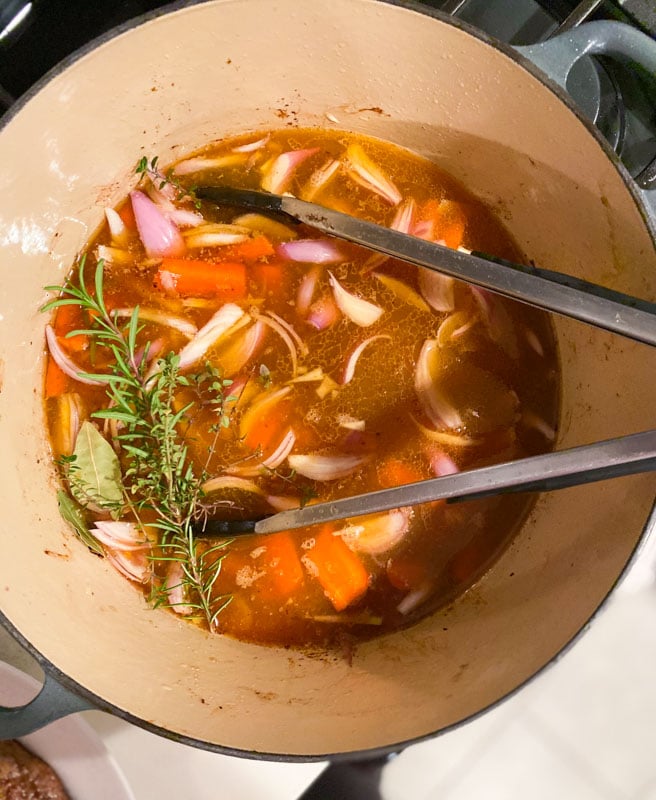 What to Serve with Pot Roast
I did not include potatoes in this recipe because I love to serve them mashed to soak up all the juices! If you'd like, you can just quarter them with the carrots for this recipe, or do a simple mashed potato on the side.
Another option is to use whipped cauliflower for a lower carb option. An easy salad like this Pear and Arugula with Maple Vinaigrette would be a lighter option for a heavier dish.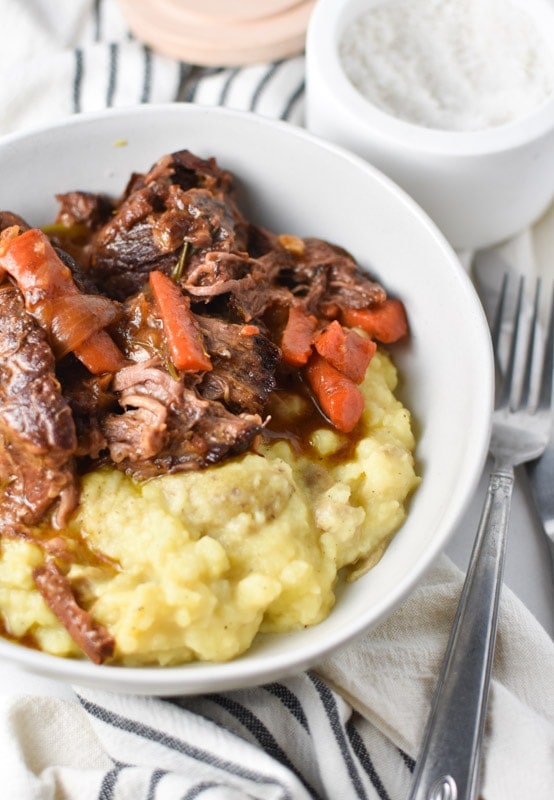 Cozy Recipes without Wine
For more cozy fall recipes without wine, check out these posts.
If you make this recipe, don't forget to tag me #thedizzycook or @thedizzycook on Facebook and Instagram. And please leave a review below!
Dutch Oven Pot Roast (Whole30 Option)
A healthy and hearty recipe made without wine, MSG, and gluten free - use ghee for Whole30. Not lacking in flavor, this delicious meal is easy to make. Cooking time will vary between 3-4 hours depending on how large your roast is. Serve with mashed potatoes, cauliflower, or whipped parsnips.
Print
Pin
Rate
Ingredients
2

tablespoons

olive oil

2

tablespoons

ghee or butter

1

3-4 pound

boneless beef chuck roast

*This can be 2 pieces that are 2-2 ½ pounds

12

oz (about 5)

large carrots, peeled and cut into 2-3 inch chunks

3

shallots, peeled and sliced

2

garlic cloves, minced

¾

cup

pear juice

¼

cup

distilled white vinegar

2

cups

broth or stock of choice

*

1

bay leaf

2-3

sprigs

fresh thyme and rosemary

kosher salt and pepper
Instructions
Take roast out of the fridge about 30 minutes before you start cooking. Preheat the oven to 325 degrees F. In a large, heavy dutch oven, melt butter and oil over medium high heat until hot, but not smoking. Season meat with salt and pepper on both sides. Add meat and sear on all sides, about 3 minutes each, until golden brown. Remove the meat and set aside, turning the heat down to medium.

Add shallots, carrots, and garlic, stirring till shallots get a little soft, about 2 minutes. Pour in the pear juice and vinegar and turn up the heat till it begins to simmer. Reduce, about 3-4 minutes. Add broth, herbs, 1 teaspoon kosher salt, and return the meat to the pot. You want the liquid to come up on your meat at least ½-3/4 of the way up. If it doesn't, add more broth. Cover with a tight-fitting lid and place in the oven to cook for 3-4 hours, or until the meat is falling apart and tender.

Remove the meat from the dutch oven and place on a cutting board. With two forks, shred the meat here and there so it's falling apart. Taste and adjust the seasoning in the sauce. Meanwhile, if you want a thicker sauce, you can reduce the leftover liquid in the dutch oven by simmering. Serve warm with mashed cauliflower or potatoes.
Notes
If you want a really thick sauce, use a little bit of cornstarch or flour sprinkled into the liquids before you bring to a simmer. You'll need to whisk it to get it smooth.
If you can't find pear juice, apple juice would also work.
To find an MSG-free broth, use Butcher's Bone Broth, Trader Joe's Hearty Vegetable Broth (if you can tolerate onion) or make your own.
For those with dairy sensitivities, use all oil or ghee instead of butter (if tolerated).
Nutrition
Calories:
638
kcal
|
Carbohydrates:
13
g
|
Protein:
72
g
|
Fat:
52
g
|
Saturated Fat:
3
g
|
Cholesterol:
10
mg
|
Sodium:
101
mg
|
Potassium:
331
mg
|
Fiber:
2
g
|
Sugar:
6
g
|
Vitamin A:
9589
IU
|
Vitamin C:
15
mg
|
Calcium:
32
mg
|
Iron:
1
mg