This easy Dutch Oven Pot Roast is so delicious it will be a family favorite for winter nights or Sunday dinners. It's tender, juicy, and melts in your mouth went you eat it. Paired perfectly with mashed cauliflower or potatoes, it's a really simple recipe that is easier than it looks.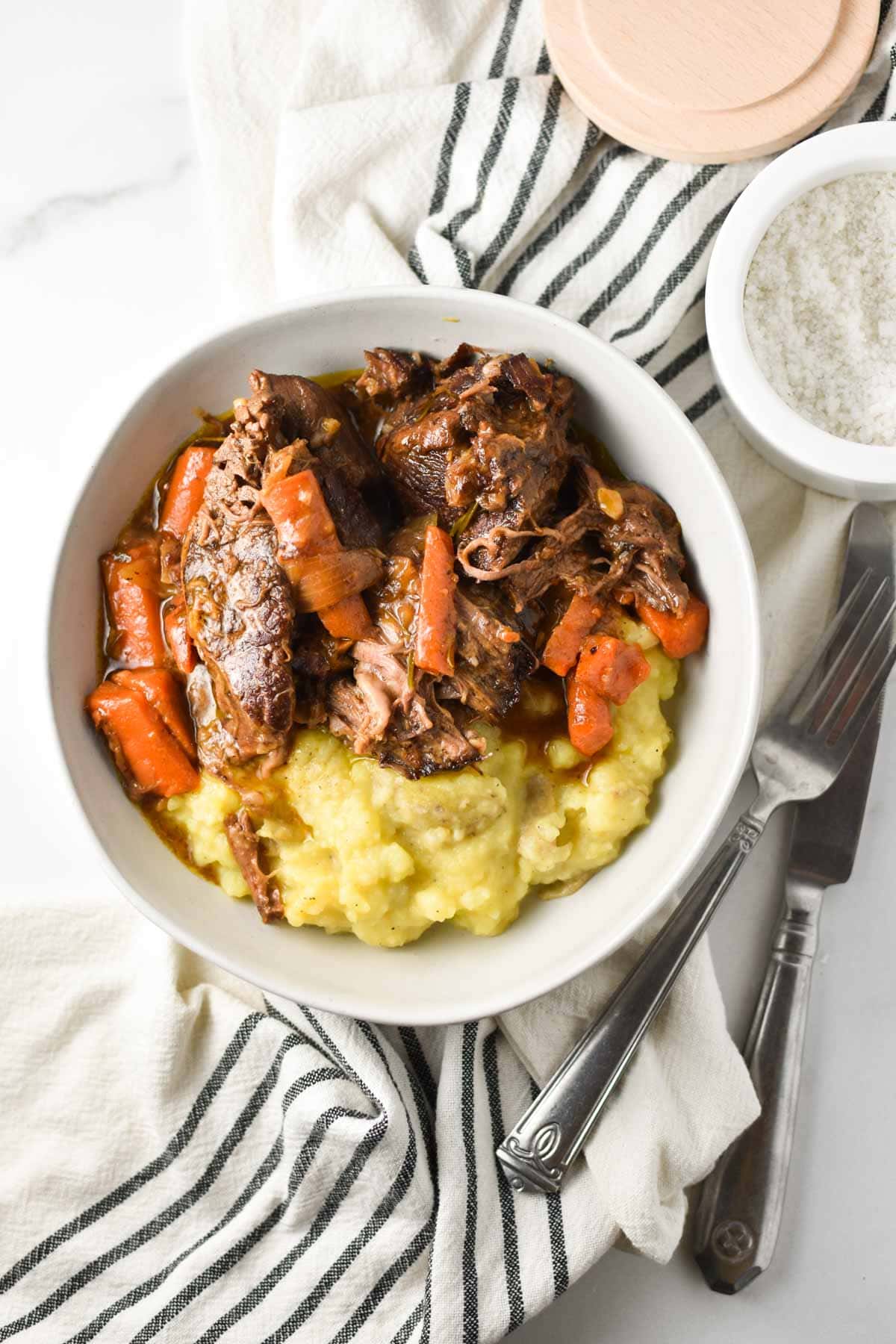 This oven baked chuck roast recipe has one surprise ingredient that's not very common - juice instead of wine! It can be rare to find a pot roast recipe without beef broth or wine, but this recipe won't make you miss either! Whole30, paleo-friendly, and gluten free, you'll be wondering why you haven't done it all along.
Jump to:
Why Make Pot Roast in a Dutch Oven?
A Dutch oven is a type of heavy pot that is covered with a tight fitting lid and oven-safe. The pot is made out of enameled cast iron and transfers and holds heat super well, creating a stable temperature without releasing moisture.
Pot roast is traditionally made from boneless beef chuck roast, a large piece of meat that has a lot of connective tissue. Generally this is a very inexpensive cut of meat, compared to a filet, and would not be recommended for grilling. But when roasted for a long time over low heat, the connective tissue melts down and makes the beef extremely tender and flavorful. It is the best cut of beef for dishes like pot roast and holds up well in the slow cooker too.
So why not just make this in a slow cooker? I'll give you instructions for it, but I find Dutch oven pot roast to cook faster, have the best texture, and also to be much better in flavor.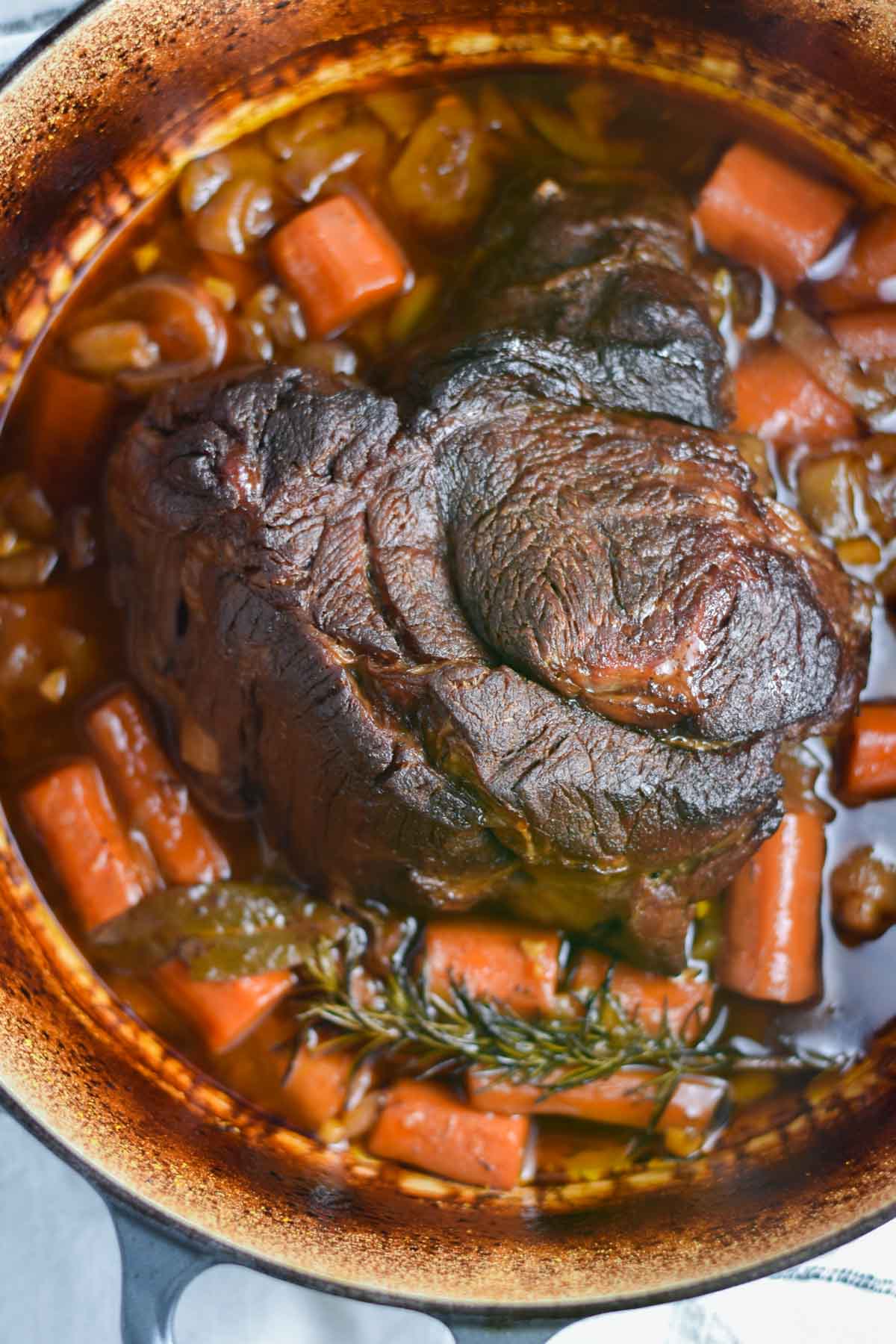 What Dutch Oven is Best?
For this recipe I used a Le Creuset my mom gave me as a gift when I moved into my first apartment, but Lodge and even Amazon have some good ones. You'll find that Dutch ovens can vary greatly in size and price.
I find Le Creuset to be well-worth the investment. It will last you forever, and I've even seen it passed down through at least one generation. They just get better with age. I've had this one almost 15 years and it doesn't even look that old.
If it is out of your price range, I recommend going with a Lodge Dutch oven, which is very good quality for a price you cannot beat.
For large batch soups, beef stew, short ribs, and pot roast, I recommend a size that's at least 7-8 quarts.
Ingredients
Most Dutch oven pot roast recipes contain wine or beef broth, and mine might look a little strange to you, but I promise it will be one of the best you've ever tried. This is the only recipe my mom has ever stopped eating and said "oh my gosh", to where I thought something was wrong, but she was just overcome with how good it tasted!
Boneless beef chuck roast - Look for one that is at least 3 ½ to 4 pounds. They are pretty easy to find in this size.
Shallots - Provide a greater depth of flavor than onions and elevate the dish.
Pear juice - Sounds super weird, but it just works. And it's not sweet at all! I think the sweetness balances out with the savory meat and it is just perfection. I have used apple juice before if I can't find pear, but I prefer pear.
Distilled white vinegar - Again, it sounds strange, but this provides some acidity you miss by making this pot roast without alcohol.
Broth - Doesn't need to be beef broth, although I do like Butcher's if you can find that brand. I used Trader Joe's Hearty Vegetable for this recipe.
Herbs - I used a combination of dried and fresh from what I had on hand. Either will work!
Carrots - Whole carrots were used here, but baby carrots will also work.
Garlic
Olive oil
You could also add yukon gold potatoes, however, I prefer to leave them out of this. That way you can serve this on top of mashed potatoes, or make it more low carb with mashed cauliflower.
How to Make an Oven Baked Chuck Roast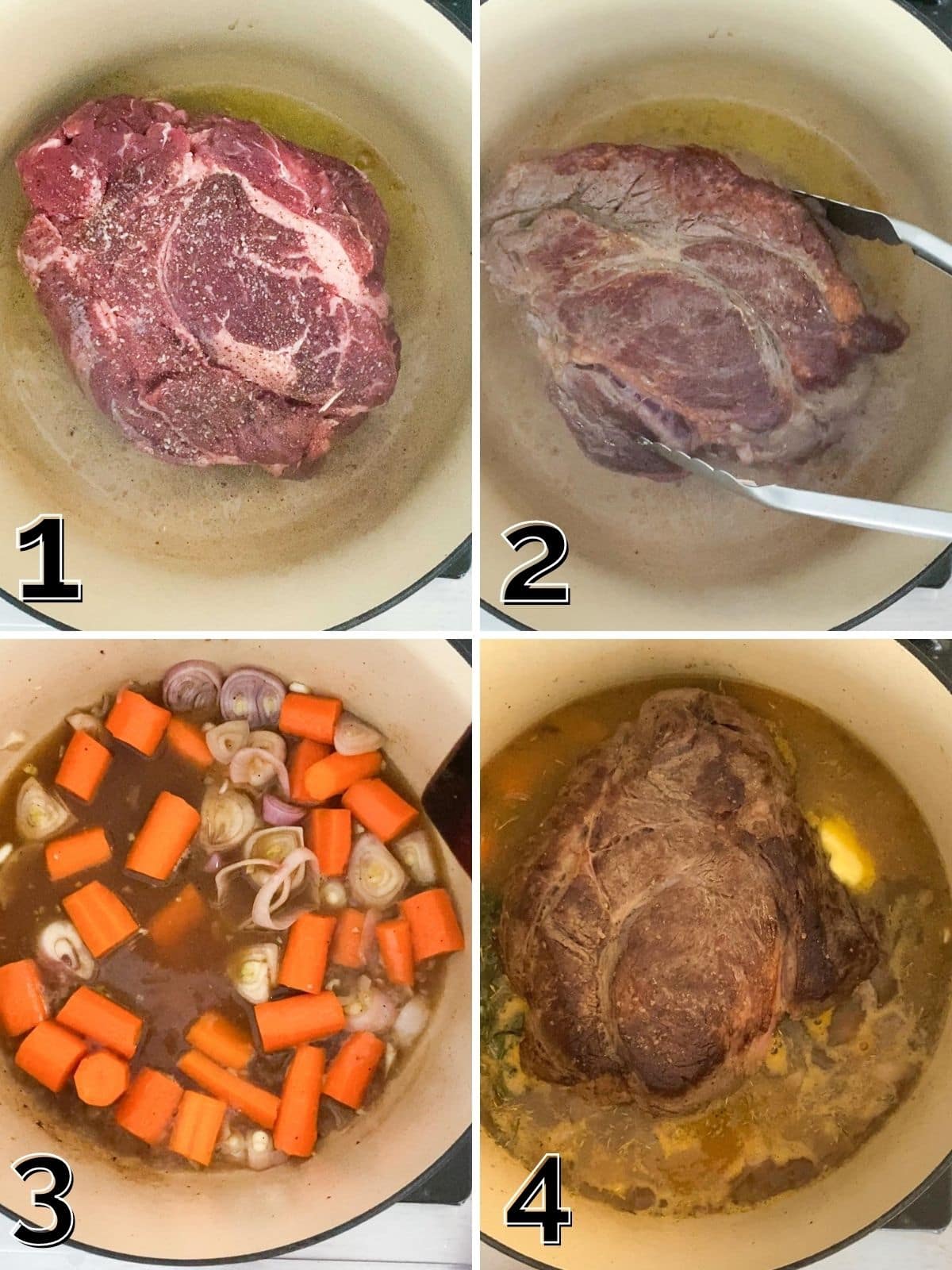 Step 1: Sear the chuck roast
Warm olive oil in the Dutch oven over medium high heat. Generously season beef chuck roast with kosher salt and pepper on both sides and sear for 3-4 minutes or until the beef is nicely caramelized on the outside. Flip and sear the other side till equally as deep brown. Remove from pot and set aside on a plate. Don't wipe out the excess drippings.
Step 2: Add the vegetables
With the drippings in the pan, add garlic, shallots, and carrots over medium heat, stirring with a wood spoon till they become fragrant and garlic begins to soften. Make sure it does not brown or burn by stirring often and watching the heat level. Cook for about 1-2 minutes.
A note on carrots - I like to add my carrots along with the meat to roast the whole time. They do turn out very soft, but still hold their shape. I find this to be perfect if I want to feed my son some of this pot roast! He adores it. If you prefer a firmer carrot, you could add the carrots about 2 hours into the cooking process.
Step 3: Deglaze the pot with juice
Deglaze means to add liquid to a hot pot, scraping up any brown bits on the bottom, with the wood spoon, as they release with the liquid. It will sizzle and bubble when added! Add the juice and vinegar together at the same time, and bring to a boil. Boil for 2-3 minutes until slightly reduced.
Step 4: Add herbs, broth, and meat
Add herbs and broth to the mixture, stirring and bringing to a boil again. Place the chuck roast back into the Dutch oven, between all the vegetables, so it doesn't just sit on top of them. The liquid should cover the meat at least half way up the sides. Return the lid to the Dutch oven.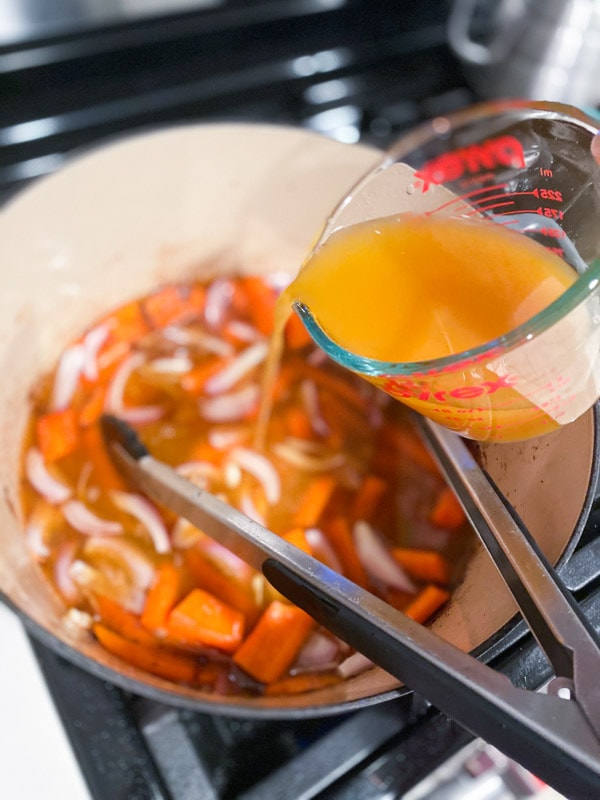 Step 5: Roast for 3-4 hours
Place the Dutch oven in the center rack of the oven and roast at 325 degrees F for 3-4 hours. Don't try to rush it, it needs time for the connective tissues to break down so the meat becomes very tender.
Tips for the Best Dutch Oven Pot Roast
Use the right cut of beef. It must be boneless beef chuck roast.
Choose a quality dutch oven like Le Creuset or Lodge.
Don't rush it. It really does take 3-4 hours to make this melt in your mouth tender. I usually go towards 4 if I'm using a 4 pound chuck roast, and closer to 3 for 3 pounds.
A good pot roast does not need wine or even beef broth. I love that this recipe is a little odd, but fits a bunch of different dietary restrictions. It really does make the best paleo and Whole30 pot roast!
Side Dish Suggestions
As I said previously, I like to leave the potatoes out of this recipe to pair it with some of my other favorite side dishes for pot roast.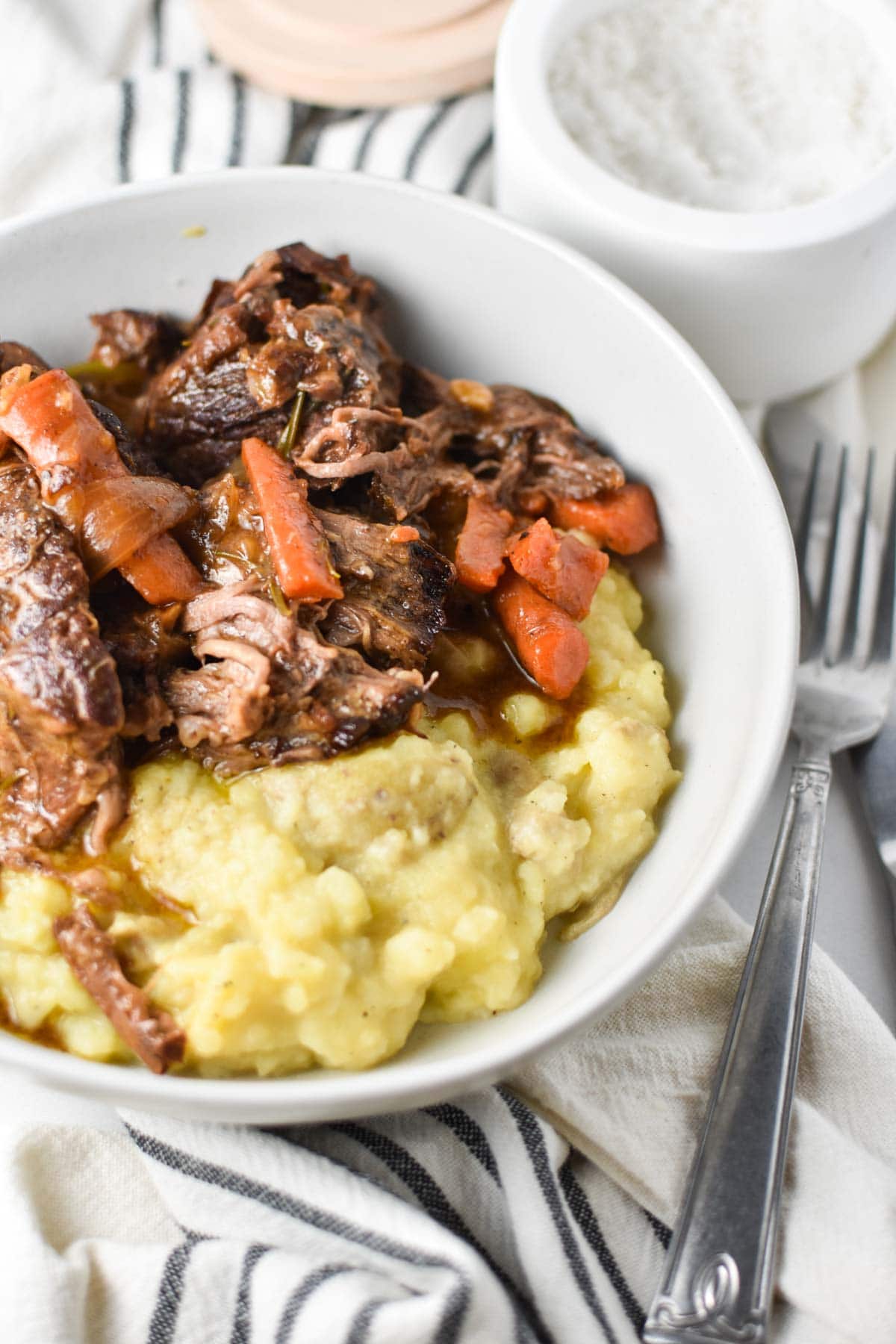 Storage and Freezer Instructions
Once the pot roast has cooled, transfer the meat and vegetables to an air-tight container and keep in the fridge for up to 3 days. There may be a layer of fat that comes to the surface as the mixture cools. Just scrape it off with a spoon and throw it away.
Pot roast freezes extremely well. I recommend putting it in a ziplock freezer bag so it can be frozen flat and not take up much space. To defrost, let it sit overnight in the fridge or place in the sink with warm water for about 30 minutes.
I usually never recommend the microwave for recipes, but this is one that will hold up to reheating, especially if well-cooked. Cover with a damp paper towel and microwave in 30 second increments, stirring in between sessions to reheat evenly.
Frequently Asked Questions
Is pot roast better in the crock pot or dutch oven?
When it comes to better heat transfer, and being able to just use one pot - the dutch oven is the clear winner. You can get that perfect sear before transferring to the oven, all in one dish. With the crock pot you have to sear it before, getting another dish dirty. It also doesn't distribute heat as evenly. However, this recipe will definitely work in the slow cooker. Just sear it first, the same way the recipe states, then transfer to the crock pot and cover, cooking on low heat for at least 8 hours. I don't recommend cooking on high.
Should I cover my pot roast in the oven?
Yes! Definitely use the tight fitting lid that comes with your dutch oven. In a pinch, if you don't have a dutch oven, you can use foil and a larger, oven safe lid. Try to create a seal as best as you can. It just may be a little more dry.
My pot roast isn't falling apart. What do I do?
If your pot roast isn't fall apart tender, check the timing. Have you been cooking it only 3 hours? It may need longer depending on the size. The larger the pot roast you use, the longer it will take to reach that tenderness level.
How do I keep my pot roast from drying out?
A tight fitting lid, accurate cooking times, and using the proper amount of liquid can all contribute to a pot roast that stays flavorful and juicy. I've made this recipe with REALLY large chuck roasts (a little over 4 pounds has been my max) and I will cook them about 4-4.25 hours. They never have run out of liquid and have the perfect amount to shred the beef in.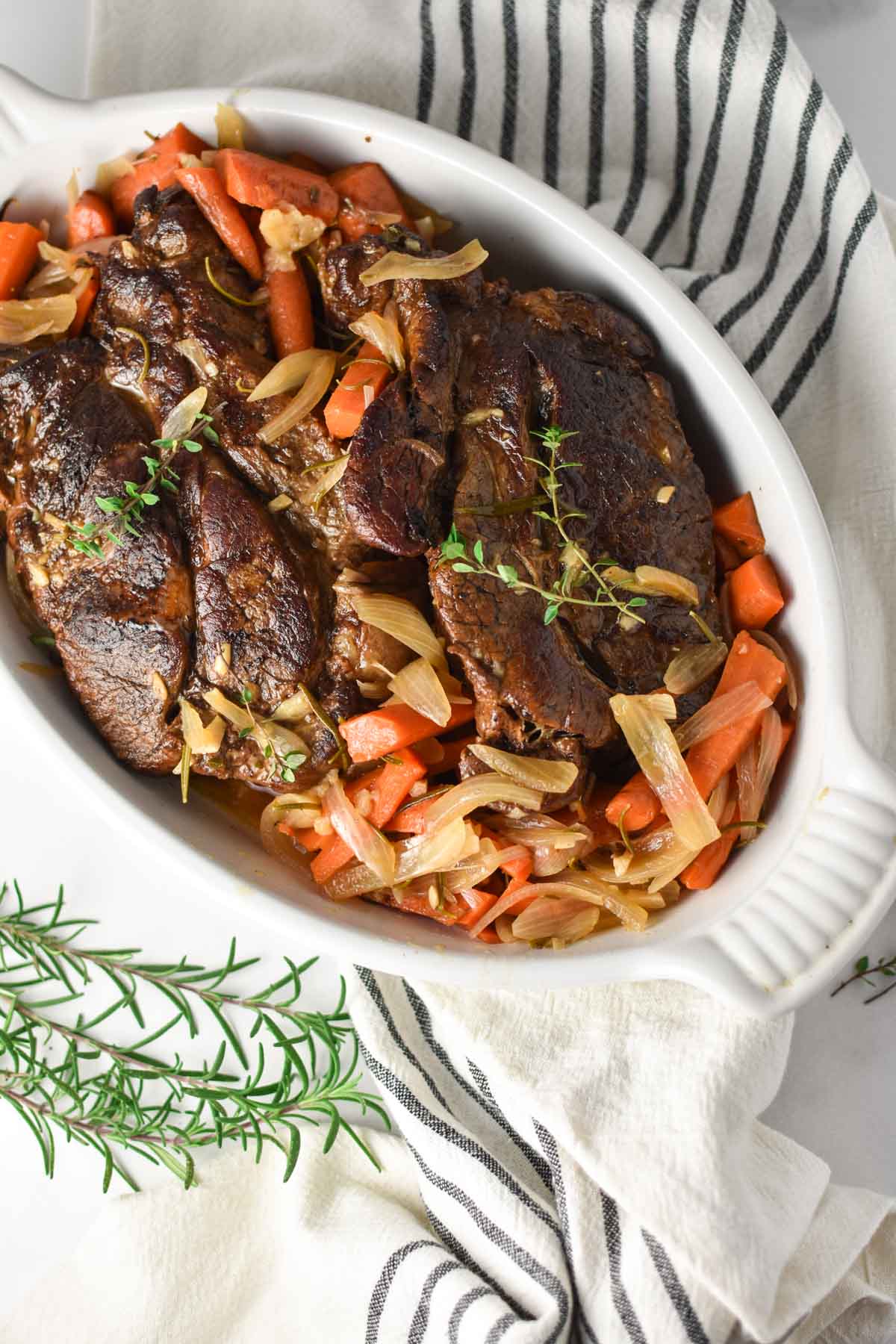 Dutch Oven Recipes
For more cozy recipes like this pot roast where you can use a Dutch oven, check out these posts. And for classic wine-free recipes, don't miss the beef stew or chicken marsala without wine.
If you make this, tag me #thedizzycook or @thedizzycook on Facebook and Instagram. And if you love the recipe, please leave a review below! Follow along on my Pinterest for more great recipes.
Dutch Oven Pot Roast
A unique recipe, but don't let it deter you - it is delicious! Cooking time will vary between 3-4 hours depending on how large your roast is. Serve with mashed potatoes, cauliflower, or whipped parsnips.
Print
Pin
Rate
Ingredients
2

tablespoons

olive oil

1

3-4 pound

boneless beef chuck roast

*This can be 2 pieces that are 2-2 ½ pounds

3

shallots, peeled and sliced

12

oz (about 5)

large carrots, peeled and cut into 2-3 inch chunks

2

garlic cloves, minced

¾

cup

pear juice

¼

cup

distilled white vinegar

2

cups

broth or stock of choice

*

1

bay leaf

2-3

sprigs

fresh thyme and rosemary

kosher salt and pepper
Instructions
Take roast out of the fridge about 30 minutes before you start cooking. Preheat the oven to 325 degrees F. In a large, heavy dutch oven, heat oil over medium high heat until hot, but not smoking. Season meat generously with kosher salt and pepper on both sides. Add meat to the dutch oven and sear on both sides, about 3 -4 minutes each, until caramelized brown. Remove the meat and set aside on a plate, turning the heat down to medium. Leave the drippings in the pan.

Add shallots, carrots, and garlic, stirring till shallots get a little soft, about 2 minutes. Pour in the pear juice and vinegar and turn up the heat till it begins to simmer. Reduce, about 3-4 minutes. Add broth and herbs, then taste test the broth to see if you want to add more salt and pepper. Return the meat to the pot. You want the liquid to come up on your meat at least ½-3/4 of the way up. If it doesn't, add more broth.

Cover the pot with a tight-fitting lid and place in the oven to cook at 325 degrees F for 3-4 hours, or until the meat is falling apart and tender. For a 3 pound roast, check after 3 hours and for a 4 pound, aim for the full 4 hours.

Remove the meat from the dutch oven and place on a cutting board. With two forks, shred the meat here and there so it's falling apart. Taste and adjust the seasoning in the sauce. Meanwhile, if you want a thicker sauce, you can reduce the leftover liquid in the dutch oven by simmering. Serve warm with mashed cauliflower or potatoes.
Notes
If you want a really thick sauce, use a little bit of cornstarch or flour sprinkled into the liquids before you bring to a simmer. You'll need to whisk it to get it smooth.
If you can't find pear juice, apple juice would also work.
For a store-bought broth I like Butcher's Bone Broth, Trader Joe's Hearty Vegetable Broth (if you can tolerate onion) or make your own.
Nutrition
Calories:
511
kcal
|
Carbohydrates:
13
g
|
Protein:
46
g
|
Fat:
31
g
|
Saturated Fat:
12
g
|
Polyunsaturated Fat:
3
g
|
Monounsaturated Fat:
17
g
|
Trans Fat:
2
g
|
Cholesterol:
156
mg
|
Sodium:
220
mg
|
Potassium:
1088
mg
|
Fiber:
2
g
|
Sugar:
6
g
|
Vitamin A:
9503
IU
|
Vitamin C:
15
mg
|
Calcium:
71
mg
|
Iron:
5
mg
This post was originally published November 2, 2020 and has been updated to include new recipe tips and photos of ingredients.