This Mango Lassi without yogurt is a wonderful high-protein smoothie bowl, snack, or dessert for a hot summer day. Tangy and refreshing, it has the perfect amount of sweetness without sugar added and is also a great low histamine smoothie!
Mango lassi is actually one of the first "smoothies" ever invented, originating what is thought to be around 1000BC. Traditionally made with yogurt, it was known for many health benefits and a high protein drink. But yogurt is a high histamine fermented product that can be tough for those on a migraine diet or a low histamine diet.
This mango lassi without yogurt also has a boost of protein from its secret ingredient - cottage cheese.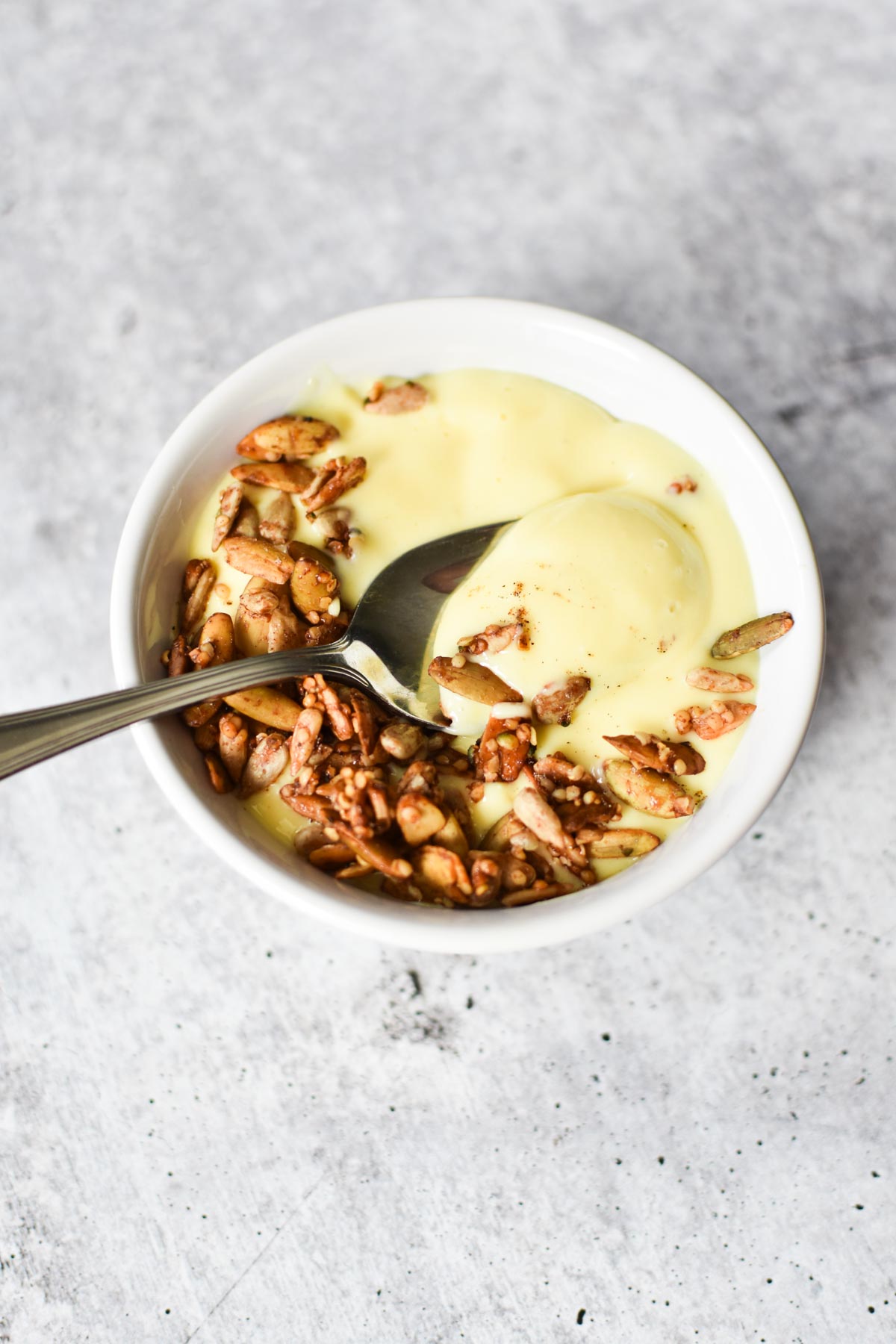 Jump to:
Low Histamine Smoothie
My favorite low histamine yogurt substitute is cottage cheese. When blended, it's smooth and creamy with a similar tangy flavor. Not only that but cottage cheese actually contains a higher amount of protein than yogurt.
Yogurt and any food containing "live active cultures" is considered a migraine trigger on many low histamine migraine diets, including Heal Your Headache. One of the things you'll have to learn when reading labels is how to distinguish between a "cultured" product and one with "live active cultures".
The word culture is confusing, but a lot of cheeses are actually made from cultured milk. Cheese cultures raise the acidity of milk helping the rennet in it coagulate. Sometimes vinegar can be used to do this as well, which is why ricotta and fresh mozzarella are also considered migraine-friendly fresh cheeses.
Cottage Cheese Substitute for Yogurt
Cottage cheese is made by heating whole milk until it coagulates into a solid curd. From there, the excess liquid, which is called "whey", is removed and what remains is cheese curds. Some cottage cheese brands will add live active cultures for probiotic benefits, so if you're on a migraine diet avoid those products in the elimination phase. Daisy is a widely found brand that doesn't do this.
Making whipped cottage cheese takes away the textural awkwardness and transforms it into what I feel like is a less tangy, but more rich version of a greek yogurt. Trust me, I normally hate cottage cheese, but love it when it's blended.
Cottage cheese is also loaded with protein with 25 grams in one cup. So this is great alternative to greek or regular yogurt, which makes it the perfect sub for a mango lassi without yogurt!
Equipment Needed
For the perfect creamy smoothie, a good quality blender is ideal and can make a great investment. I have had my Vitamix for nearly 10 years and it still works great. Other honorable mentions are Ninja and Nutribullet. Nurtibullet is ideal if you plan to only make dishes for one person.
If you are finding smoothie recipes to be chunky or not work quite right, it's definitely because of a bad blender. Not having a quality blender can make it very difficult to get your smoothie perfectly frothy, leaving chunks of frozen fruit or ice behind.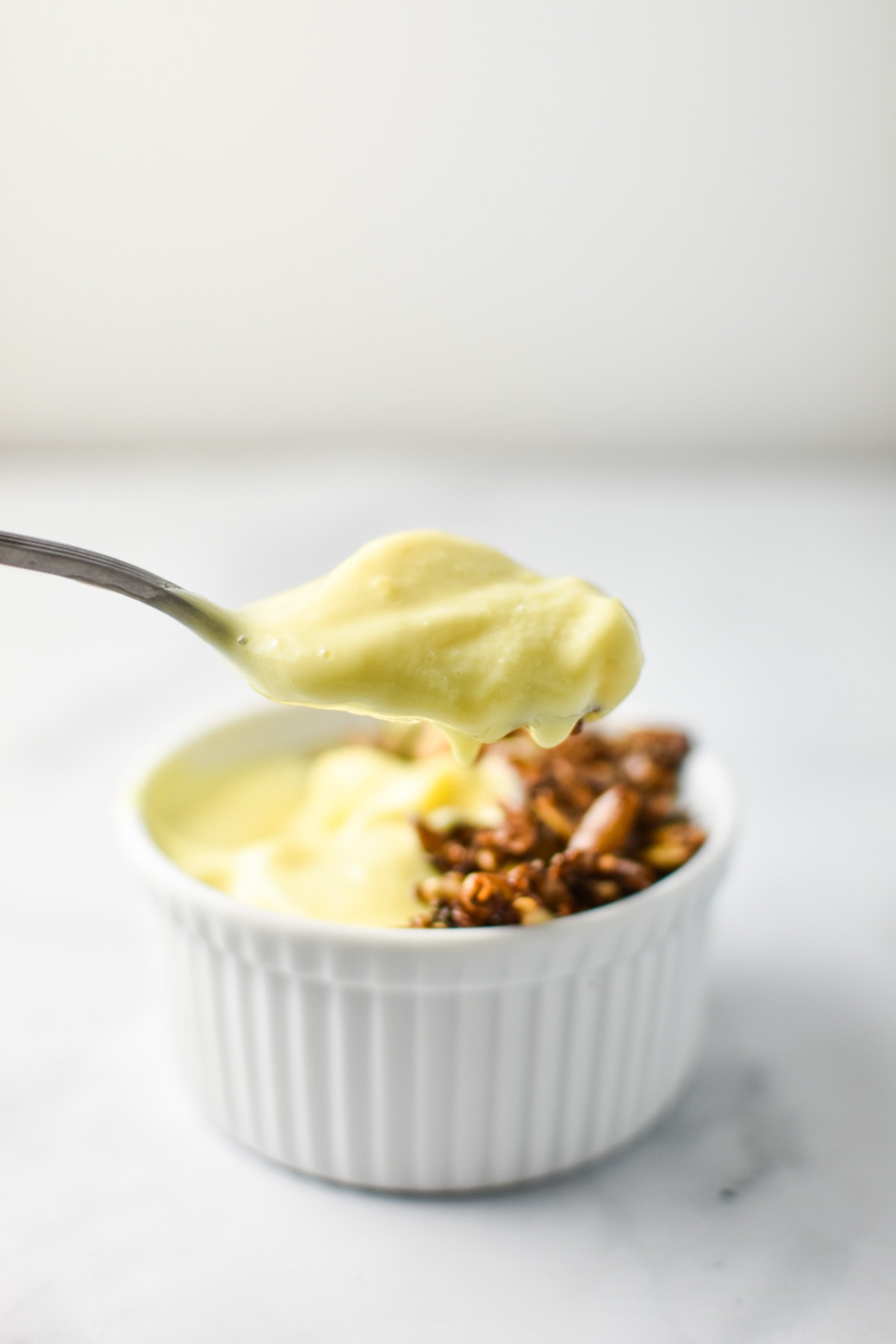 Recipe
Substitutions
The great thing about this recipe is it uses frozen mango, which is in season any time of the year!! However, you could definitely substitute this out with other types of fruit.
This doesn't just have to be a mango lassi without yogurt, but it can be any fruit smoothie without yogurt.
Mango - I recommend substituting with peaches for the closest taste and texture, or go with strawberries, cherries, or blueberries.
Cottage cheese - For low sodium, try a low sodium brand like Friendship Dairies. For those that can tolerate yogurt, a coconut milk yogurt would work well here too.
Recipe FAQ
If you make this, tag me #thedizzycook or @thedizzycook on Facebook and Instagram. And if you love the recipe, please leave a review below! Follow along on my Pinterest for more great recipes.