This blackberry smoothie combines, cherries, greens, and seeds to give you a sweet and satisfying breakfast!
How to Make a Healthy Smoothie
I've figured out that smoothies really are the best way to get in lots of good nutrients when you're not feeling well. Lately I've been dealing with some fairly debilitating nausea and exhaustion that just doesn't seem to quit. Making a quick breakfast like this blackberry smoothie is easy enough for me to do, and doesn't bother my stomach too much.
A lot of times the issue with having smoothies a lot with migraine is it can send your blood sugar on a fairly high spike, especially if using fruits with high amounts of sugar. This is eventually followed by a drop that can sometimes trigger a migraine attack for people. Luckily there are some dietician-approved ways to navigate smoothies while still reaping the health benefits. Some of these include:
Using berries, which tend to have lower sugar content than like pineapple, which isn't allowed on this particular elimination diet anyway.
Limit the fruit you do add, about a cup is a good amount to follow.
Adding plant-based or regular milk instead of fruit juices
Fitting in some greens, whether it's spinach or kale. You do have to use a lighter hand though when using fruits without a bunch of sugar to mask the flavor. Otherwise it can taste too green.
Using seeds to add a little bit of protein and healthy fats.
Want things creamy? Try adding cottage cheese, which will boost your protein content as well.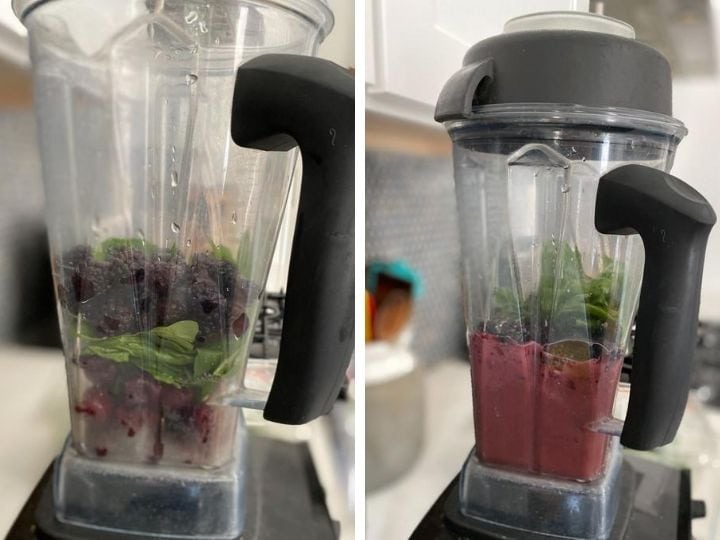 Benefits of Blackberries
Sometimes blackberries can be risky – they can get pretty tart! But lately every single packaged I've opened this time of year is perfectly sweet and ideal for smoothie making. I think it's best to buy them fresh and then freeze them, if you can. This way you're able to taste and see how good they are.
To make this blackberry smoothie, simply wash them, thoroughly dry them, and then you can lay them out a sheet pan to freeze. This way they don't stick together. Once frozen, you can transfer them to a freezer bag and they should stay separated.
Smoothies Without Banana
Bananas are off limits when it comes to migraine elimination diets, so I love to use sweeteners like lucuma powder or dried mulberries and frozen cauliflower when it needs to be thickened. For more smoothie recipes without banana, see the below:
Blackberry Smoothie
This blackberry smoothie combines, cherries, greens, and seeds to give you a sweet and satisfying breakfast!
Keyword:
Blackberry Smoothie
Ingredients
1

tablespoon

chia seeds

1/2

cup

fresh spinach, loosely packed

3/4

cup

frozen blackberries

1/3

cup

frozen cherries

3/4

cup

milk of choice (I used Oatly)

Ice, as needed to thicken (I used about 1/4 cup)
Instructions
Combine chia seeds and spinach with the frozen blackberries and cherries, and pour the milk on top. Blend on high till smooth, then add in ice to thicken as needed.
Recipe Notes
If your blackberries are really tart or you think you need some extra sweetener try 1 teaspoon lucuma powder, honey, or maple syrup.
Dried mulberries would go great here as well, if you have them on hand.
Nutrition Facts
Blackberry Smoothie
Amount Per Serving
Calories 233
Calories from Fat 54
% Daily Value*
Fat 6g9%
Sodium 100mg4%
Potassium 498mg14%
Carbohydrates 25g8%
Protein 7g14%
Vitamin A 2007IU40%
Vitamin C 30mg36%
Calcium 381mg38%
Iron 3mg17%
* Percent Daily Values are based on a 2000 calorie diet.