This blackberry smoothie without yogurt combines, cherries, greens, and chia seeds to give you a sweet and satisfying breakfast that is optimal for brain health!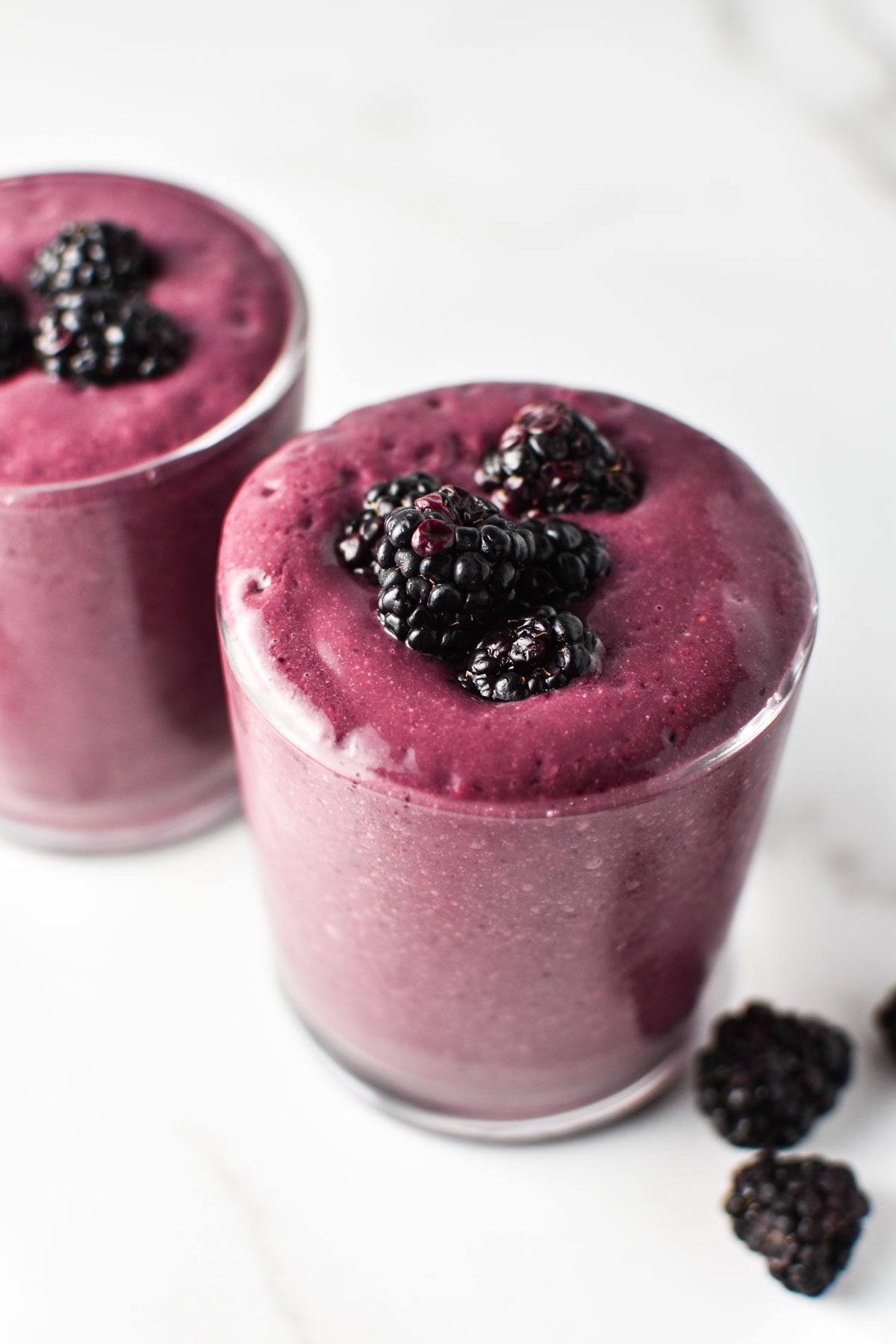 Smoothies are my go to when I don't feel well. Lately I've been dealing with some fairly debilitating nausea and exhaustion that just doesn't seem to quit. Making a quick breakfast like this yogurt free blackberry smoothie is easy enough for me to do, and doesn't bother my stomach too much.
Why Make a Blackberry Smoothie without Yogurt?
Far too many recipes for smoothies these days contain yogurt, and for someone like myself who finds yogurt to be a migraine trigger, it can be a difficult world to navigate. No worries! I have the best collection of smoothies that have no need to use yogurt!
A lot of people cannot tolerate yogurt for a variety of reasons, but from a migraine or MCAS and histamine sensitivity standpoint, it is due to the fermentation and addition of "live active cultures". Usually these are endorsed as being an easy way to improve gut health, but they're not the only way to improve gut health.
Also smoothies don't necessarily need yogurt for flavor! A lot of times yogurt is used for protein, but there are several non-fermented protein options.
Jump to:
Blackberry Health Benefits
Blackberries can support brain health and prevent memory loss, due to antioxidants. They're also high in fiber - one cup containing about 8 grams. This can help promote gut health and manage blood sugar levels.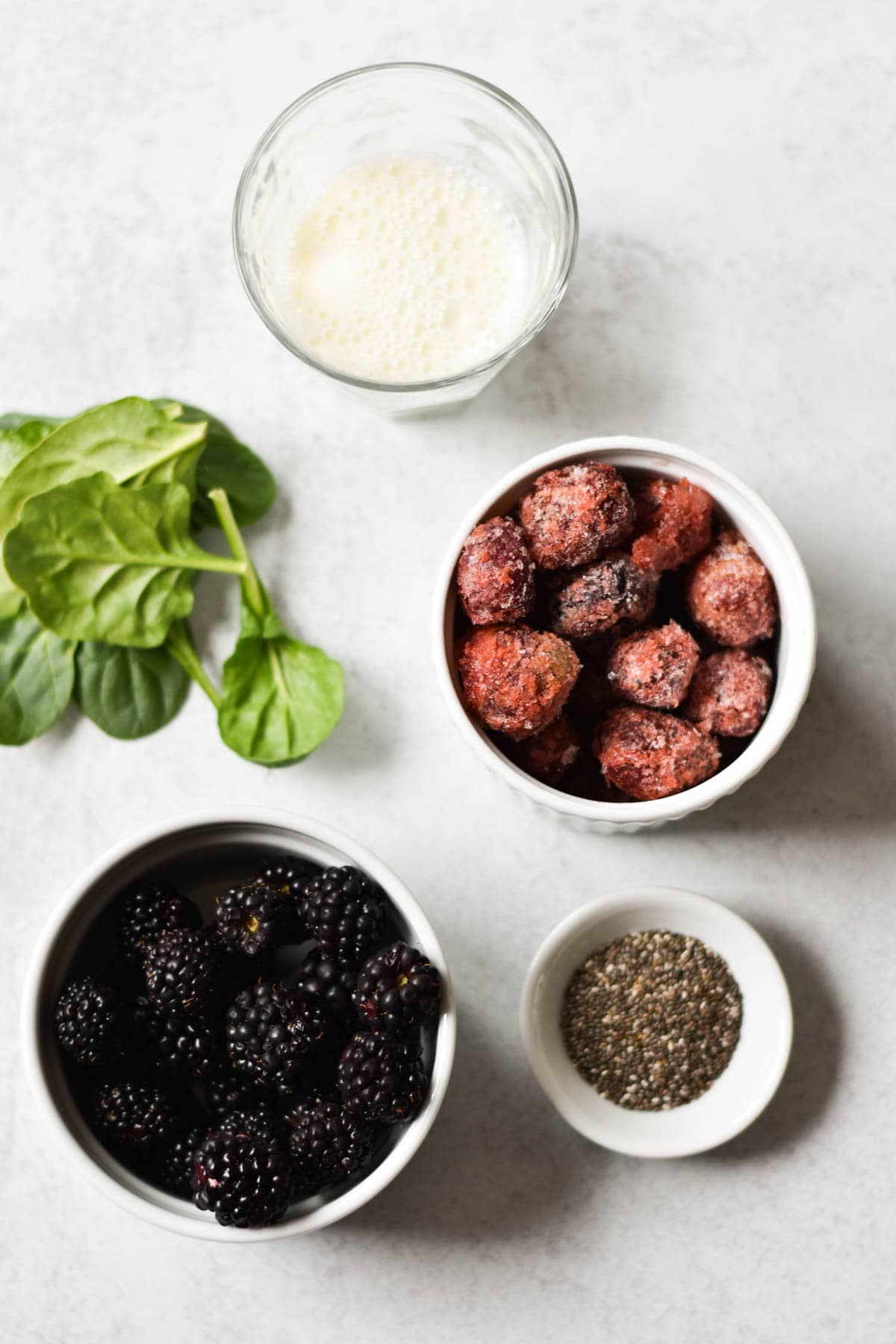 Ingredients
Just a few ingredients are needed for this smoothie!
Blackberries - Fresh or frozen will work for this recipe. See my tips for freezing blackberries below! The best season for these is July.
Cherries - These are super easy to get frozen so I would just go with those. Cherries are high in magnesium, so this is a great smoothie for a high pain or anxiety day.
Spinach - Added for a few extra greens, but this can also be substituted with kale.
Chia - Great for extra omega-3 fatty acids and brain health, as well as added fiber and protein.
Milk - I like to use oat milk because it adds natural sweetness, but use any milk you like!
If your berries are very tart, a good sweetener will be needed. Honey, maple syrup, and monkfruit are all good options.
Step by Step Process
Step 1: Add the ingredients. Add all of the ingredients to the blender, stacking the frozen items towards the bottom and fresh toward the top.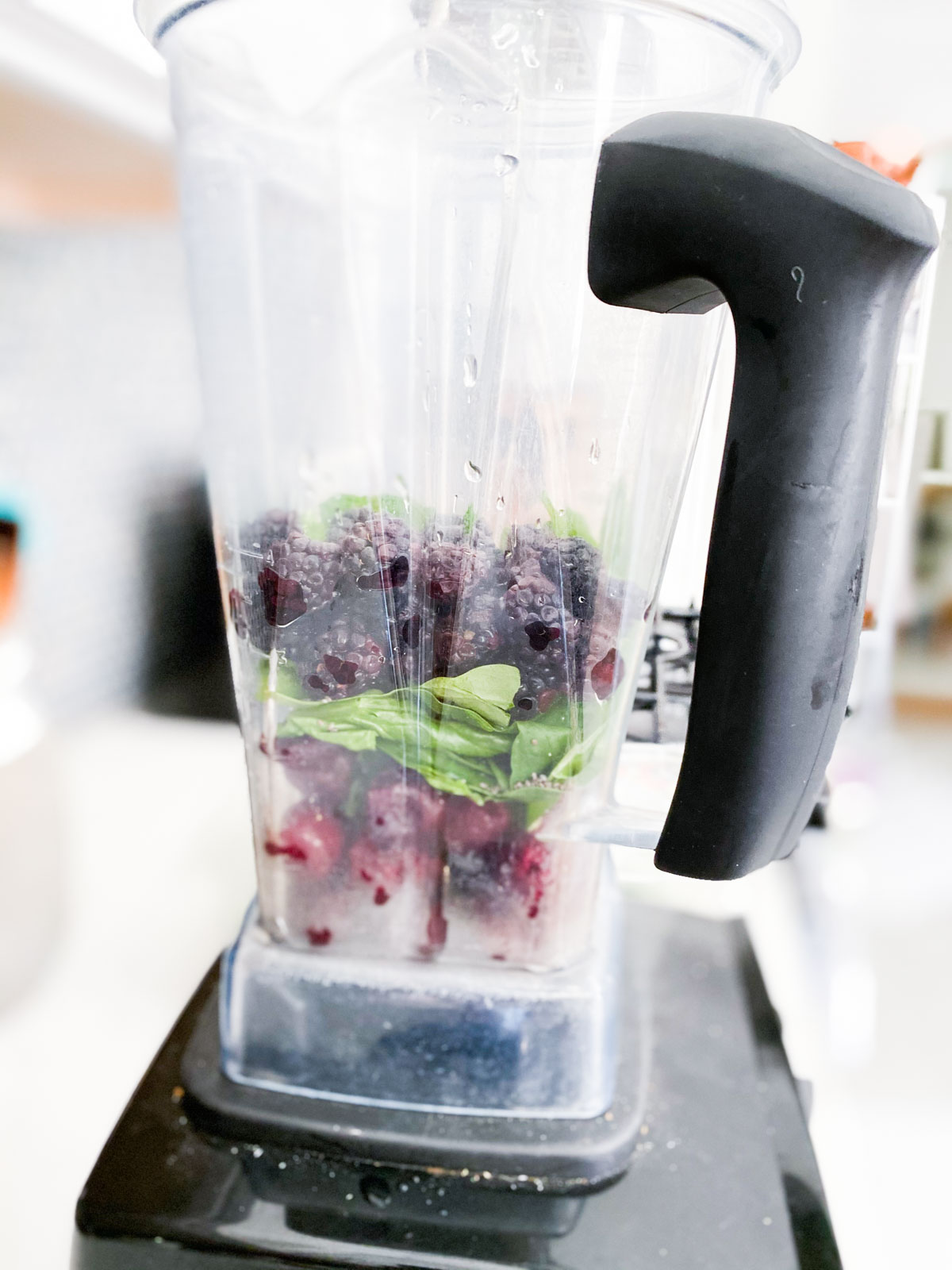 Step 2: Blend the smoothie. Blend the smoothie till smooth throughout. A tamper can help a lot with this process if it becomes too thick to be well blended, or thin out with a little more water or milk. Just be careful to not add too much, which will dull the flavors.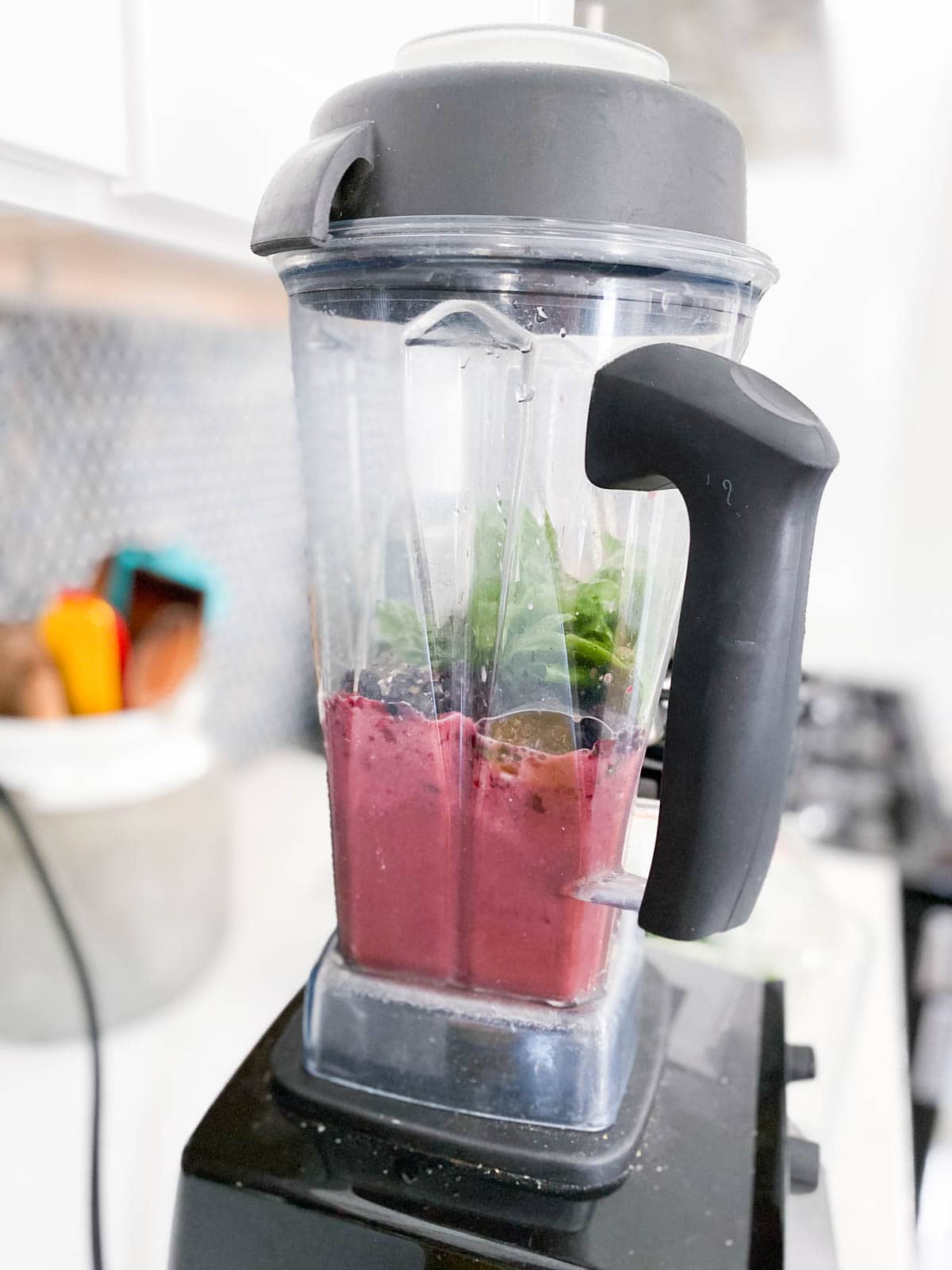 How to Freeze Blackberries
Sometimes blackberries can be risky - they can get pretty tart! But lately every single packaged I've opened this time of year (from July through August) is perfectly sweet and ideal for smoothie making. I think it's best to buy them fresh and then freeze them, if you can for the rest of the year. This way you're able to taste and see how good they are.
To freeze blackberries, simply wash them, thoroughly dry them, and then you can lay them out a sheet pan to freeze. This way they don't stick together. Once frozen, you can transfer them to a freezer bag and they should stay separated.
Healthy Smoothie Tips
The issue with having smoothies a lot with migraine is it can send your blood sugar on a fairly high spike, especially if using fruits with high amounts of sugar. This is eventually followed by a drop that can sometimes trigger a migraine attack for people. Luckily there are some dietician-approved ways to navigate smoothies while still reaping the health benefits. Some of these include:
Using berries, which tend to have lower sugar content than like pineapple, which is an elimination food on a migraine-friendly diet.
Limit the fruit you do add, about a cup is a good amount to follow.
Adding plant-based or regular milk instead of fruit juices
Fitting in some greens, whether it's spinach or kale. You do have to use a lighter hand though when using fruits without a bunch of sugar to mask the flavor. Otherwise it can taste too green.
Using seeds to add a little bit of protein and healthy fats.
Frequently Asked Questions
How do you make a smoothie thick without yogurt?
It's really easy to thicken a smoothie without yogurt. For this recipe we use a larger amount of frozen fruit and vegetables compared to liquid. This allows the smoothie to be nice and thick! But if yours isn't turning out quite the same way, you can easily add 1-2 tablespoons of cottage cheese (which will have the same consistency as yogurt) or about ¼ cup of frozen riced cauliflower.
What can I use instead of spinach for smoothies?
Depending on the recipe, I typically use kale (fresh or frozen) or arugula. Arugula is more peppery so it won't fit with a lot of the berry recipes, but works well with things like apples or pear smoothies.
What other berries could I add?
If blackberries aren't in season, you could substitute blueberries or strawberries and both would work well for this recipe!
Smoothies Without Yogurt
For more great smoothies like this blackberry smoothie without yogurt, see these posts. And don't miss this post of over 20 smoothies without yogurt.
If you make any of my recipes, don't forget to tag me #thedizzycook or @thedizzycook on Facebook and Instagram. And please leave a review below!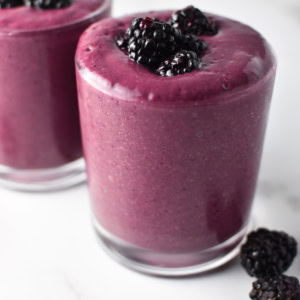 Blackberry Smoothie
This blackberry smoothie combines, cherries, greens, and seeds to give you a sweet and satisfying breakfast!
Print
Pin
Rate
Ingredients
1

tablespoon

chia seeds

½

cup

fresh spinach, loosely packed

¾

cup

frozen or fresh blackberries

⅓

cup

frozen cherries

¾

cup

milk of choice (I used oat milk)

Ice, as needed to thicken
Instructions
Combine chia seeds and spinach with the frozen blackberries and cherries, and pour the milk on top. Blend on high till smooth, then add in ice to thicken, if needed.
Notes
If your blackberries are really tart or you think you need some extra sweetener try 1 teaspoon lucuma powder, honey, or maple syrup.
Dried mulberries would go great here as well, if you have them on hand.
Nutrition
Calories:
213
kcal
|
Carbohydrates:
33
g
|
Protein:
10
g
|
Fat:
6
g
|
Saturated Fat:
1
g
|
Polyunsaturated Fat:
3
g
|
Monounsaturated Fat:
1
g
|
Trans Fat:
1
g
|
Cholesterol:
9
mg
|
Sodium:
46
mg
|
Potassium:
691
mg
|
Fiber:
11
g
|
Sugar:
13
g
|
Vitamin A:
2021
IU
|
Vitamin C:
30
mg
|
Calcium:
351
mg
|
Iron:
2
mg